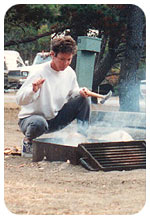 FROM UNDER THE STARS TO FOUR STARS

Many people are avid fans of some of the new cooking shows. Cat is addicted. She would rather watch a good chef creating a culinary work of art than eat a chocolate fudge brownie, her other food addiction. An average cycling day of 60 miles burns lots of calories. Pat & Cat love to eat and enjoy a bottle of good wine.

Cat's goal is to find interesting dishes with local flavors from every state, province, country and continent that WorldRiders2 visits. Pat & Cat will literally eat their way around the world and share the best of it with you.

This page is dedicated to FOOD! Cat will capture pictures and video of camp cooks to 4 star chefs at work creating those much needed calories. She will also share the recipes of the masters. Whether you're taste is campfire cookin' or haute cuisine you will find it all, here, and then some when you're COOKIN' WITH CAT.
---
Jonathan's at Peirano's



The Peirano Grocery Store was built in 1877. It is Venturas oldest brick building. It survived as an Italian Grocery Store for 109 years. It was refurbished in 1997. The result was a truly unique Restaurant designed by Sharon and Jonathan Enabnit. It is located across the street from the historic San BuenaVentura Mission at 204 E Main Street in Ventura's Oldtown.

The menu is a blend of different recipes and cooking styles from many Mediterranean Countries including Spain, Italy, France, Greece, Portugal and North Africa. Part of the reason that Cat chose Jonathan's as her first "Cookin'" assignment was that WorldRiders2 will visit many of these Countries in their travels.

Jonathan's at Peirano's has been featured in Sunset Magazine, American Airlines inflight Magazine, The Los Angeles Times, San Francisco Chronicle, ABC News and was voted "Best New Restaurant" in 1999. Don't miss a visit to Jonathan's Tapas and Martini Bar next door! Enjoy a fun crowd and entertainment.

Jonathan's at Peirano's is located at 204 Main Street, Old Town Ventura. For reservations call (805) 648-4853 or e-mail at Jonathan's@JonathansatOeiranis.com
Check out the complete menu on their web-site, www.JonathansatPeiranos.com
Check out JONATHAN'S MOROCCAN CHICKEN PENNE CHECCA

---
THE HISTORIC SANTA MARIA INN



The Santa Maria Inn first opened its doors on May 16, 1917. Rooms were added in 1919, 1923 and 1928. In 1984 Pat's friend, developer and visionary, Martin V. Smith saved it from demolition and added a modern 6 story tower in keeping with the original décor. He even added a historic feeling wine cellar and bar.

The Tap Room was added in 1941 and includes peg plank wooden floors and rich wormwood paneling in the tradition of an old English Pub. The grounds include courtyards, rose gardens and cascading fountains. The cabana, poolside is a favorite place for weddings and parties.

The Santa Maria Inn hosts a Grand Buffet Brunch on Sundays. The main restaurant, The Garden Room, is furnished in white wicker and looks out onto a lush landscaping.


Click on image below for a larger view

Be sure to ask for a tour of the old rooms. Martin V. "Bud" Smith carefully preserved some like the Rancheros Vistadores Room where for years the Rancheros with members including Ron Reagan, Senators, Congressmen, movie stars and wealthy businessmen like Bud would end their trail ride that began in Ventura County.

CHICKEN FONTINA Recipe

---
ROBIN'S RESTAURANT OF CAMBRIA, CALIFORNIA

When Robin Covey opened Robin's in 1985, his concept was simple. He wanted to create a place where all kinds of people could come and enjoy a simple, delicious meal in a warm, friendly atmosphere-at a reasonable cost. From the beginning they have insisted that the foods be made utilizing as many natural and unadulterated ingredients as possible. They also wanted to make available home cooked meals using eclectic recipes from around the world.

Pat and Cat truly enjoyed both a late lunch and wonderful dinner near the fireplace. The staff were delightful and the food lived up to the promise of the story of Robin's. The house is what we call a flat top Spaniard in real estate jargon and appears to be at least 80 years old. They also have a wonderful deck overlooking the garden. Next time you pass through Cambria Cat recommends Robin's.

Cat hopes you enjoy the recipe for Robin's Vanilla Custard Bread Pudding.

---
The Chutes Eatery & Saloon in Douglas, WY

This is a recipe for a wonderful duck dish from Wyoming.
---
El Palomar Monterey Flan

Here's a recipe for Flan from Monterey, California.
This recipe is from El Palomar Restaurant in Monterey, Calfornia.
---
Guacamole from Original Lorenzo's in Loomis, CA



Here's a recipe for guacamole from Original Lorenzo's in Loomis.
---
Beer-Cheese Soup from Lusk, Wyoming



Here's a recipe for beer-cheese soup from Wyoming.
---
Franklin's Pancakes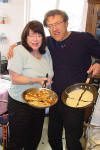 Here's the secret to Franklin's famous pancakes.
---
Picon Punch

Goes down smooth, but packs a wallop! Here is how to make picon punch.
---
Polenta



Traditional Italian Polenta from Salt Lake City.
---
Quesadilla from South Dakota

Here's an easy recipe for chicken quesadilla.

(Movie: Quesedilla 0:29)
---
Dobson's Eggs Sardu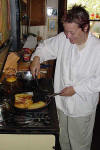 Here's the recipe for Dobson's Eggs Sardu, from Detroit, Michigan.
Dobson House was built in 1887 and is the oldest B&B we have stayed in on our journey. The owner is Cary Watkins and she is a hostess that goes out of her way to make you feel at home. She even drove us into downtown Detroit in her 1974 Thunderbird for dinner. She is a single mom, and also a horticulturist, providing indoor plants and arrangements for large company functions. You can find Dobson House at 1439 Bagley Ave., Detroit, MI 48216. Phone # is (313)965-1887. You can also email at: dobson1887@aol.com
---
Harold's Cheese Potatoes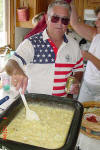 Here's the recipe for Harold's Cheese Potatoes, from Minnesota.
My Uncle Harold lives in Minnesota and he is famous for these potatoes. We had them on 4th of July in Hastings, Minnesota, which is the town my father was born in 83 years ago! My 2nd cousin, Russell & his wife Lisa hosted a pool party for all my relatives that still live in the area, so we could meet everyone for the first time. We met a few 1st cousins, alot of 2nd cousins, and even more 3rd cousins. There were about 30 people there. We BBQ'd chicken and had many other dishes, but the highlight were Harold's Cheese Potatoes. See journal for July 4, 2002 for more details.
---
Mahi-Mahi from Crescendo Restaurant in Albert Lea, MN



Here's the recipe for Mahi-Mahi, from Albert Lea, Minnesota.
This recipe is from Crescendo Restaurant in Albert Lea, MN located at 118 So. Broadway Ave. (507) 377-2425. The owner/chef is Bob Tewes. He bought the building and opened for business last November. He's hoping to expand next door sometime in the future. He even came out and played the piano that sits in the dining room. Most of the time the piano plays computerized music, that sounds like the real thing. Prior to the restaurant business Bob spent his time in Christian music. Our wonderful waitress was Rachel. She is an avid bicycle rider, but she does about 100 miles at a time! In her words – "I put my head down and go". Our busboy was Mitch. We went to Crescendo both nights we stayed in Albert Lea because we loved the atmosphere, the people and the food! I wanted the recipe for the wonderful double chocolate cake with warm chocolate sauce that oozed out of the middle when you took a bite, but that will remain a secret at this time!
---
Swedish Salmon



Here's the recipe for Swedish Salmon, from Bjorsjo, Sewden.
This recipe comes from a restaurant, hotel, camping & tourist bureau in a small town of Bjorsjo. The name is Traporten. The owners are Per-Martin (everyone calls him Macke) and his wife Marita. Marita is the chef and Macke runs the entire place. We stopped here for a bowl of hot soup after being caught in a snow storm in the beginning of October, 2002. We were going to go on, but after eating and talking with Macke, we decided to stay here for the evening. We enjoyed the soup in the afternoon, the salmon and Spanish Chardonnay for dinner, and back for boiled eggs and bread in the morning before we began our journey down the road. Before we left, Macke drove us to his farm where he showed us his Highland Cattle. What a wonderful spontaneous experience that has been one of the better memories of our adventure.