Berlin to Paris
Out of the East, INTO WESTERN EUROPE
Crossing the line where the wall once stood.
This portion of our Journal is a trip through many of the countries that decided not to join The USA in the "Coalition of the Willing" in the war against Iraq. We have received a lot of questions about how we have been treated by the Germans but more so, the French. Many of our friends forward French jokes. My Sister, Joan who lives in the heart of Oregon is adamant about her dislike for the French. We don't get it? No one mentions Russia who also chose out. Even Germany has taken a back seat. What about the heart of this area, Belgium and Holland? WHY FRANCE? We have been in France for more than 3 weeks at this writing. Everyone has received us graciously in all of these countries. No one has ever confronted us as to why our country chose to go to war!
We're glad that American Hero, Lance Armstrong decided to come to France! As we write, he is in Yellow Jersey territory and we hope he stays there. He is well respected and liked here. In fact, the French seem to love bicycles and cyclists. We love the country roads, the food and most of all, the wine!!! BON LECTURE
Monday, May 26, 2003
Berlin to Potsdam
46 Kilometers

Even leaving the shutters ajar didn't bring enough light into our nest to awaken us early. Loading the bags and breakfast then off to the Bicycle Shop. Remo was there and he was apologetic. It took almost an hour for him to break the two wheels down and change out the tubes. Back to the Apartment, we stuffed the bags and loaded them. We were finally out the door by 11:30 and wound our way back past a Garbage Truck and the bottleneck it was causing. Then, at Greifswalder Strasser (Street) Cat noticed that I was missing one of my tie down straps. Back to the Apartment and there it was, on the ground near the door. Strapped down, we were off to the West.

Tour of Apartment
Berlin is a nice place. The city is functional as are many of the newer buildings. Our Apartment was in East Berlin and the neighborhood is being reborn or Gentrified as the folks in Chicago called it. Lots of buildings being re-done, inside and out. Also quite a bit of roadwork on the street leading to AlexanderPlatz. Once we jogged over to Unter den Linden we were on our way to Potsdam. The street changes names frequently, after we passed under the Brandenburg Gate it became Strasse des 17 Juni. We witnessed 4 guys doing a B.A. photo at the Bismarck Memorial. Young ones just having fun, we think. The Victory Column stands in the center of the Strasser and it soon changes to Bismarck Strasser then Kaiser Damm.
We stopped to get direction and a toilet for Cat. That led to lunch on the sidewalk with a nice young girl who has just finished her studies and was in Berlin visiting friends. She will begin University in October.
Onward, on Highway 2-5 then a bridge over the river Spandau. Shortly we made a turn to the left on 2, south toward Potsdam. Most of the ride through Berlin and even the countryside is on bike paths adjacent to the highway. A few times we were on the road and once, lost. We pulled up and were shocked to when we saw a sign for Potsdam pointing back in the direction we had just come from. Yes, two nice guys confirmed that we had missed the turn, 4 km back. Geez, we hate to back track. The miss occurred when we took a bike path that wound through a beautiful residential neighborhood. Okay, we were back on path but the path was cobblestone and fairly busy. We bumped along then got back on a wonderful path and it took us into Potsdam. Sort of lost again, we asked and the guy suggested ahead two blocks to find the Tourist Info Center. A stop at a fruit stand for bananas and a nice lady told us that the Info Center had been closed. We made our way down the walking street then left and up to the door of Hotel Voltaire. Our first home on the way to Paris.
The following is added as insight to the difficulty of the search for food and Internet.
The desk suggested a fish restaurant just a few blocks down the street. It is pleasant to walk in historic feeling places like this but we don't really need the exercise. Der Butt, (before you jump to conclusions, it means The Boat) was closed. So, we walked toward where they said the Internet Café was located. Lost, we went into the Library where the security guard tried and failed, then a young girl helped give directions. When she raised her arm to point the way she exposed a hole in the armpit of her dress. We did finally find the place. It was full of students, smoking students. We had wine, bad wine and checked in. Hungry, we just read and saved then headed out on a search for food. A Thai Restaurant drew us in but the smoke and fast food menu drove us back out. The red checkered table cloths drew is in, the smell of Pizza kept us there.
May 27, 2003
Potsdam to Brandenburg
40 Kilometers
Awoke early then turned over and slept. Finally out for breakfast by 9:00 AM. With maps in hand we talked to the girl at the desk and scoped out the best tourist things to see. Finally off at 10:00 AM, our first stop was Shloss Cecilienhof. Most of the road is cobblestone and tough to ride. We were accompanied by a steady stream of tour buses. At the gate the nice guard told us that it is okay to take the bikes in and ride them. Just be careful or walk them if there are a lot of people in the area.

Cobble, Cobble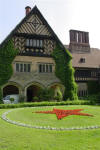 As we entered we met a platoon of military brass walking and talking as they passed. Lots of different uniforms, lots of different languages. Two Admirals from the US Navy and an Air Force Officer were discussing President Truman as they passed. The Air Force guy was saying that, "Although Truman didn't have much education he had an innate ability to understand complex situations and come up with workable solutions." I wanted to break in and see what their mission was. We talked and decided to see the exterior but pass on the interior tour. The place was built in 1917 designed as an English country house. The owner, Crown Prince Wilhelm, son of Wilhelm II had to flee during the revolution of 1918 but returned and lived in the home until 1944. The reason the Military Brass were here is that this is the place of the famous Potsdam Conference of 1945. This is where the three allied powers met and drew up the treaty that cut Germany up, like so many pieces like a pie. This historic spot is where the world was changed by Franklin D. Roosevelt, Sir Winston Churchill and Josef Stalin. Josef obviously hosted as there is a red star of flowers in the front yard. It was planted that way for the conference.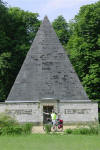 By the time we finished our look around we decided that the Brass were long gone so we cycled through the beautiful park to Marmor Palais, the summer home. It is in a state of disrepair but we did take a self-portrait there. There is a pyramid that we think might house the remains of some of the by-gone Royalty.
Back out on the street we worked our way through traffic to Park Sanssouci. The Estate was named for an idea of the Architect, von Knobelsdorff. He had spent time at an estate called Kummerfrei, as a boy, which was then loosely translated to the French, San Souci, which means, "without care".
There was a bottleneck of traffic at the driveway and an honest to goodness windmill just across the street. A fellow in costume played the flute on the walkway, probably reminiscent of King Friedrich II was himself was an accomplished flautist. This guy was looking for a few coins, it looks like Fred II had plenty of those. Schloss Sanssouci was designed by Fred II and built between 1763 and 1769. This, the new palace with its 300 rooms, was Fred's idea of how to create jobs and generate work for the building industry. Hmmmm??? Well, today it does generate lots of tourist Euros. Friederich "The Great" lived here and surrounded himself with leading thinkers, statesmen and philosophers. However, neither women nor Parsons were welcome at Sans Souci. (Does that speak to his non-religious and sexual preferences?) He died here in 1786 but his wish to be buried at Sans Souci wasn't recognized until 1991. He lies here now, surrounded by his ever-present friends, his eleven Great Dane dogs.
We cycled down the steep walkway with its six terraces, passed the fountain and pool, across the bridge and into the Park. Chineisches Haus is also called the China Tea House. It is ornate and was built during the mid 1750s. The grounds are wonderful, we enjoyed the green, the sun and quiet on the dirt paths. Once outside it's boundaries we were cast upon cobblestones then into the traffic of Highway 1. Most of the ride we spent on the side walk or bike path. It is slow riding but perhaps less bumpy than the cobbles or the edge of the paved roadway.

Lost in a Maze
A serious looking walker passed on the opposite side of the street, then another and another. Soon we could see several, singles or grouped. A van passed, slowed and turned. The sign said, "Lisbon to Moscow Walk." We were stopped to apply sun screen so I ran across the road and hailed him. Yes, it is called the Trans Europe Footrace, walked in 64 stages. But, the biggest surprise was Jurgen, he is German but has lived in Huntington Beach, California since 1962. We exchange brief stories and cards then he had to hurry on his way. Another of those small world encounters but we bet that the walkers don't think it is such a small world!
Onward, we finally pulled up for lunch at a small park. There was a group of young boys trying to ride a bike and skateboard on a ramp. They gathered round and talked with us. Mike, Joey, Stephan and a couple of others. They were fun to talk or should I say try to talk with. Stephan is 14 years old. He pulled out a cigarette and puffed. We told the others that Raunchen is Stinkin'. (Smoking stinks) They laughed, he finally put out his weed.
There were two older gals out for exercise who sat across the park from us. We acknowledged them and they us. A third rode up on a bike, shook their hands then they sat and talked. What a beautiful day to walk, bike and talk with friends.

As we rode on we came upon Joey riding the freestyle bike and carrying two backpacks. He was wobbling all over the path. We talked as we rode. He is a very nice young boy. When he turned off at his home he called out, "Have a nice bike tour!"

Joey on the Trail
Our plans to cycle another 30 Km passed Brandenburg began to crumble just like the roadway. There was so much roadwork in one area that we had to walk the bikes. It lasted more than 6 Km and slowed us to a snails pace.
It was 3:30 when we finally wheeled into Brandenburg, the town that the gate in Berlin is named for. Then the same old story and the same old search, for the Tourist Info Center. We asked and were sent in one direction. Doubting, we asked again and were sent back. We followed Cat's intuition and found Nicolai Platz but no Info Center. I asked a gal in a Real Estate Office, she was helpful but spoke no English. Finally she looked in the phone book for an address then made a copy of her only map and highlighted the way, back across the bridge and through town. We followed her directions and voila, we found it. The lady there also spoke no English but did get us a list of hotels and pensions. We chose one just down the street. As we cycled I spotted the address, there was no sign. We parked and I walked into the tiny restaurant to ask. A really nice guy, perhaps Brazilian, said, "Yes, this is Pension. Yes, we have room." It was 40€, cute as can be and they helped us push and pull the bikes into the courtyard and the ground floor hallway. We have to pass a chicken coupe on the way in. This is really livin'!

Julian Speaks English
Dinner at the Hotel restaurant, pretty good. The waiter, who looks Brazilian, is actually from Tunis. Funny, he felt he should bring the fish out for us to see. He came to the table with a bag of brand name frozen fish in the freezer bag. We bought and it was great. He and the chef were fun and did a good job, too.

Chicken Coup Hotel

Chicks, Shoes & Sewing Machines
May 28, 2003
Brandenburg to Burg
70 Km with the Canal trip
The rooster must have slept in, we did too. There was a big duck and 8 hens scratching around as we pushed out of the courtyard. Rather than breakfast we decided to have coffee and pastries at a stand up table, how European! It threatened rain but didn't. We took a side trip to get a picture with a giant knight we had seen yesterday. It looks old and the sign we couldn't read mentioned King Otto and 978 AD but we don't think it is that old. It probably just commemorates that old event.
We wheeled right along, 30 Km through forest and farmland, into Genthin. We had covered ¾ the distance in an hour and a half that took us all day, yesterday. Wanting to try riding on the dike, next to the Elbe-Havel Kanal, we did the ask, ask thing until we found a bike shop. The guys there couldn't speak any English but did have a cycling map, which they sold us. Then as we asked how to get to the Dike a guy came in who spoke English. After a short conversation, Kant said something in German and the guy said, "Follow him." We couldn't believe that he was going to lead us to the route.

From that point it was just follow Kant, through the village, past the Radhaus, the city hall and down the street. There were a lot of kids in strange clothing hanging around. Kant finally got the point across that it was graduation day. He led us to a small street and pointed. We shook hands and headed west as he rode back to his shop.
Mpeg 067 Bike Guide, Kant

At the corner was a Penny Market with a small café. We stopped and had bratwurst, a huge hot dog with a roll and pile of mustard. Good but not enough so we each had a small pizza sort of thing. It was rich, the sausage tasted like summer sausage to me.
The road into the countryside soon broke down to bumpy asphalt then large slabs of concrete in two rows. Finally it was dirt and we were about to turn back when a Postal truck turned toward us. I waved the driver down, she was helpful with hand and sign language. We pressed onward, into a two-rut road then single rut path. Finally we climbed the dike and found more of the concrete slabs with brick down the middle. The brick path was narrow and had lots of bumpy areas of loose brick. Progress was slow. We started running into other cyclists. A group of 3, Rainer, Harald and Ulli stopped and we talked. They are on a one-week ride from Leipzig back to their hometown of Hamburg. Most of the other groups waved and said hello but didn't want to stop and we were pretty tired of the duck and dodging of potholes.
There is little development along the canal. A couple of villages off to the left and finally we reached Rogatz, a village on the opposite side of the canal serviced by a ferryboat. We turned left there, changed our plan and when we reached the highway, backtracked 2 Km to Burg. It is still 29 Km to Madgeburg. We passed several Hotels as we sought the Tourist Info Office. Once there we found little info so backtracked to a Hotel we had seen that advertised a restaurant in the info. Nice place, nice lady but no restaurant. She said there was one just down the street. It was late, we showered then Cat walked to the other restaurant only to find that it too was closed.
It was upsetting to us. We had to take a Taxi and pay 5€ each way but as in all situations, it led us to Ristorante Raffaello where we had a great meal and met Uta and Pia. They are a couple of wild ones, or were in their younger days. They met when they discovered that they were both dating the same guy. They confronted him then, with a little help from their friends, they beat him up and became best of friends. Pia is now married but Uta is still playing it fast and loose in Sidney, Australia. She has been there 3 years and is home for just 3 weeks. Pia spoke no English so Uta, in her Aussie accent, talked and translated for us. Friends Gunner, Doreen, Sarah and David who was known as Tiger soon joined them. They were just firing up as we left to head for bed. It looked like an all nighter was in the making for them.
May 29, 2003
Burg to Helmstedt
79 Kilometers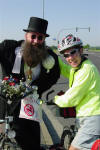 Breakfast in the cozy third floor loft then down the stairs and out by 8:45 PM. We did see the Minister from Dallas, TX and his wife. He tried to help us down the stairs then wished us well. The weather was already so nice that I rode with only short sleeves. Just on the outskirts of town we ran into a guy on bicycle dressed in an old style suit and top hat. We had no idea what he was doing and he couldn't understand a thing we were saying. The ride from Burg to Magdeburg was flat and fast except for the climb over Highway 2, the freeway or Autobahn that we will be paralleling for the next two days. Just 6 Km from the city a guy in a funky old van pulled up. We traded cards and words that neither could understand. He was out chasing business to his bicycle shop, Fahrad Parade in Magdeburg.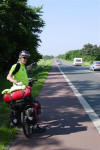 Magdeburg is a pretty big city. Like all cities it starts with industrial and mid-rise apartments. Then we came upon a unique building, part of a large water park with slides, tubes and float areas. At the bridge over the river Elbe we met head on with a couple, Wilfried and Tina. They're from Magdeburg but headed down river for a two-day ride.
We kept passing guys on bikes in costumes and goofy cloths. Just out of Magdeburg we began looking for food. Funny, most stores are closed, some kind of holiday? There are lots of small villages along Highway 1 but none had a store or Café that we could see. They were all like ghost towns.
It was nearing 2:00 PM and we were getting shaky from hunger. At a town, Erxleben, we passed an Aktiv Market that looked closed but there was a Doner Stand selling shave chicken and lamb. We slowed, there were a bunch of rowdy looking guys, again on bikes, drinking and eating in the parking lot. We decided to find a restaurant. Just around the corner there was a party going on at the Fire Station. It looked like a fundraiser for the Volunteer Fire Department. We asked some boys if it was open for food and they tried there best to get the point across that we could eat. The food was mostly beer and sausage with a huge table of cake and pie. The young guy who spoke a little English told us it was for "Man's Day". Yes it is a holiday, most things are closed. The men ride bikes and drink beer. We decided to go back to the Doner Stand.
The guys who worked there were great. The sandwiches were huge and really tasty. We wolfed them down. A family pulled up in an old, 1958 jeep. Nice people but like the guys in the stand, none of us could communicate except in sign language.
The ride had been generally flat and fast until we neared Helmstedt, our target tor today. Then, as Wilfried and Tina had said, it turn hilly. In fact he told us it is the high point for this area. Long slow ups in warm sun had the sweat running down our backs. Finally a little down sweep and we were in town. I stopped and ran across the street to a service station for Gatorade. The heat had drained me. We both drank then rolled on finally turning into an old square where we found Hotel Sonntag. Susanne Sonntag is the owner and a character. She made us leave the bikes in her garden area but gave us here cool room, a bowl of fruit and breakfast tomorrow for 60€. Susanne explained the crazy day as a two part holiday. The crazy part is Fathers Day, or "men's day" where men go from restaurant to restaurant and drink and eat, and the other is the day of ascension when Jesus arose, called "Christi Himmelfahrt", always held on May 29th of every year.
We have BBC in our almost too cool room and just learned that today is Bob Hope's 100th birthday. Congratulations Bob and thanks for the memories!
Just when you think it couldn't get any better you go to dinner. Suzanne suggested a place just across the square. We were undecided even about whether to sit inside or in the courtyard. They were having a special Fathers Day barbeque, all you can eat for only 6.50€. What a bargain for us. The best part of the deal was the family who own and run Stettiner Hof Restaurant. The girl, who seated us and spoke a smidgen of English, introduced us to her Father, Werner. I wished him a happy Fathers Day and he returned the wish. We had a wonderful time with them and the chef. Of course we gorged on the meat and salad. Even a pretty good screw cap bottle of dry Riesling. After dinner we took in the sights of Helmsedt.
May 30, 2003
Helmstedt to Vohrum
68 Kilometers

Up and out early. Last night we saw a cyclist in front of the hotel then two bikes in the courtyard near ours. As I loaded our bags, before breakfast, the two guys came out and got ready to ride. One spoke no English but the other had a large vocabulary. They are riding two big days. Yesterday they cycled almost 250 Km. I told them that we thought that was extreme. They laughed then he told us that he had toured to Spain last year, 1,800 Km in 14 days. We told him that we thought that was very extreme. Then, they were off to Berlin, 230 Km from here as we went in to breakfast.
Breakfast was quite good, plenty of fresh fruit, eggs, cereal and toast. Fueled up, we rolled out at 8:45 AM. The countryside and its scattering of beautiful villages was a treat, increased by fantastic weather.


We flew over the first 38 Km to Braunschweig in less than 2 hours. Our plan was to circle through town then ride to Peine and catch the Mittellandkanal. Lost, we stopped at a corner and were studying the map. The light changed to red and a guy pulled up on his bike. I asked about the road and he struggled to figure out what we wanted. Thomas finally got the point that we were looking for Highway 1 then asked if we were going to Hannover. When we told him that it was our destination for today he said then do it the short way, my way. From that point on he was our guide. We followed as he circled through small streets and across squares. Even through church courtyards one of which was in the midst of a wedding and we had to push through the crowd.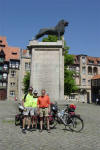 When we broke free of the city he explained that he lives in small village suburb and was headed home. He would lead us to the second bridge on the Canal then leave us. He works for Volkswagen, in the engine division and has for 18 years. Married, they have a daughter who is 21 now and married. What a nice guy, and so generous to us with his time and information.

BridgeRiders

Once on the canal the trail went from bad to worse. It is a two-rut dirt road that at times dwindles to a single path. We had lunch under a bridge, very relaxing, watching the barges drive by, up and down the canal. A couple of pleasure boats cruised past but they were so busy that they didn't notice us. We rode on but began looking for a place to escape back to the road. A path beckoned but it was steep. I left my bike at the bottom and pushed while Cat pulled her bike up. An old guy who had been following us pulled up and stood by my bike as we pushed. I hurried back down and found that he had probably opened my handlebar bag but taken nothing. At least, the snaps were open, which would not happen when I ride but the video cam and other things were still there. I pushed up, what a strain. Finally Cat helped and we made the corner and crested the summit.

Mittlelandkanal ride

Push Ups
We stood and basked in the moment but not for long. It was obvious that we were trapped inside the guardrail. There was no way out, only over. Another epic struggle. Cat's first, she took the front wheel and I hoisted the rear. We got it up but high centered and stuck on a pedal. With all our strength we gave it one last heave and over she went. Not just tossed, we maintained control and set it down gently. Now, we were faced with my bloated bags. The first lift had been a learning experience, we lifted and pushed at the same time. Cat lifted high as I set the rear wheel on the rail. She held the rear wheel brake while I got a good grip then we set down together. Great teamwork that paid off, but not without a lot of sweat. Yes, the day is still beautiful but warm. As we passed through the town of Peine we lost our way. Struggling, we crossed an on ramp and pulled up to check the map. Cat hit the curb and fell, flat on her back. Dusted off and okay, we chose a left turn and found ourselves on Highway 444, an Autobahn with cars and trucks screaming past. We chose to ride back down the on ramp then caught a sign for Highway 65.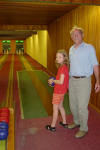 Back on track but tired, we pulled into the tiny village of Forum and asked if there were any Hotels in Sehnde, the next town, 16 Km further down the road. The consensus was NO, but one guy did think that we could find a room here at the Tavern/Bowling Alley. It was 5:00 PM so we took his advice and were soon parking the bikes in a garage connected to the bowling alley and carrying our bags up to a nice little room. At 46€ it was a good deal and we were hot, sweaty and tired.

The Bowling Hotel?
Cat had her shower then as I bathed she checked about dinner with Hanna, at the bar. She said that Emil, a guy who spoke to us in English, whose Sister lives in San Gabriel, California, said that he would drive to another Tavern and get us chicken. Dinner at 7:00, we sat down and Hanna served the chicken and a huge bowl of Pomme Fite, French Fries. All fried but we loved every bite. As we chewed the bones Hanna answered the phone and it was Emil wondering how we were doing with the food. What nice people, caring and giving to strangers.
Since we took a look at Road Signs in Poland We thought you might enjoy This collage of German Signs.
May 31, 2003
Forum to Hannover
43 Kilometers
To put it politely, I suffered the Fried Chicken Two Step, twice during the middle of the night. Restless, I was up and moving by 6:30 AM. We loaded the bags, had them on the bikes and were at breakfast before 8:00. Not much to choose from so we both made Egg Mc Vohrums, boiled egg on bread. This could be our earliest start since last year in South Dakota. At 8:30 we rolled down the street and out into the countryside.
The road is a small country lane but there is a nice bicycle path adjacent to it. We are amazed at the way Germany has developed cycling routes. Strange feeling, we seemed to be heading in the wrong direction. I checked the compass and yes, we were rolling south. Then we came to a dead end and Highway 65 offered us a route to Hannover.
Cat was in trouble, she had to go and there was no place available. She checked a spot in the bushes but felt uncomfortable and got stung by a vicious plant! Onward, she found a more sheltered place but the ditch was too steep. In the next little town we found a Bakery and she asked. The nice lady opened the door to allow her in and her counterpart, a not so nice lady, said, "No Toilet." And closed the door. The nice gal shrugged her shoulders and mouthed the words "Sorry." Same village, same response at a market. The situation was getting crucial. We found a farm road and she squatted, just in the nick of time. As she stood a guy on bike pedaled past and stared. Finished, just in the nick of time, too!
The countryside here is truly beautiful and cycling is flat. There is a picturesque village about every 5 Km. The bike path was on the wrong side of the road for us and we met a little old guy head on at a corner. He pulled hard to the left and hit the curb, much like Cat had done yesterday. In an instant he was lying on the ground. We both dropped our bikes and ran to help him. He must have been 80 years old. After a check of his bones he discovered that he had skinned his fingers and they were bleeding. We felt terrible, he pushed onward and we stood watching. It was a no fault situation on his part and ours but, we still felt terrible.
Following 65 we found ourselves on a freeway with busy on and off ramps. Some drivers were understanding some honked their impatience. Our first opportunity to get off was a service station. Cat asked and the guy told her to just follow the road to the right of the station. I saw railway tracks on our map so we followed them through a suburb with homes that reminded us of Montecito near Santa Barbara. It took a couple more ask, asks but we soon found ourselves in the heart of Hannover at the Ban Hof, the Railway Station.
I stood in line and mailed the disks of pictures of our Baltic and Eastern Europe experience to Web Master Wally. It took 45 minutes due to the lines and my ignorance about their procedures. Cat waited patiently then she went in the Tourist Info Center looking for a Hotel. 45 minutes later she was even with me and we had a luxury room at a pretty price. We cycled passed a flea market along the canal then around the corner and we were at home for the next two nights.
Starving, we ate in the Hotel Restaurant, not much food but a big price. The best part was that the room, unlike our room, is air-conditioned. That was the best part of the meal.
Cat did the necessary trip to Laundromat while I worked on catching up the Journal. It was further than she had thought and a slow process. She was gone for 2 hours. I was just beginning to worry when she knocked on the door. It is hot today and our luxury room has no AC. I did get a fan delivered and it helped some.
Hungry, we just walked a short distance, found a great Italian Restaurant, "Sempre" meaning "anything". We sat at the window and watched the walkers and cyclists passing by.
We enjoyed CNN and BBC until we couldn't keep our eyelids open. That was 9:00 PM, we were completely tired out.
Sunday June 1, 2003
Day off in Hannover
Awake at 5:50 a.m., we looked out the window and saw a nice morning starting, but then went back to sleep. I was pretty tired and sore. After breakfast we wanted to walk around the town and see the sites that we'd missed the when we passed through here in Lil' Scotty. This is the place, the only place where our Lil' Scotty and WorldRiders2 paths will cross.
There was a car rally forming up across the street. I was looking forward to seeing them but by the time we got there, they had gone rallying. We heard about "The Red Thread", which is a red line painted on the streets and a walking tour of the city taking you by the important things to see. We followed that path and saw wonderful sites as well as enjoying the beautifully sunny day. In the City Hall, the Rat Haus, they have three models of Hannover. The first is before WWII, the second just after, showing the total destruction of the City and the third, as she looks today. I t is an eye opener. Hard to believe that much fire and destruction can rain down from the skies. What was Adolph H. thinking? Again we ponder the question, did he and his cohorts set out to do bad things or did it just evolve into terrible and terror?
We were hoping to find an Internet café somewhere along the route, but NOTHING in the center is open today, Sunday, except restaurants. Cat had found an Internet place that was open, on her journey to do the laundry. We walked there and worked on our emails for 3 hours! It had been 5 days since we'd seen a computer. I go in and out of feeling bad. Achy all over, depleted of energy, even felt like I had a fever while we were at the Internet café. We walked back to the hotel very slowly and I went to sleep immediately. Cat worked on the missing parts of our journal and watched BBC, wondering what to do with me? After a couple of hours she walked down the street to see if she could find something to eat. It's Sunday, so all of the markets are closed. She found a sandwich and soup. By now I couldn't eat anything, I just wanted to sleep.
June 2, 2003
Healing in Hannover
We were supposed to head out today, but I still feel terrible and have diarrhea. There is no way I can get to far from the toilet! Cat walked over to a wonderful marketplace and got some bananas. We extended our stay for another day. Pleading for an air- conditioned room was fruitless, they don't have any. However the plea did help produce a 2nd fan. I just lay in bed and watched TV, while Cat went out and did some errands and more Internet. She brought lunch back to the room. I managed to eat a little, not much. Cat couldn't sit still, she went back out and walked around town. I remained bedridden. Cat brought back take away food from the marketplace, but I still had no appetite. Hopefully tomorrow I'll feel well enough to ride.
June 3, 2003
Another sick day
Both of us were awake most of the night. The room is really hot even with 2 fans whirring. They do help but it is still uncomfortable. In the middle of the night I lay awake, contemplating the need for a Doctor. Snoozing off and on, when I woke up, I felt quite a bit better. Probably the threat of a Doctor, that always makes me feel better! We had an early breakfast to see how the food would set. We both really wanted to ride out today. Back in the room, I decided we had better stay another day. It was another day of sleep, sweat and toilet seat for me. Cat did some marketing and Internet.
June 4, 2003
Hannover to Buckeburg
60 Kilometers
Slow start, after 10:00 Am by the time we had some breakfast then loaded up and were at the front desk. Checked out, we asked about the best route and began getting opinions. A guy standing nearby, Christian, told us he was a cyclist and then began describing a route south, then another not quite as south but we could go through the famous village of Hameln. We didn't get the famous part until he brought up the word, Piper. Well, we learned of the village Hamlin where the Pied Piper led the rats away then the children when the village refused to pay. The problem with the young hotel staff is that they only know directions for guests who are driving. We couldn't go on the E 30 as they suggested. The problem with cyclists like Christian is that, though well intended, they seek the most scenic or interesting routes. In fact he described a ride he is planning that will follow the scenery and classical music. At this point we just want the shortest way to Amsterdam.
Out on the street we chose to follow our own best sense of direction. After a few blocks of following the river to the northwest we stopped for a traffic light. A cyclist pulled up and we asked. He spoke no English but tried hard. Go yellow building then to river, very hard find river. Follow. He took off with the light and we tried to follow but he was half a block ahead and then turned left. We could still see the building so we continued toward it. At the next corner as we waited the light he rode up from behind. This time he said, "You follow!"
He led us to the river and pointed the way. We exchanged handshakes and offered our dankes, thanks, then he disappeared again. We were on our own. What a kind guy would to take time from his day to make sure we were going in the right direction? A very nice kind, that's for sure.
It was warm, not scorching hot but warm. The humidity had sweat pouring from my puny pores. I felt better but not whole. By 11:30 I was getting shaky. We stopped at a service station and I wolfed down 2 orange juice Popsicles and a green Powerade sports drink. I felt completely dehydrated. Rested, we rolled, I sloshed, on down the roadway.
We came upon a young damsel in distress. Her chain had jumped the gears in the back and was caught in the frame. I tried to break it free but it was really jammed. I pulled our tool bottle out and loosened her wheel, pulled the chain free and tightened the nut and she was off like a shot. She had been nervous, she spoke no English, and to her we were aliens. She did turn back and yell out, "Danke".
Hungry, we turned into a large shopping center. For whatever reason, we chose a furniture store, a giant furniture store that had a restaurant sign on it. I asked at the info desk and the lady pointed up. It was on the third level, over looking the entry. I asked about parking the bikes inside and she nodded approval. As we rolled through the stationary revolving door another lady made a big deal and indicated that we couldn't bring them in? Our original friend overruled her and we were on the way up the escalator to soup. Watching the guy next to us eat his, and not knowing much about the menu, we just pointed. Pretty good, a little spicy but I set aside the pieces of hot dog and ate the cabbage and potatoes. Cat ate every morsel of hers.
Countryside, fields of green grains and low hills covered with trees. A castle or windmill scattered about, occasionally. A car dealer had his head turner out front and it made me screech to a stop. The MBZ 600 is a classic that I have long admired.
We were really moving like turtles. Riding on the bike paths is great most of the time but in the villages we are relegated to the sidewalks. They are bumpy, the driveways are humpy and they feel dangerous because they are often narrow.
Our goal was to make it to Minden. We were tired, I was really feeling shaky, the wind was coming up and it was getting late. Buckeburg is 11 Km short of the goal but we turned off anyway. Following signs for the Hotels we stopped at the first one we came to. Cat checked it out. One thing we thought we wanted was AC, it didn't have that. We talked then decided not to go any further. Hotel and Restaurant Jetenburger Hof would be our home. The bikes were parked safely in the garage and we carried our bags in.

The room was cool and the evening was beautiful. Relaxed and showered we had dinner at 8:00 PM. They have an honest to goodness beer garden. It is covered but open on the sides. The breeze felt great. They cook on a rotisserie and the chef serves off of the spits. He holds them above the plate and carves small slices off the sides. Interesting, one spit may hold food that goes to 3 or 4 tables. He carves, makes a show of it then moves to another table and goes through the same process. The crowd loves it, very unique. I wanted bland so ordered a turkey steak and boiled potatoes. Cat had salmon so neither of us would be a participant in the showy service. Though the Imodium has stopped the flow I still feel queasy and have a stomachache. Cat loved hers, I ate more than half of mine. That's not much considering my normal food intake but it is much more than I have eaten at one sitting, in three days.
As we ate we were intrigued by a group of guys at a table nearby. They were from several countries and using English language as the common denominator. They were laughing and joking and having some real fun with the language and each other. When we were finished we went to their table and I asked if they were from the United Nations. That got a good laugh and we were able to get to know them a little. One young guy, a Dutchman, works with an Imagining Company near here. The two Japanese guys are their supplier, I think. The two Slovakians and guy from Portugal are here for training. We had a ball doing "You must be crazy". In fact the Dutch guy and the young Japanese did a cool rendition by speaking the First part in their native language then the other would do, "You must be crazy", in reverse. The Japanese guy said it in Dutch and the Dutch guy in Japanese. Very funny! The two Slovakians did a great job, too.

We asked a gal that Cat had been talking with at an adjacent table to take our picture. As I explained the camera to her Cat went to the head of the table and stood next to the older Japanese man. I suggested she come back to the other end of the table and she said, "No, I think I'll just sit here," and she sat in the older mans lap. Shocked at first, he enjoyed it and asked one of the others to take a picture with his camera. The other were going crazy, "She's sitting in the Presidents lap," one of them snickered. All in all it was great spontaneous fun.

"You Must Be Crazy" Dutch

"You Must Be Crazy" Slovakian

"You Must Be Crazy" Japanese

We took a picture with the gal who took that picture, too. She is in charge of a Seniors Housing Project here in Buckeburg. I told her about My Uncle Boyce who lives in Courdelaine Idaho in a Senior Community, Heritage Place. Dorothy, her counterpart there, prints our stories and he shares them with several of the other people there. Though still not feeling great, the social side of things had given me a boast.
June 5, 2003
Buckeburg to Bad Essen
57 Kilometers
Breakfast was a lonely affair, it was just the owner and us. He's a friendly enough guy but the no English-no-German language barrier left him smoking at the end of the bar, waiting to lock us out so he could go back to bed. The partying went on into the wee small hours of the evening. We could hear the fun from below through our windows. He had to have been the leader of the party and our included Fruhstuck had cut into his sleep time.
Buckeburg is a wonderful little village centered around a 500-year-old Castle. Well at least some portion of a wall or something started it all back then. It is obvious that there have been many additions over the years. It sprawls behind the remnants of a moat that is now a beautiful pond with ducks and lily pads floating on the surface. The Rat Haus (City Offices) and Info Center are just across the fountain square.
The girl was cordial but had very little English both in vocabulary and printed material. We collected some of the brochures and she came up with the story of the Castle brochure in Anglais.
Westward we go, Cat full of energy and Pat still full of, well we won't go into that one. I was still not feeling up to par. It was good path in the countryside and the sidewalk in villages again. Progress was slow for both of those reasons.
In Minden, our goal destination yesterday, we crossed the bridge over the Weser River. The bike path along its shore was paved and full of cyclists. We asked whether the paving extended to the Middlelandkanal at a sporting goods store. One of the young gals there did speak English. She asked everyone working there about the path then reported that none of them had ever been on it. We decided to give it another try.
Down a steep hill and out onto the levee. Strange, most cyclists here just pass with out eye contact. If we say hello they respond, usually after they are moving away. The paving soon ran down to gravel but we persisted. As we passed under a huge overpass I decided to push up a steep, loose gravel path and take a look. Cat waited at the bottom. What a shock when I crested the rise. This was the Middlelandkanal. The huge overpass supported a canal and ships. We pushed Cat up and began our ride on a concrete pathway.
In less than 3 Km we ran into what looked like a dead end. I found a gate that was open but as we pushed through a guy sitting on his boat, chipping paint, used sign language to tell us that we had to go up, onto a road then to a bridge and cross the canal. Cat was ready to quit but the spirit of adventure pushed me, she relented. Once back down on the edge of the canal we rolled along until we hit construction. Relegated to pushing for a while then back up and onto gravel, then ruts, then rut. We were really stuck in the same old MiddlelandKanal rut. I passed under a bridge then stopped and asked Cat if she had seen a way up there. She had and we took it.
It was a country lane but paved. We set off across the bridge and toward the direction of highway 65. It wasn't long before the surface began to break down and we were again riding on dirt and rocks. Highway 65 was soon visible but took some effort to reach.

More Dirt and Rocks
Pushing down the paved bike lane we tried to make up for some of the time we had lost. It was tough because I felt weak and shaky. Then the bike path road gave way to construction. More pushing.
In fact we pushed up to a restaurant with a fenced area and umbrellas. Lunch might help the shakes. As cute as the outside dining area was, we decided to escape the noise and dust of the construction and sit in solitary again, inside. The owner was a great guy but no English. We decided on what we thought of as Chef Salad and it was just what the Doctor had ordered.
Raindrops began fall on our heads. Not enough to soak but just slightly irritating. It did cool things down, to the point that Cat had to put on her jacket. However, the sun soon peeked through, the sweat rolled and the jacket went back in the bag.
By 3:00 PM we were beginning to make alternative plans again. Osnabruck was still more than 40 Km away and we were both getting tired of the bike seats and the head wind that had been whipping its self up since the raindrops had stopped. Bad Essen would be it for today. Unfortunately it is 2 Km off the road. What a beautiful lane into the village. There was a Castle that has Guest Rooms but we decided that it may not have food and Internet was unlikely. Onward, more construction then a village so quaint that we began to compare it to Laguna Beach or Balboa Island back on the California Coast. Another very nice girl at an Info Office spoke enough English to get our needs and find answers. I told Cat on the way in that we would find a perfect little place. An inexpensive little guest house across from a wonderful little restaurant, next to a Grocery Store and Internet Café.
Hoger's Hotel has an old feeling about it. The lady speaks no English but tries, to the point that it is sort of irritating. She just forges on, thinking she understood when she missed the entire point. She did show us a garage to leave the bikes in. I removed and carried bags while Cat got us checked in. She parked the bikes in the garage but couldn't figure out how to lock it. The lady came out and with typical enthusiasm she agreed that this was the garage. Cat closed the door and she said, "Okay" then started back inside the Hotel. It took 4 attempts on Cat's part to finally get her to slow down and realize that we wanted the door locked. "Ah so", she pulled out a ring of keys selected one and turned the lock. The moment of language frustration was finished.
The room is nice, overlooking the square and guess what, across from KaffeeMuhle, the Internet connection. While I typed Cat explored. The Kaffee does have a computer and it is on a first come basis. They have sort of snacky food and a Pizza made on a potato pancake. We decided to hit the machine and have one of the pizzas as an hors d'ouvre. The pizza was hot, the computer fast. We settled in and ate 3 pizzas, Cat had a little wine and I stuck with the soft drinks. (You can easily see that I haven't healed entirely, yet.) In fact we spent 2 ½ hours and cleaned up all old messages.
When we paid the bill they just charged us for the food. We reminded them that we had been on the machine. The girl leaned close and whispered, "We don't want the word out, but, when you buy food or drinks we include the computer time."
What a good deal for us. We walked back to the room then decided to go back and get a picture of ladies of KaffeeMuhle. They were so busy that we had to wait, the place was now packed. The chairs and tables out front, in the bar area and up the stairs are full. They took time to line up for a quick shot then hurried back to tend their customers.
June 6, 2003
A Dizzy Day in Bad Essen
Up and ready to go. Cat was packing her bags while I shaved. I was ready for breakfast. As she stood and turned She was suddenly dizzy and felt like she would pass out. I helped her to the bed and she lay back on the pillows. She had that gray green pallor look. I went down and got a glass of orange juice for her. We have thought that this problem might be related to low blood sugar. We sat and relaxed but she was really dizzy. Finally I helped her down stairs and we had a bite to eat. She only had fruit and yogurt then went back upstairs. I finished my almost normal breakfast. Yes, I was feeling pretty good, again.
Back upstairs we had a short meeting. Bless her heart, she wants to ride, but has a hard time standing up. I decided to go down and take the room for another night. Surprise, they are fully booked for tonight. Undaunted, I walked to the Info Center. The same gal who helped us yesterday called and made sure there was a room available at The Dutchman Hotel. Back at the room I packed and hauled bags down. I asked for a key to the garage and the guy who we had thought was the owner came out. He asked where I was going and I told him we were moving to another Hotel. He seemed upset and asked why we were moving. "You are full," I answered.
"No, I'm sure there was a misunderstanding, we have rooms." He called out to his wife, the one who had just sent me packing. She yelled back something in German and he said, "Oh, sorry, we are sold out."
He helped me get the bags to the garage and talked while I loaded. He asked what Hotel we were moving to and when I told him he said, "You don't want to go there, let me help you get a good room." We jumped into his MBZ and he raced through the cobblestone streets. He, his wife and daughter run the Hotel. Actually he works for an Elevator Company and is away Monday through Friday so the ladies actually run the Hotel. He is a golfer and has set up package deals for golf, dinner and Hotel. That's why they are booked up Friday and Saturday night.
Hotel Buchenhof is quaint and historic, almost storybook feeling. The lady there was very gracious. She had a room but it is 10€ more than last nights room. She also has an apartment room with small kitchen for another 10€. I looked at it and it was a natural. We could pick up some groceries and eat in.
I rode Cat's bike up first and parked it in the subterranean garage. A quick walk back and I rode my bike up then turned right around and went back for Cat. She was upset because she wanted to push her bike to the new Hotel. We went to the grocery store and got snack food for lunch and soup with pasta for dinner. Of course Cat loved the room. She said, "This place is like living in a story book."
We relaxed, I typed and she watched The French Open tennis match. At 5:30 I went over to KaffeMuhle and checked the e-mails. Since we cleaned them completely yesterday it was pretty simple. I did make another attempt at springing Lil' Scotty. Yes, she is still stuck in the Port Hueneme Prison.
Cat, feeling her old self, had whipped up a wonderful meal, our favorite, pasta in soup. We ate, typed, watched TV and relaxed.
June 7, 2003
Buckeburg to Ibbenburen
Emsaga on the Mittelandkanal
We both felt healthy at 6:00 AM so to celebrate we fell back asleep until after 7:00. The breakfast was nice, we sat overlooking the garden and the building our room is in. We agreed that it was like living in a Thomas Kincaid painting.
All bags on board, we pushed up the steep driveway and rolled out and down toward highway 65. The sun is peeking in and out of a broken cloud cover. Quickly into countryside, we found the road good and a bike path most of the time. At about 15 Km we were cast out upon Freeway 65. Somehow we were on a four lane without a bike lane. Many of the drivers honked to let us know that we were not supposed to be there. I always tried to wave but what the heck could we do? We had to just tuck down and ride. It was not only dangerous but it was up, too. We climbed at a painfully slow pace. Finally at the crest we caught an off ramp.
As we stood, trying to decide what to do or whether to go back onto the Freeway a car pulled up and the driver, Vera, rolled down her window. I grabbed the map and approached her. She told us to go 100 meters in the wrong direction then turn back on a bike path that would take us all the way in to Osnabruck.
She was right and we loved the path. Though we had to ride the bumpy sidewalk in town, it was safe and fairly fast. We stopped in the center and got directions from the Tourist Info Center and enjoyed bells of the huge church and the action in the center. The girl in the center told us to push through the arch behind hr office then just ride west. We did but stopped and picked up snack food, ham and cheese and bread for a picnic.

We passed several parks but none had a table. Hungry, we chose a bus stop bench to have a good picnic in the shade. It is warm in the sun, almost sultry.
At Ibbenburen we pulled up and I had an orange juice Popsicle. We on loaded a bottle of Chablis, just in case? Back aboard, we just pedaled. Our chosen goal for today is Rheine and we made it at 4:20 PM. I had another Popsicle while Cat sought shelter. She talked with a girl who said, "2 Km to the center, many hotels."
We rode, past one Gasthaus but it didn't look central enough. Then, in the center, Cat asked a Taxi Driver and, following his direction, we veered off to the right. Hotel Lucke is on the river but under re-construction. We were tired, the price was high then the young guy, Christian, reduced it by 10€ and she took the deal.
We were surprised when Christian opened the door. There were 20 bikes in a row. He has two other cycling groups staying here tonight. One group of 14 is out right now, on the river, making today a biathlon for them.
We off loaded and hit the shower and computer. By 6:30 we were walking into the Market Square. It is open and ringed with Restaurants. We chose the one with the most people sitting under umbrellas. Food was good, wine by the glass but that worked out okay, too.

A

s we walked away from the restaurant we watched a gal taking pictures of the square. She was intent and selective. We struck up a conversation and to our delight, Sabine not only spoke English, she knew a lot about this area and the world. Her husband was in the Military and worked internationally, even in Huntsville, Alabama. She told us about the South of Germany and the village that she came from. What a delight to talk with.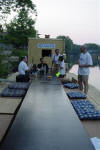 Earlier, we strolled to the top of the bridge next to the Hotel and watched what looked like a reception on a homemade looking raft. As we returned I wanted to see if they were still there. The group of people had gone but there were 3 guys still on board. We went down and called out to them. They invited us aboard and told us about EmSaga a journey down the canal in handmade boats. The idea was born 20 years ago. Well, the fathers of these guys started the event. This is their fourth voyage together. They offered us a drink on the deck while they introduced themselves, Stephan, Torsten, Stephan II and a guy that walked up, Udu. They all said that he was the only real sailor on the team. He has been in the German navy and sailed around the world in 11 months on a training square-rigger. It is just for fun, the group that was here earlier was an Historic River Craft Club. We had a great time, they poured wine and we learned a little about them and they about us. We will have to link their web site. It was hard to believe that at 10:00 Pm the sun was still in the western sky.

EMSAGA IV Guys
Sunday June 8, 2003
Ibeenburen to Hengelo
72 Kilometers
Into the Netherlands
The breakfast room was full of cyclists. There is a group of guys, German guys that stick pretty close together. I did ask one of them about their trip, he out lined 10 days and did say that they were the group who was rowing last night. He hurried away to finish breakfast. They are on a tour and the van is leaving, soon.

A group of women sat near us but seemed to only speak German and were having lots of serious conversation. We finished and carried the bags down. The women were in the driveway, loading their bikes, too. One of them spoke enough English to have a small conversation. They are on a 10-day trip. This is only their second day. We asked to get a picture, one gal seemed upset and rode away. We had the young guy, the son of the Hotel Owner take our picture. As they rode out the driveway we noticed a helmet and gloves on the stairs. I called out but they were at a loss, they were all wearing their own helmets. Then they looked and realized that the gal who already left had left her helmet and gloves. She really must have been upset?
We decided to see what was happening on the boat. The Hotel owner's son said that his room is on the river side of the Hotel and the Boat People partied until the wee small hours of the morning. On the bridge we could see that a couple of them were still lying on top of the wheelhouse, trying to sleep. Two guys we hadn't met before came up carrying an empty keg of beer. We stood and talked and they gave us the a little more insight on the Boat People. The first boat was launched in 1983. In fact Stephan I who we talked with last night told us he was aboard and was only 6 years old, then. The second boat was built in 1988 and the third, the Viking Boat, in 1998. One of these guys was Stephan II's brother, Christian. Their Father is one of the original boat people too, we think.
We were on the road and headed toward Holland by 9:15 AM. There was a little climb then flat but city sidewalk riding. Lots of bumps and detours. After an hour and a half I pulled us in for an Orange Juice Popsicle. Two very serious cyclists pulled up, one went to the toilet while the other filled their water bottles at a hose bib. They nodded a hello as they cranked out of the driveway. It was like an Indy Car Pit Stop.

The sign said Niederlande inside the circle of twelve golden stars on a dark blue background. Under that was a rider that said, 1 km. Taking no chances we took a picture there. In just 2 ½ months we have come from Vaasa, Finland to this 9th Border crossing. We have spent 17 days in Germany and loved it. Well we didn't like the illness thing but were happy that we had nice places to stay when we needed them. The country has been spring green, great weather and wonderful cycling routes. Though we liked it we are ready for change.


We are making pretty good time, we covered the 40 Km from Rheine to the border in only slightly more than 2 hours. Sure we could do another 40 we pushed on. Passing through Oldenzaal, Holland, we chose to go on though we were hungry. Just outside of town, on a bicycle overpass over a bicycle underpass we ate the left over ham and cheese, just a snack. As we rolled out we came upon a parade of people led by priests? Also, a strange sign that seemed to say it was okay for your doggie to poop on the trail?
A cyclist pulled up from behind and started talking with Cat. He, Hennie Kuiper is a 12-time participant in the Tour de France. He also worked for several years with the Motorola Cycling Team from the USA that Lance Armstrong was riding with. We were impressed, he was pressed because he pointed to the gathering black clouds and indicated that it would soon rain. He led us to the edge of Hengelo and suggested several restaurants. As he rode away I wished that we had taken a picture with him. He is a World Class Cyclist and now a PR agent for a Cycling Team.
Well, Hennie was absolutely right. We pulled up in town and chose an Irish Pub Restaurant. We sat at a sidewalk table until the wind suddenly began to howl. We moved inside just in time. The skies really opened up, the rain came down in buckets. So thick at times that we could barely see across the street. Our sandwiches were good and the young guy there, from Scotland, was a treat. He even suggested a Hotel. Yes we were throwing in the towel on the wettest afternoon of our ride.
Cycling in gusty wind and thick rain we checked the Hotel and would have to leave the bikes outside, in an alley. The guy there was nice enough to suggest The Best Western and told us how to find it.
The price is above budget, what else is new? They do offer unlimited Internet access and breakfast. The rain looked even wetter, we took the deal. They made us park the bikes with those of the staff, in a conference room. We were now high and dry. The clouds began to scatter as did the showers. We used the computers and cleaned up our e-mails then walked to a nearby restaurant, in heavy drizzle, and had a good time eating and people watching. There was a little girl, definitely a cute 3-year-old Dutch girl. She had the look of Holland but her actions were international. When she wanted something she know how to get it.
What do I have to loose? It was 10:00 PM, late to call someone especially someone you don't know. But, if I don't call we won't meet Hennie, for sure. His cell phone rang several times, I was almost ready to hang up when he answered. I asked and he said, "Maybe," can you call I the morning at 9:00?" Hey, that is at least a little better than a turn down. "All things are possible, just ask."
June 9, 2003
Hengelo to Apeldoorn
78 Kilometers
The Great Hennie Kuiper
Rate has its privileges, as they say. Well, we know that they usually say RANK but for us, at the rate we are paying for the room here, we have a lot of English language TV stations. On top of that, we enjoy the spoils of a small country, they broadcast in English with Dutch sub-titles.
We awoke this morning to the news that our friends in Poland have voted to become part of the European Union. We experienced the euphoria some Poles were feeling about the change and the fear of others. The farmers fear that they won't be able to compete. Government workers fear that their jobs will be deleted and of course the huge bulge of people unemployed fear a loss of their social funding. That is all history now and it will be interesting to see the results over the years. We sense that it will be a good thing and may open a lot of doors for the people of Poland. Our friend Franklin Zawacki sent an e-mail that described Poland as a place dominated by either the Russians or Germans for centuries. Maybe that will change, too.
The Boys of Spring here play Soccer. They had been a boisterous bar crowd last night. One of them had dropped his pants near where Cat was working on the computer. Not directed at her, he probably didn't even realize that she was there. They are a pretty quiet bunch this morning. Two guys, Fathers of players we thought, mentioned that they had seen us come in on the bikes, in the rain.
I asked if they won the game and one said, "Of course not!" A young guy nearby added, "We never do." Not a healthy attitude, maybe it affects their playing? Curious, I asked him if they were a Community Team or Professional? He laughed and said, "Community, there is no money in this." We enjoyed the included breakfast with a large spread, even fresh fruit.
Back in the room, I made the call to Hennie. He not only said he would come but asked if it was okay to bring a friend. We were excited as we filled the bags and took them down to the conference room parking lot. By the time we pushed out into the lobby Hennie and Jan were there. We talked for a few minutes then went back into the restaurant and had coffee. Amazing, the Soccer team all knew Hennie and wanted to say hello to him.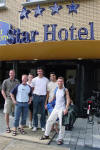 I had checked Hennie's web site (www.Hennie@Kuiper.nl) and the stats are truly impressive. Olympic Champion, National Champion, he has done it all. Jan and Hennie have conducted a couple of tours and it sounds like they will do more. I told them about my idea to run tours back and forth from Katmandu, Nepal to Lhasa, Tibet and how I decided that it would be too dangerous and costly, especially the insurance. They have a very good idea. Their first trip was to Alpe d' Huez, a well-known stage of the Tour de France. They recently they took 500 cyclists to a famous climb. These kind of short trips should be easier to manage and less costly than foreign trips. If you feel like a little climbing pain and want it with a Champion, check Hennie's Web site.

Holland's Hero, Hennie!
Hennie is also part owner of Raleigh Bicycles of Europe. He rides a beautiful Raleigh and wears Raleigh shorts and shirt. They bought the rights to the name here. Another thing a retired hero of cycling here does is host tours for RaboBank, one of Holland's largest banks. They take a bus to the Tour de France and other big races. Hennie meets the clients and introduces them to cyclists and explains the course and strategies. Both Jan and Hennie are just down to earth, cordial guys.
We cycled together to the edge of town, shook hands and they shot away like sports cars, on a road ride while we pedaled our over loaded trucks toward Apeldoorn.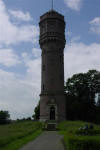 It was a beautiful day full of sunshine. The roads were tree lined in fact covered, almost like a tunnel some of the time. We stopped to take a picture of Kasteel Twickel then took a turn for the worse. Well, we somehow rode off in the wrong direction. A couple of older couples looked at our map, their maps and held a big discussion in Dutch then indicated that we would have to backtrack the 3 Km we had just ridden.

O

n a corner we met Koos and Gerry, a Dutch couple who were looking at their map and the signs above. They are on a two-week cycling trip and were trying to find the Castle Route. We told them about Kasteel Trickel, got a quick picture together then cycled off on our separate ways.
In the village of Holten we found a kind of fast food place open. The food was all deep-fried and different than anything we had seen to date. One item that was pretty good was some kind of noodles in a breaded patty. Other things included some kind of sausage also breaded and deep-fried. We rounded the feast out with an order of Pomme Frite, French Fries.
Up, over the bridge of the river Ijssel in Deventer then farms and forest into Apeldoorn. We found the Centrum but found little there. I went into an Italian Restaurant and the owners, Sanny and Antonio took on the job of the Tourist Office. They talked about Hotels in Dutch then decided that we should go to Hotel Garni Abbekerk. She called and booked a room, 65€ including breakfast. We promised that we would be back for dinner.
The Hotel is really a B&B, a 100-year-old place that was built as a guesthouse, and later used as home for the local Priest for several years. Finally it was converted back to a B&B. The couple that own it now are young and ambitious. She, Shannon is from California, in fact she lived in Ventura for two of her High School years.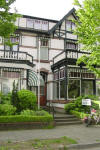 Tired but thankful for their help, we took a cab back to Tipico. Sanny and Jan Pieter served us the energy giving pasta that Antonio prepared. We took a picture with them, even included Mohammed, the dishwasher. Charles, from a nearby table took the shot, which got us into a conversation with them. He, his wife Yvonne, son Sebastiaan and daughter in law, Chantel struck up a conversation, nice people too. The pasta gave us an energy surge, we walked back to Garni Abberkerk.
June 10, 2003
Apeldoorn to Amsterdam
91 Kilometers Cat has decided that the woman does the after
noon work in these B&Bs and the guy takes the morning shift. Jeroen was the breakfast person. We hit the spread then loaded. The plan to leave by 9:00 AM deteriorated to 9:30. WE took a picture of the house then pedaled west.
All the promises of "No hills" in Holland dissipated as we climbed out of Apeldoorn. Not hills like Wyoming but some pretty good ups and downs. The scenery is sylvan, open space and forest. Maybe the best part is the bike path that parallels the highway. The road was a straight shot to Amersfoort, small villages and farms clinging to the edge of highway 344. This is the half way point, at least we thought it was.

Amsterdam, Here We Come!
Sandwiches in a tiny bakery, seated at what looked like elementary school desks. Back out on the street, we followed the signs toward Soest. That didn't last long, the path and street was closed, under construction. A couple of couples stopped and helped us. We backtracked then checked with a cyclist who confirmed the route the couples had suggested.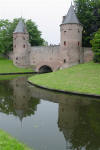 We did find Soest but still felt lost so we pulled up at a bicycle shop. The guy there spoke little English but showed us on the map what our alternatives were. He suggested a southerly route as the shortest and best road surface. We set off, in drizzling rain, looking for the second set of stoplights and the Palace of the Queen Mother. The picture we have may or may not be Queen Mothers place but it is beautiful. Then, we passed the turn our cycle shop friend had suggested because a bicycle path sign pointed in the other direction and advised 35 Km. Once we started in that direction Cat said that she thought we were on what he had called "The scenic route."
In short time it was clear that we were on the shortest, not the most scenic path. We were riding adjacent to highway A 1, a fast moving freeway. Our map made it look like a good bet, except for the fumes and noise. It was just grind out the miles or Kilometers, through farms and suburbs. Just a few kilometers out of Amsterdam there is a village so picturesque and pristine that we had to stop. While we ate our ice cream they opened the lock and swung the bridge aside to allow a pleasure boat passage. Another interesting spectacle, some young guys swimming in the canal right under the sign forbidding it.
As we neared Amsterdam we tried to use the city map that came with our big map, to no avail. Once inside the city, we stopped at a grocery store for a celebratory bottle of wine.
It was getting late and we were lost. A stop at a photography store confirmed that we should follow signs to Central Station, for an Info Office. We parked the bikes and I waited while Cat found the Info Office. I had to move them twice, once because we were parked in front of some busy Post Office Boxes then again because I was under a pigeon perch and they were showering pigeon poop down on the bags.
Info was of no help regarding Hotels so we pushed off on a quest. The first stop, Victoria Hotel had only a single room available and it was 200€ per night. At Crown Plaza they did have rooms but they started at 225€, we walked another 50 meters and found Avenue Hotel. Cat went in and came out smiling. They had a room, we could keep the bikes in it and the cost was only 75€! We were at home in Amsterdam.
It was a tough struggle, getting the bikes into the elevator and up to the 3rd floor. A peek inside the room and we agreed that we couldn't keep the bikes in this room. It was way too small. Back to the lobby, the staff allowed us to store the bikes in the luggage room. We were really at home in Amsterdam.
Once we had shelter food became our primary motivation. We showered then walked to an Argentinean Restaurant. Good food and wine.
June 11, 2003
A day of exploration in Amsterdam
Visiting Vincent Van Gogh
Essentials first, we found a Laundromat. There were 3 guys, big guys doing their duty. Thanks to them we avoided the long learning curve. They guided us through the entire process. An uncle and two nephews, they are here from Modesto, California with a lot of members of their Dutch family, meeting relatives and exploring roots. Another guy from Florida came in and we passed on the lesson. He had a quick sense of humor, when we asked what brought him here he told us he was re-living his youth, smoking dope. Of course that was a joke, he works for City Government back home. He and his wife are just visiting but they did look up the family of his boss.
Internet at the tourist office but the lines were too long to get any Info. Another non-Dutch lunch, soup and a huge sandwich in a Scottish Restaurant. The next hour was spent in frustration, trying to figure out the boat system. Sent from hither to yon and back we finally learned where to buy tickets and catch the CanalBus. Once on board it turned out to be a very good investment. The ticket is good until noon tomorrow. Gliding through the canals is a great way to see Amsterdam. The pilot has a computerized vocal guide and he points to the things the recorded voice describes.
Our love of Vincent led us first to The Van Gogh Museum. In celebration of his 150th birthday they have a special exhibition of works of art that Vincent would have surrounded himself with. The permanent exhibition is fantastic. Vincent was born here, we were surprised to learn that his Father was a preacher and that he tried it for a while but gave it up for his art. The museum is 4 stories plus an annex. It took most of our afternoon.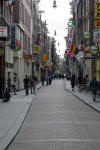 We walked back through the Rijks Museum but decided to pass, it is so big and our time is so limited. Meandering through the small streets we stumbled upon a wonderful little wine and cheese stores. That took care of hors d'ovuers. We relaxed, typed and watched the news. At 6:00 PM we went to the lobby and waited for our Greenland friend, Eric. He was a little late due to traffic. In fact he decided to walk rather than drive to our Hotel. He is a trekker so nothing here in Amsterdam is very far, for him. As we waited we reminisced and tried to remember exactly what he looked like. As soon as he stopped at the door we recognized him.
Walking and talking we finally chose a Turkish Restaurant. Eric is an archeologist and has spent time in Turkey. In fact he has been selected by a German company to spend time on a dig there this September. He was in Greenland spending time hiking alone and concentrating on archeological sites, kind of a busman's holiday. If you remember, he stayed at the same Hostel we did in Narsaq. He is a divorcee, has a daughter 23 years old and enjoys his work.
Cat wanted to see the famous Red Light District but feared going there, just the two of us. Of course, I was pretty curious, too. With Eric as our guide, we made our way through the small streets to the old Church. Strange, the entire neighborhood around the church was designed specifically for Prostitution. Row upon row of windows and glass doors with women of every size, shape and color standing there, inviting guests in. It was almost 10:00 PM and the crowd was pretty thick for a Wednesday evening. We were surprised at how cute and innocent looking some of the girls were. A real learning experience. Later we talked with a guy from London who said, "Too clinical for me!" He was right, each little room looked like a Doctors Office, a bed that looked like an examination table and a sink. The girls stand showing their wares, in lingerie that shows most of what they are offering. It is a strange thing for us not used to legal Prostitution.
The other oddity for us is the open sale and use of soft drugs. Marijuana is everywhere. They sell all the paraphernalia and seeds but can't legally sell the drug itself. This leads to a lot of druggy looking people walking the streets, many with their hand out looking for handouts. It doesn't look like a very fun or interesting lifestyle to us!
It was a very fun evening and we hated to say goodbye. Though we will be here tomorrow, Eric won't. His company is having an overnight picnic so he will be out of town until Friday morning and we will be underway again, then.
June 12, 2003
More Tourist Things in Amsterdam
Windows full of Prostitutes!
Dinner and a tour with Eric
Back to the boat at 10:00 AM and off down the channels, again. Another relaxing and interesting tour from water level. Our first stop, the house where the Frank family hid during German occupation and their youngest daughter, Ann wrote her diaries of the experience. It is an awe inspiring, almost angering experience. If you let your mind wander s you walk, see the pictures and videos you can feel the fear and pain. Ann Frank and her family went into hiding in 1942 when the Germans swept into Holland. They stayed in the upper floors of the building for more than 2 ½ years but were found and sent to a concentration camp. She died there just a month before allied troops liberated the area. What a shame! What a terrible time, for the Jews and for all of us who share some of the guilt for not getting involved earlier and stopping the genocide. Make one wonder why we don't do something about the situation in Africa. More than 3,500,000 people have been killed there since 1998!
Hungry we found the Rembrandt Café and soup. Just next-door is the Rembrandt House. Yes, the Master Artist lived here for almost 20 years. He was a spender, borrowing to satisfy his appetite for things. Eventually he lost the house. The redeeming feature of the foreclosure is the list of personal property that was made for the sale. It gave those who reconstructed the house a guide to furnishings and works of art that graced the halls and walls back then. It is a typical canal house, narrow with a narrow winding stairway up the 4 floors. It is well done and does give you a feeling of life here, 400 years ago.
It began to rain as we struggled to find the Jewish Historical Museum. It is an old Synagogue that allows you to explore the religion and history of Jewish people. It is obvious that the Dutch Jews are liberal like their Dutch counterparts. Several times they express an almost negative feeling about the current state of affairs in the Jewish State of Israel. Neither Cat nor I had ever been inside a Synagogue and although this isn't a practicing Temple it does give you a feeling for the interior of one.
The rain slowed to a drizzle then stopped as we walked and searched for the World Press Photo Exhibition in the Old Church that we had seen with Eric. Of course the Red Light District and those windows full of flesh and blood merchandise surrounded us as we walked. The Old Church was almost more interesting than the Exhibition. Cat felt that the pictures were mostly about negative events but that is what the Press needs to sell papers. The most gripping pic is of a boy about 8 years old who is squatting next to a common grave of earthquake victims, holding his Fathers pants against his body while tears run down his face. You can feel the pain!
Our dinner at a small Italian Restaurant just around the corner from Hotel Avenue was good but the guy, our waiter, from Syria, was a bonus. His wife was there, visiting him. He works here at night and is a housekeeper in a Hotel during the day, he was an Orthodontist in Syria. She is studying Dentistry here and THEY are pregnant. They got here as emigrants because they are Syrian Christians. Although they love Syria they Very nice and open about their lives but also very attached to their Religion. Once again, lives structured to truth based on Religious beliefs. Don't you just wish that all Religions of the World would allow judgment to be handled in the HEREAFTER???
June 13, 2003
Amsterdam to Den Haag
67 Kilometers
A Re-Union with Ruud

Out of the room, and on the street by 10:00 AM. We set out to the west then turned south at Harleem. Yes, they have a Harlem here. In fact wasn't New York originally called New Amsterdam? You remember that it was the clever Dutch who cut the deal and bought Manhattan Island for beads and coins for about $24 bucks? As for Harleem, it ranges from plain to picturesque. We asked directions and took a couple of pictures. At one point Cat really had to go and we really were lost. We pulled up at a corner and the office there selling telephones was open. Cat went in first I followed and found that she was getting detailed directions. When the guy was finished she asked the most important question, " May I use your Toiletten?"

Cycling Amsterdam
From this point, Harleem, our southerly course will continue until we reach Cape Town, South Africa. That is a very exciting thought. Our next stop was a bageri (bakery) for a loaf of bread. We rolled on until we found a park bench in the shade and had a picnic. Cat had procured ham, turkey and cheese from the breakfast board.
It was just ride, ride, ride through gorgeous countryside. Either lazy country lanes or bike paths all the way. As we entered Den Haag we both signaled a left turn on the bike path but when we started to turn a young guy almost crashed into Cat. She yelled out and he shot back a fowl burst then we all rolled on.
For some reason the 70+ Km seemed fairly easy. We were in Den Haag by 3:30. Ruud had suggested that we call him from Central Station so we followed the path to the Centrum and station. As I called Ruud a woman reached across my arm and felt in the coin return slot looking for leftovers. She made the rounds of every phone regardless of whether they were in use or not.
Ruud said he would be there in 15 minutes. Cat wanted ice cream and Swirls was the place. We wolfed down a cup each and finished just as he rode up. We hugged and talked then he led us to his place. It is a nice residential neighborhood and his place, though under construction, is quite nice. We parked the bikes in his computer room. He gave up his bedroom for us and slept in the living room on a fold out bed. WE offered to take it but it was a single. He told us that he always trades out when his parents visit.
His Internet is DSL and on all the time. Very fast so we checked our messages and did the communication thing well into the night. He also has BBC and CNN on the TV in the bedroom. Cat was in 7th heaven.
June 14, 2003
A Day Off With Ruud
All of Holland in an Hour?
Breakfast, great espresso fresh baked bread and cheese. I did sneak a glass of OJ and a banana. We set off for the bike shop by 9:00 AM, dropped the bikes to have the new front wheels and gears installed then caught a tram into town.
Ruud thought we might enjoy a trip around Holland in miniature, in an hour. The place is called Madurodam. One of the most interesting things to me was the fact that the place was built by the Maduro family to commemorate the life and loss of their son, George who died while a Prisoner of War in 1945, just months short of the end of WWII. Another woman, Mrs. Boon-Van der Starp contributed in the name of the Dutch Student Sanatorium. The profits of our visit, all visits, are donated to charities for young people.
The little buildings are built to exacting detail. We walked through and took pictures. Ruud was right, we were ready to go in an hour. Hungry, we found a nice place and sat in the sun near an old Church now used as a community building. In fact they were getting ready for a concert inside.

Walking the shopping street we quested for mini CDs for the camera. The large electronic store had some made by Imation. We have no idea whether they will work or not but at 4.49€ for 5 discs we can dump them if they don't. We did find some Sony CDRW but the price of 35€ for two discs was just too steep.

Back to the bike shop buy 3:00, they had us ready to roll. I took a test ride and found that I couldn't shift up to third gear. They re-adjusted quickly, they were trying to close shop and head home for the weekend.
We spent the afternoon working on our computer. Ruud, who works at the Congressional Library, is a computer expert. We installed the AOL program without any problems but couldn't get it to call out. The modem was working but for some reason the program can't find the local numbers here in the Netherlands?

Dinner was Indonesian and fantastic. We all ate so much that we thought we would have trouble sleeping, no problem.
Sunday June 15, 2003
Den Haag to Rotterdam
33 Kilometers
Mooi Weer Spelen in Delft

It's Fathers Day! We had Ruud Coffee and breakfast again. Sun filled the back yard as we ate. We were moving in slow motion, it was 11:00 AM by the time we pushed out the door. Then, my shifting cable popped loose. Another lesson on how little I know about the bicycle. I tried adjusting from all three angles but couldn't get it to shift up to 3rd gear on the new front sprocket. Finally I got it but had to hold the handle grip to keep it there. Ruud suggested that we go to the Central Station where there's a bicycle shop that's open on Sundays.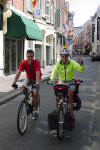 On the way to the Centrum we took pictures at the Peace Palace, what we in the States call The Haag. It is the building where war crimes like those of Milasevic from Serbia that is underway right now. There is a sign in the flower garden, actually a peace post that reads, "May Peace Prevail on Earth." It is the same as the one we saw in Granada, Spain at the Alhambra. I have seen it in Nepal and Japan, too. Maybe if we get enough of them planted they will begin to have an affect. Two rather interesting groups of people stopped and talked with us. Four from Taiwan, though one, the one who took a picture of us, Lorenz, is living here, now. Three guys originally from India stopped and looked at the bikes then asked about the Peace Palace. Two live her, I think, but one, S. Vigyananand, who was dressed in orange robe, is Zonal Coordinator for the World Council of Elders of the Ancient Traditions and Cultures. Not as simple as his garb indicates, he even has an e-mail address.

The Haag
We would our way past the Queen's Palace and the Parliament then on to the Central Station. Along the path we found ourselves in the midst of a large sculpture contest. There were a dozen or so interesting pieces running the gamut from "Big Hair" to "Elvis". One that caught my eye had what looked like garbage, food, pots and pans on it. A sign said something like, "You should be home cooking". Ruud explained that a politician had said that to a woman reporter during an interview when she asked a tough question. Apparently the guy was pretty conservative and controversial. Someone assassinated him a short time later. This all happened just last year and Ruud fell into a serious mood when he told the story. Though most Dutch are middle of the road liberals they hate violence, too. This was the first time a public figure, a member of Parliament, had been killed in more than 600 years.
The Bike Shop is in the basement. Ruud and Cat watched the bikes while I went in. The technician wouldn't even take a look, he said he was too busy but recommended another shop that was open. Ruud led us to another Railway Station and it's shop. The parking attendant there apologized, "The mechanic isn't here on Sunday." He tried to help but got busy selling tickets to cyclists. I took matters into my own hands, using Ruud and the parking guys advice. Somehow, I got it working.
Ruud decided to ride part of the way to Rotterdam with us. He was a good guide. It is a wonderfully Holland scenic ride. All on cycling paths most along the Schie Canal. Our relaxed pace put us in the quaint village of Delft at about 1:30. We found a little restaurant on the square near the giant church. Ruud told us that they bury the Kings and Queens in this church. The Stadhuis (City Hall), another gorgeous building, holds down the other end of the square.
We had just taken our sidewalk seats when a group of giant red giraffes began making their way into our end of the square. The event is called MOOI WEER SPELEN 2003, Nice Weather Games or a nice day for games. A lady who heard me asking interrupted to tell us that it has a double meaning. When you say Mooi Weer Spelen sometimes it means that you are doing well. What a fantastic coincidence, to have arrived just in time for the annual show. A clown and pretty girl sang in operatic voice as red giraffes circled them. The giraffes are two person things, one in the back and one in the front with wheels helping them walk along with the parade. A strange group of musicians in costume performed right in front of us. An even stranger group of alien looking people pulled a cart past. We thoroughly enjoyed our sandwiches and the entertainment. I tried to call Ole and Jan Olson's daughter-in-law Vera who lives here, but only got an answering machine.

They Bury Kings & Queens Here

Just 8 Km down the road we passed a Kool Aid Stand in the village of Zweth. The main street is parallel to the Schie Canal. A young boy had a table and was selling drinks along the side of the road. We passed it but I insisted that we had to go back. I have a basic feeling that you must always stop and buy Kool Aid from kids whenever you pass a stand. The boy, John is blond, and tall for his age. He was a little shy when I asked about his drinks. His younger brother Ruben was making a sign so I asked him to hold it up while we took a picture. We weren't sure whether curiosity or concern drew him out but Thomas, the Father, walked up and began telling us about their house. It was a stagecoach stop and travelers on the canal would also sleep here back in the 1600s. Many of the brick buildings, including their house, hide their age well. The strawberry drink was refreshing both physically and psychologically. The boys asked for 10 cents and were pretty excited when we gave then all of our change, probably 2€.
Though Ruud had said that he would go part of the way he led us into the Centrum of Rotterdam then circled around while we shopped hotels. Finally made a deal at the Holiday Inn. Over budget but this is a big town and we were tired of looking. Parting on the sidewalk, Cat hugged Ruud then I asked him to think about doing 3 things for us. 1.) Get a bicycle helmet. He rides to work everyday and that is a big risk he shouldn't be taking. 2.) Stop smoking and inhaling his little brown cigarettes. And 3) Don't be too hard on himself when he goes back to Greenland in two weeks. He is going to retrace the steps he and Sonya made last September. I asked him not to be any harder on himself than Sonya would be. I asked him not to be any harder on himself than he would want Sonya to be on herself if it had been he who lost the battle with the swift current and she had to go on.
We all hugged. As he rode away Cat said, "I thought you were going to cry." I told her that I had been thinking about what I wanted to say and it did bring emotions close to the surface. Ruud looked back at us and waved then disappeared into the crowd of cyclists.
The clerk suggested that there were several small restaurants around the corner. We found one and split a Greek salad and both had Ravioli. We just sat in the window and watched the sunset and the Dutch and others stroll by.
I called Jan and Betty Van Kasteren to tell them that we would be stopping by to say hello tomorrow. He is the guy who had a heart attack and found us while shopping for a bicycle on the Internet. They are going to the Doctor tomorrow for his check-up. We will try to cycle the 90 Km then stay in a cabin at a campground he recommended. We think it will be interesting to meet them. I also called Vera, Jan and Ole Olson's daughter-in-law who lives in Delft. A really nice gal, we're sorry that we missed her, we wanted a picture with her to send to our pals in Oxnard.
June 16, 2003
Rotterdam to Werkendam
78 Kilometers +- (Lost twice)
Spider and the Good Samaritan Family


Breakfast was one of those nothing sort of things. We went to the Info Center but it didn't open until 9:30 AM. We decided to get food then come back. A bakery had some goodies but no coffee. They thought that McDonalds was the only place to get some. It was just across the street so we got some and I had an Egg McMuffin. Pretty good, the staff seemed to be having a tough time getting the place opened. When we finished the girl asked if we had taken chairs from inside. All the patio chairs were stacked and locked so Cat confessed. The McGirl barked out that we must take the chairs back inside. Another couple was looking for chairs, I offered ours and we rode away.


This was another lesson in big city navigation. The wonderful little red and white bike path signs disappeared, we asked a young boy and he sent us out across the countryside in what would turn out to be the wrong direction. An older guy rescued us and pointed back down a road that would take us back to where we had started the wild goose chase. Trying to stay with his suggestion of going straight was impossible as the road swung left and ended at the street we had come in on. We jogged right then rode up a residential street and stopped at a Fire Station. Surprised to find that we were still in Rotterdam, we got very precise directions and a picture.
Exacting the route shown us by the Firemen, we were soon lost again then as suddenly as they had disappeared, the little bike path signs were back and got us on track. We had to take a Ferry across Maas Noord to Kinddijk. (The children's dike) There is a cluster of 19 windmills here, extremely picturesque and definitely Dutch. We sat in a snack shop and enjoyed the view more than the food. The mills contrary to what I always thought, are not grinding mills but a flood control system, lifting the water up and over the dikes, into the river. Whatever the reason, they are almost 300 years old and beautiful.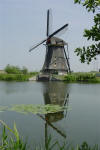 This is a popular tourist destination and we met two groups on bicycles. The first were families from various locations in the US. The kids were pretty curious, one little girl even took our picture. A couple from Winnetka, Illinois were surprised that we had passed through the area and that Cat had lived there when she was a little girl. The kids all knew kids who go to the school Cat attended. One couple told their kids, "You stay with these guys, we're going with Pat & Cat, see you in two years." Everyone laughed, except their two kids. They are on a Butterfield and Robinson Tour. One guy cautioned us to keep an eye on our bikes, theirs had been stolen while they ate lunch yesterday.

Riding Kinderdijk

The second group was all Italian, most about our ages. They were wearing yellow t-shirts and having a great time. We caught them at a windmill stop and despite language problems, had a wonderful time with them. We got one to do, "You must be Crazy" then he rounded up most of the group and they sang a song with the word "California" in it, which they emphasized for us. The vocal one strained to tell us how sorry he was that his favorite actor, Gregory Peck has died. (Interesting, his death and that of David Brinkley occurred the same day but Brinkley is not known here in Europe.)

"You Must Be Crazy?" Italian

Singing Cyclists
We recruited two gals, Lourdes and Angel, from Spain, to take a little video of us riding through the windmills. Lourdes is a Journalist with El Pais, the largest newspaper in Barcelona. Nice gals and they did a great job with the video.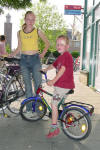 Somehow, from that point winding through less picturesque industrial areas we took a wrong turn. Trying hard to avoid going to Gorinchem we found ourselves at the city limit and on the wrong side of the river. Onward, we had to continue up river cross a large white bridge then back track to Werkendam. It was getting late, 5:30 and we were wearing down. Cat had actually had it. The bad news was that there is no Hotel, Guest House or even camping place here. We found the Super Market and as we used the Toiletten a woman approached Cat and said, "You can come to our house and rest in our garden."

Lil' Dutch Cyclist
The really unfortunate part of our decision to come to Werkendam is that we turned the wrong direction from the bridge. Had we taken a left we would have been on the path toward Vlijmen, our target for today. There is a small Hotel in Woudrichem but it is at least 15 Km from here. Cat told the woman, Anja, that we needed to find a place to sleep. At the urging of the young checker in the market, her daughter Talitha, she said, "Come to our house we will find a place."
They are a family of six, Anja and husband, Peter, two young sons, Jari and Clint and two older kids, Deev and Talitha. Their house is in a state of disrepair due to al the work they are doing and having done to modernize it. Anja decided that we could sleep on mattresses on the floor of a room upstairs on our sleeping bags.

Peter came in from work and said that he wasn't surprised, Anja always seems to take in strays. He is an Accountant, she is a Mom and construction Superintendent on the house. She plays bass guitar and was with a Punk Band in her younger years. Her name in those days was Spider. They have a CD that one of the guys just had done off of their old tapes. She played it for us and kept saying, "Isn't this terrible?" Well it isn't our favorite kind of music but it was good for the bass player as it was completely bass rich.


For dinner we decided to walk to a Pizza place where Talitha works part time. She led us on her motorbike. She is a very cute, outgoing 17 year old. Mohammed, a guy from Afghanistan, owns the restaurant. I had a talk with him about how the US backed the Mujahadeen and when they finally won the battle, they became the Taliban. He says that even today, the only real control maintained by the allied troops is in Kabul. It is still a dangerous place but the countryside remains in the control of the warlords there.

Boys in the Bar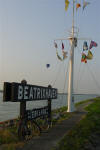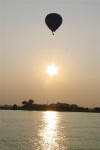 A tall young guy sitting at the bar approached our table and asked if he could sit with us. He wanted to know about our trip. Another guy, Bejal I think, joined us then another who came in, Johnny sat in for a while, too. We talked while we ate Pizza. Jerry called another friend, Johan who came in and invited us to visit his families business at the Harbor. We jumped in his car, Bejal followed in his and even Talitha came along on her scooter.

Johan and his two brothers, Leendert and Marco are proud of their Father who started the business working out of a container. It has grown to the largest boat building and repair yard in central Holland. They took us up on a vintage, 1928 boat that they are re-building as a yacht for the family. It was all very impressive. I got photos of a hot air balloon as it drifted down stream above the river.
We sat for a short time and talked with Anja and Peter but could hardly keep our eyes open. It was almost 11:00 PM by the time we climbed the narrow stair and hit the sleeping bags.
June 17, 2003
Werkendam to Tilburg
Our visit with a HEART ATTACK victim.
Slept like a log until 4:00 AM then started to worry about the bikes and computer sitting in the patio behind the house. I felt my way down the stairs then up the other stairs in total dark. As I returned somehow I knocked a plastic bottle and something flat off the shelf on the stairs. A lot of noise but no startled response so I made my way back down the dark stairs and opened and closed the Cat door again. That too caused some noise, but no response so I made my way back up to our campsite.
I decided that if the computer had been stolen it was long gone and there was no reason to worry until mornings light. After tossing and turning for and hour and a half I fell deep asleep until 7:00. We set about going to the toilet and getting ready to go. When we finally stepped out the door Ana was already seated at her favorite bench smoking. She called out as though we were just members of her family, "Come have coffee."
We sat and talked as the other members of the family drifted in and out. The boys said goodbye and cycled off to school, Pater is headed for work, even Talitha is up and about. She goes to work at the Market at 8:30. Cat had a cup of coffee, Anja had two bananas for me and I needed them. Once I take those pills I start to feel that hollow feeling within a half hour.


Anja walked with us to the corner and pointed the direction. They had described our route and it worked out perfectly. This is Holland, riding atop a dike as hundreds of kids and Moms stream past on the way to school. Houses from old thatch roof to modern cling to the side of the dike. Farm land stretches out away from them. It is a beauty found only here.
Hoping for a bakery with coffee in Almkerk, another of those picturesque villages, we did find the bakery but no coffee. The baker lady told us that there was market nearby. We pushed there and I went in looking for coffee. With a bottle of juice and bananas in hand I asked a girl if they had coffee. She didn't understand and took me to the coffee aisle. When I tried to tell her I wanted coffee that was already brewed, even if it was like a canned drink she led me to the produce section. The young man there spoke enough English to tell me that they don't sell coffee. He gave me the follow me wave and we went down several aisles to a coffee machine. "It is free," he said. What a good deal for us, hot, fresh, free coffee. We sat on the sidewalk and ate our bakery goodies and enjoyed 2 cups of FREE coffee.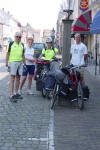 Off the dike but still in lovely countryside on even more lovely bike paths we followed Anja's directions into Huesden. It is an ancient village with an arched gate and wall for protection. Following the signs we found the Centrum and searched for a telephone. A couple rode up on loaded bikes and we struck up a conversation. Els and Neils are on holiday cycling the length of Holland and back in two weeks. They are staying in the cabin camps. We are anxious to try that.
Our quest for a phone led us to the old Post Office. It is now a Pharmacy. A man walked up and Cat asked, he said, "No, the office has moved but they have no phone, I used to work here until retirement."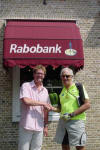 Onward, we stopped at a Bicycle Shop, the guy was working on a car in the back. When he finally stopped and came out he seemed irritated. I asked if there was a phone we could use or a coin phone nearby. He spoke in Dutch but gestured toward a little square down the street. He quickly wheeled around and went back to working on his car we wheeled over to the square but couldn't find the phone. I went in RaboBank and asked. The guy there only works here part time and isn't from the area. He asked and the teller told him there is no pay phone. He immediately offered his cell phone. These Dutch, 99% are really hospitable and far out shadow those like the Bike Shop guy.
Jan said that he and Betty would come to meet us then told our new friend in Dutch which route they would take. The guy asked a customer then came outside and pointed the way. We took a picture under the RaboBank sign.
Following directions we rode to and through the next little village, Herpt. Our next destination, Haarsteeg, was not on any signs that we could see. We waved to an older guy cycling past. He stopped and got the point when he heard the word "Haarsteeg" and motioned for us to follow. He really reminded us of our pal Alex in Russia. He rode fast, we followed. He held up his hand, stopped and pointed out the church steeple in the distance as Haarsteeg then took off like a rocket. We struggled to keep up. When we got to the turn toward Haarsteeg we stopped him and let him know that we actually wanted to go to Vlijmen he waved his arm signaling that we should follow and took off like a shot, again.

Nearing Vlijmen he swerved across the street and started down a small country lane. We tried to explain that our friends were coming to meet us but he couldn't get it. We hated to leave the road but he was working so hard for us that we couldn't just dump him. Once we got to Vlijmen he really took on the persona of Alex by stopping and asking then going a ways and asking again for Bilderdijkstraat. He stopped us and went inside a store when Jan and Betty drove up. We shook hands, did the three cheek kiss with Betty and waited for him. When he came out Jan explained that they would take over. He said something, Jan translated, "I will help again next time they are lost." We asked him to write his name, our best guess is J de Jong. He waved and rode away. Jan said that he is from Herdt, the village where we met him. He gave us his time and help freely, we thanked him in English and Dutch. (Dank u wel)
It was still a ways to there house and luckily they led in the car. We might never have found them without a map or guide. They have a nice home with a big back yard. Their son, Marino, was just leaving so we said hello and goodbye. They have two children, Marino who is 21 and a daughter 22 who lives with a friend.
You may remember but Jan sent us an e-mail asking about the LandRiders and told us that he was a heart attack victim. His Doctor wants him to start exercising once he has bypass surgery. Over the months we have remained in touch. Though it is out of our way, we decided that we had to stop by and meet him.


It was warm and sticky, we sat in the shade and enjoyed 2 hours of food and conversation. When we were taking pictures Cat asked him what his favorite flower in the garden is. He immediately said, "Betty," and hugged her. When Cat said okay, great but what about flower, flower? I suggested that it might be his bright yellow classic Simca Talbot-Matra. They offered a campsite in their back yard but we felt a need to get on down the road.

Heart Attack?
It is about 30 Kilometers to Tilburg, we made it by 5:30 PM then spent 45 minutes looking for Tourist Info and a Hotel. Cat went in to get the room and I watched as two silly young girls stood behind a pillar and whistled and cat called toward two boys with crisp, new spiked Mohawk hair cuts. They actually crawled, trying to hide, sown the sidewalk but of course ended up getting up, acting really silly then sitting and talking with the boys. Some things in life are the same no matter where you are in the World!
We had picked up groceries on the way to the Hotel. I was tired, the food and wine helped but I was ready to hit the pillow by 9:00 PM. Cat had a sneezing, nose blowing fit but I slipped off to sleep despite it.
June 18, 2003
Journal and Laundry in Tilburg
It was just a cool windy day outside but I would spend most of it sitting at the little desk, trying to catch up the journal. Cat did take our smelly cloths to the laundry and check our e-mails at the Library.
We walked across the square to a Café, sat and watched the locals. Cat went shopping and I went back to the keyboard. Late in the afternoon we walked to the Library and answered e-mails. Dinner was Mexican, not bad for Dutch, Mexican. The best part was the margaritas, our first in months. They were great!
June 19, 2003
Tilburg to St. Josev Olen
Marbella Pals, Paul and Roos


The nice lady who keeps the breakfast items filled and smiles at guests as she does, turns out to be Ann. She and her husband John own Hotel de Lindeboom. They, along with Yvonne the desk clerk, took our question about how to find the bike route on the old train track to heart. They spread their map and compared it to ours. They found the Fietspad (Bike Route) but had a hard time deciding how to get us from town to it. John called the Tourist Info and they helped him with the easiest streets of follow.
Maps marked and landmarks memorized, we rolled toward the railway path. It was, as advised, flat. Most of it is countryside and reminded us of the old railroad routes we rode last year in Minnesota and Michigan. Even down to the look of corn growing taller by the minute and the unforgettable smell of pig farms.
We came upon a wonderful looking old house decorated with wooden shoes and a bike with baskets of flowers. We took pictures then a man came around the corner. We indicated our pleasure with his home and landscaping. He spoke only Dutch but we had a good sign language conversation. The house had been a Railway Station. He proudly showed us the big number 20 painted high on the south wall. He was also able to tell us that we would soon cross into Belgium and we could stand on the path with one foot in each country.


Strange, we thought, how different borders here are from those we crossed as we entered and exited Russia. This one was jus a small sign and a line across the path. We got pictures then rolled on in the pleasant off and on sunshine.

Ridin' The Rails
Entering the town of Turnhout, we cycled down the sidewalk we had to jump off the curb to avoid a window washer's ladder. He looked down and called out something to Cat, she responded with a wave and "Hello".
She went in the Butcher Shop for meat and cheese then down the street for fresh baked bread. I stood the guard on our machines. A group of construction guys were sitting on a park bench across the street having their lunch. When they vacated I shuttled the bikes across and reserved the spot.
We had just opened the meat and cheese when the window washer walked past and said, "Hi". Cat said, "Good English!" He stopped, turned back and said "Nay, not good." Then as he walked back he talked with a guy on the other side of the street and we knew that he was telling him that we were from England. Cat called out, "Nay, we're from California." Then he continued to talk back and forth with the other guy but the word Americana had jumped into their conversation.
Vestraelen came back over to us and gave us his business card. As he struggled to talk with us in English he would stop and acknowledge or wave at almost everyone who past. He told us that he had been born here and knew everyone. He also told us to go straight ahead when we finished eating. "Go to second light, left then to 3 light and right then follow signs to Bobbejaanland." He even wrote Bobbejaanland on the bacdk of his card. He said it is the little man with his hands like this and he sort of held his out in front of him. I guessed that it was a guy with beers in each hand? We thanked him and finished eating as he went back to shining second story windows.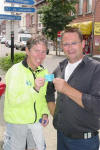 Leaving, we waved and he said, "Goodbye". Just a ways down the block we were faced with the dilemma of a fork in the street. Cat walked back and asked him, he came down and walked then pointed to the right side option and repeated 1st light 3rd light directions. We found the first light and turned then, as we approached the 3rd he pulled up and honked. Through the open window pointed to the right and shouted, his direction again, "Follow signs to Bobbejaanland."
Verstraelen was right, Bobbejaan.and was just on the outskirts of Olen St. Josev, I was wrong. The guy he indicated with his arms was holding guns and dressed like a cowboy. The place wasn't a beer garden, it was the Disneyland of Belgium. A family park full of families and fun things for kids.

As we pulled up to the path on the bridge over Albert Canal we fell in line with a group of senior citizens riding double file and chatting. I mean seniors in their 70s and 80s on bicycles and having a ball. They all fell silent and stared as we past them on the down side of the canal. We wondered at their stamina and wandered why we never see that in California? Bicycles are such a part of the culture and every ones lives here.
We had Paul and Roos's address but decided to ride on and find a market. A gift of wine would be thoughtful and even useful? A woman gave us directions, go to the second church then left and Market is on right. We gave up after the church and the left after what seemed like too much distance. A man just coming out of his house told us "Yes, just 50 meters on the left." We could see the sign as we thanked him.
Our plan was to provide wine for tonight and take them out to dinner. Cat stood with the bikes while I chose three bottles then she took Paul and Roos's address and went back in to ask direction. It was another lesson in frustration, as each clerk ask another and none knew. Then one called out and a customer came down the aisle and gave Cat explicit directions. She was a neighbor of theirs.
Loaded up we followed directions and were soon on Grote Heide Street but there was no address, 2250, the number Paul had given us. In fact everything was single or double digit. At the end of the street there is a fenced area with goats, ponies and other animals. A gray haired guy with Grandkids pointed to a high pitched roof and said, "Dey liff dere."
It was a strange moment, when we rang the doorbell and Paul came out. We had only met he and Roos for a few minutes in Marbella and sent a few e-mails back and forth. We were strangers and it was awkward for the first few minutes. We parked the bikes in their carport in the back and were pulling bags off when Roos pulled up in their silver Citroen. (For English speakers, Roos is pronounced Rose and is the name of the same flower, too.)
We stopped the process and went inside. They were cordial and accepted the wine then told us that they had a custom of laying wine down for at least 30 days before opening it. Paul graciously accepted them and wrote our names and the date on the labels. We loved the idea, they take the gift wine from a guest to their cellar and bring out bottles from other friends. That way they have stories of good experiences and other friends to tell us about.
Bathing and toiletten are always tenuous, to say the least, when you really don't know your hosts. Their tub has a shower head but no door or enclosure so it was to be boat showers. Not as easy as standing under a spray but refreshing just the same.

Cleaned and dressed in fresh cloths, we set about getting acquainted. Wine and dinner, conversation and laughter cut through the getting to know each other moments. Roos insisted on cooking even though she had taught classes all day and it was obvious she was tired. It was the last difficult day of the school year and both of them had worked today. Paul teaches architecture, Roos secondary classes.
By the time we left the table and sat in the living room we were like old friends. They told us of their families and their daughter who is 22 years old now and lives with her boyfriend in Germany. Paul's father got lucky during the war, he was a student so the Belgian Army kept him studying and transferred him to England where he continued his studies in Engineering and Construction. Roos's folks had a small farm and her Dad worked a full time job. Both sets of parents worked hard to make sure their kids got a good education.
Paul designed and built their home here on Roos's Grandmother's land. Roos is an only child, Paul comes from a brood or six. The house is a typical tri-level of the 80s with several innovative twists. It is centered around an atrium filled with plants and flowers. Flowers are Roos's love of life. It has been their home for 23 years, they raised their daughter here. The back yard is lush and sylvan. They have a pond full of plant and animal life. Paul told of how they had the pond dug out when they built but Roos's Mother insisted that they shouldn't have it when their daughter was a baby so they had it filled back in. Before long Roos missed it so she hand dug it, even enlarged it. She is so full of energy, we could just picture her out there with shovel in hand and dirt flying.
Cat took a sip of their nightcap, Brandy, I had a snifter of it. Our eyelids were at half- mast and it was after 11:00 PM as we climbed the multi level stairs and climbed into bed. The frogs croaked a lullaby as we drifted off.
June 20, 2003
A Busman's Holiday!
67 Kilometers
Breakfast was the typical cheese, bread then fruit and coffee. Paul had a cycling day outlined, what we would later call our Abbey to Abbey ride. It was fun to be on bikes without the load of baggage. Both are students of History and both love this area and know it well. Cat started calling him Professor Paul because he had such great and detailed stories of places and events. Some of the roads the Professor chose were dirt and rocks, a bit bumpy. Roos told us that when their daughter was young she would cry out when he chose such roads. The day became T to T as well as A to A. We seemed to need all the Holy Toilets in each Abbey as we toured them.

Abbey Bells Toll

Riding With Paul and Roos
Roos had packed lunch salads, cheese and bread. We ate in a forest, on a huge old stone table and benches. They enjoyed a little red wine, I took a taste but we stuck with and told them of our ritual of no wine before 5:00 PM, especially when we are cycling. Ritual became our "word of the day". Roos had been searching for it in one of her stories, we began using it as often as possible. What great fun, what a day of joy with wonderful friends.
We drank wine that some of their best friends had brought to them last year. Roos insisted on cooking again, steak and sausage with vegetables fresh from her Mother and Father's garden.
After dinner she took us to visit her parents. They reminded us of Cat's Mom and Dad. It was after 9:00 PM when we arrived. He was still up on a ladder painting the barn when we rode up, yes we cycled there. She came out and they proudly gave us a tour. They keep a horse that once was ridden often by their Granddaughter. Mom fed it carrots from the garden. They gave us a tour of their big yard that included the garden and pond. Great people, great family. Dad loaded Roos up with more fresh greens and veggies before we could get away. They are proud of Roos but no more so than she of them!

Roos' Family
After the customary night cap and a few more stories, we almost had to crawl up the stairs.
June 21, 2003
St. Josev Olen to Antwerp
54 Kilometers
Landing at The Swan
Another wonderful morning, we ate breakfast on the patio and watched the Coy and Frogs. It was cool, both Cat and I had to put our jackets on. We talked and laughed and heard about the route we will cycle today. Paul and Roos are definitely teachers. They are organized and each knows the others arena, strengths and what they contribute to the partnership. Roos does do the kitchen and she likes it. Paul served and was okay with it.
We were final packed and loaded but Cat wanted to check the e-mails before we head out into the cold, hard, beautiful world. Paul began to search for a place for us to stay in Antwerp tonight. That proved to be a problem, this is Friday and all the B&Bs were fully booked. He finally found one, The Swan, that had a room for 60€. I tried to show them my "Scratch" song on our About Pat &Cat page but the MacIntosh didn't want to let me sing?

So, at 11:00 AM we, the fearless foursome, set off toward the west. Out of Olen St. Josev and to Herentals. They pointed out lots of interesting places and buildings. We even met one of Paul's former students who is continuing toward a career in Architecture.

Nature Study

Different Feeling
We cycled some canal, some streets and some woods. On the canal we saw a guy catch then release a huge fish. The weather was cooler than we thought it would be, we wore our jackets most of the day. At 1:00 PM, just short of the village of Lier, there was a fishing pond, strange but it was closed on a Saturday afternoon? We sat on a bench with a red faced goose looking on, and ate Roos's wonderful and healthy lunch. I even sipped a little of the Cotes du Rhone, red wine. The sun escaped the clouds and it was really pleasant.
As we rode, Paul gave us lessons in the history of the area. He really does know about this place that he loves and it's architecture. They cut us loose just out of Lier, we stopped at a red light and he said, "Just continue on this road to the center of Antwerp. Then came the moment we dread the most. Just 40 hours ago we knocked and Paul came to the door, virtually strangers. Now we felt like long time friends, almost family. We shook hands, he and I hugged, Cat hugged both then I did the 3 cheek kiss with Ross and hugged her. She began to get teary. We rode across the street, looked back and waved then pushed onward into the world and toward Antwerp.
It was a straight shot but our butts were sore and I was a little tired. Paul had told the people at The Swan B&B that we would be there by 5:00 or we'd call them. We were so close at 5:0 that we just pressed onward. Well, close and yet so far, we were lost. At least for a short time, we couldn't find our street on the map. We continued to press forward, I found a street that was on the map, Cat took the map and led us almost in. I looked at the map and knew that we were just a street away from the place. We found it but it was just an apartment looking building on a so, so looking street. When we pushed the buzzer we got no response. Concerned each of us took turns pushing and holding the button down. Finally I walked back down the street to a telephone place we had seen on the way in. Cat stood guard with the bikes.

I got a message machine on both lines, left messages that we were at the door, then walked back. As I rounded the corner I could see Cat in conversation with a gal. It was Nadine, the owner of The Swan. She received us, helped us get the bikes through the living room, kitchen and out onto the patio. Yes, for 60€ per day we have our own little apartment, no TV but lots of books and a stereo. Nadine, our hostess, was soon joined by her son Tim. The two names on her card are Tim and Jasper, her two sons. Jasper is away, taking his final exams in school. Tim settled in on the couch and explained the sights of Antwerpen to Cat. Frank, Nadine's friend, came in and we got a picture of the threesome on the couch with the musical instruments above. They are very into music. Nadine plays saxophone, the girl who lives upstairs is a student of the Violin. We were pleased, we had food, supplied on a self-catering basis for breakfast and we could cook in if the spirit were to guide us in that direction.
I read books, or at least looked at the pictures, while Cat showered. I jumped in but it was 8:00 before we walked down the street for pasta. A cute restaurant and we had it all to ourselves? The waiter was quiet but the chef liked talking. His Mother was Italian, his Father Belgian. He was born in Italy but moved here when he was 8 years old. Interesting trivia, as we discussed politics he told us that he was born on the day that JFK was assassinated, November 23, 1963. Wow, almost 40 years have passed by since that fateful day!
We were back in our lair by 9:15. I typed while Cat thumbed through the same books. We finished our day at 10:15 PM.
Sunday June 22, 2003
A Day in Antwerp
We were tired, keeping up with Roos and Paul was not an easy task. We sat up late and talked both nights together and rode bikes both days. It was 8:30 when we finally forced ourselves to get moving. Breakfast in and Cat washed some bike clothing in the shower. I wrung them out and we were set to hang them in our very private patio when it started spitting down rain.
I typed while Cat scoped out the neighborhood. She popped back in to report that she had made reservations of dinner at the fish restaurant, Visa Versa, recommended by Nadine. (There is play on words here, fish is vise in Belgian.) She had also found a Laundromat just down the street and an Internet place. She threw the wet cloths I a bag and took them to the dryer.
When she returned we walked to the Internet place and caught the latest messages. It is tough to write responses as the French keyboard is completely different from ours.
Antwerp, as Anja had suggested, is special. We walked the streets took lots of pictures then sat on the promenade and ate sandwiches that Cat had packed. By 2:30 we had used up the camera battery. I replaced it only to find that they were both now dead. We felt that we couldn't go on without a camera so we returned to our little house and plugged in. I typed while the battery cooked. We only had an hour as the Paul Rueben's house would close at 4:45 PM and we wanted at least an hour there.
The house of Peter Paul Rubens has a wonderful exterior almost hidden by the grossly modern ticket office. Once inside we were watched like hawks by yellow shirted guards. Not seeing any warning against taking photos I shot one of the dining room with PPR's self portrait on the wall beyond a table. Also I took one from a balcony overlooking the living room, then the "No Photo" sign jumped off the wall at us. From that point on it was just personal observation. There are paintings of PPR's parents that give us a feeling for his family. They are well done by an earlier artist with his Father holding items from his Pharmacy and Mother has flowers in one hand and the her Rosary beads in the other. His life is sort of controlled by the Catholic religion and it's rise, fall then resurrection in Belgium. He did travel and study in Rome and France. It was interesting but nothing like Casa Dali or Rembrandts pad. A good example of life in the mid 1600s. The gardens and courtyard are as impressive as the interior.
Walking the streets we just observed and photographed. Down a side street we found ourselves in the "Peep Show" area, bars and girly places. A real treat was seeing sculpture, Walter Celis carving a hand into a piece of opal. He posed for a pic then led us to his studio down the street to give us his business card. Check his site at www.WalterCelis.Be . Surprisingly we were just around the corner from our little place and it was wine time.

By 7:00 we were starving so we adjourned to Visa Versa. It is a funky little local place. Boukanzir dowes a barbeque on Sunday evenings. Georgett, the owner is like his sister. He grabbed her in a big hug and lifted her off the ground. There was a couple, still sitting and sipping at the same table since Cat made our reservation. They looked at us, even spoke to us in Belgian French as we were seated. When they got the picture that we were from the US they seemed to make a little joke? Eventually we all talked and enjoyed a fine evening together. It was a real melting pot. Cat thought that the couple, Vehoeren and Raymond were from France. They are born and bread Belgians. Georgette is Italiano and Boukanzir's family came from Morocco. We tried to do a "You must be crazy" but something was lost in the translation?
Back home, I typed as Cat began to organize for tomorrows ride to Brussels. She finally gave in to fatigue at 10:45, I joined her at 11:20. Good Night!
June 23, 2003
Antwerp to Brussels
Lightening and thunder gave me the sit-ups at 4:00 AM. The bikes are in the little patio and in the rain. So, I got up and moved them into our little kitchen. My sleeping shirt caught some rain drops as I scurried. The bath towels made a good parking lot. Hopefully they will drip dry by morning.
Tired, we slept until the sun finally wove it's way through the loose weave of the curtains. By 8:30 Cat was frying bacon while I worked on packing. Power breakfast, scrambled eggs, bacon, bread, juice and coffee, mmmm.
Before we ride we must mail. We have off loaded our winter clothing and are sending it home. It is like letting go of a security blanket. We relied on it for so many COLD, windy, snowy days. And, we thanked our friend, Lars Bom every time we pulled up the pants and donned the jackets. (See Denmark section September 2002)
I continued to type and play catch-up while Cat went to DePost for boxes and envelopes. Once she returned we turned all of our attention to packing and addressing. The DePost was crowded but they have the take a number system. We took what we though was correct then watched as dozens were called to windows on a completely different set of numbers. They were in the 170 to 200 range, we were stuck in the 600s. At last, we were called to window #2 where the Postman was friendly and helpful. Interesting, we had wondered how they would get the packages back behind the thick protective glass that protects them. A steel cylinder spins around and when he releases it, we put the boxes in then he spun it his way, and we could hear the pins drop, locking us and others out.
It was almost 1:00 by the time we pulled the metal door closed behind us and pedaled away from The Swan down the cobbled street. Paul had proposed a route that drifts along the Schlede River. Somehow, we went inland and into Hoboken. Wow, just like New Jersey, Hoboken. We pulled up and had a picnic on a corner as we watched the Hoboken's go by. Our bread from yesterday was hard, the cheese salty and the ham sort of tasteless but all in all it was great.
The ride is mostly industrial, along the river. We did see some nice neighborhoods, even got lost and visited trees, both of us, at a dead end. Back tracking we finally got back to the Canal and just followed the compass toward the south.
In a small village we talked with another cyclist, a guy about my age who only spoke Belgian French. He was very kind and tried to be helpful but we finally gave up and went on in our own direction.
We soon wound through the village of Grimbergen then just a couple of Km further we crossed the Ring Road of Brussels. We still had 11 Km to ride but we knew we were on the right track. Carre Four, the French Super Market drew us in for a bottle of wine. The security guard came out sort of demanding to know what we were doing. When Cat told him he was like family. He wanted to know everything about our trip. By the time I got back out he knew everything. I bought 2 bottles because we will stay for two days.

By using what we call the "Braille Method" we felt our way into Brussels, one sign and one ask at a time. Stuck on a fast moving one way 3 lane, we pulled to the middle and rode on a dirt trail. In passing we were surprised to see a Chinese house and Japanese tower. Asking and asking, we crossed the bridge over a Canal de Charleroi. More asking and we were soon looking at St. Catherine's Church. That was a sign, so was the Hotel Ibis red and green just around the corner. Cat checked, it was over budget but we were both tired. She did walk across to Novotel but it was 15€ more. While I waited a German guy told me that he was here with his group of teachers. They teach mostly at prisons, in Germany. I told him about our friend Ole who plays music and sings for prisoners back home. He likes it because the audience can't leave during the performance. The teacher agreed, a locked in classroom has to listen.
The room is way too small to keep bikes in so they allowed us most of the luggage room. It was 7:00 PM by the time we got to the room. A shower and we were off to dinner at 8:20. The teacher had given us a hint that they have a sound and light show every night in the Grand Place, just a few minutes walk from the Ibis. We walked it and were astounded by the majesty and beauty of the place. We'll let the pictures peak for themselves. As we walked through the square we noted a second floor restaurant with windows. Dinner was just okay and the first bottle of wine was a send back. The waiter kept saying "C'est bon?, C'est bon?" I took Cat's glass and poured a little then asked him to taste it. He changed his tune to "Ce n'est pas bon," it ain't good! Merci my friend, I already knew that but you didn't wasn't to give up easily!
With a good bottle of wine, okay food and a great view, we capped off an otherwise mediocre day.
June 24, 2003
The Sights of Brussels
Another late start but we needed it. We walked to a fruit stand for bananas then found a wonderful place for café and croissants. Planning as we snacked, we made Tourist Info our first stop. They have the normal City Tour buses and since we are limited to just one day we decided that it would be the way to see Brussels. We found the Jacque Brel Foundation and will return. Also, a unique story about a boy who saved Brussels some time back in history by Peeing on and putting out a fire that could have consumed the City. There is a statue of the boy doing what he is said to have done. I had to stick my face through the picture of him for a picture. On a sort of unguided walking tour we spent too much time looking for a lunch place. We did find an Internet connection and check in with the folks back home.
We stopped back at the Ibis to get our Camera. They have the power down, replacing a transformer. It was so strange, we followed a line of people up the stairs in total darkness. A fellow behind us did shed a little light on us with his lighter but he stopped at floor two. I heard a woman ask, "Who is touching me?" When another female voice said that it was her the first replied, "Oh, I thought it was a groper!" We couldn't believe that the hotel hadn't made some arrangement for temporary lighting. What a huge liability! Well, actually we don't know the law here, it may still be Caveat Emptor, let those in the dark beware.
Apre pasta and Carpaccio of salmon for Cat we walked then caught the big red bus for the whirlwind tour. We had forgotten how bumpy and stop, start these things are. Also, they move so fast that it is hard to get any pictures. We did see the major sights and learn a little about the history and demographics of Brussels.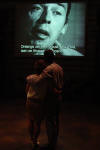 Apre Mr. Red Buses wild ride we hustled to the Jacque Brel Exhibition. Who is Jacque you ask? I first heard his music and story in France as I cycled through in 1988. They were celebrating his life through the 10th anniversary of his death. So, of course, now 25 years have past and still his memory lingers on. Thanks in great part to his daughter, France. Jacque wrote and sang songs with wondrous words. Lyric was his strong suite and he sang with huge emotion. I know that you will recognize "No me quitte pas." It was done in English by Glen Campbell, Frank Sinatra and dozens of others. He also did "The Man of La Mancha," and if you have been paying attention to what we've written you know that Don Quixote is one of my favorites. Jacque was born here in Brussels but became one of the most popular French singer of all time.

No Me Quitte Pas
They say that this artist, as popular in France as Elvis was in the USA, couldn't be translated because the message is lost when it leaves the French language. Maybe some is but we love the following;
"The notion is knowing you're admirably keen to admirably do something that seems admirable, That is a dream!"
"I believe there's only one thing we can accomplish in life – our dreams."
"It's alright
Almost everywhere, there are always
Lights lighting up the Earth
It's all right
People have a great time
Playing the dangerous game of WAR!"

"The most important thing about a life is its intensity, not its length."
Jacque Brel
So now you know why I have loved his music and words these past 15 years!
We spent the next hour just walking and observing the streets and street scenes of Brussels.
There is a strange and unusual COW thing going on. Life sized plastic cows are scattered about town. They have been painted in varying style based upon the artists own concepts. Interesting enough to us that we took quite a few pictures.

Dinner was expensive, dinner was very French. Dinner was extremely good!!! The lights were back on in our Ibis when we swaggered in, full to the gills.
June 25, 2003
Brussels to Ville de Nivelles
48 Kilometers, +-
Strange dreams, it must have been the Bouillabaisse or Jacque Brel's sonnet about people who have a great time playing the game of war? Maybe it was something that Paul said when we were talking about Africa. "Sometimes they have been fighting, killing and dieing for so long it is how they think life is supposed to be? At any rate in the dream a French pilot had only one foot, he lost the other in a dog fight a week after the war had ended. Both he and the German only knew war and feared life without it? He was still searching for the German, he wanted retribution. He needed to retaliate? I guess that really is what war is, isn't it?
Though we don't get BBC World we do have BBC London. Most of their programming is local news but this morning we had a news bulletin, 6 British soldiers were killed yesterday in Iraq. Maybe, after 25 years, all the Iraqis know is war and they are afraid to live without it?
Enough of the morbid side, we have our own battles to fight. We decided to do the 9€ breakfast rather than spend an hour looking for the perfect place. It was a well-stocked buffet, we ate heartily. I saw the Prison Teacher, the guy we met when we rode in, in the elevator. He and his group are going to visit the European Union Parliament. We drove past the building in yesterdays wild ride. One interesting aside was that the original building, a 60s looking mirrored glass monster is now sitting vacant. After using it for 20 years they found that it was full of asbestos. They had to vacate, geez even the law makers are subjected to their own laws. Well, we suppose that no one wants to risk cancer but most of the Parliamentarians, like Jacque Brel who died of lung cancer, do smoke?
Way too much of the morbid….. We were in the street and riding the cobblestones by 10:00 AM. It was slow going, ride a block, search for the street sign, verify it on the map then ride another block. As we stood, discussing the situation and admiring the display of COW ART, a young gal asked id she could help. She took the map, turned it around then pointed the way exactly. She did apologize for sending us up a steep hill but we told her we were tough and gave her one of our WR2 cards. Pedaling in granny gear, we ground our way up. She caught us as we caught our breath at the top and made sure we were headed in the right direction.

The morning ride was all city, city traffic and no bike path. When it got too intense we rode the sidewalk and dodged pedestrians. Another COW ART square, this one with a red, white and blue American Flag Cow. We stopped and asked a guy taking pictures if he would shoot one of us behind the USA COW. Nice guy, he is the official photographer for the contest. Judges will choose winners then the cows are auctioned off and the proceeds go to charity.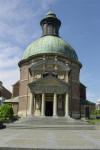 City runs all the way to Waterloo, with the exception of some large lot homes that are almost like farms. We stopped in Waterloo and bought bread for a picnic. There was a Tourist Office on the corner, Cat got the scoop and we headed for Napoleon's final battlefield. Man-o-man, here we go with the war thing again? Yes, this is the place where as the song say's, "Napoleon met his Waterloo!"
Seems that Nappy won the war with the Russians but lost out to the elements. Winter cost him his army to freezing temperatures and starvation. He was exiled to the Isle of Elba but escaped and quickly put together a 70,000 man army. Those French wanted to fight even though the odds were stacked against them. They ran head long into the Coalition of Forces. (They were called the Allies back then.) Austria, Britian and the Prussians proved to be too much but it was a bloody battle before Napoleon finally gave in. He was exiled again and this time it stuck. He died in his mid fifties, dreaming of battles and his beloved French Army, maybe he was one who only knew war?. What did it he accomplish? Well he definitely got his page or pages in the history books and when he appointed his brother Emperor of Spain it incensed the Spaniard so that they invented a new form of war that he couldn't handle. They called it Guerilla Warfare.
We sat in plastic chairs, and ate our sandwiches as we admired the huge Lion of Belgium with claw extended toward France. It rests atop a pyramid hill at the north end of the battle field. This all took place in 1815 and though futile and brutal it does still bring in the bucks. Tour buses line up and tourists pay to climb the pyramid thanks to Nappy, TheDuke of Wellington and a few other warriors of that day.
More frustrating trail and sidewalk riding, some in heavy traffic on the narrow roadway. The turn we should take wouldn't allow bikes. We stopped at a service station and the nice lady there indicated that we should cycle down the street marked for local traffic only then through the tiny village Braine-l'Alleud and on to Nivelles on a back road. Both the village and countryside were beautiful but we soon ran back into Highway N27. We could ride it now but hated it.
When we reached a cross roads the sign said Nivelles 4 Km to the right. Another decision, I pushed for going on and Cat relented. It is 22 Km to La Louviere and it looks almost as large as Nivelles. As we pushed off Cat noticed the sign again telling us that we couldn't ride N27. That was that, we would stay in the Ville de Nivelles.
At the Grocery Store the clerks didn't know if there was a hotel or not. A friendly guy gave Cat the route, second stop light then left. We passed through the first light, Cat was almost hit by a van, a plumber anxious to get home and have a beer? We coasted down into a movie set scene, huge stone church, old buildings and an ancient looking square. There was a sign, Hotel Commercial, we took it. Seemed like a good deal at 65€ including breakfast. We parked the bikes in a hallway and then the bad news, room 12 is on the 3rd floor, that's 4 flights up here in Europe. We lugged the essential bags up and met another piece of bad news. There is not only no BBC, there is no TV. It went from bad to worse when we opened the door to 12 and found no toilet or bath, they are down the hallway. Not such a good deal after all?
I typed while Cat walked to the Tourist Office. She discovered, too late, that there are other Hotels. They didn't have any maps of the area either and told her that there was no Internet in town. She found that was an untruth. When she saw the Library she checked and they do have a very inexpensive connection.
During her sojourn, Cat discovered a small Pizza/Italian Restaurant. It was great, we both had Salade and Pizza. Small talk with a nice guy who has shaved his head led to the discovery that he was a hairdresser from Isreal. A table full of dark haired young guys intrigued us so I asked. They were Turkish musicians here to play a concert. The hairdresser thought it was at the Community Hall tonight. We walked around the church and Hotel de Ville, the City Hall and the hairdresser came running up to tell us that we had left our hotel room key at the restaurant. While Cat walked back a fracas broke out and spilled out onto the sidewalk. A couple of guys fighting? Probably over the girl who was trying to attend to the wounded one? I talked with a local couple who were having a drink in front of Hotel Commerce. They wanted us to sit, talk and try a Belgian Beer. We enjoyed the talking but had to pass on the beer. What a cute little village, what nice people!

Sidewalk Scene
June 26, 2003
Nivelles to Bavay
62 Kilometers
Had to take the trip down the hall at 5:45 AM, Cat asked the time as I exited. When I told her she said, "Great," and buried he head back into the pillow. Thought I was up for the day but just lay back for a few minutes to think and awoke at 7:15 feeling refreshed.
We hauled 2 bags down the 4 flights as we went to breakfast. It was just Café and croissants but we must say, fantastic café. I did ask and receive a glass of fresh squeezed OJ and we always carry bananas, just in case.
The restaurant is really nicely decorated and it was fairly busy. There were 3 guys having breakfast then they competed with us for space in the hallway as we loaded the bikes. They were delivering beer and wine. By the size of the order they took in and the empties they brought out the place does great business. We pushed out between loads and circled the cathedral looking for a sign. Not from above but Highway N27.
Treacherous is the only way to describe the ride through the on and off ramps of the Freeway. Cat was convinced that we would be stopped and even yelled out that we should turn back but I persisted. Ducking and dodging we finally topped out the small pull and ran into a lane for cyclists such as we. (Funny but drivers here, as in most other places we have cycled, will drive fast, past us, then turn right in front of us? (Shades of the "Blind in One Eye Portuguese truck driver?)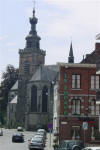 N27 vacillated from a great surface and bike path to broken up concrete and potholes. Rough road, heavy traffic makes for two stressed out WorldRiders. Faced with several options we chose to ride to Binche then backtrack left to Highway N563. We found a market and bought supplies then picnicked on a bench at the Abbey in Binche. We were looking out at medieval ruins and the roofs of the old city. Both of us thought about Paul and Roos and spoke of them simultaneously. What great fun we had with them and how we missed them. We must send call them or send an e-mail.
It took directions from an Instructor at a Driving School but we finally broke out of Binche at the round-about and headed out Highway N563. It was countryside riding most of the afternoon. The road was less traveled and we enjoyed the farm fields and small villages. It is the National Roman Roadway, established more than 2,000 years ago. It runs in an almost straight line from here to Paris. Unlike the north of Belgium, there are few bicycle paths but plenty of hills. Not mountains but those pesky little ups and downs that we had grown unaccustomed to.

Harvester
Cat needed a pit stop, we saw a Service Station off to the left at the cross road with Highway N2. Just short of the station was a sign, France, with the circle of EU stars. There was a sign across the bottom that said, 700 Meters. It wasn't the border but we took a picture anyway, concerned that there may not be a sign on the small road we have chosen to travel. The guy at the station said that the Toilette was kaput, no work. We rode on, never did see another sign or border indication.
When we first talked about stopping in Bavay it seemed too close and Cat wanted to press onward. Those hills slowly ground us down and as we pulled up one of them into Bavay we both knew that this was it for today. After an hour of researching and shopping we knew that this wasn't it, we had to cycle another 4 Km to Houdain lez Bavay. The nice girl at the small tourist office informed us that the only Hotel in Bavay was broke and gone. So, we had to cycle on.
Hotel du Centre is lesser than last nights place but so is the price. A big black dog barked and threatened as we rode in. The place reminded us of some of the motels we stayed in back in South Dakota. Sort of a family affair, Dad tends bar, Mom shows the rooms and as for food, they have the only game in town and most of it is fried. They did have a vacant storefront where we parked the bikes and, it's only up 1 flight of stairs, much better than 4. Though we have to use the toilet and shower down the hall there is a bidet that comes in handy as a pee pot in the middle of the night.
Couldn't have been more wrong about the meal. The only choice of entrée was steak but it was pretty darn good. A little tough but we aren't used to chewing meat. The fries were great and Cat had asked about having green beans heated instead of in our salad then we asked for salad first. Madam Phillipo had the salad on the table in moments and when she brought the main course there was a pan of green beans for us. Yes, the owners are Bernard and Michelle Phillipo and they work hard to satisfy their customers.
It had rained a few drops a couple of times while we were on the road. Then, as we unloaded the bags big drops splattered down. Later, we had thunder, lightening and real rain.
With no TV, Cat read a little of the Lonely Planet Guide to France while I typed. She dozed off but I pressed on. I am so far behind in the journal and have promised myself and Wally that I will have it in a week. The neighboring rooms rented up as I typed. I could tell by the squeaking floor and the gurgling drains. Finally lights out at 10:30 PM.
June 27, 2003
Bavay to St. Quentin
66 Kilometers
Down for breakfast at 8:15 AM. We were the only customers in the place but were soon joined by our next room neighbor, a little old man with only one hand. (I wondered if he were here searching for Germans?) Bernard told him about our bike trip then told us in French and sign language that the fellow was 92 years old and driving to Paris. A couple of others drifted in and had coffee while we ate our blackened bread, jam and coffee all of which were great! We did have our old standby, bananas to round out the menu.

Michelle bid us Bon Jour as she scurried about gathering linen from above and straightening the place up. Bernard is in charge of making and serving Le Petit Dejeuner. (The little lunch.) They really do work hard. He is a big man, over 6 feet tall and beyond 300 pounds. As Michelle squeezed past him behind the bar and their butts rubbed she looked at me and raised her eyebrows and mouthed, ooo, laa, laa. On the down side, there were flies in the room and the bed sagged so badly that we both woke up with sore backs, however, the entire cost including dinner and a bottle of wine was €61.75. Our best deal, yet!
He told us that today was the last day of school, it is just across the street and students with parents were streaming in. As we were leaving Bernard came out and wished us well the said something with the word MERD in it. Merd is shit, we knew that one but were stymied by it? Then he added something with Napoleon's name in it. We still didn't get it but we nodded, shook hands and pedaled up the hill and away from Houdain lez Bavay and back into Bavay.
Bavay is historic in a couple of ways. The first is Roman Ruins and a museum. The second, a small museum "1709". We got a picture of the ruins and stopped at the museum. The man there was kind and did his best to explain. There was a major battle 4 Km north of town back in 1709. It was the same group of "players" as when Napoleon faced off with the Allies 106 years earlier a ways up the road in Belgium. British, Austrians, and others against the French? He talked as though it was a very bloody battle with 3000 casualties, at least that's what we think he said. There was a Friday Marche that closed the main street and it was loaded with shoppers.
Back on The Roman Road we rolled down, out of town then up, then down. That was to be the basis of today's effort. We stopped in a small village where I got a lemon drink and Cat found a wonderful Almond goodie. We sat at a bus stop and munched.

Plenty more ups and downs the a start as about a dozen cyclists called out then screamed past us. They were followed by a van pulling a trailer, they all called out good wishes and the guy in the passenger seat said something as the van slowed. As we entered the next village we saw them, taking a break. We stopped and enjoyed talking with a group of really crazy cyclists. They are from Antwerp, they left there at 6:00 this morning and will end their day in Paris about 8:00 PM tonight. Yes, these are extreme athletes. They will cycle 330 Km today, (200 miles) take tomorrow off then retrace the route on Sunday. They were so intense that we didn't have time to take a picture but we pulled ahead and shot a couple as they passed. One guy is from Africa and the only girl had ridden there seven years ago. They wanted to talk but couldn't risk the line getting ahead of them. In that kind of craze, you lose the line you ride the van.
With our leftovers from yesterday, we enjoyed a picnic sitting near the Roman Road. Besides a nice rest and refreshments we got a lot of honks, waves and thumbs ups. Also, a few big raindrops and a ladybug dropped on us while we ate.
More war, we started seeing signs advising British Graveyards. When we came upon one that was adjacent to the road, we had to stop. It was almost all Brits, left behind in the ground here from battles fought in 1914 then again in 1918. The poor boys of 1914 had no chance, according to the plaque. They were overwhelmed by the superior German forces but there loss was vindicated when the Brits came back and smashed the Germans. Same cast of characters, different teams. There is a little vault at the gate. I had to open it and was interested to find the name, rank, age and hometown of each known person buried here. There is a mass grave for 20 unknowns and a separate spot set aside for 70 Russians. There are pages for visitors to sign in. One recent entry caught our eye. "We love you Tommy and we'll never forget you." It was signed, your Sister. Wow, he died in 1918, she must be at least 90 years old. Next to her notes was another, "Nanny always told us how brave you were Tommy, Rest in Peace," it was signed by a man, maybe Tommy's younger Brother? But how long will Tommy really be remembered and do we even remember why he marched off to die in 1918?
Just a ways down the road we came upon a monument to the Australians who gave there all here. This is really just the same old song, being sung over and over, again and again, at the expense of a lot of young boys!
I began to hum, Waltzing Matilda as we passed the monument and didn't know why. Then the scenes of a World War One movie that I saw when I was just a boy came streaming back into my memory. I told Cat about it. The Aussies were so crazy, they would drink and party and sing that song. Then at the end of the movie most of them were on the ground with smoke and devastation around them. Waltzing Matilda was playing but in a slow mournful way. Strange how that memory, stashed away for more than 50 years, surfaced here, today?
For a measly 66 Km day, we were getting tired. At 57 Km the Roman Road ends and we were thrust onto a much busier N44. It continued to undulate and we cruised down and sweated up back up. At last, St. Quentin but to get to Le Centre we had to climb another hill. Our decision to find the Office du Tourisme was thwarted by the goofiest signs we have ever faced. We stopped a lady who was walking her dog and she pointed and explained in French. Then we asked about the Ibis Hotel and she got the point across that she worked there. She gave us fool proof directions and we went right to the door. I went in while Cat covered the gear. The guy at the desk told me that they had a room but they couldn't take our bikes. Then he matter of factly asked, "Do you want it?"
"What will we do with them?" I asked. He just shook his head so I asked if he knew of a Hotel that could take the bikes. He shook his head but the girl there picked up the phone and called then told me that the Hotel Memorial did have a room and room in the Inn for our bikes.
This is a wonderful town. The town square is being set up for a festival this weekend. The building and streets are so old and so French looking. We found the Hotel but there was only a young boy at the desk. He said something that Cat sort of got then took off on the run. Back he came with a woman, both running like gazelles. It was his Mom, Catherine. She took Cat to the room while I waited. There were 3 boys standing, staring so I tried to talk. Using signs and the few French word I know, I learned that they are brothers and they have one sister. The make up of the family is the same as the one I grew up in. Two boys then a girl and at last, another boy. I asked the oldest whether he thought being number 1 was better than being the youngest. Somehow he got the meaning and did a thumbs up, meaning #1. I don't know if I have reported this before but when people in Europe count on their fingers the thumb is always #1. Therefore it means #1 and a strong positive yes response.
The room is okay, we have our own bath for the first time in 3 days. We even have CNN on the TV. Our first English language news in more than a week.
Catherine, the Hotelkeeper suggested Ville d'Isle for dinner. The food was good the price above moderate but the atmosphere a-okay. Apre dinner we walked around the old church then looked for glace. (Ice Cream) No luck.
June 28, 2003
St. Quentin to Compiegne
68 Kilometers
Happy Birthday to You,
Happy Birthday to You,
Happy Birthday Dear Patriarch
Happy Birthday to You!!!
Yes, today is Cat's Father, Earl Welch's 84th. We should all be so lucky to have good health and a wonderful family like he and Cat's Mother Glenys enjoy. They have worked hard for it, they deserve it!
Hard Bed, Hard Ride.
So, when you complain about a sagging bed your next may be stiff as a board. The rigid mattress wasn't all that bad but it had that darn plastic sheet under the sheet. So, the result is that as you sleep the side of you on the mattress sweats.
Breakfast, croissant, juice and coffee. Maybe not the best food value but what a great taste. We shared the space and conversation with a young couple from London. They had driven in through the tunnel last night. Their little blonde haired boy, Harry was having fun being a big boy. I asked if he was Harry Potter and he laughed. His Dad said that he was reading the new Harry Potter book. They also have a young baby who nursed while we talked. He, the Dad, cycled from England to Spain a few years ago and he still has his maps and remembers details. We told them about the cyclists we met yesterday who were going 330 Km, resting today then doing the same 330 in reverse tomorrow. She said, "They're mad," then she asked how far we ride daily. When Cat told her 60 to 90 Km she said, "You're mad, too!"
We packed then walked looking for info and an Internet connection. We had passed the Info office 3 times yesterday without even knowing it. The signs were as bad as it gets. The nice lady there spoke no English but did help us buy a phone card so that we could use the computer there. Unfortunately, the computer wouldn't connect? We tried in vain, the lady watched and told us important things, in French. A young girl came in who spoke English. She provided us almost too much information. Yes, Henri Matisse had stayed here with his Grandparents. We saw a sign yesterday on the way in and didn't want to miss his house, if it was here, but it wasn't.
There is a Saturday morning market here that takes up three streets. Same old stuff, just more of it. We walked to the Poste with our fresh new 7€ phone card to try the computer there. No deal, it wants you to buy a card from the Poste. Everyone is looking for a little piece of the pie. By now it was almost 10:00 AM so we went back to the Hotel, loaded up and rode to the Internet Shop. Nice guy there, Charlie. He came right out and offered us a big chain and lock for the bikes. Cat was going to stay with them but eventually gave it up. We could see them from inside and we got news that an old friend of her family, Phyllis Baum had passed away. She and her husband had been very close to Cat when she lived near them.
It was after 11:00 AM by the time Charlie came to the curbside and pointed out the streets we should take. We were lost immediately but soon got our bearings and were headed south on Rue de Paris. Our first job of the day was to climb out of town. Once on the top we found ourselves on a perfect French country road on a perfect French day.
It's 20 Km to Ham, funny name for a French town. Jambon is the word for ham here. We had a very French Jambon sandwich in Ham. Sat in the sun under an umbrella on the sidewalk and watched the locals come and go as we mangeons. The place was really a bar and the characters on the benches all stared as we tried to order inEnglish. Just down the street we passed the City Hall with a plaque proclaiming thanks to American for liberating the town. The scene next door was interesting, the chef and his family having lunch together. Before we got out of town we watched a wedding party spill out the door of a wonderful Chateau, life goes on.

Just out of Noyon we stopped at a French National Cemetary. Another of those terrible reminders of war. At least a thousand graves containing young Frenchmen who died for France. Most have a cross, they're buried head to head, very functional use of the space. In the furthermost corner there are several mass graves. One with six poor fellows whose remains must have been scrambled, Their names are on crosses but they are all on one common grave. Another cross nearby just recognizes the remains of 21 unknown soldiers. Most died in 1940, it must have been a ferocious battle.
Our favorite store, InterMarche in Ripecourt, drew us in for wine and bananas. The rest of the ride was on a busy road or a bumpy bike path. Finally, at 5:00 PM we were in Compiegne, at rush hour. We lifted up, onto the narrow sidewalk and pushed across the bridge over the river Oise. The Hotel Les Beaux Arts, Best Western drew us in like a magnet. They threw us back out onto the street, fully booked, but did call Hotel Harlay and confirm that we could get a room there. However, once there, we found that it couldn't keep the bikes in the room. They did have a place in the basement but geez, those steep, narrow stairs. We rode on, back across the bridge to Hotel Flandre but it was completely full, too. Cat saw Hotel du Nord down the walkway and walked. She came back out and gave me a big thumbs up, we had a place for tonight.
We off loaded the bags out front then rode around back and parked in a garage. The Chef was there to open the door, he keeps his motor scooter locked inside, too. He is sure it is safe!
The Desk Clerk, a jokester, had all our bags stacked in the elevator but pretended like he didn't know where they were. Up, unpack, shower then Cat walked, looking for food while I typed. She found an Italian place to our liking. Pasta, the best fuel food for us!
Apre dinner Cat went back to the Best Western to see if they could book a place for us in Paris. We don't want to be walking the streets looking for shelter after cycling in. I went back to the computer.
Sunday June 29, 2003
Compiegne to Paris
82 Kilometers
Our fun and funny friend at the front desk said, "Just ride along the river, just keep riding by the river then you come to the road to Paris. We set off then stopped to watch some 4 place rowing boats entering a lock to downstream. There was a couple with bikes sitting and watching. We set off then came upon a road to the left. We sat and discussed options until the couple came along and he pointed to the path straight ahead and said, "Paris". We followed his advice and continued to follow the Oise. It was a long beautiful ride along the River.
At the end of the trail we were thrust out onto a residential street and there was no signage to help us. We worried that this long wonderful ride would end up being a wrong way ride. At a corner with no signs we were again discussing options when a cigarette smoking cyclist approached. We asked and he answered in French. Cat described his speech as French with a mouth full of marbles. We only got the words, "a droite and Paris" then he motioned for us to follow. We set out but he soon left us far behind and we lost sight of him as he rounded a bend. What a surprise, to find him waiting at the corner of Highway D932. He was standing under and pointing to the sign above, showing us the way to Paris! Don't tell us that the French are haughty, won't talk with or help foreign travelers.
God, another field of white crosses marking the end of young lives. In the same head to head arrangement, these boys marched here from the Netherlands. We never thought about Dutch soldiers fighting and dieing in WWII? And, why was what remained of them left behind, here in France? Guess that where you're planted doesn't make that much difference to you, once you're gone?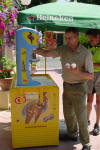 Warm, becoming hot and hunger led us to a clean looking sort of Middle Eastern restaurant. They have a thing called "Brick", dishes cooked on bricks we think. The menu says that they are wrapped in crepes. We ordered two different types and were surprised when they served us our choices, veg and chicken, in fried crepes. They were small, not as filling as we had hoped for and too hot to eat when they hit the table. They cooled and went down fast. We topped them off with soft ice cream, the kind that is squeezed into the cone.

Slurp, Slurp, Slurp

Onward onto a rising road in rising temperatures. On the climb we were easily overtaken by Yvon. He's a strong looking definitely French looking cyclist. He fell in with us and tried to ask questions. As he talked he wobbled out in front of cars. Some slowed and waited, some honked. Finally a guy leaned on his horn and his passenger leaned out the window and severely chastised Yvon. I feared that he would be hit so we pulled up and talked. He rides for health and pleasure. He lives in the village ahead called Louvres. Eet ees like the Louvre Musuem but has S at end," he explained. After a short chat using all of Cat's French skills and Yvon's English we bid him adieu. It didn't take long for him to disappear over the crest of the hill ahead.

There is a huge forest area, we think the signs mean National Forest between us and Paris. The trees are thick and we enjoyed the patches of shade that they awarded. Hills stiffened, steepened and we sweated our way to the top only to rushed down toward the next. Air traffic also thickened and we were soon under the receiving end of the runways of Airport Charles De Gaulle. The roar of the never ending line of jets stacked up and ready to disburse another load of tourists from all over the world.
The directional signs are confusing, there are so many ways to get to various parts of Paris. We pulled up and were studying the map when another cyclist stopped at the light. Cat got the question out regarding which Paris sign to follow. He responded in English, "Straight, go always straight," then he smiled and sped away.
We wished that we had a good map of Paris because we knew we were there but didn't know where, there! Perplexed again, we stood studying our inadequate little map when a guy pushing a funny little bike asked, "Can I help?"

When I said you don't sound French he told us that he was from Berkeley. Wow, a fellow Californian in Paris and this one was in need. His bike, one of those fold up types, had a flat tire and he didn't have his tools with him. We talked as I tried to take his ear wheel off. He is an Author, he and his wife Lucienne own a small apartment and spend 3 to 4 month here each year. In fact, they have just sold their studio and are moving up to a larger place.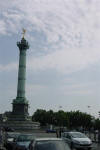 He knew his way around Paris and he knew the bicycle routes. We called our ride into town the Tour de Hank. He led us through the streets, along the Bassin de la Villette Canal, through the Flea Market and into Place de Bastille. An obelisk and new Opera House mark the place where Parisians stormed the prison on July 14, 1789 an event said to have begun the Revolution.
Hank skillfully wound his way along bike routes, through the streets then along the river Seine. The roadway, almost like a freeway, along the Seine is completely blocked to traffic and reserved for cyclists, roller bladers and pedestrians every Sunday. What a treat for us, we wouldn't have known about it without Hank! The route even took us through the tunnel where Princess Diana met her fate. They block the roadway along the river every Sunday and only allow pedestrians, roller bladers and bicycles.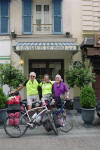 Hank stopped called home then two different hotels, searching for a room for us. He got one near where they live called Hotel Passy. After leading us to the door he wrote down his phone number and promised to help us find an apartment. He had suggested that we check the room as he and Lucienne, his wife, had stayed here and one room wasn't very nice. The place is okay, not great for the price but hey this is Paris!
It was late and we were hungry. We opted for the local Dinner at the local Brasserie. The chicken, French fries and salad reminded us of our first meal in Lagos, Portugal. As we ate a woman sort of growling and yelling came down the street. She was talking to devils and demons that only she could see. Though obviously distressed, possibly homeless, she didn't beg. She had a beer in her hand but never put it to her lips? Though sad to see, it did seem normal in a large city. (During our 7 day stay we saw very few homeless or begging people here in Paris.)
One Wonderful Week in Paris
June 30, 2003
The Search for an Apartment

As we ate our breakfast a gal came in and took a seat across from us. She was soon joined by a young woman. They spoke English so we began to converse. Wendy is a teacher of art from Atlanta, Georgia. A second student joined us and we talked about their course and futures. They have been studying Mosaics and even created some while here. Both love art but neither believes that it will be their career. As we prepared to leave they were waiting near the door for their taxi to the airport. Wendy called Cat over and offered us her Paris City map. What a nice gesture and gift.
Hank checked Internet and gave us several numbers. We made contact with Ana, the gal we met in Portugal and she also had a number for us to call.
Frustrating, agency deal is a bit deceiving. They only rent for a week or longer. The rent was 400€, okay that sounds doable until you add in the membership fee and 20% for the agency fee. Now we are paying 505€ so it makes a 5 day stay cost more than 100€ a day. We exhausted every avenue, Hank even called three times with other alternatives. I tried to negotiate the rent, using the logic that they would be able to rent the place 2 days early. No negotiating, I hung up and we tried two other places with out any luck. Time was quickly passing, time that we wanted to spend finishing the journal and exploring Paris. Finally we gave up, I tucked my tail between my legs and called the agency back, we took the 400€-505€ deal. At least we would have space, the place is 48 square meters, satellite TV and a place to park the bikes.
We loaded the bikes and rode to the apartment to meet Rino (short for Marino) and Lorenza at 4:00 PM. Our worries about any problems dissipated as we talked with them. They are a young couple from Italy and they loved the story of our trip. Rino even helped us carry the bikes down and store them in the cellar and take the bags up. Their apartment is under furnished, we are the first short term tenants they have had. The kitchen utensils are all new. As we explored and asked questions we discovered that the light in the bathroom didn't work. In fact, there was no electricity. Lorenza was on their phone desperately trying to get the power turned on. She speaks very good English so he depends on her to converse with us. They speak French but in serious conversations flurries of Italian fill the room. After a particularly intense blast of Italiano she told us the sad news, the Electric Company wouldn't have a technician here until July 9th.
It was 5:30 PM by then, all our bags are scattered around o the floor of the vacant dining room. It will take an hour or more to get everything beck down and on the bikes. Then we will have to try to find a Hotel? Another flurry of Italian and Lorenza suggests that we could stay here at no cast for a couple of days if necessary. What a kind gesture, no lights can be romantic with candles. However, no hot water means no bath and that could run contrary to romance. Also, the range oven has auto ignition and won't burn without power.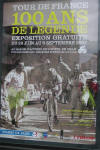 Weighing our options, we decided to camp here for the night. We were to meet Hank and Lucienne at 7:00 and we didn't want to miss that. Rino and Lorenza felt so badly that they lingered and continued to apologize in all three languages. Once alone, but not in the dark as daylight also lingers here in Paris until almost 10:00 PM, we unpacked necessities. Rather than making up the bed we decided that it would be easier to just roll out the sleeping. (The sheets were still in packages, brand new. I don't like to sleep on new without a wash because the smell bothers my allergies.)
Hank suggested meeting at the Parc Muette Café. We walked to the neighborhood and sat in chairs on the sidewalk, waiting for them. We had just ordered a glass of wine when they walked up. After introducing Lucienne, Hank told us that they didn't like this restaurant but since we were already seated they would just join us. E-gads, I forgot the Parc part, this was just Café Muette. We insisted that they get a table at Parc, just down the street and we would stop the order of wine. Our nice waiter, Voltaire, came around the corner with them on his tray at that moment. So, we sipped while they went on and secured our table.
What a treat, Hank and Lucienne are a unique couple. They, like Cat and I, have a 14 year age difference. Theirs though is the reverse of ours. Hank is my age, you can do the math if you need to know Lucienne's age but you can see in the pictures that she doesn't look it! She was a missionary in Liberia in the mid 50s and adopted a 9-day old boy whose mother died while she was attending her. The story of the adoption, her struggle with the US Government when she tried to bring her son back home and her determination are the chapters of a book that Hank is writing. Yes, he is an Author and makes his living pounding the keyboard of his computer thus he can work anywhere in the world thus, they have lived in a lot of it. Oh, yes, they are cyclists, too. They rode the mountains and meadows of Ireland a couple of years ago. Lucienne readily admits that cycling isn't her thing but she is proud that she rode up every hill Ireland had to offer.

They have just sold their apartment and are moving to their new place on Thursday. Accepting their invitation, we walked toward their place and they introduced us to another treat, the lights of the Eiffel Tower. Installed temporarily for the millennium, they were so well liked that they were re-installed permanently and are displayed on the hour beginning at 10: until the wee small hours, we assume. What a treat and another feature of Paris we would have completely missed with out Hank and Lucienne.
We had a nightcap with them, listened to his favorite track of Frank Sinatra and thoroughly enjoyed just talking, comparing experiences.
Back at our apartment, total darkness had set in. We pushed it back with two candles then wore our headlamps to freshen up for bed. Camping but not really roughing it. We do have water and toillete, what more do you need?

Let There Be Light
July 1, 2003 Apartment Pain and Rain in Paris
Funny, there should be nothing to worry about yet I awoke at 5:00 AM wondering what direction we should take to find shelter. We're really tired of the battle. This place wasn't perfect but it would have been good for us. Dealing with the Rental Agency isn't easy. I have begun to think that they just get the rental properties from other lists and collect a fee for putting it on their list?
Our sleeping bags are a little warm but cozy. It rained during the night with an attached thunder and lightening show. As the wind blew, the curtain would flutter out and then lazily drift back to the window. I drifted in and out of the shadows of sleep. Cat snoozed through it all.
We sat in a sidewalk café on the corner and had our Petite Dejeuner. At 9:00 AM we called the Rental Agency. Francis, the owner, is sympathetic but a business man as well. He went through his list and suggested a place that we might like. We arranged to meet him there at 11:00.
Our next learning experience was the Paris Underground. After irritating a long line of people behind us a nice girl helped us understand the system. Well, she helped us not buy the Tourist Ticket and instead get a weekly pass. It cost half the price of the Tourist Ticket and would be good for 6 days. (One day more than the Tourist Trap.) The next challenge was figuring out which train to take and where to change trains. Most systems have some similarity so we weren't totally lost. It did take more than an hour to get into the system, on the train then off at Gaite Station. The street where we were to meet Francis isn't on our map. We had to call his office to get direction. He had us wait in front of a shopping center and we were surprised when he rode up on a motorcycle.
The apartment was small, a studio with a couch that folds out to a bed. The bed looked too small of my long legs. The place felt too small for us. Finally, they didn't have any English language TV stations. We chose not to choose it. Francis invited us to come back to his office, which is nearby, and check the list again.
We stopped at a sandwich shop, the croissant just didn't stick to the ribs. Our decision, as we munched, was that unless he had a nice place that felt like it might fit we would leave Francis and get a hotel. Again, he was kind and pulled up every listing he could find that might work but we finally told him we would just find a hotel. He assured us that he hadn't charged his fee to our credit card but he would collect his 25€ membership fee. Cat was upset so I just stepped out of the deal. She asked him again and he told her that it was for the list we had received. Still upset, she headed for the door, he took a call and I followed her out.
Another ride on the metro then up into a drizzle. I asked a guy at a stand near the Metro where we would find the Tourist Info Office. He must get asked a lot because he didn't even look me in the eye, just said, "That way to 127", then pointed and we took a long walk down Champs Elysees. We probably should have given up on the apartment idea yesterday. However, our parameters are so narrow with a need to store bikes and a desire to have an English speaking TV station, apartments are almost out of the question.
Strange, how things are negotiated in the hospitality industry. When the guy at Tourist called a hotel that fit our needs they quoted 160€. We told him that was beyond our budget and he asked how much we wanted to pay. I said that our range would be from 90 to 110€. He picked up the phone that had been laying on his desk, spoke to the hotel then put his hand over the mouthpiece and said, they will take 110€. Of course we took the deal.
We walked to Hotel Elysees Union and checked in. I called Rino and Lorenza to tell them that we would leave their apartment by 3:30. She again offered their car to move baggage but we have decided to just load the bikes and ride. She then asked if it would be okay to meet at 4:00, as they were not close by. I also called Lucienne and Hank to give them our new address and phone number.
The desk clerk suggested that we take the bus back. He felt it was closer by bus. The lady driving our bus was dressed like she was going on a date. She and a guy talking with her took us under their wings and made sure that we got off at the right stop.

Bikes and Computer up out of the dungeon, we got the bags down and on board by 3:30. It was just stand around time and the weather went through several phases of sun, rain, sun. Finally, Rino got there, we shook hands then he apologized again and helped us get out the door and onto the street. He didn't even check the apartment. We took a picture of me handing him the keys. What a nice guy, what a nice couple.

The ride to Elysees was tumultuous. Between the off and on again rain and traffic, we struggled. The off rain really turned on as we reached Eiffel Tower. It poured, we pulled up to wait it out and stood under a tree. Wet got wetter, we pulled our rain jackets out and stood dripping and shivering with lots of others. It brought back memories of a time in China back in 1989. When faced with rain he would always say, "It is only water"! It let up a little so we rode, mostly on the sidewalk, back to our Elysees.
It was after 5:00 PM by the time we set the bikes up and a nice young guy from Wisconsin took our picture then jumped into a cab and headed toward the USA. We pushed through the lobby and into a hallway where we unloaded the soggy bags, just the ones that we need tonight. We're home, it's great to be finished with the struggle of finding a place. No, we won't be able to cook or really stretch out but the room is comfortable and the people who work here are very nice. We decided on Pizza and found an OK place down the street. To bed early, we were tired!
July 2, 2003 First Day of Desk and Errands


Breakfast down the street at a walk up. Pretty good pastry, the usual Nescafe instant coffee. Cat did the laundry and other errands while I tried to get this darned journal caught up. After working on emails, Cat ran into a protest on the street and came to get me to take pictures. The workers of a company, Alstom, are angry, the company is cutting 12,000 jobs. We hear on the news that the shareholders are pretty upset, too. The stock has lost 60% of value just this year. For lunch we walked to a take away place and took away sandwiches. There was no place to sit so we came back to Hotel Elysees and sat in the patio. The sun came and went, a guy working here watered the astroturf? He explained that it keeps it green but it doesn't grow. Nice guy, he's from Ghana and says we will love traveling there.

Protest!
Cat went to get her prescription filled while I continued to put in the pictures. While she was gone the lady from housekeeping asked me to leave while she did the room so I walked toward Champs Elysees and ran into her. We decided to go find the map of Africa, so we hopped the nearest Metro and found the English book store that was recommended to us by Tourist. We found a great map and went back to Tourist to get the addresses so we can visit them tomorrow to find out the requirements to visit their countries. By the time we got back to the room it was after 6:00 p.m. We thought Thai food sounded good for a change. It was, but not enough food!!! Huge rain storm started as we were there. We waited it out as long as we could, but then had to run home in the rain. "It is only water" as Mr. Wong would say…..
July 3, 2003 Another Day of Desk and Errands
Cat brought breakfast in so I could continue on the "project". After we finished the coffee, etc. Cat walked up to get her prescription filled as I continued to "type". When she returned we decided that she would go to internet while I finished, and I would meet her at the internet place later with the disk ready to email to Wally for the next leg of the journal. Cat answered her emails and when I got there I hopped on board and she worked on other projects until it was time for lunch. There is a great sandwich place across the street with a line almost down the block, so we got in line! After lunch we went the Embassy of Benin (it was close) to see what the steps were to fulfill their requirements for entry. They sent us to their Consulate way across town! Well, we went only to find out they were closed. SURPRISE!!!!!!!!!!!

Underground Music
We then decided to seek out the water bags that Martin told us about. Another metro ride, more distance out. Found a very small shop, that could provide a catalog but no product. Made it back about 5:00 p.m. and decided to go to the top of the Arc de Triumphe. It closed at 5:30 p.m. today because of a special ceremony being held tonight. It was wonderful to see the entire city from the top! Lots of steps to get up, but easy going down!
When we got back to the room we called Annette Whipple who is a friend of mine from years ago. She is studying cooking in Chantilly, about 50 km. north of Paris. We made plans for her to come meet us Sat. morning and spend the day together. Isn't it strange that we are in Paris and are meeting with a friend from Ventura! We went next door to a small French café for dinner. We both had Plate De Jour. I ordered lamb, Cat had fish. We had the place to ourselves. The food was good. We wanted to see the Tour Eiffel at night with the lights so we walked to The Trocadero Plaza where we could sit on a platform and watch the light perfectly. Many street vendors, many tourists, great lights, nice night!
July 4, 2003 Happy Birthday
USA Tourists in Paris
Pat liked breakfast in the room, so Cat went on the run again. After we went to Internet to clean up all the rest of the emails and to make sure Wally, the Web Guy, got the text to put up on the site. We were there for over 2 hours. Time really flies when you are answering all the wonderful people that write us! Went back to the same sandwich place as yesterday, then hopped on the metro to Montmarte. This is a special place for Cat. She came here before and ate at a special restaurant called La Mere Catherine. We were supposed to have lunch there today, but the Internet took its place!! Oh the trials of traveling!!

Harp & Sacred Heart
We did see Sacre Coeur (Sacred heart), and the artist's quarter which is a very special place in Paris. Very charming. Not only artists, there were musicians, too, playing beautiful music all over the square. Back down the hundreds of steps and on to George Pompidou Art and Cultural Center, then on to Notre Dame Cathedral. Can't stop there, so on to The Sorbonne University and The Pantheon. Once there we looked at our watch and realized we were an hour late for our call from Hank to make plans for tonight. We hopped 3 buses before we made it back. We called right away to find out they had a long day and made plans to get together tomorrow night so we will al be more relaxed and ready to have a nice evening.
We called Annette, a friend from Ventura and confirmed our plans to meet us in the morning. She is here attending a cooking school in Chantilly. I trekked in Nepal in 1987 with Annette, her husband Ed and friends, Richard and Kristan. Ed suffered for two years with the debilitating Lou Gheric's disease and of course it was an extremely painful time for Annette, too. Richard sent an e-mail letting us know that she was here, in France. She will join us on Saturday, maybe take some pics and video for us, and we will hang around together. She has volunteered to take pictures of us at the Eiffel Tower and perhaps the Arc before going to see the Time Trials of The Tour De France. We hopefully have a good place staked out to get a good sight of the cyclists. We'll see…. We went out for Sushi. VERY EXPENSIVE, but nice and a very nice man from Japan was the owner. He and Pat had a nice conversation. Back to the room… Boxing and bed…
July 5, 2003 Prologue, Tour De France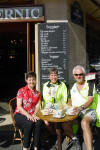 Annette arrived at 9:00 AM and the three of us went across the street for coffee and croissants, how French! We sat in the sun on the sidewalk and caught up on events of our lives. She is having a great time here, cooking and learning but it is a lonely existence. She is in the extreme minority of students who speak English. She's trying to learn French but it isn't easy. She will stay 4 months, she may sound like a native by September.
We convinced Annette to tag along and be our team photographer. After walking the bikes to the Trocadero Pushing and pulling, we got them up the stairs then down onto the deck of the Palais de Chaillot. What a great view of the Eiffel Tower and beyond. The crowd was thickening in anticipation of the 100th start of the Tour de France. Today's prologue, a 6.5 Kilometer sprint, starts at the Tower below. It's exciting, Cat and I never thought we would be here to see this spectacle. And, it's not just the 100th, Lance Armstrong is attempting his 5th win. There are only 3 others that have accomplished that feat. Annette took some video and stills of us in this spectacular setting.

Cycle to Eiffel
After pushing back and dressing in our street cloths we walked down to the Parc du Champ de Mars and the Tower. It was teaming with spectators and participants. They have a sponsor's parade on the route before the Prologue begins. We were able to walk through the cars and floats. It is big, colorful and noisy. What a treat to see the cycles and cyclists, some of the best in the world. And, just to be in this fantastic atmosphere, at the base of the Eiffel Tower.
Annette had a dinner appointment and had to leave after the parade. We had lunch and a couple of glasses of wine then walked her to the underground station. Parting in French style, we did the hugs and cheek kisses then promised to get together back in Ventura. She volunteered to cook a big French dinner for us.
The crowd was thickening, it was a crush on the bridge at the starting line of the Prologue. Pushing our way along we were able to get a moment to shoot pictures of cyclists at the starting line then were shuffled on along to give others the same chance. We can't remember ever having seen bikes being ridden so fast. There was a line of cameramen, laying on their back on the street, trying for the perfect shot. Another line of blue motorcycles stood at the ready. As each cyclist hit the course a Police escort would move out and lead around the course. At the first corner we watched when riders turned the corner and hit the cobblestone surface. One bike hit a big hole and a crack, like gunfire, rang out. Sure that he had blown a tire we were surprised to see him stand and crank up the hill. Further up the course, we carefully climbed between rose bushed to get a vantage point. The motorcycle leads then the cyclist cranks up and around then up some more. It was really inspiring for us. We really wanted to see Lance make the run but because he won last year he will be the last one out of the gate at 7:00 PM.
Hank was here in the crowd, somewhere. We had made a date to see their new apartment tonight so we had to get back and clean up a little. We decided to take the bus back to Hotel Union. It wasn't as easy as we thought it would be. The first driver told us that we would have to change buses. He helped us by pointing out the stop where we would exit. A lady listening jumped in and in her wonderful French accent explained that we should get off then walk back and across to catch the second bus. If she hadn't helped we may have wandered around lost for hours?
Refreshed, we took on the challenge of the underground to get over to the Left Bank where Hank and Lucienne's new place is located. We did a lot better on the trains then the buses. In fact our worries about being late faded when Lucienne invited us up the elevator. She told us that Hank still wasn't in. Their new apartment is much larger and has a view of the Eiffel Tower. Though you can see it from the living room and bedroom, Lucienne pointed out that the best view is from the toilet.

Hank swept into the room with his usual flourish, we shared wine and Tour stories then decided to spend our final evening dining together in Paris. Hank has volunteered to lead us out of town in the morning. We're in good hands.

Bon Soir
Berlin, Germany to Paris France
May 26 to June 29, 2003
In summary, we spent 25 days on the road between Berlin and Paris. Add in 4 sick days and 6 days off. Our pace isn't exactly blistering but our Butts do get blistered on those long hot days in the saddle. For you statisticians, we rode 1,596 +- kilometers. (Roughly 990 miles.) That brings our total to 11,600 kilometers. (7,200 +- miles.)
We languished in Paris for 7 days and loved every minute of it! Just being there and experiencing the City is enough. However, for a couple of cyclists, when you throw in "The 100th Tour de France" we were in heaven. We have always considered San Francisco our favorite city in the world but after this experience it may be tied with Paris!
The more we travel the more convinced we become that most people just want a good life for their family. Yes, ideologies and governments are quite different but people, their lives and desires, are more similar than different. Our hope is that we see, show and tell these similarities. It's a big world when you are seeing it in little chunks from the seat of a bicycle yet the farther we ride the smaller it seems.
It really is time to start thinking "ONE WORLD". It really is time to "THINK GLOBALLY BUT ACT LOCALLY." Our hope is that we can bring the people and places of this wonderful world to you through our stories and pictures.
If you'll keep reading we'll keep on writing and riding!
Pat & Cat