Posted on 6/25/02

APRIL 28, 2002
San Francisco, CA to Lafayette, CA

Startings always begin with partings. The morning was melancholy, Franklin wanted to make his world famous Swedish Pancakes for us. Aura spent most of the morning on the phone, gathering support from co-workers for having made a decision not to go on a call last night. She told the girl to call the Police and if they thought that she was needed she would come. She never got the call from the Police but the girl turned her in for not responding.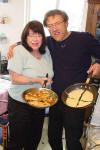 The Swedish, Polish Pancakes were a hit and filled our fuel need. Cat had called the Ferry service to Valejo, we were going to take it then ride on the old road adjacent to Highway 80.
Franklin remembered cycling, as a boy with the Scouts, from Sacramento along the river. With a little map research, we decided that it made sense for us to ride up river. That meant a different Ferry. I checked the Oakland/Alameda Ferries. It appeared that they left about once each hour. We began to pack then Franklin asked me to help him with ideas for the Long Beach Cajun Festival. This would be the first time that Acadiana wouldn't be there, leading the parade, in six years. We had started as a kid's parade and we pushed to get onto the stage. We were allowed three songs then led the parade. Terry Tintorri had even built a battery operated "Parade Machine" to amplify our sound. It was so successful and so many adults were joining into the fun that they decided to drop the kids and just call it a Second Line Parade. (Acadiana was shut out due to petty jealousy that caused new rules for the event that no band could perform two years in a row.)

He just asked elementary questions but my experience was helpful. We carried the bags and bikes down the stairway and loaded them. Franklin had one last request, that I look at the way their new windows had been installed. His problems with them were easily explained. I checked the computer one last time and found that I had been looking at the weekday schedule. Cat was correct. She remembered that on weekends they only depart at 1:00 and 3:15. We had missed the early boat but needed to get out of Franklin and Aura's way. We hugged a big four person hug on the sidewalk then rolled down hill and on, into adventure.
We arrived pretty early so just enjoyed the sight and sounds of Pier 39 and Fisherman's Wharf. The guys who worked for the Ferry Service were very nice and interested in our Odyssey. They had us stand in a special place then helped us get on board.

In Oakland, we were faced with a field decision. If we tried to go over the Berkley Hills we would have to spend the night in Oakland. It would take at least 3 hours to scale the heights then ascend into Orinda. Another field decision, we could take the BART train through the Caldecott Tunnel and get there fast. It would be a 3 ˝ mile loss of rubber on the road but it seemed the right thing to do. Nothing's perfect, even shortcuts. We hunted and asked then finally found the elevator to the main floor. The ticket agent told us to purchase our ticket then just push through. When we did and I asked for the elevator he said, you can take them up on the escalator? That didn't sound like fun, I asked where the elevators were and he sent us back out to where we had started. We could have just gone up to the third level? Oh well, without these learning experiences it wouldn't be very adventuresome now, would it?
The train trip was fast, we spent three times the trip time in searching and using the small elevators, one bike at a time. The tunnel spat us out into a warm sunny afternoon. Asking directions of a car driver can be perplexing. Cat asked then pointed us in the direction he had suggested. A stop at a Supermarket had us taking advice from a box boy. He thought that there was a bike path and pointed us in a direction. Just as we were about to roll a couple got out of their car and asked if they could help?
They were cyclists and knew the route. It wouldn't be easy, it wasn't marked. His complex direction was absorbed as best we could. He wished that he had his bike there, he would just lead us.
We wound our way and finally, with the help of another couple of cyclist, two 12 year olds, we were in Lafayette. The cycling couple informed us that there were only two Hotels there. One was budget and the other, very nice. We spotted the budget spot, The Hillside Inn. A moment of decision, we bought the budget. There was a Japanese Restaurant adjacent. We showered and walked. It was a pleasant surprise. The Hotel lived up to its budget reputation but this place was Chi Bon.
Our seat mates were a young family, Mom, Dad and two boys. He develops Web Sites. She had given up or at least set aside a career in Engineering to raise there family. They loved to camp and cycle. We had a natural connection. As we finished dinner and waited for the check I decided to call The Grandkids, before bedtime. The boys had reminded me that it had been a long time since we had talked. No answer so I called Daughter, Lori. We chatted then I turned the phone over to Cat. The guy seated across with his lady friend looked over and showed that he didn't like cell phones while he was eating. Funny, the conversation going at in the adjacent table was at least as loud as Cat's conversation on the phone. The guy got up, walked right over to me, leaned down in my face and said, "Excuse me but your cell phone conversation is really annoying to us."
I told him that we were trying to reach my daughter but he persisted with his complaint. He went back to his table but continued to shake his head with disgust. Cat finished the call and I raised my voice intentionally. After all, he didn't know us and he didn't know that we had scant time to talk with family and friends.
Usually I keep the phone turned off but hadn't yet when my Brother Bob called. The guy looked furious, Cat reminded me of the spirit of our Odyssey, a quest for peace. I told Bob to hold and walked out into the cold entry to talk with him.
Cat, the peace maker, moved over to the complainers table, even sat with them and talked. She explained our trip and the fact that we had so little time to make the calls after we got in tonight. They became best of friends. I hate to have cell phones ringing when I'm out but a conversation shouldn't be any worse than a neighboring table's conversation. Cat told me to "GET OVER IT!" I did.
APRIL 29, 2002
Lafayette, CA to Locke, CA
The bottom sheet on our bed had a mind of its own, it didn't like staying with the mattress. We set out at a little after 9:00 AM from the Hillside Inn but stopped within a mile for breakfast. It was 10:00 before we hit the road out of Lafayette in earnest.
The hills are rolling and speak to us in ups and downs. A left on Pleasant Hill led us to hills and a change in street names to Taylor Blvd. which winds above, but allows a view of Pleasant Hill. A swoop down and we were on Willow Pass Road as we passed through Concord, then an up into the US Naval Weapons Station. It was all open space, the grass fields and birds were protected by chain link and barbed wire with nasty looking "Do Not Enter" US Navy signs at regular intervals.

Willow Pass wiggles around and becomes 10th street, 14th street then finally Pittsburg Antioch Highway, into Antioch. We had a good, down home lunch at Match Maker Café there. The slightly plump waitress warned me when I ordered the Hot Turkey Sand. That the gravy was always salty and asked if that would be okay? I told her it would be okay, I would have less salt on my Margarita tonight.

Onward, onto Wilbur Road then a left turn onto Hwy 160. It was strange, the signs on Antioch Bridge that usually say bicycles prohibited beyond this point said bicycles permitted. It was a big climb over a bridge that arched at least 200 feet above the Sacramento River. The apex delineated Contra Costa and Sacramento Counties. We sailed down and onto Sherman Island.

The road was flat with a slight rise that matched the rivers fall. We were on levy a lot of the afternoon. By 3:30 we rode into a village called Ryde. The Hotel there drew is in. It looked great but the sign, Dinner on Friday and Saturday only sent us onward. The lady there said that we would find food and lodging in Walnut Grove, just a few miles down the road.
Our first stop there proved fruitless. The nice man laughed, "She's wrong, there ain't no Hotels or rooms for rent here," he said with a one toothed grin. When I asked to see the Telephone Book he was slightly offended. "I've lived her more'n 23 years and I know there ain't no Hotels here."
We decided to cross the river and check out the other part of Walnut Grove. His prophesy seemed to be true until we talked with a tiny gal that worked at the other market in Walnut Grove. She tried to call a private club to see if they would rent a room. No luck. Then she mentioned our dilemma to Martha the gal at the check stand. She told us that she had heard that the people at the restaurant in Locke, just a mile down the road, had rooms for rent. Based upon blind faith, we bought 2 bottles of wine and bananas then moved on midst their wishes for good luck with our journey. The two gals and the manager stood on the sidewalk and waved for as long as I could se them in my mirror.

Locke was a disappointment. It looked like a ghost town and the only restaurant we saw was closed. At the north end of the one block town we stopped and I asked a girl in an Automotive Repair place with two beautiful, 68/69 fast back Mustangs and a chopped 39 Chevy, if that was the only restaurant in town?
She motioned around the side of the building and said something like "Alley Mops" is just down and to the right. It turned out to be, "Al the Wop's" place. There was a Sheriff talking with a hand full of locals on the street of lean-to building. When we pulled up, all conversation stopped. Cat asked if they knew if anybody rented rooms. A woman said, "Yea, Annie does, follow me."

She walked down the street and disappeared. Cat stopped outside the building she had entered. A guy came out, Dick. He said his wife Annie had made him Employee of the Month. Very fun guy, retired from banking. She, a housewife, war bride from England. They have a 4 bedroom 1 bath place upstairs. We had it to ourselves. A queen bed, a kitchen and the bath that would usually be shared.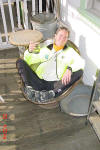 From despair to joy in just minutes. The sun popped through the high clouds, the breeze died down as we sat on the balcony. We drank our wine and watched coming and goings of the locals on this strange looking street. A guy, Chris, looked out a window from across the street and said, "You're the bicyclists aren't you?"

We chatted a bit then I turned and saw a young boy on the balcony next door. I asked if the bike he was leaning on was his. Chris hollered across that the boy couldn't hear. He had been affected by a fever when he was born. I took a picture that I loved, of him. When I held it over toward him he broke into a broad grin.
Chris, Dick and Ann all agreed that we should eat at "Al the Wop's".

What a great place. This a piece of early Americana that has remained intact since way back when. A stuffed ostrich sits above the door to the Women's room. It's a real cowboy joint. The back bar is covered to the 15 foot high ceiling with stuff, stuffed stuff, deer heads and fish. Lots of signs, too. Chris joined us for a while. I noticed dollar bills hanging from the ceiling. He said he could show us how they got there but it would cost us a buck.
He gave in and told us the trick. They fold a dollar bill with a tack in it around a Silver Dollar then throw it. The tack sticks, the silver dollar drops back down. The locals do it all year then donate the money to the liver transplant fund. How appropriate.

A guy at the bar, John, obliged us and stuck our dollar bill up with the rest while I lay on the floor and took pictures of the event. He even caught the silver dollar as it fell back toward me as I lay on the old wooden floor. What times this place must have seen. God it was fun. We ate an interesting pasta dish, mushroom chicken and soup. They even threw in French fries. I bought John and another guy, Ben, drinks and our bill was still under $30. That included corkage, I had ran back and brought our bottle of wine to the party.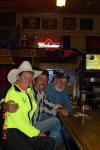 Between the décor, the camaraderie and food we spent one of the best evenings we have had since we started our 1000 days.
I need to relate the fact that our friend Rodney Chow was on my mind through out the evening and into the morning. When I asked Dick how old their place was he told me that all of the houses had been built between 1910 and 1915. They were homes for Chinese families, hard working Chinese families that weren't allowed to own property in the United States of America, back then. They got a person of European heritage to buy the land and they leased it for a term long enough to make building a home worth while. Imagine having earned enough to own a home but not being allowed, because of some stupid law based upon race or national origin, to actually own? Sounds like a third world country, doesn't it? Where were the guys that talk about lack of human rights in China when these America Citizens of Chinese decent needed basic human rights?
Rodney told me that a woman, Caucasian woman, once asked him what part of China he was from? When he told her that he was 4th generation Californian she ignorantly asked again, "Yes but which part of China are you from?"
There are a lot of lessons to be learned from our own history and this is just one of them. Maybe if we remembered that Asians and Blacks were denied ownership of land in California until the 1940s and then they and Blacks and Hispanics were denied ownership in certain neighborhoods until the 1960s, some of us would look back at the struggle by the Blacks in the South differently? Maybe we would even be more understanding of other countries that haven't yet learned the lessons of the mistakes in our own, very modern past.
APRIL 30, 2002
Locke, CA to Rocklin, CA
We made coffee; Annie brought bread for toast and some great marmalade. The best part of the morning was spent exploring the rooms, hallway and looking at the antiques, collectables and rare junk that Annie and Dick had accumulated over the years.
I spent some time catching up on the journal, they were enthralled with the computer. They don't have one but Annie like the compact look of our notebooks. Both want one, she doesn't like the imposing look of a PC.
As we were loading the bags she took Cat aside and gave her a very nice pen and pencil set. She said that it was for a time when the computer might be broken and Cat would have to go back to the old fashioned ways. I think it was a hint that she would like to hear from us.
New friends, that old parting feeling. We didn't hug them, perhaps her British background made them a little more formal. We did shake hands with fervor.
The raised flat surface of the road atop the levy carried us most of the way to Sacramento. We stopped on the outskirts at the Freeport Bar and Grill. It was dedicated to the sport of golf. They were adjacent to the golf course. Cat wanted to ride on, into Sacramento. I was a little wind blown and tired.
We had soup and bread. Good soup and great bread. There was a plaque above our end of the bar that read, "Most of my life I spent playing golf, the rest of it I wasted." We could think of at least 20 friends to mail that one to.
From there it was pretty much deadhead into then through Sacramento. We asked directions a couple of times then found ourselves in Downtown SAC. It was interesting because we had attended so many REALTOR functions there. We were lost, passing very familiar places but seemingly in all the wrong places?

Finally, the State Capital Building. We decided that we needed a photo in front of her so we pushed through crowds and into a giant demonstration being held by Nurses. They were all over on the front steps of the building. They were chanting, "What do we want, more Nurses, when do we want them, NOW."
A nice gal took our picture with the Nurses as a backdrop. We remembered our days when we attended California Association of REALTORS meetings here every year. It was an opportunity to meet with our elected officials. For some of those years this trip would be our only time off from work, our vacations. That was due in part to the lack of
The Convention Center really brought back the feeling as we watched conventioneers walking around with those name tags hanging around their necks. We looked for maps, asked direction, and even had a cookie from Starbucks.
We are beginning not to trust maps now. We gave up on motorists a long time ago. They always say, it's just a short way and it's flat, or down hill. The City map from the Info Center led us out 13th street to a dead end. Just a short back track and we were using the map that Dick, Annie's employee of the month back in Locke, had hand drawn for us. The combo of that and the area map finally had us headed up to Rocklin.
The directions to friends, Mike and Kat Weston's were difficult so we called them. They filled us in but the details were too tough to follow. Mike finally said, "I'll come meet you in the van. We kept on and made our way through most of the twists and turns he had described but had begun to worry that he had passed us. I spotted a bright yellow jacket on a bike coming toward us and I knew it must be Mike. He cycled from Oregon to Mexico and the length of Ireland a few years ago. He was just too excited to drive out, he wanted to ride with us. After a daring turn across traffic and a near miss with an SUV we were cycling together toward their home and a glass of wine.
Mike and Kat lived in Port Hueneme, near us for several years then moved to San Francisco a little over a year ago but gave up on the difficulties of the City and moved to the suburbs, 20 miles out of Sacramento. They have a very cute 3+2, corner lot with 3 car garage. (There I go doing that real estate thing!)
They have their place decorated like a Bed & Breakfast. Dinner was a treat and the wine flowed freely. We were at home for the next 2 days.
MAY 1, 2002
Rocklin, CA
The bed is a standard size but we were so tired that we made good use of it, slept like logs. Breakfast was as good as any B&B we have ever been in, thanks to Kat. Mike, the computer guru, helped us with our journal entries and pictures that had been locked up inside the computer. He even spent a half hour on the phone with Sony's help line. It's wonderful to know what you're doing.
They had other friends, Gil and Connie, from Phoenix, AZ. We met them at a local restaurant. Nice people. We ate, talked and laughed. They had been planning on staying with Mike and Kat for the evening, too. Mike and Kat had arranged to stay with Kat's son Kyle, who lives near-by. Gil and Connie didn't want to put Mike and Kat out of their bed so they arranged to stay another night at the Motel they were in last night.
We all hung around the house for a while then they, the foursome, went out to see a new home project similar to their place at Sun City Scottsdale. We took advantage of the time to work on our journals and laundry.

The evening was filled again with laughter and food. We had dinner at one of our favorite places, Il Fornaio. We bought dinner, to re-pay our pals, Mike and Kat for their hospitality. Gil and Connie objected so we told them about our adopted Mom, Celeste, in Scottsdale and told them they could re-pay us by taking her to lunch, or? They were delighted and promised to call her as soon as they got back home. Celeste is 87 and she was counting on a visit from us before we shoved off on this Odyssey. We just ran out of time so this is a "next best thing, kind of thing."
MAY 2, 2002
Rocklin, CA to Grass Valley, CA
Parting, again, is such sweet sorrow. We packed then re-packed and finally rolled up and into the wind. Mike was a little melancholy; the old pull toward the road was still in his heart. We only made about 15 miles when Cat got the hungries. We stopped at a wonderful little Mexican Restaurant in the tiny town of Loomis. The Original Lorenzo's was a perfect place to sit on the patio, relax and refuel.

At first, the staff was busy and we felt ignored. Finally, Linda took our order and asked what the heck we were doing. She became so enthralled that she had all of the others come out to see our bikes and bags. A young guy was just pushing his bike away when Raul, the owner, asked if we had a tire pump. We obliged, they pumped and then really took us under their wings. We basked in the sunshine and ate then did a quick version of "Cookin' with Cat."
We were a long way from Grass Valley and most of it would be uphill. We rolled, the road was bumpy. While we ate a guy rode by pulling a two wheel trailer. We soon caught and passed him. In short time, we stopped to find a restroom, he came rolling up. His name was Tim, he started in Redding and was headed to Nevada City. He said, "See you again," and pushed on ahead of us.
There was no facility, only a park commemorating the fact that a man from Wales started the first successful granite quarry back in the mid 1800's. We stepped back into the pedals and pushed then passed Tim again. We stopped and talked for a few minutes. He was a real loner. His equipment was antiquated and he liked it that way. The bike was an old Bianchi 5 speed and his trailer was a garden variety that he had bought at a garage sale for $2.00.
We pushed onward then saw a Cemetery on the left. The sign on the office said closed. I went to the door and found two ladies working inside. When I told them of the level of our need one laughed and said, "You had better get in here and use our Restroom."
After the pause that refreshes, we pushed up a hill and again exchanged salutes with Tim. We still had lots of road ahead so we waved goodbye and moved onward toward Auburn.
Surprise, just a mile from Auburn Mike and Kat pulled up in their VW van. We continued to roll as we were headed uphill. They talked with us through the window then pulled on ahead.

The last mile into Auburn is on Freeway 80 but bikes are allowed because there is no other road. As we pulled up the steep hill off of 80 we stopped and took a picture with the statue of the man who first found gold there. As we posed, Tim continued on up Highway 80, against the law. We thought that Tim wanted the best route and didn't care that much about mans laws. He had the same kind of spirit that brought the miner across the wilderness to this place more than 150 years ago. The only regret I have is that we didn't get a pic with Tim.
We were soon lost in Auburn. Hard to do when it seems to be a one street town but we had done it. Up three tough hills, always looking for Mike and Kat. All of the hills were in vain as was our search for the Westons.
Back down, then around and away we finally went on Highway 49, still 24 miles from Grass Valley. The scenery was becoming more mountainous, as was the terrain. We were in pine trees, grassy fields and rolling hills. The roll was always a little more up. The only stops we made were for a bite of our Soy Bars and a swig of water. One memorable road kill sighting was a young Doe, deer. She was wrapped in a sheet, probably by the folks who hit her or someone close behind. She didn't look too damaged but she had definitely gone on to Deer Heaven. Her big brown eyes seemed to watch our slow passing. They also seemed to ask, "What happened to me? I was young, I was happy." We didn't know the answers but we did learn a lesson about traffic that had cost her so dearly. Never underestimate the speed of a car and never get off the shoulder when one is nearby.
We began to see signs of Grass Valley long before we actually arrived. Our last mile or so was again, on the Freeway.
Aura and Franklin won a place in Grass Valley. He wanted us to see it. They have been in re-modeling since they bought it two years ago. We rolled into town looking for the old Main Street. Asking a time or two, we finally dead ended into Main. He had told us that he was near a B&B just a few doors away from the commercial buildings.
We asked for B&B's and were directed toward one called, "Risky Business." It was impressive looking but we met a very interesting local on the street. Claudia clued us in to the fact that this was the highest priced place in town. Just up the street was another that was owned by the same woman who owns The Hotel Holbrooke. We had just pedaled past it and liked the look. "That's the best value in town," said Claudia. We took her word for it and were finally checked in by 6:30 PM.
Franklin had invited us to spend the night at their place. We knew that if he said it was very primitive, it would be tough to stay there. We were happy to be at The Holbrooke and the price was right. A quick shower and we were down stairs in the restaurant that Claudia said was a very good value. She was right again.
I finally reached Franklin, who had driven all the way up just to show us the house. He joined us at The Holbrooke for dinner. He really wants to keep the house. He is in love with it and wants to spend his next years working on his Poetry and writings.
I took a tour of the house with Franklin after dinner. It is in an extreme state of remodel. In the attic I found evidence of a fire. He told me that it had been a flash fire so not much of the wood was lost. They had hired a guy who claimed that he would soon be a licensed contractor. I was concerned with the blackened rafters would affect re-sale value. They had scabbed new 2X4s onto them but that and the attic room they had constructed really added weight to the structure.
I think that the lesson is, always hire a licensed contractor. These kinds of decisions would be made by a person educated, licensed and bonded. They would have had some recourse. As it stands now, they are locked in a battle with a low life guy who threatens with physical force.
Franklin says that Aura has lost her desire to be in the house. She feels that the Devil, in the form of the un-licensed contractor, has taken over the place. Franklin turned his Honda back toward the Bay Area and I joined Cat in our King bed.
MAY 3, 2002
Grass Valley, CA to Nevada City, CA
Breakfast was included at The Holbrooke. We loaded up on sweet rolls, instant oatmeal and coffee. With our final cup of coffee in hand, I took Cat up to see the house. I conducted as good a tour as Franklin had, we enjoyed the place then went back to pack and move on.
It was after 10:00 by the time we moved out. Nevada City was just 4 miles uphill. I started feeling terrible. My old arch enemy, the flumpy flump heart began to pound in my throat. I felt weak, my legs were wobbly. We pulled into a small strip center and had a sandwich. By a little after 12:00 noon, we pushed off. It was all up. I recouped some of my strength but the hills continued to rise toward mountains that lay ahead.
We pulled in to Tour of Nevada City Bike Shop for air and advice. The young, wiry clerk was obviously a racer. When we asked about the road ahead he told us that he would never ride Highway 20, too much traffic and no shoulder room. His pick would be highway 49 for scenery and safety. As he spoke an older guy asked what our objective was. When we told him about our trip he stopped the young guy.

"49 is scenic but it will take an extra day to get through. 20 is hectic but if I were doing what you guys are, I'd take it. We liked Mike and his advice. He told us that he had recently sold his own shop. Actually a family business started by his Grandfather and operated by his Father and him for 79 years, in Pasadena, CA.
We pulled into a small store called 5 Mile. It was closed, for sale and offered by the Real Estate Office next door. The gals there were very friendly but the news that we had only come 5 miles out of Nevada City was demoralizing. One of them, Regina, urged us to stop for the night at Scott's Lake. They live there and she felt that it was just a little way down and an easy ride back out tomorrow. I was dubious.
We met a cyclist out front. He knew the area. He was a Mini Storage owner in Nevada City who would rather be cycling. He confirmed my fears. It would be a 1000 foot drop to the lake, about 3 miles, then the same climb back out in the morning.
I convinced Cat that we should move on upward rather than give back what we had worked so hard to gain. She finally agreed and we moved on toward a couple of high ground camp grounds.
Things went from bad to worse, Cat's rear tire blew. This was our first flat in more than 500 miles. We pushed into a driveway and I changed while she walked to the home in the woods for water.
Just as she returned and continued to struggle with the tire a friendly UPS driver who had pulled up to us and suggested that we get off the Highway and use a dirt trail a few miles back, stopped again. He was so concerned. He still feared for us in the traffic but his thoughts now were steeped in his knowledge of the area. "Where are you going to stay tonight?" he asked. Then he got a piece of paper and drew a very accurate map showing where the up and down hills were and how few places there are to stay along this route. His name was Kevin, he feared that we would be stuck out there in the wilderness. He hated to leave us, but duty called. He pulled out with a honk and a wave just as I completed the tire repair.
It was a slow process but we were back in the saddles by 5:00PM. We rolled into White Cloud Camp Ground at 5:30. The place was a US Forest Service Campground and it seemed deserted. We pushed around a "CLOSED" sign at the entry. I stopped at the Camp Host's trailer. Nobody home. We parked the bikes and walked into the area where the Forest Service has their Fire Station and barracks. Nobody home there, either. We did meet a young guy named Josh. He was riding his skateboard. We told him that we were camping in the site above. He asked if Joe and his wife were there. We told him that there was nobody around. He shrugged and said he could ask his Mom but he thought it would be okay.

We sat up the tent and our cook stoves. Dinner was a tasty combo of Top Ramen and Macaroni and Cheese. Not the best diet in the world but filling. We rinsed the dishes then covered the bikes and were in the tent by a little after 8:00. It had been a ling day full of small problems and short mileage. Our eyes wouldn't stay open. The sun still held the beautiful pine forest in an almost eerie blue gray glow. We lay back and enjoyed the last light of a tough day then slept.
At 9:00 PM, all hell broke loose. We heard a guy yelling and the headlights of his pickup truck lighted our tent. Cat opened the zipper on her side of the tent. There was a guy in big black boots, towering over us, jumping up and down and screaming that we had to leave.
"What's your name," he spat out.
"Pat Patterson," I responded, "What's yours?"
"I'm Joe Harris, I manage this place. You drove right past our Closed sign now I want you out of here."
"We're on bikes and it would take hours to move and we have no place to move to." I said.
"Go anywhere, go across to the Day Camp, just load your car and get out of my camp," he raged.
"Joe, we don't have a car, we're on bicycles."
"I don't care, get out of my camp," he snorted.
"You own this place?" I asked.
"This is US Forest Service land but I work for the contractor that runs the Camp, now get out."
"Joe, we are US citizens, we own this land and we can't move. Why don't you go home and we'll work this out in the morning," I suggested.
He retorted, "I'm going to call the Sheriff and have you evicted."
"That's a great idea," I responded, "I think you should call the Sheriff, they maybe able to help us if we have to move."
Joe stomped away and I really thought that we had heard the last of him for the night. I think that he had been out partying and probably didn't really want to talk with the Law tonight.
Wrong, here he comes again, headlight flailing up and down as he drove across the grounds toward our cozy little tent. "You get up and get out of here right now or I will call the Sheriff." He yelled. This time he was on a crutch. "I'm a handicapped man and I don't want any trouble," he blurted.
"Please Joe, call the Sheriff." Cat was really worried that we would be arrested. I was worried that Joe would take matters into his own hands and get his gun, to force the issue.
It got real dark and real quiet then about 10:30 car lights lit up the area again, it was the Sheriff. He spent a few minutes at Joe's trailer then pulled out with headlights aimed at our tent. I didn't wait for an order, I held the flashlight above my head and stood up out of the tent.
Deputy Sheriff Jim Bennett is a problem solver. At first he sounded just like Joe. "You are trespassing and the Camp Host wants you out," he repeated. Once he understood that we were on bikes and it would take a couple of hours to take the camp apart and move he softened.
I asked if he could help us or get some help from the Forest Service. He could offer no ideas then he said, wait here for a few minutes then he walked back to Joe's trailer.
When he returned he told us that Joe would allow us to stay but wanted us out first thing in the morning. The problem had been solved, Deputy Bennett bid us a good night and drove away. We thought that would end the evening but no, Joe needed the last word.
Well, not really a word but we had just settled back in when he fired up his noisy little motor scooter and circled our campsite two times. Finally, quiet returned but neither of us could get to sleep, a pretty restless night.
MAY 4, 2002
Nevada City, CA to Rainbow Lodge, CA
At the crack of dawn we began taking down the tent. Cat walked across the highway to the Day Camp but found no water. She met Joe's wife who told her the only water was in the Forest Service area. We decided to get packed up and move there for breakfast. As a last gasp, Joe came over in his little putt putt.
He growled, "My wife say's you're goin' over to the Forest Service area, you better not if you don't have permission!"
We were really fed up with Joe. I said, "Last night you told us to move our campsite over there."
"That was last night," he snarled.
I just turned back to the work of taking down the tent. Cat had already moved the cooking equipment to the Forest Service area. There were a cluster of tables on grass. They were fairly close to the water pipe. We cooked and ate while Joe continued to drive around and glare at us.
During that time several sirens passed the place headed up hill. Shortly, a helicopter circled, hovered then landed in a field nearby. We laughed at the possibility that the Sheriff was sending them to arrest us.
There had been an accident on the Highway. They brought an injured person in by ambulance and loaded him for transport. We sat and watched this final strange event as we ate our instant Oatmeal.
We rolled out the driveway singing, "Goodbye Joe, we gotta go, me oh mio. We got to go pole the pirot down the bayou." We thought it was good for a laugh. What a pity to be a guy like Joe. His world must be a pretty unhappy place.

White Cloud is close to the 6,000 foot altitude. We weren't more than a couple of miles up the road when I began to experience the flip flop heart again. It was very uncomfortable. I tried to work through it. We stopped often, drank water and rested. It persisted. We managed to crawl along for about 20 miles then I began feeling dizzy. We were on the brink of a big downhill but I feared getting dizzy and falling. I just sat on the side of the road, not knowing what to do and feeling terrible. Cat was worried. We talked about flagging down a car when a pick-up truck suddenly pulled over.

A guy and gal, Jim and Maria got out and asked if we were okay. When I told them how terrible I felt they pretty much took control and decided that they would take us to Rainbow Lodge, about 20 miles, down into the canyon then up a big, big up.
I wasn't even much help in loading, then Cat and I rode in the back with the bikes. What wonderful people. Jim was a retired Sheriff, Maria worked with the California State Parks as an architect. We were in good hands.
It had taken more than 4 hours to ride the 20 miles. Only a half hour to ride the pickup to Rainbow. We thanked Jim and Maria, took a couple of pictures with them then they were off to work on the house they are building at Donner Lake.
Rainbow Lodge was like a Ski Lodge, pine interior and pictures of famous Ski Resorts. We ate lunch then I rested. Feeling better when not exerting, we had a nice dinner and were in bed early. Two tough days in a row had taken their toll.
MAY 5, 2002
Rainbow, CA to Reno, NV
It was 10:00 by the time we had finished our included breakfast, loaded the bikes and rolled away from Rainbow. Just a couple hundred yards of up and I was right back in the heavy heart rate, weak kneed condition of yesterday afternoon. We met a couple of cyclists, Mike and Mark. They filled us in on the road condition ahead. A few ups, fairly level, then lots of downhill. We decided to press onward.

At some points, I had to stop several times when climbing even small hills. Cat was nervous but supportive. Again, we pressed onward.
We finally reached Soda Springs after a two hour struggle. We had only gone five miles. A sandwich and encouragement from the gal there and we decided to press onward, looking for the downhill ride.


The overlook above Donner Lake was spectacular. The ride was wild. It was so steep that our hands got numb from squeezing on the brakes. The thicker air was good for me. I was back, almost to normal, by the time we were taking pictures on the Shore of Donner Lake.

In short time we were in Truckee, taking a picture under the sign of The Bar of America. Terry and Judith Tintorri had worked there when the place first opened. They had even chosen the black and white photos that still hang there.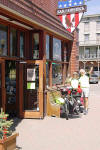 The locals were in full celebration of Cinco de Mayo. A cowboy Sheriff and Mexican outlaw sauntered past. Several others were in period costume. A real Police officer walked up and Cat asked about the road ahead. He said, "It's all downhill into Reno, you might as well have a beer."
Another guy confirmed that after a short hill we would sail down into Reno. That was just what we wanted to hear. Too bad it proved to be untrue. Glenshire was a newer housing area, it also had a lot of ups and downs. By early afternoon we were back to the shaky legged condition. Joan and Bill, my Sister and Bro-in-Law were waiting for us in Reno. We started trying to call them to meet and take a ride into town. I was adamant that I would come back out and finish the ride, Cat agreed reluctantly.
The entrance to the portion of the ride that had to be on Freeway 80 is called Boca. It seemed appropriate, Boca, the Italian word for mouth would gobble us up and spit us out into a stream of loud fast moving cars. We rode the shoulder. It was bumpy from snow removal equipment scraping and had sand piled up from winter de-icing.
A full grown Buck Deer, lying stretched out along the road caused us to swerve, and loose some of our nerve. He had dared to leave the safety of the shoulder and paid the ultimate price. He was a beauty, what a shame.
This was the most terrible condition we had ever ridden. The surface of the road was old concrete, making the tire noise excruciating. The sand made riding very tough. The traffic was thick, cars and trucks. The shoulder was narrow. I could see a sign, Reno 20 miles when I heard Cat scream. She took a spill as her wheel dug into the sand. I leaned my bike and ran back toward her. At the same time a familiar looking pickup slowed, it was Joan and Bill. They were worried and had come looking for us. It was a miracle. Cat had scraped her arm and shaken her confidence but was otherwise okay.
We muscled the overburdened beasts of burden over the Oregon license plates and into the bed of Bill's truck. Once again the rubber was off of the road. Cat retracted her offer to come back out and ride into Reno. She was shaken. I agreed, we really shouldn't be out on that road.
In just a half hour we were pushing the bikes through the lobby of The Peppermill Hotel and Casino, in Reno. I checked us in then a nice bellman led us to the freight elevators and up to floor 6.
The dust of Highway 80 washed off and our fatigue dissipated. We met Joan and Bill in the Casino, drug bill away from a hot card game and walked across the street to Mario's Restaurante Portofino. We couldn't get in to any of the hotel restaurants until 8:30 and we needed food. Mario's was great. We met the owners, Teresa and Paolo, they were wonderful hosts and the food and service was exemplary. Stop in and say Hi next time you're in Reno.
Joan and Bill, Pat and Cat all enjoyed as good a time as we have ever had together. Bill was ready to challenge the Tables again so we walked back to the Peppermill. They gambled, we watched a four piece cover band work out the on stage. When we got back to our room the group was back off break and rockin' again. We watched them on Hotel closed circuit TV. What a tough life. I was thinking of Acadiana, they will play Laughlin, NV in September. Four shows a night, a tough schedule.
MAY 6, 2002
Reno, NV

We rarely sleep in. Today was the exception, we awoke at a little after 8:00 but just lay there and rested until 8:30. Cat got Latte's and muffins from the lobby coffee bar. We worked on the computers for a while then headed to the laundry machines at the RV Park where Joan and Bill were staying. They had delivered a Street Rod to Michigan that they had worked on. The car trailer was also their RV. They had a mattress, TV, porta potty and camp chairs. The other residents were curious as to how one can sleep in a trailer that doesn't have any windows? They had gotten used to it?

Joan and Cat did laundry while Bill and I delivered the bikes to Sierra Cyclesmith. Back at the RV Park, we decided to have a light lunch then cruise Reno. We ended up shopping at Antique Malls. It was my favorite kind of shopping. We looked at lots of stuff and bought nothing. Well, Bill did buy an oil filter adapter for Chevy engines that validated our being there.
We went to Costco for a refill of Cat's heart pills then they gambled again while we rested and answered e-mails. That evening we enjoyed a great meal at Macaroni Grill, one of our favorite places back home. Usually they have several waitpersons who sing Opera. In Reno they just had a young, overworked vocalist. She sang a Linda Ronstat cover, When Will I Have You. It was great fun, Joan and Bill seemed to really enjoy it.
MAY 7, 2002
Reno, NV
Last night we had left a message for Joan and Bill that we wanted to go to Costco. When we got down to the Casino they were there. We drug them away form the tables and went then to get Cat's heart pill prescription refilled.
Our phone rang at 7:00 AM. They had just picked up the message and thought that we had missed something and wanted to go back to Costco this morning. They were hooking up and preparing to roll toward Oregon so we drug ourselves out from under the covers and joined them. It was jolly but melancholy. We laughed then got sentimental. We thanked them for saving us. Joan constantly reminded us that they would come, no matter where. It was a close time and in short time they were gone.
We had taken departure pictures as they pulled out then just stood there, even after they had turned the corner and disappeared. They were our last family connection. We were headed out into the Heartland. We wouldn't have any family or friends to call on if we got into trouble. We would have to count on our own ingenuity and the rest of humanity from now on.

My hair had gotten so long that it was bothersome. We called the Hair Salon in the Hotel. The guy, Calvin said that he was booked all afternoon but could take me right now. We were just going to lunch so deferred and I got buzzed. He was a nice guy and said he knew a lot about the Bus System. He gave us advice on how to get to the Central Station.

After a morning of journalizing and organizing, we decided to test the Reno-Sparks Municipal Bus System. What a lesson. It started at the stop across from the Peppermill. As we waited, a wonderful Hispanic woman tried to help us. We were looking for Trader Joes. We needed our favorite, Dr. Soy Bars. With all of the language problems, we got the message that we needed to go the Transportation Center. She also told us that she worked in Room Service at the Peppermill form 6:00 AM to 2:00 PM then catches the bus to Harrah's and works Room Service from 3:00 until 11:00 PM. She has three children and is their sole support. What a schedule, but she did finally get across the point that she only does it three days a week. Imagine, 48 hour weeks in just 3 days. The rest of the week she watches another woman's kids while she works, tough life!
The Bus Driver was a very together, up tight woman. We asked about a day pass. She blurted that they only sell those at the Central Station. She ordered us to sit down and get our change together. Her authority seemed to tickle the other passengers. I took a couple of ones up and inserted them in the machine. "Your fare is only $1.25," she barked.
"I won't get change?" I asked.
"We don't carry any change," she retorted.
"But doesn't the machine make change?" I asked.
"No change," she snorted.
"Can we get credit for the difference when we buy our day passes?" I asked.
"No, no credit, no change." She said with a flare of authority.
I sat back down and licked my wounds when a very nice gal took over. She gave us a booklet with the routes and told us which bus to transfer to get to Sparks and Trader Joe's. Small world, again, Nancy was from Camarillo near our home in Oxnard.
She was concentrating on our thought that we needed to get to Sparks. Her tip about Bus #1 was not correct, the Driver told us that to get to Trader Joe's we would take Bus #12. As we entered Bus #12 and asked, the driver, who was wearing driving gloves with the finger tips cut off, said "No, this bus doesn't even come close to Trader Joe's."
"Are you sure," we queried, "This is the third bus that we have been told to take."
"I shop at Trader Joe's at least twice a week and I know that my bus won't get you there. Take Bus #1, it is just about to pull out so you had better run."
Well we ran, feeling like Sheep being driven to and fro. As we stepped up into Bus #1, the driver of Bus #12, who must have run too, stepped in behind us and said, "Al, these folks want to go to Trader Joe's. You know where it is, don't you?"
What a kind gesture in an otherwise stranger unfriendly system. Al did know where Trader Joe's was and he gave us two alternatives. We could transfer to Bus #6 or walk a quarter of a mile from his closest stop. We chose to walk but discovered as we rode to the correct stop that Al's route and Bus #6 both pass right in front of our Hotel. We could have caught it in the opposite direction and avoided all of the confusion, confrontation and the lady driver with the attitude. The round trip had cost two and a half hours, $3.00 and a lot of frustration. It was a far different experience from that of the Monterey system.
We got our Dr. Soy Bars then caught the bus again to go on out to the Bicycle Shop and retrieve our steeds. The Driver, Al, assured us that we could put the bikes on the bus, he even showed me how the bike rack worked at one stop. He dropped us across the street from Sierra Cyclesmith. The guys had spent time, got all of the extra water bottle cages installed and serviced the bikes. I think that they were all curious about the Auto Shift. The seats were both set differently. We thought that they probably all tried them out. We hustled back to the bus stop just as Al pulled up. Unfortunately, his rack only has room for two bikes and there was one already on it. We asked if we could bring on inside, "Nope, against the rules!" Another let down provided by Reno Muni.
We rode them back down Virginia Street in rush hour traffic.
Maybe it was the exasperation, once we got back to the Peppermill we decided to just stay in, have dinner in and pack for tomorrow's ride.
MAY 8, 2002
Reno, NV to Fernley, NV
The big recent news event had been the Mad Mailbox Bomber. He had struck in several states and was now rumored to be headed toward Nevada. Joan even called to warn us but we reminded her that we didn't have a mail box on the bikes.
Our route to Fernley would be only a 35 mile ride but that was a good thing. It seems that we are destined to have to re-learn how to pack and load the bags every time we take a couple of days off. It was almost noon by the time we left the Peppermill. First stop was Albertson's Market for bananas and cereal. As Cat shopped and I stood guard, a guy about my age, Dave Salvado, looked the bikes over and asked how far we were going. He was a cyclist just relocated from Florida, back to Reno.
Riding in Reno is tough at any time of day. Like their bus system, they are pretty Bicycle unfriendly, too. Plumb, the street where Albertson's was located, took us all the way out to the Reno Sparks Airport. East Gregg Street was all industrial buildings and lots of trucks. As we neared the entry to Highway 80 we were drawn in by a truck stop. We weren't very hungry but knew it may be the last food until Fernely.

The surface of the highway was the old concrete with the wake up bumps on the shoulder. The bumps were annoying but the worst was the sound that emanates from the tires of the trucks but more so the cars. It is a high pitched scream. Sort of like you hear in the car races on TV. The road follows the Truckee River through a small verdant canyon. Farms and ranches cling to its shore, sucking enough water out to sustain themselves.

Fernley is a one horse town, whatever that means. The best thing we found there was an unbelievable super market, Scolari's. It was as up scale as any in the better large cities. It felt out of place, sitting back form the road across a dirt field. Nice bottle of wine for the evening and a loaf of bread to carry along as we roll east.
The big story in town was the capture of The Mad Mailbox Bomber. They had cornered him on Highway 80 this afternoon. In fact the highway was blocked to all traffic. Everyone was talking about it. This was probably the biggest single event ever in Fernley. It was on every TV News Program, too.
May 9, 2002
Fernley, NV to Lovelock, NV
Cat was up early and looking out at the tops of the trees. She wanted to get going. She wanted to get ahead of the wind. We were worried about this ride because there are no services between Fernley and Lovelock. The TV News let us know that Highway 80 had been re-opened to all traffic, including bicycles.
Out by 8:30 we found a friend in the wind. It was whistling around our ears, coming from the West. We stopped at a Rest Area, the only sign of civilization between Fernley and Lovelock. Our snack, peanut butter and bread, was tasty. As we dipped our fingers into the jar and broke off pieces of bread two motorcyclists pulled in. I thought they were European. They wore full leathers and had bags on their fuel tanks like the Italians do. After the initial looks, Cat asked where they were headed. They were actually from Virginia on a coast to coast adventure. They had a hard time relating to our trip.
There was a Historical sign that told us that we were in the middle of the "40 mile Desert." What a trial this was for the early pioneers, the 49ers. This stretch of desert was deadly to them. The sign told us that almost 1000 people had perished on this 40 mile stretch between 1848 and 1868, trying to get to California and find gold. The numbers of animals was even more staggering. Horses, oxen and cattle lost here ran into the thousands. It was hard to relate since we had just cycled 34 miles in less than 3 hours.
Nothingness continued with the exception of the grandeur of the desert. We really made time in the tail wind. Lovelock was under our wheels before 1:30. We made a stop at the Safeway store. Cat shopped while I guarded the bikes. A young couple, Hispanic kids, were really hanging on each other and making out like I wasn't even there. Within a short time the rest of the family came out of the store. No wonder they had to make time when they had a little time alone. They were a cute teen aged couple jammed into a huge family. They all jammed into a beat up old van that smoked, puffed and wheezed as it left the parking lot.
A guy pushed the doors open with gusto then took a spot on the sidewalk in the sun and opened his bag of potato chips. He looked typical Grocery Store Clerk. I asked if that was lunch? "Breakfast of Champions." He replied. I asked if this was his store and he said yes then pulled his Assistant Managers name badge out of his shirt pocket. We talked grocery stores, I told him about the stores we had owned back in the 1960s in Boron and California City and our partner, Harold who has long since retired from Safeway. His name was Tommy, he loves to ride motorcycle out on the desert. He couldn't relate to our trip, either.
Lunch, a bowl of soup, was a treat. The treat, a spiky haired, tie dyed T-shirt and drinking a beer, mid-day. Cat always says, "Never prejudge." The gal was eating a sandwich and drinking her beer while we poured over our maps. She stood up, looked over Cat's shoulder and asked, "Why don't you get a TripTik?"
She could see that we had AAA maps. I have been an AAA member for 25 years and never heard of or seen a TripTik. She pushed Cat over in the booth and shared hers. It was very detailed about the road, mountain passes, mileage, Rest Areas and campsites.
Linda Wynant is a traveling nurse. She takes jobs on a contract basis in areas that look interesting to her or that pay well. Who would have thought? She was so concerned about us that she gave us her TripTik. Her trip was a meandering one from Colorado that took in Yellowstone National Park. She was headed to San Diego and a 4 month job in her old neighborhood.
Lunch wasn't great but the place was close-by so we had dinner there, too. The chatter and TV news continued to center on John Helder, the 21 year old Mail Box Pipe Bomber. The locals, local news, even National news centered on this area and his dramatic capture.
May 10, 2002
Lovelock, NV to Rye Patch Dam, NV
Another record early start had us rolling onto Hwy 80 at 8:40 AM. It was cool and windy. Today's wind was in our faces. We pressed onward into darkening skies at what Cat described as the speed limit, if you add a decimal point between the 7 and the5. (The limit here on I-80 is 75MPH)
Road work can mean tough riding but in this case, when we saw the sign saying "Road Work Next 10 Miles," it was a boon for us. They had the right lane closed. All cars and trucks were directed to the left. We had the lane all to ourselves for 10 miles. We had the fresh new pavement, they were bumping along on the old cement surface. In fact a lot of the time we were going the same speed that they were.
With only one short pause to visit a bush and have a bite of Soy Bar, we ground our way into the Rye Patch Dam exit and a truck stop at 11:40. It was only 22 miles from Lovelock. We each had one of those Styrofoam cups of noodle soup made with the hot water and microwave.
As we warmed, the sky began to spit down small drops of rain. We decided to stay put until it let up. Sitting there was a great opportunity to observe humanity. A couple of guys sat next to us and ate a hot dog while they poured over a map and slipped back and forth to the pay phone. Another, a woman playing the slot machines and talking to her self or anyone who would listen. A tall, full bearded guy filled his tall cup with coffee and 6 of those little cups of half and half, mumbling as he pulled the tops off of each. There were a lot of other, coming and going but these were the hanger-oners.
The staff was very friendly and cordial to many of the regular truck drivers. They knew a lot of them by name. The tall bearded guy sort of circled our little table then started talking with us. I went to the window to check the bikes only to find that it was pouring down, not just rain but rain and hail. Mark, the bearded one had followed me out and suggested that he would give us a ride in his pickup. When I told him of my desire to keep the rubber on the road, he drifted into a dissertation about how God made the rain and it was okay. I agreed. Then he told me that he had seen men die trying to prove things like I was doing. Once back inside I let him know that I had committed to cycling. At that point he began to extol the virtue of a person who makes commitments and keeps them.
The woman playing the slots let everyone know that she had just put $55.00 into the machine without any payouts. She was a complainer. "It was a terrible place, it was too cold, and she hated Nevada." A truck driver seemed to be making a pass at her, he asked if she was married. She burst forth with her story about how she had been divorced and how she got screwed and how he got everything and how the Judge hated her and how her Attorney had been bought off by her Ex. Hubby.
The two guys turned out to be Father and Son. They were professional Prospectors. Jeff, the son, had worked several years and saved most of his pay. Gene, the Dad was retired. They had been prospecting on week ends for a couple of years and loved it. Gene sold his house and they hit the road last June. They were full of stories about finding small amounts of gold and looking for the big hit. They seemed to be having a wonderful time. I think they are destined to travel and search whether they strike the Mother Load or not. They talk about all of the nice people they meet and how they are invited in and their stories entertain.
The weather went from worse to worser. Rain came down in sheets and when it cleared enough to see the hill the snow line was creeping down toward us. Cat talked with a guy who offered to take us to Mill City or Winnemucca. She was a little upset that I didn't want to take the offer, well, unless we could find a ride back to re-start here in the morning. My confidence waned after 2:00 o'clock. I asked a gal that worked there if we could put the bikes in a storage shed we could see out past the gas pumps. She told me to ask Terry, the guy at the cash register. When I asked, Terry offered that we could leave them at his place, a mobile home just across the street. I asked about a carport or cover to put them under. Without a word he took some keys down and walked out the door. I followed and he opened the door to the shed. "Plenty of room," he said. And he left the lock open.
We wheeled the bikes out through the downpour and pushed them into the shed. Now all we had to do was hook a ride to Mill City then get back here tomorrow and ride to Winnemucca. Several people had offered rides including Mark and a young guy from Buffalo, New York. He was really excited and invited us to visit when we get there.
Once back in out of the storm, the gal at the counter said, my Sister lives in Emily, she gets off at 3:30. Sounded good to us. It turned out that the two gals I had talked with were the sisters, Juanita and Jesse. Jesse's husband, Paul pulled up in an old car smiled and helped us load our bags into the trunk.
As we left our safe place of the past 4 hours the Sisters hugged us and Terry shook my hand, hugged Cat and said goodbye, he will work the late shift tomorrow. From strangers to family in such a short time.
Paul gave us a tour of the neighborhood as he drove. A large pile of dirt marks the gold mine where he worked for 23 years. He's retired now but does the maintenance for the TA, Travel Center of America where we had been stranded.
He dropped us at the door of the TA in Mill City. It is larger and has food and lodging, a Super 8 Motel. Strange place, the Motel and everything else is under one roof. A mini mart, showers for the drivers, coin laundry, everything.
We relaxed, wrote in our journals then went to the Restaurant. It is a true truck stop with telephones in every booth. I asked a guy in the next booth if he had come in from the East. I thought he was a truck driver. His name is Aron and he lives in Aptos, near Santa Cruz and is a building Contractor. His love is prospecting for gold. He sells nuggets on E-Bay for 6 to 7 times the going rate for gold. Some people just want a real nugget. Our second gold digger of the day and another nice one. We talked about the day we road through Aptos, it seems like months ago, now.
Our Waitress, Sandi told us that the chef was her son, another family operation. She was excited by our story and offered to drive us on her day off tomorrow if we needed her. What nice people we have met, here in the Heartland!
We really got a kick out of a sign that said, Welcome to Puckerbrush, Nevada. Sandi told us that the previous owner thought the name up, Truck Drivers loved it and it stuck. Well, the town is actually Mill City but they have a Welcome to Puckerbrush sign that says Population 28. Very Funny.
MAY 11, 2002
Rye Patch Dam, NV to Winnemucca, NV
Concerned not to be late meeting Paul because he had to take Jesse to work, on time, we awoke at 4:30 AM. I called and asked the front desk for a wake up call at 6:30 due to the same fear. We didn't need the call.

Our Breakfast was another truck driver feast. The restaurant is called, "Fork in the Road." I took a picture of Cat and our server, Alicia in front of a wall graphic but I wanted to catch the look of the place and a few of the characters that filled a few of the seats.

We were headed back to the room to get our bags and be ready to meet Paul and Jesse by 7:30. He was the early bird. He caught me in the hallway at 7:20.
Bags in the trunk and we were on the way back to Rye Patch. It was a bright, brisk morning. There was ice on all of the parked cars and trucks. We had the bikes out of the shed and re-loaded by 8:15 AM. I was disappointed, Paul had to leave. I wanted a picture of him with his family but he had to get back home, they were pouring a cement patio. We shook hands through the car window, Cat leaned in and hugged him. "What can I say?" I asked.
"Just a thanks," he shyly replied. "That's plenty."
I wanted another cup of coffee and thought that it might warm up a little while we sipped. A truck driver, the one who tried to pick up on Ms. Negative yesterday, hit a $202.00 jackpot on a slot machine. Another close by couldn't believe it, he thought the machines were too tight there. The winner laughed and said, "Last time I was here I won $750.00." Instantly the doubting Thomas wanted to know which machine.

We sipped our coffee, took pictures of the Sisters and had one of all of us shot by the baby sister. She is the manager of the market but was camera shy. By 8:45 we pushed off into a 15 MPH headwind. After about 8 miles, we turned slightly to the east and the wind was much friendlier. Imlay (not Emily) flew past on our left.

We stopped for a look and pictures at a strange, almost grotesque looking place. I saw it when Paul gave us the ride in yesterday and knew that we had to stop. He told us that a local Indian (Native American) had spent a lot of time and money working on his dream. Not knowing his name, I borrowed "Indian Joe" from Sam Clements. Indian Joe thought that a lot of tourists might stop by and donate to his cause. For a while, according to Paul, it was a good draw and lots of travelers stopped then they improved the highway. They made it freeway and fenced his dream off, away from curious travelers. Paul wasn't sure if that broke his spirit but not long after, he gathered his children around and put the barrel of his shot gun in his mouth.

The blast ended his sad life and ruined that of his kids, too. Paul said that they were grown now but all of them had lots of problems growing up. Sad, I thought, maybe all he needed was a mind altering drug that would have saved him and his children from such despair. He did, according to Paul, have a drinking problem but there should have been someone or something that could have helped him. Goodbye, Indian Joe.

By 11:10 we were sitting in the Puckerbrush, Fork in the Road Restaurant eating another truck driver lunch.
The grandeur of the Valley was enhanced by the dusting of snow that covered most of the surrounding mountains. Cycling was almost perfect. Cat had to pull up and take off a couple of layers of clothing. It was sunny and warming. As we left Pershing County, into Humboldt, the road surface went back to the old concrete surface. Noisy and bumpy, they had cut a dozen grooves about every 30 feet. It was tough on the bikes and our butts. Only one truck swung close and honked as he came up behind. A one jerk day is a good day.
We were in Winnemucca and at Winners Motel, Casino, etc., etc., etc, by 3:00. The cost of last nights Super 8 of $39.00 was eclipsed by tonight's $31.00. We are definitely inside our budget these days.
Okay, we were in budget, Cat found Restaurante San Fermin. It was Basque, Spanish, and Italian. They had Tapas but we passed in deference to Franklin and Aura. We promised that we would next have Tapas in Spain, with them.
We did have nice wine and a good meal. Cat thought about doing a "Cookin' with Cat" episode but couldn't connect with the owner, Randy. He told us that the restaurant was his wife's and he was in the Tire business. We did talk with a young couple. They came in, gently sat their 7 month old son under the table and searched the menu for something they could afford. I decided that we should buy their drinks. They will never know us but we felt good about it.
Another disappointment was a guy sitting alone near us. He put on an interesting hat and as he left we caught his entire attire. He was dressed in tall boots and leather. We thought that he was really a Basque man. I rushed out to talk with him but he was gone, he had disappeared. We asked the waitress and Randy about him. He was a stranger who had been in town for about a week. They knew nothing about him. Damn, I hate it when that happens.
MAY 12, 2002
Winnemucca, NV to Battle Mountain, NV
The mattress was lumpy, a couple of buses or trucks started in the middle of the night and left their engines running. It seemed a short night. We checked out then went to Mothers Day Breakfast at The Griddle. Obviously a local's favorite. It reminded us of Mrs. Olson's at Hollywood Beach in Oxnard and Dave and Lori's favorite in Dana Point, The Harbor House. We ate, as Cat say's, like truck drivers and enjoyed watching families.
It was 9:35 AM before we finally got onto the road. Wind, again, would not be our friend. We followed a Bike Route sign that took us east, out of town on the old highway. We were pleasantly surprised to find that once we entered Highway 80 they had resurfaced this side of town. It was good riding but we took it slow as we digested a ton of food.
At about 20 miles out we came upon a strange phenomenon, at first only a few then hundreds, then thousands of locust or crickets. They were so thick that it sounded like popcorn popping as rode over them. Stopping to take a picture, as we began to pack the camera, Cat almost fell, into the masses. Very weird, almost scary to Cat!

(Movie: Check these critters out! 0:25)
It was pretty much desert surrounded by snow capped mountains then we hit our mountain de jour. It is a long slow pull, up from 4,000 feet to 5,100. Just as we approached mile post marker 198 a Range Rover went sideways and smoke poured out of the windows. The guys inside jumped out. Cat thought that another car had hit them and left the scene. As it turned out, they had blown a radiator hose or, I suggested a heater hose. Green coolant was running out the open doors and onto the road.

Nice guys, no hit and run, just a radiator. The guys were nephew and uncle. Nephew, Roger said he was from California before moving to Reno. (He had a very British accent.) The Uncle, Gerry was from England, on vacation. He said that every time he visits, they take a trip on the desert and the car breaks down. I didn't want to tell them that they probably should trade the British built 4X4 for a Japanese model, they never break. Very nice guys, we pedaled on up the hill, took a picture at the top because we were proud that we had not walked, then slipped down and into a headwind.
As we passed mile post 210, a tow truck sped past and honked, they waved out the window. They would be in Elko before we get to Battle Mountain. Well that's the hazard of cycling, it's slow but sure.

Battle Mountain's water tank was visible from 9 miles out. That is sort of demoralizing. It seemed like hours went by while we slowly reeled the town in to us. Well it was only an hour, but a long one.
We rolled up to the exit then down the main. Several small motels weren't our deal, no Restaurant. The grocery store was a good one. Two bottles of Ferrari-Carano, Fume Blanc and bread. I gulped down a quart of Gator Aid as we cycled to The Comfort Inn.
Hot tub and laundry filled our first hour in Battle Mountain. Cat walked next door to the Mamma's Pizza place. She just wanted to check the place and see how late they would work on Mothers Day. The girl there said, "You're the ones cycling, aren't you?"
Cat told her a little about us and she said, "I saw you back in Reno, you guys are crazy." Well, they were best friends and we were defiantly having Pizza but she decided that it would be in our room.
Clean cloths, Pizza in the room and a call to The Mom, Celeste, in Scottsdale. An almost perfect ending to a very nice but windy, challenging day.
MAY 13, 2002
Battle Mountain, NV to Carlin, NV
Early start, out the door by 8:15 AM after the comp breakfast. Due East then a slight bend toward the North. The wind was in our faces but only blowing 8-10 MPH. It took us two hours to ride the first 18 miles. Exit 254, 31 miles out was called Dunphy, like Jerry Dunphy, our Channel 9 Newsman. He is also a member of our Tower Club, in Oxnard but we bet he has never been here.
The road rolled right, toward the Southeast. The wind then came from the right side, it still slowed progress. Stopping often, we sipped water and ate Dr. Soy bars and raisins to keep our strength up. Shortly after Dunphy the road began to rise. We were at the base of the Tuscarora Mountains. The pull was long and slow. The terrain is rolling hills of green to snow capped mountains. The clouds cast shadows that made a blend from Olive Drab to bright, spring green. Grass to sage brush covers the ground. There were lots of range cattle foraging off in the distance.
Our road surface fluctuated from great blacktop to the old concrete that is so noisy and has those darned dozen grooves cut about every 20 yards. They are pretty uncomfortable, Cat calls them the ZZZZTT, ZZZZTT bumps. That's what they sound like as you ride over them.

(Movie: ZZZZT bumps 0:21) Traffic was light in the morning but picked up later in the day. More trucks than cars. They were all very kind to us. I have started waving to them, some even honk lightly and wave back. Just trying to make friends with our big buddies.

We had been rolling over white silhouettes of air planes painted on the shoulder of the road for a couple of days. I thought that they were to let pilots in trouble know that it was safe to land on the road. One of the truck drivers laughed when I suggested that and told me they are to catch speeders. They mark distances and air patrols use them to calculate the speed of cars and trucks.
The top of the mountains is called Twin Summits. Paul had warned us that you think you are there then you climb again. We crested what we felt must be the first summit then flew down the ZZZZTT, ZZZZTT shoulder 3 or 4 hundred feet then back up toward the twin. It was steeper, we had to walk a couple of times.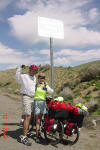 Emigrant Pass stands tall at 6089 feet above Oxnard. We felt great, Cat was a little breathless and our legs were tired but this was nothing like the bad experience we endured at this altitude crossing Donner Pass.
The eight mile roll down to Carlin was exhilarating and fast. It was warm, we took our outer shirts off about halfway up. Here were two choices for shelter in Carlin. We choose the best, Best Inn. Another good deal, $54.00 includes breakfast. Nice room.
Hungry, we went directly to The Food Mart and Burger King adjacent to the Motel. We wolfed down sandwiches and drinks.
We walked to the Grocery Store. Nothing really looked that good. We stopped at The Pizza Factory and met the owner. Nice gal, told us that they decided to live in Carlin until their two kids graduated from high school so she took the franchise. (This is the same franchise that we called for delivery in Lovelock.) She even confided that it looks now like they will be here a while. Her daughter will graduate next year and her son is a Sophomore but she just found out that she's pregnant.
Most of the folks around these parts are involved in mining, gold, silver, lead and zinc. In fact The Pizza Lady told us that her husband is an underground miner. The Best Inn will sell out tonight, at least 90 rooms. The desk clerk told us that lots of mine and mine maintenance people were in town.
Spaghetti from the pizza place in our room, a little journal work and check on e-mail, too. It was lights out by 9:30. We were tired.
MAY 14, 2002
Carlin, NV to Elko, NV
The Comp breakfast wasn't nearly as good as the Comfort Inn. The other Compers were all miners. They were into their own world. Lots of talk about working underground. One guy said, "Hey have you guys seen my brain bucket?" He was talking about his hard hat.
The 23 miles to Elko was more of the same, rolling hills, sage brush and good weather. As we neared town our stranded friends honked like crazy and waved to us as they drove the now fixed Range Rover back toward Reno. I'm sure that Roger and Gerry will see this on the web so first, I will apologize for degrading Rogers Range Rover. However, I do want to share a memory. I was so proud of my 1974 Jaguar but it seemed to break a lot. The funniest bumper sticker I ever saw was while I was driving my Jag. It was on a Rover and it read; "Caution, All Parts Seen Falling From This Car Are Genuine British Built!" Good luck Roger.

The big trauma of the day was Twin Tunnels or Carlin Tunnels. I had seen picture post cards of them but in person, they were pretty intimidating. We stopped for a photo then started toward the mouth. I thought that the wide lane we were cycling in would continue. As we neared the opening, the shoulder narrowed to about two feet in width. Large trucks did their best but it was tight. They had traffic squeezed down to one lane. Cat yelled above the roar, "Let's ride in the lane that's blocked off."

The large orange cones became our best friends. We had most of the blocked lane, to our selves. There were a couple of places where the cement was taken out bet we thought we really lucked out. Once on the east side of the mountain, the construction continued, in fact the sign told us that it would go for 10 miles. At first we were in great shape but soon the lane narrowed and finally ran into the crew that was scraping the old concrete making it ready to re-surface. We got back over to the right and that was pretty good for a couple of miles then it narrowed where the crew was putting down fresh oil. For the last mile it was actually treacherous. At one point a truck with wide load came within inches of us. We survived and were soon on the old highway and rollin' into town.

Elko was ours by 10:30 AM. The town, for some reason, reminded me of my birth town, Bonners Ferry, Idaho. It seemed to lay adjacent to the railroad track. As we approached the first stop light Cat spotted a bicycle shop. It was in an old Railroad Station. My crankset had started to click a little like Cat's had back in San Francisco so we pulled in. It's called T-Rix, after the owner, Rick. The young guy there, Andy Wilson was wonderful. He helped me carry the bike with all the bags, up the stairs then dropped what he was doing and threw it on the rack. He pulled the left peddle off and tightened it then checked almost every other bolt and nut to make sure they were tight. He refused to accept payment. I wish he had ridden the over loaded bike. He was very intrigued with it.
We rolled right on down Idaho Street into old Elko. The Visitor Center is located in an old log house that was built around the turn of the century. It was moved from its original site, about 60 miles, into Elko in 1997. What a great place. We walked through and enjoyed the feeling of History.
The ladies there gave us info on Hotels. They also told us that Casino Air was in town. It is a small charter flight company that brings a load of people in every few days from different cities. Rooms would be a little hard to find.
As we started out the door, we met a guy, Don Farmer. He was a wealth of info about the area. He was also well traveled. He had followed the Rodeo Circuit for several years, riding bucking broncs. He had also traveled the world after he retired from the Rodeo. He began painting and his work was chosen for shows in Europe. As he went on his way, we went around the side of the building. There was a small log building. It had been the creamery at the old house but was now, The Cowboy Emporium. As we peaked through the windows, Don Farmer reappeared and unlocked the door. He was the proprietor and resident artist.
Don told us of his young days on the family ranch 20 miles out of town. He was raised as a working Cowboy. He had the look of an outdoors person. It was obvious that he enjoyed the great open spaces of this area. His work that was displayed ran from prints to original watercolors. He was rightfully proud of his art, too. WE would later learn that he and his wife had constructed a large house they call "The Eagles Nest." They operate it as the chance for visitors to enjoy life on a working ranch.
We rode to The Best Western, a very nice girl there informed us that they were booked, yes, fully booked because the Casino Air flight was in town. Their room would have been $79.00. She suggested the High Desert Inn. She called, confirmed that they had a room and booked it for us at only $49.00. That was good old down home friendly. We liked this town.
We threw the bikes into the room and walked next door to the Red Lion for their famous Buffet. We were starving and it was very good. Cat felt that we should do some form of gambling before we cycle out of Nevada. We chose to try Keno. The directions and history of the game were in a little brochure. It was an old Chinese game, over a thousand years old. It was revised and attached to Race Horses. A couple from Arizona were the first to put the numbers on ping pong balls and thus was born modern Keno. The book say's that most people, even pro gamblers at some time or another, take a shot at the game. The attraction is the potential to win big $$$$$ from a small investment. We invested $3.00 and gave the Keno runner a dollar tip. We had done our duty to Nevada.
The Museum looked interesting as we rode in so we walked back about a half mile and took a tour, for $5.00 each. It was pretty good. They have a Wanamaker Wildlife Wing that was just added in 1999. It seems that a guy, Mr. Wanamaker, had spent his life doing business as AAA Equipment Rental in Long Beach, CA and killing things. He had amassed a huge collection of stuffed animals that he had hunted and killed, most just as trophies. When he retired at age 80 he had no idea what to do with the gigantic collection and he had never been to Elko. It was an acquaintance who convinced him to donate them to The Northwestern Nevada Museum in Elko. I think that when he was hunting and killing it was politically correct. Today, it seems terrible to see beautiful animals killed in the prime of their lives, just to be put on display. The rest of the museum was entertaining and informative about life over the millenniums from Native Americans to the Basques who came here in the late 1800s to herd sheep and find a new life.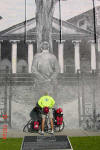 We read about the Basques and decided that we needed to have dinner in one of the three Basque Restaurants in town. The nice lady at the Museum told us how to find the three. They were in the old part of town, a mile away. We were tiring, we had seen a Hotel Shuttle. She told us that we could take it and called one for us. We visited the old Stockman's Hotel and The Commercial Hotel. The Western Folklore Center was another interesting place. They have Cowboy poetry and lots of Country Western music from the old guys like Gene Autry to little known artists, Cowboy poetry put to music, selling stories of the times on the prairie, herding cattle and wishing for love and life. We liked it. The three Basque Restaurants are all within a block of each other. We decided on The Star Hotel and Restaurant. It is the original, built and continuously operated by Basques since 1910.
The Shuttle got us back to High Desert, we showered, had a bottle of wine and just relaxed. At 7:00 we shuttled back to The Commercial Hotel then walked to The Star. We loved the place. The food is served family style and it was fantastic. We both had fried chicken as our meat entre'. The meal included soup, salad, spaghetti, green beans, brown beans, and French fries. Sounds like too much for two, doesn't it. We ate most of it. The red beans were like my Mama used to make. The French fries were the best we had ever tasted. The chicken was cooked in a deep fryer, it was so good, and it was indescribable!
Our camera was back at the Hotel. We had to try to get something on it to enter into Cookin' with Cat. The Shuttle was the answer, the driver, a Hispanic lady was very nice. She stopped at The High Desert, near our room and waited while I ran and got the camera. Then we went back and enjoyed a terrific time with some wonderful people.
Miguel, one of the two Basque partners who currently own The Star, was behind the bar. It was disappointing when Cat asked if we could do a "Cookin'" episode, Miguel said that we could take pictures but they didn't give out recipes. He suggested that the Visitor Center had a book with recipes, we could get one of those. About that time a guy walked in, sat at the bar and ordered a cigar. We wanted to try the house drink, Picon Punch rumored to be a Basque favorite. At first I thought they were saying Pecan. The Picon, of course, is a French Liquor. Cat passed but had a glass of wine. The guy, Robert Gouch looked over at me and said, "You're having that after dinner?"
"Yea, I know it's an Aperitif but I want to try it."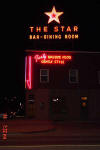 Once he heard our story, he joined in and bantered Miguel until he agreed to give Cat the recipe for the Picon Punch. He even felt a need to order another for me. When Miguel asked him he declined saying he had already had too many, as he puffed on his cigar.
Robert was a very nice guy. He works with the City of Chicago. We are hopeful that we will get together with him when we reach Chicago. Cat stood up and moved out of his cloud of smoke. "You'd better go," he said with a wink.


(Movie: The Star Bar and Dining Room 1:59)
In bed by 10:30, I had a Picon Punch headache most of the night.
MAY 15, 2002
Elko, NV to Wells, NV
It was cold as we back tracked to Toki Ona for breakfast. (It was like a regular restaurant with a Basque name.) I had to take a picture in front of a mural that depicted a young guy standing in front of a tree, saying good bye to his Basque homeland. I thought about the sacrifices they had made and the fact that we would roll past that tree later this year. We ate like truck drivers, again. A stop at an ATM and we were on the road by 9:45 AM. The old highway ran adjacent to Highway 80. We stuck with it, too long, had to back track about ˝ mile at the sign that said, NO OUTLET.
The road was ups and downs, each up a little higher than the last. We were climbing from 4500 to 5600 feet today. The scenery remained spectacular. Snow capped mountains and grass or sage brush covered high plains. Lots of cattle, we even watched cowboys at work, off in the distance.

Another first, I had to go into the bushes with TP. Our first #2 calling, while on the road. I blamed it on the Picon Punch. We went from good asphalt to rough cement then back to good asphalt. Two stops for Soy Bars and bananas, the rest of the time we just peddled.

The 52 miles rolled under our wheels in 4 hours and 45 minutes. Strange, a sign read, "Bicycles must exit." Taking the exit, we wound our way through the residential area then into the old town, almost a ghost town, of Wells, NV.
The Visitor Information Center was a combo, C of C, Interpretive Center and Info. Pax Kelly, the Executive Officer was very helpful. She even dug out a book about the names of places in Nevada. We had asked several people how Winnemucca got its name. She read to us that it was a Native American family name.
The Rest Inn would serve as our camp for the evening. We talked about camping but reminded ourselves that we would camp when we wanted to or needed to. Neither fit for this evening.
Soup and sandwich at the 4 Way Café, just across the street. Laundry and showers then back to 4 Way for Mexican food and Margaritas. We were tired.
Phone calls from Brother Bob, to Daughter Lori and an attempt to reach friends of Joan and Bills, Homer and Carol. They are in Salt Lake City visiting their daughter. They may prove to be our saviors if there are no places to stay between the Utah Border and Salt Lake City. They weren't in, just a message.
TV at 8:30 and a relaxing moment as we both prepare mentally for tomorrow. We will climb to our greatest height in the morning.
MAY 16, 2002
Wells, NV to Wendover, UT
Breakfast at our favorite, well the closest place, 4 Way then out and up by 8:30 AM. The up was gradual but ever up. Wells is elevation 5628. We would top out at over 6900 feet. I try to take it one step at a time but Cat was nervous, this would be our highest crossing, yet. The climb was never so steep that we had to walk. We did stop twice and nibble on our Dr. Soy Bars. I estimated the summit at 20 miles out. Cat couldn't believe that we were that close.


A colorful highway crew replacing a piece of guardrail stopped and watched our slow progress as we crawled by. On guy hollered that we should get over onto the lane they had blocked off. Cat liked that.

Suddenly, the summit, Pequop Summit, 6967 feet, more than a mile and a quarter higher than our home in Oxnard. We were elated. It was hard to believe that we were on top of the pass that we had feared and it had come fairly easily.

(Movie: Pequot Pass / Landrider Bicycles 0:25)

(Movie: Pequot Pass / Dr. Soy Bars 0:27) The second part of our celebration was mileage. We had calculated that the summit was also the end of
our first 1000 miles of cycling. We were proud, we took pictures.

(Movie: Pequot Pass / 1000 miles! 0:46)
A very fit woman who told us she was 70 congratulated us then drove away to visit her daughter in Southern Utah. A blonde in a white van pulled up and asked where we were headed. When we told her around the world she said, "I knew it was something big, I saw you out here on the desert yesterday."
Her name was Lori and she runs auto parts to body shops. Now that was quite a co-incidence. Our daughter Lori does the same thing in California. In fact this Lori had lived in Orange County before making the move to Utah. She runs to Elko three days a week. She told us that there is nothing between Wendover and Salt Lake City. That is no services, no stores, cafes, or motels. Pretty much wide open spaces. She did remember a Rest Area about 50 miles from Wendover at a place called Clive. She thought that we could camp there. "Lots of truck drivers sleep in their trucks so I don't see why you couldn't?" she told us. Otherwise, she confirmed the fact that their were NO SERVICES between Wendover and about 100 miles into Utah.
Just beyond the summit we found trees, 10 to 12 foot tall. They looked like some type of Junipers. What joy we felt as we flew eight miles, down. Our ears even popped from the air pressure change.
The sign for Oasis said, "Food and gas." That went against what we had been told but when we turned off we found only a long time closed gas station. We ate fingers full of peanut butter with chunks of bread in the shade of the overpass.
About 2 miles from lunch we spotted three large deer or elk. They were about 100 yards off to our right. By the time we got stopped and pulled the camera out, the bounded off into the hills. Who said there was nothing out here? When you're surrounded by so much nature it may be hard to see the true desert or high plains. They stretch as far as the eye can see, in every direction. It can give you a feeling of insignificants.
Another pass but this one was a paltry 5940 feet then we thought it would pretty much a down hill run into Wendover. Wrong, we began a long slow pull about 8 miles out of town. It stiffened as we neared. The area really grew stark, little vegetation lots of harsh looking rocks.

Cresting, we could see the salt flats and Wendover, clinging to the western shore of white. Wendover is divided by the State line into West Wendover, NV. and Wendover, UT. We chose to stay in the West. There was a Peppermill Hotel, like the one we stayed in, in Reno. The only better news was that they had a week day special of $24.95. That sure fit our budget!

The entry, well at least the doorway of the entry was under re-construction. One of the guys taking the existing doors out became interested in us and stopped work to hear our story. Chris Combos and the other guys work for a shower door company that bids any door job. He held the yellow tape out of our way, helped us park the bikes and watched them while we checked in.
The bargain was even greater than we had anticipated. They gave us the room and coupons for breakfast and gambling. The only king bed they had was in a handicap, smoking room. We almost passed then the young clerk took us down the hall for a look. We were impressed, the room didn't smell like smoke, it was huge and close to the front desk, we bought in.
Dinner in the diner. Their restaurant was quite nice. They didn't have a seat in non-smoking so we went to the lounge and watched a band fire up at 8:30. I thought about our pals in Acadiana. They will play Laughlin, NV in September. Four or five shows a night. We were the only audience they had. Our pager told us they had a table. We almost hated to leave them fan-less, they hated to see us go.
The reason we were still eating dinner at 9:30 was due to Mountain Daylight Savings time. We were not only on another border, we were crossing into a new time zone, too.
MAY 17, 2002
Wendover, UT to Clive, UT
Not so early to bed not so early to rise. The breakfast buffet was a great deal at $7.95 then as we paid, they asked for the coupon. We thought it was only for orders off of the menu. Our tab for both was less than $9.00 tax included, WOW. We met a Mother/Daughter who were from Salt Lake City. They struck up a conversation with Cat. They asked us to autograph our cards. One real value was that they knew there was a small store, gas station and café at a place called Delle, about 70 miles from Wendover.
As we rolled I decided to live one of my fantasies. I rode the bike down the hallway of the Hotel. Pretty funny, the maids loved it.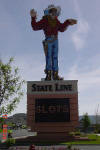 We wanted a border picture. No border markers. Cat took a picture of the big cowboy and we rolled down, into Utah without fanfare.
The old highway soon faded and we were back out on I-80. All trucks were required to stop at the Border Check Point. Cars just sped on by. We chose to pull in. The trucks were being weighed in. We waited our turn then had the guy weigh us. He laughed then announced, from behind the glass, through his tinny sounding speaker, that we were over laden. When we pressed he squawked out, 580 pounds. I did the math and decided that either his scale was off or he over calculated by 50. The bikes weigh 29 pounds, we combine at 322. That's 400 and I estimate the racks, bags and our worldly possessions to be 120. At any rate, he was right, we are over laden.

A picture of the sign pointing toward Bonneville Speedway and we were on the Flats. We thought it would be great, no hills. We did have a persistent head wind of 8-10 MPH though. It didn't take long to realize that when you're on the flat you must pedal all the way.


(Movie: Bonneville salt flats 0:22)

It is eerie, the feeling of flat and white. We had two eerie events, too. The first, occurred when we laid the bikes down to take a picture. A little bird flew down and huddled under my bike. When I moved the bike it hopped away a few feet then came right back. We thought it had been hit by a truck or car.

I put some cookie crumbs out but it ignored them. When I lifted the bike it flew up then circled back and landed in the shade of the upright bike. Now we believed that it was only seeking shade, a commodity tough to find out here on the barren flats. As we pedaled away he flew nearby, waiting, hoping that we would stop again and give him another brief respite.




Dee and Tegan, the Mom/Daughter had just driven by and honked when a truck bearing down on us swerved toward the center lane. A loud explosion was followed by the smell of burning rubber. Small pieces of tire pelted us. The truck careened back across the lane in front of us. It had been out of control. We were lucky that the tire blew when it did and not 50 feet earlier.

We pulled up as the driver jumped down. He said "Jesus, it took the whole fender off."
I tried to get a picture of him but he turned his head and pulled out his cell phone. It was obvious that he was pretty shook up. He had his company on the line and he was talkin' real fast. Another trucker stopped who had witnessed the event. He told us that he thought the guy was going to go over. He commended the driver for saving his rig.

Later, Lori drove by in her white van, honking and waving.
We finally reached Clive and exited only to find absolutely nothing. Cat was beginning to worry that we would have to camp in the wild. I remembered Lori saying that the Rest Area was at the top of a big hill. We pulled the hill, our first all day and there it was at exit 53.
I was so dry that I drank 3, 20 ounce sports drinks from a vending machine. It wasn't easy because the machine only took quarters. I stood and asked drivers as they approached the restrooms. They initially thought I was asking for change not asking them to change a dollar for me. Funny, I felt like a homeless person and probably was in their eyes.

We set up our table and began to cook Top Raman. A couple of young guys pulled in and were using the table on the opposite side of our area. I asked them for change and we talked. They were going to Colorado. One of them, Jeremy, was going to Colorado for his graduation ceremony at Johnson & Wales School of Culinary Arts. He is already working at Pebble Beach as a Chef in the Banquet division. He loved the story of our Odyssey and took a look at our cooking equipment. We posed up for a picture, I called it the Chef showing Cat how to boil water for our noodles.
Dinner was actually delightful. We had taken wine on board so we relaxed and enjoyed as we sat and watched the trucks roll by. There is a house, like a caretakers place there. We waited until the sin was sinking before we decided to get the tent out. Just as we did, wouldn't you know it, they drove in.
The signs said, "Keep off the grass." We didn't want to cause any problems so we set the tent on the concrete. Cat wanted to go to the door and let them know what we were doing. I remembered the old saying, "It is easier to get forgiveness than to get permission." We just went about setting up as though it was the thing to do. A boy let their dog out and looked over toward us. That was the only contact we had with the caretaker family.
On her way to final pit stop Cat noticed two signs we hadn't seen before. "Watch for Snakes and Scorpions." She was nervous and urged me to keep the tent zipped up tight. I reminded her that neither of those two feared vermin ate people, they fear them and only strike out in fear for themselves.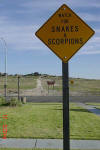 The cement ran downhill and of course I put our heads on the low side. Our blowup pads protected us from the hard surface. It was cozy inside, almost too warm. We slept in increments. Hourly, we would awaken, roll or adjust then doze. Another handicap in the sleeping game was the trucks. When they pulled in to catch 40 winks they left their engines running. It reminded me of sleeping near the engine compartment of a large ship. It drove Cat nuts. Needless to say it wasn't a very restful night.
MAY 18, 2002
Clive, UT to Salt Lake City, UT

It was easy to rise early. We were up before 6:00 AM. I began packing up the tent while Cat cooked up a yummy bowl of instant oatmeal. A fairly hearty breakfast when combined with bread and honey. The restrooms there were clean and had warm water. I caught a shave and we were ready to go by 9:00.

With any luck we would be in Salt Lake City by 3:00 PM. Luck out here has a lot to do with wind direction and strength. We climbed the balance of the big hill Lori had mentioned then started down. As fate would have it the wind would not be friendly. It set the pace in our face, early and would continue that course throughout the day. It was heating up fast, too.
It was hot when we finally rolled into Delle. The Mom and Daughter had told us about a gorgeous young boy who worked there. We found a middle aged couple. I said "Where's the handsome young man who pumps gas?"
"That's our son," he said. "Where did you hear about him?"
"His reputation precedes him." I said. When I told him he said, "Oh God, I think the Daughter had some ideas about him. They stopped again yesterday and she talked like she was pretty hot for him. I told her that he was too young for her! The Mom asked if I was single, that was really good for a laugh."
"I think they're both going through divorces," I told him.
We laughed then he asked where we were headed. I told him as we drank cool soft drinks. He loved talking. When I told him about owning a grocery store in the little desert town of Boron he really related. He even offered to buy us another drink. I think he just liked the company.
By now it was HOT and we still had 48 miles to go. We zigged around some small hills I think they call The Knolls then zagged north around the tail of the Cedar Mountains. We thought we would be able to see The Great Salt Lake but it was just more desert and white salt. Moving back to the South we met the wind. It hadn't been friendly up to that point but now it was definitely in our faces and hot.

(Movie: Salt flats 0:15)

We began to feel sorry that we didn't get some real food at Delle. At about 30 miles we finally spotted water. The wind continued but the water didn't cool things at all. We continued to pedal into the hot wind. The News had predicted the hottest day of the year and it felt like it to us.

(Movie: Wind, salt flats, Cat, and more wind 0:20)
It was after 2:00 PM when we finally pushed our way into the Truck Stop Restaurant at Exit 99. We had paid the price for the 47 miles cycled. Fatigue and dehydration were parts of the price.
Cat didn't feel good. She ate part of a Turkey Sandwich and drank a Diet Coke. I tried out the Buffet. Too much fried food but it was very filling.
Highway 80 turned North/Northeast and the wind we had fought all day became almost too friendly. We were pushed along at 25 MPH with little or no effort. It was still extremely hot. At exit 102 we turned onto Highway 201. As we rounded the corner the wind stopped suddenly. It was still and hot, very hot.
The Kennecott Smelter emits a sound like a jet plane in take off mode. It was hard to say if the fumes rising off the cooling tower added to the heat. The look of the place was so stark and barren that it felt like hell. The road started to rise, not a big hill but a hill.
Cat called out, "Pushing" in a feeble voice. She prefers to ride behind me so we have a deal that when she wants to push she will let me know. Sometimes, if I have my head down I won't notice that she has stopped and I don't like her falling behind. It is safer if we are riding or pushing close together.
I pulled up and looked back to see her with were head down. Her steps were faltering. She was in trouble.
She said, "I can't make it, I need to sit down, I feel sick."
As I lay my bike down, she just let hers go. She tried to control it but didn't have any strength.
"I can't go on, I'm going to be sick." Her voice trailed off.
"Hold on to me," I said.
"I can't, it's too hot." She just slowly sank to the ground. There was no shade and the pavement was scorching.
"Flag someone down, I'm sick," she almost plead.
I hated to, but looked up at the traffic. It was flying by without slowing down. Then almost like another miracle, an older maroon Dodge van slowed and a lady leaned out the window and asked if we needed help. I had only one answer, YES!
They were Richard and Cori. "We're married," he assured me. "Get her in the car we have Air Conditioning."
No room for the bikes and bags, they were taking some things to their church to donate.
"We will take your wife with us, drop these things off and come back for her bicycle," he said.
It was so strange. We just trusted. We had no other choice. I told them that I would take the bags off of Cat's bike and get it ready to put into their van. They could take Cat in to the Bed & Breakfast we had booked at lunch.
Off they went, I stood and thought about what had just happened for a minute then began to take the bags and front wheel off Cat's bike. It was really hot out there. I wanted shade, there was none. Cat needed cool, they had it. Somehow I felt they could be trusted.
Once the bags were on the ground and the front wheel off, I just stood and sweated and wished for shade. I thought of that little bird out on the Salt Flats. Now I knew why it would risk injury or capture. The sun was scorching and the surroundings seemed to enhance the heat.
As an interesting aside, we had heard that there was another cyclist behind us on the Salt Flats. Just as Richard wheeled his van around the crustiest looking cyclist ever came riding up. He had more junk on his bikes than we did and it looked like junk. I wanted to talk with him but we needed to get Cat to a Dr. She made the call, when I first mentioned a Doctor she just wanted to get to the room we had booked at lunch.
He stood by, not knowing what to do. He did tell me, while we loaded the bags, that he had come from Argentina. He was from Germany. I think he said his name was Manfred? He was crusty, from his clothing to his sun drenched skin. His nose and ears were scaly. He mentioned that he slept out on the flats, just 2 miles from Rest Area 53. His maps were not good. I offered to help him get maps on Monday. He said he would be up the road by Monday. He was heading for Seattle and Alaska.
Cat had to surrender to the demands of nature. I helped get her out of the car and she squatted next to the car door and let go a flood of diarrhea. She was shaking and so weak that she couldn't get back up on her own. I had continued packing our bags and both bikes into the van. Cori tried to help her then stepped away and said, I'm no nurse, I can't do this."
I got Cat back into the front seat, all of the bags and both bikes in the back and we were off on Richards's wild ride. We decided to get some Gatorade for her to sip. He took us off on a side road and directly to a fast food store.
Cat sipped but it made her feel like she was going to throw up. I held a bowl under her chin as we careened back onto the freeway and headed toward LDS Hospital. Richard knew his way around and tried to give us a guided tour as we hurried through the streets. "On the left is our Temple, over there is the Tabernacle where our famous Choir performs on Sunday mornings."
Finally we pulled up to the ambulance Emergency Door of LDS. I helped Cat out. Her legs were rubbery. I half carried her to the door. It was locked and had one of those touch pad combinations needed to get it open. I could see people inside. I tried to knock but couldn't let go of Cat. I asked Richard to bang on it, He did, they heard and the door opened. A nurse met us with a wheel chair and we whisked Cat away into an exam room.

(Movie: Richard and Cori 0:27)
We got her clothes off and tucked her now shivering body under some warm blankets. Dr. Jolly thought she had over extended like some athletes do.

(Movie: Dr. Jolly giving Cat some advice 0:36) She was definitely dehydrated. Her skin was shallow and pale. Her lips had no color. He started her on 2 liters of saline solution.

(Movie: Cat in the hospital 0:33)
He came back in and showed me how her skin was covered with salt and looked loose. He prescribed 2 more liters. She was coming around, her color was returning. She urged me to get the bikes and bags over to the Guest House and let Richard and Cori get on with their lives.
They were waiting patiently. They had seen a piece about a helicopter crash on the TV then watched as the ambulance crew wheeled the pilot in. The rest of the crew had walked away. The pilot was banged up but would be okay.

What angels, they helped me carry the bags up three flights of stairs and we took a tour of The Brigham Street Inn. It was a wonderful place. They were in awe. I was very happy with the place and knew, somehow, that it would be a good place for Cat to recuperate.
Our angels then drove me back to LDS. We hugged, I got their address, phone number and e-mail address. They were so mellow and so helpful. They gave me confidence that there were lots of good people in the world. We could go on knowing that angels like these would help without being asked and expect only a Thank You.

Finally, after 9:00 PM we were released and took a cab to our new home. It was tough making the stairs but she did it. I had walked to a nearby Super Market and loaded up on bananas, soup and Jell-O. Cat, now was burning up. She lay on a couch in front of a window and I fed her the Jell-O.
It was a tough night. She was up every hour, visiting the toilet. Neither of us got much sleep.
MAY 19, 2002
Salt Lake City, UT
The smell of waffles finally got to us at 9:00 AM. I shuffled food up and we ate in the room then rested. We probably would have stayed in all day but the maids needed to clean the room and definitely change the sheets.
We slowly walked to a wonderful nearby deli called Cucina. Dr. Jolly was back on at LDS at 2:00 PM and wanted to see Cat. We cabbed back and he put her on the I-V again. It was 6:00 by the time we took a cab back to Brigham Street Inn.
That night we walked to another nearby place. I ate, Cat pretty much watched. She was still pretty puny.
MAY 20, 2002
Salt Lake City, UT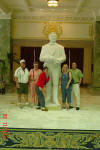 Cat's diarrhea simmered down some but it was still a pretty restless night. We scheduled lunch with friends, Homer and Carol from Joan and Bill's home town in Oregon. They were here visiting their daughter. They picked us up and we went for lunch at the Roof Top Restaurant of the Joseph Smith building. It was very nice and the view was super. We walked a little in the Mall across the street.
Back at Brigham Street, I started to get the dreaded diarrhea. I began to feel terrible. It was my turn to lie in bed and moan. At about 6:00 I did something I haven't done in years. My stomach began to churn then I lost lunch, breakfast, even last night's dinner. It wasn't a pretty sight.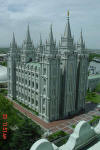 Cat ate soup in the room. I lay in bed. Another lost day. That night it was to be me who would soil the sheets and make the trip hourly.
MAY 21, 2002
Salt Lake City, UT
It was juice and Gatorade for me but Cat began to eat. She had Jason's famous Waffles, in the room again, of course. Her stomach still ached but she seemed to be slowing down on the diarrhea.
My theory now wrapped around the food and water we had taken in during the past few days. I decided that we should get a stool sample taken. Maybe it was Giardia or Salmonella or who knows what? We called but Dr. Jolly was off. Dr. Lenz agreed and asked us to come back in. Our third day at LDS.
We ate soup at Fred Meir, Super Market then picked up maps and a Trip-tik from AAA. It covers our route all the way to Quebec City.
Dr. Lenz agreed that if we both have it we don't need to check me in, just continue with tests and treatment for Cat. The results of most of the tests will be in by tomorrow. The more complex will take more time. We will move on if we feel up to it and call for results. They could prescribe for us somewhere downstream.
Wouldn't you know it? Cat had the diarrhea so bad that she feared being to far from a toilet but when asked to perform, she got stage fright. Well, she had a tough time getting just a dribble. I showed Dr. Lenz and he said, "We're dealing with tiny bacteria here, this is a lot of material. No problem."
The pain returned to Cats tummy. She was doubled over so we retreated to the room and both got needed rest.
MAY 22, 2002
Salt Lake City, UT
Feeling much better, we slept until almost 9:00 AM. Breakfast in the dining room for the first time in 4 days. Setting out to catch a bus into town, we discovered, too late, that the bus route had been change due to construction. Ended up walking all the way to town and explored down to The Gateway Center at the far end of South Temple Street. I finally figured out the way the streets work. We are staying at 1135 East South Temple, now tell me that isn't confusing. Lots of the streets are that way. The Temple thing is tagged onto streets that form the square around the Temple.
We stopped by the Joseph Smith Building and did a slightly frustrating attempt at researching our family histories. A very kind girl, from France, here on her Mission for the Church tried hard to help. She asked if this was our first time in the Mormon Church. I said that I didn't realize that we were in a Church. She tried to explain and slipped in a recruitment message with the ill fated lesson. You can find most of the information on the internet. It would be a project that could consume a lot of time. We decided to do that when we're actually retired.
SLC to Jackson
001 Union Station, SLC 002 The Greatest Snow on Earth 003 Cat's buffalo buddy

There is one of the best sporting goods store ever at The Gateway. Galyan's is huge, two stories of every kind of Sports equipment of clothing you could imagine. We went in looking for rain pants. No luck there but we did blow $128 on shower shoes, a short sleeve shirt and sox for me and a shirt for Cat. Boy we were really shoppers.
The UTA is a short track rail system serving downtown out to the University of Utah. We rode just a few blocks to the main station, for free. Nearby we shopped for dress sox. The ladies at Eddie Bauer had a special, 4 pair $20.00. I asked for just 1 pair, sorry $7.50. Then we tried to bargain buying 2 pair for Cat and 2 pair for me. No deal.

The $1.00 store is in the mall. Cat couldn't believe that they would have Sox. They had a great pair, for $1.00, what a deal.
We are definitely on the mend. Lunch and a bottle of wine in a great place called Baci. It was good to be back among the living.

The day flew by. It was 8:00 PM and we were hungry. That was another good sign. We enjoyed another Italian place called Café Molise. A cute place, fun staff and good food.
The cab had us back at Brigham Street Inn by 9:30.
MAY 23, 2002
Salt Lake City, UT
It is Thursday, we both feel really great, Cat's lingering stomach ache is still there but tolerable, now. We dressed in the bathrobes provided in our room and went down for breakfast. It was kind of a joke. The staff, young college kids, had not seen us in any thing but our sweats that serve as jammies.
It was funny. We acted the part, ate our waffles and fruit as we read the SLC Tribune News. Even had Maya take our picture. It was good to feel good, again.

(Movie: Brigham Street Inn 1:17)

(Movie: Brigham Street Inn - Butler's Stairs 2:00)
Alamo Rental Car had a very good deal that included pickup and delivery. They were there right on time at 9:30 AM. We went back to their office for paperwork then went exploring. Our plan was to see The Olympic events areas and Park City. As we started up the hill I decided that we should take our camping gear and stash it at Coalville, the town that we expect will be our first stop out of SLC. That turned out to be a great idea.

We drove over the old Highway. It was beautiful, steep and beautiful. Two deer stood and stared until the moment we got the camera out then they turned tail. Another easy decision, we would ride Highway 80. More traffic, not as scenic but easier in the way that a 2500 foot climb in 12 miles can be easier.

Park City was cold and many of the shops were closed for the season. We walked the main street, had a so, so, lunch then drove back toward SLC.
One of the things I wanted to see was the Kennecott Copper Mine. It is located pretty close to the place where Cat literally Crapped Out. We decided to visit both. Cat had no memory of the place, near the Smelter. What a difference, the wind was cool almost cold. It was hard to relate the experience we had lived through just five days ago.

We clowned around on a video clip at the site

(Movie: Site of Cat's Crap Out 0:28) then drove through Magna, the original mining town for the Brighton Open Pit Mine.

The Pit itself is about 8 miles out of Magna. You begin to see the tailings from miles away. The hills are brown with streaks of blonde and caramel running down the face. At the gate a kindly lady explained the rules. Don't stop the car, don't get out of the car, until you reach the parking area at the Visitor Center. The road winds up and up. The temptation to take pictures had us slowing, almost stopping and shooting hoping not to get caught.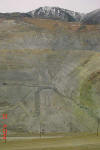 The pit was huge, I had lived on the edge of the US Borax mine in Boron, CA for 7 years. It was a baby compared to this hole where they first scraped the surface in 1908. Something like 2 ˝ miles long, 2 miles across and almost ˝ mile deep. The film was similar to that at Borax but done with a guy talking while the giant equipment worked in the background.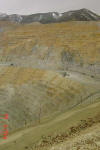 It was getting late and we wanted to get to the Tabernacle, the Mormon Tabernacle Choir practices on Thursday from 8:00 to 9:30 PM. I wheeled around the block while Cat confirmed that they would be singing. The presence of people flowing through the gates was witness to the popularity of the practice.
We couldn't find anywhere to park. In desperation I pulled into the Marriott Hotel. We valet parked and had dinner in the restaurant. It turned out to be a very good meal and experience. Our server, Jeanette was a gem. She really got wrapped up in us almost to the point of neglect to her other tables. (Don't take that wrong, she is terrific at what she does but she was very interested in our Odyssey. She didn't neglect anyone but she did dote over us and we liked it.) Jeanette had lived in California and liked it. She was back because her family, with the exception of her sister. She has considered moving back. When she told us that she makes $2.00 an hour we were flabbergasted. I guess that in Utah a server must make it on the tips. We were fairly generous.
Time flew. It was 9:00 PM by the time we rushed across the street and into the Tabernacle. We think now that our timing was perfect. The Director was terrific. He pushed, pulled even joked to get the results he was looking for. The new song they were working on was about a young man going to the Civil War. The ladies in the choir sang of how they wanted him to come back home, soon. At one point, after having them sing the part several times, trying to bring emotion to the words, he stopped and said, "I don't think you want him to come back, Ladies."

(Movie: Tabernacle Choir 1:58)

(Movie: Tabernacle Choir - America the Beautiful 1:52)
The audience cracked up. The choir cracked up, and the ladies sang from their hearts. The Director was very happy and the crowd clapped and roared their approval.
As we walked back to the Marriott Cat asked a man if he was in the Choir. She had spotted him singing. She said later that the reason she remembered him was the way he seemed to be singing from his heart. His name was Roger Kennard. On his day job, he is a CPA. He told us that he had been a choir member for several years then gave it up. Eleven years later he decided to try out again. He said the audition was murder but he was ecstatic being back and would continue as long as possible. The schedule is tough and of course, it is a volunteer position. I could relate, having spent 8 years with Acadiana as a volunteer and loving almost every minute of it.
MAY 24, 2002
Salt Lake City, UT

Another cheery breakfast at Brigham. Kelsey, one of our favorites, served. She is reading books and preparing for a journey to South America. She will be traveling alone. She is very adventurous.
Another couple from Moraga, CA joined us at the dining table. Cat remembered seeing them at the Practice last night. Their daughter is on a Bicycle trip in France right now. She described it as small rides to nice Hotels and Restaurants.

We got the car back just under the wire. Maybe Reese, the guy who delivered us back to Mail Boxes Etc. rather than The Inn was enthralled with our story and may have stretched the return time a bit. He was a River Rafting Guide for several seasons on the Colorado River. He liked adventure and our story.

Cards for the Grandkids, a package of excess gear to daughter Lori and lunch. Wanting to send copies of photos to several friends old and new, we found a camera store and took photos from disks to send out. The $1.00 store allowed us to frame them at a price that fit our budget.
We were tiring so decided to ride the bus back to The Inn. Met a nice young gal at the bus stop. We learned the routes and cost from her. Her husband has just received his Law Degree. They're considering moving to California. He has a job offer in San Jose.

Our room has been our home, through sickness and health. We spent the afternoon journalizing and packing.
At 7:30 we took a cab to the Market Street Grill. The driver must have been new at the job. He had to call in to find the location then dropped us on the wrong street, two blocks away from the restaurant.
The Grill was good medicine. Food and wine were fine but the company, two couples seated next to us, were icing on the cake. Cat started a conversation with the couple nearest us. Zach and Heidi had just dropped their two boys age 6 and 9 off at the airport. They are headed to Disney Land with his Mom and Step Dad. In fact Zach and Heidi will fly out tomorrow and join them. As we talked the other couple, Shane and Laura started asking questions. We were like old friends by the time the check were disbursed.

Zach and Heidi offered us a ride back to The Inn. He is so much like our Son-in-Law, David. He even looked sort of like Dave. He has a hot Camaro and a Model T pickup. He drives the pickup 4 or 5 times a year. The rest of the time he shines it and covers it in the garage. His Camaro doesn't see the road that much either.
Another coincidence? He drives a huge Dodge pickup truck like the one Dave drives. It is super souped up, too.
We gave them a tour of The Brigham Street Inn then reluctantly bid them adieu.
MAY 25, 2002
Salt Lake City, UT to ... the World!
Our time at The Inn is finished. We really felt a part of the place, in no small part due to the staff, from the ladies who change some very soiled linen to Jason, Kelsey and Maya who cooked and catered to us. It was a wonderful time of healing.
By the way, the tests came back negative, we think that we had a bad case of viral flu. Cat's version of it was enhanced by the strain of physical torture her body had endured in the heat and wind.


Maya was our staff. The couple from Moraga, CA were headed toward Yellowstone. We posed for a picture with them near our bikes.

Loaded and ready to roll, Maya joined us on the front porch for a goodbye photo. She, all of them were gems.
Our assignment for today is to ride up to 7,000 feet in the first 12 miles. It will be the highest elevation we have crested and the quickest assent since our troubles at Donner Pass.

(Movie: A man and his herd 0:18)
---
Some who read these notes say, "Too much detail!" Others encourage more detail and inclusion of those we meet along the trail. You, our friends, old and new, are the treasures of THE ODYSSEY!
We hope you will stay tuned, there's lots more to come. Terry Tintorri has agreed to help us with the Web-Site. We hope to be able to report our adventures more often and include the pictures in Magazine form, in the text.
If you have any suggestions we would love to hear them. In fact some of our most cherished moments are when we open the computer and hear that familiar, "you've Got Mail!" We love to hear form you. It keeps the lonelies away as we travel further and further from home.
Actually, home is where the bike is. We have been telling people that we are Homeless just like so many others on the streets. The only two differences are that they have 4 wheels on the carts they push their belongings around in and, of course, we have more options.
SEE YOU IN THE WORLD, OR ON THE WORLD WIDE WEB!