Posted on 7/21/02

JUNE 8, 2002
Casper, WY to Douglas, WY

Early starts are what we dream about, and then there is reality. Pictures with our Casper family and directions for getting to the old highway, finally we pushed off. City traffic and narrow bumpy roads, a stop light and more directions from a fellow cyclist and finally we were on the outskirts of town. No countryside, industrial buildings clumped randomly and in various states of disrepair. A lonely buck pronged horn was trapped between us and the fence. He was a beauty and he was stressed. Hoping for the best, we knew what his possibilities were.

At last, grass and trees. We are still in what I would call desert but riding ON the North Platte River. Its path winds along and creates a wandering swath of green. It was warming and a tail wind was beginning to stir.

Glenrock is almost exactly half way to Douglas. Our family and others had recommended an upscale restaurant. It looked like a place that our attire might be misunderstood. We chose instead, The Pizza place. The waitress was at once taken by our story, she was chunky of body but stout of leg. She said that she could never ride as far as we do. I told her that it was little different from the rigors of running from table to table all day long.

A young guy, dishwasher I think, ventured out of the kitchen and told us that he had a DiamondBack bicycle. It had been unused for quite some time but he was inspired to get back on it after our chat.

We both ordered their grilled turkey and cheese sandwich. There were several choices of sides, one was JoJos. Wedges of baked potato deep fried with a batter coating. She hooked us both on that one, too. Mod, they were good. I ate all of mine and the three that Cat left on her plate, too.

As we rolled out of town we were singing, "Jo Jo left his home in Tucson Arizona headed for some California grass." The main Street took a sweeping curve into the wind and dumped us out on the Freeway. It was a hot, dry ride in fairly heavy traffic. Only a few small hills and some of them had been mowed down by the builders of the road.

The first place we came to, Best Western, looked good. We were lucky, the National Collegiate Rodeo Finals were being held and the place was booked. We snuck into the last king bed room. Unfortunately it was a smoking room. We didn't want to be whining maggots so I opened the windows and turned the air conditioning to high gear.

On top of the Rodeo, it was Jackalope days in Douglas, too. I wanted to go into town and check out the celebration. Cat was tired and didn't want to venture back out into the heat. We checked on a shuttle or cab. No such thing in Jackalope ville. I finally talked her into walking. The best part of town was the walk across the river. We could see several fisherpersons from the bridge. One guy was squatting on a sand bar below and downstream, trying his technique at fooling fish.

They had billed it as a street dance. There was a band playing in Jackalope Square but no dancers. It was mostly kids, young to teens, hanging around. We checked out the old Hotel, La Bonte Inn. It boasts of having been operated since 1914. It looks it and there were few upgrades since that time. We stopped in the bar. It was smoky and the juke box heavy rock music was loud. Cat went to the bathroom. I asked if they had white wine. The nice girl came back and was pleased to tell me that they did, white Zinfandel.
Relieved, Cat declined their brand of white and we walked. In fact, we walked back to the hotel. I tried to hitch hike. Drivers gave us the same treatment that the truck drivers had at Rest Area #53 when I asked for change. They would cast their gaze to the left so that our eyes wouldn't meet. A young guy in a pretty messy old car did stop, after I had given up. He must have seen us earlier. Cat felt uncomfortable so we declined.
At dinner in the Hotel restaurant we met the chef and got a recipe for Duck. Cat was pretty excited with it and Chef Gil. He was leaving and we didn't have the camera with us so, no picture.
We were in bed before 9:00 PM. I woke up at 11:30 and turned the TV off.
JUNE 9, 2002
Douglas, WY to Lusk, WY
I called my Aunts, Babe and Etta in Idaho. They filled us in on our cousins in Lusk, Wyoming. Grandpa Patterson had 6 children when his first wife died. He met, and then married my Grandma. She was 18 he 36 years old. They would prove to be very prolific, 12 more babies, one of which was Pappy, my father.
Florence Ruth Potter is my cousin. When I called, her husband Jim answered.
"Is this Mr. Jim Potter?" I asked.
"Yep," he answered but he drug the word out with emphasis on the Y, eeeeyeap.
"Is this the Jim Potter that's married to Florence Ruth Potter?"
"Let's cut through it," he said, "What're ya sellin'?" he asked then threatened to hang up.
"Wait, Florence is my cousin," I almost plead.
"Some guy wants to talk with you," he said as he handed the phone to Florence.
Florence's father, Welchie, was of the first family. My father from the other end of the Patterson chain. The age difference was so great that they really never got to know each other. Florence reminded us that she and Jim had visited us almost 30 years ago. I did remember because we owned two grocery stores and Jim was manager of the Safeway store in Lusk.
We agreed to meet this evening assuming that we would make the 55 miles, against moderate headwind and warming temperatures.
The gal at the service station finally set us straight about a road that I thought would save us ten miles ride. County road #52 looked like the way to go on our map. She told us how to get there then asked why we wanted to cycle it, as it was dirt more than half of the way.
We could handle dirt but when she mentioned that it was pretty hilly, too, we decided to stick with Highway 25. Our expression of discomfort at being on the freeway again led to her drawing a map that would get us on what she called "The Service Road."
It turned out to be the old highway. Hilly at first, most of it up, then a long swoop down and flat. There is a strange looking structure, almost like a lighthouse, out in the middle of nowhere. The only sign of life there was an antelope that stood with his eyes fixed on us as we rolled by.
The Service Road took us to Orin Junction. Expecting service stations, stores or something, we were surprised to find only a Rest Area. We passed on the rest and rolled east on Wyoming Highway 20-18. It was somewhere in this area that we really began to feel that we were leaving the desert behind. The grass was growing green and tall, there were even some fields under cultivation. Some will argue that the high plains aren't desert but anywhere that is only stubby brown grass and sage brush is desert, in my eye.

The first village on our map was Shawnee. A Post Office and School made up the town and both were closed because it was Sunday. Cat got hunger pangs so we pulled up a couple miles short of Keeline, sat on the roadside and washed crackers down with Gatorade.

The bar, which was the only building we could see, as we passed by Keeline, was open. We were full of crackers and anxious to get to Lusk so we rolled on by.
It was 3:00 when we reached Manville and the Three Sisters Truck Stop. It was an oasis. Food and water. We had soup, sandwiches and entertainment in the form of "locals watching." One cowboy complete with silver spurs and big hat told tales of the range. He was a big guy. We wondered how the horse could handle his weight?
Finally full, we pushed on into Lusk and up to the door of the Best Western. Once cleaned up we walked to The Fireside Restaurant. They had a bottle of so, so Chardonnay and more food. It was 7:30 when Cousin-in-law Jim picked us up and took us to their home.


They were sitting in the yard, enjoying a balmy summer night. The mosquitoes were buzzing and beginning to bite. They lit up Citronella candles to ward them off and we went about the task of getting acquainted. Jim is 81, Florence is a couple of years younger. They have 4 grown kids. Three of them live close by. In fact Jim told us that lots of folks call the area Potterville because they live within a block of each other. We met son Jim who lives two door down and two of his daughters who dropped by. Daughter and so-in-law Jan and Norm manage The Ranger Senior Apartments and live there but are rehabbing the house next door, owned by Jim and Florence, in anticipation of retirement. Don and Roxie Patterson who live in Rapid City, South Dakota were there for a visit. He is Florence and Jim's nephew. They were all really salt of the earth, nice people. By 9:30 we said our goodbyes. When Jim dropped us off I said, "We're the kind of company you like. We come late and leave early.
JUNE 10, 2002
Lusk, WY
The wind began to howl sometime during the night. We awoke to its wail at 6:00 and peaked out the window. The flag across the street was standing straight out. It was a north wind and it would blow us no good, today.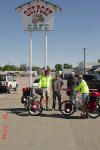 Packed up, we decided to supplement the complimentary breakfast at The Outpost Café and Truck Stop. We had just taken seats at the bar when Son, Jim came in with a young boy. He moved through the room giving out hellos and pats to almost everyone. We moved to their table. The boy, another Jim, was his son. To differentiate, they call him J.D. He has a quick smile and is easy to like.
Jim said that the weather report pegged the wind at 35-40 MPH with gusts reaching 50 and it was expected to continue throughout the day. We posed for a pic under the Outpost sign then turned our attention northward and peddled through town, against the wind. A bridge rises above the railroad tracks at the north end of the main street. It was there that we felt its full impact.
I struggled and was almost thrown against the guard rail. I could see Cat in the mirror, wobbling and pitching. It came down the tracks blowing due east. The road curved slightly east as we were blown out of town. It was tough but doable. When we reached the top of a short hill it swung back to the north. We were in open prairie. There was nothing to slow it. Our jacket sleeves were flapping hard and sounding like a motor boat. A big motor home came really close. He too was struggling in the side wind.
Momentum had ground down to 4 MPH. Cat called out above the noise, "I can't do this!"
She had tears on her cheeks. She was apologetic. She feared for our lives. We turned back. When she expressed her disappointment I told her that it would only make the adventure different. I have felt that way for some time. When you choose on path it will become the composer of your new song, the author of your new prose.
The new chapter of adventure would begin with a walk. It was so rough that we were forced to walk the bikes back over the bridge and into town. Our first stop was to say hello to Jan and Norm at The Ranger. Not finding anyone in the office I stuck my head into an Insurance office on the ground floor and asked for Jan. The nice looking girl working there said she cold call her, she was just up in her apartment. I started to tell her to forget bothering her when she said, "It's okay, she's my aunt."
Her name was Stacey, Jim and Florence's granddaughter. Her mother is Judy, the one local we didn't meet last night. Jan came down and suggested that we see the museum next door while we waited out the wind.

It was a great small town museum, full of small town info and trivia collected over the past 150 years of its existence. We spent 2 hours, even found stacks of old newspapers dating back to the 1890's.

The wind continued to blow and gust with gusto. We had sandwiches and decided to spent the night and see what the morrow would bring. Jan suggested that we could stay at the place they are working on but there was no shower. It was another Best Western day.

The afternoon was spent listening to the wind and working on the journals. That evening we went for Pizza with Jim senior, Norm and Jan, and the other daughter, Judy and her husband John. We had a good time even though we missed Florence.
By 9:00 we again said our goodbyes and assured them all that we were riding in the morning, hell or high wind.
When we checked our e-mail, we were shocked, a message from friend, Jerry Beebe asked if we had heard that Terry Tintorri had died this afternoon. We were shocked. I turned the cell phone on to find 16 messages. Ole Olson had called from the hospital and confirmed it, Terry was gone. I brooded, Cat cried. I called Ole, he had few details except that they thought it was a blood clot.
We knew that we would have to go back. Judith would need help and we wanted to be there for her. It was a pretty sleepless night. Our partner, our friend and "The Leader of the Band was gone.
THE LEADER OF THE BAND IS GONE,
OUR PARTNER AND FRIEND TERRY IS GONE.
JUNE 11, 2002
Lusk, WY to Oxnard, CA
I called Jim at 7:00 and told him of our loss. "Is there a bus out of here to Casper," I asked.
"Nope, no bus," he answered in his Wyoming drawl.
"How about a train?"
"Nope, no train, either."
"How can we get over to Casper to catch a plane," I asked.
"You have to get a ride," he said with down home earnestness.
"How do we get a ride," I asked in a reserved tone.
"You ask," he responded with genuine concern in his voice.
"Would you give us a ride?"
"We better pick you up by noon," he said, matter of factly.
What great people. We had found a travel agent in Casper who booked the flight. We bought lunch at the Three Sisters then they drove us the 120 miles to Casper Airport. We were on Sky West, through the bumpy windy air of Casper and down in Salt Lake City before they were back in Lusk.
It was midnight by the time we pulled into The Casa Sirena Hotel, two months, to the day, from our stay there the night before we departed on our Odyssey. They checked us in to the very same room we had that last night in town. Kismet?
JUNE 12, 2002-JUNE 17 2002
Oxnard, CA
Thing were in chaos as one would expect when an event so unexpected occurs. Terry's wife, Judith was in shock. Friends, Nick, Wendy and George, James and Susan and Connie were clustered round her. Her Sister Jan came in from Arizona. Her parents were coming from Colorado. The only thing I felt comfortable doing was setting up a Cajun celebration of Terry's life, after his service.
It wasn't easy. There were conflicts with Teresa our lead singer's schedule. We thought that his service would be on Saturday. Even that was a conflict for Teresa. She had her new CD release party scheduled for Saturday. The owner of Pirates was shocked and agreed to help with a Saturday afternoon party. Unbeknownst to me, Teresa's party was to be held that evening at Pirates. That was uncomfortable for her.
Finally the Funeral Director made the decision. The service would be on Friday afternoon at 3:00. Pirates wasn't available on Friday. Cat and I set about calling every place we could think of. It was graduation week. Every thing was booked. It would be our friend Ron Kirby who would come up with the Radisson Hotel. We took the room. It was a little small for what I had in mind bit it would work. It is tough to figure out how many will come to the services then stop by the celebration. We pulled the number 150 out of the air and ordered enough food for them. Cat and I had decided that we would sponsor the party. It would be our send off for a great pal.
I called every musician who had ever played with our band and some who are with other bands that were friends of Acadiana. Lisa Haley who helped start the band was able to be there. J. T. and Ralph Whitney of The Zydeco Zippers would be there too. Steve Guyer, guitarist, Michael Guten, accordion player would be there too. Of course Rick our bass player and Phil our fiddle player would play. Another terrific friend and fiddle player, Mark Indictor would round the group out with three violins. WE WOULDN'T HAVE ACADIANA BUT WE WOULD HAVE A BAND.
Friday started with a disaster for me. For some reason I was nervous. I wanted every thing to be perfect. The regular Friday morning at our office was good but I had the flippy floppy heart beat. Then I used Judith's car to get the band trailer from storage. Some where in the process, I lost the keys to the storage. Panic, I called everybody at places I had been. They must have fallen out of my pocket? When I talked with Judith she asked, "What are we going to do?"
I thought a moment then said, "What would Terry do?"
Voila, he would have a second set, but where would he keep them? I looked in the falling apart brief case he used with the band and their were the back ups. We were in business. I wanted to set everything like we had for more than 450 shows. I even ordered a dance floor. Some thought it was a waste of space and money. When Judith asked I reminded her that she had named our first CD, "Can't not Dance!"
Johnny didn't think he would have time to set his drums then was able to get off work in time. James helped me carry and set the heavy stuff that Terry and I usually took care of. Jim, our Roady Techno friend came and wired the equipment. Roxanne, Johnny's wife did her usual great job of setting the sound. When some of the band poo pooed me for putting up all of the equipment, I told them that they had heard of "The Full Monty", today we would give our friends and Terry's family "The Full Tintorri."

The service was unique. The minister was a very cool lady. She even had us stand and give Terry an ovation. We were so ready to do something physical, everybody clapped and clapped. It was great. Several of us stood and told stories about Terry. His ashes and a wonderful photo of him along with his Accordions, harmonicas and saxophone and lots of flowers graced the Alter. The Chapel was packed, overflowing. Teresa was able to make it and she said nice things about Terry and Acadiana.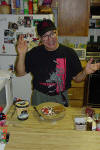 The party was a smash. We had lots of friends and fans from San Diego and Los Angeles. Local fans were there in force. Then there were Terry's friends and family from Burbank and other areas. Lots of Realtor friends, too. The food for 150 was gone in 20 minutes. We think more than 300 came, paid respects and partied in Terry's honor. I loved every minute of it. He would have been proud of us. Oh sure we had a little feed back that would have driven him crazy but we were moving musicians in and out. Michael Irwin, an original member of the band even came and sang two songs.
I didn't eat or drink until the crowd was thinned to the hard core at 8:00 PM. It took us until after 11:00 to tear down and get the trailer back to the storage. Cat and I loved every minute of it. We didn't do the Big Parade. It would have been tough without Teresa. I think he would have forgiven us. We did dance and sachet around with the umbrellas. Judith allowed us to give out CD's to any one who wanted some of Terry's thoughts and the collection of songs he had written. That was a huge hit among the family and friends from earlier times and Realtors who only knew him in the business.
Whether business or band, Terry made sure that the deal was fair and he ALWAYS kept his word!
To sum up our relationship I have come up with the following;
TERRY AND I DIDN'T ALWAYS SEE EYE TO EYE
BUT WE WERE ALWAYS SHOULDER TO SHOULDER.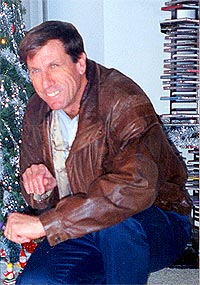 (Movie: Singing in the Company of the Saints lyric written by Terry Tintorri 3:59)


Some good does come from all things and this was no exception. We spent time with Timothy, Patrick, Aubrie and Stephanie. Her Mom had surgery so we were able to help her for one afternoon. We spent Fathers Day with Cat's Dad and Mom and family. Lori and Dave drove up and we had a morning together. All bases were sort of covered and we were really ready to get out of the pressures of life and back on the road.


(Movie: The Patriarch, Earl Welch 1:07)



Richard and Joanie Young, the folks who bought Patterson & Tintorri had let us use their beach home. That was a great gift. We had the place to ourselves and could really relax between events. We chose to leave and stay in a motel on our last night in town. We were able to wash the sheets and leave their place in good order that way.
JUNE 18, 2002
Oxnard, CA to Lusk, WY
The Road Runner van arrived on time at 6:15 AM. Funny, the driver looked familiar, he recognized us. He had been a loan rep and called on our office. He had been driving part time and the company offered to help him buy a van and become an owner operator. He had us at the door of Delta by 8:30. Early we thought until we started checking in. At the sidewalk we offered our luggage to Porter. He took our tickets and entered us then said, "Sorry but you have been selected for random search, follow me."
Boy were we searched. Three separate times including having to have our bags emptied by security. Then the shoes, since the guy tried to set his shoes on fire with explosives in the sole most passengers have to remove their shoes. We were interrogated about the steel clips that fit on our pedals. Cat figured out what our problem was, we were on a one way ticket. That put us on the suspect list.
When we entered the plane a guy and gal were in our seats. She wasn't that happy with our arrival. She wanted to sit with her friend. He was interesting looking. A spiked up Mohawk hair cut and a look of Punk Music. He promptly plugged earphones in and as soon as we were off the ground he began hitting the Vodka and Tomato juice. Once he loosened up he asked what WorldRiders2 was. We had a great talk. He is a stunt man doing studio work, mostly motorcycle stunts. He was a racer but time and crashes ended that career. I mentioned that I had seen an interview with Evil Kinevil. He opened his shirt as he told me that Evil was his hero. He had the famous stars and bars of the shirt that Evil wore, tattooed on his chest. Turned out to be a really nice guy headed home to Sun Valley on vacation. Another lesson in the art of being judgmental.

A reverse trip with stop in Salt Lake City but this time we had food before we left LA and Pizza in SLC. The Sky West landed on time. Norm and Jan were there to meet us and drive the 2 hours, back to Lusk.
Another 12 hour, door to door trip. We enjoyed more pizza with several members of the Potter family. The one daughter we hadn't met, Judy and her husband John were there. We had hoped for a big crowd but Florence had Bingo and some of the others weren't available.
Another Best Western night. The clerk announced the rate, it was up $10.00 from last week. When I asked why he told us that it was a new season and he was just keeping up with the competition. That didn't set very well us.
JUNE 19, 2002
Lusk, WY to Sexy Ranch, WY
The Potters told us that the wind hadn't blown since we left for California. We awoke to the howl of wild Wyoming wind. We were getting psyched out. We were worried that we would never make it out of Lusk. Our fear was that we wouldn't be able to make it to Mule Creek Junction in the wind. It is about 50 miles from Lusk. Outside, the wind had shifted from a west to an east wind. We would be battling an opposite wind from our first failure. It was only 15-20 MPH but that was fairly formidable. A decision, I called Jim and asked if he would come pick us up at 4:00 PM somewhere between Lusk and Mule Creek. Of course he would! We were now set to ride as far as we could in the wind then return to Lusk, have dinner with as many family members as they could round up then he would take us back to the spot we left off at the next morning.
Jan had made an appointment with a local News Paper reporter while we were away. We walked to the Ranger and retrieved the bikes. The interview was fun but time consuming. The gal loved our story and the family connection. Here's the story in the Lusk Herald

As we were taking the picture I noticed a three man crew working in a man hole right on the Main Street. They didn't have any barricade or other protection from the traffic, not even an orange cone. Small towns have slightly different ways. Where we live, at least 2 motorists would have sued and the 3 workers would have filed against the City.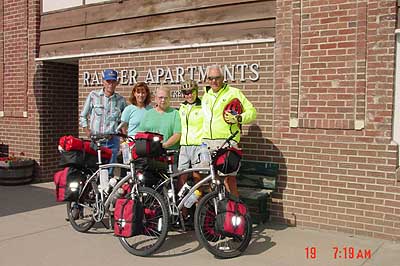 Back at Best Western, we made a new decision. They were so pushy about getting us out by the 11:00 AM checkout that I rode across the street to the Covered Wagon Motel. It was the same price and basically the same deal but I was irritated with BW.
The move was quick. We lightened the loads on our bikes. It was 1:00 PM when we rode out into the wind. It was tough but nothing like the monster we had experienced the previous week. Actually rolling along pretty fast, I calculated that we could make 30 miles by the time Jim would meet us.
The best laid plans, at about 5 miles out I had a flat tire, rear tire, of course. The change was a typical half hour and we were back at it.
A giant Jack Rabbit took off on the run, just inside the fence to our right. He was huge. He must have been 2 ½ to 3 feet tall when he stopped and sat on his haunches. His ears were tall and floppy. He didn't really run, he loped. He looked like a kangaroo with a big powder puff white tail. He would hop skip along ahead of us then stop and observe us. We thought he was shadowing us, he did stick with us for almost a mile then took a hard right and hopped off into the prairie.
The land was lush with tall grass that rolled and surged like an ocean. At nine miles we dropped down into what Jan had called, "The Breaks". The land breaks into a lower area that has eroded over thousands of years. Suddenly we were in a pine forest. Not real tall tress and they weren't that thick. Jan thought The Breaks and trees might break the wind? No such luck, it just continued to ebb and flow in gusts large enough to buffet our bikes to and fro.
Jim was close to on time. We had gone almost 24 miles by the time he passed and pulled into a ranch road just ahead of us. Jan had told us about this place. She said the locals call it the sexiest place in the territory. This was the road to the Cumming and Seimen Ranches, the next ranch is the Boner Farm.
One of the things we really admire about Jim is his broad knowledge of many things and his ability to share them. The most admirable trait he has is when asked a question he isn't able to answer he doesn't BS, he says in that Midwestern twang, "Now that one I can't answer."


He took us on a guided tour of Fort Hat. It was named for nearby Hat Creek, or what the Army thought was Hat Creek back in 1875. Hat Creek was more than 50 miles south and in Nebraska. They mistook Sage Creek for Hat. It was a great old log structure. We took a couple of pictures and wondered inside the place. It had been updated a few years ago and used as a home. There were several old newspapers and magazines, one dated back to 1937. We just observed, we didn't disturb.

It was a semi circle dirt road tour. At one point we stopped and walked to the edge of a cliff. Jim pointed out the tail end of the Black Hills in the distance. We enjoyed the time spent with him and his dry, sometimes blunt sense of humor.
The side trip took time, we were scheduled to meet the rest of the family at 6:30. It was after 5:00 by the time we got back into town. A hurry up shower and we walked to The Fireside Restaurant. Most of our Lusk family had already gathered. It was a nice time of looking at old pictures of bygone generations and getting to know the next. I plugged the computer in and ran pictures, too. The time past all too quickly.


On the way out the door Florence hugged me and said, I'm really starting to love you." She had moisture in her eyes and I got a lump in my throat. What wonderful people.
As they walked away a couple entering asked if we were the cyclists. They were from Sacramento, Richard is doctor and with The Heart Research Foundation. When he heard that Cat was a heart attack survivor he really began to ask her questions. Almost like our own doctor during diagnosis. He, his wife and their grown kids all cycle. He was wearing those tight sox and shorts. I told him about our loss of Terry. Nice people.
JUNE 20, 2002
Sexy Ranch, WY to Edgemont, SD
Bikes loaded, we rolled down to The Outpost Café and Truck Stop to meet Jim and Florence for breakfast. Jim Jr. was on duty. We talked then I used his air pressure gauge to fill all of our tires properly. During the process they drove up. We had a pleasant time talking about family and weather and the road that lies ahead of us.
Parting is such sweet sorrow. I rode in the back of the pickup until we dropped Florence off at their house. She stood and waved as we drove away. The wind was coming from the east at a brisk 15-20 MPH with those same healthy gusts we had weathered yesterday.
Jim was quiet as we muscled the bike down out of the truck. We sat them in the dirt at sexy ranch road and traded small talk for a few minutes. Jim hugged Catherine then turned and held his hand out to me. I took his shoulder and drew him into a hug. He hugged back. I apologized for all of the inconvenience, he said that was what family was for. We rolled, he honked and turned back toward the now very familiar main street of Lusk.
Slightly hampered, we made it to Mule Creek Junction in 2 ½ hours. The place was dried out grass and concrete tables and shade roofs. Very stark. We ate a snack at one of the out of the way tables. When I used the restroom a woman wondering around looked me up and down and then said hello. Neither of us took time to go beyond that.
With another 24 miles to go, we didn't tarry. Jim thought that the road was fairly level across the South Dakota line and into Edgemont. It was up as we pulled onto the shoulder and into what was now headwind. Cat struggled then said, "I can't do this, its way too windy."
We discussed the options, she hated the idea of staying at Mule Creek. We struggled onward. It was 13 miles to the South Dakota border more than half of it would be up, a long slow pull into the persistent wind.

A picture stop at the border then we were right back at it. The topography would give back some of the climb and we urged the bikes up to a constant 8 MPH. It was almost 6:00 PM when we turned the corner into the village of Edgemont. Dark clouds had been gathering behind us. They began to throw large rain drops at us. We made a quick stop at a mini market and spotted a Motel sign as we turned in. Everyone had told us that we would have to camp. As the sky darkened and lightening began to flash across the heavens we thanked heaven for the Rainbow Hotel.

Nelson's is a combo gas station, mini market, fast food, restaurant and bar. We sat in the bar and watched locals interact. Our waiter, Jerry Christopherson wore sort of baggie Levis with a circle worn in the rear pocket from his tin of chewing tobacco. He had a Norwegian looking face. When I mentioned that we had traveled to Scandinavia he proudly told us that both of his parents were from Norway.
The air was thick and the large drops abundant as we walked back to the Rainbow. It began to storm in earnest with crashing peels of thunder and a spectacular lightening show as we ducked into our room. We had only one window, a small rectangle high above an old couch. Some of the lightening bolts held an eerie look of ghostly daylight for 15-20 seconds at a time. We drew the flimsy drape and let the thunder lull us to sleep.
JUNE 21, 2002
Edgemont, SD to Custer, SD
We could hear the rain pouring down and the wind whistling between thunder peels much of the night. I peeked out our little window at 6:00AM surprised to see sunshine. Our neighbor, Lester from Kalamazoo, Michigan and I traded small talk about the sound of the storm. He headed off for breakfast. We loaded the bikes and rode to the only other restaurant in town.

Lester was just finishing up as we entered. He had another cup of coffee and told us of his life in Kalamazoo. Nice man, he drives truck, a second career, and delivers restaurant and stadium furnishings. He ware shorts and both of his legs were covered with support hose below the knee. I asked and he told me a familiar story about a pain in his leg and when he checked in with his Doctor they hospitalized him. Pulmonary embolism had him on his back for a week. The sox were an embarrassment but the Doctor warned him, scared him into wearing them. He said that he adjusted his vanity when the Doc told him how serious it was. I told Lester about Terry. He too hated the sox, he said the Doctor told him he couldn't ever go without? Was it a bad Doctor or a vain Terry. Too late to do anything or worry about it now.
Bev, our waitress was telling us that they got 6/10ths of an inch of rain but the temperature actually went up from 72 to 77 degrees after it let up. Strange summer storm.
As she spoke Lester stood and said "I've gotta get, my wife is waiting."
He rushed out and drove away then Bev noticed that he had forgotten to pay for his breakfast. I looked at the bill, it was only $2.65. I told her that I would cover it, we had enjoyed his company and caused him to be late. Suddenly the door burst open and Lester came in holding a 10 dollar bill in his hand. He had remembered. We shook hands again and laughed with him.
Everyone from the young guy at the Motel to Jerry to Bev had asked us if we were going to ride the bike trail up to Custer. It sounded great, to be off the highway and in the wilderness. It was a pet project of the Governor. Called the George S. Mickelson Trail, it was the road bed of an old deserted railroad. We spent a half hour looking, following signs and asking where it started. Finally a bearded guy in a trashed out old pickup with two of those big chrome silhouettes of naked women, usually seen on truck mud flaps, set us straight. He took his time and carefully explained how to cross the tracks and angle right along the old highway.

Following his directions as carefully as he had given them, we still couldn't find the trail head. After a half mile wild goose chase we turned back and decided to go for the highway when we saw it. No wonder we had missed it. It was two ruts with weeds in the center and puddles accumulated during last night's storm. We did try to ride it but had to give up. We were just too heavy for the rough surface.
The highway was up, straight up for as far as we could see. It was so steep that we were forced to walk several times. The bike trail being a railway, wondered away on gentle slope, snaking its way up the hill. We tried to rejoin it at one point but again were turned back by the loose surface. The savings of steep slope were a trade off for the extra miles added by the winding rail bed.
Our theory was that The Black Hills were named by pioneers who could see them from the plains. They do appear to be black but close inspection would disclose that it was the pine trees that caused the black.


Beautiful scenery but definitely steep hills ground us to a push, several times. We had been mountain tested but the Hills got us. Finally we were in a meadow and at the cross roads of 89 and 395. Highway 395 is the CanAm highway that stretches from Canada to Mexico. Pringle, SD lies at the intersection, we had lunch at the Hitching Post Bar and Grill. It had deer antlers for a door handle. Rough on the outside, beautiful pine on the inside. The pool table dominated the room. A couple, she wearing blue nurse's scrubs, was shooting a game. They offered us the sticks as their food was delivered. We declined seeking a restroom and cool seat. A huge hogs head lunged out of the wall above my head. There were several Elk heads in the next room, above locals who were plugging quarters into the State Lottery Slot Machines.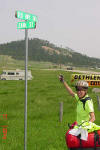 Turns out that the couple was from Sacramento, CA. She's a Pharmacist at a Hospital, they are on a whirlwind getaway. They finished the pool game, wished us well, and headed out toward Mt. Rushmore.
Our waitress was also the cook. She wore a Ruth Buzzy looking hair net and had a bad limp. A very nice gal, she told us that she was working with a broken bone in her leg. It just wouldn't heal so she was changing careers. She was excited as she told us that she was graduating from Tech School and had already had a job offer as a Medical Records Technician. A sit down job after cooking and waiting tables for 28 years.
We took our seats and started our sit down job on the bikes. I had to ask direction from a group of old guys with long beards. They recommended that we ride the Highway for 3 miles then take the bike trail. We found a little down and took advantage of it. When we arrived at the trail crossing we zigged onto it and struggled for about 2 miles. The surface that looked so good from a distance was still loose dirt and gravel. At the first opportunity we were back on the Highway and pedaling up, again.
On a rare, small downhill we rolled past The Flintstone, Bedrock City Campgrounds. Very cute place with lots of things Fred and Barney would have been at home with. Highway 395 jogs right at the intersection of 16. There was a great looking old house, Bed & Breakfast, and a Motel there. We needed a restaurant nearby and there was none. And, we wanted to see Custer, WY's main drag. An info stop in a Real Estate office was semi fruitful. The guy knew of restaurants but hadn't really tried them, he didn't go out much. He also knew that there were Motels in town but couldn't think of any?

It is a frontier looking town, at least on Main Street. We found a place just a block off Main. They had a coin op laundry, continental breakfast and good air conditioning. The cute young gal who checked us in recommended The Sage Creek Grill for dinner. She told us of her life. She works two jobs, both at Motels. She works all night, could but doesn't sleep. Sleeps days and saves her money. WOW, 12 hour shifts, 6 days a week.
Cat did laundry and we needed to do laundry. I struggled with the Journal. We cleaned up and walked to The Sage. There was a lineup. We got our name on the list then settled in at the bar with a glass of wine, and watched the crowd. There was a little favoritism going on, it appeared. Perhaps the locals had called ahead but we and another couple nearby began to feel that we were being overlooked. They complained, we chose to eat at the bar. Good command of the room and the wooden chairs that were tough on our sore butts were at least as good as those at the tables.
The other couple, similar to us in age differential, continued to haggle for a table. They were younger than us, by 5 years or so. Their son was 12 and more than slightly spoiled. He was bright and sometimes loud, probably just bored. They tried to interest him in the wonders they would see tomorrow but he was completely engulfed in movies he had seen recently. He would quote, line for line, from his favorites, to us and anyone else who would within earshot. Sometimes entertaining, sometimes irritating.
Dinner was just okay. We saw dishes that we wished we had ordered. My pasta was just too heavy with cream sauce, Cat's special order with olive oil instead, was tasteless.
JUNE 22, 2002
Custer, SD to Keystone, SD
It is obvious now that school is out. The Comp Breakfast room was loaded with kids. Some laughing, some running around and of course, some crying. It reminded me of the days when I tried to take my kids to places that I thought were important for them to see. They too were more interested in cartoons they had seen and would have rather been at Disneyland.
It seemed to me that the Dads were trying to give the Moms a morning off. Mostly guys trying to do the unfamiliar, feed the herd. They would all take time at the brochure rack stuffed full of things to do and grab a hand full of ideas. I almost felt sorry for them, I had been there. It can be pretty frustrating, especially when you try to explain and they bicker and fight over little things unimportant to you. I did know something that they didn't, at least not yet. The kids do remember the times and they become the subject of lots of fun conversation when ever they get together once they are young adults. Their memory of the time is different than mine but they do remember and it is always good to hear them talk and laugh about those good old days.
Cycling began with an up, right out of town. We rode what we thought was most of it then pushed. Around the curve at what we thought would be the top, we found more up and less roadway. The shoulder was narrow to non-existent. Pushing brought back memories of the struggle of Highway 1 back in the infancy of our Odyssey. Traffic was close and heavy. The sun was already heating the dry air to a level of discomfort.
It is only about six miles to The Chief Crazy Horse Memorial. The struggle was worth it. We rounded a corner and there was his face, high on a mountain, looking down on us. The road to the entrance takes a steep dive away from the highway then an equally steep climb up to the ticket booths. I screamed down and pedaled hard to make it all the way up. Covered with sweat, I watched Cat almost make it then walk the final 400 feet.

The lady at the ticket booth commented that the next hill, up to the monument area was even steeper. That took some of the wind out of my sails. We rode together then pushed together, to the entry doors. Beside the sweat pouring off our backs, we felt a sense of history, purpose and pride there. It would be a story of The Sioux and there struggle with the changing times as they were pushed onto smaller and smaller areas of land and their mainstay, the buffalo were slaughtered wholesale to the point of extinction. It would also be a story of one man and his dedication to a dream even though he knew that we wouldn't live to see its fruition.
Sometime in the late 1930s the Chiefs of the seven Sioux Tribes felt a need for the White Man to know that Native Americans had heroes, too. Lakota Chief, Henry Standing Bear invited Korczak Ziolkowski to carve Crazy Horse in the Black Hills. He accepted in 1947 and began work in 1949. Korczak was 40 years old and had only $174. Over the years he battled financial hardship, racial prejudice, injuries and advancing age.
There were no pictures of Crazy Horse. The Chiefs and Kocrzak chose a face that represented all Native Americans and the spirit of Crazy Horse. Reading about the struggle of the Sioux and the difficulties faced by Kocrzak and his family His first blast on the mountain was made on June 3, 1948. During the work, he fashioned his own tomb and carved his coffin. Knowing that he wouldn't live to see the completed work, he and his wife, Ruth prepared three books of plans to use with his scale models. He died at age 74 in 1982. Ruth and several of their children carry on his life work which is now theirs.

The face of Crazy Horse was unveiled on June 3, 1998. Fifty years after the first blast and sixteen years after the death of Kocrzak Ziolkowski. The DREAM lives on. www.CrazyHorse.org

Cat enjoyed her first taste of Buffalo, The Buffalo Burger, there. I tried the Buffalo Polish Sausage, Buffaloski. Both of us would pay the price later in the day. It was a reverse of the down, up, down up as we exited with the additional Buffalo ballast.

We visited the original home of the Ziolkowskis and the Indian Museum of North America. There were several Native Americans selling crafts. One big guy who reminded me of a cross between our friends Raul Nunez and Art Greycloud sat selling books he had authored. I stopped and read a bit. He began to talk and of course I was interested. He had taught most of his adult life. He was well educated and opinionated. I liked that. His Indian name is Ehanamani. In the Anglo world and in his book bio he is known as Allen C. Ross. I bought the book and had him autograph it to Patrick because Patrick had chosen the book of Memorials and laughed at the name, Crazy Horse. We bought native craft kits, weaving, sand painting and a Dream Catcher, for all three of the grandkids.


The five miles to the turn off for Mt. Rushmore had some little ups and downs and heat was beginning to add to the equation. The right turn onto 244, the road to Rushmore and Keystone was scenic, pine lined and up, up, up. Our vision was to camp at a site within sight of Mt. Rushmore. Horsethief Lake offered everything but the view. We rode on after a nice talk with a local couple who had just gone for a refreshing dip. They did clue us in to the fact that we would pass by a pull out where, if you look back, you have a profile view of George Washington.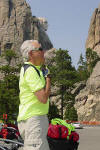 The pull out was on a down hill. If they hadn't told us about it we would have swooped right on by. We took pictures from the shade of a tree. I decided that if size matters, I needed a profile shot with George and his 20 foot long nose in the background.
Around the next corner we passed a road crew installing fencing, probably in preparation for the 4th of July. There is fear, here and across the land that we will suffer another attack from terrorists at some famous patriotic landmark and this, of course, is one of the most famed. One of them called out, "Where you headed?"
Cat answered, "Around the world."
They cheered and clapped. It helped us pull the hill up toward the parking area. As we cranked we came upon another anomaly, one of the mountain sheep that inhabit the cliffs and sometimes the faces above, was grazing right on the roadside. It caused a traffic jam as each car pulled up and clicked a few out the window.
At the gates we sat in line suffering heat and exhaust fumes until a worker popped out a door and waved us to the edge of the driveway. He shook our hands, accepted one of our cards and waved us by without having to pay the $8.00 to park. When Cat mentioned the tough hills we had climbed he said, "You ain't seen nothin' yet, you've got a 10% grade for a mile ahead of you when you leave here."
Cat groaned then he chuckled and added, "It's all downhill into Keystone."

Mt. Rushmore took on a slight taint after the joys of the Crazy Horse Monument. It was a U.S. government project. We the people spent just under a million dollars building it in the heart of The Sioux Nations sacred land. Kind of like a slap in the face to the Native Americans, the faces of four of the Great White Fathers looking down on them.
The place was full of tourists, most seemed to be from Minnesota. We did meet a group from Louisiana. One old guy wanted to talk so I told him about Acadiana. He knew, or thought he knew a lot about the music. Some fact some fiction, I had a hard time breaking away once he got started. I think he was just starved for conversation or was it for a listener?
A gal approached and said, "I saw you guys at that God awful rest area at Mule Creek a couple of days ago."
She was right it was God awful and hot as hell. We stood and talked as we ate our ice creams. Her husband joined us and we four talked bicycles. He was a cyclist, they were from Colorado. Interesting, here at an American treasure several of the young guys selling ice cream were from Hungary. I liked it, it added to the flavor and took some of the bitterness I felt, out of the place.
We walked the bikes through the Avenue of the Flags, flags of each state, right up to wall in front of the mountain. Lots of nice people, lots of conversation, a few pictures.
It was a thrill a minute, going down into Keystone. I thought smoke must have been coming off of our brake pads. I even began to ponder how I would stop if the brakes went out. Just ¾ of a mile short of the village, POW, I blew my rear tire. It was way too hot and I was way too tired to change it. We walked the distance to Rushmore View Motel.
So much for the dream of a campsite but we were in sight of Mt. Rushmore, something the guys at the parking lot said was not possible. While Cat washed away the sweat and road grime I pulled the packs and changed the tire. She walked over to the attached restaurant and made a reservation for 7:00 PM. The tire took longer than we had anticipated. We lost our reservation but they seated us pretty quickly. The place was full, yes it was high season and we had to pay the price both in $$$ and line ups for food.
An "on time" group entered and was seated, as we waited. One of the guys was pretty loud, they must have been sampling the wines elsewhere. We finally got a spot, just across from them. He was entertaining and irritating at the same time.
Our waiter had a wonderful accent, I asked where he was from. He, another guy and two young girl servers were on a great adventure, they were Bulgarian. When the group was finishing up Mr. Loud Guy began talking about genealogy. He made a little, loud joke about the name of one of the girls.
As they exited by us he said to our waiter, "Your name is Ivan? What kind of a name is that?"
I corrected him, "His name is Eeevan, that is the pronunciation used in most of the world."


That really set him off. He stopped and leaned on our table. It was obvious that he was just having fun but I didn't like his fun at the expense of the young people. He raised his voice but really wasn't threatening, just being bullish. I stood then he looked around and said, "The management has threatened to throw me out if I don't quiet down. I hugged him and that caught him completely off guard. We were new best friends. One of the other guys tried to convince Catherine that his religious beliefs were the only true beliefs as the Mr. Loud and I got acquainted. He was an orthodontist, now retired. He and the rest of the group were locals, Keystoneites.

They passed on by and gathered out front to say their goodbyes. I grabbed the camera and caught the group. Actually, just nice folks out for a good time.
JUNE 23, 2002
Keystone, SD to Rapid City, SD
Cat brought a giant cinnamon roll for breakfast while I repacked and reloaded the bags. We sat on the porch and enjoyed the tiny view of the GWFs as we ate most of it.
A quick stop at the Sinclair Station for air and we started the severe up, out of Keystone. It would be steep and it would last almost 2 miles. The roll rolled around as we pedaled then pushed.
We had been calling and talking with Donald and Roxie Patterson, the 2nd cousins we met in Lusk two weeks earlier. We had decided to accept their invitation and stay with them. He had told us that once we made the hill out of town it was all downhill into Rapid City.
Just as we began to trust his assessment and roll down I felt the sway as the rear tire began to lose air. Had I pinched the tube? Did I miss something sharp stuck in the tire? I pumped it back up and started onward. Within a half mile it was flat. The change this time would not be in an air conditioned room and it was really heating up, fast.
I checked carefully but found no reason for the flat. The tube had two holes on the inside next to where it seats onto the rim. Ah ha, I found a broken spoke. Not being very mechanical I chose to put in a new tube and try to make it downhill and into town.
It wasn't long before we felt uphill and another softening rear tire. I pumped and we pumped up the hill. I pumped again and we made it into Rockerville, a ghost town according to the signs. That would prove to be self evident, there were no stores, no cafes, and in fact everything except a small old motel was boarded up.
Cat pulled up the dirt driveway and engaged the lone human in conversation. She hollered and waved for me to join them. He told us the sad story of how they had changed the Highway and caused the death of the ghost town.

When Cat told him how hungry we were he invited us into his covered patio where he keeps bread, peanut butter and jelly for his occasional visitor. It would be the only food available between there and Rapid City. We accepted, and he left us to our own devises. We toasted, drank a soft drink and left him a five dollar bill on the table. While we were there a young boy and girl came to use the swimming pool. Locals, he a generously allowed them use of his basketball court and pool.

The real bad news came when he told us about the hill we faced ahead. It was about a mile and a half long and definitely up. We rolled on, past the Reptile Gardens then up, in the heat. We ground down to a push and at the top of the hill I pumped, again.
We passed up the opportunity to visit the caverns but took the side road opportunity to pump the softening tire once more. Don got a call through on the cell phone and offered to come rescue us. I passed on that opportunity, too. We would continue to pedal and pump and try to get in on our own.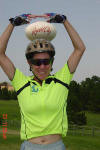 Water tanks almost always herald our arrival into towns. We were happy to see the Rap City mushroom tank. I took a picture and pumped some more. Finally, the long awaited, "all down hill" into the city met us. Half way down we stopped at a mini mart for cold drinks and free air. The air hose was cut. A few blocks further down we found air and Don found us. Cat was tempted, I pumped beyond max and we continued onward with Don leading the way. He would pull ahead then park and wait. It was probably another 3 miles to their place but we finally made it.
Their home is a "works in progress". They bought it at auction. It had been a drug house that was confiscated. They had a big sign in the window, Beware of Dog. I saw a cat and asked about the dog. They laughed and Roxie told us that when they first moved in lots of druggies came to the door looking for a high. Once they posted the sign that stopped.
One of the works not completed was air conditioning. We sat on the deck in the shade and ate the first Sloppy Joes since the TA truck stop. We really hit it off. The big joke became, "Its' all down hill." Then Don answered the phone when one of their kids called. He asked, "What ya doin'?" The usual response of, "Nothin'," brought the question, "How do you know when you r finished?" Those two lines would always find a way back into our conversation and always get a laugh.
Cat was nervous about riding through Pine Ridge Reservation. When Don and Roxie said that they wouldn't hear of it I told them about Bill Spindler. He was a cousin of my Dad's family who had spent his life working and teaching at Pine Ridge. Both Don and Roxie have been researching their roots and were interested. We compromised, they would drive us to Pine Ridge tomorrow then we would alter our course and follow Interstate 90 across South Dakota.
Their house became action central for WorldRiders2, we sat up both computers, checked our e-mails then worked on the journals.
JUNE 24, 2002
Rapid City, SD
A banana to hold us over then we drove to a favorite place of Don and Roxie's on the route toward Pine Ridge. Ehanamani had warned us that alcoholism was rampant on the Reservation. "They are good people," he said, "but alcohol makes them do bad things."

Don and Roxie were full of the same stories we had heard about the waste of good homes and furniture given to the Indians by our benevolent government. When we firs entered Pine Ridge I thought she may be correct. The tilled fields turned brown and unused. In just a few miles we were back in Ag land, on the Reservation. A stop at Ogalalla a village named for Crazy Horse's tribe of Sioux was a must, for us and all other tourists. They have a Casino with slot machines, dice and card games. Most of the cars in the dirt parking lot had Nebraska license plates.
There were a lot of Sioux people wandering around, working or keeping an eye on things and people. One woman approached us and told Cat that she would have to take our camera. I resisted and she told us that no electronic devices were allowed but she did allow me to take it back out to the car. We supposed that some one had probably devised a method to cheat the machines with something that looked like a camera? Well we did remember how they threatened us when Cat started to take a picture at the Peppermill back in Wendover, NV.
Don bought a hand full of rolls of nickels and handed one to Cat. We invested his nickels, they made a few bucks with theirs and we left while they were still ahead.
In Pine Ridge we found a place called The Heritage Center. It turned out to be Red Cloud Catholic Indian School, and a real find for us. The find, a treasure of information, was Br. Simon. He was draped in a black robe but it was split down the sides and he was wearing Levis and Nikes under it. He wore a long beard and the area on it and his mustache was discolored from cigarettes, we supposed. He spoke with authority over a strong stutter. I told Brother Simon about our quest for someone who would know of Bill and Lucille Spindler. He immediately said, "You mean Will and Lulu!"
Yes, he knew them, or had known them. Brother Simon has been holding down the Fort at Pine Ridge for 38 years. He knew a lot about most things local. The Spindlers had retired and moved to Gordon, Nebraska just south of the Reservation. They bought a small house then moved into a retirement home where they had both died, some years ago.
"Will was a published author, you know," said Br. Simon. "He wrote eight books."
"Do you sell them here in your shop," I asked.
"Oh, no," he smiled through the orange hairs around his mouth, "They've been out of print for years," he stammered out.

Brother Simon recommended we contact The Gordon Journal Newspaper. They had published at least one of the books. He also suggested a guy named Jim Aplan who has a store called Antiques and Arts. As fate would have it Don knew him. I shouldn't have been surprised, it seems most folks here know most of the other folks. The entire state has fewer residents than Ventura County, about 600,000 compared to 750,000.
It was a long drive and Don drove all the way. He was surprised at how nice some of the places on Pine Ridge looked. Some of the people there took pride in their homes and other property. Many of the farms and ranches looked well groomed and prosperous. All of it, like most of the South Dakota, was suffering from the heat and lack of rain.
We picked my bike up from the repair shop in a big sporting goods store called Scheels. The young guy did a great job of replacing the spoke and truing both wheels. I had them put a new kevelar belted tire and heavy duty tube on the rear wheel.

We met Don and Roxie's two boys and their wives for dinner. A nice restaurant and a very nice evening. We bought dinner and considered it a good investment in our family.
JUNE 25, 2002
Rapid City, SD to Wall, SD

Another parting, another emotional morning as we prepared to ride out of the lives of family that had been strangers just two days earlier. Don's son from his first marriage and their two grandkids came by and we had breakfast together. Another nice young guy and good looking kids.
We loaded up then hugged. Don promised to get the books I had ordered from Mr. Aplan and catch up with us somewhere along our route. They followed us out of the driveway and up the street. They had intended to lead us over to Interstate 90 but soon lost us at a stop light.
They found us again as we prepared to enter the Interstate. The kids waved and screamed, we waved back and got lumps on our throats. They pulled away and we rode out onto the Great Plains.
The sign told us that Ellsworth Air Force Base was close by. The roar of a B1 Bomber rattled everything around and played havoc with our ear drums. We watched in awe as it pulled away then circled and headed back. I got a video clip of two B1s landing. Impressive but nothing compared to the roar of take off.

(Movie: Cat and the B1B Bomber 0:48)

Shortly after the aerial display Cat heard a voice from behind. Startled, she thought that a car had pulled up behind us. We were pleasantly surprised to find another 3 person team of cross country cyclists had caught up to us. They were a sight. He, Brian, had a set of Viking horns attached to his helmet. She, Debbie wore huge ears loaded with flashy ear rings. Her father, Teymoor wore a bike shirt that told their story. They were riding from San Francisco to New York City, raising money for the Leukemia and Lymphoma Society. They were from San Luis Obispo, CA. He worked with Cal Trans and had seen us when we rode out of Santa Maria on day three of our Odyssey.
They rode on ahead but we soon caught them when they took a break for food. We were heading for the village of New Underwood for lunch at a restaurant. They stood in the sun and ate as we talked. We agreed that we would meet for dinner tonight.
The restaurant was air conditioned. The food was okay. We took advice from our waitress and rode the old highway out of New Underwood. It didn't take long to realize that we had made a mistake. The road was flat for the first mile then began to undulate. The ups and downs seemed to increase with every climb. The heat was oppressive. We rode 8 miles then took a chance on a dirt road that looked like it might have an on ramp back to the flat, or at least fairly flat. It did, and we swore not to try that again.
In a short time we caught Debbie and Brian. They were repairing their rear tire. We felt bad leaving them out there in the heat but there was nothing we could do for them. Her father had gone on ahead and was unaware of their problem. We told them that if we caught him we would let him know.
In a couple of miles we spotted him. He was standing next to a motor home. It pulled away as we pulled up. He told us he was short of water so stood and waved his arms until the camper stopped and filled his bottles.

It wasn't long before he was pulling away from us, too. For a guy 74 years old he was very strong. We just put our heads down and drove hard into the heat and side wind that was beginning to stir. As we neared Wasta we saw Teymoor on the off ramp. We wave and went on. Aside from everything being downhill, Don had warned us of the Wasta grade. It was long, steep and extremely hot. We looked without success, for shade to rest in. The summit was a beautiful sight. We were pouring water on our heads to cool down but were almost out of water and Gatorade.

The final ten miles into Wall was fairly flat, hot and windy but flat. We rolled right up the Wall Grocery Store. Inside, there was no place to sit but it was air conditioned and we found cold Artic Shatter, PowerAde. We gulped down 4 bottles then bought bananas and rode on in to Wall. The other cyclists were staying at the Super 8 Motel. We tried for a room but they were out of non-smoking space. Happily we ended up next door at the Econo Lodge. Same basic rooms but non-smoking and, they had a swimming pool. We swam, lay in the sun, swam and lay in the sun again. It was very refreshing.

Dinner with Brian, Debbie and Teymoor was at The Cactus Café and Lounge which came highly recommended by both motel managers. The company was great, tired and yawing but great. The food and service were pretty bad. We were hungry, it was late and they were now the only game in town. We put up with it and enjoyed talking. When the checks came we decided to buy and chalk it up as a donation for their cause.
In the conversation earlier Debbie asked Cat if we camped. Cat told her our philosophy that we camped when we had to or wanted to and we hadn't done either very often. Debbie said they camped once and she sent the equipment home. Their philosophy was different from ours. When Cat asked what they did when they were stuck in the middle of no where Debbie said, "We hitch a ride." In fact they had even rented a truck once when she was sick and the winds of Wyoming had ground them down.
I told them of the time the Cowboy told us we were cheating and I would have reminded him that he wasn't sleeping under the Chuck Wagon either. The lesson is that everyone has a right to choose their own rules. We would stick with our "Rubber on the Road" unless threatened with health or safety issues.
JUNE 26, 2002
Wall, SD to Belvidere, SD
Yesterday's late start and arrival in the hottest part of the day had inspired an early departure. We didn't check but our pals had intended to leave by 4:30 AM. They were taking a northward turn so it was probable that the next time we would see them would be back home in two and a half years.
Breakfast at Wall Drug. They have a buffet that we had just selected when Don and Roxie walked in. They had driven over last night and slept in their van. He had the copies of Will Spindler's books. I had him keep one of the four and I took two. The idea is to read them then mail them to Don. When he has read them he will pass them on to our Aunts, Babe and Etta. When he told them about the plan, they were very excited.

After breakfast we stood on the sidewalk and drew out the parting. Finally Roxie got a little teary eyed, I guess we all did, then they jumped into the van and drove away. We pedaled off in the opposite direction.

It was cool and the wind was calm. We rode to Cactus Flats. I had lemonade swirl, like a margarita without tequila. Outside, we were surrounded by Girl Scouts anxious to know what it was like to ride across the country and around the world. Catherine had them lined up and was telling it all. We took pictures, actually Officer Terry Deuter took the pic so we had to have one with him.


We moved onward, as Officer Dueter of the State Patrol gave a tour of his car to the girls. The terrain was constant and the temperature was constantly rising. The wind was really picking up and it wasn't friendly.
At Kadoka, another 20 miles downstream, we stopped for lunch. The air conditioner was overtaxed and it was warm in the non-smoking area. Cat turned the fan in our direction, our neighbors complained so we split the difference.
About the time that issue was settled another cyclist was seated across the room from us. I waited as long as I could then approached him with a friendly hello and an invitation to join us. Harley Shaiken is a very hearty Professor from UC Berkeley. His ride is strictly for his own pleasure. We found it difficult to understand the pleasure of 100-120 mile days, alone. He finds being alone okay because it would be hard to find anyone who would want to keep his schedule. We had to agree with that.
He has done this for the past 3 years. This year he will ride from Berkeley to Minneapolis, last year and the year before he ended the rides in Chicago. He is bound to a time schedule hence the need to ride long days. His equipment is well thought out and weight is his main concern. He approaches the ride as one would expect a Professor to.

After a fulfilling lunch and conversation we parted. He rode off on a pace we could marvel at, yet never match. We have to keep reminding ourselves that this is our training ride. It is just preparing us for the big world outside the borders of the USA.
We had heard of a place, The Kozy Motel in Belvidere. I called yesterday to make sure it was open and available. The owner, Jim was a Rancher, too. He said, "I'll turn the air on for you and the door will be unlocked." He explained that he usually gets in late and wanted to make sure the room was there when we got there. Hospitality on the plains? Our room was about what we expected for $45.00. The AC wasn't great but Jim had placed a fan near it to stir up the cool.
There was a bar that had some food there too. We stopped at the mini mart and got Gatorade. The gal there was friendly and full of good humor. Another younger woman with a very perky boy about 4 years old was bringing a box of eggs in as we entered. She, it turns out, was one of the owners of the bar next door, J.R.'s.
We bathed and hand washed our stinky cycling shirts. There was no phone and the TV was pretty fuzzy on all five stations it received. We were headed over to J. R.' s Bar by 5:30 PM. The gal and little boy were there and there were two women drinking and crying the blues at one of the tables. One of them had just been dumped, we thought. They were really drowning there sorrows.
Cat asked the gal, who was the bartender, how long she had lived there. She told us she had been in town for 4 years and hated it. Too many people, everyone had their nose in everyone else' business. Cat asked how many people lived in Belvidere.
"Sixty Three and that's way too many, especially when one of them is your aunt." She responded. She had lived on a ranch and wanted to get back out in the country where her business was her own.
A guy, J.R. came in just as the two gals ordered drinks to go. The jukebox playing their sad music had run out of quarters. They staggered off across the field as the gal watched out the window, trying to keep up with their business. Then she gathered up a few things, took the boy by the arm and headed out. He was a corker. He had given me a high five and wanted to do it again. He yelled out a goodbye as she drug him out the door.
She and J. R. own the bar and the boy is theirs. "We're kind of boy friend, girl friend he explained. He had built the place, the building but must have run out of money or desire when it came to furnishings. We drank beer, he cooked greasy pizzas, two of them along with deep fried mozzarella and mushrooms. He was full of great stories from his days on the railroad and riding the range.
They had been broken into a while back. He knew who the guys were, everyone did. The young one, 19 years old confessed and was sentenced to six months in what J. R. called "the resort". Everyone knew that two older guys were in on the job but the young guy protected them because they would have gone away for a couple of years.
I told him about the time our store in Boron was robbed. We all knew who did it. I told the sheriff that I would like to go shake the guy and get our things back. When he guaranteed that he wouldn't arrest me I did just that. I grabbed the kid and pushed him against the wall. I told him that I just wanted my gun. One of the missing items was a pistol. When I convinced him of that he went with us to another kid's house. "Give him the gun," he told the other kid. "That's all he wants is the gun."
Once he handed me the gun I shoved a few bullets in the chambers and said, "Now I want the rest of my things."
When the first kid whined that I told him I only wanted the gun. "Sometimes you steal, sometimes I lie," I retorted. They led us to the rest of the missing items and the Sheriff met us there.

J. R. said that they do have something he called Res Law. He has friends on the Reservation and the guy there know that if they don't pay him for the booze and things his friends will put the arm on them. Res Law is like Boron Law!
Geez, I drank 3 ½ beers while Cat sipped her 1 ½ . That was more beer than I had consumed in years. We staggered off down the same trail the two sad sisters had taken earlier.
JUNE 27, 2002
Belvidere, SD to Murdo, SD
The greasy food and beer flumpy flump heart rate kept me awake a lot during the night. We were up and ready to roll by 6:00 AM. It was cool but the wind was starting and I felt terrible. Once the sun got up in the sky the wind became even more intense and the heat began to evaporate the cool of the morning air.
After 7 miles we pulled in at 1880 Town. The diner car was serving breakfast. It was a 1950s style car hooked up to several other cars and an engine. Very cute and nostalgic. While we ate a woman came in who knew the girls working there and sat across from us.
I was having one of those days when my heart forgets how to beat with a regular rhythm. We decided to pull in after just 12 miles and find something to eat. The place is called 1880 Town. There is an old train with cars lined up outside the fence of the Town. The place is a replica of a prairie town prior to the turn of the century. They use many original buildings and antiques. They also advertise on the billboards that part of the film Dances With Wolves was filmed nearby and they have some of the things used on the set there.
We were only interested in food and were glad to find that even though the Town wasn't open yet, the Diner Car of an old train was serving. We ordered at the counter then took a seat. A woman came in and picked up some items then sat across from us. She asked where we were going we asked about her and that led to a free tour of the Town.
It wasn't long before in conversation. She was enthralled by our story and we fell in love with hers. Sharon was a school teacher. She loved her job but when her husband retired from his Engineering job and bought a motor home, she retired, too. She didn't care that much for motor home travel but they got a magazine about it. She found an ad for a piano player in a ghost town. That was 3 years ago. She got the job and really loves the feeling of entertaining. I told her about our band. She wanted us to see her Saloon where she plays. She was quick to point out that they only sell sarsaparilla.
This was her third season at 1880 town. She loved her time there. They come for the summer. Her husband

also works there in maintenance but is away for a couple of days.
Then she asked if we would like to see her Saloon and piano. Of course we couldn't pass on a deal like that. The Town wouldn't open for another half hour so we had it to ourselves. It is extremely well done. Sharon's Saloon was completely refurbished. Some of the buildings are in run down state and will stay that way. It really gives a feeling of history.

Sharon played her piano for us then took us to her other favorite buildings.

(Movie: Home on the Range 1:05) She liked the Doctors Office. It was furnished down to details. The gates had opened and tourists were flowing in as we said our thanks. What a wonderful opportunity for us. Sharon enjoyed the time together, too.
37. Cat in a hand car. 38. Sharon plays the Saloon. * mpeg Home on the Range 39. House Call? 40. 1880 Realtors 41 Prairie life.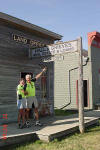 Once back out on the road, I again felt the curse of the Flumpy Flumps. It was pretty bad and increased as the sun rose higher and the temperature followed. We struggled 13 miles to another ghost town of sorts, Okaton. As we finally approached, we could see it on a hill about a half mile from the highway. I turned in, I had to stop. It was a tough back and forth pull up the fairly steep hill. The only place in town that was open was called The Westlake's Ghost Town and Rock Shop. Luckily for us they also sold sandwiches and cold drinks.


Janice and John had been working there for several years, helping her cousin during the summer season. When she died they stayed until the place was sold. The new owner asked and they agreed to continue to run the place. They had hired Dena to help. The new owner is a builder, developer. He also owns several other places including the Rushmore View Motel and Restaurant in Keystone. We think he has future plans for the place.
I ate two plastic wrapped sandwiches and gulped down two lemonades. To top that off I slurped on one of those plastic wrapped lemonade sticks. We got to know our hosts pretty well in our two hours of R & R. John offered us a lift into town when he and Janice were making a Post Office run. Cat liked the idea but knew that I would do almost anything before accepting.
We were surprised at how many cars pulled in and the amount of rocks and trinkets sold during the time we were there. One couple interested in our trip intrigued us. They were traveling in their small station wagon and free camping. They stop and camp anywhere that the fishing looks good.

It was still baking outside as we left our lair. I felt better and seemed to get stronger as we rode. It was only 8 miles into Murdo. We were sizzling when we got there. The Best Western had a pool, we bought. I called Murdo Ford-Mercury and spoke with Jim Butt. I told him that Dena said Hi. As I did, Marlene who manages the BW told me to tell him Hi, too. Everybody knows everybody and their business, too?

Jim was a fast talkin' guy for a mid westerner. He said "Stand by, I'll be right there."
"I smell pretty bad, maybe I'd better shower," I responded.
"Don't worry about it, I can stand it," he said.
He was there in just minutes. A very nice guy, he had been Dena's Coach in High School. He was a teacher who somehow converted to owner of the Dealership? We talked while he filled out the limited paperwork. He felt that he probably does a little better than most of the workin' folks in town but he takes a lot more risk than they do. I could relate to that. When I told him how we had paid to keep our job at times in the Real Estate Company he said that he never lost a lot of money but did have several years since 1979 that were just above break even.
Jim took a call while I was there. He talked with the classmate who was chair if the Alumni Committee. He asked for the names and current status of his classmates. I couldn't hear her answer but it was obvious. He was going to have to dig them out. I thought that he must have been the butt of lots of kid jokes because of his name when he was a young guy.
When he hung up he told me that he had been asked to be MC at his class reunion, this weekend. He was proud of his accomplishments and willing to do the job. I think he will be great at it and he will dig up what ever he needs to make it a successful evening. He seems to be the kind of guy that gets the job done.
Back at BW camp, we hit the pool. It is weird how we could be burning up at the moment we stood on the edge of the pool and so chilled as we left it in the wind. But that same wind would have us dry and hot again in just a few minutes.
After our dip, we discovered that our AC had quit working. The room was warm and getting warmer. Marlene came in then returned with a fan. We were doubtful but accepted and headed to dinner at Casa Blanca, the Italian Restaurant in Murdo. There is a certain value in having a car. We are sensing a feeling of freedom that is missing when we're on the bikes. It is so easy to go places.
The AC was out, there, too. It was hot and the food was at best, so, so. We ate because we needed to. The salad bar was pretty good. The pasta was just okay. Cat ordered plain pasta, mine had peas and green beans in it. A strange combo! Cat's was tasteless so she added carrots from the salad bar.
We ordered the Gallo Chardonnay from the menu. The server asked if that was white wine. We thought we might be in trouble. When she returned we were delighted to see a bottle of Beringer. Too bad it was at room temp which was at least 90 degrees. We put some ice in our first glass and had them bring us a bowl of ice to cool the bottle. We drank it so it must have been okay?
The food was okay but the temperature took away from the enjoyment. Cat liked the salad bar. We ordered the same pasta plate but she decided to have olive oil instead of the Chef's creation. My dish was rich, hers was bland. She went back to the salad bar and added carrots.

On the way back home, we stopped at the Pioneer Auto Museum. It was 6:50 PM, they close at 7:00. The guy at the door was a typical car lover. He is from a small town near Seattle, WN and I felt that he was probably working for minimum wage, just to be a part of the thing. He had a little line of patter a great feeling about the cars and displays. He tried to sell us a ticket that would be good for tomorrow so we could dash through in the next ten minutes. We decided to wait.
Back at camp BW, Marlene had conceded that our AC was a goner. She had us move to a room 4 doors down. We had booked for two days, she was sure that they would have it fixed by tomorrow so we just moved our toiletries and prepared for bed. It was pretty uncomfortable, we ended up shuffling back and forth bringing things we didn't realize we needed.
JUNE 28, 2002
Murdo, SD
It was Cat's father, Earl's birthday. She called and we sang Happy Birthday for his 83rd. What a guy, it is wonderful to be a part of his life and his family. To further celebrate, Cat set out to the Truck Stop Laundromat while I cranked away on the journal that was now at least two weeks behind.
In addition to Earl's birthday, we would celebrate the life of my Father today, too. Pappy, that was what we all began calling him when we worked together in Boron, was born in Tripp County South Dakota. We would drive there to see for ourselves what the place was like and look for any hint of a memory of his beginnings.
We did drive back to the Pioneer Auto Museum but only to send our camping equipment ahead to Sioux Falls. It was obvious that we would not camp. Too hot, too windy and too much effort required. I thought we might take the tour of the place but it took much more time than we had projected just getting out things ready to send on UPS. We had to scrounge up a box then tag and tape it and our tent and sleeping bag bags. By the time we were set to mail it was late enough that we decided to go for the drive, about 200 miles then get back and see the cars.
Winner, SD was almost due south of Murdo. The landscape was a lot of ups and downs. Funny how that has so little to do with your life when you are in a car. It was pretty but the green was quickly turning to brown as the sun and heat continued to scorch and the dry added to the drought condition.


We entered Tripp County and I tried to visualize what life must have been like for my Grandparents and Pappy must have known back on 1916, during his formative years. Our first stop was the County Recorders office. They had some Patterson's but none that I recognized. The women there were helpful and knowledgeable but we got no where.
Next stop, the Library. They did have the Silver Jubilee book that Pappy had contributed to so we got his story from that;
George and Emma (Bartells) Patterson brought ten children with them when they moved to Tripp County in 1913. Of these, seven belonged to Mr. Patterson from a previous marriage. Three were from this marriage. (Mary Wiley Patterson had died two years earlier.) Three more were born. The Patterson's leased the Andy Ossie homestead some where south east of Colome, SD and settled in to raise kids and pigs. The number of pigs is unknown but it is known that three more (one of which was Pappy) were added.
In early 1920, in order that the kids could get an education, the family moved to Colome. A new home was built by George in southwest Colome.
To earn a living George carried the mail on a rural route for two years. In 1922 he leased the livery stable across from the lumber yard and operated a draying (freight) business. In 1923 farmers hauled by horse and wagon. George decided that there was a better way. He bought the first motor trucks to The Dakotas in 1923. In the pursuing years he added two more trucks.
George also contracted and dug the basement of the new school and buildings built to replace the ones lost in the fire of 1923 on Mail Street.
George and Emma sold their property and moved to Nebraska in 1927 then to Idaho in 1936. Two of the children, Mabel and Oscar remained in Colome. Mabel left in 1936, Oscar ran the Mobil Oil Company bulk station until 1937.
George died in 1961 at age 89, Emma in 1980 at age 92. (As an aside, Pappy died at age 75 in Hemet, California in 1991.)
The little we found there made us hungry. We stopped at Joie's Café for lunch and ended up being entertained. Joie was born near here but left at a young age and joined the Navy. He was a cook and lived in lots of far away and interesting places before returning to his roots just a year ago. He and his wife, Lois run the restaurant. He does tricks like; he had Cat pour some of her water into his closed hand. An ice cube went along for the ride. He opened his hands and, voila, they were dry. Then he folded his hands again and had me cup my hands then poured the water with ice cube, back into my hand. He also did a few close up, magic card tricks. He was as good as the guys we had seen at Magic Castle.

I took a picture of them in the kitchen for a "Cookin' with Cat episode. Joie provided his recipe for Chicken Quesadilla. Check it out!

I'll always wish that we had gone back to the Court House and found the Andy Ossie Homestead. It didn't seem important to me at the time and we were running way behind. We drove further south, to Colome. Since we knew that Grandpa had carried mail we stopped at the Post Office. The gal there was hospitable but not very helpful. She finally suggested a guy named Lyle Manser. He was born here in 1914 and had lived here all of his life. The local museum was open so we ventured in. The lady was kind and showed us the books with the best stories and pictures but nothing knew about my family. The lady again mentioned Lyle Manser as the local source for Historical data. She also told us how to find his house.

We had come too far to turn back now so we went to Mr. Manser's door. I tried the door bell then knocked but no answer. Cat was a little nervous and wanted to go. I tried my most forceful knock and was ready to go when he finally opened the door.

Our concern about bothering him was unfounded. He loved talking with us. Yes, he remembered two Patterson girls who went to school back when he was in Grade school. He also remembered Uncle Oscar Patterson who had driven the bulk fuel truck. He remembered how the truck made a lot of noise and Oscar drove it hard making deliveries. The main reason he remembered Oscar Patterson was because he was married to Netty Parshall. Lyle's best friend throughout his school years was Netty's brother, Mark.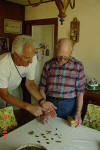 Lyle had spent his entire life right there. He had taught school as well as owned and operated the service station just across the street from his house for many years. He told us of his retirement and how the extra income from the station had made him and his wife's life better. She is still living but not feeling well, she peeked out from the hallway door once but stayed out of the living room. We tried to leave but he was enjoying our audience so much that he brought out his arrow head collection and showed us each different kind and possible uses for them. He had not bought any of them, his hobby for years had been walking the river bank and other areas here looking and finding them.
It was getting late by the time we were able to extract ourselves from Mr. Manser's home of history. It was still sizzling hot as we drove back toward Murdo. We were running late, the Ford Dealership would close at 5:00 PM. We decided to drive to the nearest phone, in Reliance, and let Jim know that we were late.

Rounding a curve on a long uphill Cat called out, "Look, cyclists." We stopped ahead of them, knowing how tough it is to get started again, we apologized. He said it was no problem, he was ready to push, anyway. It was ungodly hot. We think well over 100 degrees. They were traveling light and rough. Sleeping out every night and eating junk food and most of the weight they carried was water. Cat warned them about getting enough electrolytes. We gave them a bottle of Gatorade from the car. He is a Professor at the college in Casper, WY. She is a student, young, strong and with very basic beauty about her and she was built.
He told us of setting their tent last night in the yard of a church. They had just dropped off to sleep when big flood lights turned the yard into mid day brightness. They couldn't sleep, they had to move down the road.
She told Cat that she was a much stronger cyclist than he. Their names were Terry and Michele. We wished them well and got back into our air conditioned car as they began pushing up the long hot hill. We were glad it was them and not us!
When we pulled in for gas and a phone Cat saw a car ahead of us with California license plates. She went to introduce herself as I headed in to get the gas and Phone. When I came back out she was laughing and talking with the CA people. She yelled out, "You're not going to believe this, look who's here."

It was our neighbors, Roy and Nora Caffrey from Oxnard Shores. What are the odds of that kind of path crossing? They had been in the Black Hills with their Grandson. They were going to Illinois to visit family.
My call to Jim was fortunate, they would be closed tomorrow morning when we leave. Jim was very accommodating, he arranged to meet us at 7:30. So we would miss the Pioneer Auto Museum but we did enjoy meeting Tim and Michele and still couldn't believe the happenchance connection with our Oxnard neighbors.

Cat picked up Pizza while I checked the car in then Jim drove us back to the Best Western. Dinner in and packing would consume the balance of the evening.
JUNE 29, 2002
Murdo, SD to Kennebec, SD
The alarm was set for 5:30 AM. We were so anxious to beat the heat that we were up before it had a chance to ring out. It was still dark as we rolled out toward the Truck Stop to get food. As we cycled in the early dawn a car pulled up and a guy leaned out the window and screamed out. He scared the hell out of us! There were four of them in the car. They laughed and sped away. I yelled out that I had their license number. I was sure they didn't hear me.

We were just half a block from the Truck Stop when I sensed their presence again. The car came close to me and the guy laughed then they pulled ahead and he reached out, trying to touch Cat. What a stupid prank. Fortunately he missed her arm and they sped away again. I was so angry and maybe frightened that I was shaking. Cat had missed the action and just wanted to get going. She is more fearful of the heat today than a few local yokels who have probably spent the entire night drinking and partying.

The Truck Stop Café wasn't open, yet. We had a couple of muffins and orange juices and hit the road just as the sun peeked over the horizon. It was a beautiful summer morning. The air was cool and the wind negligible. For the past three days we have encountered a unique road kill, hundreds of tortoises who had failed the road crossing test. Today they began to give way to pheasants. They must try to get airborne at the same time they cross the Highway. Many pheasants fly up out of the brush next to the road as we ride by. Lucky them, they fly away from the Expressway in fear of us.
It had really heated up as we toured and the wind had picked up to an annoying level. We pedaled hard into it as the heat continued to soar. With just a couple of stops to stretch we went non-stop about 25 miles, to Kennebec. I was going to suggest that we give in to Mother Nature and stay there when Cat called out above the roar of the hot wind that she had a flat tire. I didn't want to try to change it out in the heat and wind. We rolled under the overpass and disturbed a large flock of bridge swallows. The Kings Inn Motel looked like the better of the two available. They had a room with AC, we bought. It was only 11:30.
The only descriptive I can think of for the wind and heat would be like standing at the door of a blast furnace. It was 110 degrees and the wind was roaring at 30 miles per hour. The motel owner was an industrious guy of about 40 years. His father had built the place 20 years ago. He said that his father never took any chances in life. I told him that building a motel was a huge gamble. He agreed and said that was the only risk his father ever took.
The AC took a little time to get things cooled down. We both took cool showers which helped. The room didn't feel that cool until we opened the door to walk across to the one and only restaurant for a sandwich. The blast hit us right in the face. It is only 300 yards but seemed further in the furnace called Kennebec.
Everything on the menu was fried. That was bad news for me. There was a couple seated next to us, they were the only other patrons. In just a few minutes Cat had them in a conversation. They were just passing through but had spent time in Kennebec two years earlier. His sister had been murdered by her husband and the defendant had been granted a change of venue to, of all places, Kennebec. He got life in prison. I told them of my experience with The Coalition to End Domestic Violence. He said, "The family is always the last to know."
Back in our burgundy and mauve room, the AC had begun to almost frost up the windows. We set it back a notch and I pulled the wheel and fixed the tire, right there in the room. Well in deference to the owner I took the wheel outside and sweat in the sweltering heat while I pulled the tube then pumped.
We journalized then decided to check out the only other place that served food in town. The Prairie Dust Bar is a cement block building that we could see out our window. The guy here said it had food so we decided to give it a try for dinner. It was a tough walk across the brown dry grass and the dirt, directly into the searing wind. There were only 4 guys in the place when we pushed the door open. They all stopped talking and stared. We sat at a two top table under the fly specked window and ordered beers. The bartendress said they did have food and offered a very limited menu. In keeping with Kennebec tradition, every thing was fried. Most of it was junk food. We ordered the chicken sandwich. Cat asked if it came with mayonnaise. The gal said, "Yes, of course."
Cat pressed it by asking if it had lettuce on it. She seemed shocked that we would ask and said, "Nope, we don't have no lettuce!"
I went easy on the beers, remembering how I felt after an evening at J.R,'s in Belvidere. I did go crazy and order another sandwich. We did enjoy watching the locals. A guy came in looked over the crowd and sat at the bar. Another, who knew and said hello to everyone staggered in. One of the original 4 began a loud conversation with the bar maid about his wife and how stupid she was. She had boiled potatoes today for his dinner and it had made the whole house hot. That was his excuse for being there.
A tall, weather worn blonde women came in with a tall thin guy. Several of the locals said hello to her but ignored him. The staggering one sat down next to her and engaged her in private conversation as her guy friend looked on. Finally he got a word in and they all three talked. She is a bus driver for the local schools. She also is foot loose, or just loose as far as we could tell. Mr. House too Hot came over and got right in her face. He too ignored the guy with her.
She got up and sauntered over to the juke box under the watchful eyes of all patrons. Country music began to warm up the air conditioned, smoke filled atmosphere. She did a little dance move but none of the guys took her up on what looked like an invitation. I think she may have been pretty good looking, in her day. The staggering one looked over at us and said, "Hello."
When we smiled and responded he drug a chair over to our table. His name was Bill Mc Peak and he is lead lineman for the big electric grid that covers 4 states. He volunteered that he had already had a few beers before he got here. "I'm diabetic and have to watch what I eat and drink," he said as he sucked down another big mouthful of beer. As we talked, like so many of the people we have encountered, he became a nice guy. He told us how his wife had divorced him after 37 years. He now lives alone, works all week and drinks a little too much beer on a Saturday night.

A scar ran from his ear to the corner of his mouth. I asked if it was an on the job injury. "Nope, on the night I graduated from high school a bunch of us went out partying. When I was goin' home I missed the curve and went into the ditch, put my head through the windshield."
The door was flung back again and two young cowboys came in with a cute young girl. She had the current bare mid-drift look and everyone looked. They sat, she listened to us talking with Bill then asked about the bike trip. She said that she wanted to travel but couldn't get out of town. The guys wanted her time, she went back to their discussion of local folks and events. Both she and Bill told us goodbye as we went back out into the blast.
JUNE 30, 2002
Kennebec, SD to Kimball, SD

A 6:00 AM start, it was cool but the incessant wind hadn't diminished much during the night. I was feeling another fried food funk. We were on the road and pushing past lots more pheasants and a few more tortoise shell blown open by cars and picked clean by creatures of the night.

I had filled up on donuts and juice from the Service Station. The ride was cool and for some reason the wind began to slow. We rolled 25 miles into Chamberlain. The Missouri River ambles through town, actually separates Oacoma from Chamberlain and the dry parched Dakota prairie from a more temperate and humid

climate. The difference is almost immediate. If we had pressed on yesterday we had planned on spending the night here.

We stopped to ask about food and direction. I watched families run across the Highway and stand in front of a giant buffalo to have pictures taken. Cat emerged and said that we would find a nice little café across in Chamberlain. We had to ride up a pretty steep hill to get over to the old bridge. The Missouri is wide, muddy and slow moving at this point. I was humming then singing, Oh Shenandoah, I long to see you and to see your rollin' river, Oh Shenandoah I long to see you, away, we're bound away, across the wide Missouri. The song now had meaning, probably sung by pioneers headed west as they crossed the big river and thought of their old homes?

Casey's Café claims to be famous. It is attached to a grocery store and you enter through it. Cat had been told that the restaurant had a view. It was blocked by a motor home for most of our lunch. The view wasn't that great once the home on wheels wheeled away, either.
The high point of Chamberlain was the steep uphill out of town and the Visitor Center at the top of the hill, now that had a view. We were surprised by the size of the crowd there. Several cars parked out front were full of sleeping people who must have driven all night.
We were drawn in and up an even steeper hill by a sign we had seen at other places, "Travel Tapes Available".
Travel Tapes are a wonderful idea. They describe the area you are driving through and give a synopsis of the history. They allow you to buy them and if you want, return them for about a 50% refund. They would do us no good as we had little space to carry them and no way to listen to them.
*mpeg What a difference a Day Makes.

We stopped at Kimball for the day, a ride of only 48 miles. I always feel like we didn't do our job if we didn't at least get 50 miles in. Why stew over 2 miles. It was another 24 to the next town and we couldn't have made that.
The Truck Stop on the east side of the cross road was an oasis. Cat stuck with the Gatorade and I had a cherry slush, very cool and refreshing. Four young guys came in and caused quite a stir. They were laughing and joking and one of then had a talking Yoda doll. They kidded and flirted with a young girl who was working there. The man at the counter kept his eye on them.

Outside, they joked with us and looked over our bikes. They had been a t a Paint Ball competition. The kind of warfare game played with paint ball guns. Cat asked if they hurt or were dangerous. They laughed, as only the young can at danger, then told her that they wear protective eye gear and heavy clothing but it still hurts when your hit. It hurts your pride and they sting. They were from Fargo, North Dakota. We posed for a photo with Yoda and the boys.
Our choices were limited, we chose The Super 8 Motel because it was adjacent to the other Truck Stop and it had a restaurant. We had dinner there, it is called Doowah Ditties. A family operation started by immigrants form Poland three generations back.
A fifties atmosphere and pretty good food, for a Truck Stop. They even had a so-so wine.
JULY 1, 2002
Kimball, SD to Mitchell, SD
The Super 8 had little muffins and juice. We loaded up then struck out in the wind, for White Lake. It was a twelve mile ride on loose gravel that had been place on the parking lane of Interstate 90. Cat hated riding on it. The gravel was on top of tar but still slightly loose. The wind was cool but forceful from our right and was slightly opposed to our progress.
White Lake was a mile north of the Interstate. It was a fast downwind ride to the door of the Out Post Café. Once seated, a guy with three other people at his table asked about our route. "God Bless You," he kept repeating. The young boy seated on his left jumped up and brought us a brochure. The guy, Don Reeves, runs a Pheasant Ranch and the boy works for him. A bright youngster, he really told a good story about how great it was to hunt the ranch and how you were sure to bag your limit of birds.

Just bring your gun, the brochure says. It was full of pictures of smiling guys and dead pheasants. The concept doesn't seem too sporting but then we don't see any hunting as very sporty. The animals don't have much of a chance. Don was very personable and spoke with all who entered. A hardy hello to locals and the question, where you headed to the few travelers who found the place. He told us that he had been a "Game Ranch" for over 20 years. "Had to, I'd a been broke years ago if I just stuck to farmin'. The hunters pay $16.00 per pheasant or he offers a two day special of 16 birds for $405.00 plus tax, of course.

The gals at the Out Post were curious and asked us to sign our cards. I took a picture of them, Carmen, Rhonda and Sharon the owner, in front of her extensive Coca Cola memorabilia collection.
Aaron, Don's young employee, took a hand at riding Cat's bike. He loved the moment but said the bike was too heavy. More very nice folks in a very small town.

(Movie: Aaron rides the heavy one 0:23)

(Movie: Aaron rides the heavy one (part 2 0:12)
Riding back the mile to I-90 was tough. Slightly uphill and directly up wind. It had really heated up in the last two hours. We made the turn and rode to Mount Vernon in the gusting side wind. Again, off I-90, we stopped at a Truck Stop and had those famous deep fried chicken sandwiches. We drank two full bottles of Gatorade with them. The owner of the place, a young guy who had built the building, stopped and talked with us. He suggested that we take the old Highway, 38, into Mitchell.
Except for the ever increasing temperature, 38 was a great ride. We had to stop often and pour water over our heads. At some points a row of trees blocked the wind but made the heat even more severe.

We were really glad to find the streets of Mitchell and the pool at the Best Western. A cool dip did wanders for our temperaments and temperatures. We searched out a restaurant called Chez Louis, just across the street. They had a great menu and wine list. Best of all their AC really cooled the place down. We enjoyed our waitress, a local girl who was starting college. She had tried for Stanford, she had straight A grades but didn't make the cut. Her Sister had attended Wellesley back east. She had finally gotten accepted at University of Pennsylvania. Not as prestigious but she was happy to get to spend time away from home and Mitchell.
When in Mitchell, you must see the Corn Palace. We had heard that many times in the past couple of weeks. Cat asked what it was and almost vetoed the trip. A building covered with corn was what Nina, our server had said. I asked the Manager about a cab, he told us that for $6.00 we could get a ride there and back. He called and the shuttle, actually a taxi cab was waiting at the door shortly.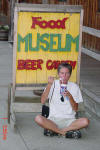 Well, it was just a building covered with corn. The way it was covered and the tradition were the sights worth seeing. The exterior has been decorated almost every year since 1892. It was begun as a land promotion by The Corn Belt Real Estate Association. Lewis and Clark had called the area a desert and suggested that it wasn't suitable for farming. The Palace was built to showcase all of the crops that could be grown in the rich Dakota soils. The only times skipped were during the great depression and the World War years.


(Movie: Wild West Corn 0:32)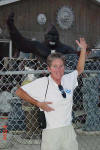 It was sort of corny, as Cat said, but we were glad that we saw it. The evening was capped by a visit to the Dairy Queen for Blizzards. The driver delivered us to our door and we were in bed by 9:00.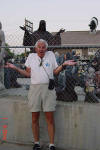 JULY 2, 2002
Mitchell, SD to Buffalo Gap, SD
Thanks to our pal, Howard La Pierre, we have a connection with the guys we sent the Camping gear to from Murdo. Howard works with their company, JDS Industries. I spoke with Mike several times and he was aware that we were striking for Sioux Falls today. It would be hot as hell again and we had at least 70 miles to get to their warehouse.

After another beat the heat early start, we stayed on Highway 38, all the way. We had picked up muffins at the Truck Stop so we rolled until we were hungry then sat in the driveway of a farm house and ate them. The farmer drove out and just waved from inside the air conditioned cab of his pick-up.
The muffins were spent and we came into Salem at about 10:00 AM. We had covered 32 miles and needed food. The Drive In Café was the only game in town. It was so cool inside that Cat was shivering, even though she had her jacket on. The server, Karen was bubbly, with us and all of her customers. We had breakfast and listened to the local chatter. Before long Karen was asking about our trip and telling us about her daughters and the women's softball tournament they had almost won.

When we got ready to leave she told us that she had called the local newspaper and asked us to stay until the reporter arrived. She had been so nice that even the threat of melt down this afternoon wouldn't keep us from the interview. We would probably never see the article and it would do us no good but we liked the idea of people who liked the idea of our Odyssey.
We were shocked to realize that we had spent more than two hours there and enjoyed every minute of it. It was really hot when we stepped out of the AC for a picture. The Mini Mart across the street drew us in for Gatorade. The couple there were also interested. She followed us out and continued to chat with Cat while I used the bathroom.
Finally we rolled onward, into the heat and wind. The road was great save the swelter rising from the asphalt. With the exception of a few stretch and rest stops we just hammered onward. Cat was beginning to feel queasy and getting tired. We thought that the hill out of Montrose was the dreaded one we had been hearing about at Buffalo Ridge. The climb was tough in the heat. The disappointment was almost too much for Cat when we realized that Buffalo Ridge still lay ahead. We rode back out onto I-90 thinking we might avoid the hill. Mike called to see how we were doing and told us that the hill was about the same and we probably should have stayed on the old Highway. I told him that Cat was fading and we may need some help.
As we rolled down the off ramp at mile 65 of today's ride she told me her legs were rubbery. We pulled into the Buffalo Ridge Curio and Market. I called Mike and he said that Darwin had already decided to come out and meet us. We waited and talked with the guy at the counter and just rested. He wasn't very friendly at first. Cat asked for ice and he said that they only sell the big bags. Then in a burst of kindness he walked over to the freezer, broke open a bag and told Cat to take all she needed.
He is the son of the guy that built the place. He is a licensed Civil Engineer and talks like one. Loves details about things that most people would know little about. I did get some of it because of my background in Real Estate.
At 5:00 PM we gave up and called Mike again. He said that Darwin had come to the top of Buffalo Ridge and turned back, thinking that we must have gone on in to town. He had just walked backing and would turn around and come get us.
The 59 Ford pick up needed work but it was perfect as what Darwin called a Pick em up Truck. We loaded the bikes with the bags on them, rolled down the windows in the old truck and made a side door entry into Sioux Falls.
Darwin is a self made person and proud of the fact. We took a little tour of his offices as he got the keys to the warehouse. The roll up door held another surprise, Darwin had many of his 12 classic cars stored there. We were sweaty and tired but I love old cars. He parked the truck, we unloaded the bikes and he chose his like new '65' Chevy to drive us and our clothing bags into town. It is an exact copy of the first new car he ever bought.
Darwin is also a tough businessman and finds it hard to take no for an answer. He took us to the Baymont Inn. He called and told them that he was an investor, which he is, and wanted a room for friends who are cycling around the world and he asked for it to be comped. When that failed he began to negotiate starting at $25 and finally settling for $40 per night.

He drove us to the door. We invited him for dinner when we returned from our side trip to Hastings. He wouldn't take no for an answer and it didn't surprise us. He insisted that we have dinner tonight, in fact, right now. Cat was tired and we ere both pretty road ripened. He said, "When I meet with a farmer I expect him to look like a farmer and smell like one, too. We were off to dinner.
It was a good time despite the cycling cloths and smell. The restaurant was a family place and had no wine. We were ready for a glass so when Darwin dropped us we decided to walk over to a Casino, one of those places where they have Lottery slot machines and games of chance. They had Summit from the box, by the glass. We passed but the bartender did tell us of a liquor store four blocks up the street. We walked, we bought, we walked back and enjoyed.
JULY 3, 2002
Sioux Falls, SD
Mike had found a rental car at Enterprise that was a great deal. Darwin insisted on picking us up and delivering us. We knew, now, not to argue. He arrived in his Pink Lady, a pink '59' T-Bird. A real head turner. By 11:00 AM he waived and pulled away as we seated ourselves in the rental and headed toward Hasting, Minnesota and Catherine's family Fourth of July get together.

It is over 200 miles to Hastings. We stopped for a DQ Blizzard and pretty much just drove, the rest of the afternoon. Hastings is a classic little town clinging to the banks of the northern Mississippi River. We crossed the bridge then cruised the Main. Our decision as to where to stay was an easy one. We had been invited to stay with one of the younger families but wanted a little privacy. Harold and Jan's father, Earl Welch's brother Russ and his wife Rose had built the Hastings Inn in the 1950s. They had all worked in the place. It was dated but we had a large room and good AC, who could ask for anything more.

July 4, 2002
Hastings, NE (by car)

Cat had arranged to meet with her cousins, Harold, Jan and Carol for dinner. Jan and her husband Gordy picked us up. It was like being with old friends in just a few minutes. In fact that would be the pattern for the rest of the Holiday.

The 4th began with a visit to the cemetery to visit graves of Cat Grandparents, Eli Norman and Ida Elizabeth Welch. Her Grandfather died the year before she was born. She was 6 years old the last time she visited Hastings and only remembers meeting her Grandmother that one time.

Harold had called the tenants of part of the house that Cat's Grandfather had built. We were invited to take a short tour. It was a strange time. The three cousins, who are all about my age, had a flood of memories as we walked through the place, down into the basement and out into the back yard. In the living room, Carol turned to the tenants and said, "Oh, I remember when Grandpa died they had his body laid out right here." They just looked at each other and their kids. It is hard for us to comprehend how personal death used to be for families. We send it our and saran wrap it today.

We met 32 cousins, second and third cousins. Harold's son and daughter in law, Russ and Lisa hosted a pool side party at their home on the 4th. The yard was full of family. Eating, drinking and catching up on family history filled the hours. We stayed and watched the fireworks from their front yard.

(Movie: Cat's Family Video part 1 - 0:56)


(Movie: Cat's Family Video part 2 - 1:55)


(Movie: Cat's Family Video part 3 - 2:16)


(Movie: Cat's Family Video part 4 - 0:48)


(Movie: Cat's Family Video part 5 - 0:16)


(Movie: Cat's Family Video part 6 - 0:21)


(Movie: Cat's Family Video part 7 - 0:17)


(Movie: Cat's Family Video part 8 - 0:12)


(Movie: Cat's Family Video part 9 - 0:19)


(Movie: Cat's Family Video part 10 - 0:15)


(Movie: Cat's Family Video part 11 - 0:42)


(Movie: Cat's Family Video part 12 - 0:16)
JULY 5, 2002
Hastings, NE to Sioux Falls, SD (by car)


We spent the morning with Harold and his friend Carol Lee. After coffee at a cute place on the main street we toured the rest of the picturesque place, the falls and a village of old homes and buildings. In all too short a time, we were in the car and headed back to Sioux Falls.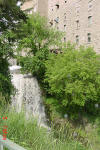 We decided to drive through the Twin Cities, Saint Paul and Minneapolis. They were just cities. For lunch we walked St. Andrews area and chose a sandwich shop. A nice break in the drive and good people watching. The falls were pretty interesting and the history of the place was fascinating.
The Radisson would be our home tonight and we dined at a wonderful Italian place called Spezia.
JULY 6, 2002
Sioux Falls, SD

We met Darwin at his office at 9:30. He pulled up on his Harley. We threw the bikes in his 59 pickup, found a station where we could pump up Cat's rear tire and he dropped us back where he had originally found us, at Buffalo Gap. We rode the bagless bikes at strong speed. It was about 15 miles. We would have really had a tough day of it if Darwin had not come to our rescue. And, thanks to him, we preserved the "Rubber on the Road" philosophy of The Odyssey.

This day was reserved for a tour of Sioux Falls, repair of Cats rear tire and a little time with Darwin and his wife Jane. They were a terrific couple. They're really proud of their accomplishments as they should be. It was the American Dream, a business that was started in their basement and expanded to 50 employees and ware houses in eight cities.


We cruised in their Suburban, walked the Falls and saw the important sights. They even had us visit their home. We treated for lunch at The Fat Duck Bistro and Iced Cream at a very cool store filled with things not normally found in stores.

(Movie: Darwin and Jane at the Falls 1:00)
It was almost 5:00PM by the time we picked up Cat's bike and they dropped us at our Hotel. As they pulled away Darwin rolled down Jane's window and hollered out, "Say something nice about South Dakota."
So, here it is Darwin. "The nicest thing about South Dakota from the WorldRiders2 perspective is her people. Strong, proud, hard working people, like you, Darwin!"

We had thought that we would be back in time to catch up some of the journal. That was not to be. We wanted to meet Mike May, Darwin's business manager and had set an appointment for 5:30 at the restaurant adjacent to our Hotel.
Mike is an intense young guy who has worked with Darwin since he was in school. He has a 2 year old daughter and his wife is in the final stages of pregnancy. He was headed out to the race track with his Father-in-Law in an hour so we didn't have a lot of time to get to know him. His Father-in-Law owns a car which he says costs a great deal more than it will ever earn but it is his dream. We could relate to that.
We arranged for Mike and Jane to pick up our rental car and get it back to Enterprise by Monday morning. After he left we learned that the Hotel ran a Limo for guests. We went back to the Hotel. We asked about sushi, they didn't think there was any in town. Sushi - Masa jumped out of the phone book at us. It is advertised as the only sushi restaurant in Both Dakotas. We booked dinner and the limo.
Our ride was shared with a couple from Iowa here to celebrate her 49th birthday. Hard to believe they had five kids. They were dropped at one restaurant and Kimbal, the driver took us to Sushi. It was pretty good. The only Japanese in the place were the couple who own it. All of the servers were Caucasian. Our guy was very good and his chit chat added to the meal. A fellow at the Sushi Bar was wearing a cycling tee shirt. At asked him if he rode and he said, "Not recently but the shirt is from last years RAG ride." We had heard of it, a ride across Iowa sponsored by the big newspaper. He told us that many in town considered the Sushi Bar a National Treasure.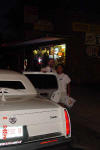 During dinner we made a decision to take an extra day off, lock ourselves in the room and work on the journal. It is so far behind that I have been stressing about it. Our waiter told us about a grocery store that was open until 9:30. We walked there then back to Sid's Liquor Store. He had called it legendary in Sioux Falls. We phoned Kendal and he knew Sid's and would pick us up there. We bought bananas and PowerAde then a bottle of Ferrari-Cerrano. Sid's was a strange place in a strange neighborhood. Who would have thought that they would have a selection of wines that would include Ferrari?
JULY 7, 2002
Sioux Falls, SD
I called Mike then left a message for Jane that we had arranged a way to get the car back to Enterprise. Cat shopped around for drugs and supplies while I just pounded away on the computer. She brought a sandwich back for me at lunch. The entire rest of the day until 6:00 PM was not enough to get the journal back up to speed. I had fallen so far behind during the time when we were betwixt and between webmasters that it was still a long ways from caught up. I did get the pictures on a disk and Cat mailed them and I sent half of the Salt Lake City to Sioux Falls story to Wally our Webmaster via e-mail. I had accomplished something, at least.
Our Odyssey is arduously slow. We take the World in tiny, ten miles an hour bites. That is the beauty of what we do. We may miss a lot of the big picture or this may be the best way to really see the detail of it!
We hope that you enjoy the story of our Odyssey as much as we are enjoying living it. The big adventure is still lies ahead. It is tough at times when we are burning up or fighting the wind to remember that this is just the learning phase of the journey. We are learning how to survive, find food and shelter and live with the elements but all within the bounds of culture, customs, language and foods that we know. WE MUST LEARN OUR LESSONS WELL, IT WILL BE CRUCIAL IF WE ARE TO SURVIVE IN SOME PARTS OF THE WORLD.
Several have offered donations toward our expenses. We are self funded but would like to find a Corporate Partner. You can help us with that------------------------------.
WILL YOU FORWARD OUR WEB-SITE ADDRESS TO YOUR LIST OF INTERNET FRIENDS. THEY MAY FIND IT INTERESTING AND THE MORE HITS OUR SITE GETS THE MORE APT WE ARE TO SUCCESSFULLY CONVINCE A CORPORATION THAT IT IS A WORTHWHILE EFFORT SUPPORTED BY LOTS OF FRIENDS AND FELLOW ADVENTURERS.
Pat & Cat Patterson
Your WORLDRIDER2.COM friends.