An Around The World Bicycle Odyssey
If you've never been to Northern Mexico or Southern California this section of our Journal should be a great read. Even if you have, even if you live there, we hope you'll read anyway. We often see things traveling on our bicycles that you may have overlooked. Our experience along the Border between Mexico and the USA seems to conflict with the current feelings about IMMIGRANTS. We see lots of young people setting off on an adventure as difficult and dangerous as ours has been. We're after experiences, they chase that American Dream, a good job and a life with a future. When you see these young people it's hard to believe that some want to make criminals of them? Aren't they a lot like our ancestors? Shouldn't we concern ourselves with the ones making the big bucks off the $5.00 an hour guys? Our feelings here are similar to what we learned in Bolivia and Peru. The locals there reminded us that we were trying to solve our problem in their country? Remember, they all felt that if you stop the use of drugs the demand dries up and the farmers go back to raising potatoes or corn.
So, come along with us as we ride back into our family's arms and hearts. Be there as we make our final border crossing into the good ol' USA and ride the California coast..
This isn't the final chapter, we have promised many that we'll share our experiences during the first few months of re-entry. Some of you think that may be as interesting as our journey? You may be right! SO, STICK AROUND!
Los Mochis, Mexico to Home Sweet Home, Oxnard, California
January 30 – March 11, 2006
January 30, 2006
Los Mochis to Diaz Ordaz
53 Kilometers

Up early and raring to go. Packed we went to the included breakfast but modified it to include eggs and bacon. Then a bit of a hustle when we got the check, they refused to give us full credit for the Continental Breakfast. I went to the front desk and argued our point. The gal there understood but could do nothing for us. She did have a copy of the picture and small captioned article that Aresely wrote to go with her photo.
She also gave us direction to DHL's office. Our least favorite Overnight Shipper but they're the only one here. Wally hasn't received the photos we mailed from Guadalajara so we did new copies and included them with those for the journal segment Cancun to Los Mochis. It was a stand in line and hunt for a box but they were helpful. We were finally off at 9:30 AM.


Shortly after leaving Los Mochis we ran into 2 old foes. Hills, long slow climbs but no pushing. Then came the wind, head wind of course. The shoulder is loose gravel so we're riding the white line on the edge of the outside lane. The little bit of traffic is pretty courteous.
Lunch at a roadside stand, great carnitas, and dry cooked pork served in flour tortillas.
Onward, more wind but now we're in farmland. Fields of sugar cane, even a couple of airplanes preparing to dust the crops. The terrain is flat but the wind makes it feel as though we're still climbing.
The wind ground us to a stop in Diaz Ordaz at 3:00 PM. There's a small, very basic Motel for shelter. Only 1 TV Channel and its locals only, of course. The water was hot, our showers felt great.
We began working on a story for our local newspaper, the Ventura County Star.
Dinner at Pollo Feliz, the Happy Chicken. Cat brought our lunch left over Carnitas as a supplement to the ½ chicken. All very good.
No TV, easy early to bed.
January 31, 2006
Diaz Ordaz to Navojoas
103 Kilometers
This is the desert, the Sonoran desert. We're up and at em', ready to get to a bigger place. Breakfast at a nice little Restaurante Economico. Family operated, they hustled around cooking and serving us as they prepared the kids for school. Our waitress, the daughter, had to leave, drive the boy to school. The other was too young, he stayed and played with the hose they wash the floor down with.

More flat but now it's all dry brown desert. We passed under the big sign and into the State of Sonora at about 11:00 AM. Further along we found a small Pueblo and pushed across the highway to a beer stand. The bad news, they sell only beer. The young guy indicated that we should go down the street then around the block to a store directly behind his beer stand.


The streets are all dirt. Not an easy ride but we struggled on and found the place. Sipping a soft drink we watched local life as they kept a wary eye on us. Onward, we began to worry about finding food. Still a long way to go and I am hungry.
At last, a tiny stand with an even tinier menu. The nice guy who speaks good English has no electricity. He cooks nothing, he serves only shrimp cocktails. Cat didn't want any sauce so hers was pretty bland. I enjoyed it but had to fill up on crackers. Our Shrimp Chef has worked in San Diego. That's where he learned to make seafood cocktails and enough money to open this stand.

Still 20 Ks to go and we're in wind again. At last the outskirts of Navojoa and Super Mercado Soriana. We pushed across the divided highway and up to the door. Cat got Vino, water, bananas and crackers, the staples. A group of the kids that bag groceries gathered around so I chatted about our trip then gave them cards. Very nice, well behaved kids.
The Hotel Plaza is beyond town but a nice place. We have satellite TV with CNN and wireless Internet connection. Heavenly.
Hot showers then room service. They don't have a restaurant but offer a packet of menus from several in town. We got help from the nice girl at the desk and ordered Pasta. Dining at the table, watching CNN, this is a lot like being at home.
February 1, 2006
Resting in Navojoas
Unlike our well appointed room, the dining hall is quite stark. This is a business persons Hotel. We did meet a gal from Canada yesterday but they're up and gone already. So the clientele must be business and tourist stop-overs.
Cat took our accumulated laundry in then bussed back to Super Soriano. She rode the local bus there but grabbed the wrong one on her return. Had to go to the end of the line, come back then drop off and find the right one. She picked up lunch meat, cheese and bread. We picnicked poolside. The breeze makes it cool in the shade. Seated here in the sun, we felt a burn on our unprotected cheeks. It was so warm we had to seek shade.
I went back to authoring the article for our Ventura County Star. Cat took the bus back to pick up our laundry then waited and waited for the next bus. Finally gave it up and walked back.
Yes! We found American Idol on the TV. They're in North Carolina conducting the first auditions. If you've seen the show you may agree with us. These beginner sessions are the best. Some pretty good, some very bad.
After a short deliberation we chose to have Pizza delivered. Good help again from the desk but the Pizza was just so-so.
CNN News then off to bed.
February 2, 2006
Navojoas to Ciudad de Obregon
68 Kilometers
We thought about looking for a heavier breakfast then chose to load up on cereal, toast, yogurt, coffee and bread.
Out the door and onto the narrow shoulder of the road by 9:00 AM. Though the road is a close we continue to enjoy cautious and thoughtful drivers. The scenery is dry farm or ranching. Cowboys and their cattle at roadside as well as a couple of grain elevators. Chicken Ranches too and they're emitting that unmistakable odor. It always brings back memories of my youth, working gathering eggs, feeding and shoveling chicken s__t. In Fontana, California there were lots of Egg Ranches in those days. They provided a good opportunity for this young guy to make a little money. I'll never forget the wonderful Jewish immigrant family I worked for or that terrible smell.
The bumpy shoulder thinned to a spaghetti strap. Traffic was pretty intense but continued to be courteous. One truck did whisk by just off our elbows then a bus came pretty close, too.

By noon we spotted what looked like a race track and Hotel on the opposite side of the highway. The Hotel is attached to a water park with pools and slides. The whole thing looked deserted. We dodged traffic and struggled through the gravel median then rode up to the door. There was a car parked nearby, we knocked and a woman came to the door. Si, they are open. She invited us in, we insisted on bringing the bikes in with us. After a brief discussion with a guy that appeared she agreed.
A couple of good chicken sandwiches with a view of the dry pools and slides. Yes, it is a race track or more accurately, a Drag Strip nearby. The guy who spoke pretty food English filled us in, they have races every Saturday and Sunday. Though the Water Park is closed for the season the Hotel does fairly well on race days.
It's still desert like arid with livestock roaming the roadside and center median. A huge flock of vultures slowly circled searching for an updraft off the side of a mountain. The highway here is like a Navajoa Trail with cutouts of Navajo marking it.
After working our way through the city streets and traffic of Ciudad Obregon we followed signs to the Holiday Inn. Nice people but they price, more than $100 for the night, was too steep for our budget. The Desk Clerk leaned toward us and suggested Hotel Valle Grande. He even drew a map to help us find the place. I went in, checked the price then the room. A wonderful place, at least as nice as the Holiday Inn. In fact they have a Holiday Inn in their chain.
They even have unlimited access to the Internet. We spent afternoon time making contact with family, friends and LandRider Bicycles beginning to plan our re-entry.
Dinner in the attached Restaurant and we were across a half wall from a group of obvious Gringos. The food was delicious, enchiladas, quesadillas, guacamole and more. Very Mexican.

Intrigued by the very Un- Mexican crowd across the wall we introduced ourselves. Rod, Joan, Babs, Bob, Emily and Bill are all from Arizona but have places here, too. A fun group to talk with. Our first feeling that we're getting close to home.
TV, the same great cable access and the second night of American Idol taped in San Francisco. Fun, funny and at times emotional.
February 3, 2006
A Day in Obregon
Pancakes and maple syrup for breakfast. So good and another indication that home is near.
Cat walked to the Correo and mailed an almost 10 pound package home. All the brochures, maps and magazines we no longer need. Then she rode the local bus to Super Mercado Soriana for wine and other essentials.
I spent the morning writing a Press Release for Todd at LandRider then trying to send pictures. Finally had to give up, copy a CD and prepare it for snail mail.
Cat took local buses and once again spent much of her morning on them. She found that they stop at almost every corner picking up and dropping off. It's all locals and she felt stares from every direction. Guess not too many Gringos use the public transportation here? She did dismount at Carl's Jr and grab burgers for lunch.
We dined on the deck near the pool. Shade form the umbrellas was necessary, the sun was bearing down.
Back to the computer keyboard for me. Back to the buses for the Cat. She felt uncomfortable being the only person wearing shorts. Everyone stared. Then when she came out of a store a guy began to walk directly toward her. For the first time in Mexico she felt uncomfortable. He passed very close by her then veered off to his car. Probably just a coincidence? Not frightening but quite uncomfortable.
Dinner up front again. Fish for Cat and Steak for me. All very good. No big group of Gringos tonight. Locals and WorldRiders2 only.
TV then bed.
February 4, 2006
Obregon to Vicam
50 Kilometers
Breakfast at Hotel, service was slow, the waiter inattentive. Then the Manager chased us down in the parking lot. I had signed the bill but Cat was the only signature on our account. Strange, I had signed for breakfast yesterday and dinner last night?
It was after 9:00 AM by the time we pushed to the office. Cat went in to pay our tab. I stood the guard then s time ticked by I became impatient and went in. She was arguing with them about the rate that we'd been quoted. Our friendly Desk Clerk of yesterday was no where to be seen and the new one was insisting that we would pay 880 Pesos. We had agreed to 720. Our pal is off today so I insisted that they call him. Back to the bikes for me then at 9:45 Cat finally came round the corner. They had relented and charged the 720 Pesos. Hey, for 2 nights that's a savings of more than $30 US.
Across to an OXXO convenience store for water. A couple of kids hung around us and asked questions then the big question, "You give me money"? I hardly had time to say "no" when a big burley guy came around the corner and started digging in the trash can. His shirt was open and his huge belly hung out like a badge, to show that he was well fed. The boys ran to him and began to taunt. He took their chatter, even their slaps on his back and hat. Then he growled and they scattered. He took a seat on the curb. We filled our water bottles then I took the left over and offered it to him. He had a bottle but I told him this was fresh and cold. He motioned for me to set it on the curb next to him.
With that semi aborted kindness completed we rolled out, across the street and toward Vicam.


The wide shoulder narrowed and at times went away completely. The railroad track continues to parallel the Autopista today. A train roared slowly past and the engineer lay heavily on the horn. I told Cat of cycling in 1988 just a few hundred miles north of here at the beginning of that other trip. It was like deja vu all over again as Yogi would say. A slow train past on a downhill run then started to pull a long grade. It had past us on the down then we caught it on the up. The noise was almost deafening and went on for almost an hour as it struggled upward.
Three hours o the seat without a break and we were in Vicam. We pulled across into a Pemex Station and another OXXO store. There was another cast of kids hanging around asking for things here, too. We said, "No money". Then they asked for our water bottles, jackets, anything that looked of value on the bikes. One cute boy is named Rambo. The other kids seemed to be pestering him a bit. He went to the edge of the road and sat in the dirt watching us and the others.
The girl in the store told us that she thought there is a Hotel about 1 kilometer further along. We rode it and found a pretty rough looking place in a pretty rough looking neighborhood. A woman in the drug store told us about another just down the road at the Topes. (Speed Bumps) We rode on and found it. Slightly better looking, Cat looked then we took the deal even though 300 Pesos ($30 US) seems high. We'd like to ride on but have been told several times that there's nothing else between here and Guaymas.
One World, We're All Locals!
Two carne asado tacos then two more with cheese. A disheveled old guy stood and watched us eat. Each time we looked his way he held his hand out for money. A Mexican family pulled in and he treated them the same. The woman told him no then turned to her son and had him give the guy a coin. Cat said, 'That's how it should be, locals taking care of their own". I reminded her that we live in one world therefore we're all locals. The guy persisted as we gathered the bikes. I couldn't stand it and gave him 2 pesos. He was so delighted it was well worth 20 cents,
The Motel Room is pretty basic. Bed on a raised concrete slab. A fixed table where I put the computer and began typing. A concrete bench that's a little too far from the table but works.
The TV they advertise wouldn't work. Cat got the girl who told us that there are only 2 channels. After she left we challenged her word and found 4, none in English.
We did spend time just resting and relaxing. I did off and on typing.

Back to the little Café for quesadillas and roast chicken with flour tortillas. The family that owns the worked hard to provide good food and service. Eduardo and his family work 7 days a week for 11 months then take a month off. They visit relatives in the US and go to Disney Land. It was cold after the sun went down. Though we were enjoying the talk with Eduardo Cat was beginning to shiver.
There is no TV, just bed.
Sunday, February 5, 2006
Vicam to Guaymas
78 Kilometers
Easy to get up early but hard to get out into the cold. Then the search for breakfast. Nothing here, not event he same crew as last night. They suggested a place further down the road. We found nothing open between the Motel and the outskirts of Vicam. Backtracking, and asking brought us to Dona Maria's. She serves breakfast and it was good. Eggs, bacon, juice in a box and flour tortillas. The only thing we didn't like about it was the price, the same as yesterday at the Hotel? Pretty steep for a roadside stand.
It was 8:35 AM by the time we got on the road to Guaymas. It's again, flat and fast. We owe some of the fast to a tail wind. The cactus and hills are interesting and have a beauty of their own. Some of it is diminished by the 4 huge rows of towers and high voltage power lines that droop between them. Sure it's good for the folks who live here but it does take from the scenery.
The turn off to Guaymas Centro led us to a rough road. Ups and downs and lots of bumps. Then a downhill coast and we were on the waterfront that's cluttered with the hulks of a bygone fishing fleet now molting and rusting away.
The main street is pretty rough, too. Not just the surface but the neighborhoods, too. We passed a Popeye's Hamburgers but decided to find a market for wine first. The search brought us to 4 Gringos seeking beer. An Aunt and Uncle from Tucson with a Niece from Florida and Nephew from Sonoma, CA. They're staying at San Carlos a Gringo haven about 20 Ks further down the road.
The Super Mercado had Casillero Chardonnay and was still selling. We'd feared that they may close at 2:00 PM as others have on Sundays. Another short backtrack and some very good hamburgers at Popeye's. There is a Hotel we saw up the street. AS we passed we kept on pedaling. The one billed as the best in Lonely Planet looks better. My turn to shop rooms. They have 2 classes of rooms, Standard and Executive. The difference, location. The Executive Rooms are all in the courtyard, around the pool. I chose the Standard and asked specifically for Room 171, the last on the driveway to avoid car noise. It was taken but we did get #170.
Yes, CNN and lots of other favorite stations.
Dinner at the Hotel Steakhouse. They had no white wine so allowed us to bring our own.
Great Chateau Briand then a slight argument. First they tried to add a 70 Pesos corkage fee. We objected and they relented. Then, they added tax to the cost of the meal. An additional 15 % that is usually in the price on the menu in most places. They pointed out the small print, Tax not included.
The TV was full of news and other choices but we were weary.
February 6, 2006
Resting in Guaymas
Another glitch, we ordered plain waffles, not Belgian and they charged us for the Belgian. I questioned, they resisted. I asked them if they would bring us the bananas, whipped cream and peaches but they retreated into Spanish language. So, I signed the check to our room but put my objections in writing, on the face of it. It did nothing but give me a feeling that at least I'd registered our complaint. To who? Who knows?
Most of our day was spent at the computers. Me working on the journal, Cat on answering messages. Later Cat took our cycling cloths to the Laundry while I sent messages and explored Hotels in San Diego. We want to get as many of our family and several friends to meet us there.
Left over steak along with ham, cheese and bread that Cat picked up on here laundry run made up lunch. A picnic in the room.
Dinner, room service, Pasta. It was pretty good and made us feel like we were fueling up for tomorrows ride. It will be a long grinder.
February 7, 2006
Guaymas to Hermosillo
132 Kilometers (Yes, that's 82 Miles!)
Big Breakfast then off by 8:25 AM. A slight up then around the corner and onto the flat desert.
Long haul to Los Arneros and a stop for soft drinks. They have a couple of rooms but we decided that we'd go on to Hermosillo. Too early to stop at a place like this, its only 12:00 noon. As we sipped a young girl walked across from the Pemex and said, "Hello". We cycled to the Service Station to use the Toilets and met her, Brittany and her aunt and uncle, Barbara & Larry. They're from Edmonton, Canada and have spent time on the coast here, escaping the cold, harsh weather back home.
About 3 Ks further down the road we found a sign advising a Hotel and Restaurant 27 Ks from here. An unexpected and joyous discovery. We may not have to go the distance.
Another 2 hours and we came upon a restaurant and service station. It looked like they would have rooms, too. Cat was almost ready to celebrate when the girl told us that they have no rooms. We told her about the sign and she said that they'd never had rooms? We did have a very good bowl of soup. It helped to cut the chill of the cloudy, windy afternoon. She did know that it's still 50 Ks to Hermosillo.

The road was flat, the clouds remained but the wind died down a bit. It was almost 6:00 PM as we cycled into Hermosillo under a gorgeous sunset. The first Hotel on our side of the Highway, The San Sebastians, pulled us in. The price is right and the room is very nice. The only problem, it's not central. Located at the edge of town, we may miss the center. We're too tired to go on, too tired to care.
A shower and Pizza helped us make a comeback. A little news then a movie. Movies always put Cat to sleep. They have the opposite effect on me. Though I'm tired I can't quit once I've started. So, I was up until 11:00 PM, watching the movie and listening to Cat's gentle snore.
February 8, 2006
A Well Needed Rest in Hermosillo
Slept hard but thirst woke both of us up several times. Had a tough time waking up and finally had to drag ourselves out before they stop serving breakfast.
The included Continental Breakfast is little more than cookies and coffee. Oh there was fruit but it needed work. Lots of rind still on the Cantaloupe and Papaya. So many seeds in the watermelon that it was inedible.
I worked again on getting Hotel rooms in San Diego while Cat walked to the Super Mercado. We made a deal with the Hotel to credit us 20 pesos each so that we can enjoy fueling up tomorrow at the Big Buffet for only 50 Pesos each. ($5.00 each)
Today gives us another restful afternoon. Cat was torn between the pre-Grammy show and American Idol. Both aired at 6:00 PM.
Dinner at the Hotel Buffet. A bargain at 150 Pesos ($15 US) for both of us. And the food was pretty good, too.
Back to the Grammy's. It's Cat's night to be hooked on the TV. I had no problem falling asleep.
February 9, 2006
Hermosillo to El Oasis
77 Kilometers
El Oasis to Santa Ana 98 Ks in Gonzalo's Pickup
Up early after a strange nights sleep for both of us. Cat suffered stomach ache, I kept waking up with a dry, sore throat. The phone rang right at 7:00 AM. One of those modern miracles, Todd in Sausalito, California, Brian in Baltimore, Maryland and us in Mexico. A good discussion ensued about how to bring both our vision and theirs together for our Homecoming party. We sort of canned the idea of a picnic and Todd will work toward finding a spot, maybe the wonderful Hotel Del Coronado? Brian also agreed to let Todd help us put together a video promotion from the footage they have. We can use it for presentations later. A good meeting but it put us out the door late.
We did the Big Breakfast Buffet, our usual eggs, bacon and beans. I did slip in a pancake, maybe for ballast or just to improve the taste of the coffee.
Finally on the bikes and riding at 9:00. Cycling was a struggle on the Main Street. Heavy traffic and no shoulder to protect us. Cars were pretty good, for the most part. We spent more than an hour getting the first 10 Ks in. Once free of City traffic we were back in the desert. The road is flat with just a few little wavering hills.
The wind was an issue to begin with flowing hard against our left shoulders. Then a turn to the left and it turned on a brisk tail wind. Finally we were making time. We flew right along to Pesqueira, the first Pemex on today's pathway, and enjoyed a soft drink while sitting on the curb. Clouds are beginning to gather and the wind is cooling.
Onward from kilometer marker 33 to El Oasis at 67. We pulled in as rain began to spritz. A hot dog under the eaves and a decision. After confirming that there is no room for us to seek shelter in here we decided to catch a ride.
A few asks then we pushed back across the highway. Trying to flag a ride and doing terribly, Cat ran back across and began asking pickup truck drivers. 2 turndowns then Gonzolo gave her the positive nod. He pulled across and helped lift the bikes into his almost new Chevy pickup.
From Baker to Auto Body Maker
Nice guy, he owns an Auto Body Shop in Nogales. Married, he has 2 young daughters. He spoke a little English when we began talking. He worked as a baker in a Super Market in Phoenix, Arizona for 6 years. The more we talked the more his English improved. We talked old cars, he knows of a 1937 Ford Pickup for sale in Nogales for only $8,000. A bargain!
Gonzolo is proud of his accomplishments in Auto Body. So well known Stateside, one of his recent customers brought in a 67 Chevy Camero. He handed the keys and a check for $15,000 to Gonzolo and said, "Make it look new". Cross border trade on a one to one basis, you've gotta love it.
The rain poured, we passed a long line of trucks, maybe 5 Ks of them. The hold up is a Military Checkpoint. Gonzolo told us that they caught a guy trying to smuggle a ton of Marijuana across just 3 days ago. He couldn't get over it, a whole ton. How could a drug sniffing dog ever miss a ton?
The rain let up as he dropped us in the heart of Santa Ana. We got a picture as he spoke with his wife on the cell phone. Then in appreciation we extended out usual invitation. Bring your girls to California and we'll help you like you've helped us, anytime.

Santa Ana is little more than a strip of motels and restaurants. This is the cross roads. Tomorrow we move left, away from old Highway 15 on #2.
Hotel Elba is the best looking of the bunch, we decided to pamper ourselves. The girl laughed when we asked for a discount then reduced the rate from 480 to 400 Pesos. Cat checked out the room while I used the included Internet Access to check messages. Niece Holly confirmed that she and Husband Greg will come to San Diego on Saturday. So, most of our families will be there.
The room is quite nice. No CNN in English but several Movie Channels in English with sub-titles.
Dinner at the adjacent Elba Restaurant. A hard to chew Pork Chop for Cat and Steak for me. The steak came smothered in gravy but wasn't bad.
Started a movie but both zonked. Typical for Cat, unusual for me.
February 10, 2006
Santa Ana to Caborca
107 Kilometers
A fractured night. At 3:00 AM the guys next door came in with a flurry and immediately turned the TV on. It was so loud you'd think it's in our room. Both awake, we talked abut calling the front desk but knew that we'd fail when trying to explain the problem. So after 30 minutes Cat got up and pounded on the wall. They turned the sound down for about 10 minutes then got into music and cranked it up again.
At 5:00 AM the alarm sounded off next door. A real short night for them and more lost sleep for us. They switched the TV back on in high volume mode and laughed and talked. Then, they started both of their cars and let them sit and idle. They departed at 6:00. We slipped back into deep sleep until 7:15. So much for an early start but the minute we stuck our noses out the door we knew that we'd need more sun or more clothing to start any earlier than 9:00 AM.
There's frost on the cars in the parking lot and we could see our breaths as we walked back to Restaurante Elba. The eggs were cooked right, the bacon very salty and the toast soaked in butter, it was great.
Mexican Truckers on a Mission
Cycling down the Main, we had to cut across heavy traffic to make the transition onto Hwy #2. The old downtown area is on this route. The road's bumpy and full of potholes. A bridge then the road narrows to the point that oncoming traffic won't allow trucks and cars behind us to pass. Then came the Truckers on a Mission. A beat up old truck and trailer came back rapping down on us horn blowing. I pulled out a little to let him know that we couldn't move over. He pressed up almost into Cat's back wheel with his hand hard on the horn. Scared Cat and really P----- me off. I pulled wider for a moment then we hugged the edge of the road. He pulled past Cat then began edging toward me. The co-driver yelled as they past and the driver pulled hard right. The real wheels of the trailer came so close I thought I'd be hit. We pulled up, he want on, to whatever Mission is more important than human life? His load looked like cement blocks under a tarp. We decided that they must pay these guys a bonus for early delivery. Otherwise why be so anxious to pass?
Road Construction, A Boon?
The narrow road split into two one way 2 lanes however, the traffic was all diverted to one side. That looked like suicide to us, especially after the recent confrontation. We decided to try riding the barricaded side. What a boon, it has just recently been re-surfaced. We cycled in peace and quite while trucks and buses honked and jockeyed for position on the crowded road just off to our left.

Built for Us
The Howling Pup, a Coyote?

The sun finally took the chill off the morning air. Cycling along peacefully we came upon a wiggling ball of fur on the pavement. A pup, Coyote or wild dog? It was howling displeasure in a tiny voice. We stopped, I lifted it off the pavement but it immediately crawled back toward us on wobbly legs and into our shade. It peed a bit so we knew that it wasn't dehydrated. After a moment of indecision we chose to leave it there. Its Mother must be close by, watching. It couldn't have come very far on its own. Reluctantly we rode away as it continued to practice its high pitched howl somehow finding comfort in the thought that Mother Nature has a way of working things out. Less than a kilometer on we passed a local cyclist headed back into Santa Ana. We are sure that if Mom hasn't already come to the rescue, this guy will.

Howling Pup
Back Into the Traffic
At Kilometer marker 157 we ran out of luck and lanes. Sticking with the road work side we struggled in the dirt and rocks for 2 Ks then it ended. So, onto the tight 2 lane. Cars were pretty good to us but those Buses and Trucks on a Mission had us jumping off, into the weeds several times. We finally caught up with the Road Construction. A good thing for us, they have one lane closed and flagmen allowing traffic to go single file. We got past the paving crew and at about 1:30 PM we happened onto a tiny restaurant.

A good chicken dish with veggies. We were soon back on a single lane and in close but slow moving traffic. Through the little town of Altar, the beginning of the Ruta de Missiones, a good name for the place where the route of Missions begins. There is a Mission in Altar but it looks more like a 1950s concrete structure than what was originally built here in 1775. Outskirts then back onto the construction side of the road.
More near brushes with traffic off our left elbow then at 90 Ks out a hill. Sort of an insult to injury in the sense of a tough day. We had to push up but were rewarded with a fast glide down to Pitiquito and paradise in the form of a bicycle lane. We're tired, the wind that's been in our faces most of the day now kicks up to beyond bothersome.
Into the outskirts of Caborca. A taxi driver told us that the nicest Hotel in town is Motel El Camino. Cycling onward we circled around town on the Autopista we found it and a couple of others. It was definitely better than the others. However, the room wasn't as great and the price of 600 would indicate. We decided to go into town for a stop at the Super Market and check Hotel Plaza. A great selection of wine but the Hotels were real disappointments.
Back to El Camino. No CNN and only a few subtitled stations. Sometimes we just have to rough it. We were checked in and showering by 6:00 PM. Dinner in the Hotel Restaurant. More a Coffee Shop but surprise, the food was great, steak and burritos.
An English language sit-com, we both got through it then hit the hay.
February 11, 2006
Resting in Caborca
Pancakes for Cat but I wanted the waffles. Pancakes are hot from the griddle, the waffles are the toaster pop-up type. The maple syrup was quite good.
Internet for me, Cat took our soiled cloths in to a laundry then did shopping for food and wine.
We spent quite a lot of time wandering around trying to get information on what lies ahead of us. Small towns, motels, food? Our maps make the next segment of this Odyssey look pretty bleak. None of the 3 we have on board show anything. NO info but we did find some tasty tacos.
The Winter Olympics in Turino, Italy, started today. We watched Ice Skating and a couple of cross country events. It's cold and windy outside and the snowy scenes created an additional chill factor.
Dinner at the Hotel Coffee Shop. Steak and chicken tacos, pretty good. As we close in on the border we wonder what life without daily Mexican food will be?
More Olympics then early to bed.
Sunday, February 12, 2006
Another Day Off in Caborca
At this point in our journey we're beginning to run ahead of schedule. Feeling lazy and feeling the wind whistling through the palm trees we decided to relax and lay in.
A Trip to the Petroglyphs with Peter & Jo Ann
At breakfast we heard a couple seated nearby talking about taking a trip to see the famous Caborca petroglyphs. We wanted to see them but had decided that it would cost too much. The front desk indicated that we'd have to rent a car. Peter & Jo Ann are snow birds from Alberta, Canada. They're staying in their 5th wheel at nearby Puerto Penasco.
They spent the night here and are planning on hiring a guide and driving to see the Petroglyphs. They were interested in our trip and when we asked if we could split the cost and ride along they seemed happy to have us.
So, filled with a good breakfast the 4 of us, with the help of the Front Desk, found Julio. He agreed to lead us in if we could ride together. Back in our room we dug out several layers of clothing then waited outside. Julio was a half hour late. He had a couple of young boys along for the ride.
Peter followed Julio and when we turned off the highway onto a dirt road we realized that another group was coming along, too. The hill covered with volcanic rock is on a Ranch. We think it must belong to Julio or someone in his family. Our little caravan of 3 wound through desert fields and waited as Julio opened a couple of gates to allow our passage.
The tag along group is Julio's family, his wife, son, Mother-in-Law and a couple of cousins. He explained that today is Family Day. The Petroglyphs, according to Julio, are about 900 years old. They're scattered up the face of large, loose looking rocks. It's another of those places that make you stop and ponder what life was like for these desert dwellers of long ago. Finding food and water must have taken up much of their time. It's unknown whether their drawings have religious or family structural significance. Julio sort of guesses that there were gatherings of locals at the foot of the hill. Perhaps the Shaman stood above and called out for rain, or fertility to the crowd below? Or was he just exerting his super natural power over the flock of believers below?
The day has become a beauty. Being with Peter and Jo Ann is wonderful, too. We climbed into nature's stack of stones. Precarious at times, the view is panoramic and close up you can feel the effort and imagine the sweat from the artist's brow. It's sure that the drawings tell stories but it's unsure what the stories are, according to Julio.
Canada's Cash Cows v We lunched, the 4 of us, in the Coffee Shop environs of Hotel El Camino. They're a farm family now retired. Quite conservative and proud of it, they talk of Canada being two separate countries and how the French side would like to separate. They feel that they won't because the vast farms of the mid-west are Canada's cash cows. Sort of rings with a similarity of the situation in our country where it's the battle of the red and blue states.
Now another of those strange moments. Strangers just a couple hours ago we now shake hands then hug as we bid each other adieu. Invitations to visit Alberta mix with ours to come to California. Peter revved up their big Chevy truck and they were out the driveway, headed back to their mobile chateau on the shore. We spent the afternoon on the Internet completing details and lists of friends and family that will join us in San Diego for lunch. Hard to believe that we'll be crossing into their arms in just 27 days. Where have the past 1400 gone? At times it seems just a dream. At others we realize it is the dream of a lifetime.
Dinner in the diner. My Filet Mignon was so god last night that we both ordered it again. This time they were both thin cut and over cooked. We registered our complaint and the waiter lamented, "This is our last piece of meat, delivery tomorrow". He left, head hanging low but returned in just a few minutes with a smile on his face and another steak in hand. It was indeed medium rare. We split it and saved the other for tomorrow's lunch.
Rock climbing took a toll. A little CNN News and we were off to dreamland. .
February 13, 2006
Caborca to Sonoyta
99 Kilometers (Final 48 Ks with Concho)
So cold that our breaths hung in huge clouds before us as we walked to breakfast. The smiling waiter remembered our dry steak and set about making sandwiches right after he delivered our over burdened breakfast order. We are truly in love with our Mexican morning ritual of eggs, bacon, beans and tortillas.
Though the sun is trying to break through it is still very crisp at 8:30 AM as we rode out the driveway onto the highway. The wide shoulder we enjoyed riding in only lasted to the edge of town. Then we were cast into the traffic. Fortunately it was light and friendly.
Sun and warmth took the morning. The flat desert prairie is loaded with a vast variety of cactus. The dry air and high clouds add to the beauty of this place. When I lived on the desert we used to say that you have to get close to the ground to enjoy nature. Here, however, Pacha Mama surrounds us as tough we're in her own biosphere.
At 50 Ks out we found a cement storm drain to sit on and enjoy our steak sandwiches. A pesky honey bee buzzed around trying to get a taste of them. The sun on our backs lulled us into a trance. We almost hated to give up the moment and get back up on the bikes.
No matter the magnificence and flat road, we were beginning to tire. A restaurant of rocks sits there, in the middle of no where. The women there are friendly and the soft drinks cold. They suggest that we could camp here but there is no room. A sort of shady looking guy pointed to an old semi-trailer and offered to share it for the night. Cat was sure that wouldn't work. In earlier days we may have accepted. Not exactly fearful but definitely leery, we decided to catch a ride into Sonoyta.
I propped the bikes against a big billboard and we began trying to flag down a pickup or truck. Nobody even slowed in fact some even sped up leaving us in the dust.
A pickup pulled in and the driver took a seat behind the restaurant near the shady looking guy. Feeling like we were wasting our time I went to him and asked if he could take us into Sonoyta. He spoke a little English but told me he was going to Caborca. Back on the shoulder we continued to eat dust and wave to passing trucks.
The guy kept an eye on us then waved to me indicating he wanted to talk. They had off loaded some supplies from his truck and were preparing to hitch a trailer to it. I walked back across and he said, "I drive Sonoyta, 300 Pesos".
Back to Cat, at first she rebelled but as we did the math $30 began to seem appropriate. It's about 30 miles to town, 60 miles round trip. Based on 50 cents per mile he was being fair. And the prospects of a ride were dimming with the setting sun.
Concho, our friendly driver, was born in the USA hence he's a US citizen. He owns 3,000 hectares of this dry land and the little restaurant but lives in Caborca. Passing through some interesting looking rocky hills Concho told us that they're home to mountain goats. The Government allows hunting but charges $50,000 for the permit. Oh, you do get a whole month to find and kill your goat. Pretty expensive Chivita.

Concho dropped us in front of the Motel recommended in our LP Guide Book. It was pretty minimal so we cycled up the street to another we'd seen on the way in. It too was basic but clean and they did have some English language TV stations.
We're about 6 blocks from the main part of town. After a great shower we dressed and walked to the nearby Chinese Restaurant. Food to go then chop sticks on the bed and a television show.
February 14, 2006
Another Change of Plans
Valentines Day
Down the street for breakfast, we enjoyed pancakes with maple syrup and the local crowd. This town is another major jumping off place for adventurers heading north seeking fame and fortune. 4 young guys, maybe on the last day here, were playing music on the Jukebox. Some sad songs, some love songs. One lay his head on the table as he listened to a song that must have reminded him of home or his girl friend.
Bad Wine, Bad Road, The Highway of Death


Next a quest for wine. Also, we've decided to stay today and see if we can arrange for the bus to pick us up about 100 Ks out, tomorrow. This is another of those situations where the next little Pueblo is 200 Ks down the road and nothing between here ant there, according to a guy raking the driveway at the Motel.
Wine is a rare commodity, they all suggested that if we cross the border we'll find some. It's only 3 Ks to the USA and wine, maybe. We thought about it but would have to take a Taxi. Then too there's our fear that we might be detained if Big Brother has read our Cuba story. In the end, we had to succumb to Mexican wine.
Then the Bus Depot and more disappointing news. One young guy that spoke some English took us under his wing and went asking. The news, we would have to get permission from the Policia National. We didn't understand, thought we'd missed something in the translation? Then he "Splained", the only way buses are allowed to stop is if the Policia agree to it and are there when it stops? When we asked why he said, "El Camino de Muerte", the highway of death. Seems that this stretch of open space is home to lots of "Malo Hombres" bad guys that are known to stop and rob cars, buses and trucks. It only took a moment to make the decision to change plans. Do we need to ride into this vast wasteland alone, like cycling ducks? No!


So, we will return in the morning, our helpful fellow assured us that there are buses almost every hour and plenty of seats. Sorry Terry, another gap in our Odyssey path but remember Cat makes the call and we never ride where there may be a health or safety issue. When the word Muerte is used to describe the Camino it smells a lot like and unhealthy and not such a safe place to be. We emphasize, that we have felt safe everywhere here in Mexico and we want to keep it that way. In a way this is a typical "Border Area".
The Internet Shop is closed until 2:00 PM. We drifted back to the room, rested and enjoyed a movie.
When we walked back to check messages we didn't bring the camera. There are 3 large groups of Border Runners milling around waiting for the cover of darkness. Easy to spot, they have back packs and plastic jugs for water. One band of adventurers were on bicycles. Like the boys in the restaurant this morning, they talk in hushed tones and eye us warily. A couple of boys came to us and asked if we were "Migration"? We think they mistake our bright jackets for those of the US Immigration Officers?
The wind has whipped up a fog of dust. It drove us inside for tasty tacos for lunch.
A couple of hours at the Internet corresponding with family and friends then back to our little lair. Cold, wind and darkness forced us to go for the Chinese Food, again.
February 15, 2006
La Carretera de Meurte
200 Kilometers Via Autobus
Breakfast at the little Café was very slow. Cat ordered eggs with chorizo. They had to go get eggs. I had Hot Cakes and ate them while we waited for the eggs. A group of 6 young guys played music on the Juke Box, again. More melancholy love songs. We loved the sound and began thinking, wondering if they were leaving their loves behind on this day after Valentines Day to seek their fortunes in the USA. Being here, seeing the looks of hope and dreams can change your thinking about immigrants.
Back to the room, packed and rolled out to the Bus Station by 10:30 AM. Several buses lined up ready to leave for Tijuana with stops at San Luis Rio Colorado but none had a large bay door to allow the bikes with bags on board. The Station Master told us that the Bus would be in between 11:00 and 11:30. We decided to wait.
By 11:45 we lost patience and I talked with a guy in an older Mercedes bus from the Norte de Sonora line. Looked like we could fit both bikes sideways in 2 different bays. Tight, I had to crawl inside then push and pull. A guy with a cane, Robert, helped. Even pushed with his cane. Once I loosened the handlebars we did manage to jam them in. We hurried because we thought we were holding up departure. On board, we were the only passengers. One of the drivers told us they need to eat then signaled with his thumb and index finger and said, "Cinco minutos".
We sat in the warm bus then got a window open. I began to roam around looking for our Drivers. Nobody seemed to know where they had disappeared to? It was 12:40 when they reappeared picking the taco meat from between their teeth. "Cinco minutos" had stretched to almost an hour. They did manage to hook one more passenger during the delay.

The road is narrow but doable, the traffic is only about the same as we have grown used to. The real problem beyond safety, there are no places to stay, even if the Bus could make a stop. Even Los Vidrios, the town with a Service Station shown on the map was nothing more than a station and Café. The guys that had told us they thought there was a Motel were wrong. By now we're glad we decided to take the bus.
In fact there were 2 more little Cafes but they don't even have electricity. The road is flat then winds through some craggy mountains but doesn't climb much. The scenery remains Sonoran Desert. Lots of Saguaro and other cactus.
A Military Check Point, a Soldier with automatic weapon stepped into the bus and made his way down the aisle. He stopped, stared at us then asked, "Donde viven"? Where do you live. We think we've been out here, alone together for too long. We sang out "California" in perfect unison, harmoniously, as though one voice. We often do that when asking for the check in a restaurant, too.
El Autobus Norte de Sonora wheeled into town, down the mains street and into the Station at 3:00 PM. After the normal difficulty in getting the bikes out and running we set off on a wine and food quest. Calimax, the Super Market, had essentials and more. Essentials of course are wine, water and bananas.
We set off down the street looking for Hotel Angel because it's highly rated in the Lonely Planet. Yes, they have 5 Hotels in San Luis, it's a fairly major Border Crossing. Not only is it highly rated but El Angel is highly priced, too. The clerk quoted $110 US per night. I pulled back and almost laughed and said, "You're joking, yes"? He pulled up his computer screen and said, "We can offer you for $86 US Dollars".
Cat went with a great young guy to see the room. The boy spoke perfect English. He told Cat that he has relatives in Yuma and hopped the fence 2 years ago to live with them. He stayed more than a year, went to school and honed his Language skills. As much as she liked the Bellman, Cat found the room to be banal. Not even as nice as last nights $40 room. We told the Desk Clerk that we would go eat lunch and return.
We'd seen a clean looking Motel Continental from the bus. It's across from Burger King so we had chicken sandwiches then went shopping Hotels. The room there was okay at $53 UA but they have no Internet Connection and its 17 blocks to the nearest. As we stewed the Clerk suggested we try Hotel San Antonio. He looked around to make sure no others heard then said, "It's I the center of town and is 8 months new".
Back into town, and right to the door of San Antonio. It is a cute place, the price is right and they even throw in Breakfast. Though they have no Internet there's a place just across the street. The room is slightly small but they allowed us access with the bikes. We're home for a couple of nights.
Vicente, another guest, is curious. We worked our way through the language barrio and found hi charming. He's 69 years old and a proud man. He introduced us to Alberto, the Hotel owner.
They don't receive CNN in English but have the usual Cable stations. One feature new to us, they receive the CBS and NBC Stations from Yuma Arizona. So, we caught a little news and the big news is, Vice President Cheney accidentally shot one of his friends on a Hunting trip in Texas. The victim is a friend and an attorney.
The highlight of our evening, we got to watch the American Idol finals, the final time the contestants are judged by Paula, Randy and Simon. They do such a good job of sharing the emotion that Cat shed lots of tears. Don't know if she can take another 6 weeks of this.
The only weakness of the Hotel San Antonio is that there are no Restaurants nearby. We set off in the direction Vicente had pointed but soon gave in to the wind and cold. Take out Pizza from Dominos, back to our cozy room, more TV and Pizza.
February 16, 2006
A Day in San Luis Rio Colorado
Sister Joan's Birthday
As we filled our plates, partaking of the included breakfast the usual crowd filtered in, coffee'd and grouped up. Alberto stopped and talked with us then joined his pals. When we finished eating he told us that he's called the Newspaper and they will come at 11:00 AM for a photo and information.
Oxnard, Where The Homey's Box HARD!
Alberto told us that he lived in the Alhambra, California when he was a young guy. Worked at the Car Wash. Then Vicente chimed in and told of picking Citrus and Avocado in Ventura, Oxnard and Santa Paula during the Bracero Program in the 1960s. Israel, the young guy who works the desk, added his more recent story. He lived in Oxnard, went to school at Oxnard High School. He reminded us that Oxnard High is the home of the Yellow Jackets. During his years there he also belonged to La Colonia Boxing Club. He spared with Fernando Vargas and Roberto Garcia both of whom have gone on to become Champions. What nice guys, not the cheating thieving kind of immigrants too many in the US judgmentally picture all Mexican Immigrants into.
Immigrants, Modern Day Pioneers
Watching the young people, couples holding hands, the boys playing sad love songs, groups clutching plastic jugs of water and wearing most of their possessions made us begin to see these "Wet Backs" in a totally different light. They're excited, sad and happy as they set off on a dangerous adventure into the unknown. Immigrants like so many before them who have gone to the US seeking fame and fortune.
Illegal Aliens or Undocumented Workers?
What makes them any less legal than our European Ancestors were when they moved in and pushed the American Indians off land they'd lived on for thousands of years? Or, how abut those Illegal Immigrants from the east of the US who mount ed covered wagons and flooded into Texas, New Mexico, Arizona and California seeking fame and fortune just a scant 150 years ago? Who of us remembers that these areas were all part of Mexico at that time?
Enough of our SOAP BOX speech, other than to say that these are people. Real people with real lives. Families with a desire to make a better life, just like you and I.
Big News in Another Small Place

The Reporter from the Tribuna de San Luis, Ramon, came camera in hand and got his story. We posed on the sidewalk with the sign for Hotel San Antonio behind us. I even got a picture of him in action. Alberto and his pal Roberto, that he runs marathons with, yes, he's finished 9 marathons. Roberto is a marathon maniac, he's finished more than 50. He looks unlikely, the gray hair may be premature? He is built like a runner and proud of it. When I commented on his physique he pulled his tee shirt up and pounded on his tight tummy. These are nice guys, hard working guys.
An hour at the Internet Café then ham & cheese sandwiches in our room for lunch. A Hallmark movie got Cat's tears to flowing.
Another afternoon Internet stop. It's cooling down quickly outside. We holed up in the room then stuck our heads out to check the weather. Cold and windy, we ordered pizza to be delivered. While we waited Alberto called and reserved a room for us in Mexicali. Good thing we thought of it, the first 2 places he called were fully booked.
A Pizza on the bed in our cozy room and an English language movie.
February 17, 2006
San Luis Rio Colorado to Mexicali
70 Kilometers

Up and ready to roll early. Too cod out there. Breakfast as the usual group of locals began to congregate. Alberto sent Vicente looking for a copy of the Newspaper. The article is on the Sports page. A good pic but they said that we have traveled through 17 countries. Confused our time in Africa with the entire Odyssey.
A quick stop for water then off, into a cold breeze.


6 Ks out we crossed Rio Colorado and into Baja California and our last time zone. Had to set the watch back an hour. We're now on Pacific Standard Time, same as at home.

Past the Toll Booths and onto the Autopista. It is flat and 4 lanes but no shoulder. At about 20 Ks we picked up a wide shoulder. Then construction and no room at all so we went across into the 2 blocked lanes. Had them to ourselves until we reached the Road Workers. They cheered and waved.
A soft drink and peanuts at OXXO. The girl said that it's only 10 to 15 minutes by car from here to Mexicali. On bicicletta? She wasn't sure, maybe an hour.


The highway is, at times, lined with Wrecking Yards. Old cars row upon row slowly disintegrating in the dry desert air. We found Calle Lazaro Cardenas as Alberto had instructed, and turned right.
A Dog Day Afternoon
We've been plagued withy pesky dogs all day. Some on chains or inside fences just set off those who are un-tethered. They chase and nip at our heels. I used the water bottle to spray them, even got one dead on in the eyes. As one particularly aggressive pack of 8 came running at us we stopped and gathered a hand full of rocks. When passing as they attacked I gestured as though to throw. A guy at the nearby house yelled and swung his arms as though to say, "Hit them".
At the Monument to Cardenas we pushed across the 4 lanes in heavy traffic and had a Burger King chicken sandwich for lunch.
No cycling room and plenty of cars as we made out way, 6 Ks, to Hotel Calafia. It's an old Motel that is under complete reconstruction. My turn to check out the room and check us in. The room is surprisingly fresh and nice. They have wireless Internet, lots of TV Stations including BBC, and breakfast is included. I did the paper work while Cat stood the guard. Lots of California license plates in the parking lot.
Good, hot showers then dinner at the Hotel Restaurant. Cat had Pasta and loved it. My steak was a little tough.
February 18, 2006
R & R in Mexicali
A phenomenon, there is a huge flock of birds in the trees. They're black in color and medium sized but the screech they emit is huge. Amplify the volume of one by a thousand and you have a wake up call.
The included breakfast is great. We sat down then made a move to the Non-Smoking section when a guy lit up next to us. Lots of Gringos displaying Gringo habits. .
I hit the computer, Cat went shopping for Vino, Agua, Bananas and laundry soap. Laundry soap? Yes, they have a washer and dryer for guests and we'll put them to good use.
Laundry in the machines, we watched a movie. The plot, a kid writes a story about a Rock Band then evolves into a raody with a 70s group called Stillwater. A good story that kept us trapped in the room until after 2:30 PM.
Lunch across the street at The Taco Stand. Very good, we tried to explain the Gringas we loved so much in Mexico City and Guadalajara. What they served us was close but no cigar. However, what they served us was great, unto it's self.
Cat walked to the Tourist Office. The gal there warned her that the road ahead is steep and dangerous. The danger isn't Banditos rather the steep 20 K climb and the traffic. When she returned and turned on the TV another movie drew me from my typing chores. We were hooked, again.
Dinner at a Sushi Restaurant. Close enough to walk to but the fish tasted as though it has been frozen. We can feel the distance from here to the USA in the prices, expensive!
Sunday, February 19, 2006
R & R in Mexicali
Mother natures screeching alarm was again up at the crack of dawn. Reigning back in on our food intake is tough. Especially when the included breakfast is such a temptation. I resisted a bit, no eggs or bacon but did weaken and order hot cakes with maple syrup. Cat had an omelet. Table talk now centers around our diets and what life will be when we aren't expecting our bodies to cycle long hours, day after day.
Lots of Political shows on TV this morning. Interesting debates about VP Cheney and his hunting accident. Seems he fired at a bird and hit his hunting partner in the neck. Cat watched a thriller movie while I typed but it too distracted me, finally had to stop and watch.. Love
Another restful day full of typing and TV. Cat walked to the store and returned with bread and turkey lunch meat. More wondering, this time about whether we'll ever have "on the bed" picnics after our re-entry?
A relaxing afternoon then Cat re-packed while I pecked away at our journal pages.
Dinner in our favorite booth here at the Hotel. TV then bed midst anticipation, almost anxiety on Cat's part regarding the hill we face in the morning.
February 20, 2006
Mexicali to Tecate
76 Kilometers Truck Ride to Tecate
Up early to the screeching of our bird alarm. Breakfast and we didn't scrimp, we feel we'll need the fuel.

Getting out of town in the morning rush hour traffic was a bit of a challenge. I was drawn to a 1934 Ford, a must have a photo moment. The owner, Gilberto, also owns the Oil and Lub shop and filled us in on the history of the car. His for the past 30 years, like all classics it needs work but like all classic owners, he differs. Like me and our Imperial, love conquers all but the cost makes repairs a slow process.
The first 50 kilometers are flat. The mountain ahead looms as a brown and gray obstacle. As we began the climb we passed through an area where tire dumping has littered the hillsides. We stopped and ate our sandwiches and observed a huge column of smoke ahead. It appears to be just around the corner yet traffic continues to flow in both directions. We were sure it had to be a horrible wreck. This road is famous for spectacular crashes. A young guy we met at breakfast told us that the locals say there are spirits that pull cars and trucks off the road and into deep ravines.
Rounding the corner we could see the black plume was off to the left some distance off the road. A Policeman was just walking back to his car. He pulled away before we got to him so we remain curious. His lack of concern leads us to believe that someone had just dumped more tires and set them ablaze?

Pollution
Now the up begins in earnest. The browns and grays are now stark rock cliffs and shadows. We were able to ride to the 1000 meters mark and a bit beyond. Then came the BIG PUSH. The road rose from steep to very steep. The push was constant. We tried to ride a few times but had to give it up to the incline. We pushed into a setting sun and began to worry about making it to La Rumorosa. The winds we'd heard of, the whispering winds that they say talk of the dangers of the road, also began to be a factor.

As the shadows lengthened our doubts deepened. Cat's completely fatigued and I have terrible back and shoulder pain. We began trying to catch a ride. 4 guys in a 4WD pulled up but had no room. They were so concerned and tried to figure some way to squeeze us in. Finally they pulled away after assuring us that the summit is less than 2 miles ahead.
T'was a long 2 miles. We have to stop and rest often. The altitude is now affecting us and the thin air is cooling fast. When we did top out we could see a Toll Gate ahead. By the time we pulled up to the cross arm it was dusk. One of the Guards indicated in sign language that El Vikingo Lodge, the one we've heard of, is just 2 Ks ahead. Setting off into gathering darkness we pedaled then pushed 3 Ks onward and upward. By the time we finally gave up at an overpass 4 Ks from the gate it was pitch black, dark.
Both of us are tired to the bone. This adds to the possibilities for discord. We stood and weighed our options at times even shouting at each other. Trying to hitch a ride was impossible. We're lost in the darkness to the fast passing traffic. Cat was pretty unhappy when I insisted that we ride back to the Toll Gate. The center divider is a concrete barrier and impossible to cross. We must ride into oncoming traffic. The bright lights are blinding and make the down hill progress almost as painfully slow as the up hill push had been.
The level of stress kept our minds off the plummeting temperature until we pulled back into the safety of the well lit gates. Stopped, the cold night air and high level of anxiety gave Cat a bad case of the shivers. She pulled all possible clothing out and layered it on as I went truck to truck asking for a ride. A guy pulled up and sort of indicated that he would take us into Rumorosa but that there was no place to stay there?
With spirits at an all time low we watched the traffic slowly trickle through the gates. Then, a 5 passenger pickup truck with 3 guys inside stopped. They spoke English and were gravely concerned for us. So much so that they insisted Cat get inside then they turned the heat up to Max. Yuri, Alberto, Roberto and I lifted and jammed the bikes into the small truck bed then we all squeezed into the cab. I too had begun to shiver. My hands were so cold that I couldn't tie the straps around the wheels to hold the bikes steady.
Roberto sat in back with Cat and I and offered us energy bars and apples. Starving, we accepted. The crowded cab was soon overheated. They talked with us about our journey and put up with it until we reached sauna levels. We had to ask them to turn it off.
They have been attending an all day conference. They work with Mexico's largest Cement Company. They expressed doubt about lodging in Rumorosa so we were off to Tecate. Cat even tried to convince me that we should just ride all the way to Tijuana with them but I resisted.


They pulled through Tecate to the Motel we'd marked in our Guide Book. It was pretty disappointing looking and on the outskirts of town. They circled back and pulled into another we had seen. What wonderful guys, they insisted on off loading the bikes then posed for pictures. Alberto even sat on the bike and pretended to be riding around the world.
A quick check in then I hustled down the block to a Pizza place. It was 9:00 PM by the time we got Pizza and huddled on the bed hoping the heater would bring the room up to a tolerable temp.
The TV is minimal however, we're so tired that we had a tough time keeping our eyes open during our Pizza party. Too cold to shower, we just tucked our tired sweaty bodies under the covers and huddled. Today has been a true test of our metal and we believe it's the last big hill between us and home.
February 21, 2006
Aches and Pains from the PUSH
Tecate lies over 3,000 feet above sea level.
It was easy to sleep through the night. It was hard to get out of the bed. Both aching and stiff from the big push, we just limped to the Hotel Restaurant for breakfast. Like most places here, they're now on Gringo prices.
A walk around took us through Tecate from one end to the other. Not a very big place. We found the Bus Station and the schedule of buses back to Rumorosa tomorrow. An early start but we're anxious to see the Rock Art and are tired of giving up mileage.
Cat walked to a Lavanderia with our bag of sweaty cloths. I did some journal work and waited. Returning, she complained about the distance. Seems the girls here at the Motel sent her on a wild goose chase at first. Then after she doubled back and asked again they assured her it was fairly close. It wasn't. However she did find a Panaderia and some lunch meat so, it was another in room picnic for lunch.
The afternoon wind has blown in again. It's too blustery and cool for walking, so I worked on the journal while Cat wrote in hers. Not much on TV.
Dinner in, too. We've seen a Chicken Rotisserie place a couple of blocks away. Strictly take out and the deal of the day is a whole chicken for 40 Pesos. Since we're now only dark meat eaters we tried to do a trade off but failed. Walking back with legs in hand we realized that we paid way too much, should have taken the Tuesday night special.
Another dinner on the bed with TV, most pretty bland. We did get a pretty good movie in English.
February 22, 2006
La Rumorosa to Tecate
74 Kilometers Bus to La Rumorosa
Too cold to be out this early at this altitude. We rode directly to the Bus Station and arrived just before 7:30 AM. Got our tickets loaded the bikes in the underbelly of the bus then waited an extra 15 minutes. Just enough time to have a cup of hot coffee to ward off the morning chill. .
El Cheepo?
Our plan is to eat breakfast at a place the Bus Station girl called El Cheepo. We're supposed to get off the bus there. Thinking the driver would tell us when we reached the place we watched the desert sun slowly rising and hopefully beginning to heat the thin air. Concerned, we asked the driver about El Cheepo and he applied the brakes. We'd already passed the place? He helped us pull the bikes out on the shoulder of the road then left us there in a cloud of cold dust.

It's a 2 K struggle back, into a cold headwind. Then there it is, El Chipo. We'd seen the sign as the bus passed but didn't put Chipo and Cheepo together. The restaurant is cold except for a little area near a roaring fire in a pot belly stove. A group of guys had the best or warmest seat. We huddled nearby and ordered a big Mexican breakfast. Again we wonder what life will be without beans for breakfast.
The sun was moving up but not heating up the high desert. The cold wind cuts like a knife. We've another 2 Ks to get to the Rock Art Park. Good to turn right, now the cold is only a side wind.
El Vikingo?
After crossing the Freeway we finally got to see El Vikingo. We'd only missed it by 1 K last night. It looks closed and if it's not, it looks sort of run down. We're happy with our current affairs. Sometimes tough situations lead to better times. This is one of them. Not only do we have 3 new friends, we had a day of rest and now discovery.
First sight of El Vikingo was also a change of road surface, we'll be on dirt for the next kilometer. We're riding bare bike today, well, we do have handlebar bags but nothing like the load we're used to. The bikes behave strangely but we like the feeling in the dirt and rocks. Cat says she's ready to shed the bags. Strange, we talked as we rode about how different cycling and life will be in just a couple of weeks.
El Vallecito

El Vallecito Park is or Archeological Site is pretty primitive. The Office is little more than a shack and it's vacant. We walked around, found toilets, that even flush, then waited in the sun. The sound of children, talking, laughing and having fun began to fill the slowly warming air. They were led by an intent looking guy, obviously the Park Ranger. He got them back to their bus then led us into his office. Juan Diego is quiet, perhaps due to the language differences. He'd been pretty animated with the kids in an intense sort of way.
In serious Spanish he explained how the trails will lead us to the different sites. The map, too, is in Spanish. Amazing though, we're getting it. About time, with just a couple more weeks in Espanola land. Maybe we get it because it's so simple. Just a loop trail with highlights noted on the map and Juan Diego told us to follow the Senales. (Signs)

The first sign on the pathway was unsettling to Cat. "Precaucion, Rattlesnakes". You know how she hates snakes or should we say, fears them?
The Rock Art is fairly simple but interesting. The center piece is El Diablito, The Little Devil. Perhaps they call him Devil because he's done in red? They do know that the sun of Winter Solstice, December 21, each year, touches his eye in the morning. It points to the Astronomical knowledge of the people who lived and worked here more than 900 years ago.
We spent an interesting 2 hours slowly walking and absorbing. When we left El Chipo after breakfast we almost turned tail and headed down hill to escape the cold. Now we are enjoying a beautiful spring morning connecting with spirits of those who walked here long ago. A feeling we've known in so many places we've seen on this Odyssey.


Back down the dirt road and onto the Freeway. (Autopista) Then a downhill run of sheer enjoyment. Light bikes, sunshine and no wind. Well, we're riding like the wind! The scenery is dry hilly desert. Civilization begins to take hold and we see homes both large and small, clinging to the hillsides or clustered in the valleys.
The Golden Arches stand head and shoulders above the low rise building that make up most of Tecate. They tempted us from afar then drew us in as we closed in. We're so close to home and though we rarely would frequent a Big Mac before it feels a bit like home, now.
Joe Makes a Trader Joe's Run
We sent an e-mail to our friend Joe asking if we could spent our 2 days at Rancho La Puerta on Friday and Saturday rather than Sat and Sun. He responded, inviting us to spend Friday, Saturday and Sunday since he has us scheduled to do a Presentation on Sunday. Works for us, an easy decision, since we're so far ahead of schedule.
However, it creates a dilemma. Earlier we'd asked if The Ranch serves wine and he assured us that they do, on Fridays. Oh, oh, what about Saturday and Sunday? We shot an e-mail back asking him to pick up 3 bottles for us. He responded that he doesn't partake of alcoholic beverage so knows little about wine. Back at him, we suggested Trader Joes and Kendall Jackson Chardonnay. "What if they don't have it"? he queried. Our assurance that they would or they'd know something comparable and he agreed to make the Vino Run.
The heat in the room is slow but does finally take the chill off. It felt so good that we chose to dine in, again. Tonight is Chinese cuisine. A walk to the Restaurant in the fast cooling evening air then we re-arranged the sparse furnishings to have the table near the heater and within eye shot of the TV.
The ever intruding evening cold had us under the covers by 8:30 PM.
February 23, 2006
A Brewery Tour in Tecate
A couple of blocks down main street toward the Bus Station are a few little food stands in a row. We walked in the sun and found a breakfast place. How do you make a choice of stands that are so similar? Look for one that's warm! The kitchen divides the seating area and the warmth of the big stove drew us in. Another eggs, bacon and beans morning. With flour tortillas too, of course.

An intentional walk down to the Brewery for our tour found us at the gate too early. The sign says "Tours 11:00 – 12:00 3:00 – 4:00." It's only 9:30 so we found an Internet Café and wiled away an hour then went back expecting to find a line of others interested in Beer Brewing. A Security Guard chuckled then shuffled back and forth as he explained slowly in limited English that the only tour is at 3:00PM? We can only guess that they limit tours in the off season? Tecate is famous worldwide for the beer. This tour is the only feature of Tecate that our guide book calls a "Must see".
So, more walking up and down the street, lunch at a different Taquieria then back to our room. I did a little journal work while Cat channel surfed. We walked together to the Lavanderia and collected our clean clothing then took the bus back. We're going to miss these 40 cent rides.
Not wanting to be late we began our walk back to the Brewery at 2:30 PM. By 3:00, a crowd was collecting. Then the girl came out and told us that they have booked the tour to a school. We were a little upset but she urged us to wait until 4:15 and they'd have a tour for us. The others took them up on the offer of a free beer. It didn't sound good to us so we sought sun and sat. By 4:30 all but 2 other couples had given up and gone. The girl sort of tried to dismiss us due to the time. The Brewery closes at 5:00 PM. After waiting all day we chose not to take the news sitting down. In fact the all 6 of us rose up and railed until she agreed to find the Guide.

He wasn't thrilled. His mind was already on going home or somewhere more fun than work. Unfortunately for us, the others speak only Spanish. Diego, the Guide has a little English, enough to explain that they will show us a video but we will have to wear ear phones to hear it in English. Most of the show was about the various products make. Here they produce only Tecate but they manufacture several other brands of beer and some soft drinks, too.
Next step of the tour, they provided and required that we wear ear covers to dampen the sounds of the production floor. These were almost unnecessary as they were shutting down the line when we entered. We did see the tail end of the days run of Tecate in regular 12 ounce cans. Actually slightly disappointing considering it's Tecate's the #1 tourist attraction.
Seeing all that beer flying by on the conveyor made us thirsty for our drink of choice, wine. In fact it was Happy Hour by the time we got back to our now toasty little room. A couple of glasses of wine made us lazy. Another good reason to eat in.
Back to the Pizza place on the corner, this time for pasta. We would have dined there in fact we took our wine with us but the doors were wide open and the wind was whistling through. So, our Last Supper in Tecate is another in the room experience. The pasta is ample but not great. The bread was the best part of the meal. We ate and talked about how life will be when we fear not the lettuce and other salad ingredients?
Another evening of no news and a simple movie but it was in English.
February 24, 2006
Tecate to Rancho La Puerta
6 Kilometers
We are so ready to be moving on. Up early, we re-packed the bags then hung them back on the bikes. Fully loaded, they feel normal though Cat's still talking about how wonderful the bag-less ride down from Rumorosa was. A little deviation from our usual, we now showered then dressed in our clean cycling clothing. Normally we'd ride then shower but it's only 6 Ks to the Ranch.
There's a terrific little "Starbucks" type coffee place just across the street from our Motel. The coffee smells strong like we like it but they're missing the point on the muffins. Cat remembered a Panaderia up the street so we walked for muffins. Back and seated in the window we watched as a parade began to form. Great coffee, good muffins and entertainment to boot. Can't beat it.
Though I ran up and down the street taking pictures of the young people as they began to parade we couldn't find the reason fro the celebration? The best we got is that it may be some sort of State or local holiday?

Drum & Bugle

Forward March

Parade
It was 10:30 by the time we set off toward Rancho La Puerta. Joe is conducting a group walk and asked us to get there a little before noon. The road is narrow and winds through a wide canyon. Cars and trucks seem to be in a hurry? They could have driven on the Autopista but probably press for speed here rather than pay the toll? 014 Fire Retardant
It's Deja Vu, All Over Again!

A moment of deja vu, we stopped at the sign and took a picture then I remembered passing this way once before, back in 1988. On that earlier cycling trip we rolled down the California coast to Tijuana then across to Tecate. The narrow winding road was the only road in those days and we were frazzled by the time we got to this gate. I suggested staying but we decided to move on, promising to return someday. Well, this is the day!
Joe, Our Trader Joe's Connection
The road into the ranch is a tough bike ride. Between the cobble stones and the speed bumps designed to slow traffic we would walk part of the way. At the Security Gate we explained that we're guests of Joe and the Guard rolled it back. At the Registration desk they were expecting us, knew about our trip and that we were guests of Joe.
We are staying in Staff Quarters and the very best news, they confirmed that we're guests of Joe and The Ranch. One of the gals was so curious that she pulled our web-site up on the front desk computer. Others gathered around, we showed them how to find the story and picture of our meeting with Joe in Africa. He's almost a fixture here and obviously well liked.

They marked a map describing the grounds and direction to our room. We were struggling with it as we pushed through the wondrous grounds filled with unique landscaping and sculptures. Then, like a vision, Joe appeared with a band of bird watchers in tow. He was just completing his morning tour. It was hugs and greetings then meeting his entourage. He dismissed his flock then led us down the right path, past his place to a row of rooms off in the trees. We just pushed the bikes in then returned to his room for the Trader Joes hand off.
Joe was teaching school and not enjoying it 25 years ago. He took a temporary summer position here as an athletic trainer and the rest is history. Almost a fixture, he is probably the longest serving staff member at Rancho La Puerta. His room is like an apartment. Full of momentous and decorated to his liking. Though he lives in San Diego and has a number of clients taking advantage of his Personal Training he drives down to The Ranch every Wednesday evening and works Thursday through Sunday.
He took pride in showing us that he'd not only found our favorite, Kendall Jackson but our 2nd fav too, Clos du Bois. He did urge us not to flaunt it. We will be dining with the staff and they're not allowed to partake of alcohol with meals. He suggests that we keep it in a bag, under the table. Geez, sneaking drinks again, reminds us of dinner in Morocco.

I

t was Tour de Joe as we walked to lunch. A few favorite poses with Art along the way then we sat with Vern, a high school pal of Joe's, and his wife Linda from Portland, Oregon. They too are guests of Joe's for the week. Weekly visits at The Ranch begin on Saturdays so Vern and Linda will be leaving tomorrow.
Lettuce for Lunch


Food at all meals is served buffet style. A large part of staying here is learning about diet and exercise. We're surprised, we thought it would be a "Fat Farm" but most of the guests look quite healthy. Joe says it's more about self improvement overall, physically, mentally and spiritually. In the spirit of healthy eating the luncheon buffet is almost a study in lettuce and other greens. They did have pasta so we loaded up on it and the salads. We sat with Joe, his High School friend Vern and wife Linda. Also guests of Joe's, he and Joe went to school together in California but they now live in Portland, Oregon. Now, we're all old friends!
Since we arrived a day early Joe has spread a little flyer and scheduled us for a presentation about our Odyssey later this afternoon. He took us to see the room and to help us get anything we might need. Our first inclination is to just sat and chat, answer questions. Then we found that they have a big screen Power Point system. I'm anxious to see our photos in the large format. Joe almost urged us not to show them. He told us about another friend who had cycled by and his entire presentation was slides that bored the audience. We assured him that we'd only use them sparingly.
Back to our room, we dressed then I spent time copying photos to a CD.
From 5,000 to 2,500 Calories?

At 3:00 PM we attended Joe's presentation, "Taking the Ranch home with you". A review of the things learned this week and ways to integrate them into everyday life. He is an accomplished speaker. He was on the Speakers tour for a few years with his own show, Sweeney Fitness. His technique holds attention as he gives out good tips and jokes about past guests, the good and the not so good. Then, he asked all of us to participate by writing down the 2 things we will take home then choose a partner to share with then stay in touch. Nancy came across the room and asked to partner with me. The issue she's chosen to take home regards food. She wasn't to choose smaller portions, chew thoroughly and eat more slowly. She was slightly shocked when she read my issue, "To cut my daily intake from 5,000 to 2,500 calories a day. Cycling requires energy, energy is fueled by food. Both Cat and I worry about cutting back on food in amounts equivalent to the cut back we expect in our exercise levels once back home. Sure we will still exercise but not 6 to 9 hours daily like we have been doing for so long.
Once the class concluded Joe took us in tow and led us to the Room where we'll be talking about our trip in an hour. A staff member met us there to discuss our needs. He arranged for a couple of tall chairs and instructed us on the operation of the Power Point Presentation. Wow, our photos look great on the big screen. Comfortable with the room we headed for ours and a few minutes of relaxation.
Our FIRST Presentation
A few people had drifted in and taken seats. We will be playing to small crowd but that may be a good thing since this is our first attempt. I put together a list of subjects we would cover and the front desk printed it but Joe suggested a less formal approach. So, we set off into uncharted territory without a map. It became a rambling, globe trotting question and answer session. The crowd was small, only 10 people, but they were extremely interested and had a lot of good questions. The best of it was Cat, she had worried about this moment for weeks and now, on center stage, her star sparkled. The women all wanted to know about her experience and her perspectives. Another bonus, Larry and Merry, also here as visiting staff, attended then introduced themselves when we finally wrapped it up. Larry is a Yoga Instructor and Author. Merry has a Promotion, Press Release and Book Development firm. She was responsible for getting Larry's recent book, Yoga Rx completed and published. It was an instant "Like-Like" relationship.
Dinner with Joe, Dancing with Yuichi
Our evening meal will be on the balcony above the celebrating guests. They are spending their last night together. You can see how most have cemented relationships that will last. They know their way around and move quickly from the food serving line to sit with their Ranch friends for one last supper. Oh yes, and tonight is wine night. They do serve a Mexican white. Not our favorite but our favorite that is available.

Joe, Vern & Linda were seated at a full table when we arrived. We sat at the adjacent table with a group of women instructors. They were consumed with conversation about guests and each of their classes. We consumed wine, munched our greens along with a small piece of beef that was tasty but a little too well done. Thanks to Joe, the Clos Du Bois pulled the meal together nicely.

One of the reasons we had a small crowd at our presentation was Yuichi. He is one of the most popular instructors at the Ranch. His expressive dance allows, in fact encourages abandonment of fear of criticism. A local band struck up at 7:00 PM. When Yuichi hit the dance floor the crowd roared approval. He slithered and writhed around for a few minutes then chose a woman to dance with. Shortly he grabbed another and the three bumped and ground then he wave the entire crowd to the floor. Couples who may have been dance-free for years were out there shaking and rattling. We moved down to a seat near the action, even took a turn around the floor ourselves. A gal rushed over when the song ended and said, "You two are a UNIT when dancing". We're pretty sure that it was a compliment.

Yuichi Dances
If you read this and decided to visit The Ranch don't expect to find a Television set in your room. Fortunately for us they do have one in the Staff Quarters rooms. We enjoyed our first visit to CNN News in more than 10 days. Sort of like a Soap Opera, same old stuff different day?
February 25, 2006
Rancho La Puerta
Breakfast at 7:00 AM. Juice and fresh fruit, muffins and coffee. A taste of home. The crowd at our table is reminiscing and preparing for flights. We sat with a great group and listened as they talked of their time spent here. All feel that it's a good investment of money and time. As we have said earlier, there's more to this place than just diet and exercise. Time flew, we had to hustle to get back to our room, brush teeth and dress for a walk.
Bird Watching With Joe
Joe's Bird Watching Safari was as lightly attended as our presentation was last night. Most guests will leave today and are busy getting packed. We asked how Joe became interested in birds. His story here at The Ranch is one of slow transitions. He began as a Phys Ed Instructor then moved into Yoga. His classes in Public Speaking began to pay off. He's now become the voice for The Ranch, too. And the Birds? He took on the responsibility several years ago and it began to fascinate him. Now, he says that he's developed an extensive list of sightings, even takes time on his San Diego days to get into the field and spot new species. He knows the birds of The Ranch like the back of his hand including where they tend to flock together. Though we don't fancy ourselves as Bird Watchers we did enjoy the spaciousness and beauty of The Ranch.
One feature that they discourage the use of here is their Internet Room. It's well equipped and included but the staff stresses the value of calm and these machines often detract from that. We spent an hour reading and writing. Funny, our messages are joyful communications with family and worldwide friends, no stress.
We spent lunch at a table with Joe and discussed tomorrow evening's presentation. This time he feels there will be a crowd. We're featured on the schedule and its first day here for most of the guests. Great ideas and wonderful salad, soup and grilled veggies.
Another short session at the Internet Room then we spent time re-working ideas for our presentation, again.

At 5:30 PM Joe conducts an Orientation meeting. We attended to experience his presentation and the details we may have missed in our 2 days here. He again holds the audience's attention and interacts extremely well with them.
Dinner at a table with Larry & Merry, the couple we met last night at our premier presentation. Easy to be with, they are so relaxed and open about life, love and happiness, really nice people. Remember, Larry is the guest Yoga Instructor this week at The Ranch.
Wine under the table and although Larry & Merry didn't partake they didn't discourage us, either. Told you they're really nice!
There is a wine and cheese experience being held after dinner. Cheeses of the World and Wines of the Baja. They also show a current movie tonight but neither of these festivities could keep us from our appointed time with the pillows.
Another nightcap, CNN News.
Sunday, February 26, 2006
Rancho La Puerta


Another early, familiar and great tasting breakfast. Juice, fruit, muffins and coffee. We even threw in a bowl of oatmeal. Joe helped us decide on a lineup of classes. This is going to be a busy day.
Pilates, 9:00 AM Denise & Kaily
The class is for beginners like us. The instructors, Denise and Kaily spent as much time discussing the theory as applying the moves. Floor work, lots of slow moves with points where you hold. Most of our work was centered on the stomach. The name Pilates seems to imply complications. To us it was a fairly simple workout. We stood and chatted for a couple minutes with our instructors and a hand full of others interested in our voyage. The word is getting around and we enjoy the notoriety.
Yoga, 10:00 AM Dr. Larry Payne Ph.D.

Another first, neither of us have ever experienced Yoga. Larry is the Guest Instructor, Merry is a participant. He is extremely well known in Yoga circles. Like many who lead, he began as a participant with a back problem. After years of struggling with stress and pain a friend introduced him to Yoga. It became his passion. He knows it well and loves to share. He operates Clinics in Marina Del Rey and Malibu. He started us with positions and moves. It all seems so simple yet by the time our hour was behind us our bodies were already felt loose from the stretch. A stronger workout than we could have imagined.
Another stress free session on the internet then off to lunch. Salad, Soup and Veggie Frittata, low calorie and yummy. The balance of the afternoon we sat and reviewed last night's presentation then discussing ways to improve our performance. We let the pictures run as we chatted last night. That was a mistake. We'll take time to tell about ourselves then flip through the pictures and finish with questions and answers.
Our BIG Presentation

Joes was right, we already had a crowd assembling as we plugged in the computer. About 30 people filled the seats, anxious to know about us, the how's and why's of an Around the World Adventure. They were attentive and enjoyed the photos then let loose with a barrage of questions. All typical, similar to those we hear all the time on the street. So many queries that we broke the Cardinal rule of ending on time. Though the crowd began to trickle out the door several continued to press us for answers. All in all a good start for our speaking careers once we get back home.
Late for dinner, we sat at a table with Kate, a Yoga instructor here and a couple of gals from Orange County. Melissa & Nancy from Costa Mesa will be photographing Kate, tomorrow. She, like Joe, lives in San Diego and has clients she serves there during the week. Oh yes, the wine? We smuggled our bottle in and poured under the table. The gals were very understanding. It went well with our Fish Dinner. By the way, dinners are served, not a buffet.
Typically The Ranch provides a known speaker each week. Tonight it's Marion Wright-Edelman, the founder of The Washington Research Project which later became The Children's Defense Fund. She's been an advocate for the disadvantaged, especially children, for most of her professional career. She has received Honorary Degrees and awards too numerous to mention and published several books on the subject.
By the time we finished dinner our bodies and minds were in fatigue shutdown. A combination of the exercise and stress from our best yet public presentation we assume. Fearing that we'd nod off we reluctantly had to pass on Marion's presentation.
Another brief session on CNN then off to sleep. Our bodies are now stiffening from our entry into Yoga. Really tougher than it looks and obviously a good workout.
February 27, 2006
Rancho La Puerta to Tijuana
36 Kilometers


Up and out on an early Meditative hike. It was cool, close to cold. Phyllis led and Joe brought up the rear. Must have been 20 of us enjoying the scenic beauty of The Ranch and silence. Yes, this is a no talking walk. And that's tough for Cat. We're supposed to just look around, enjoy nature and the morning. Cat wants to point out things like we do as we cycle. I shushed her once then she stopped talking but took up grunting and groaning to make sure I saw sites she liked. Hey, it isn't easy for me to remain speechless for an hour, either. Marion, the presenter we missed last night was in our group. As badly as we wanted to speak with her we had to remain silent.
The grounds alone are worth the walk but they're actually enhanced by the feeling of absorption that finally takes over once we got beyond being speechless. A beautiful horse walked directly toward us on a narrow trail. Phyllis stopped, looked toward us then stepped aside. It was almost as though part of a show. Cattle grassland and trees then a place for reflection, a place to ponder the World around us and the Universe. There is a monument built by students. It leads your eye up to the ever present backdrop of The Ranch, Mount Kuchumaa. We sat on the ground as Phyllis read in her soft, quiet, almost motherly voice;
"Salutation to the Dawn"
Look to this day For it is life, The very life of life. In its brief course lie all the verities And realities of your existence. The bliss of growth, The glory of action, The splendor of beauty, For yesterday is but a dream, And tomorrow is only a vision; But today well lived Makes every yesterday a dream of happiness, And every tomorrow a vision of hope. Look well therefore, to this day! Such is the Salutation to the Dawn. Kalidasa
We've been told that people come here to find peace after a failed relationship or to celebrate a new one. Others to celebrate life or to prepare for the end of it. We feel that there were some of each in our group. A couple holding hands another clinging to each other. A third, a limping man leaning on his partner for support. All sat in silent reverence as the words soaked in. A truth that we often forget in the hustle and bustle and noise of everyday life. The fact that the dawn of each day is life!
Breakfast with Jerry & Carol from Chicago and Susan & Dennis from Walnut Creek. Jerry is CEO of Chicago the Chamber of Commerce, Carol is with Hyatt Hotels. Dennis and Susan are partners in 6 Real Estate Offices. He says that he's famous or perhaps in-famous as one of the 2 defendants in California's Easton vs. Straus berg Law Suit. The one that led the Real Estate industry away from Caveat Emptor, let the buyer beware to the protective consumerism of today. It also led to all the Disclosures now required in the sale of California Real Estate. A great group to break bread talk with. We invited them to see us off at 10:30 in front of the Registration Office.


Walking back to the room we came across Melissa, Nancy and Kate in the midst of their photo shoot. We extended the same invitation to them. Kate can't make it, the OC girls offered to take a professional shot of us there.


We packed and loaded quickly then pushed to Registration. Joe, surrounded by a flock of Bird Watchers, stopped to bid us goodbye. We stole him away for a moment to get a picture at the Statue of Meditation. Our second but definitely most emotional parting with Joe.
Checking out was another pleasant surprise. We had used the telephone to call San Diego and were that the cost would be billed. Out front our little crowd of well wishers was gathering. The Pro's shot our group then one of the group got a pic of us with them. More hugs, well wishes and promises to see each other again then we were off to Tijuana.
On The Road, AGAIN. It's 4 Ks on the narrow and dangerous old highway. Cars and trucks were grudgingly ground to our slow speed as we climbed on sweeping curves. An unmarked thus uncertain right turn led us onto the Autopista. From this point the sign tells us that it's only 32 Ks into TJ. With a stiff wind in our faces we set off on the shoulder, through rolling hills and dry canyons that may have water running deep in them tomorrow? Most of the ride is slowly down and against the wind. By noon we were in the busy streets of Tijuana. We stopped for a Cola but decided to press on before eating lunch.


With the City below we struggled down a huge steep hill then along the dry concrete riverbed and to the heart of the Tijuana. The ladies at the Registration Desk had recommended then called Hotel Lucerna and reserved a room. They'd even provided a map of town. Lost for a few minutes, we finally found co-ordinates on the map that made sense. Onto Paseo de Heroes, past a statue of Abraham Lincoln and to the Dominos Pizza across the street from Hotel Lucerna. It's now 2:30 and we're starving. It was a Pizza and Cola lunch curbside. The Restaurant seating area was under construction.
A push across, registration and a disappointment, they have a room for today but are booked on March 3rd. Our plan is to meet friends and spend 3 days in Rosarito before returning and preparing for our re-entry into the USA. So, we'll just have to take our chances. They may have a cancellation or will help us find a place.
Showers and TV, we have CNN. It feels so good to be in a nice room that we decided to have dinner in tonight. That and the rain that began just as we pulled the bikes up the wheelchair ramp and into the Hotel. Lucerna is a 4 Star Hotel and the food was excellent.
February 28, 2006
Tijuana to Rosarito Beach
Fat Tuesday or Mardi Gras
UP and about early to lots of News. We have CNN, CBS and ABC. Bananas then a walk down the street to The Buzz Café for Coffee and raisin rolls.
This morning they have found a room for us to return to on March 3. We have stored the bikes in a room and repacked. We had our heads down reading the screen on the Business Center Computer in the Lobby and had just read a message from Ron and Bev telling us that they left at 7:10 AM and expect to be here by 1:00 PM when I heard Ron asking the front desk for us.

My relationship with Ron goes back almost 30 years. He was Manager of the Bank next to my Real Estate Office back in 1979. We and ex-spouses skied together for several years then traveled to New Zealand one in 1983 and Greece in 84. He was my Banker for years and became our Stock Broker until he retired last year. He was raised there and had a sweetheart back then named Beverly. They met, rekindled the and recently married back where it all started, in Bakersfield, California.
We loaded up and Ron drove. It was a time to renew our acquaintance and get acquainted with Bev. The sleepy little beach town has really grown up since the last time we rode the Rosarito to Ensenada 50 mile bike ride. Oh there's still the restaurants serving lobster but they're surrounded by new high rise condos and Hotels.
They've chosen Hotel Las Rocas. We checked in but had to wait for the rooms to be cleaned so we decided to have lunch. Margies for the Cat and I, Ron had a beer, Bev doesn't drink. Both were raised in the Mormon Church. She has moved back to the fold, He hasn't. .Mexican food served by a gregarious hombre who's been working here for over 30 years. We sat on the patio. Seated behind glass that held the wind at bay we were soon almost uncomfortably warm.
Acadiana, our old band, is playing today for Mardi Gras on the Ellen Degeneres show. This local NBC channel was doing a re-run of the Olympics. After anticipating for almost 1 ½ hours we learned that this local station isn't carrying Ellen? She has the most watched daytime show in TV and they don't carry her? What's up with that?
The Tintorri 5000 Port-a-Toddy
In our rooms, we relaxed then met for wine at 6:00 PM. Then Ron drove us to Puerto Nuevo for a long anticipated Lobster Dinner. We really have been dreaming about this place and this lobster since entering Mexico. It was a standard stop every time we came to ride the Rosarito to Ensenada race. We talked about one memorable time when our pal, Terry Tintorri brought one of his inventions he called the Tintorri 5000 Port-a-Toddy. He asked us all to bring blenders then we made 5 gallons of frozen Margaritas. His invention was simple, a 5 gallon thermos container with a faucet attached to a back pack frame. What fun we had how much we drank, how we suffered later. All part of the fun. At one point in the evening we all sat in the Jacuzzi and sipped until the Hotel Security told us it's against the rules to bring alcohol, they sell Margaritas here. And we thought there were no rules in Mexico?

The Lobster was as good as we remembered but the price much higher? We're getting very close to Gringo land and Gringo prices.
We were back in our room early enough to sit together and watch the end of American Idol. Ron & Bev are sort of hooked on it, too.
March 1, 2006
A Beautiful Day in Rosarito
Awakening to a brilliant day we decided to drive, about 10 Ks, into town for breakfast. A cruise back and forth then a choice, we will eat at the Calafia Hotel. The restaurant sits on a cliff overlooking the ocean. The Plexiglas held the cool breeze at bay while we enjoyed another Mexican Breakfast.
Mexican Meds
One of Ron & Bev's objectives while here is to buy medications. Pretty common occurrence amongst our fellow Americans. Drugs are so cheap everywhere outside the States. Retired people living in the northeast drive or bus into Canada for the same reason. All the hubbub about immigration but no one seems to be concerned about this other than the Drug Companies? Ron says that they come twice a year and the savings pays for the trip including the Hotel.
Another small world event, a friend, Faye, who has followed our travels has suggested that we stop and see he friends Ken & Judy while we're here. They lived in Ventura but have relocated into Rosarito and retirement. We called, they invited us to stop this evening for a drink.
Lunch at the wonderful old Rosarito Beach Hotel. An institution, it also marks the starting line for the twice annual Rosarito to Ensenada 50 mile bike ride. Cat took her first long distance ride here. I took a spill and broke my arm during one of the many rides we've enjoyed here. Lots of fun other than the arm thing, usually 12,000 riders. You finish in a large open space. They have a band playing and the drinks are flowing freely.
Seated on the pier behind another plexi wall, we were soon sweating and had to move to catch a bit of the breeze. Fun learning about how Ron & Bev re-united after more than 30 years. They had been young lovers in high school. Both moved on then 3 years ago Ron moved back to Bakersfield to help his aging Mom. He built a house and settled in then his Sister mentioned that Bev was still around and available. The rest is history as they say.
Small World Small Talk
Ken & Judie's condo is virtually next door to our Hotel. We drove over, wandered around then a gardener pointed the way and we were at their door. We rang, they opened and we were looking down coast form the 3rd floor. What a view. No wonder they love it here. Beyond the view, the place is decorated to the hilt, really beautiful.
During our getting to know each other we found a couple of common links. Ron worked with Ken's ex-girlfriend. I lived on the 2nd floor of a 3 story beachfront condo in Ventura. Ken's sister Gloria lived directly above. More small world small talk.
We drifted further down coast fro dinner. Another landmark, Restaurant La Fonda, has that feeling of the good old days. We all had their leg-o-lamb, delicious.
Another session of American Idol then off to bed.
March 2, 2006
More Rosarito
Back to town, Cappuccinos and muffins for breakfast. Actually cost more than a good Mexican Restaurant would. Awe well, gotta start thinking more about healthy food and cutting to that 2,500 calorie diet.
Just a relaxing day, walking the streets looking at all the typical tourist things offered for sale. The Flea Market was most interesting, some of the same things mixed in with everyday items of life here. After a walk through Papa's & Beers, the famous chain of bars here, we went to lunch at a nearby Hotel. The food was not very good.
Back to Hotel Las Rocas, we relaxed together then Ron & Bev went napping. We set up the computer and I plugged away at the sadly lacking portion of our journal. Cat worked on her hand written version.
Dinner here at Las Rocas, pretty good food, great conversation. Another American Idol evening then early to bed.
March 3, 2006
Back to TJ


Up and packed by 8:30 AM. Ron and Bev were ready by 9:00. With all baggage aboard we went into town for coffee and pastries.
It's usually only a 30 minute ride back to Tijuana. Ron missed the turn and we found ourselves on the road to the US Border with no opportunity for a U-Turn. We got out within sight of the Border and made a decision, we'll take a taxi. It could take them an hour to get turned back around and they have to get home early today. So, we bid them adieu and headed across the road through the 8 lanes of traffic slowly making their way back to the USA. Seeking a Taxi, we waited and waved but all were occupied. We ended up walking back, up and over the 8 lanes before we found a Taxi back to Hotel Lucerna.
They were holding a message from Lori, they'll leave Dana Point by 10:00 AM and reach us here about 1:00 PM. We checked other e-mails then found a new update from Lori that they were delayed by rain? So the new plan, they'll arrive about 2:30.
Rain began to pour, Cat walked across the street, under the umbrella, for picnic supplies. Another, maybe the last, picnic on the bed. For me, the afternoon is journalizing. For Cat it's the Internet and e-mails. A note worth noting, visitors to our web-site have now crested 70,000. Pretty good for word of mouth and the cards we've passed out.
It's only been 2 months since we spent time with Lori and Dave in Guadalajara. Seeing them was as exciting and emotional as seeing Stephanie and the Grandkids for the first time in almost 4 years. Maybe completion of our Voyage seemed so distant a couple of months ago? When the phone rang we both jumped. "Come on up".
A Real Family Re-Union
8 people made our more than adequate room seem small. It's like 8 adults, the kids have grown unbelievably while we've been away. Timothy and Patrick are handsome young men. Aubrie was standoffish at first but soon very clingy. She looks like a little lady with her glasses, something that's been added recently. Tim really shot up there, with is "Gothic" high soled boots he's almost as tall as I. What a re-union.
This is Timothy, Patrick and Aubrie's first excursion out of the USA. To Cat and I it seems normal but they notice all the signs in Spanish and the difference in the clothing of some of the locals. Another first for them, a taxi ride to Revolution Blvd.
Tijuana has changed so much since the first time I remember being here. Must have been 1959. Revolution Blvd was little more than a dirty, dusty street of nightclubs and taco stands. Today there are nice Hotels and Restaurants among the nightclubs.
We gave each of the Grandkids 100 Pesos. That's only $10 US but should buy some sort of keepsake. As we walked a guy in one doorway offered Timothy a free haircut. His hair is long and the guy talked about selling it. All interesting things for kids to learn.


Timothy found a little Grim Reaper statue, Patrick who is the studious type chose an Aztec Calendar. For Aubrie it was bling, jewelry, a ring. Unfortunately the merchants here are unbending. Maybe the changes on Revolution Blvd have made it the "High Rent District". She was on the edge of tears when Aunt Lori chipped in the needed Pesos to make the deal.
Late lunch or early dinner and Margaritas at an upstairs restaurant called La Placita. Loud Mexican music, good Mexican food. The rain dampened the event a bit, we had to pull back away from the rail overlooking the Blvd to avoid it. Lots of laughing and talking, I even danced with Aubrie.

Sadly, they have to get back across the border and the lines are long. They took the Red Train down from San Diego and fear missing the last train of the day. Lots of hugs and kisses, no tears because we'll see each other again tomorrow. We tucked them into their second Taxi ride of their lives and they headed north. Our Cab wound its way back to the Lucerna through drab, wet streets.
March 4, 2006
TJ to San Diego
17 miles
Back in the USA!!!!

Sleep didn't come easily and wasn't deep. Both of us were up or at least awake several times during the night. Early to rise, a pleasant surprise, clear skies greeted us as we pulled the drape back. We are so anxious and excited that we may have been able to skip breakfast. Wait, our last time for authentic tortillas and beans, we went down to the Restaurant with a load of baggage on our arms. Our Pal, Eduardo, helped us carry and load for the last time, Internationally.
Concerned about traffic and the possibility of being detained or searched we rolled out early. Traffic is minimal, we rolled right up to the Border in short time. The cars are already backed up for a mile or more. Glad we're cycling we rolled right past them as they sat idling and inching forward. The line of people walking across is a long, slow moving serpent, too. Then another good reason to ride a bicycle, a special line for cyclists. Funny, you wouldn't think that many people crossing would be on bikes but there is a fairly fast moving stream of us. Then we begin to see what's happening. Some industrious guys have started a business renting bikes to people walking across. For $5 US they rent to you then collect the bike and bring it back from the other side. Awe, the value of FREE ENTERPRISE!
We've been advising family and friends that we will cross the border at 10:00 AM, rain or shine. Luckily today is "shine". The friendly guard pulled a gate open. He took a quick look at our Passports. We pushed through ready to be pulled aside, ready to have our bags searched. The Customs guys waved us around the x-ray machine and through the door. We couldn't believe it, 9:30 AM and we're back in the USA?
As we pushed around the building the crowd of friends began to clap then Todd, the Producer of the LandRider Infomercial came running toward us. "Wait, don't come out, go back, you're too early, we have a couple of TV Stations coming at 10:00"! Well, we aren't going to tempt fate by going back inside but we did push around the side of a small building and wait. Cat's brother Jeff and sister-in-law Mikee came past Todd who was standing guard. They couldn't wait.
At 9:50 both local affiliates, CBS and NBC, were here and Todd waved us in. It was like being stars at a Hollywood Movie Premier. 50 friends and family members clapping, shouting words of encouragement and welcoming us home. Cameras in our faces we began to hug and kiss everyone. The event was more hectic than anything we've been involved in during these past 4 years. We want to talk with everyone who took the time to come meet us. Cat's Mom & Dad came gingerly through the crowd. Then the tears, Cat let loose which started a little flow in her Mom's eyes. Nancy and Curt, friends from home were here. They'd been there to see us off when we began this Odyssey. Todd and his crew put camera #3 in our faces. They were interested in getting pictures of the emotion of the moment. My Sister Joan and Bro-in-Law Bill were there, all the way from Oregon. Brooke, a friend of Cat's from school and her friend Blain were there. Mike and Kat from Rocklin are here. Remember, we stayed with them as we passed by in 2002. A couple of strangers, Kristina and Wayne are here on their bikes. We've only met them, on the Internet. They were cycling in Ireland 3 ½ years ago when they found our web-siite and we've been in constant touch since. Even seen their pictures but meeting them was a thrill. They recently spent 7 months cycling in South East Asia. In fact, they just spent the past 3 days cycling here from their home in Laguna and will cycle back with us. Another stranger, Richard from Chula Vista came over and shook our hands. He saw our web site announcement and rode down to welcome us. He traveled around the world in a Volkswagen Van a few years ago and wants to set off on bicycles, soon. Really a nice guy. Of course the kids and Grandkids are here and we enjoyed more hugs from them, too. A big surprise and another that we've only met on the Internet, Wally Our Wondrous Web-Master rode up. What a really fantastic feeling to come home to!

Bikes & Brother Bob
Those in cars or that rode the Red Train down began to leave and the crowd thinned to those who will cycle into San Diego with us. Lori and Dave are on LandRiders, too. Dave is wearing a California Highway Patrol helmet. Wally, Michael, Kristina and Wayne with Amber, their pet poodle in tow.
Lest we forget, daughter Stephanie and the kids are tailing us in our classic 1961 Chrysler Imperial. So, our stalwart little group headed out into a light headwind. We're all glad that Richard is with us. A local, he knows the road so took the lead. We'd only gone a mile when my Brother Bob and his family pulled up next to us. They had taken the wrong turn and ended up caught in the Border rush and forced across into Mexico. Then they had to spend the hour working their way back through the 8 lanes of traffic. They did have time to shop for a few souvenirs at the roadside stands.


Todd and his camera crew drove along video taping as we cycled. Then both TV Channels had stopped and set up for on the road interviews. Great fun being celebrities but very time consuming. Reaching The Silverstrand Richard took leave of us after pointing out the way. He lives in Chula Vista and has to get back. This is a narrow isthmus of sand and wetlands. Natural beauty and a natural tendency to be windy. We're scheduled to meet our family and friends for lunch at 1:00 PM. The photo shoots and now wind have slowed us considerably.
By the time we reached the Coronado Ferry we were already late. Then Cat and Wayne had to run back to the booth we'd passed to get tickets. All the while the Ferry was running and the other passengers had boarded. They did hold for us then as we began to push on board an overly serious Ticket Taker/Security Guard stood with arms crossed, feet apart and forbade Amber's boarding. Obviously he takes his position way too seriously and loves the power of his authority. Wayne is so amicable, he talked then I urged and the Guard stood taller and stood his ground. As I explained that we have 50 people waiting Wayne tucked Amber under the canvas of their trailer and said, "Look, no dog". The Guard saw no humor but did relinquish. He waved us aboard as the Captain sounded the horn and said, "I'm letting you go this time but don't ever let this happen again"!
The boat is full of other tourists. We struggled to hold the bikes as the boat rolled in the channel waves. Several passengers asked questions about our trip. If our overly aggressive Ticket Taker had held us a few minutes longer we wouldn't have made it to our own party. It's a half hour trip. We all enjoyed the beautiful skyline of San Diego and the view of the Moth-Balled Naval Fleet off to the right. Then, it was a tough push up the gangway and ramp to the street above.
The LandRider Luncheon
The Holiday Inn is just across the street. We pushed into traffic causing a slight jam. No big welcoming crowd, our Family and Friends were already seated and eating. Leaning the bikes in a secure spot we stepped inside with our entourage. The crowd of 50 plus broke into applause. Cat and I made our way from table to table, hugging, talking and thanking all for being here, for us. For us it was like a dream in slow motion. A day we'd thought of, even planned but hadn't expected such a great turnout. We experienced emotions we'd left behind 4 years ago. So caught up, we forgot to take pictures of many before they began to slip away and scurry back to their busy lives. By the time we were ready to sit down for lunch they'd stopped serving. The waitress did find food for us. We loved this moment and must thank LandRider, Todd and Brian, for setting it up and paying for it, too.

After checking in and a quick shower we joined Cat's family and caught up on all the changes and events we've missed. One big event, David and Christine gave birth to Dylan, a new Welch in the world. He's just 1 year old. Niece Holly has a new Husband, Greg. Brian and Wendy's boys, Trevor and Riley have grown into young men. While we were visiting the News carried the story of our Home Coming. Everybody was excited then Brian changed channels to the other station that was there taping and there we were, again. Really exciting for all of us. WE need to thank Todd and Brian for this, too. They hired a Public Relations firm and the Gal, Lynn really pulled through.
At 6:00 PM we met with all the family and walked across the street to Anthony's for dinner. Another long anticipated treat for us. However, again there are so many that we just didn't get time to spend with each.


Dave and Lori, Scott and Ada, Mike and brother Bob gathered in the Hotel Bar after dinner. Cat was so tired she headed for the bed. I stayed for 1 more glass of wine but my eye lids were drooping. By 9:00 PM the emotion of the day had worn me down. A day that we've looked forward to and at the same time dreaded for a long time. Guess that's the true definition of "mixed emotions"?
Sunday, March 5, 2006
San Diego to Robin & Dale's
7 miles
"Up and at em", breakfast with Cat's Mom and Dad. When we met them in the Lobby they and a couple other family members were glued to the TV. There we were, again. Then as we were seated a couple at the next table began staring. Finally the woman asked, "Are you the couple that just rode bicycles around the world"? Hey, our 3 minutes of fame has extended into a second day. Then the waitress asked the same thing as she poured our coffee. What fun.

Family members and friends began moving toward the door, the party's over. We bid Cat's group goodbye then gathered mine. We are going to visit my brother Jerry at Rosecrans National Cemetery.
1960 and a Different Kind Of Bike
Jerry, actually Charles Jerry, was just 18 months younger than I. We were inseparable as kids. At times I felt that Mom kept it that way. Seemed like when ever I wanted to go somewhere with friends she's say, "Take your Brother". He and I were as different as night and day. I tall and gangly, he shorter, stockier and in our teen years he was much more adventuresome. At age 17 he joined the Navy and set sail across the Pacific. Even lived in Hawaii for a time. When I choose to marry there was no question who the Best Man would be.
I was a crazy young guy with a 1952 Ariel Square Four, a very fast motorcycle. My Bride to be insisted that I get rid of it. Jerry wanted it. He was stationed in San Diego and thought he'd ride it back and forth when he had Liberty. During our wedding on June 26th, as the Priest began the ceremony Jerry leaned over and whispered, "The motorcycle's right outside the door if you want to make a run for it". He'd ridden it down in his Tux.
Books From the Library Expire, Not My Brother
It was only 33 days later that I got the call from a neighbor. The Police were at our family home and no one was there. They were reporting that Jerry had been in an accident. They gave me the Hospital telephone number. I asked the guy that answered how badly Jerry was hurt. He answered in a matter of fact voice that Jerry had expired. I was so shocked, I almost didn't get it. Later as I reflected I remember thinking, "Books from the Library expire, not my Brother". This was the saddest day my family had ever had to face. Of course I felt guilt, blame and shame. I was the one who'd sold the Bike to him. (Years later in a Self Help Seminar I learned the truth about those feelings. The Instructor told of a person who looked at their dead brother and the thought flashed through his mind, "I'm glad it wasn't me". Then he was suddenly filled with remorse for having thought it. It was like a flash back. I re-lived that very moment when I saw Jerry laid out in his casket. At last, after years of guilt I got it. It wasn't having owned the motorcycle and selling it to him, it was that terrible feeling when I regretted that first, normal reaction.
After a full Military Funeral Jerry was interned at Rosecrans National Cemetery, here in San Diego. I asked Sister Joan and Brother Bob to come along for a visit. I wanted our Grandkids visit the place and hear our stories about Jerry. We drove out in a 3 car caravan then used the automated system to locate his grave. I've never liked visiting Cemeteries and in fact have only been here twice in all these years. Once walking amongst the headstones row on row I experienced no bad feeling and found it to be a very calming experience. We took pictures and told Jerry stories until we began losing the kids attention. Joan, Bob and I had one of our famous "Line Up" pictures taken. Our Mom had insisted that we stand in a line for photos. A great idea that's left us with an unbroken chain of growing up photos and strong feelings about our younger days when ever we pull our albums out. It's been a long time since we've done one that included Jerry.
When we pulled back up in front of the Hotel Wayne, Kristina and Amber were loaded up and ready to roll. We got our bikes, hugged my family members, took a picture together then rolled away, up the coast, and toward the home we left so long ago.
We were drawn to a large group of bronze statuary. It's a work sponsored by Cancer Survivors. Somehow particularly interesting for us, in light of the fact that several friends and family members are battling the Big C. It's good to know that there are more and more successful survivors these days.

Well, this first day will be a very short hop. Only 7 miles and a good thing since we're getting such a late start. Robin, one of 3 classmates of Cat's that joined us yesterday, has invited us to spend tonight with her family. A stop for burritos then the climb, up and over to the community of Ocean Beach.
Robin and Dale have 2 kids. Their daughter is away at College and we'll have her room. Wayne and Kristina are relegated to the pull out couch in the Den. They have a dog and it had a problem with Amber. She's 13 years old and he's a hyper active Pup. Eventually they became friends.


By the time we all showered up Dale had the steaks on the barbeque and their other guests, John and Mariali had arrived. John and Dale's friendship dates back to high school. They worked together as Carpenter for several years but both have made career changes. Dale is a Financial Advisor, John owns a drive through Coffee Stand. Robin is a career gal, too. She sells gift wrap and boxes to schools used for fund raising. She works from home but is on the road quite a lot.
Mariali is originally from Cuba and was interested in our perspective. Her family is adamantly opposed to the Castro government and Communism. They were able to re-locate and she hasn't been back. Her memories are all childhood. For us, Cuba seemed to be a fairly open society. We never felt suppressed and didn't talk with anyone that felt oppressed. She found that hard to believe. Well, we did meet a few who wished they were paid more for their work. In their form of Super Socialism workers skilled and unskilled make about the same wages. Hard for us to relate to, and she remembers family stories of how they lost their businesses and homes to the government.
We began to feel like one big happy family. Could have been the great meal and constant chit chat, probably had more to do with the wonderful wines?
It's Academy Awards night, the girls all wanted to watch but our own festivities got in the way. Surely a great way to begin our final days on the road.
March 6, 2006
Robin & Dale's to Oceanside
48 miles


Up and our early. Robin and Dale opened the garage door then stood and waved as we rolled down the alley. First stop, Coffee at "Bean Me Up", Johns stand. He invited us last night, promised strong coffee and scones. It's all down then along the road above the coast. John's stand is really a tiny little drive through place. He's been at it for 13 years. As we watched he and his helper would have the brew ready when a car pulled to the window. We thought they had a drive-up order speaker. No, they just know 90% or their customers.
We took pictures watched the flow for Jo then got big gulp cups and huge scones. John refused to accept payment though we tried. We did promise to send him copies of the pictures. What a great guy, like so many we've met in this wonderful world.
Never right on the coast, we meandered along the sort of main street then dropped to the down and onto the Promenade at Mission Beach. Memories of College days for Cat, she and Robin lived in a little place here.

Mission Beach


Construction at the end of the Promenade pushed us onto streets that all headed up. We wandered through residential streets until we were lost. A couple of guys, Keith and Steve cycled up then took on guide duties. Funny, though we try hard, first impressions can eclipse the effort to be non-judgmental. Keith is from Georgia, Steve lives here. They went to school together. Those first judgmental moments dissolved as he began pointing out neighborhoods then houses he owns. You just can't judge a book by it's cover.
Keith & Steve guided us through lower La Jolla then pointed up the hill and told us that the road up would take us to downtown La Jolla. It is a tough, long pull and push getting there. Amazing, Wayne and Kristina take great pride in cycling the distance no matter how steep. Kristina always calls out to Cat as she pedals past, "It's all in the gears". They are geared extremely low so steep only means fast pedaling and slow going. They are such a fun couple to be with. And, we love cycling behind Wayne and watching Amber do her little back and forth dance in the trailer.
Topping out we rolled through back streets then onto PCH, Pacific Coast Highway. The next few miles of ups and downs takes us through several little beach cities. Del Mar is famous for it's horse racing track. Solano, Cardiff and Encinitas cling to the Pacific, each having a personality of it's own. We took a lunch break in Encinitas. Amber sat patiently in the trailer, watching us through the window. What a good little dog.
Off PCH, we rolled along on in the solitude of a bike path much of the way into Oceanside. Bob, a fellow who works at Lazer, a high tech, high priced bike shop came up form behind and joined us. He saw us pass then realized that he'd seen us on the news. Sprinting, he caught us easily. He says that they just sold a $10,000 custom bicycle. When we oooed and awwwd he said, "We usually sell one of those every month". Wow, for us, on our $599 bikes, 10 grand seems like what we'd have to pay for a car?
Oceanside is a beach community that clings to the southern edge of Camp Pendleton, the US Marine Corp training center. Lots of military types, lots of Motels ranging from bad to great. We chose a mid-range looking place. The Manager was sort of matter of fact about his place compared to others. Wayne and I went to inspect as he told us the cost of other local places. The rooms are suites and adequate. Back at the office he pointed down the street to Motel 6. The price on the big marquee sign for a room was $54.95. He said, "Go there and you'll pay $69.95 for 2 people and won't get a kitchen". He was wasting his breath, we'd already made the decision to stay.
Our refrigerator was cold, so to our room. Cat went to ask the Manager for help firing up the heater. She stopped to ask if Wayne and Kristina would join us for wine at Happy Hour. We don't even know if they drink? When she knocked on the door Kristina opened and she saw Wayne pouring a shot of Jack Daniels. Yes, they'll join us.
The Manager made an effort to get the heater burning but failed. He left and returned shortly with a new thermostat. A quick installation, a quick fix. They must have this problem in lots of the aging rooms. Probably making repairs on an "as needed" basis? We imagine that lots of their clientele is US Marine Corp families.
At 6:00 PM we met Wayne and Kristina in their room. We brought the wine. It didn't take us long to figure out that none of us wanted to venture out into the cool night air or sit in a restaurant. A 4-0 vote led to the call for Pizza.
What a wonderful evening. Trading travel stories and enjoying a pretty darned good Pizza. The stories brought back memories for all and lots of laughter. We know now that these two will be our lifelong friends.
March 7, 2006
Oceanside to Dana Point
45 miles
Our Manager pal had suggested breakfast at Harbor House, just down the street. Loaded and ready to roll we pulled down the alley and onto the front door patio. Again, Amber sat watching through the window as we ate the mountain of breakfast set before us.


With all the fear of terrorists and spies we had wondered if they would still allow cyclists to ride through Camp Pendleton? They do stop you at the gate. A young Marine came out and questioned where we'd been and where we were going then waived us on. Pretty cursory for all the stories we've seen and heard on International Television? Guess we fit the profile of mid-level Americans?
Amber Takes a Nose Dive
The road through the base is one less traveled by cars and trucks. In fact quite a bit of it is bike path only. As we rolled along Wayne drifted left and his trailer hit the curb. The wheel jumped up, the trailer went over and Amber landed on her nose. It was like hurting one of your children. Wayne and Kristina grabbed and held her while they checked for damage. Wayne couldn't stop apologizing to her. Kristina found that her lower lip was bleeding but it appears to be just a surface wound. They got a little bowl of water and flushed it. Amber was really a good patient. We all wondered if she'd shy form the trailer but when we readied to roll she jumped right in. What a trooper!
There are lots of young Marines in the fields. Some formed up and marching, others positioned as though they're prepared for battle. And those tanks, we saw several roll quickly past and the signs constantly reminded that they had the right of way. A tunnel with muddy tank tracks thrust us back onto the coast.


Past the twin boobs known as San Onofre Nuclear Generating Plant. Cycling through San Clemente, the next little Beach City, had its ups and downs. We're making great time. We began to talk about a plan. Wayne has volunteered to drive La Imp, our '61' Imperial to Oxnard on Friday so that we can use her when we cycle in. I suggested that we ride to Dave and Lori's today, leave the bikes there, take the car to their place and spend the night there. Then they can give us a ride back tomorrow, pick up their bikes and we'll ride on. Funny, Wayne says that he was just thinking the same thoughts! Great minds?

This plan saves us a 10 mile ride to Wayne and Kristina's and gives us the chance to see the kids. Getting to their house wasn't easy. I called, they're at home and will wait for us. Lori also gave us directions. We made the first turn then felt lost so called, again. Suddenly it all made sense. Both Cat and I began to remember landmarks. It's been a long time since we drove these streets. Wayne and Kristina pedaled upward, we made the final push a real push.
Big hugs, then we settled in for a while telling our recent tails of the trail and of our new friendship. We unloaded clean clothing from our bags then pushed the bikes into Dave's busy garage. Wayne and Kristina are leaving theirs here, too. We loaded bags and Amber into the Imperial then more hugs to hold us over until tomorrow.
Wayne drove and I tried to help him learn the little nuances of La Imp. He says it drives a lot like his Dodge Van. They live in a community called Laguna Woods. Locals here may remember it as Leisure World. They've changed the name but the community remains a Senior's enclave. The gate Guard loved the car. Several neighbors noted it and waved as we passed. La Imp feels at home here, in car years she's definitely a Senior, too.
Their place is nicely furnished, they've just recently decided to make it their permanent home. They found most of the furnishings at Estate Sales which are abundant here. The 2 showers were kept busy for the next hour then Kristina summoned us to the table. She has whipped up a terrific fish dinner that goes well with our Chardonnay.
Our evening was spent learning about Wayne & Kristina's cycling trip in South East Asia. They have great pictures in a slide show presentation on their laptop. They've backed up the pics with appropriate music. Very entertaining. I'm anxious to dig out my pictures of China once we get home so that we can compare.
March 8, 2006
Dana Point to Long Beach
53 miles

A nice breakfast with great friends on a sunny Southern California morning. Wayne & Kristina have their kayaks on top of their van. We threw our bags in and headed for Dave and Lori's.
Dave helped them hang their bikes on the back of the van while Cat and I got our bags back aboard ours. Several pictures one of our group taken by a neighbor and we were off down the steep hill and headed to the coast.


We have a great day for a bike ride going. This part of the coast is blessed with lots of upscale homes, shopping centers and beaches. Laguna clings to the cliffs then a drop and the beautiful cove. We stopped at a service station to use the restroom. The attendant required that we buy something, you know Restrooms for Customers only. I got a Gatorade, handed it to Cat then hit the head. As we sat and sipped we heard the stories of a sort of homeless guy nearby. He took long drags on his cigarette and told of how prayer brought him back to life after a terrible accident. He asked what we were doing and Cat gave him our card. He went in and told the same sort of unfriendly guy that held us out of his restroom until we bought. He was impressed, even came out and offered to buy another drink. We were full but thanked him.
Onward, past Newport Beach then along the sand into Huntington Beach. A guy, Colin, passed us going south then turned and caught us. He was curious about where we've been and where we're going. He had just purchased his bike recently and wants to get out on the open road. After passing under the pier we decided on lunch and chose a little stand right on the sand. Hamburgers, fries and cola, this is America, this is California. We sat in the sun, relaxed and consumed. A guy entertaining his Grandson came up to us and asked where we're going. He listened then let us know that he has ridden from Canada to Huntington Beach. Interesting and relaxing.


Soon we could see the Long Beach skyline. Across the sparkling Pacific we got our first glimpse of Catalina, the southern most of the Channel Islands. Do you remember the song? "Twenty six miles across the sea, Santa Catalina is waiting for me, Santa Catalina the Island of romance, romance, romance"! This really is a magical coast.

Entering Long Beach or to be more exacting, Belmont Shores, we found ourselves lost, again. Directions were pretty complex through the meandering streets. Then, Stan pulled up and pulled us over. As we cycled past his house, knew we were on some sort of long distance mission so he jumped on his bike and caught us. After a good conversation about cycle touring he led the way for a bit and got us n the right path.

The unique building pictured here was built in 1929 of poured concrete. During our Real Estate career we sold a house in Oxnard that belonged to a Retired Navy Captain and his Federal Judge wife. They lived on the top floor with a view of forever. We brought papers to them several times and the visit was always an adventure.
Now, in downtown Long Beach we feel a familiarity. One our Real Estate partner Terry's major achievements with our band, Acadiana, was to appear at the Long Beach Cajun & Zydeco Festival. Not once but 6 years running. It was our favorite place to play. We were usually booked both days. Our "hook" as Terry would put it was that we would lead the "Big Parade". We'd all come down Friday night and make a weekend of it. Being back stage with major music stars was part of the allure. Well, stars as big as Cajun or Zydeco stars get that is. It's a pretty limited audience but them what loves it really loves it. (A little down home talk.)
The Travel Lodge sort of jumped out and grabbed us. The price is high, the room is small but well furnished and we're tired. After a hot shower and glass of wine with our TV News When we played music here we loved eating at a Cuban place. A cab ride and crowd didn't sound appealing, the adjacent Restaurant served a very nice dinner. The entertainment, a Female Impersonator, came in and set up for her act as we were leaving. It looked like fun but not after 50 miles and a big meal.
Early to bed and more TV News to lull us to sleep.
March 9, 2006
Long Beach to Malibu
49 miles
We were up and had the bikes loaded by the time the Restaurant opened at 7:00 AM. Breakfast at the same table as dinner. The waiter and cook kept up a constant line of chatter. Quite entertaining. And the food, even better than last night but then, we love a good truck driver's breakfast.
World's Worst Drivers?
Faced with 2 choices, PV Peninsula or the shorter, flatter city route we chose the latter. Traffic was tough and the industrial areas less than scenic but it is flat. Out of Long Beach and through Artesia we shared the road with aggressive drivers, intent on getting to work on time. California drivers are giving us a tougher time than any we can remember. Not that they're discourteous, they're just distracted. We think it's their bobbing and weaving style while shaving, applying lipstick while talking on their cell phones that creates aggression. Morning rush hour is the best time to observe this phenomenon however, don't try it on a bicycle.

Nearing the Redondo Beach we fell in with a fellow named Kent. He's out for exercise and headed for the coastal bike path. He led us directly to the coast and another nice guy, Don shot a picture of us at the head of the trail. This is more familiar territory for me. My family moved to California when I was 14 and a Freshman in High School. My Aunt and Uncle lived in Manhattan Beach, one of the 4 communities on the coast between here and LAX, the Los Angeles Airport. Though we only lived here for 6 months it was an initiation into California life for me.
Kent stuck with us until we neared the Horseshoe Pier. More memories, our Dad couldn't find work when we moved to California in 1952. So Mom, who hadn't worked since they started our family, took a job. She was waitress at a restaurant here, on the Pier. It was a tough time for us, I've often wondered if she enjoyed the freedom? Well, tending to 4 kids could be more stressful and tiring than waiting tables. As we approached the Pier we had to stop for a large group of Japanese students pouring out of a bus. They were dressed in uniforms, courteous and curious. I gave cards to several who tried to talk with us. We were barely able to communicate in Mexico after 5 months. Japanese sounds impossible. One of the students took our picture. The purpose of the pose is to honor Base Camp Charlie, get the picture?
The Bicycle Path is right on the sand, in fact in the sand at times. A true joy to ride, we remain on the sand or behind a sea wall all the way through Redondo, Hermosa, Manhattan and El Segundo. We picked up another cyclist, Mark, who rode and talked then helped Cat up a set of stairs. He's an airline pilot and has to turn around to get back and ready to fly, tonight.
More memories, we moved to California when I was 14 years old. A real culture shock for a naïve kid from Spokane, Washington. Then too, on my first trip around we stopped here and watched the filming of Tequila Sunrise that featured Mel Gibson and Danny Glover.
We're now above the beach as we near LAX in El Segundo. There's a guy set up and ready to give lessons in Hang Gliding. At one time years ago I thought I wanted to Hang Glide. A friend told me that their credo is, "Don't fly higher than you're afraid to fall". That helped me make up my mind, not to fly.

LAX Take Off
Speaking of flying we're now right under the flight path of departures from LAX. We tried to get the best view of an underbelly. The flights all seemed to be off to one side or the other. Well, you can see and hear for yourself.
Rounding a corner we ride inland along the Marina Del Rey channel. There is a rowing team practicing. This is where many of the collegiate teams practice and there are lots of competitions held here, too.

The bike path gives way to street riding back to water at Venice Beach. This place is loaded with unique and strange people. Artists, hustlers and body builders. At the first corner we ran smack dab into Barbara & Glenn. Wearing the same bright colored jackets, its easy to see that they're cycling. The started in San Francisco and are headed home to San Diego. Nice couple but then most of us cyclists are, aren't we?
The Promenade is fairly busy for a Thursday afternoon. We stopped for a sandwich and Josef, a writer from Australia came asking questions. Interesting guy, he's working on a novel but has writers block at the moment. He's enjoying Southern California though. A fellow on a really relaxed recumbent wheeled up and said hello but didn't offer his name.


The Bike Path is under construction so we have to walk through the crowd. Another block and we're at the Muscle Beach Gym. While Cat talked with James I got a picture of Julio doing 4 sets of 10 very difficult chin ups. Amir, a Muscle Beach regular agreed to pose for a photo but we had to sort of sneak it. The operator or the workout area has "No Posing" rules. Nice guy and proud of his body.

Lest we forget, a couple of Skate Boarders were being written up by the Police. Probably a hazard of the sport on a busy boardwalk. Well there are signs prohibiting it.


Onward, Cat is getting nervous as the clock ticks on and the sun moves toward the Pacific. We stopped for pictures at Santa Monica Pier. A famous place, it was called POP, Pacific Ocean Park when I was a kid. The acronym also stood for, "Pay One Price". You buy a ticket and it was good for all the rides. Still an interesting place that draws crowds on the weekends and every day during the summer.
Another Road Warrior, Fahr, pulled up. He is just completing his ride from San Francisco/Santa Clara. He lives nearby but is worried about riding in the dark. So are we.


The Life Guards are ending their shift right now, too. Cat's really getting anxious, we rolled.
The Bike Path is under construction but the adjacent parking lots are empty, no problem. Then, it all ends. We rode on then realized we were at a dead end. We hate to back track but had to. About ½ mile back we waited for the extremely long red light to change as the speeding traffic flashed past. At last, a short green light and we are thrust onto a narrow bike lane. These drivers are merciless. They're vying for lane space and early arrival home. We're hoping they stay out of our skinny little lane so that we arrive, too, to wherever our home will be tonight.

Barbara and Glenn, the cycling couple we met earlier, suggested taking the beach road rather than climb the Pepperdine hill. (Yes, we'll miss the view of Pepperdine University but not the hill.)
Unsure where to turn we turned into a Real Estate Office. The gal there was on the phone. She turned toward me then pointed out the window to the next intersection and pointed left without missing a word of her conversation.
The beach road has no view of the beach. Wall to wall houses block all. The road isn't completely flat. It rolls a little then pitches upward as it intersects PCH. Now we are at a quandary. There's an island median separating the fast flow of cars. After standing, waiting for a break and watching them flash past we decided to ride onward on the wrong side of the road.
We'd gone about 3 miles with no break in the median when a Sheriff's car slowed on the other side of PCH. He looked us over then drove on. This is very dangerous but the Bike Path on the other side is virtually non-existent. Then came the Sheriff, again, driving toward us and blocking our way. He stopped and spoke through his loud speaker, "Cyclists, you're on the wrong side of the road". As if we didn't know that. Maybe he thought we were British? He was parked at the first break in the median and there was a traffic light. We stopped, pushed the Pedestrian Button and waited. When we finally got the green light we waved to our new Law Enforcement friend and rode across then onward, northward. The light changed and it was like being on a 1 foot wide path along the edge of the Indianapolis Speedway on Memorial Day.
At last, Malibu. Glenn and Barbara had stayed at the oceanfront Hotel but we're trying to avoid that. Not because we wouldn't like it but because we are really budget conscious right now and it's above and beyond. Clinging to our little lane of safe we stopped and discussed staying at a terrible looking little 1940s place. My input was that I'd rather blow budget on the Oceanfront than stay at this place. So, it's onward in the gathering gloom.
Another mile then a blue sign, Malibu Motel. It's another oldie but it appears to have just gone through a face lift. They do have a room and it costs less than the Oceanfront place but still pretty costly. The owner, Eric, pulled up and was interested in our story. He gave us the best room at the lesser room price. Still high when compared with Mexico and points south but then, this is Malibu. A far cry from Mexico.
The best room is at the rear of the building. We have to drag the bikes up a stairway but he allows us to keep them in the room. Though sparsely furnished the place has a Danish feel. The heater is a 50s wall type but does put out. So we were soon showering in our cozy little Malibu home.
Dinner? There's a Green Grocery Store next door. We walked over and again were shocked by the prices. A little further down the road we found a Pizza place. So, our next to the last dinner on the road will be our favorite, Pizza.
Cat scanned the more than 100 TV Channels then we landed on News. A short view of the headlines and we turned it off and turned in. Laying in the dark we talked about what lies ahead. How in just a couple of days we'll be back to normal life or at least to the life before our Odyssey that we always thought of as "normal".
March 10, 2006
Malibu to CSUCI
49 miles
Breakfast at the nearby Big Mac. We were on the road by 8:30 AM. It's cold and windy but the sun is peaking through the clouds. Ahead they seem to be gathering, thicker and darker. Ups and downs of the serpents back they call PCH. Climbing toward the top of Point Dume it began to rain. The drops thickened, we stopped and put rain jackets on then rolled down to Zuma Beach.
Memories of another bike ride headed south in 1988 were flooding back into my mind. The first days ride finished here with a tough push up to another old Motel now it too has been completely reconstructed.


A photo at the sign proclaiming that we're back in Ventura County then one of Neptune's Net, another old landmark spot along the coast. From this point PCH is uninhabited except for a couple of State Beach Campsites. The wind continues and we now have every bit of clothing available packed onto our bodies.

Off again and on again, now its sun and we're taking off a layer or 2. Anacapa Island is now visible through the clouds. This is a sight we've longed for at times and dreaded at others. The closest of the Channel Islands, it lies just 11 miles off the Oxnard coast. The ominous looking dark clouds motivated us to push a little harder, to get to Cal State University Channel Islands, a little earlier.
Now, Mugu Rock, a very familiar landmark on PCH and very near home. Passing through the cut we swung to the left then felt another rush of mixed emotions, seeing the sign for CSUCI. Off PCH and into farmlands of the Oxnard alluvial plain.
A pull up and over muddy and fast running Calleguas Creek. A woman pulled up at a cross road. We asked and she pointed forward then said that we could get to CSUCI by going either way. She felt it was the same. Since Wayne and Kristina are coming down from the Freeway to the north we moved straight ahead. It soon became obvious that we took the long road. Hey, we need the practice.
University Drive winds off to the left under the shadow of hills with farm fields on the right. A crew picking Cauliflower stood, even cheered as we passed. We pulled onto the campus of CSUCI, and found no Wayne and Kristina. Then, Cat saw them drive in then turn in the wrong direction. She began a foot race chase. I unloaded the bags we'll take with us for tonight.

Cat jogged back leading our pals then we pushed the semi laden bikes inside the Campus Police Station. Lynn, the Officer in charge, had us put them in a conference room. We're grateful for the assistance that our friend Cindi has given us. By leaving the bikes here we'll have a straight forward 15 mile ride tomorrow. Also, she and her husband Stuart have invited the 4 of us to spend the night in their home. Yes, we're back among friends.
Now, lunch with new friends and friends in deed, Wayne and Kristina. He drove the old Imperial and she followed in their van. I drove La Imp, Wayne his van. Cat and Kristina went along with him. Lunch at Pasta Presto, a Pasta fast food place. Pretty good but not as good as the conversation with these friends known only for a few days yet they jumped at the opportunity of coming to our rescue.
A stop for wine and supplies and another for blank CDs then off to Stuart and Cindi's Villa. They've transformed an older custom home into a showpiece they call "The Villa". After a cooks tour we headed for the showers. The hot water is so hot and we're so cold that it stings as it hits our skin.
Wayne and I spent almost an hour dabbing silicon on flag sticks and decorating La Imp for tomorrow's final run.
Cindi has a friend and fellow patron of the arts that has a Catering Company preparing and serving tonight. Guests, Larry and Marnie, Developers and Movie Producers and Dick & Jane, he's President of CSUCI, arrived and we clustered around the bar for a glass of wine as we became acquainted.
Larry launched into a description of their script of the film just competed and now in editing. A story of teenagers bound together by pacts of suicide. An intriguing, well woven story with a surprise ending. Hope it's an Academy Award Winner!
Dick and Jane are recent addition to Ventura County. They too are quite interesting to talk with. We're anxious to take a tour of the campus. I attended the opening of campus more than 5 years ago. The site was long time home to Camarillo State Hospital. The transformation is still a work in progress. We'd seen the progress and buildings currently under construction there, today. Part of the development is a housing project. It's on leased land and though open for public purchase the design is to help with affordable housing for staff of CSUCI.
The meal is fantastic gourmet served with a flourish. Made us wonder where Tom, The Hungry Cyclist we've met on the Internet is tonight. Somewhere south of the border, we're sure. He'd definitely be envious of us tonight.
It's after midnight and our eyelids are drooping. What a fantastic way to begin re-entry!
March 11, 2006
CSUCI to Fisherman's Wharf
15 Miles

Up and anxious, Wayne has decided to drive their Van and follow Kristina and we. Bananas, Coffee and Poppy Seed Cake. Sleepy eyed Stuart and Cindi got up and about as we ate. Nick, Cindi's son, came in with one of hid fellow Band members. I remember taking him on a bike ride up coast 15 years ago. He's grown into a handsome young man. Attending University, his band, "The Children of Rock" recently played "The Whiskey" in Hollywood.


A big thanks to Cindi and Stuart from us and hugs all around then we fired up La Imp and backed her out. Stuart took pictures but she looks barren without the magnetic signs. We'll place them at CSUCI rather than risk losing them as we hurry to get there.
Not Wet, YET!
We were off at 9:00 AM. Wayne drove La Imp, (I have no Drivers License) Kristina and Cat followed in their van. A slow drive with fluttering flags to Stephanie's house. The kids are pretty sleepy eyed but were dressed and ready by 9:30.
More slow drive, Steph and her brood are now in La Imp, Wayne and I jumped into the Van with the girls. It's cold and windy but not wet, at least not wet, yet.
Once on Cal State University Channel Islands Campus Wayne and Kristina got the bags out while we retrieved the bikes from the conference room in the Campus Police building. As we worked to attach the bags Charles, our Stock Broker, and his wife pulled in to greet us. He took our friend Ron's position at A. G. Edwards Stock Brokerage when he retired. You know Ron, our friend we've just spent 3 days with in Rosarito Beach.
Bikes loaded, we finally set off at 10:30. Wind, cold head wind, made it a bit of a struggle for our little parade. Then as we turned onto Ventura Road came the rain. A sprinkle at first then a spattering and the last 2 miles were in a downpour of rain so cold we felt little pieces of ice on our flushed cheeks.
True Friends, True Blue Friends
About 30 stalwart friends stood shivering, waiting under the porch overhang at our old Office at Fisherman's Wharf. They broke into warm applause and cheers as we rounded the corner. We were both emotional, even Kristina got a little teary. What a wonderful cluster of cold but hard core friends. We stood and talked, hugged and talked more. Jurgen and Helga, friends we stayed with in Germany are here. Gale and Doc who spent 3 days with us in Santiago, Chile and Nancy and Curt who came to San Diego also braved the storm. Jeff who insisted we meet with his brother in Detroit had his jacket over his head to hold back the weather. Jack who had sung harmony on the song, "WorldRiders2.com" as Jeff strummed his guitar was here with his wife, Jan. And, speaking of Jan let's not overlook Ole and Jan. He and I have worked together for ore than 30 years. Dance instructors Jimmy and Carrie yelped the Cajun greeting, a huge AYYYYEEEE Ole and wife Jan and lots of former Associates and many friends were here for us despite the weather. .
Homeless Realtors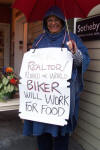 Speaking of former Associates, Adela stood shivering under a sandwich sign that had great meaning to us. It read, Former Realtor, World Biker, will work for Office Space. Funny, I managed the Prudential Realty Office until they decided to make a change. Most of the Associates were close friends of ours. So, as a joke I dressed in a suit, held my brief case and a sign that said, "Homeless Realtor, Will Work for Office Space". Geez, that was back in 1993. Good memory Adela.
Then, as we began an interview with Carolyn from the Ventura County Star the crowd disbursed and we found ourselves alone, eating ham and cheese croissants provided by Joan and Richard Young, the couple that bought our company, Patterson & Tintorri. They were here earlier. They've since sold to Sotheby's International Realty. The sign above the door, "Pat & Cat are Back" added a touch of warmth to a very cold and wet day.
Wedding Bells Boat
Crossing the little bridge we stopped for a picture. The rain has stopped but it remains cold and windy. A little Harbor Hopper pulled in at the dock. These boats hold a spot in our hearts. We loaded family and friends into 3 of them, cruised to main channel and were married there, in December, 1997.
Back Where it All Began
As with most of our journey, we continued onward, WorldRiders2, to the Casa Sirena Hotel. It's the very spot where we spent our last night in town, 3 years, 10 months and 29 days ago.

Tired, we relaxed then ordered Pizza and sipped an appropriate French wine we found called "Red Biciclette".
As with so many nights on the road, we enjoyed a little TV then early to bed. The 15 mile ride was easy if you take out the weather issue but the emotions of the moment of return really drained us.
A Special Thanks to our Buddy, Base Camp Charlie

Before we re-cap we want to take a minute to thank Base Camp Charlie. Without his dogged determination to keep our accounts straight we might have been forced into early retirement, from the bike ride that is. We have complete trust and respect for him. He had access to all of our Bank Accounts, that's how much we trust him! He has always been there, taking care of things and looking out for our interests. Without him on our side, keeping the Home Fires Burning, we couldn't have done it.
Thanks Base Camp Charlie
Reflection, A Bicycle Ride Around The World!
Wow, almost 4 years on the road. 4 Continents, Greenland and Central America. 57 Countries and thousands of wonderful experiences. However, it's the people like you, those who have read along and sent messages of encouragement, that have made the biggest impression on us and definitely defined our Odyssey. Oh sure there are those moments of insecurity and fear but they're by far outweighed by times spent with the likes of YOU! So, here's an open invitation to all:
Next time you're in our neighborhood let us host Lunch, Dinner, or whatever. If you need a place to stay, you've got that, TOO! We look forward to seeing YOU!
ALL OUR LOVE
Pat & Cat
This not the END!
JUST THE BEGINNING OF OUR NEXT BIG ADVENTURE