Posted on 8/16/02

July 8, 2002
Sioux Falls, SD to Worthington, MN

A night of little sleep, after a very nice but very rich dinner. Even Cat, who usually sleeps like a log, had an off again, on again night. The wakeup call at 5:30 was met by wide awake eyes. It was calm and cool outside.

The re-packing was a re-learning experience. Most of it had been done before we went to bed but there was the shuffle as we tried to pull the straps down on the bags.

There was a lady dressed in black in the elevator, she was trying to clean it and mop the floor. I got in with the bike and it really tried to push her bucket on wheels into the wall. She was curious and when we told her of our trip she beamed and began to tell that she had just come home from Hawaii. She had been off for two weeks and really loved the time with her friends in the Aloha State. She was so sweet and sincere. Much of the time we see people doing the menial things it takes to make the world run and think that they have menial lives. Isn't it great to find that life is good, to any of us who work, save and plan?

The comp breakfast was already set so we dug in. I had OJ and 4 muffins, Cat had juice and a couple of them. That would fuel us on the way out. It was still slightly dark as we wheeled out of the drive and down 41st Street. The concrete slabs that make up the street have begun to pitch and yaw. The slabs cause teeth clattering jolts at the cracks. Darwin had suggested that we go west to the beltway but we chose to do the head on. We rolled to Cliff then north along the edge of Interstate 229. Traffic was headed toward work and they were in a hurry. We tried to ride Cliff but burned out in the hills.

The loop onto 229 was hairy. We dodged cars and trucks in the pre-dawn light. It was so noisy and dangerous that I finally pulled over and told Cat that we must exit. Can you believe, the next off ramp was Rice, the road we were looking for?

Rice was littered with dirt and rocks. The tall orange cones were a blessing and curse. Some protected us and others thrust us into the stream of impatient traffic. Trucks were already stirring and waiting for a load of dirt. They were laying a pipe line.

I had to make a nature call in the bushes and met, almost face to face, a young deer.

We were undecided about direction. Asking twice didn't change the feeling so we went with our gut. It turned out to be a good decision. The construction ended, the road widened and we were sailing along under a thick cloud cover with a slight tail wind.

Rice Road carried us to the old Highway that parallels the Interstate. It is a great cycling path. Very little traffic and fairly flat. I only wish that I was feeling better. I still had a touch of the irregular heart rate. Cat continues to struggle with her bike that was stuck in the lowest gear.
Luverne is almost our halfway point for the day. We stopped in the same store that we visited when we drove up to Hastings. Cat worked on food while I worked on her bike. I had it upside down on the walkway in front of the store. A Mom and son came by, she stopped and suggested that if we went into Sioux Falls they have the best bike shop anywhere, there. I told her we were headed east on our Odyssey. Both she and her son's ears perked up. I gave them a card then turned back to my work.
By the time Cat returned with our food I had the problem figured out and knew that I wouldn't be able to fix it. The rear derailleur auto shift mechanism was sticking. I tried to adjust it to no avail. The Mom and son returned, Cat had talked with them inside, she offered to pt the bikes in their pickup and drive us back to her favorite bicycle shop. What kind and generous people you find on the road.
Not wanting to back track we chose to set Cat's rear sprocket on a mid range gear and press onward. I began to feel better after the food, Cat was more frustrated because the smallest of hills became a mountain in the higher gear and she would fall behind on the flat and downhill. We struggled onward. The temperature pressed upward.
The only thing, other than the beauty of the countryside that I can report was the Hog Farms. There is a smell that only a Hog lover could love that fills the air around them.
Cat did a little shopping for Gatorade and bananas. We spotted the Holiday Inn and headed directly through the heat and traffic, to its door. They had no rooms available, a sign of the summer vacation times. Then the clerk told us that she did have a suite. The price was actually only $5.00 more than a room, we bought.
There was a regular trying to check in. He was a little shocked that the Hotel was almost fully booked. He laughed, joked and worked his way into the room he favored. The girl at the desk knew him and they bantered. She suggested that we could take a room with two beds then rent one of them for $50.00. He made an inference about how we could turn the $50.00 into a lot of money. Joking, of course, his name is Mark Kauffman and he is in construction.
I journalized while Cat made an excursion by cab seeking wine. She told me that the cab driver was a super nice lady so she asked if she could her when she called to get back from the liquor store. The gal laughed and said it doesn't matter, our company has three cars, mine my husbands and my daughters.
Dinner at a place called Michael's a restaurant that has been family operated since 1949. They have a specialty, onion rings. Everybody touts them, they all say, "You must try them."

We ate and during the meal, struck up a conversation with a young guy Craig and his son Tyler at the adjacent table. They were on a boy's night out while Mom and sister were doing practice for a family wedding. Craig was so insistent about the onion rings that he gave us a coupon so we could try them for free. He, of course is a local and they too have a family business, servicing trucks.
Of course the onion rings were great and a great mistake for me. By the time the husband in cab #3 got us back to the hotel my stomach was starting to bubble and boil.
July 9, 2002
Worthington, MN to Fairmont, MN
The complimentary breakfast was pretty good. I stayed with Raisin Bran and toast. The revenge of the onion rings was raging and I was fighting off the irregular heart rate thing again. Mark was there, still joking and talking with any other guest who would listen or wanted to talk. I felt pretty bad but enjoyed our conversation. He is completing the build our and tenant improvements in the commercial center just across the parking lot. Leasing had been slow but now they were filling up. They are adjacent to Wal Mart. The potential tenants were probably waiting to see if Wal Mart was going to pull in the traffic. I enjoyed our talk. It reminded me of times when I was involved in leasing and marketing shopping centers. It also made me glad, no matter how bad I felt, to get on the bike and ride.
As we were preparing to exit I decided that we should call LandRider and try to get a derailleur shipped. I used the phone at the front desk. A group of business men walked by and one commented that they were lucky they weren't traveling on our bikes. One asked Cat where we were headed and that began a terrific relationship that would provide an Albert Lea, MN address to ship to. They gave Cat their cards, they were with a group of Radio Stations one of which was KATE, in Albert Lea. They asked us to stop at the station when we pick up the part and do a live interview. Of course it was a good trade off but we probably would have done the interview with or without the Parts service.
I had Jan, our new friend at LandRider ship to Kate and we were underway. I felt weak and tired thanks to the onion rings. Cat felt great and the weather was good, overcast and cool. I pulled a feed truck over to confirm that we were on the right road. While we talked a pickup pulled up and talked with Cat. It was Craig, when he pulled up next to me I shook my finger and blamed him for my upset stomach and puny feeling. He laughed, he thought I was kidding.
It is about 60 miles to Fairmont. I felt so weak that my legs were shaky and my muscles burned on even the smallest hill. I had to walk stuff that I'd normally ride in second gear. I also felt fatigue in my arms and shoulders. The sun burned away the cloud cover and the sun added a sauna effect. The sweat rolled, I struggled and Cat put up with it. We stopped at almost every place where there was shade. There was a time when I felt that I couldn't go on. I sat on a grassy hill under a tree and contemplated our options. The only plan I could come up with that made sense was to ride on.
It took us 4 hours to cover the 30 mile to Jackson. I began to feel better as we rolled down a steep hill, into town. We were drawn into a Dairy Queen and would have had a Blizzard if they had served anything other than deep fried foods. I didn't was to go through that again!
We stood in line for a Subway Sandwich, ate it in air conditioned comfort then climbed back up away from the muddy river that continued to slowly carve the land away. I was feeling 100% better. It was hot, the road began to rise and fall, undulating between fields of corn and soy bean. We made much better time despite the obstacles.
A cool drink and good local info at the first Fairmont Mini Mart we came to led us to the closest and least expensive motel advertised. The lady who checked us in was from India. I take pride in my ability to understand people who speak English with an Indian accent. She was a difficult study. The harder I tried the more I misunderstood and the more frustrated she became. She quoted $47.00, Cat asked about the billboard we saw that had $28.99 in big red letters? "That is for lesser rooms and singles," she said, again in such a thick accent that I could barely understand her. When we asked about AAA or ARP discounts she almost looked angry then said, "Yes, $45.00." None if it made sense to me then she said something, I thought she was telling me the room number but the map didn't have anything close to the map on her desk top. She repeated it 3 times before Cat translated for us. She was quoting the price including tax.
Our room was small and the king bed was almost wall to wall. We left the bikes outside while we rearranged furniture. The table was placed carefully on top of the TV. The side chairs were stacked and the small table was atop them between the TV and the little refrigerator.
Cat stripped down for a shower while I tried to get the TV to work. I hated to call the lady because she hadn't seemed that friendly and she might get upset if she saw the way we had stacked the furniture. I tried everything then gave up. Cat was buck naked when a knock at the door send her scurrying for bathroom. It was the son, he had stood and watched as Mom struggled with me. He said not a word but went straight to his work. He crawled under the desk and fiddled with the cords. When I asked if he was the Engineer he just looked at me and went back to work. He stood abruptly and walked to the door.
"Is it broken?" I asked.
"I have fix it," he said as he backed out the door.
The lady at the Mini Mart informed us that there was a restaurant within walking distance that had wine. The Ranch House had a fair menu and so-so wine. I limited myself to one glass but gulped down the ice water. A church group, two leaders, two young guys and seven teenage girls, sat adjacent to us. Cat was soon engaged in conversation. She heard about their mission. They were from Des Moines, Iowa working here to get experience in a rural area. They, especially the girls, wanted to hear about our trip. They asked lots of good question. Cat said she felt like a teacher or camp counselor.
Our air conditioner roared but, on the good side, it did drown out the traffic noise.
July 10, 2002
Fairmont, MN to Albert Lea, MN
The best part about the Budget Inn Motel was the bed. The air conditioner was loud and annoying. It was 5:30 and we were awake without the aid of a wakeup call. The Continental Breakfast announced in big red letters on the bill board out front had a different sign above the food. It said, "Limited Breakfast" and it was quite accurate. We chose to walk back to the Ranch House for poached eggs and toast. Amazing how a bad stomach day can change ones ideas about diet.
It rained and thunder had peeled across the heavens during the night. The streets were wet, the parking lot was full of big puddles. We returned the furnishings to original position and wheeled out at 8:00 AM. Both of us felt good when compared to yesterday.
A quick stop for Gatorade and we were on the road. Retracing our route we felt that the old Highway 16 seemed too close to the Motel. It felt like we had gone a mile or so yesterday afternoon. That speaks to our physical being when we arrived.
Turning toward the east, a private airplane came down almost on top of us and made a perfect landing in the soupy morning air. It was a pleasure to breath in the fresh clean damp country air. The road ahead lay flat and long, pointing toward Blue Earth, the city where we planned to pick up food since there were no other places on our map between there and Albert Lea, our destination for today. Hard to believe that it's so rural.


Most of the morning we rode between fields of Soy and Corn with an occasional burst of golden barley. I noted that we also had the occasional smell of pig shit, I don't know how better to describe the odor. It comes from the barns of those poor porkers. They just wallow, eat, get fat and go to market. What a life, what a smell!

(Movie: Pig Poo 0:35)

It was 10:30 when we made Blue Earth, isn't that a great name of a town? The only explanation we have heard is that the soil is so black it is almost blue. True or not, the soil is very black and rich looking.
We took what I thought was the logical turn, Cat saw it differently. She was correct, we had to make a U-turn and climb back up a steep off ramp. At the top we met a couple of ladies our, for a walk. They pointed us in the right direction, again the opposite of my sense. They told us of a restaurant and store just a ways down Main Street then they urged us to stop at the radio station. Seems they have a travel show that interviews folks passing through. We thanked them and rolled on.
Even though the skies remained overcast, the humidity was thick, muggy. We washed up and enjoyed a muffin then shopped for a sandwich, at the deli in the market. For some reason, we were very popular with the locals, everywhere but at the deli counter. The gal there said they didn't make sandwiches, they had them in packages in the self serve. Cat asked if they couldn't make one fresh, to our order. She seemed a little incensed, "Those are fresh, we make them every day."
Not something we would normally choose, we took the 2 Turkey Croissants to the check stand. The clerk again mentioned The Travelers Show and asked us to wait a minute or two as the station was on the way to interview us. We were cramming the plastic packed sandwiches in the bags when Willie Jams with radio station KBEW rode up on a bicycle.

What a nice guy. His show biz name is "Willie 'O' on the radio. He conducted the interview on tape right there on the sidewalk in front of the store. The locals all knew Willie. He would call out to them and tell them to listen for the interview with these people who were riding bikes around the world. We were quite a spectacle. Willie asked all of the usual questions alternating between Cat and I. He taped three segments. It was funny, he would turn the tape on and say, "We're here again with the couple, Cat & Pat Patterson that we spoke with yesterday about their trip around the world on bicycles. He got 3 days worth of interviews and we enjoyed a moment of lime light in a small town. Willie reminded me of our good friend, Franklin Zawacki in San Francisco, another flamboyant showman. The cost was a two hour delay but worth it, 10:30AM had now become 12:30PM.

(Movie: Willy's Interview 0:34)
006 Willy gets the Scoop mpeg 035 Willy's Interview
With 40 miles still ahead of us and Cat's bike running on 3 speeds, she became anxious to get going. We had a hard time getting away from the people. Willie would introduce us to them, including the EO of the Chamber of Commerce. Finally we started to ride, Willie decided to join us for the first few blocks and continue our worldly discussion. What a joy, we were big news in a small town. Blue Earth was beautiful. Streets lined with old homes and a wonderful red stone Courthouse. Cat thought it would be a great place to live, but not for her. She needs more than a small town offers.
About 15 miles out of Blue Earth we stopped to have our plastic sandwiches. There was a log house with a guy and gal standing out front, talking. He was the Mailman, and her brother. She told us that the house had been a restaurant for years, before the Interstate took all of traffic away. It had been operated by her in-laws and the building had been in her husband's family since it was built more than 80 years ago.

We asked if we could sit on her back porch and eat our sandwiches. She invited us in but we declined. We felt like we were pretty road ripe from the morning sun and humidity. Just as we settled in it began to rain. We moved into the garage, out of the drizzle and she joined us. We ate and talked about real estate value and travel. Hard to believe that they are offering the large two story with a new 4 car garage on a half acre for only $89,000?

Why sell? They were raised in this area but had moved near Minneapolis early in their married life. Now, they loved the house but hated the quite life of the country.
When she walked into the garage she commented, "These are the bikes that shift automatically, aren't they?"
Cat and I almost said, in unison, "Did you see the infomercial?"
"No," she said, "my husband did and he bought two of them, they're in the shed, we have hardly ridden them."
Of course we urged her to get on hers and ride. She said that she would tell her husband about our stop and they would start riding again, as soon as they got the place sold and moved back to the city. We hope they do, it's great exercise, makes you feel better and we hope, live longer.

The rain passed by but the head wind lingered and the road intensified its undulation. Cat was having a tough time on the up hills and becoming a little testy. We walked quite a few hills, even some small ones. She was psyched out but I could say little after the way I caused our slow pace yesterday.
It was another long day on a bike seat before we finally arrived at the outskirts of Albert Lea. We were greeted by a Wal Mart and a Liquor Store. We chose the Liquor Store for directions to the Fountain View Inn on the Lake. I had called earlier and the Inn Keeper and I had been playing telephone tag. The clerk who wore his hair in corn rows with shoe strings woven into them. He told Cat that the bridge is out so we have a detour ahead but not to worry, just go straight until the dead end then turn left to Fountain Street then right.
Somehow, when we turned onto Fountain we went the wrong way and were beginning to feel lost. A young boy called out from across the street. He wanted to know about the bikes and bags. We crossed and asked him if he knew how to get to the Hospital. As he began to direct us his sister joined in. He was Louis, she Espi Cardenas. I guess them to be 12 and 14. They were very courteous and serious about getting us to the Hospital. They were so intent that Cat finally told them we weren't going to the Hospital but to the B&B near it.
Louis was excited and said, "I'll ride my bike and take you there."
Espi chimed in, "I'll go along, too."
I was worried about them cycling along with us on the street. They ran across to their house and took my worries away. They rode on the sidewalk on the left side of the street. They were very cautious at cross streets and were careful to keep us close to them as we worked our way to the Inn. They took us right to the door. What a couple of great kids.
Bonita, he Inn Keeper, owner of Fountain View Inn was there. She greeted us and Cat checked us in while I unloaded the bikes and carried the bags up to the room. The bikes would live in the garage.
I was able to talk with Steve, the radio personality we would talk with tomorrow. We set an appointment for 2:00 PM. We will just do a live broadcast. How fun!
The old house, turn of the century, is a beauty. The Inn Keeper lives next door so we had the place to ourselves. A quick bath and we were ready for dinner. I called a cab company to see what it would cost to have dinner at The Mill House in Austin. I didn't realize how far away that was. The guy said, "$27.50"
"Wow, is that two way?" I asked.
"No that's $27.50 each way."
We chose Crescendo, local and close enough to walk to if it hadn't been pouring down rain. I called the other cab company and we were soon in Ray's little silver Dodge. Cat asked how long he had lived there in Albert Lea.
"Since 4th grade Ma'm," he said in a small voice.
Ray was very thin and frail looking. As I paid his minimum charge of $6.00 for the 3 block ride I asked how he ended up here.
"Mum was workin' for a restaurant up north and they asked her to come set a new one up here back in '41', he said, meekly. "Then the war started and they laid her off, she got a job at the plant and we just stayed," he almost whispered.
Crescendo was hosting an opening party for the Musical Theater Group and would serve us but only the two choices available to the group. They are usually only open on Thursday, Friday and Saturdays. The place is upscale and very urban looking, almost out of place in a small place like Albert Lea.

The lights for the opening of Guys and Dolls had already dimmed and most of the audience had walked down the sidewalk in the rain by the time we got inside. There was just one group of eight and they soon left us with only our server, Rachel. She was very good and a cyclist. They have a computer player baby grand piano. It was wonderful back ground and we thoroughly enjoyed the evening.
As Ray drove us the 3 blocks back in the continuing drizzle he asked how the restaurant was. I told him it was like the cab ride. "A little expensive but well worth it," I said. The look in his eyes, as he glanced at me in the mirror, was almost apologetic.
Although another couple was expected, we still had the place to ourselves. We worked on a jigsaw puzzle, drank the rest of our bottle of wine and sang along to the CD player. I even tried to play the piano. It was out of tune and not very helpful toward my lack of talent.
July 11, 2002
Albert Lea, MN
We really slept well. We needed the rest. Cat awoke with a sore throat. I awoke with a sore everything. I felt like I had been run over by a truck.
Our objective in taking a day off was to recoup a little strength and catch up on the journal. I have gotten so far behind that I feel guilty every time I open the computer.
Our schedule was filling quickly. We met our house mates, Tomas and Jan, at breakfast. They are both school teachers and are from Pacific Grove, California. They are here on a genealogy expedition. Her Father was born in Albert Lea. They were headed out to the museum, we would be doing laundry, bike repairs and a radio interview. To compound that Bonita told us that she had alerted the newspaper.
Cat bagged up the dirty cloths and set out for the coin op. I stripped her bike, raised the seat to max for my long legs then set out for the bike shop. They were very kind on the phone. They would make time for us. I had to stop and pick up the part at radio station KATE. There I met Bill Lubke, the General manager, Tammy and Patty. They were all stoked about doing the interview.
New derailleur in hand, I rolled down Broadway Street looking for the Martin's Cycling and Fitness. As I neared the address I spotted Cat in front of a little Laundromat. I was surprised. It must be at least a mile from the Inn. She was standing outside because the customers were a strange lot and all were smoking. She said she felt like a prostitute on the street in a seedy neighborhood.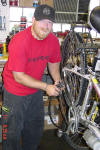 Scott pushed aside lots of other bikes to help me get Cat's into the work shop. Jason Ferrington, the technician took it and began to explore the shifter. Once he had it installed, we realized that the drive belt was stretched out of shape and wouldn't turn the pulley. I decided that I would have to walk back, get my bike and the new belts then ride back. We would carry the laundry on the bikes back to the Inn.
I tried my hand at hitch hiking again but enjoyed the same low level of success that we had achieved in Douglas, WY, no ride!
It was humid and I worked up a sweat. By the time I got back to the Laundry Cat was ready to go. We walked across and delivered the new belt to Jason. Cat was waiting out front and called out, "Pat, the guy from the newspaper is here."
Geez, small town, I had left a message but forgot that there was only one bike shop in town. Dustin Petersen is young, he claims to be a proof reader pressed into service because they have a shortage of Reporters. He is slight of build and wears glasses. I thought of Clark Kent, mild mannered reporter when I first saw him.
Jason got the shifter working, and we told Dustin that we needed to have a sandwich before our interview at the Radio Station. He suggested that we meet at a place called Talk About The Weather. We cycled, he drove and stood on the sidewalk to guide us in.
The place is cute as can be and so is the owner, Brandi Sartain. She is just 25 years old and is living her dream, running her own shop. She has already had a big experience as "The Weatherwoman" on local TV. Her ultimate dream is to own a Harley and ride around the country like we are doing. She stayed very close to our interview as she served her best sandwiches. She even asked a few questions over Dustin's.
I was beginning to feel some of the same pressure that had cooked me in the Real Estate business. We cut Dustin short in order to get back across town and do the Radio interview. We had to keep reminding ourselves that this was just for fun. He asked if we could meet later, we settled on 4:00 at the Inn.

The guys at the Radio Station were really fun. Steve Oman moderates a talk show sort of format, we thought. It was a different kind of interview than we had ever done before. We just sat and talked about our Odyssey and experiences. There were no commercial breaks, no time outs and no call ins, just chit chat for more than an hour. Very casual, very fun.

(Movie: Steve at KATE 0:39)

By the time we got back to the Inn Dustin was knocking on the door. We spent another hour with him then Cat showered while I rode back almost to the bike shop looking for a bottle of before dinner wine. I also stopped and got bread and cheese from Brandi at Talk About The Weather. She was so cute, she just gushed about our interview and told me how we had inspired her to achieve her dream and visit us in California some day. She refused to take payment for the food. I graciously accepted and invited her to stay with us when she gets her Harley Davidson and lives her dream.
We liked Crescendo so much that we recommended it to Jan and Tomas. During the interview Cat mentioned that we loved the place and were going back tonight. He said, "Then you wouldn't mind if a few of our listeners dropped by to say Hi?"
I must say that as I rode around seeking wine, cheese and bread, a lot of cars honked and waved. Could they tell that I was one of WorldRiders2?
On this night, the weather was so beautiful that we didn't need Ray. We walked through the streets of Albert Lea and felt like celebrities. Big news in a small town.
Rachel seated us at our favorite table. The music was just as soothing, the décor as relaxing and the smell of the place, Pavlovian. As we nibbled on the great tasting bread Rachel came back and told us that Mitch, the bus boy didn't know about us and had just told two ladies that he didn't know anything about any cyclists. Cat urged me to try to catch them.
I almost had to run and I was carrying my linen napkin. They were walking away and the noise from street work drowned out my voice. They were getting into the car when I finally caught them. Terri Troska is a retired ICCU nurse and was concerned about Cat. She wanted details. She knew about heart attacks. Her friend, whose name I can't recall, was a quiet woman of Norwegian ancestry. She asked about our families and where we had been. I told a story about our trip to Scandinavia and she told me of her trip to Norway and meeting a woman who looked almost identical to her. They decided that they must be related and still write to each other.
Dinner was a goof on my part, I thought that I was ordering a salmon steak. It was salmon on a bed of salad. Beautiful and tasty but not my cup of tea. Cat traded her Mahi Mahi for the leaves. True love extends even onto the dining table.

We had a very good time, Chef Robert Tewes shared the recipe of the Mahi Mahi then played the piano for us. He was music director and a Christian musician prior to entering the food profession. You can sample a bit of his talent here via video.

(Movie: Musical Chef 1:10)
As he played a couple came in and Rachel seated them. They looked over at Cat and the guy said, "So are you the world bicyclists?"
"Yes, did you hear us on the radio," Cat asked.
"No, we were just driving down the street and asked a guy if there was a good place to eat. He said that the world cyclists were eating at Crescendo so it must be a good place."
Oh, the power of the Radio.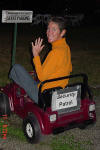 We were feeling very good about ourselves and our effort as we walked back along the shore of Fountain Lake. Down near the water we were caught up in a swarm of fireflies, those anomalies of Mother Nature. It was so romantic with the flickering lights of town on the water and the little flashes above the grass and in the hedge. There are days when we wonder why we get up and ride. When it is hot and windy, or cold and wet, we wonder. This experience takes the wonder out of the equation. This much positive reaction was a real boost. We loved Albert Lea, it was our new home, away from home.
Then we realized that we didn't know who Albert Lea was?
July 12, 2002
Albert Lea, MN to Austin, MN
A slow beginning, another change in the game plan. We knew that we would get a late start because the Albert Lea Tribune was sending their photographer to get a picture this morning. Breakfast with Jan and Tomas was a treat, one of the values of a Bed & Breakfast. They were now like new best friends. Their journey into genealogy was proving successful. We decided that we must get together once we get back on solid ground.

They joined us, Bonita and the Tribune photographer and we took shared shots. We all hugged then we rolled away. Just a few blocks down the street we saw Jan and Tomas at a red light. She shot an action shot then they honked and we were alone, again.

(Movie: Tomas and Jan 1:10)
After the photo shoot we truly enjoyed getting to know Jan and Tomas at breakfast. They shared a fun place they had visited called Smashing Head, Buffalo Jump. A Native American community near Alberta, Canada. It is named for the story of how they hunted by driving the Buffalo over a cliff.
We also learned that we share a fondness for The Today Show. We watch and prefer it to the other morning shows but find it hard to find here in the Midwest. The NBC affiliates seem to run local program instead of our fav, in spite of our taste. Jan is a super fan. She has stood at the fence twice, trying to get on camera. The last time she went to New York she took a blow up picture of her with the wax museum copy of weatherman Al Roker. She not only made camera, she got inside and took pictures with the real Al.
About Albert Lea, Bonita said she thought he was a General. Tomas said that the info in the Museum said he was a Lieutenant in the US Army and had led an expedition to this area back in the 1830s.
Our new plan is to ride just to Austin, 20 miles away and concentrate on getting the journal back to current.
This may be the most beautiful day we have had on the bikes. In fact Cat said that she thinks Minnesota is her favorite place based on scenery, roads and weather. It was cool and sunny. When a cloud shut off the sun it was almost cold. The only handicap was a head wind that I estimate was pushing against us at about 8 MPH.

We rolled into Austin in just two hours. The Aegean Cheese Company caught our eye. It is the home of a great feta cheese. We met the Cheese Maker and his son. One of the guys ho worked there told us how tough it was to work the buckets and pull the cheese out whey. It smelled good in the plant, we bought a piece of Sun Dried Tomato and Basil Feta.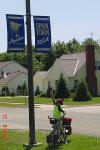 We went through the old part of town and found no place to stay. A gal in a liquor store pointed the way to Hotel Row. That was okay with us but it was quite a ways from our favorite, Old Highway 46.
By 12:00 noon we were ensconced in moderate digs at The Days Inn. A far cry from The Fountain View Inn, it would do at half the price. We just need space to get through the work of catching up on our journal.

For dinner we walked across the field to Hy Vee Super Store and bought Chinese food from the deli counter. It really hit the spot. Dinner in, and I made a dent in the delinquent journal entries. Cat worked on the Hospital bills and Insurance. We were really disappointed to find that the insurance through American Express has no value for us. The guy who sold us the policy said it was made for our around the world trip. Now, we find that it is only good for 31 days from the date you leave home. I was pretty upset with American Express and will try to call them. Why would we pay for something of NO VALUE?
July 13, 2002
Austin, MN to Preston, MN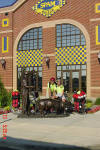 We were on the road a little before 8:00 AM but soon made a stop at the Spam Museum. It wouldn't open until 10:00 but we did get a good photo taken by the gate guard.
It was a beautiful day, perfect for cycling. Catherine asked if there was anything I'd rather be doing, neither of us could think of a thing. The temperature would hover in the 70s all day. Wind, if any, just wafted slightly. Most of the road was flat in the morning.
As we were about to exit Austin old Highway 16 it ended. The only choice we had was to enter Interstate 90 but a big sign warned, no pedestrians, bicycles of motor driven cycles. We really didn't want to go out there and dodge trucks. We pulled down a side street and flagged down an SUV. The young girl tried to help but didn't know the back roads. Around the next corner a guy in his yard tried to help, he even went in and got a county map. His idea seemed to take us a long way south. I looked over his shoulder and decided to try going north to Hwy 16 as it showed on the map.

We crossed the Interstate and found ourselves on County road 61. We rounded a corner and set out but Cat felt that we were going in the wrong direction. I assured her that we were but needed to. In the distance we could see a cyclist riding along with a couple of joggers. We pushed and caught them. The joggers, husband and wife, Rodney and Kay Middlebrook had lived in Orange County some time back. He is an Optometrist, they are long distance runners, and she really had the look. It was his 50th birthday and they were getting ready to party. The cyclist, Lee Bjorndal, is Austin's City Attorney. A great guy, he chose to ride on and show us the way. We had a nice talk. He feels that people here look down on those who ride bikes? He told us stories about cycling in Norway and his family there. It was fun and he did get us on the right track.
The re-route would take us a couple of miles out of the way but what a beautiful road. We thoroughly enjoyed the day, Cat felt and I had to agree, that it was our best day since we left home. In fact we decided that Minnesota was our best experience overall. The roads, the weather and the people were a great combination.

The water tower is an identity feature for most of these small towns. In fact we often get excited to see one because we know we'll soon be back in civilization. Brownsdale was a tall green, older style tank. It looked good to us, Cat had to go. We pulled into a small market. She went inside while I stood guard duty. A guy walked up and we were getting to know each other when Cat returned. His name is Jerry, his son lives in Cupertino, CA. They are going to visit next week. As we talked he flagged down another guy, Jim, and said, "Hey, these guys are riding their bicycles around the world. Jim stopped but was the strong silent type. Jerry continued to tell us about the town then called out to a gal named Diane. When he told her about our trip she said, "Holy Buckets". Cat and I laughed, the others didn't. It must be a local colloquialism? Very nice small town folks. Diane said, "We live in Hicksville."
We had to circle or loop back south to get into the town of Dexter. I used the restroom in a grocery store and we were going to get some food. The nice lady told us that there was a restaurant in a Truck Stop at the Interstate crossing and a place called Grumpy's in Grand Meadow just 6 miles further down the road.
We chose Grumpy's. It was a nice place and we had it to ourselves on this fantastic Saturday morning. Good turkey melts sandwiches on great wheat bread. The bartender, waitress and cook sat at the bar and watched TV. I asked about a big construction job across the street. They looked at each other and shrugged. I said, "Maybe a high rise, they are really moving dirt and compacting." They looked at each other and the bartender said, "Maybe a Mc Donald's?"

As we entered Spring Valley my eyes were drawn to a billboard announcing DQ, a Dairy Queen in town. I couldn't pass it up. Cat wanted nothing, I ordered the Explosive Grape Blizzard. I decided on the medium just in case Cat decided to join me. She did, it was great. The little pieces of grape candy that are mixed in, sort of pop when you chew them.

(Movie: Tractor Lady 0:32)
Onward, into the hills that we have been hearing about. Everyone said that we would have to ride the little mountains to get to Preston. We were a little worried because, with the routing problems we would be riding about 60 miles today. It turned out that the hills we worried about should have only been small worries. We rolled up most of them in 2nd gear. In fact, the final up led to a long, swooping downhill, into town.
We pulled in at the visitor center and talked with Betty, the VC lady. She told us that most of the rooms in town were reserved. We called The Historic Jail House Inn, a fun sounding B&B. Sorry, no vacancies. Cat walked across the parking lot to The Country Hearth Inn. They had one smoking room, only because of a cancellation that occurred as Cat walked through the door. Smoke or no smoke, she took the room.
The clerk, Sue, who looks Scandinavian, and she had lots of good info, city map and bike trail maps. We decided to ride into town for a bottle of wine, she made reservations for us at The Branding Iron for dinner, it is close and she recommended the place.
As we rode into town we asked a young guy for direction. We were headed okay but he through in the phrase, "around the corner and up the hill." Well, it turned out to be the same kind of hill that all Minnesotans call hills. Even our weary legs had little problem with it.

We decided to get some crackers or bread and stopped at the IGA store. A family, Tom, Mary and Helen, pulled up on bikes and asked us if there was a coffee shop nearby. Cat knew of one, we were only in town for a half an hour and now we were guiding tourists. They were from Wisconsin and told us we would love cycling there. Mary has traveled by bike and wants to get back onto touring. She also told us that we must stop at the Tourist Info Center when we enter WI. They have a huge bike trail system and she felt that we may be able to cycle trails most of the way to Lake Michigan. As they were mounting up to leave, Helen, who hadn't spoken a word, offered some advice. "When you're in Wisconsin be sure to stop at Culvers Ice Cream Stores. They're the best, they have the best ice cream and lots of other things." Her face flushed with pride and I thought that she was pretty brave. I don't think I ever said anything to an adult at least any thing constructive until I was an adult. Good job, Helen.
The hill to The Branding Iron is steep and it is about a half mile trudge. We were feeling great and we took it in stride. The food was very good. The salad bar and soup were great, too. The wine was only okay but it was the perfect cap for the perfect day!
July 14, 2002
Preston, MN
I awoke at 1:30 with the damned flippy floppy heart again. It was hard to believe. Our meal had been very bland. I took a half pill of Cat's Toprol and a Zantac. They did help me sleep but the condition persisted into the morning sun. I was afraid to ride. I had such a bad experience out of Worthington that I had made a promise to myself not to do that again. I felt that it would be best to see a Doctor. Have an EKG and blood test, just to reassure us that I hadn't damaged anything and it was just the same old palpitations that so often had plagued me in the past.
We had an early breakfast, cereal and bananas. I began to try to find a Doctor or Hospital that was close by. We are really out in the sticks, here. The Mayo Clinic is just 40 miles north of here and they have an Urgent Care facility. That would be the place but how would we get there? That proved to be a problem that we couldn't solve. The gals at the front desk said that there were no rental cars in Preston. Cat noticed a bunch of U-Haul trucks in the street next to the Hotel. We walked over and found that we could rent the 14 footer for $29.95 and 49 cents a mile. That would work. We walked back and I called to make sure the Urgent Care was open.
We went back and told the guy that we would take the truck but he had some bad news for us. He had no forms so he couldn't rent the truck out????? He told us that the car lot across the street had a rental car. It was closed but he gave us the name of the owner.

Another dead end, we even walked over and got all of the numbers off the door. The salesman did call back to let us know that the car was rented and they had only the one. I called everyone we could dredge out of the phone book. We tried everything, even 911 who would only send an ambulance which we didn't feel that we needed.

Betty, the nice lady at The Visitor Center helped, but drew a blank, too. She finally told us that the Olmsted Medical Center, near the Hotel would be open on Monday morning. We gave up and booked the room for another night.
Most of the day was spent in the room. I did work on the journal, when I felt a little better. The irregular heartbeat persisted throughout most of the day. For lunch we walked down the street to Bowl Winkles, a bowling alley. Dinner would be delivered Pizza. We watched a wonderful movie about a guy who had cerebral palsy yet became a great Salesperson with the Watkins Company. Inspirational, almost a tear jerker. It saved an otherwise wasted day.
July 15, 2002
Preston, MN to Lanesboro Falls, MN
The Olmsted Medical Center opens at 8:00 AM. We were at the door a few minutes before that and they were already open. No Doctors, yet but they did send me in to talk with a Nurse. Cat came in with me then went back to get the EKG, blood and urine work from Casper. The Nurse, RN Supervisor Sheila McCallson did all of the prep work, blood pressure, 112/82. That seemed low on the high number so I asked her to do it again. As she pumped Cat walked back in, the reading was 118/88, Sheila thought it was Cat's presence that caused the increase. Once Dr. Stephanie Jakim arrived and heard my problems she approved an EKG. Nurse Sheila had me lay back and she shaved little patches of hair where she would attach the electrodes. We talked about our trip, she asked if we camp. When I told her that we did but most of the time we stayed at motels or B&Bs.
She told me that she and her partner had just spent this weekend at a B&B and she loved it. She had never stayed in one before. She matter of factly mentioned that she and her partner were lesbians and were surprised when they went to breakfast and found another gay couple at the table. I wasn't shocked, it seems natural. Bill Potter, the guy portrayed two people love each other?" She said it was against her religion and he said, God made all of us, he doesn't make mistakes!"

Dr. Stephanie looked in all of the upper orifices, listened to my heart and breathing and reviewed both of the EKGs. She could see no real problems but would fax both to Mayo Clinic for a second opinion. We had to be patient but it was worth it. I didn't want to risk being out in the country and conking out. They agreed with Dr. Stephanie. She talked with me then suggested taking Nexium in the morning and Toprol at night. I liked her ideas, I really liked the hand full of samples she gave us.

We crammed down breakfast and were on the road by 11:30. Down the same street we traveled into town when we first arrived then left and onto a bike path. This would be our best day of cycling since we left home. The trail is paved and on an old railroad route. It runs along the Root River and is tree shaded much of the way. The topography is flat and most is downhill. There were quite a few day riders on the path. It was nice to have lots of hellos as we rode. A couple of guys my age, maybe a little older, rode with us for a while. One of them got interested and rode with Cat, talking, asking questions and telling her about his life. The other was uninterested and even wanted to know why Cat wanted to know where he was from.

(Movie: River Root 0:21)

We rode 20 miles then lunched at Judy's Country Kitchen in Peterson. There were lots of bikes out front but only one group, mostly kids, inside. As we were leaving they came out and the Mom of three of the boys asked Cat where we were headed. One of the boys asked if the bikes were the ones that shift automatically. I was shocked by the question. When I asked how he knew about them he said, "I could see that you didn't have a cable to your back shifter."
I asked if he had seen the bikes on the infomercial. "Yea, I've seen the commercial before, too."
"We're on the infomercial, Cat and I," I told him.
"Wow, I've seen these guys on TV," he proudly shouted to his buddies.

We were leaving but I decided I had to have a picture with him. His name is Lucas, the families crowded around behind us, he and I shook hands.

(Movie: Minnesota 0:26)
As we pulled back onto the trail a recumbent came flying by and the guy said Hi. He was pulling a trailer and moving. We were full of sandwich and taking it easy. I could see his mirror flash in the sunlight but he was way out in front of us. When we pulled in to Rushmore we stopped at the Old Train Station Museum. The gal there, Irene, was a virtual book of knowledge about Rushmore. She told us that the dream of a campsite next to the river was not to be. The only campground near town was not only on the river but it had only porta potties and no showers. Then Cat found a brochure on The River Trail Inn and Irene was excited. She told us that she used to won the place and really recommended it. So our camp would be a B&B.

(Movie: Bridge 0:26)

Outside, we ran into the recumbent cyclist. His name is Glen Elbert, a school teacher from New York City. His trip this year is St. Louis, Kansas City, here, Chicago, Detroit then back to NYC. He rides 80 to 100 miles daily in 10 to 12 hours. WOW, that's a lot of seat time. Nice guy, he has a web-site that outlines his trips including a coast to coast back in 1999.
We stopped at the bar/liquor store for wine. The place was loaded with local men. The bartender was a blonde, the only woman in the place. We thought that she and the waitress at Judy's must have been related, similar, few word sales presentations.

(Movie: Lanesboro Falls 0:19)
The restaurant that the bartender blond recommended was closed on Mondays. The River Trail is almost like a boarding house. It was cool and dark in the hallway entry. The hall is lined with bedrooms. At the end of the hall is a telephone and a note to call Joan at Subway Sandwiches for a room. I called, she answered and we took a shared bath room for $50.00. We would have had to share a bath had we camped, the price would have been less but a good shower is priceless.
We shopped and just like camping, we will barbeque on the back deck of our campsite. We will have the place all to ourselves. Joan's son lives in the basement. We heard him come in but he didn't stop. His girl friend came in, said Hi and went about her work, cleaning and changing linen. She is going to Cosmetology school. Nice girl, we think she lives in the basement, too.
I sat up the computer on a little table in of one of the stuffed chairs and pounded away while Cat Cooked. We got the Barbeque fired up and she threw the chicken thighs on. The place smelled good. It felt almost like home. She loves to cook and putter in the kitchen.
As we were seated for dinner the back door opened and a dog burst into the room and right up to us. He was hyper, the son grabbed him, said "Sorry" and drug him back out of the room. We think he is the strong, silent type, the son not the dog.
The shower was great, dinner was great, too. We had the house, save the basement, to ourselves. We watched a goofy movie that we thought we had seen before, Happy Gilmore, but it made us laugh, anyway.
July 16, 2002
Lanesboro Falls, MN to West Salem, WI
Joan true to her word, had put the coffee on earlier, or had she set the timer on Mr. Coffee? Breakfast would be a "Do it yourself" affair but we liked it like that. Mel, short for Melissa, came in dressed for school in her smock and make up. She got some coffee cake out of the refrigerator then said her goodbyes. Nice girl.

It was 8:30 by the time we took pictures in front of the house (I sat the camera on the roof of an SUV on the street) and we pushed off. It was cool but the air held the promise of hotter things to come. The bike path was wonderful. It was 15 miles of river, trees and lush green vegetation. We could see the hills on each side of us but the old RR track bed lay flat and shaded for as far as we could see.

(Movie: Communing with Nature 0:26)

The trailhead, the end of the trail for us, is in Houston, Cat looked out at the road with trucks and cars zooming by and said, "Houston, we have a problem!" As we exited the path we came upon several bicycle sculptures and The Houston Nature Center. We took pictures the as we started to roll a gal came out and said hello. We thought she was with the bike trail managers and asked her a question about the road ahead. She knew that there was some construction but wasn't very helpful. Then she introduced herself, she was the Naturalist, Karla Kinster. She runs the Nature Center. After a pretty good conversation, we started to go but she suggested that she didn't open until 11:00 but she would be glad to give us a tour. It sounded interesting but we declined, we had a long way to ride.

(Movie: Bike Trail Map 0:33)


Being off the highway had spoiled us. The bike trail became a little hilly the final 3 miles but that was nothing compared to the road with heavy traffic. Then just to add to the degree of difficulty, they threw in road construction and a detour that Karla had warned us about. We flagged down a guy in a pickup truck to see if the bridge was unsafe for cars and trucks but would be okay for our bikes. He urged us not to even try it due to the heavy equipment and trucks working there. He said that the detour would only add a half mile, or so. It was that and the hill we could see that bothered us. We took his advice and the detour. The cost was more like 2 miles, ups and downs and traffic, lots of traffic.

We had lunch, our last meal in Minnesota, at La Crescent. A very good sandwich at Corky's. Cat had begun to worry that she would not find an MN magnet, she has collected a state magnet from every one we have visited. She was a happy girl, she found one she liked at a little gift store a couple doors down from Corky's.


Back on the saddles, we were in fairly heavy traffic and headed toward the Wisconsin border and the mighty Mississippi River. We dodged cars and trucks to cross the road for a picture with the State Line Marker. The road had narrowed to one lane and it was tight. We opted to ride on the sidewalk and it was bumpy. The roadside dropped down into a swamp covered with lily pads that went as far as we could see.


The Mississippi isn't huge this far north but it is pretty big. The bridge was built in the year of my birth, 1939, it looked its age.

(Movie: The Mighty Mississippi 0:36)
The streets of La Crosse, WI were narrow and busy. We stopped and asked direction from a young couple who were standing, gazing starry eyed at a new Honda Mini Van. Lisa and Terry couldn't help because they live south of here but her Uncle owns the Bicycle Shop in Sparta, at the trail head. We had fun doing a little video to show him. The car salesman, anxious to rescue them, gave us direction. We followed but were soon lost. The left turn took us into the Historic old downtown area. Lots of great looking buildings rehabbed or in the process. It was still lunch hour and many small restaurants customers spilled out onto the sidewalk at tables in the sun, quite quaint. We were on the right trail but nobody we asked knew for sure where it was.

(Movie: Speeds Niece 0:37)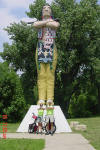 Finally there, we learned that the bike trail starts right there at least according to the guy in the museum. At least he thought it did? There is the statue of a Native American at the edge of the river. We had our picture taken in front of him.
Turning back to business, we sought out the trail and as we were lifting our bikes over the curb a young guy rode up. He didn't know where the trail went, he was just visiting, but he did know that once you got through a short stretch of dirt it went all the way through town. The dirt stretch would have fooled us so we were glad we stopped him. It was narrow and the weeds were trying to take over. We were right on the bank of another small, slow moving river. We did avoid the town and traffic but were uncertain of our direction. We came upon 4 boys cycling ahead of us. They were kind of smart-alicking around. When we passed them they sped up and rode behind us. One of them had the ability to slide his rear wheel sideways and make a skidding sound. He kept doing it as though it would scare us. It was more annoying than scary, at least after the first screech.
The trail that had been shaded, ended abruptly and we were cast out onto a sidewalk. Uncertainty led to a conversation with the boys. They were pretty nice once we got past the bravado. We took their advice and rode on the sidewalk, up and over a railroad bridge. After about a mile we found the familiar brown "State Trail" sign, similar to the ones in MN.

(Movie: Railroad Trail 0:18)
The ride along the Highway wasn't that pleasant, it was hot and the noise and fumes of the cars added to the discomfort. We really had gotten spoiled. Another trail sign finally led us off the road and into a park where we found the real trail head. The sign required that we buy tickets, just as Lisa and Terry had said. It was just an envelope that you fill out and drop the money in a pipe, keeping the receipt as proof of payment. They were $3.00 each, we scraped up all our loose change and were able to come up with &5.87. We hoped they wouldn't arrest us for 13 cents. The sign did say that there would be a $5.00 penalty if caught on the trail without a ticket.
As we completed our transaction a tall long haired hippie looking guy rode up, headed into town. He was wary as we questioned him about the trail. When he learned that we were from California he told us he had lived there as a young guy and always wanted to go back. In fact, small world, his Dad died of a heart attack at age 34 while they lived there and is buried at Fort Rosecrans in San Diego. My brother Jerry lies on a hillside there, too. His Dad must have been in the Navy or Marines, Jerry was in the Navy when he crashed our motorcycle.
That dredged up some old memories better left buried, for now, so we turned our bikes and attention toward the dirt trail. Yes, Tom, the tall guy told us it would be dirt as far as he had ridden. It was also long, straight, un-shaded and HOT, HOT, HOT! There would be occasional clumps of trees but for the most part we were out in the afternoon sun with the Interstate on the right and a railroad track on the left.
Our plan had been to ride to Sparta at the other end of the trail. At 3:30 we rode into West Salem, the lighted thermometer on the bank was just one digit short of three, 99 degrees. It was easy to decide to stay right there. We went into a cheese store, our first in Wisconsin. A kindly old guy who didn't hear too well was the owner. I had a Blue Moon ice cream, Cat had Cookies and Cream. It was warm in the store but the ice cream helped. The man was helpful, too. He directed us to the only store in town and the only Motel, the AmericInn. As we rode back up the main we stopped and confirmed the motel situation. I thought that the Westview Inn we had passed on the way in was a Hotel. There was a guy on a lift scaffold up high, painting the front of the old brick building.
I asked a young guy who came out the door if they had rooms to rent. The answer was no, but he called to the guy up on the scaffold and asked about a motel. Same answer, AmericInn, the only game in town.
It was a little further than both descriptives had made it sound. Dang those car drivers and their idea of distance and hills. A bottle of wine, Gatorade and bananas then we rode, and then pushed up the hill and over the freeway. It was only 4:00 but the parking lot was pretty full. We would be in trouble if they were booked.
Good news, they had one room left on the ground floor and no elevator. The clerk was really nice. When we signed up she told us that her maiden name was Patterson, Judy Patterson. I told her that my X was Judy Patterson. She said, "Oh, I'm sorry about that," and laughed. Then she introduced us to the Manager, Steve who volunteered free passes for the bike trails. With our AAA and the trail passes we had the room down into the $60 range.
In order to get to dinner we had to call a cab all the way from La Crosse. It took a half hour but we just didn't feel like walking back down the hill in the heat. Judy said, "It's less than a mile," but we could see the distance and knew how hot it still was out there.

The Westview was about half full, not bad for a Wednesday. Most were older than I, maybe it was a senior's night out? The food was good, the service very good, too. We asked Mary, our waitress, to call the cab for us. She left then came back and said, "It will cost too much to have a cab come all the way out here from La Crosse, our boss will drive you back to your Motel."
The next thing we know the guy who was up on the scaffolding was standing in front of us. It was Tim, the owner and he still had the shirt on that was stained with paint. They were all kind of in awe when we told them about our bike ride. Tim had to throw all of the toys and tools out of the seat for Cat to get in. He apologized for the condition of the car. We were thankful for the ride and could care less about the condition of the car. In fact, it wasn't that bad.
Nice guy, he and his wife bought the Westview from the guy they had worked for. He had a heart attack and wanted out. They bought it just 14 months ago and paid $260,000. We were surprised at the price but it probably included the building, business and fixtures. He talks like a restaurant owner, they have their work cut out for them, and it's a tough business.
July 17, 2002
West Salem, WI to Elroy, WI
A fairly restful night, a pretty good, included breakfast and we met a pretty nice guy. He sells carpet and travels and has for 30 years. He appears to know the staff and other guests who are regulars, too. A real party guy, about my age, he talks about golf more than product. Hey, that's the carpet biz.

We thought we were out for an early start but it was not to be. Chit chat with him, then an attempt to find a place to stay in the tiny town of Elroy for tonight would burn up a lot of time. We took a picture with Steve and the morning clerk, Kristy in the lobby. We included a gal who had been banished from her sales meeting because she didn't make her quota. Combined Insurance of America was having a sales meeting and the Sales Manager scolded her and sent her out to dust the lobby while they had their meeting. Sounded pretty de-motivating to me but she seemed to take it in stride. She was Alissa and she was wearing an AmericInn smock. I was glad she was in our picture. I thought about Bill Potter and his sales career in we saw in the movie night before last. It never pays to belittle or degrade anyone, especially someone you are leading. As an aside, we saw that one of the top 5 hits on Google.com was people searching for Bill Potter. Bill's a real guy and a real guy would never expel another person in front of others?

It was 10:00 AM by the time we finally bid farewell to West Salem and sailed out onto the State Trail. It was already hot and getting hotter. It would be a 90-90 day today, for sure. That's 90% humidity and 90+ degrees. The path to Sparta was flat, hot and straight a lot of the time. You pass through two other villages along the trail, we were feeling strong so only slowed and took a rolling look.

(Movie: Wisconsin Dirt Trail 0:29)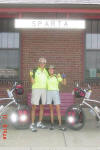 The old Sparta RR Station was cool and full of info. We picked up maps on tomorrows ride called The 400? The young blonde, Jaime, who worked there tried to help us find maps on routes beyond Reedsburg but to no avail. I saw a story with pictures about a couple from Seattle who were riding coast to coast. We told her about The Odyssey and gave her our web address. She came out and took a few pictures of us that they may use in the local paper. We haven't sought press but we don't avoid it either. We're not sure whether it will have an affect or whether it would be positive but we know that if we have none it will have no effect.

We stopped at Speed's Bike Shop, met Speed whose real name is Milton. We showed the video of Lisa and Terry to he and his wife, Rose then took a picture with them. The young guy working for them taught me how to adjust my brakes, we pumped the tires to 65 pounds and hit the trail.
Actually we hit the streets of Sparta for about a mile then found the trailhead for the Sparta to Elroy trail. It was more of the same for about 3 miles then we started to climb. It was an 8 mile up but the grade, originally built for steam engine trains back in the 1880s took it at a gradual 3%.

(Movie: No Sweat 0:21)

A couple of families came down past us and we caught and past one. Then two young guys in gym shorts and High School shirts roared past us. We were taking pictures of the story boards along the Trail. We knew there were going to be tunnels, in fact Rose at Speed's had warned us that we would need a flashlight to make it through them, especially the first one we would come to.

Strange, we could feel a cool breeze, we thought it was coming off the little creek running down hill on our right. Then we saw the entrance to the tunnel, steam or should I say condensation was rolling out the entry like fog. We dismounted, as the sign instructed and dug out our lights. They are the type that fit on your head, Judith and Terry had given them to us for our birthdays. The batteries on mine were dead. Cat had a glimmer. We were headed for an adventure. It was at least 30 degrees cooler inside the tunnel and water drips from the ceiling. We started out with confidence, Cat in the lead. Once the light from the entrance was gone we were in trouble. I thought we would be able to see the other end but what we saw was total darkness. Her little dim beam of light barely kept us out of the water running down both sides of the trail.
35 Cool and Damp 36 Into the Dark 37 See the Light mpeg 70 Dark and Light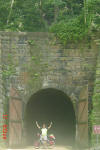 "I can't do this," Cat pulled up and pulled the light off of her head. It made her dizzy to walk and try to see where we were going. I took the light and put it on my head. It was absolute darkness and very tough to move forward. I too got dizzy trying to see the edge of the trail and keep us out toward the middle. She was nervous, I loved the feeling. For some reason it reminded me of Huck Finn and Tom Sawyer. I expected to see Indian Joe rise up in the tiny orange beam of light and admonish us to hell or some other terrible place.

(Movie: Dark and Light 0:26)

It was a slow process, watching the little stream of water and moving, step by step through the dark. Finally we could see the light at the end of the tunnel. It was almost like getting our vision back. Still cloudy, in fact the clouds seemed to push us out the mouth and into the sunlight.
Standing near the entry was a guy about my age smoking a cigarette. His bike was a touring model and he had rear bags but they seemed sort of deflated. Then we saw a young girl playing in the crystal clear water that was flowing out of the tunnel. It was Robert Kastigar and his granddaughter, Gennie. They were on an adventure ride and were resting after the passing through darkness. He was dreaming of taking long trips with her across country. Robert also dreams of quitting the nicotine and we encouraged him. Gennie was 11 years old and not really buying into the fun of hours on a bike seat. She was cute, he was a very nice guy.
We took off with a hearty goodbye, never expecting to see them again. Then we came upon a cross road and some signs that confused us about the next town. We stood for a few minutes, drinking our Gatorade and thinking. Up rode Robert and Gennie. He knew the trail and told us to stick with it. We thanked them and they rode with us until we pulled off at Norwalk for lunch. Robert also warned us about a tree down across the trail ahead and told us how to get around it.
The thermometer on the Norton Bank read 98 degrees as we cruised Main Street and chose Diamond Lil's for lunch. It was cool and we had a window seat. The food was basic, the salad bar was thin. The bar tender and a big girl were in a heavy discussion about investments. He was a proponent of the stock market. When I butted in and suggested that there were darned few making money in the market today he said it was a good time to buy. In a Mutual Fund you could buy a lot more shares now than you could last year. "If you're in it for the long pull, for a retirement then you should just continue to invest in your mutual fund. He may have the right idea but I think that I would be pretty upset if I had just started investing 2 years ago. I would have half of my money left now.


It was tough going back out into the heat. We went to the store next door and bought more Gatorade. Back onto the trail, we were happy that most of it was down and covered in a tunnel of tree branches. When we came upon the tree across the trail it caught us by surprise. We started to turn around and somehow Cat caught her foot on her bags and BAM, she was on her back in the weeds. Concern diminished when she began to laugh. Once we had her back on her feet and the bike upright it was really good for a good laugh.

Thanks to the tree we got to see the village of Wilton on the detour and an Amish family rolled by in their carriage. Cat was so excited that she didn't even think about the camera. We could see two kids peeking out the back, looking at us. We wondered if they are even allowed to have a bicycle. Isn't it strange, how some beliefs center on things, like living an 18th century lifestyle, for religious reasons? And, isn't it tough to be born into a lifestyle that is so severe and have no choice in the matter? But, then, isn't that the case in most families? I wonder what the retention rate is for the Amish when the kids reach the age of majority?
If you are just out for a ride and have a choice, start at the other end of the trail in Elroy. That way you go through the shorter tunnels first. Once you have seen "The Big One", the others are passé. Oh, we loved the cool air and we took some video that we missed in the total dark but you lose something when you can see the light at the other end from the time you step through the entry.

(Movie: Tunnel #3 0:26)

Speaking of light, we were soon bathed in the light from behind by a fast approaching cyclist. He caught us just as we pushed into the hot bright sunlight. His name is Carmen Senese, his wife who followed, is Kate. They are avid cyclists, retired early and enjoying life. They're from Texas but when I mentioned that they didn't sound like Texans they confessed that they were originally from Chicago but had relocated to warmer climes a few years ago. We rode and got acquainted. He would like to travel by bike. They have a trailer and pickup and are in a campground somewhere nearby. They both love their home and said they couldn't stand to think about having a stranger living in it when we told them we had rented ours. Carmen has a dream to ride the east coast and already had the maps. Cat may not have been that helpful to him when she told Kate that it is harder than she originally thought it would be.
Another tunnel then another picturesque town, Kendall. There we saw another Amish carriage. Two women were accepting groceries from a guy in a big Dodge Ram pickup. We did get a picture but felt as though we were intruding. Also wondered how you justify living in the past but having your food brought in on a 2002 truck?

Carmen and Kate had ridden on ahead. We thought we'd lost them but they pulled up and waited. The talk took our minds off of the heat and fatigue we were feeling. Time and distance flew by. We were at the station in Elroy and bidding them goodbye in no time. The digital thermometer on the bank read a sizzling 97 degrees and it was 5:30 at night.
Our next quandary was shelter. Cat had called a few places from Sparta. There was only one place listed in town but their phone had been discontinued. A nice guy at East View B&B regretted that they were about 4 miles out of town but offered to come pick us up in his truck. We continued the search then finally gave in. The idea was now that we would eat here in town, in our current road ripened condition then he would pick us up. We called to confirm from "The Dog House Bar." The owner, named DOG told us that the restaurant next door was the only game in town.
We asked about the wood fired Pizza Place we had seen in the visitor guide and he told us it had gone broke and already been replace by the one and only. Re-named, The Trail Blazer, we were disappointed but adjusted. The waitress was peppy and quick with her wit. The vegetables were canned peas. I ate them all, Cat and all others seated near us left them untouched. That should be a hint to the management.
Dominic came soon after we called. Unfortunately his pickup had a camper shell on it requiring us to take the bags off our bikes. Small inconvenience when compared to camping at a pit toilet, no showers campground.
The East View is not a huge, old classic house. It has a tract house look from the road but what a location. Dom and Bev have 26 acres that runs down hill away from the dining room. The view is the hills and dales of Juneau County.
I thought, from the name, Dominic, that he was Italian except for the last name, Puechner. He corrected my pronunciation, the u is silent, it's Peshner and it's German. Dom is a retired Police Officer from Milwaukee, Bev sold real estate. She worked there with Cliff Robideaux her Broker, who was one of my instructors when I earned my CRB Certification. They bought their dream in 1995 and retired to the countryside. A friend talked them into sharing their house as a B&B. They really seem to delight in entertaining and serving.
Both have had heart problems, she has been through by-pass surgery twice. She has just learned that she has breast cancer. They visited the Doctor just this morning and were pretty disappointed that the medical professionals they have to trust with their lives hadn't even looked at the tests and other info gathered over the past week? They are thinking about a second opinion. WI suggested Mayo Clinic since we had always had good luck at UCLA.
July 18, 2002
Elroy, WI to Baraboo, WI
The brochure says, "On the wings of the morning…East View greets the new day. Yes, just as advertised, we did wake up to the smell of gourmet coffee and breakfast in the sunroom where we could see for miles. It was only 7:30 but Bev was in full make up and dressed a long dress and ruffled apron. Dom wore an apron that with a cute saying on it. They were a team. We really felt at home. Breakfast was more like a big brunch. They really carbed us up for the ride.

Our goodbye was at the tailgate of the truck as we loaded the bags. We hugged and wished Bev the best in her journey and fight against the big C. She stood outside the front door and waved as Dom headed the truck back into the village of Elroy.
Dom stopped and introduced us to his friend, Jim who had owned the other B&B and a restaurant but finally gave up due to lack of support from the locals. Nice guy, he had pulled up all of the info from the internet on the bike trails.

As we were loading the bags, in the shade of the old train station Dom came out form inside and said, "I hope you're not upset but I called the local newspaper and they want to talk with you."
How could anyone get upset with a really nice guy like Dom? It was late so the interview with Bill Smith, the Editor and Owner of the Trail Communities Messenger was done as we loaded the bikes. It was after 11:00 before we finally rolled out into the bright sun and heat.


We rode the entire 22 miles, through the villages of Union Center, Wonewoc and La Valle without stopping. We were soaked in our own sweat when we rolled into Reedsburg. Our needs were, shade and air conditioning, food and an ATM. We were completely out of money.

The Café at the end of Main Street would accept our Visa Card so lunch and AC won first place. There was a big crowd inside, strange for 1:30 PM? It turned out to be 20 local seniors engrossed in their regular weekly card tournament. We thought they were playing Bridge but when I asked they proudly told us it was Euchre, pronounced Uker, and they were very serious about the game.

The ATM refused Cat's card, she called our bank but they said it should work. I went back over and tried mine, it did work. We were back in the cash business, again
The lady at the old Train Station there knew a lot about the roads that we would have to ride now that the trail system had ended. She got a big bicycle map out and began showing us the scenic winding route they recommended. I was okay with Route 12 but she absolutely virtually forbade us. It was too narrow and heavily traveled by trucks and cars. Finally we made a decision to ride Hwy 33 the 12 miles to the intersection then take 12 for 3 miles, into Baraboo (pronounced bearaboo) and decide for ourselves.
Yes, 22 was a challenge. By the time we arrived at the Hotel in Baraboo Cat had made her decision, she wanted nothing to do with 22. It was a short ride of just 37 miles today but the heat and diving back into traffic after the very late start took its toll.
The Hotel was under reconstruction. We showered then walked to a restaurant next door but were disappointed in the food and wine list. Back tracking, we found that we would be eating in what normally would be the Conference Room as the restaurant is not available. The food was okay, like Hotel food.
July 19, 2002
Baraboo, WI to Madison, WI
The Comp breakfast was served in the same Conference room. There were more people there than last night at dinner. Maybe it was the price? We people watched but didn't meet anyone. We rolled out at 8:30 AM, trying to beat the heat.
By the time we worked our way through town and stopped for Gatorade it was 9:00. We would ride Highway 113 to avoid traffic. It was more a country road but it didn't take long to figure out that it would be a hilly day. We swooped down, past the Circus Museum that was much bigger than we had pictured then up. It was steep, we hated to push but we were just to full of food to pedal to the max.
Though up and down, it was about as beautiful as it gets. I loved the wild flowers and they reminded me of days gone by.

(Movie: Bachelor Buttons 0:31)Once over the top it was a fast downhill to the Merrimack Ferry. The lake was pristine.

(Movie: Ferry Crossing 0:18) The ferry runs back and forth and carries cars, trucks and occasionally cyclists. On the far side, Cat saw that the boat is running on a large cable, to keep it from drifting.

(Movie: Boat on a Rope 0:54)
Even though it was fairly steep ups and downs the area was designated as a scenic, and it was, very beautiful. We soon figured out that we were on a detour from Highway 113. It took us about 15 miles out of the way.
Hunger began to set in so we stopped at a Hog Farm to eat fruit bars we had on board. There was a picnic table under a tree. We decided to take advantage of it. The loud deep bark of a dog slowed us then we decided that it was inside the screened porch. Just as we settled onto the bench the big dog came out from under the porch and barked his disfavor, face to face. We were about to back out of the yard when a young guy came out of the barn. He quieted the dog then allowed us to sit and eat in the shade. His name was Robert, he is just employed by the farm. He receives, vaccinates and moves the pigs around in the barns.

Robert is going to be a sophomore this year. He ran off to the barn and returned with a pizza. They keep them in a freezer for the help. As he munched he asked questions about us and answered our questions about the area and his life. Cat asked if she could see inside the barn. I felt that it might not be a good idea since he was there alone. It might jeopardize his job. He still had half a pizza and we needed to go so she dropped the idea.

I misread the map and thought we would turn before we reached the town of Lodi. It was a surprise when we cycled in but we were starving so it worked out. Another cute, cool restaurant across from the little waterfall and story of Suzie the Duck who came to town in 1948, laid eggs then came back several years in a row to raise her annual families. The daughter of the Chief of Police named her Suzie. The town now has an annual Suzie the Duck festival.
The struggle with hills continued until we reached a suburb of Madison. The sign said, "You are now entering the only Waunakee in the world." In just a short time we were on a slight downhill for the few miles into the City. Instead of hills the new challenge became traffic. The road was way narrow. We even gave in and started riding on the sidewalk.
A college student on a vintage Schwinn caught us and became our guide into Madison. We rode and talked. He is a student of Computers and he works a job that includes maintaining computers. In the heart of the City we pulled up to watch revelers at a street event. As fate would have it we were just across the street from Canterbury Booksellers Café and Inn. Cat had called them but we decided not to book until we saw the place. The location was great, I have always had a dream of living above a book store and café. This would be it for a day, if they still had a room. Our guide took a WorldRiders2 card and said he would call tomorrow to get together for lunch or a tour of town in his mothers car.
I stood and talked with our guide, whose name has escaped us, until Cat came out waving a key. Our guide took a WorldRiders2 card and suggested lunch or even a guided tour of Madison in his Mother's car tomorrow. We shook hands then he rode on. We were in and we would stay for a day off, too.
My dream was complete regarding our home in Madison but Cat did the Book Store and Coffee counter while I sat up the computers. Our hostess, Lisa, who checked us in brought us a lovely tray of fruit, cheese and melba toast. She also brought the bad news that she had quoted the wrong price for the room and she would have to increase it. She was new at the job. Not new to The Canterbury, she had worked there for sometime as a housekeeper. She was very cute in her exuberance for the new position.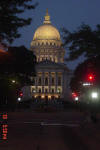 The AC was fabulous, the shower superb. After happy hour in the room we had a terrific dinner at Tutto Pasta. Surprised that we could just walk up and be seated at 7:30, we soon realized why. The girl had us follow her to the basement. No window seat to observe the locals but it was interesting décor and good people watching.
We walked through the crowded street then into a quiet residential area and out to the grassy shore of Lake Mendota. Pretty impressive, even in the evening light. It must be 2 miles across and at least that long. The path led us past a trio of homeless looking people with a dog. They were polite and wished us a good evening. We were turned back by a chain link dead end. As we walked back past the two guys, a girl and their dog, it began to bark. Again, they were polite and apologized. It was a moon lit summers night and we thoroughly enjoyed the moment. Life is good!
July 20, 2002
Madison, WI
Sure there is some rest in just sitting and typing but this day of rest was dedicated to getting the Journal up to speed. Most of my day in Madison was spent locked in the room, on the computer. For some reason I began to feel guilt when it is behind.

Cat shopped the street sale and bought a blouse, red with a little heart above her heart. Accents the fact that she is a Heart Attack Victim?

We took a break for lunch at Gino's. They had sidewalk seating and walk away food but we sought AC. Gino is a nice guy but his hearing is bad. Maybe a little hard to communicate with but it had no affect on the food, it was great. They helped us find a place called The Den. They had a mail center in the basement. We were able to send the broken part to Brad at LandRider so that he can examine it and see what the kids back in Sioux Falls had done to it.
By late afternoon the journal was complete. We never heard from our guide about a tour of the city. We took a walking tour up and around the Capital Building, very impressive. This is the most urban city we been in since Salt Lake. Sioux Falls was nice but didn't have the hustle and bustle feeling we got on these streets. Perhaps it's because this is a University town?
Another round of the same great wine and cheese was delivered by our friend, Lisa. We discussed restaurants, she suggested The Blue Marlin for fresh fish and it was within walking distance. It was all she had told us and more. We had a window seat with a view of the action on the street and the Capital building. Mike and Joe, seated next to us had driven in from Milwaukee just as a get away. They told us a little about Milwaukee and helped us make the decision to ride through there rather than cut across toward Racine. It couldn't be more than a savings of 20-30 miles and we would miss the opportunity of seeing the beer capital on the shore of Lake Michigan.
July 21, 2002
Madison, WI to Sullivan, WI

Lisa was off when we checked out but the good news was that they had decided to honor her quote. We loved The Canterbury Inn and recommend it, even if it costs $15.00 more! We had a wonderful rest in quiet and solitude yet just steps away from the heart of Madison. Our Complementary breakfast arrived on time at 7:30 AM but we somehow tarried until after 9:30. The sun felt like it would live up to the Madison Morning Weatherman's prediction of, "The Hottest Day of the Year."

The ride began in a north easterly direction then looped Lake Monona, the lesser of the two lakes that almost surround Madison. We looped the north shore then took Cottage Grove Road, to Cottage Grove, a small town about 10 miles east of Madison.
Although the 51 mile long Glacial Drumlin Trail is quite famous it is poorly marked. We struggled in our quest. Finally we found some local gals setting up a vegetable stand in a parking lot. One in particular really loved the Odyssey. She said it was something that she would do. We invited her to join us but, unfortunately she was headed into knee surgery this week.
Another ride by conversation with two older ladies confirmed that we were going in the right direction. At the trail head we met a gal who had just finished an out and back. She loved the fact that it was flat, we knew that we would like that, too.

A couple pulled up and unloaded then asked about our trip. Tom and Karen, though not seasoned cyclists, are Zoology Instructors at U of W, Madison. They filled us in on wildlife to keep an eye out for.
Hot and hotter is the best descriptive of this ride. The Weatherman mentioned the Heat Index. We had heard of the Wind Chill Factor back here but not a Heat Index. They predicted that it would be 98 degrees with a heat index of 108? Tom and Karen translated Heat Index as the combination of factors like humidity and wind that would make 98 have the same affect and feeling as 108. We still didn't get the entire point of it but we knew it was getting hotter, minute by minute.
Very few other cyclists on the Glacial Drumlin today. It was 1:30 when we wheeled into the Lake Mills Station. The Ranger manning the place was a woman. She gave us direction to a café. We didn't quite get it and when we asked again she said, "If you're going around the world you shouldn't have any problem finding it." We think she was tied and hot and would have rather been somewhere else on this Sunday afternoon.
The Café, The Sand Bar, on Sandy Beach was cool inside and we had a view of the sunbathers and swimmers on the shore of Lake Mills. It was good people watching, not just the bikinis and muscle men. The locals at the bar were a treat to listen to, too.
It was 3:00 PM and the absolute hottest part of the day as we reluctantly rolled onward. We had decided that we might not make Waukesha as planned and began looking for alternatives. There weren't many. Our hopes were pinned on the possibility that the Village of Wales would have a place for us to stay.
Cat began to melt down, she felt that weakness in the legs and knew that we shouldn't go onward. In Sullivan after having ridden only 45 miles, we began to search in earnest for shelter from the heat and projected rain. The Mobil Mini Mart had a couple of booths inside. We got cold drinks and the local newspaper. I tried to call several For Rent ads to see if we could find one with AC and utilities on that could be rented, just for the night. No luck.
There was a camp ground but it was a 3 mile backtrack, just to sit and bake in the heat indexed 108. Cat walked across the street to the grocery store while I perused the telephone book. The Sullivan Fire Chief was listed, I thought that might be a good source. He suggested the Camp Ground but I told him that we felt it could be hazardous for Cat to ride that far in the heat.
Cat came in while I was still on the phone with him and said the Grocer had suggested camping in the City Park. The Chief, Steve Pease thought that was a good idea. He volunteered to call the Sheriff and Town President to let them know he had approved it.
There was a baseball game in the throws of completion as we rode in. The local team, The Sullivan Red Dogs, had just given up 3 runs in the 8th inning. They struggled, got a man on then went down to two pop ups and a strike out.

Chief Pease came by to let us know that we were a-okay for the night. His assistant, Brian was playing ball. After the game he and his wife, Mary Jo joined us. Chief Steve looked at the sky and decided that it would rain and we should be inside. They opened a community building and invited us to use it. There was a kitchen and restrooms. The cement floor would be our bed. What good, caring people.

The Red Dogs turned tail and disappeared but the East Troy Essex stayed to revel in their victory. We were soon a part of their party. They drank beer and told tall tails of other big wins. The Lakes League is semi-pro and the oldest league in Wisconsin.
One of the team's fans, Jennifer Anderson, was a Lawyer. She and one of the players, Terry Brady, got into a discussion about a recent traffic stop he had incurred. I loved the spirit of the conversation and took a video clip.

(Movie: DUI Discussion 0:34)

Another player introduced us to John Silbernagel. He was one of the old timers in the league yet he looked only to be in his late 40s or early 50s. He was famous locally because he got a part as first baseman with The Cincinnati Reds in the movie called, Major League. He reminded me of my former Father-in-Law, David Silvernale. Silvernale is the English version of Silbernagel, they probably are related. He was an out going, personable guy. A Professional Salesman for a company that manufactures large industrial batteries.

John liked our story and handed Cat a baseball cap with ET on the front. He wanted us to have it as a gift from the team. She had all the players sign it and I wore it with pride. It will go with us and I promised to take a picture with it on next to the Eiffel Tower in Paris.
The next wonderful surprise was, The Lake Country Bistro. I walked back over to the Mobil to get a bottle of wine during the 9th inning and found the place open. Inside were tables with linen cloths and a wine list that included Toasted Head Chardonnay. I made a reservation and the bartender gave me a copy of the wine list and menu to take back to Cat. I told the guys from East Troy that it was my turn to cook so The Bistro would be perfect. Funny coincidence, the menu had a pic of the Eiffel Tower and promised Food with a French Flair.
After The Essex departed we put our indoor campsite together. We surrounded the blow up mattresses and sleeping bags with our bikes. The rest rooms were a treat, even for a spit bath before dinner.
We did have a great time and wonderful meal. Cat took to visiting tables, telling our story and listening to theirs. The owner, Bob Mc Cann and his wife are retired School Teachers. He had also owned a California Closet franchise. They were originally investors in the Bistro. Their partner wanted out, they were in, like it or not. They had good taste and it showed in the décor and menu. The staff, our server Joanne and the others added to the ambiance. One of them offered us her back yard but we already had accommodations.
Cat made the rounds of most of the nearby tables. She talked with a couple, Renee and Troy who had ridden their Harley in from Milwaukee. They offered us a room in their house when we pass through. Our plan is to cut south of the City but we appreciated the offer. There was another, older couple next to us. We thought they were husband and wife until we heard her say, "Your wife would have a great time if she would just have a few drinks."


He was a musician and vocalist and had a band for years. She owns a bar in a town nearby, the oldest bar in the area. She lived upstairs above it as a child and even poured beers when she was 8 years old. She has tended bar all of her life. They really put away the drinks. She told the story about how he got the red, white and blue hat he had on. On the 4th of July, a bartender wanted to buy him a drink. He said he was drunk and turned it down but would take her hat. She gave it to him. In fact, she told the story 3 times.


The giant leaps from The Canterbury Inn and The Lake Country Bistro to the floor of a park building could only happen on a trip like ours. We slept pretty well and were awakened early in the morning by the lightning and thunder as Chief Pease' prediction came true.
July 22, 2002
Sullivan, WI to Milwaukee, WI
So much for an early start. The rain was pounding down when we finally drug ourselves up off of the cement floor. We did another spit bath then loaded up and dashed the block to the Mini Mart. It was abuzz with activity. We were amazed at the amount of people, mostly locals, who stopped for coffee, donuts, breakfast pizza and other goodies to get them through there work day.
A big guy sat in the booth next to us as we had our juice, muffins and coffee. He was doing a crossword puzzle and picking race cars, I think they bet on the NASCAR races. He was soon joined by a guy my age in cutoff jeans and a red tee shirt. They knew everybody, spoke to everybody and then talked about almost everybody as they exited.
The red tee shirt guy was retired. He had a little dog out in his camper shell that hated the thunder and lightening. Cat agreed that it was a little scary. She didn't want to be out in it. The rain would come and go, never stopping completely.
The big guy told us that he is an Insurance adjuster, works out of his house. We had heard him talking about a baseball game. He is Manager for a slow pitch team. We thought he said they played in East Troy yesterday. When we told him about the Essex he corrected us. His team had played in Detroit. Unbelievable, that slow pitch could be so popular a spectator sport. They travel all over the Midwest and as far south as Texas. They play every weekend during season. Travel and expenses are covered by a sponsor, to a certain extent. When I asked if they make any money he laughed and used that famous musicians phrase, "They can't quit their day jobs."
By 9:30 we were tired of sitting. It was still a light drizzle when we pushed off and onto a soggy but not muddy Glacial Drumlin Trail. The good thing was the temp. The rain had cooled it considerably. We felt rested and pushed along at a good clip.
A Red Dog fan had warned Cat about big flies that would swarm around us at a certain spot on the trail. Just a mile or so out we were surrounded by hundreds of the pesky things. They were bigger than house flies, they didn't land on us although they would bump into our helmets and occasionally our faces or legs. I fell back to see the swarm and that caused several hits. They were swirling around behind us, drafting in our wakes. They stayed with us for 20 minutes then disappeared as mysteriously as they had appeared.
Riding fast to keep ahead of the flies, we covered the 5.9 miles to Dousman in quick time. We were going to ride right through but the Bicycle Doctor was adjacent to the path. I wanted to check the air in our tires and we needed Gatorade. We had to wait a few minutes until they opened at 10:00.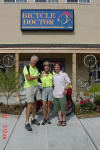 The young tech, Bryan, was pretty excited about our trip and for good reason. He is leaving on August 1 to cycle out to Seattle then south to San Diego and east to Texas. He had a lot of questions and we were experts.

Wales was a disappointment. We had this image in our minds conjured up by the brochure, of a very quaint Welch village. It says, "The village has a unique history and flavor of life retained from the original Welch settlement established in the 1840s" The Mini Mart off the trail a couple of blocks was early 1980s. The lady there said that there was more to town but not much. She directed us to a bakery in the village. Most of the buildings were modern, post WWII. The bakery was in a strip building, white with red trim in what we felt was local, not Welch design. The sandwich we had was great.
Our pace remained solid and we covered the final 6.5 miles into Waukesha quickly. It took a few minutes winding through residential neighborhoods to find Highway 20. It is the old highway and in need of new repair. Concrete slabs had pitched upward and shrunken back for decades causing bumps, jumps and big holes to work through. The traffic seemed intense, perhaps since it had been so long since we had been in any? The scenery was old commercial or newer industrial buildings.


As we neared Milwaukee a wide shoulder that Bryan had promised, came to pass. It was 20 miles from Waukesha to the center of town. We took pictures then rolled down to Lake Michigan. There was a raised promenade and a large white structure we learned was a museum, blocking any view of the water but it was a wonderful view in itself.

I hailed a passing cyclist, Mike Kirkwood, and asked direction. He had never ridden very far down coast but tried to piece together path and street routes. Megan and Fernando, Public Service Officers, rode up on bikes and got into the discussion. Fernando radioed for help then kept repeating, "Around the World? I can't believe it, Around the World?"


We had to back track into the city then catch 2nd street. The group and our maps concurred that we would be on Highway 32 a lot of the time.
Following their directions we came upon a coffee place that had sandwiches. I needed more fuel. As we ate we talked with a couple who had a little girl and a friend from Washington DC with them. The gal from DC was quite intrigued, she was here doing shows, selling her metal art.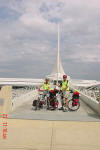 As we talked Cat noticed a group of cycle tourists riding in from the south. I ran our and called to the woman in the lead. She didn't hear me so I ran to the street corner and yelled, "Are you from Germany?"
She stopped and answered, "No we're from Holland."

The two couples, Henk and Riet, Gerke and Janny were loaded with gear that was strapped haphazardly on their bikes. They wore sandals and none had helmets. Nice people, they were disappointed in the Circle of the Lakes. They told us that they had been on Highway 32 all the way. This was only their second day but they were tired of traffic and industrial buildings. We compared maps but were of little help to them. I told them about our meeting with a bicycle maker from Holland way back on Highway 1 in California. As I recalled it was Vittoria, they did the Ya, Ya and spoke in Dutch so I assumed they knew of them. Then they invited us to stop and visit when we get to Holland. I have always loved these types of meetings that may lead to another in a place half way around the world.

Taking Mike's advice, we veered off to the right and found a bike trail down near the water. It was perfect for a short while then we were on a dirt road. We asked a guy walking if it went through. He went into great detail on how and where it would go up a hill and become paved.

He was a great character, he told us his name was Robert Schuler and he would pray for us if we would give him money. With the same name as the famous preacher from the Crystal Cathedral in Anaheim, California, he had a disdain for religion and those who sell it for big bucks. His cap said Austin Texas so I assumed he was Texan.
"Don't accuse me of bein' a damn Texan," he said with thick accent. "I'm from Kentucky and proud of it." He and his wife live split their time between Milwaukee and their ranch in Kentucky.

The trail deteriorated to rough then almost un-ridable. We would move ahead of Robert then he would catch us as we pushed. His full name is Robert Vaughn Shuler. "Like the actor, Robert Vaughn." he volunteered. When we complimented him for being out there and walking he told us that his wife was making him walk and she was checking him into a weight reduction center, next week.

(Movie: The Real Robert Schuler 0:41)
Robert was right, the pavement returned at a steep hill up to the top of the bluff. We decided not to try to continue on trails and stuck to the street for the rest of the afternoon. Our goal, to get 12 to 15 miles south of Milwaukee and find a nice little resort area and motel, was not to be. They just don't have resort towns here. They have small bedroom communities but no places to stay.
After several exasperating attempts we were finally convinced that the only place we would find accommodations would be at the Airport. The directions, ride west on College Road to Highway 38 and you'll find lots of motels turned out to be the greatest challenge of the day.
The directions seemed to indicate a short ride. When it appeared longer we stopped at a service station. The gal there said, "Yea, it's just a couple of blocks that way." The best news was that even in the worst of traffic most drivers were kind and patient.
Her idea of blocks and ours were quite different. The road was rough, the shoulder non-existent and the traffic was rush hour. We finally gave up and rode the dirt shoulder that was littered with broken glass. At a stop light a girl rolled down her window and asked where we were going. We told her then asked how much further we had to go. "Just to the second stop light ahead," she yelled as she pulled away.
A jet roared to the end of the runway then was airborne just above our heads. We still had a ways to go. Finally we turned and stopped for cold drinks at a service station. The attendant said there were lots of motels just a ways north. We were back tracking and it was irritating. In fact it was at least a mile to the first motel but there wasn't a restaurant. We passed several and finally chose the Sheraton.
The price was right but the restaurant was pricey. We did launder our cycling cloths. In our haste, I left cards and gum in the pocket. I rushed down and pulled them out before the soap hit. Most of the cards survived.
July 23, 2002 |
Milwaukee, WI to Lake Bluff, IL
At the breakfast buffet we sat next to a couple of business guys. One of them asked how big our group was and if we were on motorcycles. A father and son adjacent listened in then joined in. They were going to Madison, the boy would attend The U of W there. Their family was bicycle oriented, they had traveled and vacationed on bikes.
The front desk recommended taking HWY. 38 south to Puetz Road then east to the Lake. We were determined not to have to ride College Ave. again. It was bad enough having to start the day by backtracking more than 5 miles.
We stopped again at the station on the corner and fueled up on spots drink then rolled south. Left on Puetz and we were soon on the shore and headed toward Racine and Hwy. 32.


Beyond the disappointment of the back track, we had a pretty good ride. The surface of the road had those big weather cracks much of the way but we were getting used to that. One local family had decorated their yard with junk art. A 50s Cadillac that was cut in half and buried caught our attention. They also had an old tractor and a snow mobile in suspended pose. We enjoyed then went around and complimented the owner who was in his garage busy with his next 'work de arte'.

On down the bumpy road, we hailed a cyclist heading North as he past. I wanted to stop but he rolled on by. Then when I looked in my mirror he was right on our tails. He had turned and caught us. What an interesting guy, Andy Dressel is. He too has cards he passed out. He calls himself "Andy's Expedition 2002." He has ridden more than 3,500 miles on this adventure. We enjoyed trading notes and stories and promised to keep in touch.

(Movie: Andy Dressel 0:33)
The Char House in Racine, serves on a deck that overlooks the Marina. It was cool and blustery but we found a seat in the sun. There was a guy with long hair and a Harley tee shirt watching us. Finally he asked about our trip. Gary Stone had worked for Johnson Wax for 33 years and retired early. He hasn't decided what he wants to do. His days are relaxed but full. He may want to travel, maybe on his Harley. He's not sure but he is sure that he wouldn't do it on a bicycle!
Ray, the Chef stopped us and asked where we were headed, he just raved on and on. He couldn't get over the idea. He got another guy from the kitchen to take a look at us. He hoped that the Fish Tacos would give Cat lots of energy and he wished us luck.
The Main Street of Racine was completely torn apart and being reconstructed. We pushed the bikes on the sidewalk until we came upon the Visitor Center. The lady there didn't have much info for cycle tourists but she did give us direction to the Racine County bike trail. As we were leaving two others came in from lunch. She told them our entire story as we stood and listened.
The trail is long, straight and flat. It follows the Rail Road track as most have in Wisconsin. It is also dirt and Cat tells me the dust flies up so she has to fall back a little. In just a few miles we saw two guys up in the top of the very tall electrical line towers. They crawl around and sponge the rungs, I though they were washing them but Cat felt that they were painting. Either way, they should be getting hazardous duty pay.

The bike trail changes names at the county line. It became The Kenosha Trail and we met a young guy named Shaya as he entered it. (Pronounced Shy ya) He was kind of shy at first, his bag had come loose and he was re-strapping. I started to talk with him and we decided that we should have a picture. I guessed his age at 16-18 but Cat felt that he was a college student in his early 20s.
We crossed the State Border and didn't even know it. No marking on the bike trail at all. We noticed new signs and a different name, the Robert Mc Clory Trail. By the time we entered Waukegen the trail began to stop and start with regularity. The parts of Waukegen and New Chicago that we saw were pretty much low end residential.
The foliage along the trail seemed to thicken and suddenly the surface was paved, freshly paved with a yellow center stripe. The sign read, trail maintained by the Village of Lake Bluff. Definitely the sign of upscale. Even the Train Station had a perfectly perfect look. The Village itself was very picturesque. We both needed a restroom and we decided that we would hang it up for today here in this beautiful place. I had checked the internet and found a couple of Motels but we had no idea where they would be located.
Cat went in a video store on the corner and asked for a restroom. They told her that the only public restrooms in the Village were at the Police Station. Their snobbish attitude led to Officer Bev. She not only offered us clean rest rooms but called and got us a room at The Harrison Convention Center. Cat told her we thought that Lake Bluff was a beautiful little village. She said that it was a wonderful place to live, virtually no crime. Cat asked how long she had lived here and she replied, "Oh, I don't live in Lake Bluff, I couldn't afford to live here!" A similar situation to Santa Barbara where the Police and Fire Fighters don't make enough money to be able to live in the community that they serve.

The Lake Bluff, Harrison Conference Center is a gorgeous old building. We rolled up to the impressive front doors and they knew immediately who we were, the Police had sent us. The staff was so cordial and interested in our journey. They were having problems with the printer and couldn't complete our check in. The Manager, the maintenance man and several others crowded around the printer and each took a turn at tugging on the stuck paper. They had just decided to let us go the room and get us checked in later when the machine got well. The clerk, Kyle, a very composed looking tall handsome guy in sharkskin suit had a few beads of sweat on his brow by the time the trauma was over.
I asked Jerry, the maintenance guy if he could help us with a broken bag rack. The front rack on my bike had broken at the screw on the front fork. It had been dangling loose for the past two days. He and his helper, Mario took a look. I suggested a hose clamp. They estimated the size then disappeared and said they would meet us at the room. When they came in it was like watching two Doctors perform surgery. Jerry is in the Navy and stationed at the nearby Great Lakes Naval Training Center. Strange, we had passed the place and never even given a thought to the fact that it was located on a lake.

(Movie: The Bike Doctors 1:30)
Dinner was to be the treat of the day. We were seated by a server with a wonderful accent. As we came in he asked what company we were with. We told him we were just guests. He turned to one of the other guys and said, "They're IBTs."
Cat caught it and said, "How do you know we're Independent Business Travelers?"
They all laughed then a gal, Nancy in suit and look of authority came up and explained that the center had been only allowed to have Business Conferences until a vote of the Village Council just yesterday. They wouldn't have turned us away, they would have just treated us like business travelers.
Cat wondered where the servers were from. She guessed Jamaica, I thought Belize. When we asked Cat was amazed that all three of the guys were from Belize. My guess had been based on their sort of British accents. Belize had been British Honduras.
The place reminded us of The Biltmore in Santa Barbara, old but elegant. They advise you that they have restored, not renovated the Manor House. The place sits on almost 50 acres and has a history dating back to a time in the late 1800s when a poor Irishman John Mines lost it for back taxes to another named Kelley. In the 1930s another named Murphy, who they bill as ingenious because he made a fortune inventing Railway Equipment bought it. He died in 1942 and left the place to Northwestern University, who, two years later sold it to the Catholic Church who turned it into a seminary.
July 24, 2002
Lake Bluff, IL to Chicago, IL
Breakfast is worth the trip, if you're ever in Lake Bluff. It is a buffet but a very extensive and elegant buffet. Two chefs work the line, making "to order" omelets and dishing up more sausage and bacon than normal people should ever eat. A French family sat at the next table. We loved listening to them talk. It was even more interesting when they spoke to us in English. There is no pretty sound to me than when the French speak English. I love their accents. They were intrigued by our trip, especially the young boy. They promised to keep in touch and see us in France. We hoped that they weren't too upset that Lance Armstrong was once again leading the pack in the Tour de France, even after a spill.

The beauty of affluence continued through Lake Forest. The trail was freshly paved and the trees and plants adjacent were perfect. Wealth has its privileges. Lost for a time in Winnetka we were soon found, and rescued by Robbie, Sam, Rod, Joel and Gerard; the boys who ride with team "Alberto's Sport Club." When we asked Robbie for directions he told us to follow. We caught the others at the corner in park. This was their breakup spot after their tri-weekly ride. They gave fairly specific direction then Robbie led us to the next section of trail. Strange how it comes and goes without rhyme, reason and most of the time without warning.
As a young girl, Cat and her family had lived here in Winnetka and the next bastion of affluence, Wilmette. She had been calling Mollie, an old friend of her parents trying to find a way to stop and visit. Mollie was at a Doctors appointment but they did get a chance to talk via telephone, later.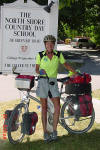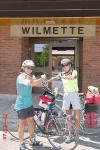 Lost again and in search of the Wilmette train station, we met Richard Ceciel another cyclist who would gladly guide us there. He was unsure of the location of Cat's old school but headed us in a direction. We began the ask, ask, ask process and finally found the Northshore Country Day School. It brought back memories for a 6 year period he was stationed in Chicago at the corporate headquarters. It is obvious that they loved their time here. They speak of it often and remember nothing but good times and bad weather.


In short time we were cycling and circling around on the campus of Northwestern University in Evanston. From that point on we would be on the Lake Shore Bicycle trail but it was under re-construction so there were lots of detours and delays.

Kapra, our hostess at The House of 2 Urns B&B had instructed us to find North Avenue from the trail and cross over the Expressway on it. Unsure and not wanting to incur any more mileage than necessary, we stopped another cyclist. She was able to point out the overpass from where we stood. When I asked her name for our journal she said, "Coleen with one L and two Es. She wants to travel by bicycle and see the world but fears flying so until she overcomes that stigma she is limited.

The House of 2 Urns is located in an area they call Wicker Park. We exited the trail over a walking bridge and into a beautiful park. Once on the street we were thrust into heavy traffic on deteriorating road surface in a deteriorating neighborhood. Riding was down right dangerous. Locals flit and dodge their way through but we of little experience finally chose to ride the side walk. It too was in a state of sad repair. At times we had to push around broken up concrete and barriers.
We could see a social decline too, as we cycled and pushed inland. The heat of the day combined with blaring horns and the sheer crush of urban humanity. Not just cars but people walking, sitting on the sidewalk or on porches of decaying buildings. We began to
Question our decision to stay in the area when we pushed across North Avenue in thick aggressive traffic. Greenview, angles off North along the Expressway. We decided that we would ride to the Inn and if it was as disappointing as the area looked we would find other lodging.
Moving away from North, the buildings began to look as though there was a feeling of pride of ownership developing. There were even new brick buildings architecturally designed to fit the existing neighborhood. We rang the bell and Kapra greeted us through the little speaker at the gate. We would be staying across the street in a house that she and husband Miguel had just purchased and were in the process of rebuilding.

Our trepidation receded further when we saw our house. Yes, we were in the entire upstairs of the new place. It was a very cute apartment with full kitchen, even a computer room. The bikes would have a house of their own, downstairs. We felt at home.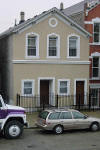 Strange, our friend, Sharon Hansen, actually she is Cat's sister-in-law, Mikee's sister, is in town for exactly the same few days that we are. She and her husband Bob have, over the past few years, become very good friends of ours. He isn't with her, she and her daughter Heather are here to see The American Girl Place with her granddaughters, Kasey and Kendall.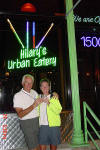 We made contact and decided to get together on Friday. Kapra suggested a restaurant in walking distance, at the corner. Hillary's Urban Eatery or HUE is a city wide favorite and now a favorite of ours, too. It is one of the few places we have ever eaten that invites Patrons to BYOB, bring your own bottle. They even have a neon sign with the letters, BYOB inside a bottle. Nice décor, good music and great food.
July 25, 2002
Chicago, IL
Today would be a day of journal. I started early and worked at the dining room table to catch up. I get a feeling of guilt when the work falls behind and it definitely has fallen behind. We took a break and walked to a nearby shopping center Laundromat. I started the wash while Cat went to the store for sandwiches. We sat out front on plastic chairs and watched the locals as our smelly cloths tumbled. The makeup of the area is very eclectic with people of every size shape and color.
We finally cleaned up and escaped our lair at 3:00 PM. Kapra told us about day passes that she had but we just wanted to get into downtown. It is just around the corner at a triangle with water fountain where you catch trains and buses. We got on board the Express Bus. The driver had us sit behind him, gave me the senior discount and educated us about the system. He also gave us a transfer, let us off on a corner and showed us where to get the bus for The Loop area, downtown.
Funny, we can ride slowly around the world but our patience grew thin in just a few minutes waiting for the connection bus. I stepped out into the street, couldn't see any buses for a mile or more but did almost get hit by a taxi. I stuck my hand into the air and we were soon in the back seat and whisk away into downtown.
The Cabby dropped us in front of a high rise. That was the address of AAA. The office it's self was inside and took a little ask, ask, ask to locate. We got a map of Michigan and another of the USA to help us re-do our route for the journal.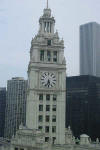 It was about a mile walk in humid heat to the AMA offices. Our friend Barbara who works there was to be our dinner guest. The place was as secure as Fort Knox. She came down and we walked to her 26th floor apartment. What a view. We enjoyed a glass of wine then she drove to a very haute restaurant called Spring. What an interesting life of extremes we lead. From truck stops to Spring, the best of the best in Chicago, two years running.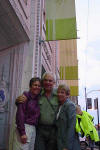 I have known Barbara and husband, Bill since a bike trip in France back in 1986. Cat met them soon after we got together. They live a bi-coastal life. He is at home in Seattle and she here in Chicago. Her job takes her all over the world and he usually joins her in the strange and exotic places where the American Medical Association sends her. Her life really is airports and hotels. She was in Europe three days ago, got stalled out and had to spend the night in London on her return trip yesterday and is flying home to Seattle for the weekend, tomorrow. Talk about the jet age and jet lag!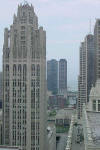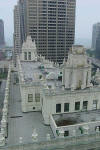 July 26, 2002
Chicago, IL
The morning was again consumed with journal entries. By lunch time we were on the subway headed for downtown. Kapra had day passes that allowed access to all trains and buses for only $4.00 each. What a bargain.
We were soon walking in the canyons of the Chicago high rises. The Chop House had sidewalk seating. It was a little warm but we enjoyed the food and watching life in the street.

The Bus took us to Navy Pier for a meeting with Sharon and the girls. They were riding the giant Ferris Wheel when we caught them on Sharon's cell phone. The girls loved the American Girls Place and were effervescent as they describe it to us. We decided to go in different directions and meet for dinner at the corner of State Street and Randolph in front of Marshall Fields Department Store at 6:00 PM.

(Movie: Pat, Cat and the Girls 0:33)
As we made our way toward the building where Cat's Dad had worked when they lived in Wilmette we came across a demonstration. A large group of pro Israeli were shouting slogans and waving flags. I had the camera out and caught a minor scuffle as a passerby questioned their motives. I talked with one guy and asked why we can't stop the killing. He was adamant that the Palestinians had been offered peace and refused it many times. I asked why they or we, since most of the money to arm Israel comes from here, don't offer reasonable reparation for the taking of their land. It couldn't cost much more than the fighting and killing does? His answer was loud and clear, "Let the Arabs pay reparation." Then he spun on his heel and walked back into the swarm.

(Movie: Confrontation :43)

On the corner where the Earl's office was located we heard the opposite side of the story. Strangely, none of the group there looked Middle Eastern. They were handing out a paper that asked, "Why should we pay for Israel's occupation?" They made a case that sort of made sense to me. Maybe we shouldn't support any extremists like Arafat of Sharon? They claim that Ariel Sharon say's there are no "partners for peace" among Palestinians yet every time an opening is created, he destroys it. I don't know all of the details of this struggle but I do remember when trying to get elected, Sharon went to a place that was Holy to Palestinians and decided that a tunnel should be built in that spot that would disrupt their worship. Maybe this is just a struggle between two old rivals that is killing a lot of young people?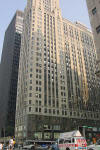 We went inside the building at 333 Michigan but found that the company Earl had worked with, Encyclopedia Americana, was no longer headquartered there. In fact we wondered if they were still in existence since the advent of the Internet?

(Movie: Earl's Office :20)

As we made our way to Marshall Fields we happened upon a huge group of strange and interesting people on bicycles. Another demonstration of sorts by a group called Critical Mass. They ride here monthly, to different destinations, disrupting traffic and spreading a message that bikes are better forms of personal transportation. They say, "Imagine a city where fewer people drove cars!" "Help heckle Critical Mass on to Victory."

(Movie: What's Critical Mass? :28)

(Movie: Cyclists Protest :28)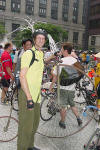 Sharon and family were on the corner when Cat finally drug me away from the strange and interesting collections of cycles and cyclists. We did the normal, "Where should we eat" and finally decided to try Marshal Fields. The girls loved the escalator ride to the top floor. We all decided that the restaurant was too dressy for our group. The hostess suggested Hinky Dink Kenna's, located in the basement.
At first dark and cold feeling, the place took on a different light when Valeta came to the table with menus. She was worth the price of admission. She explained that Hinky Dink was a well known local bad guy back during the days of prohibition and Al Capone. We all enjoyed her company, stories and the way she worked hard to please even the pickiest eater, like Kendall.

Then just as strange as the meeting in a strange place had began, we all stood on the corner under the Marshal Fields sign, hugged and said goodbye. Cat estimated that they would be back home in California before we would cycle into Michigan City tomorrow afternoon.

We felt compelled to take a ride on the "L" train so went in search of the platform. Once there we asked direction from a guy whose name happened to be Pat. He was midstream in arm signals and gesture about which train to take and where to change when up walked Valeta, on her way home by train. They found consensus on our route, we hugged her and shook Pat's hand and boarded for a ride around the Loop.

(Movie: Subway Sounds 1:29)

(Movie: The 'L' you say 0:53)

(Movie: 'L' of a ride 0:19)