Posted on 9/19/02, updated on 10/4/02

August 11, 2002
Toronto, Canada

The complimentary breakfast was a treat, in the hotel restaurant Commodores, overlooking water. There we met a guy with the map of the US and bicycles on the back of his tee shirt. He had cycled across the USA. Gerardo DiPietro was with a group of deaf cyclists on that trip, raising funds and awareness. He works at The Texas School for the Deaf. He doesn't hear but that didn't seem to slow him down or handicap him, much. He was really excited about our trip. Most of the rest of the group at the table were hearing impaired, too. We shook hands and promised to keep in touch via e-mail.

I worked on journal until 1:00. Cat went looking for money. Lunch on waterfront at a place called Spinnakers with a view of a unique street performer. The cute girl used audience members to hold a rope while she tried to walk on it. Funny how the crowd loved the way she stumbled, clung to the guys and almost fell several times. Of course, she walked the rope with ease once up on it. A great little act, the crowd willingly poured cash into her hat.

(Movie: Lady on a Rope 1:20)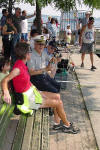 Several guys who would be Ship's Captains, given the chance, played with toy ships. They took it all very seriously. Radio controlled destroyers, air craft carriers and more. They sat on benches along the shore of a concrete pond, waved their remote antennae at their crafts and lived in the dream of bigger ships and younger days.

(Movie: The Captain and Cat 0:57)

Cat and I like to experience local things and there was an event called the Taste of Danforth advertised. We took a cab there and walked the street. It reminded us of The Street Fair on the 4th of July back home in Ventura. Another thing we love to do is ride local transit whenever possible. We too the Subway back to convention center then walked back to hotel via sky dome, CN Tower.

(Movie: The Taste of Danforth 0:14)

(Movie: The Taste of Flamenco 0:28)

(Movie: The Taste of Hockey 0:23)

(Movie: Toronto Train 0:22)

(Movie: Bike on Train 0:21)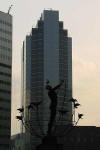 We had been moved to a waterfront room. It was really a spectacular view of the lake and promenade. The restaurant above us, Commodores, had impressed us so at breakfast that we decided to have dinner there. Of course, nothing is ever easy. The place is closed on Sundays. We walked to a waterfront place, Italian of course, Il Firnello. The pasta was great. We talked with our table neighbors, Frank and John. A young boy at a nearby table was taking pictures of his family. We thought they were


speaking French, which we are hearing more and more of. When I offered him our camera and asked him to take our picture he beamed. As he asked permission from his Father I realized they were speaking Spanish, they're from Mexico City.
August 12, 2002
Toronto, Canada
Today is the four month anniversary of our Odyssey. Hard to believe, some times it seems like we've been away for years and other times it feels like just yesterday that we pushed off and headed up Highway 1.
Back in 1988 I cycled the south coast of Nova Scotia and met a family along the way. I visited them in Toronto later and they stopped to see me in Ventura on a trip they made up the coast. There were Tricketts in the phone book but none named Wayne. I called several yesterday and asked if they were related to Wayne. He called, I had reached his daughter's answering machine. We had a nice chat but realized that we wouldn't be able to get together. I have always loved this kind of happenchance meeting that leads to long term friendship. It was disappointing for both of us.

We caught a streetcar to a neighborhood called Queen and Spidina. The driver, a very patient lady, allowed us to ride and told us how to get a day pass on the system. We were seeking a laundry and Walk-In Clinic for Cat. She sat in the waiting room while I walked back and forth washing, drying and folding. She had to wait more than an hour. The prescriptions she has from Dr. Kong, her Cardiologist, are useless here. When she finally got in the Doctor took a quick look at the prescriptions then wrote the same for her and charged $40, Canadian. Seems like a rip off but we have the same rules in the US. The strange thing is that here, when we leave Ontario and cross into Quebec Province the prescription will have no value there? Could this be our first experience with the discord between the English and French speaking Provinces?

Queen and Spidina is a funky neighborhood. It is home to the strange and wanna be strange. We had lunch at Rivoli, a place that the guide book called the major place to be seen. We, like many of the other patrons, came to sit on the sidewalk patio to see and be seen. Great food and great people watching, too.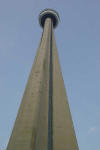 Just around the corner we found a large sporting goods store. We bought shoe covers for wet weather and lights for the back of the bikes in dark, dreary weather. We strolled then scratched our plan to dine in Little Italy and took the Trolley back to our Hotel.
Our dinner up stairs at Commodore was truly wonderful and it was good to be close to home, we were tired. We left the camera at our table. When we rushed back we found that table neighbors, Hank Lynch and Ginny

Hampton had found it and were just trying to call us. He had lived and worked in Africa for 8 years and filled us in on some dos and don'ts of travel, there. Paul Wattes, the General Manager of the Hotel took a picture of the four of us and our Server, Mohey.
A big argument burst out in the room across the hall from ours as we got back to hallway. A young Asian guy and a big older guy were really in a shouting match. The big guy was throwing bags, sacks and other personal items out into the hall. Hotel Security got them to quiet down but as soon as they left the shouting burst out again. Finally the Hotel Guard escorted both of them our and apologized to us for the inconvenience. We had actually kind of enjoyed watching. I was on the ready to jump in if physical violence had burst out.
Cat snoozed while I spent a late night on the computer, working on the journal and internet, looking for Greenland connections.
August 13, 2002
Toronto to Oshawa
We awoke fairly early but had a hard time leaving our waterfront lair. Finally down the elevator the guy at the desk had a map of the City and seemed to need to give directions. The route seems simple, get to Highway 2, Kingston Road, and ride east. His complex instruction had two key points that I would remember, "Go to Parliament Street, turn left, go to Queen Street, turn right." He ran his sentences together like that and did it all inside a very thick Middle Eastern accent.
For breakfast we chose a coffee place that we had seen a few blocks down the street. Traffic was fairly thick but accustomed to bikes, roller bladers and skate boards. Our coffee stand is on the water. High rise waterfront Condominiums gazed down on us as we sipped our thick, rich Lattes and enjoyed fruit and muffins. A breakfast almost like our usual at home.
Somehow we missed Parliament Street but found a great bike path that was headed in our direction. We stuck with it until it ended abruptly and pitched us out into the busy 3 lane morning rush hour traffic. Sensing that the road was an on ramp to the expressway we cut across the lanes to take a side street. Amazing, how some drivers can get so irritated. A shiny new Mercedes began to honk as we crossed the lanes. He was driving one of the best cars in the world. It has the best braking system available today. The problem, I think was that he didn't want to use the brakes. He was on a mission and we were in his path.
The turn left us struggling, it was into a dead end street so we found ourselves thrust back into traffic hurrying back toward Toronto. Taking the first off ramp got us into another fine mess, Ollie. It was the on ramp to another Expressway. We were trapped on the narrow, litter strewn shoulder for about half a mile. The first available exit was actually an entrance. We were like salmon, swimming up stream against a constant stream of cars and trucks.
When we finally found Queen Street it was blocked to through traffic. The sign said "Under Construction." Reality was, they were destructing the street and sidewalk. Another fine mess! We went around the barricades through the construction equipment then up on the sidewalk and back to the street when the sidewalk crumbled to chunks of cement.
It seemed to take forever to get to Kingston Road and when we finally did we were in the same traffic and rolling hills. Traffic and hills would be the course for today.
High rise buildings had receded into the background ad gave way to industrial areas of little visual joy. Now we were into crumbling or reemerging residential neighborhoods. It was trash day and the cubs were piled high with plastic bags full of it. We trailed a trash truck for a few blocks on an up hill and enjoyed the ode du garbage as we struggled upward.
Cat described it as a ride through Los Angeles. We even had thick, hot air that held the smog close to the ground. She was having a hard time breathing it.

Like LA, the city extends for miles then gives way to more cities with a different names. Pickering was old homes, big old homes on the old Highway. We pulled up on the sidewalk to check Cats shifter, the belt has been slipping. I think I was a little too exuberant with the chain lube, it got in the belt groove, causing it to slip. As I cleaned it a young woman in Middle Eastern garb stopped and asked if we needed help. Originally from Pakistan, Shahida Anwar told us that we were in Scarborough. If it is a city it doesn't show on our maps. We did like the way she pronounced Scarborough, though.
Onward, through Ajax, Whitby and into Oshawa. All cities that are packed border to border with each other. It was just like riding through the San Fernando Valley back home. In fact Cat was still feeling the smog effect in her lungs.
The first Tim Horton's we came to in Oshawa was our lunch stop, just before 1:00 PM. We had been on the bikes 3 ½ hours and were still in city traffic. Most drivers have been generous. A few, like the Mercedes guy, are a little impatient. A couple were downright angry. One truck driver, waited for us as he made a left turn. When I waved he gave me the Italian stiff arm salute.
Our neighbor in Tim's was a nice looking blond. She was on her cell phone doing a good presentation for a buyer, she's a Realtor. When we introduced ourselves she was excited that we had cycled away from it all. She told us of her new adventure, she and her husband Bill have started a Gift Basket Company. She knows that they will never make the kind of money that Real Estate has brought to their door. They want a simpler life away from the pressure and liability. It sounded logical to us.
Heather is a top producer in real estate and hasn't let go of that, yet. In fact she closed 8 transactions last month. She was so taken by our story that she took what she said was a very unusual step, she invited us to stop by their place and take a dip in their pool. She ahs recently remarried. In her previous life she and her husband worked Real Estate and it consumed their lives. They had lived in a 5000 square foot home with all of the trappings. After the demise of their marriage she was happy in a small apartment and now lives a much simpler life. Heather reemphasized that by making sure we knew that her pool now is an above ground in their small back yard. She knew exactly why we had escaped and was trying to do the same.

My front wheel was making a clicking sound. We stopped in the shade at a service station to check it and met a Mom and her two kids. The kids, Danielle and Joel circled around the bikes and asked questions while their Mom, Bethany pumped gas. Danielle asked Cat how we kept our food fresh? A good question, she was looking for the refrigerator. The bikes are so over loaded that it could have been possible. They were curious and cute. It was Joel's birthday, his fifth. We did high fives to congratulate him.
Bethany gave us the same advice that Heather had. There are no B&Bs, hotels or motels in Newcastle, only a Howard Johnson's in Bowmanville. That sealed it, we would pull in there and find Hojo's.
An LCBO jumped out at us from a shopping center. That of course is the only liquor store you see here. Cat used the phone in Mail Boxes Etc. to make sure we would have a room then we bought a bottle of cold French white. The clerk was curious about us and we wanted to know about LCBO. Simple, the government sells all alcohol in Canada. LCBO is the acronym for Liquor Control Board of Ontario. So, when we cross into Quebec Province, according to her, it will change to LCBQ.
Hojo's in Oshawa is a 1950s style motel. They charge a lot for the night but they are the only game in town, in fact in the whole area. Our room, #13 was cold, the air was really working. We got showered then walked to the attached restaurant, The Golden Griddle.

As we walked I noticed a car show going on in the parking lot of Sears, across the street. Cat was less enthusiastic than I about it so she went on inside while I looked and talked cars with the locals. It was a pretty well attended show, even a live band playing on a Tuesday night? One guy with an average looking 56 Buick told me he had painted it himself. He said that a friend had told him that on old cars you start at the back and work to the front. By the time you're finished you walk to the back and the rust is already popping back through. I knew he knew of which he spoke. The Imp and Classique were money pits. You have to love them to keep them.

Strange, we were seated and chose our dinners but the waitress came back and said they were out of salad. Okay, we'll just have dinner. Then she came back again and told me that they were out of spaghetti?
We thought for a few minutes then decided to change venues. The front desk called a cab, the Cabby had the look of a homeless person, unshaven and unkempt. We spoke little. When Cat asked about any other restaurants he gave a low guttural laugh and almost whispered, "We don't have many restaurants here."
Dennis's Pizza was another example of a Greek doing Italian. The place was in a store front in a strip mall. The décor was nothing like the nice place in Simcoe. The menu was a mix of both cultures. Cat tried to create a pasta dish of olive oil and basil. I ordered Chicken Parmesano off the menu. Mine was fine, hers was less than good. They used too much dry basil and little olive oil. She even had them re-toss it with more olive oil to no avail. The girl who served us really tried hard and apologized often.
Called our pals, Al and Geri Langely. They have been on our minds since Aylmer and Toni's cousin Little Tony who owns the Langely's favorite Pizza Place. Their e-mail doesn't seem to work for us. It was fun just talking and laughing. I tried to call Lori and Dave, they were out.
Surfing the net for info about Greenland consumed the rest of the evening. We were in bed by 10:00.
August 14, 2002
Oshawa to Brighton
I called Iceland Air and found that they fly from New York City and they do fly to Greenland. I was trying to get reservations but the guy who was a little less than friendly, had a computer crash and asked me to call back later. We were happy just to know that we will be able to get there.
Risking the same disaster that befell us last night, we walked to the Golden Griddle. They were friendlier and seemed to have most of the items on the menu. As we ate two ladies sat next to us. They hadn't been seated too long when one of them asked where we were going on the bikes.

What a treat, they are Mother and Daughter, Grace and Arlene. They're in town to shop for a dress for Mom's wedding. Grace, the Mom, and her late husband cycled 7,350 Km across Canada and back in 1994 and she loved it. Her husband who was a retired Meat Cutter had had bypass surgery in 1983 and bounced back. They were out on the road for several months. She was even hit by a car but picked herself up checked the bike, found that the wheel still round so, carried on. Later the driver of the car called and asked for $700.00 to repair the car. She told them no, they even threatened to sue but didn't. Her husband passed away a few years ago. She and her new fellow will be married next year. Maybe they will send a wedding photo for the web?

(Movie: Amazin' Grace 0:43)
It was cooler this morning. We started the day still surrounded by traffic and city but soon were in the countryside. It rained a couple of times, fine small cold drops of rain that stung our cheeks, legs and arms.
It was another day of corn on the left and soy beans on the right. They were taking in the hay in a few places. Big rolls and some rectangular bales.
As we passed through Newcastle the traffic thickened and one guy in a small pickup came dangerously close. Most of the drivers are kind and patient. Even the truck drivers seem to take care to swing wide. It must be a rural thing, quite different from the city.

One beautiful old village, Port Hope caught our fancy. We were too early for lunch so we took a picture then slowly cruised the Main Street. At the foot of Main we turned left and up a hill. It didn't feel right to either of us so I asked a young couple if were on Hwy 2 and they set us straight. We had to turn around and ride back down Main then turn right. The sign was very deceiving, the arrow was almost washed off and it was under two other signs pointing left.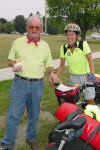 In Cobourg, 10 Km further along we stopped to figure the map and a guy in the park haled us. He said, "I always try to help fellow cyclists." Howard Garth was on a bike and he gets around town on it since he retired. Well he said semi-retired, he still works a little from time to time. He had a company and hired out what he called a Grader. After discussion we decided that it was what we would call a back hoe. He had the large type used to clean out the ditch along roadways. He described it as having a telescoping boom.
Howard not only told us the route, he insisted that we use the best route which would take us under the Rail Road Tracks rather than over them which he thought was unsafe. We followed his directions with the exception that we didn't eat at Tim Horton's. We decided that we would look for a nice little café in town.
We found the Butter Milk Café on Main Street. It had patio seating but the sun was burning through and it was really getting HOT. Our waitress was a cute gal, originally from Holland. She had married into Canada. I tried Poutine, French fries with cheese and brown gravy over them. Very rich, we only ate about half of them. I told her that it probably went right to my arteries. She said it went right to her, then slapped her hip.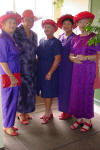 A group of mature ladies came in. They were all wearing red hats and purple dresses. I knew, because of our friend Gale, that they were women of the Red Hat Society. They meet because of the poem, "When I get old, I shall wear a red hat."
We talked to several people on the sidewalk as we prepared to leave. A young family seated in the patio was extremely interested. Then as we rolled back down the Main we heard the strains of a lone violin echoing in the hollow between the buildings. There on the sidewalk, a young girl was playing next to the statue of a man in an overcoat. The plaque was in French but it was obvious that he had been a patron of the Artes. The girl had her violin case in front of her and it had a two dollar coin in it. I took pictures then stooped to put coins in at the same time as a cyclist who had ridden up while I was shooting pics. His name was Jim and he wanted to know everything about our trip.
I talked quietly with him, not wanting to interrupt the girl's performance. She was about 14 or 15 years old. I marveled at the courage she had to stand and perform alone. Another young girl wearing a gown came up and stood looking at us. I asked if she was a friend of the artist, she was so I gave her our card and promised her that we would use the video on our web-site. We love music and those who dare stand in front of a crowd, no matter how large or small, and play.

(Movie: Concert in Cobourg 0:36)

The heat and hills got us. We decided to stop in Brighton rather than push on in the heat to our original target of Trenton. One of the guys at the sidewalk told us it was 16 Km from there. We were happy to see a sign of 11 Km at the edge of Cobourgh. Trenton would be another 15 Km. highway 2 here is known as The Apple Trail.
The sweat really poured down our faces and backs as we rode the ups and downs into Brighton Beach. The air was hot and thick. We stopped in Colborne and Cat called around for a room while I gulped down a cold Gatorade. It seemed to be no problem finding a room so we rolled onward.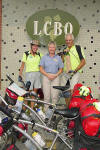 It was 4:30 when we finally pedaled into Brighton. We saw a B&B and it was just ½ block away from Wine Café Louise. That combo looked great to us. We sought out the LCBO and got a French white. The clerk, Anne Davey asked where we were going. She has been a cyclist but isn't currently. She blamed it on her significant other who she described as a couch potato, a lovable couch potato. (Photo was taken by Mike LeBlancq who does reconstruction of home where there has been a fuel oil leak.)
The B&B is a great old house. The gal who runs it is very particular about how it is treated. That point was driven home when we parked on her new driveway and she asked if our kick stands would make holes in the paving. I had to tell her the truth, because we had just punched holes in the drive of the Mr. Convenience' asphalt. That's how hot it is.
She had us park the bikes out back and bring the bags to the front door. She assured us that they were safe and it was unlikely that we would see rain tonight. I think that I shed more sweat doing that then pedaling the last 10 Km. In fact, it was so hot that I almost felt a little sick. I did get cranky and began to harbor feelings about the value of things and how one can get so hung up on them. Then I remembered how we are so cautious with the Grandkids when they are attacking our THINGS. Hmmmm! The room is nice. Cat got the one with AC so it was not only nice, it was nice and cool.
Cat showered while I journalized then, while I showered she walked over to Wine Café Louisa. She ran into the Red Hat ladies there, the same ones we had seen in Corbourgh. They were having Martinis and living it up. Cat loved the restaurant and made a reservation.
Speaking of Cat, there was a Siamese that had the run of the place. It came and peeked in the door while I was journalizing. I shooed it away but it persisted. For some reason I thought of that song from the Disney cartoon, "I am Siamese if you please, I am Siamese if you don't please." They always seem to be in total control and pushy, too. Finally it darted into the room and under the bed. This time I took the map and rustled it along the dust ruffle. It took off on the run, down stairs. I had been sneezing and I think it may have been part of the reason, my eyes were so itchy too.
We were back at Wine Café in short time. The Red Hat Ladies were already gone. Maybe they were attending the Brass Band performance in the park? We could hear the band as we walked. It would have been great to go listen but it was 7:45, we were hungry and fading.
Wine Café is a real find. The food was the best, the service was like hometown. Our server was more interested in our stories than serving. That was okay with us. A couple nearby seemed to be locals. Cat struck up a conversation and we were amazed to hear that they were from Toledo, Ohio. Edward and Margie (She pronounced it Mar-geee.) had just returned from Toronto. They had seen Mama Mia and The Lion King. She was very effervescent about Mama Mia and told us that her husband liked it, too. That pleased her because he usually only enjoys Classical Music. They had never heard of Abba but loved the music.
Our stories were mixed, they loved our spunk and we liked hearing about their lives. Edward told us that he was a Lawyer and his wife, Margie was a terrific, retired housewife. She immediately interjected that she had served on many Non-Profit Boards and had done lots of volunteer work. She also became interested in our route so she went out to the car for a map.
Edward had practiced Corporate Law , he only had two clients. The one I remembered was Owens, Corning. I asked if they had been in a huge lawsuit, I thought it was about the silicon material used in breast augmentation. He reminded me that it was about asbestos. Owens, Corning purchased an asbestos plant in 1927 and operated it for ten years then shut it down. They and 29 other companies are in bankruptcy today over an issue that their company hadn't been involved in for more than 50 years when the lawsuit was brought before the bench.

Edward doesn't practice any more, since he had his stroke. What a shame, but he seems to have full control of his mobility and still lives a good life. He told us that he misses the wine, most of all. I suggested that some studies indicate wine in moderation is actually a stroke inhibitor. They invited us to cycle passed their cottage on Lake Front tomorrow. It is a place that Margie's Father bought in 1933. We really would like to go, just to see the place and maybe take a dip in Lake Ontario but probably won't as we are racing against the weather and I am adamant about cycling Greenland.
It rained pretty heavily as we ate. It was still drizzling when we walked back. Poor bikes, nothing we can do now, they're already wet.
Back at the B&B by 9:00, we were in bed and lights out at 9:45 PM.
August 15, 2002
Brighton to Napanee
The floors of Apple Manor squeak badly, it acts as an alarm system. We were surprised to hear other guests squeaking around in the wee small hours. We and the fastidious Inn Keeper, Shona Clark had thought that we would be the only guests last night.
A look out the window proved disappointing for us but brought good news to the farmers. It was still coming down in big drops and everything was soaked, including our bikes.
We were seated for breakfast at our appointed hour of 8:00 AM. Wouldn't want to upset Madam Shona. Everything on and around the table, plates, cups, trivets, all were in an apple shape or motif. Highway 2 in this area is known as the Apple Route.
We had seen a young girl head into the bathroom as we took the stairs down. Did I mention that 4 rooms share the bath? I think it was pure luck that we decided to clean up a little after our showers last night and take our toiletries to the room. These guests, like the rain, were unexpected.
The Mom, Teresa came down first. She has grey hair and a look of Europe buried beneath it, in her face. Her husband came in and squeezed down into the chair next to her.
He introduced himself in a thick accent, saying "My name ees Zollie, you probly never hear zat name before?"
"I had a friend named Zolah Lefcourt, he liked to be called Zollie. He was Hungarian, where are you from originally, I asked?
He laughed, of course I had pegged him. Zollie is a big man, heavy but not fat. He looks stout. His hand, when he held it out to shake mine, was huge. His fingers were as big as Polish sausages and he had a grip that could have crushed mine.
He doesn't mince words, either. When Shona came in he handed her the fruit plate and said , "Lady, I vont only coffee."
She sort of resisted as she reminded him that it was included. Again, with vocal authority, he verified, "Lady, I vill haf only coffee, I meet vith a friend for breakfast." Shona poured then retreated with the fruit in her hand.
Zollie seemed to see bad in most of the world and shared that feeling with anyone who would listen. I tried to get a positive word in but it couldn't get through, even edgeways. His theory is that the world is in trouble because the family is in trouble. Too much divorce, too many rules, a man can't even spank his own kid anymore. He threw his religious belief on the table and almost dared me to challenge it. "You don't need lawz, you need family and diszzipline, you only need Jesus, Jesus is Lord, Jesus is Law." His friend arrived at about that moment and saved me from the wrath of Zollie which could have been much worse than the wrath of God or Buddha or Shiva or Mohammed? (None of this is meant to degrade Zollie, it just points out that when we buy in completely to one idea we block out all other possibilities.)
Once Zollie was out the door Teresa and daughter, Lisa, who slipped in just before Zollie slipped out, loosened up and told us of their lives. They live near Toledo, Ohio on 2 acres. Lisa is their baby, the youngest of five. She just graduated from high school. She was so disappointed with her grade in Computer Science that she isn't doing anything this summer. Apparently she has been an A student and she didn't get along or get the drift of her teacher. They both blamed the teacher and that may well be.
Teresa is half Mexican and half German. Her father was German. She felt that his family never accepted her and like most Germans, looked down on Mexicans and many other National Origins and Races. Her Mother in Law lives in Hungary and doesn't like to visit Toledo. I think that Teresa feels the same low self esteem with Mother in Law that she experienced with her Fathers family. Her Father was an authoritarian and so is the man she married, Zollie.
Lisa told how they raise chickens for eggs and how a Raccoon got in the Hen House and ate several eggs and chicks. Zollie took his gun, chased it around and shot it and a big hole in the Hen House wall. They both laughed as they told of a neighbor's dog that would get in to the chicken coop from time to time. It disappeared, the neighbor asked if they had seen little Fido? (Name changed to protect the innocent.) Later that year their peach tree blossomed and bore the best fruit ever. Zollie asked if they knew why then pointed to the ground under it and said, "Fido!"
By the way, the friend who came by to get Zollie is a pigeon fancier. Teresa told us that Zollie loves pigeons and is here to buy more. She feels that he spends too much money on them but likes him to have a hobby.
We were soon alone with Shona and the rain. I asked to use her phone as our Cell was out of the range of service. I called American Express trying to arrange tickets to Greenland. I got a real good agent, interested in helping. I had probably been on the line 20 minutes when Cat came in and told me that Shona asked her to see if I would get off the line as she felt she was losing calls. Of course that kind of teed me off. She wouldn't come speak to me she sent a messenger. Cat calmed me down, I ended the call and we sat on the porch, watching the rain pour down. We did mount the tail lights we bought in Toronto on the back of the bags and we donned our new rain booties. When it slowed to a heavy drizzle we pushed off, away from the Apple Manor and what I consider our least favorite B&B experience. It was already 11:00 AM.
It was wet and hot, a strange feeling. We only rode a couple of miles then had to take our jackets off. The rain thinned then finally gave out about Noon. We kept the booties on because the road was still wet. The tail lights were ineffective on the red bags so we moved them to the back of our helmets. We really looked like space cadets.

(Movie: Cat's Bootie 0:16)
Hunger got us as we rode into Trenton so we made a Tim Horton stop. Our feet were sweating by now so we took the booties off. Tim's is great but we are getting tired of it. I even switched from turkey to ham sandwich, just for a change.
After lunch, the wind was with us so we rode like the wind. A cyclist passed and slowed, he was coming from Oshawa and was headed for Kingston, more than 200 Km. (That's almost 130 miles for those of you, like us, who are having trouble converting.) He slowed to ask about our destination and I handed him a card.
We took but one break at a Daisy Mart Store for Gatorade. The owner was teaching a young girl how to work the register. As I paid the owner, Young Mee, she asked about our trip. I told her that we were going around the world then she almost blurted out, "You have come from California?"
"How did you know," I asked curiously?
"You're driver's license, I see California on your driver's license," she said excitedly. Then she went to the cooler and got a bottle of water. She insisted that I take it so I told her that Cat drinks more water and asked her to come outside and meet her.

"Come on Crystal," she said to her assistant. We went out and they both inspected the bikes and talked with Cat. Mee, (Most Asian people use their family name first then their given name. Mee had told us she was from Korea.) ran back into the store and brought a package of cookies to Cat. "You will need energy to go around the World," she said with some emotion as she handed the package to Cat.

We sat upright in the saddles and let the wind do some of the work. Napanee was under our wheels by 3:30. We had covered the 80 Km in record time and were in town by 3:30.

We stopped at a Mini Mart and there was the cyclist. James Biersteker, who had passed us earlier, was sitting on the side walk rubbing his sore legs. "You guys made good time," he said. We felt a surge of empathy, we knew how he felt and he still has 40 Km to go.
Our early arrival would melt down as we rode up and down looking for a Motel. A guy who Cat talked with, Rob Mac Donald had suggested that there were three places just a couple of Km south of the main part of town. We stopped at one called Twin Peaks. A young girl asked us to wait then an older girl asked us to continue to wait. Finally a guy came and told us he had no King Beds. He suggested a place just 10 minutes further down the road called Bay View Inn because all the others here are fully booked.
Going against his advice we tried one back toward town called Fox Motel. The guy, another fellow from India, said "Sure, I have room, follow me."
I asked the price but before he would quote it he said, "Oh, this cottage has no Air conditioning."
Well there was no way we could get a good nights sleep without air so we told him we would pass. Then he said he would have the AC fixed by 7:00PM. As he spoke I remembered that the guy at Twin Peaks had been impatient with us and then he hurried back to a workman that I now think was the AC repairman. We couldn't take the risk.
Off we rode toward Bay View but when we passed a sign that told us it was a five mile backtrack we reversed direction. Doubting the fellow at Twin Peaks we stopped at the third and final place only to find that the owners were off at an auction. The very kind lady next door, Vera Dawson let us use her phone book and helped as best she could. She told us that her children had built the 4 plex she lived in for the church. It was rented at a low rate to senior parishioners. What a lovely person Ms. Vera was.
Tied of waiting we called a B&B only to get an answering machine. We rode by the place but it was closed up tighter than a drum, as my Father used to say. Finally we took Vera's advice and backtracked to a Truck Stop and Motel on the Expressway. They did have a room. We had spent three hours and were exhausted and exasperated.
The big crowd, a foursome of ladies sitting in plastic chairs, told us as we entered our room was the World Championship Midget League Baseball Tournament. They had kids or Grandkids playing and were very proud of them and their team.

We showered then took a cab to Louie's Authentic Greek Atmosphere & Cuisine. The owners, Louie and Eleni Koutroubis are well known and liked here. Several people had recommended them. We had late dinner, Pizza and Salad cooked by their Son-in-Law, Scott MacPherson and served by their Daughter, Vicky MacPherson. The food was as good as we had been told and the children of Louie were equally as nice. They stayed after normal closing time to make sure we were fed.
August 16, 2002
Napanee to Kingston
Cat made calls on the Cell Phone looking for a place to stay in Kingston while I worked on Air Reservations for our flight to Greenland. It isn't going to be easy to find either. Tonight, Friday, is close to fully booked in Kingston and the news from all sources so far regarding flights is the same, booked or way beyond our budget. It was 11:00 AM by the time I finally gave up but Cat did score on a room. Soon we were rollin' with the wind.

We're only going 40 Km and the wind is our friend. It is ungodly hot on the uphill because we slow to the speed of the wind and it is still. Sweat really runs down our backs and faces. We rode non-stop for the first 20 Km, into Odessa. I wonder if there is a connection between this Odessa and the one I experience in the old Soviet Union back in 1989? It doesn't look the same but perhaps the earliest visitors or settlers here were from that other Odessa?
We sat on the back of a bus bench, straining to cover ourselves in shade, and ate the cookies left from out Tim Horton lunch, yesterday. A lady and her small white dog stared at us as they entered the bank adjacent to our bench. When she emerged her curiosity got the best of her, she had to stop and talk. We told her of our Odyssey then asked about her life. She sort of avoided the question so we didn't press it, she walked on.
Back on board, we just sat up and sailed the final 20 Km into Kingston. There were a few pretty steep hills and the heat remained oppressive. Traffic thickened to the usual Friday afternoon rush. Following the Hotel Clerks direction we stayed on Highway until it took on the name Princess Street. There, as we strained to find King Street, we came upon a couple who were on bikes and loaded almost as heavily as we. Melanie and Ka-hung were headed toward Prince Edward Island. We have no idea where that is but they are taking the same Highway 2 that we know and love so well.
A guy standing nearby was talking with Ka-hung about China. We didn't get to know him well enough to find out whether he was Canadian or from China? The fellow talking with him gave us his card. He is Gordon Sly, Director of Teaching Affairs with Xiamen WECL English College. He and his wife had spent 2 years there and would soon be going back for another.
A third conversation ensued with a tall thin guy who has raced Mountain Bikes. He knew a lot about bicycles and told us about all of his injuries including the crushed vertebrae that left his right arm numb and ended his career.
Funny, the couple cycle touring pulled out with a cheery goodbye and the rest of us just scattered. I wished that we had taken a picture. The moment came and went, all too quickly. They did point out King Street and that made it easy to find our Hotel.
Once in our room, we turned the AC down to frigid and went out for food in our sweaty, stinky bike cloths. Sat in a street side café and enjoyed late lunch then headed back.
Back in our now too cold room, Cat jumped into the bath. I jumped right on the computer, trying to arrange a flight to Greenland. It is easier said than done. For one thing, we pay almost double if we just book one way. That has never made sense to me?
Our best bet seems to be Iceland Air but the two different Agents I spoke with were almost rude, at least curt. The Agent with American Express told me that Iceland Air doesn't pay outside agents so have to answer all calls and book tickets themselves. Our situation is difficult. We want to get to Greenland but no airline flies there. Air Iceland, a subsidiary of Iceland Air flies in and out but Iceland Air only allows a 3 day layover. We need to spend at least 10 days on the ground there. When the less than cordial lady finally figured out the cost to do what we want it came to more than $6,000 US. That was air only, we would spend almost $10,000 and that is outside our budget.
Cat went down and threw our rank cloths into the coin laundry. (That was her criteria in choosing the Sheraton, it was the only place she could find with them, strange, huh?) She also used the business center once the cloths were spinning and checked e-mail.
It rained cats and dogs for a while as we worked. It was damp and cool, ice and cool when we finally went for dinner.
Dinner was late, Italian, of course. On the way through the Lobby we booked the room for an additional day. I need the time to try to get us booked to Greenland and play catch-up with the Journal. I can use the rest, too.
The restaurant sits on the corner. It is picturesque and the name, "Frank & Pesto is a draw. We wanted a seat inside but they were over booked. The young girl seating people told us it would be a 40 minute wait. We decided to go to the bar and wait. She told the next group it would be an hour so they left. We had just gotten our wine when she came in and announced that our table was ready?
It was cool and breezy, the last vestiges of rain still hung in the air. It was nothing like a sidewalk café in Paris. The traffic was fairly thick and there were a few cruisers in old cars but the buildings across the street were plain and run down. The location is at the end of the business section.
Dinner was good. We paid then walked down the street looking in windows and at other diners when a young guy tapped me on the shoulder and said, "Did you forget this?" He had our camera in his hand. I was so taken aback that I just took it and said thanks as often as I could before he turned and ran back to the restaurant. We stood in disbelief, that he would

run two blocks and know us to get it back to us. Of course we had to go back and give him and our waiter a tip for great service. His name is Graham and our waiter was Shaun. I told them how important the camera was to our Odyssey and that there were 83 pictures in it that couldn't be replaced. The word spread and we were soon surrounded by most of the staff, asking questions and telling of bike trips or adventures they had experienced.
We decided to walk the waterfront, ended up at the Holiday Inn and listened to a band crank out good old Rock 'n' Roll.

(Movie: Hippy, Hippy Shake 0:37)
August 17, 2002
Kingston
Once up, we decided to go Pan Chancho, a very cool bakery we had seen last night. We bought muffins and Latte's as well as a loaf of bread for later then ate in the room while we both clicked away on the keyboards. Great stuff.
For me the entire morning was consumed with frustration. I called Delta Airlines in an attempt to use the huge build up of Membership Rewards we have with American Express. After working with a great guy also named Pat for an hour and a half I decided that the Membership Rewards thing is a fake? He tried every way possible including us flying out through Atlanta, Georgia, to no avail. He finally "Wait Listed" us for a flight but felt that we would probably never get a seat because it was the last big travel weekend of the season?
Cat left to check the Tourist Info Center for rooms in the next two towns at our next two stops. She was gone a long time and came back with a spiky hair do. We loved the Pan Chancho so much we went back for lunch. I have continued to sneeze and sniffle so we passed on the patio. Our table neighbors were interesting. Lorraine teaches and Murray is retired. They have a cottage way out in the boonies at a place called Clear Lake. He works to keep it from falling down so he is there more often than she. They live in Toronto, she was raised here in Kingston and they come to visit her Mother. She is hospitalized and not very well.
Clear Lake is another one of those properties that Dad bought. He paid $500 for what Lorraine called a very big piece of land. They share it with all of the other family. It is carved up and many of the others spend their time building. Murray said that he is past all that now.

We rushed to the Tourist Center to catch the 2:00 PM Red Bus City Tour, all for not. It was sold out so we booked the three o'clock tour and Cat whisked me away for a short, very short, hair cut art the place called "Lookers." Brenda had cut Cat's hair so she whipped me into the chair and started loping it off. Cat had Cynthia, the owner of the shop, trim a few areas of hers even shorter. Nice gals, Brenda was an RN for 20 years. Her husband died and she raised her son on nurse's wages. Once he was up on his own she escaped nursing, went to cosmetology school and had a second career. She likes the personal touch like nursing but needed to get away from sickness and death. Brenda rides a motorcycle, Cynthia is a mountain cyclist. Her bike was in the back room. They both ride to work.

Again, we had to run to the Tourist Center and climbed aboard just as the Big Red started to roll. We were banished to the back seat. The ride was sold out again. It was a good intro to Kingston. On the walk back to the Hotel we ran across a street musician who was singing and making up words as he sang. The little boy he sang to loved it and danced round and round as the sound wafted up between the buildings.

(Movie: The Red Bus Tour 0:33)

(Movie: Dancin' Pooh Bear 1:08)
Back to the room and the keyboard for both of us. Cat is having huge problems with her computer and spent more than an hour on the phone with a tech from Sony. It worked great while she had him on the phone but died almost as soon as she hung up the phone.
I sent and received from several Travel Agents. Most of the messages will just lie there until Monday. The best news was from Wally at Red Arrow Group, our web-master. He found the video clips and added them today. That really set my mind at ease as some of them are the best we have done.
Cat wanted to try the most famous restaurant in town, Chez Piggy. We were surprised to get right in on a Saturday evening. We were seated in the upstairs room. Nice place, great food, slightly expensive.
August 18, 2002
Kingston to Brockville
Up and at em'. Cat went for coffee while I fired up the machine again and looked for any sign of hope on the e-mails. Nothing but then it is Sunday. We were on in the lobby by 8:30 then experienced a pleasant delay. Cat had talked with a guy in the elevator. He was from Newport Beach, California. As we checked out a couple more guys and their sons came by and we talked. The kids are in a sail boat race. We saw the hundreds of small mast boats out on the water, yesterday.
By 9:00 we rolled down Ontario Street passed the old Fort and out passed the Military College. There were a lot of joggers on the road. Worried that we were on the wrong road and not wanting to climb the hill in front of us if we were, we asked and several joggers in the group answered, "Yes, this is Highway 2," simultaneously.
As we began the assent we could see two girls jogging about a third of the way up. We were just about to catch them when we had to shift down to Granny gear. That brought us to just about the same pace as they were running. Slowly we pulled up to them and I handed one our card. I asked her to e-mail us and remind us that they ran up the hill faster than we had biked it. They laughed then understood that we were headed around the world and got pretty excited.
Our first stop was Gananaque, there is a Heritage Celebration going on, it reminded us of Twenty Mule Team Days in Boron, CA, my home town for 7 years. We owned the grocery store there and were always involved. Our Band played for the event a couple of years ago. I had a great time, the rest of the band had a long drive but they did it for me, and the money, of course.

At Mac's Mini Mart a fellow walked right u p and began asking questions. "What do you have in the bags? Where are you going? How long have you been riding?" His name was Chris. He proudly told us he was 80 years old and had lived a wonderful life and it was still wonderful. He had been a Spitfire Pilot in WWII, had run his own business and traveled the width of Canada 20 times on business. He had made 7 trips to Europe and visited his homeland, Denmark. He was born there and his family moved to Canada when he was 7 years old. His friend Catherine and he live in Toronto. She was born in Listowel, Canada. Her daughter, Jocelyn was along too, she lives in Odessa. They told us that the strange name, Gananaqua is Native American and means "A place of well being." They bid us good journey then hurried off to join the other volunteers as they prepared for the final day of fun in the park.
From that point on the ride would be on flat to rolling terrain and the wind was at our backs blowin' 20 to 25 KmPH. We flew down the trail, over occasional bumps and into Rockport, 28 Km, where we stopped for lunch. The Ship's Galley is down a steep hill away from the Trail but it is on the water. As we pulled in we saw a pile of bikes with baggage on them. I asked the ticket seller at the boat booth if they were eating. "No, they're on the boat, probably sleeping."

He did tell us that most of them are teenagers. We had a good lunch, the French fries were as Cat say's, "To die for." Our waitress reminded me of an old travel pal, Joyce Kirby. Her accent was almost Californian so it surprised us when she spoke French to the Boat Captain who rushed in to get coffee between tours. The place was a stopping off for bus tours. There was a group of Korean Scouts who seemed to be in awe of everything.

We found the group of cyclists eating lunch at a table, under the trees. They were on an 11 day tour that loops out of Ottawa, down to Kinston and back. They cover about 40 to 50 Km each day. What a great experience for kids 14 or 15 years old. They are over burdened, just like us. They camp every night, cook and sleep out. The Guides, Charles and Karla gave us a brochure. We had all of them give us their autographs on the brochure. We had a very good time talking about their experience and ours. Some of them thought we were crazy, others including Charles and Karla, wanted to join us. I gave our cards to any of them who would say that they would send us an e-mail. My advice to them was to work hard, save and invest wisely and in 45 or 50 years they could do the same trip we are doing today. Maybe we fostered a dream somewhere in the group?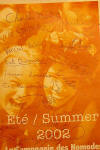 As we talked a bee got inside one of the girls plastic bags, with fruit in it. The boy sitting next to her grabbed the bag and began to roll it up. He asked if she minded if he killed it. She shrugged and he rolled then crushed. I don't think he is a cruel kid, just showing off to the girls at the expense of the bee. I held back my, "All life is sacred," sermon.

(Movie: Bike Campers 1:15)
062 Bikers Autographs 058 1 of 1000 Islands mpeg 019 St. Lawrence Trail 059 2 of 1000


The ride from Rockport to Brockville was really spectacular, the water and islands are like a movie scene. We scooted into town in record time, stopped a grocery store for more Gatorade and bananas. I asked the Manager if there was store in town other than LCBO that sold wine on Sunday. He told us no but one of their LCBO stores here is open on Sunday. That put us on a Northerly course with side wind and hills but it was worth the ride.

(Movie: 1 of 1000 Islands 0:57)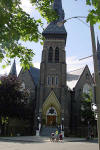 Back down the hill, we were seeking the Best Western when we came upon Herburn House. It is owned by a retired Colonel and Major of the Canadian Army. The Major was out watering the lawn when we pulled up. Cat asked if he had a room. He swung the hose around and asked us to wait a minute, he continued to water but walked along the bushes to the end of the porch. We had seen a lady seated on the porch reading a book. He called out and she answered, he told her we wanted a room. She, Mrs. Major, stood so I went up on the steps and asked what the cost would be. "$70.00 includes a full breakfast and all taxes." She said, less than enthusiastically. Cat went in with her to see the room. She informed us right up front that it was a shared bath. The two private bath rooms were already taken. Cat like the place, it is tall and handsome, built in 1871. We had to leave the bikes in a side yard but they were inside a fence. Mrs. Major, Theda Burns, said they had a tarp in case it rains.
The Major, R. I. Burns asked that I come settle up when we got our things up to the room. As I did he became much more talkative, told me of his experiences in the Canadian Army and of their travels when he was "in service." They had served in South Africa, Europe, Cypress and all over Canada. They have pictures of family and exotic places on many of the walls.
During Cat's time spent with Theda Burns she asked how long they had owned the B&B. When Mrs. Burns answered seven years Cat mentioned the 5 to 7 year burn out we had heard about. Mrs. Burns replied, "Oh, we won't be doing this much longer!" It is obvious that she isn't very happy and I sense that the life of an Inn Keeper is perhaps beneath the station served by a Major's wife before retirement.
All of that aside, the house is furnished very nicely. The shower was good and it is walking distance to town. We set off in search of dinner and stopped at the first place we came to, just a block away. The patio was inviting in spite of my gathering sinus problem. I have been sneezing and sniffling a lot.
As we ate an old fellow came in pushing a walker in front of him. He sat with his back toward us and ordered a liter of red wine. The waitress told him they were closing so she would only let him have one glass. Cat remembered when she worked as a waitress how regular customers would come in and they knew not to serve them too much alcohol.
We did have a unique experience, a bee, the yellow jacket type, flew into our half full bottle of wine. The girl looked then said "This is a job for the kitchen," and rushed away with it. When she returned she told us that they had removed the bee then strained the wine and returned it to the bottle. We thought it may have been revenge for what the boy did to the bee earlier today.
When we were leaving we struck up a conversation with the old guy, Jerry LaLouve. He had just moved here 6 months ago from Cornwall, about 60 miles down the road and our destination tomorrow. He lived there all of his life and worked in the concrete business. In fact he owned a company for years and finally sold out to LaFarge, a large French Company. He needed someone to talk to and we were it. His first two wives had died of the same brain cancer. He told us he had been married 3 times but didn't mention the third. He had begun having fainting spells, falling down and being unable to get back up last year. His son lives here so he sold his home and left the village he had lived in all his life to move to Brockville, to be near him. When I asked if he was Diabetic he lifted up his pant leg as he answered and showed us a bag full of yellow liquid taped to his leg. "I'd just pee my pants if I didn't have this thing on," he said sort of angrily. He was 80 years old, what a difference between him and Cliff who we met earlier today. Attitude is everything, then too, so is your health. It must be doubly tough to maintain a good attitude when you feel so bad.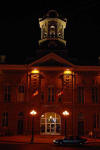 We walked on into town, it has a European feeling. The Court House was lighted and stood tall and proud. The street away from the waters of the Saint Lawrence River runs up the hill toward other big buildings. The town also has a feeling much like the streets of Ventura.
A guy seated on a bench spoke to us as we passed. We traded cards. Larry Bolton has just retired from Ford Motor Company and moved here to Brockville. He has started an adventure called, C I, Creative Images, Photography and framed art. Nice guy.
August 19, 2002
Brockville to Cornwall
We shared the breakfast table with newly weds. Major Bob proudly announced that he was constructing omelets. He was joined in the venture by partner, Colonel Bob who was very cheerful and outgoing. In morning light, Mrs. Major loosened up and became much friendlier. Hearing that we were Realtors, she told us of here 15 year career in Real Estate sales. She was proud of her commitment to learning during that time and the assistance she was able to provide to may military families.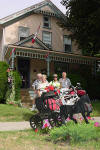 Major Bob had worried about the weather last night and covered the bikes with a tarp. Once we were loaded we posed for pictures on the porch then departed in a hail of goodbyes. It is a small hill, up and away from the Saint Lawrence so we pedaled hard. About 5 miles out a car honked and slowed then pulled over in front of us. It was Mrs. Burns, she had discovered my Cell Phone in the bedroom and driven hard and fast to catch us.

This added to the lesson of humility that I had been fed with breakfast this morning. Here we were, riding around the world trying to keep open minds, cautious not to be judgmental, then I catch myself caught up in critical thoughts based solely upon a cursory observation. Forgive me Theda Burns.
Lunch in Iroquois, named for the local tribe we assume. Little Rikki's is a typical coffee shop except for Brenda. She came to the table with the order pad in her hand and said,
"Who are the worst drivers?" Obviously she had seen our bicycles. She told us that the other gals there had been talking about the dangers of the road we must face. Cat and I agreed that the Motor Homes with little old drivers who have a hard time seeing over the steering wheel were the worst. I added that they don't mean to be they just don't always know where there rigs are and play it safe by hugging the side of the road leaving us little to cling to.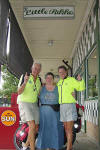 I asked if she was Little Rikki. She laughed and said Rikki was the previous owner. She had worked here before and came with the deal, like part of the fixtures. She told us to take Lake Shore Drive. It would have less traffic and get us to the bike trail. She was full of fun and it oozed out on all she came close to. We asked her and she agreed to have a picture with us. I tried to set the camera on a newspaper rack and failed. Two young guys came walking by, I enlisted one, Ryan to shoot the pic. Both he and his friend Tony had a look of Hard Metal or something like that. Neither was very tough looking but seemed to be trying for the look. They reminded me of me at their age. Ryan had a new tattoo, a gift given to him by his girl friend for his 19th birthday, yesterday. My mother would have killed me if I came home with a tattoo or wearing the shirt Tony had on with the F word on it.

Choosing to stay with the road rather than side track to Lake Shore, we met a couple of guys who came up from behind us on sleek recumbents with windshields. They were Father and son, Chris and Noel Kegel, riding to Montreal to get Noel set up for his second year of University. Chris owns a bike shop in Milwaukee, Wisconsin called Wheel & Sprocket. They cycled up last year and enjoyed it so much they decided to do it again. The family will meet them in Montreal.

(Movie: The Kegel Kraft 0:38)
The Kegels rolled quickly and easily away from us. We came upon the St. Lawrence Bicycle Trail and sisters, Renate Vandergriend from Monteal and MariAnn Hawthorne from Oakville at the same time. They were out for a little bike ride. The two of them had met hereon a limited family re-union. There parents came from Holland after the war, 50 years ago. The girls are 2 of 7 siblings. None of the others could make it to a reunion but these two came, anyway. Renate is a Realtor and MariAnn is her biggest fan. She bragged about Renate being number one in her office.
We found the 1000 Islands Parkway Bike Path just outside of town. Some of the signs called it the Saint Lawrence Bikeway. We didn't care what they called it, we liked it. The path is paved and the road is between it and the river. The sun was hidden in haze and the tail wind cooled us. A perfect day for cycling.

Cat had just commented that we hadn't seen any other cyclists when Ryan and Melanie came pedaling upwind, toward us. They were completely overloaded with camping gear. They are students at the University of Guelph and are riding out and back from Toronto to Montreal. Unfortunately for them they're against the wind. They camp because it fits better financially but Melanie wishes they could stay in a motel or B&B once in a while. Cat explained our philosophy of camping is we have to or want to. We haven't wanted to very often so we could relate to her wishes. I told them to complete their studies, get a good, lucrative career, save a little money and go for it in 35 or 40 years.

(Movie: The Young Cyclists 0:26)

We left them and hadn't gone more than a couple of Km when we met Renate and Mariann, two sisters out for a little ride. Cat told them as we caught up, that we were headed around the world. They got so excited Mariann almost crashed. She grabbed her camera and took a picture of us with Renate. They tried to get a family reunion put together with their 5 other brothers and sisters but ended up with only the two of them. Their Father and Mother immigrated to Canada after WWII and raised the seven kids. Renate is a Realtor in Montreal and loves the work. Mariann is proud of her and told us that she is the number one agent in her Company. Renate told us that she loves the business. I told her that we were proud that our daughter, Lori was just now getting her license in California.

As we rolled into Cornwall we saw Chris and Noel riding back in the other direction. Chris yelled out, "Day's Inn," and pointed toward the place. We were on a mission to find the LCBO and a nice bottle of wine to celebrate our day's successes. It was quite a way further down the road. I asked a guy there if we would find more motels further along the road. He only knew of one and wouldn't recommend it. He suggested turning back. We did and ran across one of the old Motels that still cling to life. It was across from a Restaurant that Cat thought was interesting. When we pulled in a guy who looked homeless let out a puff of smoke and asked if he could help us. We had thought he was a resident and that the place could be a half way house?
I got a key and we took a look at the place. It was okay to African standards but pretty rough for here. The phone system was antiquated and I couldn't find a way to connect to the Internet. That was our key to getting out of the place. The guy puffed feverously and tried everything he could to get us to stay. His cigarette smoke bothered me and I started to sneeze. He told us the owner had terrible allergies, too. They blamed them on the land fill across the street.
The next place back was The Best Western. They were fully booked except for the Honeymoon Suite. At $169 we passed. The clerk recommended Day's Inn. We would find later that Chris and Noel had gone through a similar scenario before they finally ended up at Day's Inn, too.

We dined at a quite Italian place across the street. Chris and Noel had already eaten so we made a date for breakfast. The bartender was a character. We ordered a final glass of wine then jokingly threw in the silly, "with two straws, please. He loved the joke.
August 20, 2002
Cornwall to Montreal
Breakfast was included and served in the adjacent restaurant. Chris and Noel were a treat to get to know and to talk with. As we said our goodbyes Chris asked where we were staying. We had no idea so he told us they would be in town tomorrow and gave us his Hotel number.


We had rushed to finish packing before we went to breakfast so we just rolled out at the early hour of 8:30 AM. I wanted some allergy pills so we stopped at the Super Market. We met Mr. Gordon Mac Intyre there, he was just going in the door but stopped and stared. When I came out he was standing near the door. He wanted to know who we were, where we were from and where we were going. After my turn I asked him about his life. It turned out that he had been in construction al his life, right here in Cornwall He had been an Asphalt Contractor for 59 years. He is also 80 and happy. I asked if he knew Mr. La Louve the Concrete Contractor from here who now lived with his Son in Brockville? He was surprised to hear that the guy was still living. They had been competitors of a sort. He said that La Louve had caused his own problems through drink. When I told him how the waitress had only allowed him two glasses of red wine he said, "His son has tried to get him to cut back for years, those French they don't seem able to get by without it."

The wind remained favorable and we rolled the 24 Km to Lancaster in fast time. There is a collage of tacky signs at the City Line. I had to have a picture for Brother Bob who lives in Lancaster, California.
As we exited Lancaster Cat questioned the direction we were headed. I scoffed and said there was no other way that I had seen. The wind seemed to change direction and a few Km out on the roadway she repeated her feeling that we were going in the wrong direction. I was a little less certain but told her we would know soon because we were going to go through a town.

What we rode into was more a crossroads than a town. We pulled in to a place called The Brownhouse Convenience Store and Cat's suspicions were confirmed. The young guy, Paul Garreau, pointed to the road that turned right and said it was the way back to our route but we would have to back track. He recommended that we could stay on the country road, save a few kilometers and eventually end up in Montreal.
Cat gave me a pretty hard time. She, Paul and a gal helping him, Silvia jokingly ganged up on me. The only problem with the country road, according to Paul, was the lack of food along the route. We took his advice and he micro waved some meat and cheese sandwiches for us. They weren't very good but better than nothing.
We got the scoop about the store, Paul and Silvia as we ate. She is a school teacher but is helping mind the store while Paul's other employees are on vacation. He has owned the place for 9 years. It has burned him out, working long hours, weekends and holidays. I could relate, and told him how I worked every Sunday and Holiday in Grocery Stores for 9 years when I was about his age. He has the place for sale and wanted to know my opinion of value. I told him I would have to know his volume and profit to do that. Like my career, he couched profit by telling me how many tax advantages there were and that when those were counted in he made as much as a friend who was a Chiropractor. The same story that kept me at poverty level earnings and working like a dog for most of my years in that business.
Our wrong turn added 10 miles and new chapter to the story that now includes Paul Garreau and his friend, Sylvia Stadelmann. She is helping him run his Brownhouse Convenience Store while his other employees are on vacation. She teaches 1st and 2nd grade. Paul has owned the store for 9 years. He looks too young. He is tired of the hours and has the place listed for sale. He thinks his price is right at $450,000? He asked but I couldn't tell without knowing his sales and profit. Heated sandwiches in microwave ate in the sun, cool and windy.

Travelin' down that long lonesome highway, well that country road, we were again surrounded by fields of corn and soy beans. There was a fork in the road and we indecisive. I felt sure that we should bear left but decided that we didn't need any more additional miles on this day. There were two guys working in a metal shop. Cat called out and one of them looked up. They stopped and stared as she asked directions. They looked at each other and spoke then one of them walked toward us. Cat asked again and the guy said something in French. He didn't understand us. This was our first foreign language problem. We used sign language and all the French Cat could muster from her high school days. Finally when we said Montreal and pointed he shook his head affirmatively and said, "Oui, oui."

The surface of our country road was bumpy in places. We came over a small cement bridge and WHAM BOING. I knew when I heard the sound that we had another broken spoke, Then, WHAM BOING, again. We were in trouble and a long way from nowhere.
I wobbled into the next small, really small, village. There was just a service station. As we rolled in I noticed that a truck sitting in the island had Bicyclette on a sign on the camper shell. When I approached the guy pumping gas I asked if he spoke English. He did with a very thick accent. I asked if he worked on Bicycles and he told us that he owned a cycle shop about 10 Km further down the road. He was delivering a bike and would be back there in 20 minutes. He would take time and fix the spokes when he got back. He thought he would be there by the time we could get there on our bikes.

We got there before he returned and I struggled to get the point across to his wife that we had seen him and knew he would be back. We started pulling the bags off as he drove in. Bernard St-Hilaire knew what he was doing but he was a little shy about speaking English. I asked if he had stainless steel spokes, he didn't. We dug out the bunch that the boys from Chelsea has brought to us at dinner.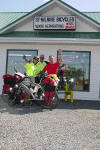 The shop, St-Hilaire Bicyclette is nicely stocked and arranged in typical, clean and neat French style. Mrs. St-Hilaire takes care of the cash register and arranges things. He had the new spokes in and we were back on the road. He posed in a picture but still seemed shy.

(Movie: Bernard Re-Builds 1:26)
As we began to leave he tried to give us directions. We had most of it but there is a bridge and it looked like we would have to circle it which would add more kilometers to an already too long day. Bernard looked at the map then told us in strained English that we could take a small road then he pointed to his driveway and said, "It eees lak zeees." And he pointed at the gravel. His other bad news was that we probably wouldn't get into the city before 6:00 PM.
I was sure we could get there quicker than that. Bernard didn't know how tough we were! Out of the countryside and into city traffic. The shoulder was small and the traffic heavy. When we finally hit the bridge and thought we were in Montreal, it was 5:30 PM. I knew that we could get in before 6:00.

When we came to the first bridge we saw what Bernard had meant about a small road. It wasn't gravel in fact it was dirt that had been mud. There were ruts a foot deep and swamp grass that was higher than my head. And grasshoppers, we hadn't seen that many grasshoppers since the parade of them we saw walking down the road near Elko, Nevada.

(Movie: African Trail 0:31)


We survived the jungle, Cat took it in stride. We thought it was good training for the African leg of our Odyssey. Bikes were relegated to the sidewalk over the second bridge. At the apex we met a recumbent cyclist head on so we pulled up to let him pass. He pulled over and wanted to know where we were headed. What a nice guy Chris Latchem is. He was genuinely interested in helping us find the road and bike trail. He is also involved, as a crew member, in a 1,200 Km bike race helping with logistics. His life has been spent in the high tech industry but now he is completely enthralled with Bicycles. Of course he loved our story. His direction got us down off of the bridge and onto the waterfront road.

The area was similar at times to Montecito, near Santa Barbara of Arcadia, where Cat's parents live. The homes ranged from large to estates on huge lots. A couple of gals were walking a herd of Sheep dogs. It was hard to tell who was leading who. As I took a picture one of them said to the other, "Watch out, Bobo just pooped." She should have told me sooner, I stepped in it.
As beautiful as the area is, we were getting tired of the saddles. It was now 6:30 and we still had a way to go, according to the map. We were rollin' along fast when all of a sudden, Cat's chain dropped off the bottom ring and jammed up. She was free wheelin' and couldn't get off the pedals. She yelled out but there was nothing I could do. She just had to ride it down and jump off the pedals before she would fall over. Her body pitched forward and she landed hard on the goose neck.

As she rubbed her sore stomach I worked on freeing the chain. A nice looking guy on a road bike pulled up and asked, in a French accent, if we needed any help. He just happened to be the Father of the Canadian National Cycling Champion two years running. He is Yves and is proud of his daughter Genevieve who rides with Team Rona. We thought that she was the girl on posters in the Tim Horton stores. The next time we saw the poster we found that it wasn't her. We also stopped at a Rona Store to see if we could get a poster. They are a chain of home improvement centers but had no posters. If you know Genevieve or Yves last name give us an e-mail, okay?

(Movie: Proud Papa 0:48)

Lost again, Robert Mont Jourdain set us straight. He restores old books. He loves old books. He showed us the beautiful book that he was taking to his home to repair. He said that he told the owner it may take sometime to fix. He laughed and said, "I want to keep it for as long as possible, touch it, read it and enjoy it.
By now it was obvious that we still had a long way to go. The neighborhoods remained very upscale. Beautiful homes surrounded by beautiful gardens. We continued to follow the water, off to our right. Finally we came to the Canal de Lachine that we had been told would lead us into the old City. We had just passed four people in wheel electric chairs, scooting along the trail. At a moment of indecision, we stopped a Mom who was roller blading with her young son. She gave us the bad news that we still had 10 Km to go. One of the guys on a wheel chair pulled up and confirmed her information. I hid my dismay but Cat was open with her complaint. It was almost 8:00 PM.
The trail was flat and smooth. We made good time. Once in the City we made our way through darkening streets filled with the headlights of adversarial autos.
It was now 8:30, we were tired and homeless. We pulled up at a corner and I wondered aloud, how we would find a Hotel. We had planned on stopping at the Tourist Office but it was a long time closed by now. Cat looked up and like a vision, saw the sign for Hotel Place D'Armes. We were tired, hungry and weak. We pushed up the cobblestone street to the door.
Place D'Armes is a wonderful old Hotel that would normally be above our budget. We took the only available room and shuffled the bikes in a side hall, through the lobby and up the elevator. Our room was great. Cat got on the phone and ordered a Cheese and Fruit Plate and wine, of course. We showered and enjoyed the appetizer. It was 10:00 PM. We felt too tired to go to dinner so we ordered soup, slurped the slept.
August 21, 2002
Day off in Montreal
The included breakfast is quite nice. A buffet is set with fresh fruit and juice on one table, toast, muffins and croissant on the other. They have a strange coffee machine. It grinds the beans and makes the cup of your pleasure at your push of a button. We like Café au Lait. When we push that button you hear the grinder go to work then milk in an adjoining pitcher is frothed and sent, through a plastic tube, and into the cup simultaneously. Not the best Café au Lait we have ever had but not bad. And, no limit!
A couple sitting in a corner looked healthy as they sat and sipped their machine made coffee. We took a seat at a large table and opened the newspaper. It was in French so we could only look at the pictures. The couple, Karen and Jim approached and asked if we were the cyclists who came in last night? It was instant friendship that only camaraderie between cyclists can produce. They ride recumbent three wheel bikes and had cycled in just the day before. He lives in Minnesota and had ridden from there. She is from Seattle. She flew to Windsor, Canada and they rode together on the same route we had just completed.
Our excitement of the day was to be a trip to the Buanderie. Our cycling cloths were stinking to high heaven. The bag was overflowing. A nice young girl at the desk found what she thought was the closest coin operated laundry and wrote the down address. It was a long cab ride that cost $10.00. The driver was a good guy and spoke fair English. He gave us a little guide service for the same fare.

Buanderie Marie-Anne is like all Laundromats except for Prvin Patel. He works there, washing, drying and folding for his customers. Interested, he asked where we were from and when he heard of our voyage he asked how we found him. Prvin was surprised to hear that we had come all the way from the Vieux (old) Montreal. The neighborhood, Marie-Anne, was almost across town from there. He was kind enough to watch our things as they churned so that we could walk the street, pick up bananas and have a sandwich.

Privn told us how to find and use the Montreal Metro. We walked about 10 blocks down Marie-Anne Street. The area is called Plateau de Mount-Royal. It is a slightly better than average shopping area with moderate residential neighborhoods down the side streets.

Montreal Metro is fairly deep underground. The stairs and escalator are steep. The Station in Old Montreal was near our Hotel. We just lounged around and journalized in the room most of the afternoon.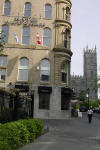 To escape the room, we walked into the streets of Vieux Montreal and out of the 21st Century. With the exception of the tourist stalls the narrow cobblestone lanes have changed little over the years. The buildings are of stacked stone with mortar joints.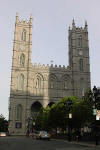 Rue de Commune, the street that comes up away from the river, is now a pedestrian street. Restaurants line both sides. The little alleyways that sprout off in both directions are filled with artists and their wares.
A Peruvian string, flute and percussion group filled the street with their happy sounds. Quick draw artists sat across from stiffly posed patrons working in chalk or charcoal to create their likeness or caricature.

(Movie: Street Musicians 1:00)

(Movie: Street Arte 0:22)
We chose an Italian Restaurant and settled into seats right on the street. It was great fun to watch the strollers and activity. The Peruvian group had been replaced by a sort of Country/Rock guitar player. His music was just so-so but he was very entertaining. He worked the crowd, made jokes and worked it all into rhythm of his guitar and vocals.
As we finished dinner a new act, another guitar playing/vocalist/comedienne took to the street. He really drew a big crowd and held them. We had to stand back in the crowd and peer over tops of heads. His grand finally was unique to say the least. He had a guy from the crowd pour charcoal lighter fluid in circles around him as he stood on a box, played and sang. You can imagine the crowd's reaction when the audience member torched the fluid. The performer raised his guitar to avoid the flames and played while the street burned. A very effective crowd pleaser. He then had a kid pass the hat as he worked the crowd. He really cleaned up. We even gave him a few bucks.

(Movie: Playing with Fire 2:50)
August 22, 2002
Toronto
When we had requested an extra day we were told that we would have to move as our room was already booked. We thought we would be on the same floor in a slightly smaller room. When Cat checked to see when we could make the move they told her that we would have to move to the 7th floor. She started to complain when the girl said, "You will love this room, it is the best in the Hotel and you will have it for the same price as your regular room.
It was a hassle moving up the elevator and down the narrow hall but the girl was right, we did like it. The room faces the street and Cathedral. It is actually a suite with living room and a ½ bath down, bedroom and gorgeous Jacuzzi tub and separate giant sized glass shower, upstairs. The sinks were unique. All of the fixtures were exquisite and the furnishings were plush.
Originally we had taken the extra day to meet a camera crew from LandRider. They wanted to shoot a few scenes of us to use in their new Infomercial. It was raining so that was postponed until tomorrow. We agreed to meet and shoot the pictures just before leaving town in the morning, early in the morning.
We worked on our journals until we were stir crazy then grabbed a cab and went to the Tourist Info Center. We were hoping to find information on lodging, B&Bs along our route to Quebec. With little to show for the time spent in line we decided to look for a book store that might have maps.
Walking Rue St-Catherine we found a wonderful book store. It was huge, 3 stories and more books than you can believe, but no maps. We decided to have lunch at the little counter that over looks the book shelves below. The food, ambiance and people watching were all terrific.
The rain continued to pour, we had an umbrella with the Hotel name embroidered on it. Very classy and necessary today, too. The windows were worth shopping. Neither of us are good shoppers but we do like to look. St-Catherine is an upscale area. We bought bananas from one of the nicest produce stands I had ever seen. Terrific color breaks in the display and row upon row of fresh, appealing fruit and veggies.

(Movie: Montreal Metro 0:41)
We took the Metro back to the Hotel where we ran across Jim. He was sitting in a quiet corner reading. Karen wasn't feeling well so he had left the room to her so she could nap. We suggested dinner and invited them to come by our fabulous new room before the evening cocktail hour. He accepted subject to Karen feeling better.

We watched the soft rain continued to fall on the square and the Cathedral across from our view window. I sat at the desk and typed. Cat curled up on the couch with her computer in her lap and worked on her journal, too. At a few minutes after five our door bell rang. We gave Jim and Karen a tour, we shared a glass of wine then walked, looking for the perfect place for dinner.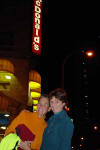 Like a magnet, we were drawn back to Rue de la Commune. The rain had driven the street performers away but the wonderful character of the street remained. We chose French place called Le Modalvie. The live music from upstairs was piped down and filled the room as we ate, drank and enjoyed conversations of the road.
August 23, 2002
Montreal to Berthierville
Not so early to bed but early to rise. We were to meet Neil, the camera man and his crew at 7:00 AM. Funny how time flies when you're trying to do too much in too short an amount of it. Our plan was to have the bags completely packed, do the shoot have breakfast then hit the road for Quebec.
LandRider decided to get some footage of us to use in their next Infomercial. They hired Neil and a couple others to get the job done. We met them in the lobby. I suggested coffee and a conference but Neil was under tough time constraints because we missed yesterday so we went directly to the harbor.
It was a picture perfect morning. We sang the praises of the bikes and rode back and forth with the skyline of Montreal in the background. Neil had us ride to Rue de Commune. We pushed up the now familiar walking street and they took a little more footage of us riding on the cross street above in front of the city hall.

Neil was anxious to get going but I held them for just a moment to take a quick video. Rosalind held our camera but only got a shot of Neil's camera. We would have no pictures of him, Gordy his technician or Rosalind. I should have checked the tape and had her do it again but they were all extremely anxious, Neil got a phone call and said, "That's it, I've got to get to my next shoot." A quick hand shake and they were gone.

(Movie: LandRiders Film Crew 0:26)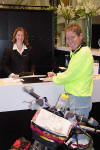 We took advantage of our last complimentary breakfast at Place du A'rmes. Rosalind came in, found us and said that she just felt badly about rushing off. We shook hands again, hugged, and she rushed off, again.

As we began down Notre Dame there was a picket line walking around the fountain where we had just posed for the LandRider video. They marched in a circle and talked among themselves. I couldn't stand it, I had to get a picture.

(Movie: On the Picket Line 1:17)
023 Strike mpeg 061 On the Picket Line 024 Montreal City Hall 025 Cobblestones to Church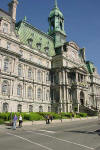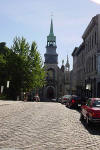 The road from Montreal to Quebec was to be Rue Norte Dame, all the way. Getting out of town was tough. Traffic was heavy and the road bumpy and narrow. We struggled until I needed a toilette stop and a Tim Horton's came along. There were a couple of old guys who asked lots of questions in thick accent of French. They did tell us that there was a bike path on the other side of the street. It was hidden behind a burme but only went a few blocks, winding through apartments and industrial buildings then we had to cross back to the right side of Notre Dame and ride the sidewalk.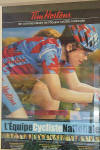 Due to the problems I've with spokes, I didn't stay on the sidewalk too long. It was bumpy and each cross street brought a 2 inch curb jump. I would grit my teeth and go but finally decided to just take my chances in the street. It must have been at least 15 Km before we finally broke out into the countryside.
Two towns with religious sounding names, Repentigny and L' Assomption almost ran together in a blur for us. More city streets but less traffic. A short ride in countryside then we stopped for a bite of lunch in St. Sulpice at a Casse Croute, sort of like the Chip Trailers we had been seeing between Toronto and Montreal.
Now we were definitely in the French territory. The menu on the wall was in French and English but the items on it were all French to us. I ordered what I thought was a chicken sandwich, Cat played it safe with a toasted cheese. When we got them my chicken was smothered in Mayonnaise and lettuce, served in a hot dog bun. I ate it but ordered another toasted cheese sandwich to supplement.
I felt the rear wheel begin to wobble and knew that I had spoke problems, again. Three more broken spokes, that brings the total to fifteen. Almost all of the inside eighteen have been replaced. We came upon a small village called Lanoraie and pulled into a Mini Mart. The lady inside understood Toilette but was at a loss as to what we were asking when we tried to find a bike shop. We were just walking out the door when another woman drove up. The clerk came out and spoke to her in French. She told us that there were no bike shops there. I asked about any nearby but the best we could find, in the phone book, was one back 10 Km in the village of Lavaltrie. Hating to back track, we were just about ready to wobble on when the woman called to a man sitting in her car. He got out, listened to the story of our dilemma and said, "You wait here."
They drove away and in just a few minutes he reappeared in a red pickup truck. I took the wheel off, we threw it in the back of the truck and he drove me to Lavaltrie. The bike shop there was well stocked. I had meant to take some of the spokes Dan at Chelsea had given us but forgot them in my haste. The shop had stainless steel spokes in stock.

Lavaltrie Sports is a family operation. The Father and Mother, Robert and Christiane run the counter. Their two sons, Pascal and Charles do the repair work. They took the wheel down into a cellar.

Alaine Perreault, the kind guy who had driven me, stood and talked. He and his wife own the little Store where we had met them. I told him that I had owned a store in a small town, Boron, California. He said that it hasn't been a very good business for them. His wife runs it and works there 15 to 20 hours each week. They have two kids, a boy 15 and a younger girl. The boy is in to sports and the girl, music and dance. Although they own the store his main business is Construction. He has his own firm, A&A Construction. He does rehab, room addition and new construction. He was a really nice guy and patient, too. It took about an hour for the boys to get the spokes replaced and the wheel trued. I offered to pay Alaine, he just smiled and shook his head, no!

(Movie: Alaine to the Rescue 0:22)
Surprised, we found ourselves in Berthierville in just an hour. Our first stop was the SAQ store. We had visited a SAQ store in Montreal so we knew what to look for. The gal at the LCBO was not correct when she told us the liquor stores in Quebec Province would be LCBQ. Her mistake was that the official language here is French. Therefore, the Liquor Control Board is called the Societe Alcohol Quebec.

It was almost 2 kilometers off our route to the Days Inn, the only hotel in town. It wasn't the Place de A'rmes but it was shelter and for a lot less money. The clerk spoke great English, the kind we love that is full of French accent. She told us the few possibilities for dinner. We decided on a Chicken Restaurant just across the street. It was almost like fast food but good food. Our server was a very cute young French girl. She worked hard to satisfy and understand us.
Our nightcap was one of the two free drinks that come with the room. The bar was about half full of beer drinkin' cigarette smokin' truck drivers. We shared the glass of wine, observed and then headed for bed.
August 24, 2002
Berthierville to St-Anne de la Perade
The flags were flappin' pretty good at the car dealer across the street from our Days Inn. The included petite dejeuner was toast and cereal but it suited our tastes well. This would be our next to the last day of cycling on the North American Continent. We were starting to feel excitement and pride in our accomplishment.
I have been working with Jennifer at Great Canadian Travel Company. She has most of our trip to Greenland set to go. It will cost a lot but this is what dreams are about. There are few roads in Greenland so we will travel by plane and boat. The bikes will hit the ground as much as possible and it will be a great adventure.

After a fairly quick 30 Km through countryside and a couple of small villages we came upon Yamachiche. It's a very European looking town. The banners tell us that they are celebrating their 300th anniversary. The celebration starts with garage sales. Almost every yard has things stacked out and priced to sell. There are cars cruising and parked everywhere. At the City Park we heard music and were drawn in by the number of people milling around and a big circus tent. The music was recorded, a guy who must have been the Gran Organizer would talk on the speakers. Telling about the Artists Booths and other attractions, we assumed. Although we felt like strangers it was a nice, small town celebration and we enjoyed being a part of it for a few minutes.

(Movie: The Artists of Yamachiche 0:40)
The wind was friendly but cool. The road was flat and in fair condition. We made good time into Trois Rivieres. This town of Three Rivers is the birth place of our adopted Mom, Celeste Epstein. Born here 87 years ago, she asked if we met anyone who remembered her.

The cool tail wind continued and it remained our friend. As we left the village a cycling couple crossed in front of us as they crossed the highway. They are Marie and Bernard Berube just out for a ride through the countryside. Though limited by language, we did find that they loved cycling. She wants to get retired in another 9 years and take a long bicycle trip. Maybe not around the world but one of a long duration that gives meaningful feelings and results. We loved talking with them.

(Movie: Cyclists Marie & Bernard 0:48)

Riding fast made us hungry. We spotted another Casse Croute and pulled into the gravel lot. There was a couple sitting on the porch. We took a seat at the porch railing and said hello to them. Another couple with a teenaged son came up and took a seat to our left. We began talking with the couple. Lucie and Michel were fun to talk with. He has traveled much of the world and spent 18 years in Africa. When he told us that, we asked and he shared lots of information that would be helpful for us when we get to that point of our Odyssey. Lucie is a nurse but travels and checks on hospitals and clinics to insure that they are clean and well operated. What a nice couple. They really took to us and our trip, too. As they were leaving we asked a guy seated nearby to take our picture.
That led to a conversation with him and his family. They live in Grand-Mere, the same town where Michel and Lucie have a place. He speaks English, English. He told us that he was born and raised in Ottawa. One of his Grandfathers was English the other French. The relationship between the two was strained. His English Grandpa called his family "Pea Soup French." We didn't get it, Lucie tried to explain by saying that they would call the English something that meant that their Mothers didn't know how to cook.
The Williamson family, Dad Alan, Mom Sylvie and son Adrien all ordered Poutine. They tried to explain the dish to us. We chit chatted then rode on. They honked and waved as they passed us by. Amazing how close you can feel with people like this that you meet for the first time just a few minutes earlier.

(Movie: Poutine 0:48)

Many of the bridges here are metal grating to keep ice from building up in the winter. They are tough to ride a bike on. You feel wobbly and wonder about the effect it is having on the tires. We came upon one that had a grating design that really made the bike feel like they were almost out of control. I have always hated to ride on them and this one was no exception.

(Movie: Weird Bridge and Elvis 0:29)
It was more flat and farm land. Our wind continued to cool but was with us all the way. We arrived in St. Anne de la Perade at 4:30 took a turn where we saw a small sign and ended up on a narrow street, almost an alley. Cat had called ahead when we found that this was the only Motel in town and the girl told her to pass the big church and the Motel was next to the cemetery. We could see the spire of a large church but no cemetery. Then down a really narrow dirt alleyway we saw a Motel sign. Since it is the only one in town we felt that it had to be the one. It was on the main road, the sign had taken us down the back street and to the back door.
The Motel reminded us of Wamsutter, Wyoming. The room was a little better furnished and the Restaurant was adjacent instead of a half mile walk but it was definitely a workin' mans Motel. The Restaurant had a counter with stools and 8 tables. The non-smoking area was the first 4 tables closest to the door. We took the table next to the door. Almost immediately upon being seated a guy came in and sat at the bar just across from us and lit up his cigarette. So much for the non-smoking area.
At the table adjacent to us a couple sat nuzzling and kissing. After while we got into a conversation with them. He is Michel Guimberteau, he introduced her only as Liz. He is a Chef, retired from one of a large Hotel in Western Canada. She worked as a Meat Cutter but has taken medical retirement due to her arthritis. When I told them that I had been a Meat Cutter she asked if I had arthritis, She asked in French through Michel as she spoke no English.

Michel wanted to retire in California but his savings and pension doesn't match the cost of living there. The trade off is that he lives near here in St. Germain La Riviere and endures the winter cold that he hates. He seems a little angry at the system but then he has another glass of Rouge Wine and laughs about it.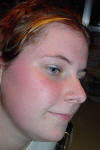 The young girl who Cat had talked with was our waitress. I think her family owns the place. She had a diamond in her nose so I asked if it bothered her. She didn't quite understand the question, thought about it then said, "No eet does not bother."
Early to bed and early to rise, we finish our ride into Quebec, tomorrow! We are almost melancholy about it. We sat and talked about the places we've seen and the people we've met. Cat say's it is a lot harder physically than she thought it would be but she loves it. I knew what to expect and have found it to be DREAM perfect. I'm older now so the mornings are a little stiffer and sorer but my love for the road remains young.
August 25, 2002
St. Anne de la Perade to Quebec City
Karen and Jim had warned us of the hills of Quebec and today we met them. It was a beautiful day and the wind was there to help us up and over most of them. This is the most hills we have seen since Minnesota. The Saint Lawrence was always there, like a guide to Quebec, off to our right.
One particularly picturesque placed is called Port Nuef. We think it means New Port although the houses and buildings look old to us. Maybe it was new a long time ago? As we rode through a guy on bike passed us then took off down the hill that drops back down to River level on the east side of town. I tried to catch him but couldn't. When we did finally overtake him we were amazed to see that he looked like he was in his 70s or 80s. he was all bundled up and had a strange rear view mirror that stuck straight up a foot above his handlebars. We bid him hello as we passed but he just stared. It was hard to tell if it was a language problem or he was miffed that we caught him?

(Movie: Beautiful Port Nuef 1:06)

(Movie: Down & Out of Port Neuf 0:55)

City riding, 4 boys raced us for a long way. One had a cigarette clenched in his teeth. I gave him our card as we rode, they started talking then gave up the race and fell back then stopped. I wanted ice cream. No luck.


Rode in, along the river at 2:30 and into a Chinese Festival. Long Boats raced, Jean Marie and Mariette Cassette tried to explain in French. We met a gal, Gisele Royer on her bicycle.

(Movie: Cycling with Gisele 1:26) We asked direction to the Hotel. She told us that she and a friend had just completed an across Canada, 2,000 Km cycle trip to celebrate her 60th birthday. She became our guide, circled us around the beautiful Train Station then took us directly to the door of Hotel Saint-Paul.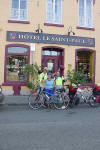 (Movie: Celebration Chine 1:00)

(Movie: Dragon Boats 1:02)

Clerk, Richard, was a terrific guy, a cyclist who is crazy about our trip. When we came back down to dinner he had already seen the web-site and had a lot of questions.

(Movie: Cycling with Gisele 1:26)

Dinner at La Peche Veniel, the small sin. Family seated next to us from England now living in Toronto. The two red headed boys, Jack and age 7 ½ and Dan. The Dad, Colin and Mom, Ronit were very good at letting them have freedom but reeling them back in when they got to the edge of control. Jack told us that his Dad lost his job in London because the company went bankrupt. We had a great time with them. They each took a turn taking pictures with their new digital camera. They loved a video of themselves. They insisted on coming to our room to see the bikes then Dan decided that they shouldn't go without Mom. I left our credit card to pay the check but that wasn't security enough for Dan. He then went back and got Ronit, so she could see the bikes too, he said.

(Movie: The Minchons 0:42)
August 26, 2002
Quebec City

It was cool and windy as we walked up into old Quebec and had breakfast at a Boulangerie. We chose a seat inside because of my allergies and just enjoyed listening to the beautiful sounds of French language and smelling the coffee and fresh baked bread. The place was like an original French flavored Starbucks. Coffee is served in big bowls. We had baguettes with jam, very French.

Our friend, Richard helped us find a coin Laundarie and recommended VeloTek bike shop. With the laundry spinning, we lunched at a small Café across the street, put the laundry in the dryer and walked to VeloTek. The owner, Paul Trepanier, is slight of build with the exception of his legs. They look powerful and he is proud to tell us that he cycles everyday to work and home. He was wearing a red shirt with a large yellow Star on the chest. It is

the Vietnamese flag. I asked if it was the old or new Vietnam. He went to Vietnam and met his wife while there just 4 years ago. It is the current flag of Vietnam and he is leading a bicycle tour there in the spring. He has just recently bought his first car. Before marriage and two children, he had no use for one. Now, his wife works and needs the convenience. He loved our story and decided that he would take the bikes and give us priority.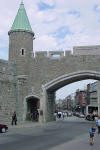 As we walked back a voice called out, Pat, Cat. We couldn't believe our ears. Maybe we heard incorrectly? Again the woman's voice called out, Pat and Cat. It was Lucie and Michel the couple we had met at the Casse Croute four days ago. We got cheek kisses from her and hand shakes from him. What a coincidence. They are in the hotel next to ours. What are the odds of our paths crossing in a town like this, of almost three quarters of a million people? We made a plan to meet them the next afternoon for drink.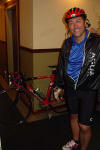 I talked with Richard at the front desk of Hotel St. Paul. He is hot on the web-site and loves the story. He wants to just take off too. He has a bike, he said, "I paid 5000 bucks for eet but aven't reeddeen much lately because we play too much of golf and soccer. I really began to like him. He confided that he had been in an ill fated romance, when she broke it off, it hurt. He made a gesture like tears on his cheeks. He is a sharp guy and I felt there was a reason he was working front desk in the Hotel. He had owned two restaurants but sold them as the relationship crumbled. He spent some time traveling then his friend who owns the Hotel St. Paul suggested that he get his mind cleared and work at the same time.
We cycled and pushed up the big hill, down small streets and through city traffic to Velotek. Paul is detail guy. He explained the problem with the wheel as combination of problems between the rim, spokes and hub. He thought the best hubs were from a California company, Phil Wood. I was able to get them on the phone and we ordered two.
We walked back down St. Jean Street and checked the adventure store for cold and wet weather clothing. They were more a hiking and skiing store. We bought a couple of bottles of wine for us and one as a gift for Richard to repay him for all of his help and for his enthusiasm about our trip. He was a little shy about taking the wine.
Richard had recommended Portafino Italian. He was off at 3:00 PM and out to play soccer. At almost 7:00 as we prepared to go to dinner at the place he had recommended he knocked on the door. He had his expensive bike with him and was wearing cycling clothing. He invited us to join him for a concert. We told him we would try to make it, after dinner. What a great guy.
Dinner at Portafino was another treat. As we entered and were being seated I used the restroom. A guy at one of the other urinals said something about having to spend our time making pee. He had had a few and it was obvious he was enjoying himself. When I asked if he lived here in Quebec he told me the name of his village but said his brother lived here. "He are a tween," he said as he struggled with English. "I are his tween, too."
"You are triplets?" I asked.
"No, no, he is twin to me."
"Identical?" I asked.
He looked perplexed then I said "Are you Paternal or Maternal?" in my best French accent. He laughed and told me that they look alike. When I went out I saw the other brother at the bar so I stopped and said, "How did you get out of the toilette so fast?"
He said, "No, no, you has seen my tween brother."

Francois walked up and the three of us, he Patrick and I had a good laugh. As it turns out there last name is Van Doorm. They aren't French at all, they're Dutch, raised here in French speaking Canada.
The crowd was boisterous, the food great, too. Even the music, was excellent. I asked the guy to play any Jacque Brel song. He said, "I don't know him, I am Spanish. I asked him to play Malagena so I could tape it for our friend, The Guitar Lady, Teresa. He was going on break and we were leaving so it was not meant to be.

(Movie: Spanish Guitar 0:19)
We are really enjoying these few days of opulence. I kid Cat that we will be eating Whale blubber and seal meat next week and we'll be glad to get it.
August 27, 2002
Quebec City
Cat moves around, I sit glued to the computer screen. She went out to her now favorite Café for Latte and croissant. We ate at the end of the bed and watched CNN news. Then she walked to the boat dock and bought tickets for our trip back up river to Montreal on Friday.
I remained at the computer trying to complete the journal while she went out, bought and brought back sandwiches, another meal huddled at the end of the bed. Our goal is to get prepared to head for Greenland and I would like to have the journal entries of our Continental crossing completed.
A look at the computer and a call to Airborne made it clear that the hubs were not to be at least not today. Since the September 11 incidents freight across the border has become more and more difficult. They say that the hubs are held up at Canadian Customs and won't get here until tomorrow morning..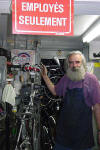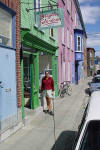 The long walk up our favorite hill, lunch and a stop at VeloTek. We met the guy Paul calls The Gentle Giant, Yves. According to Paul, Yves is patient and builds wheels better than anyone can. Paul had recommended a printer to do some cards for us. They agreed to get them done before we leave. It seems less expensive to print here than to have our Ventura printer do them then mail them. Paul's printer Leroy-Audy was just a block further up the street from the old bike shop.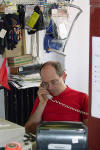 Pierre, had talked with Cat. He took us right in and immediately scanned one of our card. Within 15 minutes he had an exact duplicate of our card up for approval. They would have them ready by 10:00 in the morning. Of course the people who worked there became interested. We mentioned that we needed wet weather pants to cycle in Greenland. They didn't know the bike shop that Paul had recommended but they felt sure that we would find everything we wanted at Vie Sportif. They even called a cab and told the driver where we wanted to go. He turned out to be a gem of a guy. He drove cab in his youth then worked for the government. He retired and again drives because he feels that staying home doing nothing is a waste of his time. He likes what he does and he likes to visit with his customers. He liked us but had a terrible time finding the place then waited and even took us to another place nearby. All to no avail, we couldn't find anything that met our needs.
It was almost 4:00 PM and we really had to hustle to get back for our appointed meeting with Michel and Lucie. We met him in front of the Hotel next door to ours and sat out front watching a spirited game of Pitanque, similar to Bocci Ball. They have steel balls that they throw and try to knock the others out of the point area.

(Movie: They Play Pitanque 0:19) It was sort of fun to watch and Michel knew a little about it and explained the rules. Cat went to get warm clothing. Lucie drove up and sat in the car while Michel talked with her. It was obvious there was some sort of problem. Michel turned and explained, she had been in a rush and fallen as she got to her car from her meeting. Her knees had bled through her pants. Her hand was skinned, too. I suggested that they come to our room so she could clean up before they drive home. It was a different end to the day together than we had pictured but we did have time to talk and share her trauma. The four of us stood at the door of our room and did the French hug then kiss, kiss on the cheeks and they were gone.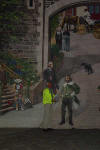 Our pal, Richard, recommended the restaurant, Poisson A'vril. It was just a block away and specialized in seafood. We both enjoyed a wonderful bowl of Bouillabaisse. Après dinner, we walked to the Funicular and rode up to Chateau Fontana. It has a feeling of the past and stands like a monument there in the lights.

(Movie: Reechard 0:49)

(Movie: No Strings Attached 0:20)
August 28, 2002
Quebec City

Another breakfast in, muffins and café from across the street at the vegetable market. We walked over but the stalls of the main building weren't open yet. We took them back to the room and again used the bed as our table. We enjoyed the French feeling as we watched CNN news again, too. After eating, Cat went to drug store and bought toiletry necessities like tooth paste, etc. while I pecked away at the journal.

Another walk up our favorite hill to the bike shop and a talk with Paul. Still no hubs but they have completed all of the other items on our list. We had the handlebar risers changed to a curved model to give more hand position possibilities. Disappointed that the parts weren't in, we left for lunch at a nearby , very cool Tex Mex place called Que Pasa. The food was almost like gourmet Mexican.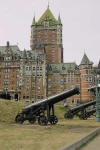 Paul again told us about the best bike store for clothing. We took a cab to Bike store, bought ear covers and shirt for Cat but couldn't find waterproof pants that fit. Grabbed another cab to big sporting goods store we had seen yesterday. There, finally got rain pants with zippers on legs. We may still have to find warmer clothes in Greenland but we're outfitted for pretty cold and wet days, now. In fact we kind of made a pact that when it gets too cold and/or wet for the clothes we now have we will seek shelter until the storm passes.

More frustrating calls to Airborne, the hubs were held up in Montreal, they had missed truck. When I complained that we had paid extra for one day delivery the woman with a cold voice told me that they never guarantee one day service outside the USA. Her voice did warm a little as she promised them by 10:00 tomorrow.
On a cost cutting evening we chose Pizza for dinner then walked up and down St Jean Street. Passing a very tourist looking store we were drawn in by the sounds of a button accordion and fiddle. They were played in the Cajun style over speakers. The group is called La Bottine Souriante, I think the guy said it meant, "The Boot That Smiles." He didn't have the one that was playing but gave us a sample of several others. I asked if other stores would have the one playing called Anthologie and he said we could get it at the record store across the street for a lot less money. Not a great employee but an honest young guy. We went across and I bought it, just like he said, for more than 1/3 less.
Back at our room, we played it, loud, and thought of our days with Acadiana and Terry.
August 29, 2002
Quebec City
Breakfast in again. Cat walked to the corner Patisserie for Coffee and Croissants and we ate again, using the bed as our table. The hubs hadn't arrived, as promised, when I called at 10:00 AM. Another call to Airborne was another lesson in frustration. The lady assured me that they would never have guaranteed delivery by 10:00 then after a bit of bantering she checked and said they should be in by Noon.

Cat was having her own problems with FedEx. Her birth control pills were held up in Montreal. The Customs Office inspected to see if they were illegal drugs. The girl at the desk helped and they finally let them pass but too late to get them to the Hotel today.

She was so frustrated she went walking while I wrote in the journal. She brought lunch back with her. Another meal at the end of the bed meal.
Another disappointing call to the bike shop at 12:30, still no hubs. Then an even more disappointing call to Airborne. They tracked the packages then called the local Purilator Manager. He only told them that the truck was out and the package would be delivered sometime before 5:00 PM. Of course I tried to be persuasive and not argumentative but it was tough. We were on the edge of leaving town and the bikes would be in terrible shape for Greenland. The woman was patient to a point then just sighed and said, "Sir, we are doing the best that we can!"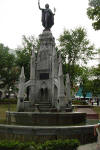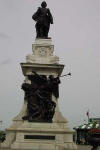 Now we are both waiting to see if our packages arrive. We walked up to the Frontenac Hotel while we waited. It was a beautiful day for walking and taking pictures. It was a terrible day to be driving in a car. The traffic was in major gridlock almost through the city. Even the horse carriages were caught up in the mess. Our walk took us to the top of the old wall. Quebec is the only walled City in North America. On the way back we met another cycle tourist, Omar Acosta. He has ridden across some of the US and Canada. He's from Colombia. We didn't quite understand his brand of English but it didn't sound like he had cycled all the way up through Central America and Mexico. He was in the doorway of the Youth Hostel.

We'll have to try a stay at one, one of these days. Lots of interesting characters drifted in and out as we talked.

(Movie: Ancient Transport, Ancient Wall 0:21)

(Movie: Quebec Troubador 0:40)


When I called the bike shop at 4:00 the hubs had just arrived. Then the biggest disappointment of all, they wouldn't work, they were too wide to fit the ring for the Auto Shifter and the sprockets onto. Oh well, or C'est la Vie, it is the life. I made the best decision possible under the circumstance. We would go with the new rims and spokes on the old hubs. They would install new bearing, seal them up, box the bikes and hope they could get it all done by quitting time tonight.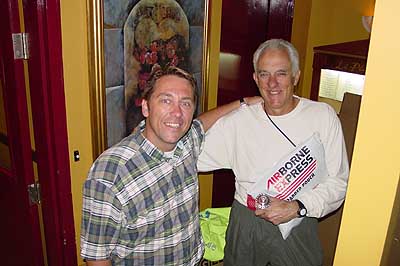 We thought that it would be too late to get a box of things we had packed into today's mail. Richard checked and found that the Post Office was open until 5:45 PM. Cat taped the box while I completed the pictures of our Canadian on a CD to send to Wally for posting on the web. Cat rushed to get them in the mail.
Some very nice people in a very busy Restaurant helped us squeeze in a very fast dinner.


Yve and Paul worked and finished about 8:00 PM.

(Movie: Gentle Giant 1:18) We walked in just as they were closing up the boxes on the bikes. He had a problem and couldn't get approval on our credit card. Walked to bank and got cash. Paul arranged a van cab, Cat crammed into the back and we took them back to St-Paul. Unfortunately, Hotel St.-Paul has no luggage room. We had to take them up the elevator, drag them through the hallway maze and into our room.
We jam packed and finally got to bed at 12:00.
August 30, 2002
THE LONGEST DAY, QUEBEC CITY TO GREENLAND
We were both filled with anxiety during the night. Partly due to the big adventure we will begin today and also that fear of oversleeping and missing our boat. I awoke at 5:00 AM as the first light of day made its attempt to begin the new day. We thought we would have plenty of time but it was 6:30 before we were loading the elevator and hauling bags and boxes down to the street. Our Cab was a little late. The driver complained when he heard we were only going to the boat dock, a few blocks away.
Because we had experience, we told him about Cat sitting in the back seat and placing the bikes in the middle. His cab was stuffed and we rolled through the awaking streets to the Vieux (old) Port. He was able to drive out on the sidewalks to the gate. He continued to complain but worked hard helping unload. He mentioned again how most Cab Drivers would hate this job. He had driven 10 Km to pick us up. I gave him a generous tip, he smiled big and said, "Merci, merci beaucoup."

Cat got us a coffee and muffin, I stood guard over our worldly possessions. This is another Russian ship. One of the very Russian crewmen emerged and went to a water faucet on the walkway below us clad only in pants. He washed his face then upper body and retreated back inside. I think the crew must live on board. At 7:15 a young girl came up the steep gangway and opened the gate. The other passengers, lined up. There were three older people, two girls who looked like partners and a couple with nice looking bikes. He was carrying a back pack.
We were last on and may have held up progress a bit. I carried all of the bags down. Each trip required an equal and more difficult climb back up. As I brought the first bike down one of the guys asked if I needed help. He took Cat's bike and the young girl carried the box with the front wheels in it.
They made the announcement of departure a we finished stacking everything near our seats. The boat shuttered and sputtered when they started the Russki engine. It idled rough but smoothed right out when we began to cruise out of the harbor. Almost all of the few passengers sat near us in the bow area. The cyclists were just ahead of us.
I introduced us to them. She spoke only French but his English was good. They are going to Montreal then cycling back to Quebec. After conversation about their experiences and our adventure Cat asked if she could pay him to use his cell phone. She wanted to call FedEx to try to have her pills delivered to the Airport. I felt it was too late and a useless waste of his phone. When Cat told him of her dilemma he brightened and said, "I am a Doctor, I can write a prescription for you.

Another strange quirk of fate, Dr. Michel St-Cyr was soon leaning on the space under the front window writing the prescription on a sheet of paper from the little note book I carry He and his wife, Renee' are pretty avid cyclists. They live and his practice is located in Chicoutimic, Quebec, Canada. He is a General Practitioner. He had worked in Emergency Rooms for 7 years before starting his practice.


I typed on the barely visible screen and worked on catching up the journal. It is a 4 hour ride with one brief stop at Trois Riviere then pushed through the water into Montreal. We posed for pictures with Dr. Michel and Renee', they were off to cycle at least 20 Km and we waited for a cart to assist in taking our bags and bikes up the steep walkway and out to the street. The girl in the booth for the hydrofoil called then told us we would have to wait 10 minutes. We waited and waited, she called again. She said maybe they were busy as it was Port Security that would help us.
Interesting, we were at the very same dock area where we had ridden back and forth then stood and talked about LandRiders, as the camera rolled. It was just a few days ago yet it seemed like weeks had passed. Time definitely hasn't stood still!

A motor scooter with a little pickup bed came down the ramp. We stopped him but he told us he had to pick up some people. Cat whined and he said he would come back .
As promised, he did come back with 3 people and baggage on the scooter with him. He waived and yelled out that he would return. Cat went up to the top to look for another scooter. Piere-Luc, the young driver, returned as he said he would. We loaded the bags and he took me and the huge load to the street. We passed Cat on the way. He became so interested in our trip that he drove right out onto the edge of the road and helped unload.

A couple on bikes, pulled up and asked if the boxes had bikes in them. Cesar Escobar and Crystal Maun are from Seattle. She is going to the same University that Noel, the recumbent cyclist goes to. He is her boy friend. He drove all the way out to see her and to pick up her dog. He will take the dog back to Seattle but for now they are cycling and at this point, helping other stranded tourists.
Cat had walked across the street to call a cab. She was met with a less than enthusiastic attitude by the clerk. The girl could see our pile of bags and asked, when Cat told her we were going to Greenland she lit up. As they talked she became so enthusiastic that she gave Cat a Canada bottle opener and called the cab.
When the cab van pulled up the driver took one look at us and we thought he was going to drive away. He asked, "Is that all of your luggage?" When we affirmed he said, "You will have to pay extra!" I agreed so he backed onto the sidewalk and opened the rear door. We discussed how to get the bike boxes and all the bags in. He sort of pushed me aside and started taking one of the small seats out. As we carried the boxes, Cesar and Crystal began to help. An act of kindness in the face of a disgruntled driver. Once loaded we crammed Cat in the back again and were off.
Cat asked the guy if he knew of a pharmacy we could stop at on the way. Again, he was grumpy but agreed to take us to one. When he pulled over Cat jumped out and I stayed with him. As the clock ticked he began to get impatient. He said, "This will take at least 10 minutes, I will have to charge extra."
I went in to check on progress, Cat was at the counter trying to get the Pharmacist to take Dr. Michel's hand written prescription on a piece of scratch paper. They agreed and said it would take 10 minutes.
When I told the driver he sighed and said, "I knew it."
I stood in the shade of the building with him. He asked where we were going with all of the strange luggage. I told him of my dream to cycle in Greenland. He couldn't believe it. He softened and asked more questions. When Cat came out she couldn't believe the change in his attitude.
When I gave him our card he asked me to sign it. As he drove toward the airport he told us that he wasn't going to charge extra. He began to tell us about his wife and two kids. He is from Lebanon originally and has lived in Montreal for more than 10 years.
He formally introduced himself, Belal El Harrache, and told us that his wife and kids were visiting family in Lebanon and he had plenty of room at his house if we wanted to change plans and spend a few days with him. He even threw in the fact that he had a Piscine, swimming pool. Though tempting, we couldn't possibly change our flight plans now. Also, Greenland was getting cooler every day.

We were like Belal's new best friends when he got the bags out and loaded them on a cart at the Airport. After a heavy handshake and a hearty farewell, he drove away, waving and honking.
Strange how the story of our Odyssey can change the way people think and feel about us?
Wouldn't it be a good thing if we all acted toward each other as if us we were all special, no matter what or who we are?
The heavy overload of luggage was a burden. We were lost. Cat asked for directions at an Air Canada desk that said "Express" above the gate. The woman, Jurate, would turn out to be a gem of gems. She gave us plastic bags and explained, "If you can get all of your loose bags into two of these it will qualify as your two pieces of luggage. I have also bags for the bikes. If they will fit in two bags we won't have to charge you extra for those, either.
It was a struggle and when we pulled them over for her to tag she tried to lift the largest then had me set it on the scale. "If it exceeds 32 Kilo you will still have to pay extra," she explained as though she would hate to have to take extra money from us. She beamed when the scale ran up to 30.8 Kilo. I wondered aloud how much that would be in pounds so she pushed a button and converted it to 68 lbs. Wow, I threw Cats bags on and they ran up to 48 lbs. One hundred and 16 pounds and that didn't include the computers or one each of our front panniers that we were carrying on. I think that is another 30 pounds! EEE GODS, throw in my 200 pounds and it's no wonder I'm breaking spokes. Cat has said all along that she thought that I was carrying 80 and she 70 pounds. I think she may be right! WOW!!!
By the way, Jurate, a person who really knows her job and cares about the customers, probably saved two ignorant travelers like Pat & Cat as least $400.00. Was it the luck of the draw or are we just 2 extremely lucky WorldRiders ?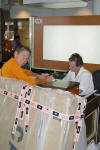 I stood and waited while Cat stood in line and presented our bills to the Tax Refund Department. I got pretty tired, it must have taken an hour. They grind you down. She had to go down stairs and have all of the receipts stamped then back up and to another line. Finally they calculated the taxes we had paid and which they would refund. Then, another line to get cashed out. $192.00 Canadian, that's $121.00 US Currency. They tried but she wouldn't be discouraged. Just a word of advice, when traveling in Canada, keep those receipts, it adds up.
Finally at 6:00 PM we were on the way down the gangway and off to GREENLAND!
---
We thank each and every one of you who have visited WorldRiders2.com. Yes, it is our story but what good is it if it doesn't get told? We feel blessed to have the opportunity to live our DREAM. You being along with us is a bonus! Keep those e-mails coming, we LOVE THEM.
The real ADVENTURE begins in GREENLAND, stay tuned for details about the people, the places and of course, lots of pictures !!!!!
PAT & CAT