Posted on 10/7/02

August 30 and 31, 2002
The two day, day!

The flight from Montreal to Boston (6:30-7:45 PM) was just one of those slightly more than an hour necessities of life for WorldRiders2. Dallying as we departed, we saw the baggage handlers gently throw our bikes off the conveyor. We were on the ground in Boston for about an hour and a half. We had wine and Chinese food at the airport then boarded. We were glad that the bags had been checked through to Iceland.

The flight to Iceland was 5 hours. (9:30 PM-6:30 AM)

The crew of Iceland Air was all business, from their coat and tie look to the way they rarely smiled or carried on a conversation with mortals such as we.

It was 6:30 AM when we departed the plane at Kevlavik, Iceland. Bus ride into Reykjavik took 40 minutes. We were at the National Airport by 7:30. There were a couple of young guys headed for the Youth Hostel. I asked the driver if that was near the shopping street. He answered yes but when the two guys got out I thought it looked like we were miles from town. He had a hard time understanding my English. Again, I asked about the Shopping Street and he said, "Okay, okay!" Then he shut the door and away we went.

It was the shopping street all right but it was deserted, cold, damp and deserted. We struggled with the weigh of our computers and little small front panniers that we carry our clothing and toiletries in. About two blocks of window shopping and we were ready to find coffee and a warm place that serves breakfast.

A woman came out of an apartment building and got into a car down one of the side streets. I walked down to her, she rolled the window down and I asked if there was a restaurant for breakfast nearby. She sat for a moment then said it is far away, get in. I called to Cat, we crawled into the back seat and she went out of her way to deliver us to Hotel Reykjavik. I offered her some money for gas but she just smiled and shook her head, no. Café Kim took up the downstairs corner and we could see people at tables inside through the steamed up windows.

Cat asked, "Where's your pannier bag?" The Good Samaritan was a block away, I ran down the street waving my arms and shouting. Ready to give up and turn back, I saw her brake lights then she turned around. She didn't realize the problem. I was glad she had good eye sight.

We asked to store our bags and Bragi, the clerk showed us a room at the end of the counter. Then he asked our room number. We told him we weren't guests and we thought that would be a problem. Then he shrugged his shoulders and went back to his work.
Breakfast was a buffet. I enjoyed most of the things they offered. Cat just had coffee and ate an International muffin that we had bought yesterday in Quebec. Mr. Kim, the owner is Korean. I asked how he came to live in Iceland and he said, "It is a long story. I try to go to America but could not then came here. I didn't like it so much but now it has been eighteen years."
I had been in Iceland in 1988 and cycled the south coast. This day would be full of memories of the place, the weather and the other difficulties that make up a whole different story. Because Cat hadn't visited before we took a city tour. The woman who would be our guide was tall, thin and at least my age. The fell as she came out the door to board the bus. Embarrassed but undaunted she went through the paces just as she has for the past 32 years. As we passed near the road that I had ridden so long ago a cyclist with bags strapped on came by. He was wrapped in winter clothing and riding toward Hofn, the route I had taken, so long ago. He looked cold and lonely, I knew that feeling on that very same road.
It was 4:10 PM when we lifted off from Iceland on the next leg of our epic voyage to get to Greenland. We had already passed it by and would now go to Denmark before turning around and coming back. The flight took 3 hours and we landed at 9:10 PM Denmark time. We got a lady cab driver and threw the bags into the back of her station wagon. Cat forgot that the paper telling our Hotel name was in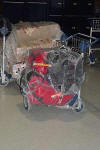 one of the bags. The lady opened the back again and as Cat dug around looking for it the cab driver behind became impatient and yelled for us to move. I looked back and said, "Be patient, we will go soon" He became angry and yelled things I could only imagine. I stepped toward him and said, "Aye aye mon Capitan, you are the Captain, we do what you say." He made a move like he would get physical but his customer held his arm. He said a couple more remarks that had to be insulting, if understood then our driver spoke to him and we drove away. A fiery start to our day in Denmark. The moral of the story is, "Don't yell at people who have been flying all day, no matter how old they look. They fire up quickly!" It was 11:00 by the time we got to our Hotel.
September 1, 2002
One Day in Copenhagen-One Day with Friends
Jet lag, we were up slowly up by 10:00 AM. We just barely made the included breakfast which was pretty good. It would be a stay in and type kind of day for me. I wanted to finish the text for the Canadian edition of the journal and get it to Wally.
Cat did the chores, shopping for a few essentials and a trip to the Laundromat.
I talked with Uffe Kristensen. He is the brother of Helge, and uncle to our Danish Family. We arranged to meet for coffee with Paul Eric and Bette, his friends that we met when we traveled here 2 years ago.
They were there on time. We met in the lobby and walked to the old Cattle Market area that is now the Red Light District. Lots of porno shops and hookers on the corners. Uffe says that the biggest problem is the drugs. We saw about 20 people, mostly guys, in the yard of the old church. They come for free food and maybe help according to Uffe.

It was fun visiting with the three of them. Paul Eric and Bette had to leave to attend a meeting. We walked with Uffe to a Thai Restaurant nearby. During dinner he convinced us to use his flat when we return from Greenland. He is a very quiet, generous guy. His voice sounds like Helge but that is the only similarity we can see. Not that Helge isn't generous, he is, but he is more outgoing and definitely not shy.
We walked back through the streets after dark. They were beginning to fill with those who sell and those who buy. It was a nice time, talking with Uffe and filling up on Thai Food.
September 2, 2002
Backtracking to Greenland

Our friends convinced us that the best way to go to the Airport was on the Train. They leave every 20 minutes but to get there and have time to collect our baggage and make the flight we should be on the 8:00 AM train. I got hung up on trying to answer e-mails before we go and it was 7:45 by the time we got out the door. We still had time but had to hustle. I chose the shortest ticket line and it turned out to be a problem. A group of students were having trouble finding enough money to get their tickets. Perhaps the line was short because the other people there could tell what was being said? After waiting for 5 minutes I jumped to the next line and finally got the tickets. We ran but were sure we had missed. A train stood at the platform with doors open. I asked a guy inside if it was the train to the Airport. As he said yes, the doors began to close. I jumped in and the door closed on me then opened and both of us jumped through. We had made it!
Everything was familiar feeling at the airport. We quickly found "Left Baggage" and they released our bikes and bags even though we somehow had lost the tickets.

On time departure, and we saw our bags and bikes make it on board. The SAS Boeing 767 is a spacious feeling plane. It was clean, the crew was nice and the food was good. The movie, I AM SAM, was a tear jerker. Cat couldn't watch it and I only watched the end. Of course the mentally challenged guy got to keep his daughter, and they all lived happily ever after.
Flight time 4 hours 50 minutes. We left Copenhagen at 10:05 AM and arrived in Kangerlussuaq at 10:55 AM. Yes we were flying with the 4 time zones.
It was cold, not freezing cold, but cold and breezy crossing the tarmac. The area is barren, like a desert. Funny, it has a familiar feel like Palm Springs. The main difference is that this place makes it tough for life forms because it's too cold. That's the opposite end of the thermometer spectrum from PS.

(Movie: Cold Cat 0:26)

Since we will fly out in the morning we just left the bags and bikes in luggage room. Cat asked a guy at the tourist desk how far it is to the Hotel and town. He laughed and told her, "This is the Hotel and there is no town, this is it. The large Hotel was there, right there in the air terminal. Cat showed him our voucher and he said, "No, no, you're in Tuttu." We were staying at a Hostel. He called and Soren picked us up in red van and drove us to the Hostel, about 1 Km from airport.

(Movie: Rough Ride to Tuttu 0:29)
Soren had us wait in the employees coffee room of the Hostel while they made up the bed. A woman was braiding another's hair. Several local, Greenlandic people were playing solitaire. They were talking and laughing, I decided to get a video clip of them and their voices. I tried to be nonchalant and start with murals then I was going to include them. The minute the camera started to roll the group hushed and watched.

(Movie: Strange Staff Room 0:17)


Our room is across from the shared toilet and showers. A basic, twin beds and TV on satellite feed.

We walked back to the Airport. We couldn't cut across the runway so we walked around the end of it. A strange, swollen looking plane landed as we walked. It would turn out to be a Beluga, aptly named because it looks like a Beluga Whale. It is the work horse that brings in lots of the needed freight to Greenland. There were skinned quarters of fresh killed Musk Ox lying on a porch in the cool sun. There was a small store that had basic groceries and wine. There is no town, only Airport. This is a former US/Danish AFB. The Hostel was a barracks building Though we have a shared bath, we are the only guests upstairs. Downstairs is a group of Danish students.

(Movie: Home Sweet Home 0:46)

I went looking for glasses for wine and a knife for our cheese. The teachers were relaxing in the kitchen down stairs. They showed me the glasses and silverware. One, who spoke very good English, told me about the great adventure the kids were having. They had visited the Ice Cap and camped there the night before. There was another couple staying here from the States. They were quiet, maybe on a honeymoon? They rented bikes and went for a ride. We could see them as they went out across the bridge over a small river and up the hill on the other side. She had to push. Cat felt sure that she could have ridden it.


We walked to another barracks building called the Musk Ox Hostel looking for Internet Café we had heard of. It didn't open until 5:00 PM but we did meet Greenland Postal Supervisor, Harry Holm. He is an inspector who travels to outlying offices making sure they are operated correctly. He told us that all of the Santa Claus mail arrives from all over the world at the Nuuk Post Office. Nearby there was a place called the Polar Bear Lounge. It is for employees only. They don't, in fact the can't sell to tourists.

(Movie: A Walk in Kalgerlussuaq 1:04)
Wine and cheese in the room then we walked back to Hotel again for dinner in restaurant.
The Waiter, Greenlander Gustaf Broberg, was sort of offended when I questioned the cost of wine. Almost like if you have to ask the price you probably can't afford it. We had a Chilean red he recommended, about $45 US and just okay.
Four German guys, Eberhard and Bernd Bauerschafer, father and son, and Joe Muller and Manfred Rittlemann were seated at the adjacent table. We started a conversation, they too were on a great adventure, ferrying 2 Cessna 172, small private planes, to Germany. They left Chicago 4 days earlier, had flown 40 hours, Sault St-Marie, Canada to La Gran Riviere then Frobrisher Bay then the Baffin Islands, Igiluit and from there to Kangerlussuaq. They were enjoying a big meal and wine. Other than expenses paid by Aircraft Broker they are just doing the trip for fun. Tomorrow they will fly to Reykjavik, the next day Dublin, Ireland and finally back home in Stuttgartd. Doesn't sound like fun to us but they felt the same about our bike ride.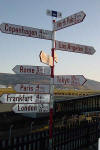 They had been delayed a couple of days in the US because they needed 75 gallon auxiliary fuel tanks added to the planes. Add on tanks have been outlawed in US since Sept. 11. Fear that someone will add fuel and crash the small planes into buildings. They carry enough fuel to fly 12 hours. Most of their stops are 10 hour flights.

As our meal progressed I tried to order Musk Ox Steak that was being served in the Coffee Shop. Gustaf was again, almost indignant but as we talked with the pilots he sort of joined in the conversation then really wanted to know more about our trip. Finally he was giving us extra glasses of wine and two different kinds of dessert. Educated right here in Greenland. I would have thought he had gone to school in Europe. His English was very good and he had the air of a waiter who had worked in Three of Four Star Restaurants.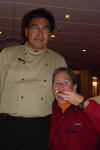 We took the Van Bus back to Hotel Tutu. It cost 10 Kroner each, about $1.25 for a 6 block ride. (They use Danish Kroner as the Home Rule Currency here.) Yes it will be expensive here but the ride was worth the cost. It was dark, cold and windy.
September 3, 2002
Off to Narsarsuaq
We took first bus, 8:00 AM, back to Airport. It was full of workers and students. Passed terminal and stopped at airport baggage and mechanical first to drop workers then school for students, finally Terminal.

Flight time, 10:45 AM, we had breakfast in Airport Café and watched the German guys take off for Iceland in their little planes. They would be at the stick, non-stop, for another 10 hour day. When we checked the bags, SHOCK, they only allow 20 kilos per passenger. The two bags weighed 52 kilos. I had estimated the bikes at 70 pounds? They charged us for a total of 98 kilos less the 40 allowed. The cost would be about $500 US. I argued, went to the office and tried to bargain to no avail. We paid. This was traumatic but wouldn't be the last big $$$ surprise we would encounter.

(Movie: Wheels Up 0:53)
They fly 4 engine turbo props, they're called Dash 7, we think they said they're made in Germany by Fokker? Took pictures from the window of the ice cap.

(Movie: The Edge of Ice 0:32) The 55 minute flight was on the ground at 11:40 AM.
The flight drops into Nuuk for an hour and 25 minutes. We had a "cup o noodles", found a live plug in and worked on the computers while we waited.
Nuuk to Narsarsuaq departed at 12:30 and arrived at 1:55. The best news of all was that everything made it and the bags and bike boxes were still in one piece. It was pouring down rain, we ran across the tarmac in a half inch of water. The baggage handlers got the heavy bags and bike boxes in and onto the revolving luggage belt.
Once I had them all gathered up we were in a quandary as to what to do next. We asked how far it was into town and again learned that this was the town. Only 150 people live here year round. Another Air Force Base converted to civilian use. Cat talked with the bus driver then told me that he would put the bikes and bi bags in the luggage compartment and we could ride to the Hotel.
Loaded, the bus rolled all of 300 yards, made a left and we were there, Hotel Narsarsuaq. The room was about $100 US per day. It was small and had twin beds, a TV and desk. Typical Danish style or maybe we should say European style toilet with shower.
We took the bikes out of the boxes and were disappointed to find that my rear tire hadn't been changed. In fact it was flat! We began to wonder what else had been overlooked, intentionally or un.?
There is a hallway and sitting room just down the hall. The lady at the desk suggested we work on the bikes there. As I began putting them together I was joined by a guy, Lars, from Denmark. Soon both he brought his bicycle out and began to work on the brakes. He and partner, Michel are entered in the Greenland Adventure Race. They are really nice guys. We told them that when they win, they'll be famous. Lars said, "I am sort of famous already in Denmark, I'm and actor." We would learn later that he was very famous and had starred in a TV series. Maybe he is still starring and playing the part of a Sheriff in a small town. He and Michel have trained for a year preparing for this race, they're very serious about it.


We were joined in the hallway by a couple of local guys from Nuuk. One, Malik, works with Greg but the job has ended. The other, Jan (Pronounced John) is here as an official with the Race. He is an expert for travel on the ice. During the first leg of the race they will run across the glacier.

(Movie: Who's Idea Was This? 0:46)

(Movie: Get a Boot 0:14)
Another interesting character in camp Narsarsuaq is Greg Barnes, a Consulting Geologist. He is from Australia. We decided that of all the people who speak English with an accent, he is the toughest to understand. He is just waiting out his time to leave for Copenhagen on Saturday.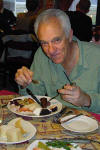 Dinner in the restaurant upstairs was unique. They were catering to a large group of teachers. We thought they were going to turn us away. The problem was not exclusivity but rather a buffet only menu. It worked out great for us. They had some of almost every kind of Greenlandic food available. We couldn't tell what was what because the little cards at each station were written in Danish.
The group began to sing songs from books.

(Movie: Song of Food 0:50) It reminded us of our Company Christmas Parties. They even had an Ole Olson, well a guy who played guitar and sort of led the singing. There were a group of young people here, also. They thought the old songs were smaltzy. One of them even took the guitar and sang a Norwegian love song. The young ones started to wave their candles like fans at a concert do with their lighters. The older ones like the game and joined in.

(Movie: Greenland Gala 0:21)

(Movie: Greenland Tabernacle Choir? 1:05)

(Movie: Norwegian Love Song 0:36)
I even convinced Cat to stand up and sing a couple of verses of Jambalaya. The guitar player kept on after we finished so I grabbed her and we did a little Cajun Two Step just like our dance instructors, Jimmy and Carrie had taught us. The crowd loved it, they clapped and cheered, even the young ones.
September 4, 2002
Repairing Broken Bikes
Lars introduced us to Helig, (Henry) the local Police Officer as we went down for breakfast. When we told him we were going to the ice he insisted that we come to his office and get two pair of Steigeisen, spikes that fit on over your shoes. He had us meet him at his office and demonstrated how to put them on. He also gave us the map of the first stage of tomorrow's race. It has the rode we must take to the glacier on it. We had to promise to return the Steigeisen today and to make sure that Lars and Michel didn't see the map. Also he told us to bring the Steigeisen back and if he wasn't there to leave them on the porch. That way he will know we have returned safely. He suggested that we could take the bikes part of the way but would have to walk then climb to get to the ice. His estimate was 5 ½ to 6 hours round trip.
Instead of heading straight up to the ice I worked on the bikes. I really had a tough time trying to get the auto shifter to work on my bike. Finally I decided that the frame had been bent while it was in the shipping box. I had them together but when we did our test ride the shifter was hitting my spokes. I needed a washer to get the space between the wheel and frame correct. The guy at the desk had no parts but directed me to the Mechanical Shop. I used Cat's bike to ride up to the place.
The place seemed deserted then a in a huge new Mercedes truck drove up and backed in. He was on his cell phone. (Almost everyone here seems to carry a cell phone and they use them often.) When he climbed down from the cab I asked for a washer. He spoke very good English and asked, "Where is your wife?"
I was surprised that he asked and told him she was at the Hotel. He smiled and said, "I saw you dance last night." We got a good laugh together about that.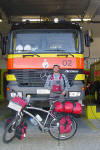 His name is Hugo Swensson, he was a flight engineer with Greenland Air but they started to cut back and wanted to send him to an even smaller place and pay him less so he gave up flying and began working as air craft and equipment maintenance here in Narsarsuaq. It may have been the cause of his divorce. He told me that his wife thought he spent too much time with the kids, his son and daughter so she left. I told him that I thought the time may be better invested in the children. He agreed. He is a single parent but seems to be handling it pretty well.
By the time I finally got the bike back together and working we didn't feel that we had enough time to get to the ice and back so we took the Steigeisen back and left them on Helig's porch so he wouldn't send the search and rescue people out looking for us then we rode out toward the glacier. The paved road makes a loop around a small lake. To continue onward is to ride on big stones. We went for about a half kilometer then turned back because it was too rough on the bikes. A group of six racers passed us and went on out but soon gave up in fear that they would break their bikes before the race even starts.
We have light packs on the bikes. We're carrying our tent and bags as well as cooking equipment. Our plan is to ride, push, pull or carry the bikes through the rough around the local sound to a sheep farm on the other side tomorrow and spend the night there. With that in mind we stopped to see Jackie, the guy who owns Blue Ice Café which is a local travel store and not much of a Café. Rebecca, a volunteer, here for the race, is watching the store while Jackie helps set the course for the event. We looked at maps but she couldn't really help us. She was sure that Jackie would be back about 6:00PM.

Just for fun we rode down to the harbor where we will depart on boat in two days. It was sprinkling rain and a little windy but not really to cold. We walked to the grocery store for snack food and wine. There we met two brothers, Alibak and Salik. They are Tourist office Managers in Qoqortoq and Narsaq. Cat also talked with a Doctor Torbin. He comes to Greenland every 2 months and gives the children here physicals and medical checkups.

(Movie: Salik & Alibak 0:21)
It was getting late. We showered then had a little wine cheese and bread in the room and went up for dinner. It was completely different from last night. We sat alone, the room had less than half as many people in it. The food was a smaller version of last night. We capped our evening with a huge plate of ice cream.
September 5, 2002
The Greenland Adventure Race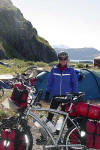 Jet lag had us sleeping late. We rushed through breakfast in order to make the start of the race at 9:00 AM. As we left the Hotel, Greg, the Australian Geologist told us he thought they started at 11:00. Cat was sure we had good info so off we went. It was just us, there at the starting line. Greg had been correct. The weather had taken a turn for the better. It was still cool but bright and sunny. The racers all sleep in a camp now. We wanted to wish Lars and Michael good luck but they rode out with a camera man as we arrived. We rode out toward the glacier again and stopped at the maintenance shop where I introduced Cat to Hugo.

(Movie: Cat Cycles Greenland (0:37)

(Movie: Pat Pedals Greenland 0:31)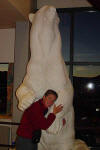 We were at the starting line early and watched the contestants arrive and get ready to go. The gun sounded and the First Leg of The Greenland Adventure Race was underway. We rode out and took some pictures and video of the runners as they jogged along the paved road. It was a beautiful day, cool but clear.
Jackie was in at Blue Ice Café so we stopped and made arrangements have a farmer meet us tomorrow at the river and take us and our bikes and bags across. Also he called the family who run the sheep farm across the Fjord. They will host us tomorrow night. We will pass through Qassiarsuk the ancient Norse Village. The village is purported to have been established by Viking, Eric the Red in 985 AD. He is the fellow who chose the name "Greenland" for the island. This is the exciting adventure we are looking for. It is only 50 Km but on dirt roads and at times only a path. We may have to carry the bikes and bags at a couple of points. It will be an all day ride, we stay there then Jackie will pick us up at 9:00 in the morning and bring us back in his boat.
After lunch we went back to the Starting Line to cheer the runners as they returned. While waiting we saw Salik again. He may be a good guy to know when we get to Narsaq. He is a very nice guy whether we see him again or not. Also we met a girl who works with him named Ivalo. She too speaks good English.
It was a bit disappointing that our friends Lars and Michel didn't win the first leg. A Danish team finished first. Michel had a fall on the ice and hurt his ankle. He limped back and they finished in the middle of the field.
We rode up and down the street, anxious to get our adventure underway. Also, we shopped for food to take with us. The farm supplies no food or breakfast only, we weren't clear on that? We took the chicken and other goodies back and had the Hotel keep them in their refrigerator.
All of the contestants gathered in the Cafeteria so we drifted in and had Pasta at a table nearby. They were getting instructions for tomorrows cycling leg of The Greenland Adventure. Greg, the Aussie Geologist joined us. He is a great story teller but hard for us to understand sometimes. His Consulting business has taken him all over the world. His stories include lots of near misses and escapes from danger. Pretty interesting when we can cut through the Aussie accent.
He tried to make an appointment with the traveling Dentist while she was having dinner. She told him it depended on the weather. The Weatherman has predicted rain and wind. If it is stormy the kids she is here to see won't make it in and she will have time for him. We told him we hoped that he would miss out because we have a great adventure planned and don't want inclement weather to lessen the thrill.

Ivalo came in and told us that she had visited our web-site. We made a big deal of it because she is the first Greenlander we know of that has. The athletes left immediately after dinner for tomorrows briefing. We drifted off to our room and soon to sleep.

(Movie: Ivalo 0:39)

(Movie: Crazy Guys 0:38)
September 6, 2002
Rain, rain, Go away….

We had to hustle to get to the starting line by 9:00 AM. The guys, Lars and Michel were there but we didn't get to talk with them. The gun sounded and they were off. They rode so fast there was no reason to try to go along with them. It was starting to spit down rain. We met with Jackie and he asked us to delay our departure from 11:00 until 1:00 so they can see what will happen with the weather.

(Movie: Rough Riders 0:54)
Back at the Hotel, I got the Airport Weather person on the phone. He was less than optimistic. The Latest report he had was heavy rain coming into the area and winds up to 23 knots. (He thought that would relate to 30 MPH.) He recommended against going out in what could become a very big storm.
After lunch we walked back to the Blue Ice Café in pouring rain. Jackie said he would not be involved if we tried to go. The river is swollen and the roads are all mud. The wind hasn't started but he still thinks it will. I could have cried and Cat was disappointed, too but why risk life and limb? This is a very isolated area. We would have no way to communicate and if we were marooned or hurt it could be hours before we would be found. OUR BIG ADVENTURE WAS CANCELLED.


The next few hours were spent hunched over our computers writing about missed adventure. Cat ventured out for wine and bananas about 4:00 PM. Still no real wind but the rain continued to pour. The only good news was that the rain warmed the air. It felt like 50 to 60 degrees. The unreliable digital thermometer over the door of the Hotel said 16 but we don't trust it and we don't know how to convert the number to something meaningful to us.
Greg came by our room and filed his report on the visit he made to the Dentist. His mouth was numb. He told us that she dropped the drill bit into his mouth. It was a funny story though I felt he may have exaggerated, slightly?

(Movie: Artic Dentist 0:47)

(Movie: Scrambled Satellite Porn 0:36)
It was so wet that we didn't even go back up to meet the athletes. We drowned our sorrows in the bottle of wine then went upstairs for dinner. As we entered Cat heard a couple speaking what she thought sounded like USA English. We had our dinner then stopped at their table. Yes, he is from Arizona and a Professor at Preston University. She works here on the ice at a scientific station. We suggested a glass of wine in the bar when they finished dinner.

Greg and the Dentist were in the bar, together. Apparently he had gotten over his misgivings about her service and was buying her a drink. The couple, Steve and Kathy did join us. She has worked here on the ice for 8 summers. Unbelievably, she spent the past 7 winters summering in Antarctica running a similar scientific station. She's from Montana and said that winters come naturally to her. I figure the job must pay pretty well and-----where do you spend any money?
Funny, she met Steve while attending Preston. She signed up to work Antarctica because she could get a free ticket to New Zealand. He was working there studying a deep water fish they had discovered that had blood with similar properties as that of anti-freeze.
September 7, 2002
Off to Narsaq and a Meeting With Death
It was cold and the air was full of rain. After a lively breakfast with Greg and others, we decided to get dressed for the weather and see our pals off at the airport. I asked, to confirm again, that our boat would leave at 3:30 for Narsaq today. The lady at the front desk looked at a schedule then said, "Yes the Saturday boat leaves at 3:30 PM.
The rain gear worked great. We felt warm and dry as we watched the plane for Copenhagen lift off. I was still disappointed that we hadn't been able to go to the Sheep Farm yesterday. The predicted winds had failed to show but the rain was a great deal more than normal as the guy from the airport had said. Our athlete friends were running again today. They had a remote start and would run over a mountain and finish in Narsaq.
Funny, as we turned back toward the Hotel a naïve looking guy, another Aussie, walked out of the terminal and asked, "Where's the town?" The same question we had asked just a couple of days ago. We felt like locals as we explained that this is it and then directed him toward the Hostel.
We rode back to the Hotel. As we pulled in a bus full of tourists was leaving. I went to the desk and asked where they were going. "To the Boat, I guess," said the Front Desk Lady. I asked if there was a house to wait in there since they were going 3 hours early. A guy who also works at the Hotel said, "No, they are not early, the boat leaves at 1:00 PM" A little verbal debate erupted in Danish, between the woman and guy. He won, she said she had been mistaken, it would leave at 1:00.
Panic! I yelled at Cat to get her rain clothes back on, we had just 20 minutes to get to the Harbor and on board. We peddled hard through driving rain but made it. In fact they held the boat waiting for some people to get there.
The crew was very good at helping us get the bikes up and over the side of the boat and a steep set stairs to the top deck. Then we were caught up in a glitch. They had no record of us having reservations or that we paid. We had our itinerary with a confirmation number but it did no good. We had to pay 400 Kroner for the trip and they would also charge us 400 for the bikes. Cat was really upset. We finally decided to get going by paying then ironing it out later in Narsaq. The boat was loaded, mostly with Danish Students on an exchange program. They were typical teens. Boom boxes blared and they ran around in the aisles. They were in and out the door, taking pictures and getting wet. It continued to pour during the entire 2 ½ hour trip. Though visibility wasn't great, we did see lots of floating ice and little water falls along the shore.

(Movie: Qassiarsuk 0:54)

We asked about the tourist office as we disembarked. The guy on board told us that it was closed. The crew, again, were very courteous and helped us get the bikes off of the boat. It was easier than when we boarded because the dock was level with the boat. As we pushed across the street a Greenlander looking lady, Dorothe, told us she was the owner of the Hostel. Cat had talked with her husband on the phone. The Hotel and Hostel both have rooms available. Cat had told the husband that we would probably choose the Hostel as it was less then ½ the price of the Hotel. It is shared bath but the husband had told her that we would be the only people staying there.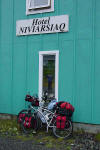 Dorothy pointed to a large teal colored house up the hill and said, "The green one is Hostel." Cat asked, just to confirm, that we would be the only guests staying there. Dorothy got a soft look in her eyes and said, "A young man from Holland will stay, his Father has died."
We rode up the steep grade and leaned the bikes against the wall. Dorothy opened a window upstairs and told us to bring them inside. The rain had almost quit by then but we were glad that we could keep the bikes inside. Dorothy is a treat. She laughs easily and smiles the rest of the time.

(Movie: Chateau Pat & Cat 1:02)

(Movie: Number One 1:02)
After we had spread our wet clothes out we rode the naked bikes to the grocery store. We got enough to cook in. Wishing for a bottle of wine was all that we would do at the store. The girl said, No wine from 1:00 PM today until Monday morning. When we asked why she answered, "The Government Ministry have decided and the law must be same for all peoples." A weekend moratorium, probably due to the huge alcohol problem we've heard about. As we passed the Hotel we stopped to see if we could get a bottle of wine from them. They were closed? We decided that the sign said, "Open at 6:30."


We were determined to cook in but what is dinner without wine? Cat started setting things up to cook then we walked to the Hotel. As advised, they were open. We sat at the bar and introduced ourselves to the bartender. It turns out that he is Dorothy's husband and the guy that Cat had spoken with on the phone. They own both the Hostel and Hotel.
We talked about cycling to the ice. He said it is possible but we must be careful. A girl, 25 years old had been killed by flash flood waters just today. Then he said, "Her Boy Friend is staying at the Hostel, too." Oh Boy! That's a completely different circumstance than meeting someone who's Father has just died.
He had a very nice French white, we drank a glass each then took the remainder back to the Hostel. Cat was cookin' while I put the pictures of today's boat ride into the computer. She went to the bathroom and walked in on a guy. They were both startled. It was Ruud, the boyfriend. He came into the kitchen and talked about how everything seems unreal, like a dream.
Cat heard a faint knock on the patio deck door. She opened it and in walked a guy that Ruud knew. His name is Marcin and he speaks with a soft English accent. I asked where he was from and was surprised to hear, "Poland." Marcin, too, is a trekker. He had met Ruud and Sonja, Ruud's girl friend out in the hills. He had just heard of the accident. They spoke as only comrades who share dramatic experiences can. It seemed to be helpful for Ruud. When Marcin asked where, Ruud got maps and they compared their paths these last few days. Ruud talked emotionally about how he and Sonja had walked back and forth looking for a place to cross the swollen river. When they finally made a choice they decided to leave their shoes on for better traction. They were holding each other by the arms and were about midstream when Sonja fell backward. Ruud tried to hold on to her but she slipped away then he fell. He caught her foot and held for a while but couldn't hold on and she slipped away and under the rushing water.
It was hard to grasp the emotion, despair and even guilt that Ruud was going through. I have had a lot of death around me but never felt someone slip away, out of my grip, like that. The room fell silent for a long time then we slowly brought the conversation back to the issues at hand like family and logistics. Ruud has spoken with Sonja's Father and he is coming here on Tuesday. They are dealing with the Insurance Company to have her returned to Holland.
When I asked how her Father had taken it Ruud said that he was calmer than his own Father had been. Martin left, we sat and looked at the map for a little while then slipped off to our rooms. When we wished him good sleep he said, "Yes, I hope."
September 8, 2002
We adopt Ruud and become his Greenland Family
Disappointment, it was still raining when we peaked out the window at 6:30 AM. Not pouring down like yesterday afternoon but a pretty good drizzle. I did last night's dishes and cut fruit while Cat heated bread and made coffee. We insisted that Ruud join us. He was reluctant but hungry, I think. He seems more resolved to reality this morning. Calls from Holland have already been ringing in regularly. As we ate the talk turned to how it felt good to have family with you at times like this. Cat and I told him that we had adopted him and would be his Greenland Family.
The third stage of the Greenland Adventure Race will shove off here at 9:00 AM. We talked until we thought we would miss it. Riding in the cool damp air was a real wakeup call. We got to the cliff above the harbor just minutes before the gun sounded to start the Kayak leg. All 16 teams, 32 combatants, were in their boats and at the ready when the shot rang out. We saw Lars and Michel, Cat yelled but they were intent and didn't look up. As they paddled out sirens sounded and the volunteers and spectators cheered. They headed out to sea.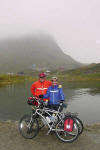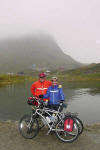 Back at the bikes, a woman approached and started conversation. Her English was pretty good, we think she said that her name was Eva Becker. Her husband is a teacher. They have been here for 7 years. She retired from the grocery store last year and is living in Denmark most of the time, now, to be near her children.

(Movie: Eva Becker 1:07)
Eva told us we must see the Church. The Tourist Office at the bottom of the hill hadn't opened yet so we took her suggestion. The Church is Danish, of course. There was a guy lighting candles, he didn't look like a Minister so we took pictures under the sign asking that pictures not be taken during services.


Three young boys came out of the Toilette and surprised us. We surprised them too. They giggled and laughed. We took a picture and little video. They really laugh when they watched themselves. The little area is very picturesque. As we turned to leave, the Church bells began to toll. We stood on the hill, listened and loved the view.

(Movie: Church Bells Ring 0:22)


Next stop, the Sunday alcohol free Grocery Store. We bought soup and rolls for lunch, cereal and milk for breakfast and fig cookies for desert. They didn't take credit cards, we really had to scrape. Our hopes for a boat ride faded when we found that all the boats had gone out with the Greenland Adventure Racers.
As we rolled down toward the water the temperature seemed to plummet. Cat even donned her head band ear cover. Cold doesn't affect the beauty of the place, in fact it may have enhanced it.

Back at the Hostel, we made soup and worked on the journal for hours. Ruud was just leaving with Marcin for the Police Station. When he returned he had Sonja's back pack. He immediately began to spread her things out on the floor of his room. We sensed that he was churning inside so we insisted that he stop and have some of our left over soup. He asked Dorothe if he could hang some of Sonja's things on the clothes line. We were all close to tears as he carried her personal clothes out and hung them, one piece at a time.

About that time a new guest, Eric also from Holland, walked in. He was a perfect addition. Ruud had someone who he could talk with in his native tongue. There has to be some comfort in that and Eric is a soft spoken, nice guy. We told him that we three were going to the Restaurant and invited him. He declined at first then asked if they had beer. When the answer yes came back he changed his mind.
The four of us walked to the Hotel and enjoyed a good meal with conversation to match. It was good for Ruud to be with friends. We bought Ruud's dinner as any good adopted parents would. The three of us used our best effort to raise his spirits and keep him from blaming himself.
I have known those "If only—" feelings. I sold my brother Jerry my Motorcycle and he crashed it in less than a week. We were only 18 months apart in age, he was 19 and I barely 21. Also, I lost my son, Ron when he was 19. I knew the sting of death and the feelings of remorse and guilt that could ruin your own life, if you let them.
Cat and I sat at the table of the Hostel and talked about what we would want done in the event one of us was killed in some foreign or remote area. She thought that we should just have the body cremated and take the ashes back home. I felt that Ruud had no choice. Sonja's family wanted to see her and know for sure that she was gone. Closure they call it. I told Cat that I thought that if it was feasible I would like to have the girls see what was left of me. They would need to know!
As if to further depress ourselves, we caught a show with family members of victims of the September 11 World Trade Center bombing. They talked about what they went through and how it was so difficult to deal with the loss when they had no real proof that
There is another issue with a death as close to you as Ruud had experienced. I thought of it when he talked about seeing Sonja's body in the small chapel behind the Church. I sold my motorcycle to my brother Jerry when I was married in 1960. He only rode it one week then hit the side of a car. My family was heart broken and I felt guilt. It wasn't until 15 years later, that I would learn why the guilt stayed with me for so long. The instructor of a seminar told us that many people see a loved one after their death feel guilt as they look at their body. They get an overwhelming feeling that they are glad it wasn't them who had died. That bursts into a rush of guilt and they feel almost like they wished for the others death. I remembered the moment that I saw Jerry and had that same feeling he described then the terrible feeling of guilt that welled up inside me. I didn't realize it at the time but it was as though I was thrust back to that moment when he explained what had happened. It lifted a great load from my shoulders to realize that was the basis of the guilt I had harbored for all those years. I decided to talk with Ruud about that in a few months.
September 9, 2002
Home Cookin' with Paul and Monika

"Sunshine came creeping cross our doorway today." We were up and out. This was our chance to get a boat and make a trip to the face of the Ice Cap. I called the tourist office and got the name of a guy, Peter Lindberg, who runs a small boat. He had the motor torn apart but would be ready to go by noon.
We biked to the Tourism Office but it was still closed. We biked back up the hill then saw a van pull in to the office so we coasted back. Paul was a treat, he spoke great English. He circled all the places Cat needed to go to like Boat Office, Bank and Post Office. I stayed and he let me use their computer to pick up e-mails and send the text of our Canadian adventure to Wally in Colorado. This is what a Tourist Office should be.
Cat came back in about the same time as Paul's wife Monika. We listened to Cat's tale of woe. Her first stop was the Bank, to get cash. A guy out front told her that the ATM wouldn't take her foreign card. The woman inside verified his statement and told her that our credit cards couldn't be used to get cash either. She was so frustrated she almost cried. As she walked by she decided to give the ATM a try and it worked. So much for good advice. Next she visited the boat office. She was still frustrated from her bank experience when the same guy who had held us until we paid to get onboard said we wouldn't get a refund and we would have to pay an additional 200 K for the bikes. Another moment close to tears then she suggested that he should talk with Jennifer the travel agent. He promised he would and asked her to come back later.
The four of us, Paul, Monika, Cat and I really hit it off. When Paul told us that we had a message back from Wally we found a cute invitation to dinner on the machine, too. Of course we accepted.
We had to hurry to catch our boat. A guy walking down toward the water looked like he might be Peter. Good guess. We locked our bikes to a pole and followed him to his boat. It is only a 4 place and is a little rough around the edges but he seems seaworthy. He says he has hunted and shuttled tourists for years in these waters. We stowed our lunch stuff and donned Arctic survival suits.
Peter was proud of his new motor. It was a lot bigger than the old one and the boat was faster. At first it was like any other boat ride. Soon we were in slushy water, the kind of water that freezes you in just a few minutes. Then we could hear pieces of ice scraping and hitting the bottom of the boat. Cat asked how he knew where to steer to get around the big pieces of ice. His answer was disconcerting, "I don't."
Needless to say, we made it. In fact, the day was spectacular from the weather to the time we spent in solitude at the face of the Polar Ice Cap. If a picture tells a thousand words the attached photos must tell a million. This was to be perhaps the high point of our Arctic Adventure? Peter dropped us on some rocks just below the face of the ice and we were on our own there for almost 2 hours. It was a bit of a climb but we were soon touching the ice. We wanted to see big pieces begin to groan then roar as they fell into the soupy sea below us. That was not to be but we weren't disappointed.
We hope you enjoy the pictures as much as we enjoyed taking them. It makes for difficult choices, which stay in and which must go. So few of us will have this opportunity. That is why we feel honored to be able to share them with you.

We stopped off and sponsored a Happy Hour with Ruud and Eric. We figured they needed it. Ruud invited us to be his guest for dinner. We told him we would take a rain check for dinner when we meet him in Holland. I don't think he had even thought that far ahead. We did everything we could to make him smile.
Dinner with Paul and Monika was really a treat. They have a wonderful little house on the hillside over looking the harbor. Paul cooked salmon he says came from the sea just this morning and potatoes from their garden. He got it at the Fisherman's Market and the guy there swore it was still swimming this morning.
They are very industrious, working freelance jobs, painting, building, part time at the Tourist Info Center and now they have just started a Computer Consulting business and are building Web-Sites.


Paul is an ex-patriot born in Huntington Beach, California and raised until he was 8 years old in Anaheim, CA in the shadow of Disney Land. His family moved to Madison, Wisconsin where he completed school then moved to Paris, France to study languages. He was there 4 years then moved to Berlin, Germany. He met Monika there and lived there for 10 years. They began exploring Greenland and loved it. Monika had a dream that one day they would live here. They came on a 3 month visa then extended then bought a house and made the decision to completely separate from Germany and make Greenland their permanent home. They have since bought the house they live in and another to use as an office. Their first house is the little blue one above our Hostel Niviarsiaq that we admire every time we walk in or out of the door. They got each of the three in terrible states of repair and did all of the work themselves.
When it came time to think about doing dishes they refused our help and said that Johanne, their Butler would take care of them. Another laugh, Monika said that Johanne is always on vacation when they need him.

(Movie: Johanne, Where are you? 2:07)
What a great time we had, laughing and talking, telling our tales and listening to theirs. The wine combined with the conversation and meal was a fantastic treat. When it came time to go they said, "You can't walk back on the path without a flash light. They gave us a ride, we hugged then stood and looked at some very dim Northern Lights.
September 10, 2002
Until we meet again!

It was raining, well drizzling, when we woke up. We enjoyed breakfast with Eric and Ruud. They are packing and getting ready for the boat to Narsarsuaq at 1:00. Ruud is very nervous. He doesn't talk about it but it must weigh heavily on his mind, having to meet Sonja's Father this afternoon. Eric told us that they have arranged to have her body flown to the airport at Narsarsuaq. Ruud said that she would be on the plane with him and her Father.
When we did talk he was pretty emotional. He mentioned having to go home and sort through their things. Even talked about joint accounts and her other separate things. It is going to be tough for him. I wrote out the Serenity Prayer on a little piece of note book paper for him.
"Grant me the Serenity to accept the things I can not change…
The courage to change the things I can……..
And the wisdom to know the difference between the two……"
He read it, got watery eyed and said, "Yes, this is very good advice."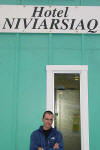 We had planned on riding down to see them off then cycling out the road toward the sheep farm. The rain thickened and changed the plan. We watched as Ruud carried the pink back pack out, he had placed the wreath of flowers on it that he planned to throw into the waters here. (Interesting and maybe a hint as to the feelings of a little community like Narsaq, when Ruud went to the Grocery store the clerk asked if he was the boy whose girl friend had drowned. When he said yes the guy took him to his Mothers Greenhouse and she gave him 2 wreaths of flowers.) It was a pretty sad few minutes for all of us. We shook hands with Eric and hugged Ruud. He and I had talked about how the Russians had never said goodbye but would always say, "Until we meet again." We looked each other in the eye and both said, "Until we meet again." Dorothe drove them off into the rain and out of our lives, at least for now.

(Movie: Dorothe & Ruud 0:34)

(Movie: Loading and Leaving 2:07)
We worked on the journal and watched the rain. About 11:30 the rain slowed and the sun started to peek through. We decided to take the bikes out for a ride. Our first stop was the Tourist Office. Monika had messages from Wally and Charlie. Both were positive. Wally had finally received the CD with the pictures of Canada and would have them up by weeks end. Charlie had figured out the insurance problem on Euclid.

(Movie: Mapping Our Progress 0:52)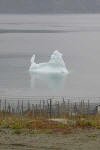 Next stop, the big blue market where we bought sandwiches then sat on a bench near the Fisherman's Market and ate them. We both thought that a bench nearby had fish on it. Closer investigation revealed that the catch of the day on that bench was birds. I took pictures of some kids and the fisherman.
The guy, Jacob, was very friendly. They had talked with Jennifer from GCTC and then decided to waive the cost for our bicycles on the local runs. They also had our tickets and will refund 400 DK at the boat tonight. What a nice guy. What a difference a day makes.
There is an Internet Café on the outskirts of town. It is located in an old chicken slaughtering plant. We decided to try to sort out the dozens of e-mails and answer the most pressing. The place is actually a bar. One guy was pushing a broom, collecting the broken glass and bottle caps. I asked about the broken window and he said that a lover's quarrel had ended in one of them going through the window. The other one, tall and thin, helped us get on the Internet. We just concentrated on family. The cost was fairly reasonable but a long way from cheap.
Yes, we are still on a bicycle trip around the world so we took a ride out toward the sheep farm west of town. The road is dirt and rock. It was slow going. Maybe we made 2 miles, oops that's 3.3 Km. What a beautiful place. I counted 21 icebergs in the bay. We passed a few girls out jogging. A high school PE class?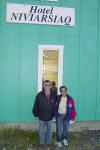 On the way back we picked up more sandwiches and some wine for our boat trip to Qaqortoq then headed back to the Hostel. We packed most of our things and stacked them in the hallway. The cleaning girls told us it was okay to leave the computers up in the kitchen. We had just begun to type when a large group of Danish Tourists rolled in. They weren't going to cook so we got our bags out of their way then went back to our screens.

The best thing we got from the experience was meeting the guide for the group. He told us about a road out of Kangerlussuaq that we can cycle right up to the ice on. It is maintained by Buick and VW for testing engines in extreme conditions. He even had pictures. Beyond exciting, he told us that there is a large herd of Musk Ox in that area.
Suddenly, it was after 6:00 PM. Cat got her things together and took off for the boat. I packed the computer and followed. We had let time get away from us. She was already on board. The same guys that brought us in were there to lift the bikes up and help get them on the boat. What a difference, the salon was almost empty. We didn't miss the crowd. The evening light was perfect for a few hundred more pictures of ice!

(Movie: Narsaq Departure 0:30)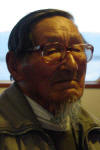 An older Native guy tried to have a conversation. Nothing can be more frustrating than wanting to know what is being said. I felt that he had something to say that he thought was important? Maybe he just wanted to say hello?? Whatever he said will remain a mystery.

There was a guy sitting alone, across from us who liked familiar. He was the Aussie who had wandered out of the airport at Narsarsuaq and asked us where the town was. Greg is a world wide wanderer. He too needed a place to stay. We cycled up the hill, he walked and arrived at almost the same time. He and Cat made room arrangements while I stood guard on our steeds in the cold night air.
September 11, 2002
A Sheep Farm, Research Station Visit
Breakfast is provided at The Seaman's Hotel. A fairly sparse array of cereal, bread and Danish. Oh yea, for the locals there was ham and cheese. We sat and talked with Greg, the Australian guy then walked down to the Tourist Office. It was closed because one of the people was in Iceland at a travel show and the other has a sick baby. Cat asked the clerk in the shop below if we could phone the one with the sick baby as we are just trying to find a Sheep Farm stay. She gave us the Manager's cell phone number and his name. Surprise, we had forgotten that we had met Alibak and his brother Salik in Narsarsuaq. We went back to the hotel and I called him only to get an answering machine.
Cat felt cooped up so she went for a walk to look for Kenneth. I waited for Alibak's call and worked on the computer. It was about 11:00 when she got back in. We called both of Alibak's numbers but just machines to talk with. Never give up, that's our motto. Our last ditch effort before we take the room here at Seaman's Hotel was a call to Arctic Umiaq, the boat company to see if they know Kenneth or have a manifest of yesterday's passengers. A woman answered who could only understand a little English. She asked me to hold then another woman spoke in very good English. I told her we were looking for a guy named Kenneth who was on the boat yesterday and asked if she knew him.
"Yes, of course I know him," she replied, "He is my husband." Her name is Betsy. Kenneth and Betsy, pretty Anglo American names but I believe they are Greenlandic of Danish decent. I was soon on the phone with him and we were on our way to The Sheep Station.
Kenneth met us at noon at the Hotel and told us we would meet Gerhardt, a friend of his who would take us in his boat. Kenneth warned us that he isn't licensed to take tourists so we would do so at our own responsibility. I asked, "Do you mean liability?"
His reply, "You're not a Lawyer are you?"

We quickly picked up sandwiches at the grocery store and headed for the small craft harbor. Getting the bikes down the ramp to the boat was an adventure and a challenge. I took both, one at a time, because the ramp was only about 18 inches wide and had railing only on one side. The water was very clear and looked very cold.
Then, the real challenge, we thought. We had to unload all the bags and throw them to Gerhardt. He stowed them in the V-birth up front then we put the bikes on board. We really should have left some of the bags at Kenneth's office. That was the original plan but when he told us we had to meet the boat at 12:30 we didn't have time to get food and repack bags. It would have made a great picture but we had buried the camera in the baggage.

(Movie: Narrow Ramp 0:30)
As we rode away Kenneth had called out, "There's an Inuk blowing but Gerhardt thinks it will be okay." We could feel the wind, it was really starting to blow. Funny, they call the warm winds of northern in Idaho and Washington Chinook.
That was the last funny thing though. Gerhardt warned us as we left Qaqortoq Harbor that it would be bumpy. It was so rough that a few times we thought the boat might come apart when it crashed down into a trough. It was a half hour of real discomfort. Cat's back was slammed against rail every time we bottomed out. I held her bike away from her feet with one hand and one of the computers with the other. He passed very close to a glacier that was a t least 3 stories high. We were pretty happy when he pointed out the farm lying ahead on the shore.
Then came the next phase of today's adventure. The dock at the farm is a concrete pier that extends out about 50 feet into the water. Unfortunately it is about 10 feet above the water. Gerhardt tied up to another boat. He stood in it and we had to pass the bags and bikes to him. He in turn handed them up to a guy on the pier. Then the last real challenge, we had to crawl across the other boat then climb a rough, rusty ladder that was built into the concrete.

There were a bunch of guys that rushed out as we re-loaded the bikes. A couple of them spoke English. They didn't come down to greet us, they were taking the other boat to a sheep farm further south. Too bad, we would have enjoyed talking with them. A tractor hauled their luggage down and they threw it aboard. A group of young kids ran down to the dock, too. They boarded a boat that was tied up on the other side of the pier. They were a kindergarten class that had spent 3 days on the farm. They were leaving, too.

So, we were to have the place virtually to ourselves. There would be a cook and farm hand but that was it according to one of the guys that had just headed south. We were relegated to the bunk house. The main house and school is a nice clean place. The bunk house has, you guessed it, bunk beds and it ain't all that clean! The main house has running water and a flush toilet. The bunk house has no water and a chemical toilet that is overflowing. Yet, somehow, we would rather be here than at The Seaman's Hotel?

(Movie: Sheep Station 0:42)

(Movie: Tour the Bunk House 1:12)

This place is called Agricultural Research Station Upernaviarsuk. Through out the last decade they have planted several thousand trees as well as teaching sheep farming and cultivation of vegetables.
Dagmar is a cute local girl who is visiting here. She will work here when the cook goes on vacation. She showed us the bunk house and a few other amenities of the Farm.
We got our bags inside then took a little bike ride. We went to the field where the farm keeps its horse, a Greenlandic Pony. A ride up into a plowed field to get a picture of some of the sheep proved to be pretty challenging.
The road to the sheep and hay barn is steep and rocky. We decided to just take a walk up and check out the view. We discovered a graveyard for old farm equipment. There was a young guy bringing in hay with a tractor. Once on top, we found a rode that looks like it goes a ways. If the Chinook slows we'll take a shot at it in the morning.


Dinner in the main house is at 6:00 PM. Dagmar was there and had a great spread of potatoes, meat patties, (my guess was seal) and even vegetables, frozen of course but then, this is the land of the frozen! The strange thing is that we were the only living souls in the big house. She set the food on the table then disappeared out the door. We had our wine and the fine food then cleared the table and watched TV.
The news was all of the day, 911. Yes we are in a very isolated place. We're in a land of only 55,000 people. We are a half hour by boat from the nearest town and it is only 3,000 people. From this distance it all seems so simple, the most militant of the Muslim world, carrying the torch for the Palestinians, carried out an unbelievably destructive plan. The English language portion of the broadcast was very patriotic but have we failed to understand? If we are to give peace a chance don't we have to begin to think of this orb we live on as ONE WORLD?
Pat and Cat snoozed during a Danish language show from 8:00 to 8:30. Dagmar came back and tidied up. We brushed our teeth in the main house then headed for our bunk house. Lights out by 9:30.
September 12, 2002
A Daring Rescue at Sea
We have been alone all morning. It was a self serve breakfast. We couldn't get the TV to work so we listened to CDs. Cat showered in the boy's bathroom first then I took my turn. The phone rang and we ignored it then rang again and wouldn't stop so I picked it up. The girl's voice, Dagmar we assume, said, "Have you talk with Kenneth?"
I told her we hadn't and she said he would call. The wind is howling and the bay is full of whitecaps. When Kenneth called he confirmed our fears. The wind is too heavy to come across from Qaroqtoq. Gerhardt would come but not at 11:00 AM as originally planned. Kenneth did say that the weather report was quite favorable for this afternoon. He knows that our boat leaves at 4:00. He suggested that we take a look at the greenhouse. He asked how the Bunk House was, not too dirty? I told him it was good practice for Africa and he laughed. He said he was confident that we would be back in time for the boat.
Kenneth's verbal tour included the facts that the Lupine and several Popular trees were brought here from Alaska. They are experimenting with several varieties of trees but the Alaskan Poplar seems to do best. I told him that knowing that made us feel closer to home. (We really do feel isolated now.)
We used the time to work on our computers. It passed slowly. Dagmar helped us find some sandwich meat and cheese then retreated mysteriously again to a house nearby. We made grilled cheese sandwiches and ate alone, again. Kenneth called again at 1:00 o'clock. It was looking pretty grim. The wind was still blowing 40 to 50 Km per hour out on the water. As we talked I told him that we agreed, Gerhardt's boat was too small for the weather. I said that I wished it were larger. Kenneth said, "Yes, perhaps I can get a larger boat to come for you?" It sounded like a great idea. He would call back in 10 minutes.

Maybe it was the lack of others or knowing that we were so isolated that made us want to get back. Also, we had to be there by 3:30 to get the boat to Nuuk. Dagmar had told us it only runs twice a week. There is no airport in Qoqortoq so we would either have to pay for a Helicopter ride or wait 3 days. We didn't like either option.
Time moved at snails pace, then finally the phone rang. Yes, Kenneth had arranged for a larger fishing boat to come for us. It came with a larger price tag, too but we really wanted to keep our scheduled Ferry departure and WE WERE READY TO GET BACK TO CIVILIZATION.

We struggled in the wind, getting our bikes and bags down to the dock. Then in the distance we saw our rescue boat and Gerhardt was waving to us. He came out with the owner of the boat. We were glad to see him, a familiar face in an unfriendly wind. He and the Fisherman took the bags and bikes on board then we climbed down the ladder and crawled into the cabin of the boat. It wasn't that big but compared to Gerhardt's it was an ocean liner.

(Movie: Rescue Boat 0:25)


The ride was rough, we bounced around and both got a little queasy. We were glad to see the point and Qoqortoq as we rounded it. The big boat was in the harbor and already boarding passengers. Kenneth helped us unload the boat then stayed and helped me put the bags on the bikes while Cat ran up to the store for a few things to have for dinner. Jennifer had said that the food was pretty simple on board. I asked about his name. He is named after his Mother's brother. His Uncle's family migrated to America where he was born and would later become a General in the US Air Force. Betsy was a different story. Her name is too difficult to remember but she uses Betsy as a nick name.

(Movie: Rough Rescue 0:38)
Gerhardt pulled up in a Fire Department SUV. Besides rescuing stranded WorldRiders he is the Fire Department Commander in Qoqortoq. Kenneth rode my bike and I jumped on Cat's. We cycled up to the ship and Kenneth apologized for the problems. I told him it was an interesting day and we appreciated his effort. We knew that he wasn't a tour operator and I was thinking that he was pretty glad he wasn't at that moment. I struggled getting the computer and tent bags on the bikes, got the last one tied down just as she returned.
Getting on board wasn't easy and once on we were told we had to take the bikes up a flight of stairs. It looked impossible then a couple of the crew members jumped in and we carried them up.
We are in a cabin with four bunks. Normally it would be us and another couple of folks but one of the crew told Cat that we were lucky, because of the wind, many of the connecting ships had been delayed. We would have the cabin to ourselves.
A celebration was in order. We broke out the wine and ate our bread, cheese and ham. This has become our normal diet. It seems to be the only things offered that we like. A tour of the deck to digest then we lay down and relaxed. By 9:00 we were both sound asleep.
I had taken a picture of a young Inuit guy in sunglasses who looked familiar. Another modern looking young guy came by and we talked. No wonder he looked familiar, they were one of the Greenland Adventure Race Teams. He spoke good English. An older guy came by and began talking with him. I was really curious. Turns out the old guy had hunted Reindeer on the hill near here years ago. He was just describing his experiences.
Our itinerary was a little confusing, it said we would be in Nuuk at 11:00 PM. We were awakened by an announcement from the Captain. We assumed that we were coming in to Nuuk. We scrambled and got our loose bags together then made our way to the open door. They had a gangway down to an inflatable boat. We stood in disbelief, how would we ever get all of our bags and the bikes down there? This was the Capital of Greenland, how would all the passengers ever get ashore in a reasonable time?
I asked a group of Greenlanders if we were at Nuuk. They looked and shrugged. I asked again by just pointing out toward the lights on shore and saying, "Nuuk?" They all responded in unison, "No, no, no Nuuk!"

Then a ships personnel member laughed and said, "Nuuk tomorrow night, 9:00 PM." Another young guy in ships uniform said, "Greenland is a very big place you know," and they all got another good laugh. We saw no humor in the situation or in the discovery that we would be on board for another 22 hours. Back in our cabin, we broke out the linen and made up our bunks, we were in for the long journey.
September 13, 2002
The Thirty Hour Big Boat Ride

We both slept well. Maybe the unscheduled interruption was the key? I made a trip across the hall to the toilet in my stocking feet. That was a mistake. Someone had showered and the floor was awash.

The ship pulled up to the dock of a small town about 6:30 while we were still lounging. It was at our window level. Strange to see people walking passed and we are still under the covers.

Breakfast service begins at 7:00 AM. We did the stand in line like cattle routine but the food was worth the wait. Soft boiled eggs are becoming our new favorite. They also have a coffee machine similar to the one we liked in Montreal.

Not as much ice in the water today but there was a chill in the air. Maybe due to the fact that we were passing ice cap that extended to the coast.
There is a lounge area on the fantail. We discovered that we could plug our computers into the outlet behind the TV set. Luckily no one seemed to want to watch TV since we had disabled it.
Just at noon we pulled into another quaint looking village. Cat discovered that several of the other passengers were going ashore to shop. We followed and enjoyed the walk through a traditional modern Greenland village. Several of the houses had animal hides and fresh meat hanging out to dry. Fish, too were hung under the eves on the porch rails. There were no streets. It was a walking town. Qeqertarsuatsiaat is the longest name for a town that we have seen since we began our Odyssey. And imagine, all that for a tiny town without streets or cars.

(Movie: No Cars Allowed 0:31)
Back on board we had lunch in the salon. Again, contrary to Jennifer's opinion we found the food quite palatable. I took some shots of Greenlanders playing Bingo and cards, Hearts I think. My memories of the game aren't too positive. Brother Bob, Harold and some of the others at our store, Jiminny Markets, would play for hours. They were loud and spent too much productive time playing games.
By 2:30 we were pecking away again. It was a pleasant day of watching ice slide by and catching up on the journal. I had to have a cup of Latte from the dispenser in the dining room. In fact my eye lids were so heavy that I ran two in plastic cups. Later I would need a soft drink to quell the churning stomach.
We adjourned to our semi private cabin at 5:00 for happy hour. The wine and cheese were almost as much a treat as the huge pieces of ice that continued to slide by our window. A young guy, Bo, who we had met earlier stopped by. He is visiting relatives of his wife here in Greenland. The time flew, we sauntered into the dining room only to find that they had closed the regular dinner at 6:30. The crew, one lady in particular, were very understanding and brought us plates of pork roast with scalloped potatoes and bread. It was at least okay. We watched the first class customers receive their special menu and bottles of wine. Rank has its privileges and of course it pays for them, too.
The air was cold and crisp on deck. Sunset at 7:00 PM was spectacular. We passed a small village as the sun dredged orange hues to the surface of the sea. The hulk of an old ship seemed to bask in the last rays of the golden day.

I ventured back out on deck later to check for Northern Lights. The night was eerie. There was a light in the Northern sky but I couldn't tell if it was Aurora Borealis or just the last light of day.
Finally, we pulled up to the dock at Nuuk. The lady, Esther, with Nuuk Tourism Bureau was supposed to meet us but failed to show. We waited then I started looking for a phone. I asked a guy in orange coveralls where we could find a phone. He and two others conferred then told us that there was none on the dock. Then, unexpectedly, he pulled out a small cell phone and handed it to me. "One minute, only." He said.
Is this your phone or the Boat Companies? I asked.
"Mine, one minute only, please."
I asked him to call her and tell her we were waiting. He spoke in Greenlandic then handed me the phone. She suggested that we get a cab. I reminded her that we were on bicycles. At that, she said, "Oh yes, I will come to the Harbor."
She and another woman, her soon to be Sister in Law, were there in just minutes. We had to drive back to her house to get keys she forgot, to her office. Then back to her office and she called Sara, the lady at whose B&B we were staying. Then we went to Blok 10. It was like tenement housing. Esther and her Sister in Law helped us carry the bikes and bags up four flights of stairs. Sara was entertaining a lady friend. It was midnight and they had wine flowing, freely. She offered us a glass. We accepted even though we were tired.
Cat was a little nervous about the place. It was a far cry from what we thought a B&B would be. Once inside, it was quite cozy and well furnished but it was still a 4th floor walkup in what looked like a tough neighborhood. Sara, sensing it, said that we could stay our 3 days or we could get another place tomorrow. We crashed, she and her friend partied on into the night. Not loud, just sippin' and talkin' and listenin' to music. I wouldn't have known they were still out in the living room except when I used the toilet at 2:30 and the light shone under the door and low tones of classical music followed it.
September 14, 2002
Life and Death with Eskimos
Sara had suggested breakfast at 8:00. We were up and about but she was nowhere to be seen or heard. As we scraped together fruit and cereal a cute young girl came through the front door. Mali is Sara's 25 year old daughter. She pitched in and got some coffee going. Sara came out with sleep still heavy in here eyes. Short night!
She and Mali were going to a Christening of Sara's nephew's baby daughter. It was a big honor because they had named the baby after her. She sat and talked while Mali dressed and got ready for the ceremony. Sara told us how the Blok buildings were built to replace homes in small villages back in the 1960's. Villages of less than 100 people were too small to support. The people were allowed to stay but they wouldn't have Government services like Doctors or teachers. Eventually thousands of Hunters, Fishermen and their families became modern cliff dwellers. It was a tough transition. The reverberations were still affecting a lot of families even in the second and third generations. Imagine going from open space and your own house to a stacked flat, a walk up flat at that. And in a city where Reindeer and Musk Ox rarely roam and fish, seals and whales are too far from your place to catch.
By 11:00 Sara and Mali were off to the Christening and we were on our own. We had decided that we would stay. It was sort of familyish. She even allowed us use her washer and dryer.
Later we took in the sights and sounds of Nuuk. We had somehow lost our electrical adapter on the boat. Sara told us where the store for a replacement would be but it closed at 1:00 and wouldn't be open again until Monday. We know well the rule of no alcohol so we knew we had to get there before 3:00 PM. Sara and Mali came back just before we left for lunch and a walk. They put on their party gowns, they would go to a luncheon party at her Sister's then stay there for dinner.
Our lunch was served at Hard Rock, a Café that is a copy cat of the Hard Rock Café. We didn't understand the system so sat and waited then finally figured out that you must order at the counter. As we tried to order a young guy walked up and helped, he spoke very good English. I thought he was from the States or had lived there. Lars Balslev has always lived in Greenland. He sells wine and loves to drink it, too. I asked if he had studied English and he laughed then said, "No, I just watch a lot of American movies."
Lost as we tried to find Nuuk Tourism Bureau we got under roof at the Cultural Center, in a pretty heavy rain storm. They directed us to the Tourism Bureau and suggested that we see the Museum that is nearby.

Esther was there so we talked about leaving for Kangerlussauq tomorrow. I had a dream of riding out to the Ice Cap and camping there. It was disappointing to hear that the Airport is closed and there are no flights on Sundays. We then paid for two more nights with Sara.
Located behind the Tourism Office is a two story tall mail box. It'is the box Harry Holm the Postal Inspector we met on our first day in Kangerlussuaq had mentioned. It's where all of Santa's mail is delivered every year. You can't get much closer to the North Pole than Santa's Mail Box, or at least it would be almost as close as we would get.

(Movie: Santa's Mail Box 0:22)

It was 3:30 and the Museum closes at 4:00. We're pretty fast studies so we decided to give it a try. If we felt we wanted more it would be open tomorrow. It is a good story of Greenland from the sample of original Earth's crust to animal life and of course the best display, the one they are most proud of is the Mummies.
There in glass cases are four examples of the impermanence of life. Three women and a baby who died about 550 years ago are displayed. They are so life like it feels eerie. The story of how they came to be together in a little cave or why they died is a mystery. They were thoroughly examined, X-Rayed, even CAT Scanned. There was no apparent cause of death. The theory I bought into was that they huddled together for warmth to live through a swift moving, severe storm and never woke up. They are the oldest, best preserved garments and people ever found in the Arctic. The three women range in age from 20 to 50 years. They are all dressed in skin garments that show thorough use of Seal, caribou, polar bear and bird skins.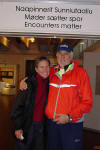 I loved a sign, "Encounters Count" that was above the door. A young gal took our picture there. Out in the street she and her husband rode up on bikes and we talked in the rain. They wanted to call the newspaper. I told them that it would be great but hard to get anyone on the weekend and we were leaving on Monday morning. He wrote his name, Bodil Davidsen, their address and phone number down for me. They invited us to stop by their home.

As a last ditch effort we tried The Hotel Nuuk for an adapter. No luck so we gave up, caught a cab and went to the Internet Café. E-mail had been piling up for several days. We sifted trough the junk and answered family and friends. One of the best things about the trip there was a poster that graphically shows how Greenlanders feel about Greenpeace. In fact we learned that Greenpeace has caused the slaughter of even more seals. Before the boycott of Seal Skins the Hunters killed for meat and skins. That was how they made a living for their families. Since the Boycott the only value is Seal meat. They sometimes just throw the skins back into the sea. In order to make a living selling only seal meat they have to kill more seals. Most locals think the Boycott has been worse rather than better for the Seal population.


Sara was back from the Christening and Luncheon. We opened a bottle of California Wine we had bought for just such an occasion as this. We had another glimpse into modern Inuit life. It really isn't very different from life anywhere except for the long winters, the short days and the dark days. Those contribute to some kind of depravation that causes depression and may contribute to the alcohol problem.
I called the Davidsen's but we couldn't make our schedules work. They were just having dinner and asked us to stop by at 8:00. We had just made a reservation for our own dinner at 7:30.
For dinner we tried an upscale place called Gertrud Rask Spise Hus, in a small hotel. It was a study in the affluent Greenlanders. Easy to see the lack of true Greenlandic peoples in the place. The patrons were dressed and looked like they came out of an old magazine ad. The women sat at the bar and held their cigarettes like they were talking with Humphrey Bogart. A piano man was playing in the rear. We had water and a dance. He was the warm up act for the band that would be there at Midnight.

(Movie: Upscale Greenland 0:57)
Afterward we walked to the nearby Pub. There was another study in Greenland sociology. Almost all the people there were Greenlandic. The music pulsated with a sound like Country Western, almost like Cajun on some songs.
I started to take a video clip of the happiness in the room when a guy stepped up to me and started talking in Danish. When he said picture I thought he wanted me to take a picture of him. That couldn't have been further from reality. He was upset and wanted to know why I wanted to take pictures. Both Cat and I told him that we loved the music and fun. He mumbled then finally left. We took the rest of the video then put the camera and our coats in a booth and danced.

(Movie: Down Home Greenland 1:22)
Another pretty drunk young guy sort of challenged me. I realized that we had put our things in a booth that he had staked out for himself and his girl. He was in my face. We smiled, took our things and started out the door. His girl friend tried to apologize but we couldn't understand or communicate. One young Greenlander just couldn't stay on his feet. He fell on his back three times at the edge of the dance floor. His friends would pick him up and he would stagger then fall, again. We headed home.
Back at Blok 10 Sara was entertaining a guy. She introduced him as a relative. He was Danish, not Greenlandic. He tried to say that he was her Brother in Law but language and drink got in the way. They were in their cups. We turned down their offer of a glass of wine with them. They continued to party well into the early morning light. Strange, most partying goes on almost all night long. The bands at Pubs don't usually start until midnight. Also, you see people drinking beer on the street early in the morning.
September 15, 2002
Rain, Sleet, no Cycling
Rain was the word for today. Our plan to ride out to the airport just to get a little exercise and a few Km on Greenland roads was easy to scrub. It was pretty quiet for good reason, around the house but Sara had made breakfast and set the table before getting to bed. We didn't realize that she had put coffee in the thermos until after I made a fresh pot.
Outside, the weather remained frightful. It rained and blew almost all day. We watched a movie from Sara's video library. It was a juvenile movie about the attempt of several young guys wanting to get laid on or before high school graduation day. It was called American Pie. Pretty sexy but semi pointless.
Finally we got cabin fever so we bundled up in our rain gear and set out to explore. For lunch we ducked out of the rain and into a sandwich shop called Take Away. They had no soup which was what we were questing for but we did meet Tom McDermott. He is here from Galway Bay, Ireland studying the Salmon and said he was happy to be able to talk with someone in his mother tongue. He had a thick brogue and we really had to listen close. His job is to check the catch for disease and parasites. They track the numbers caught and estimate the size of the remaining schools, too. He thought that he might have an adapter that would fit our need so we walked through the rain, that had slowed to a drizzle, to the Seaman's Hotel. It didn't work but just the meeting and discussion was well worth the time and the walk was refreshing.
A cab pulled up so we grabbed it and went into the heart of the village. Pizza as an hors d'ouevre, sounded good. We bought an authentic Italian Pizza from the frozen food case that was made in Berlin, Germany.
Sara was at home and joined us for wine but passed on the Pizza. We had a rambling conversation about life and how it was for Greenlandics here. Yes, like the Native Americans, the Inuit people suffer from rampant alcoholism. They have lost their true identity and self respect, too. Many are on Government assistance. Although there are some who have adjusted and done very well the majority fall into the first category. She talks with pride of the Eskimo and their ability to survive in harsh conditions and considers this change just another tough time that they will survive.
Sara is a member of a Greenlandic Peoples Cultural Group and has traveled to Alaska. She tells us that the modern Greenlandics are most closely related to Inuits there. The langue and customs are very similar. In fact there isn't a long chain of human existence here. The earliest recorded finds are about 3000 years old. They seem to last for a while then disappear, maybe like the Mummies? Maybe they head south for the winter and just never come back. Nobody seems to have an answer. I suggested that if Sara's ancestors had taken a left turn at the tip of Greenland she might be a Caribbean native and never know what living on ice was all about.
Sara told us a little about her relationship with her husband. He was Danish, they met while she was attending Nursing school in Denmark. She supported him for several years while he completed his education. When he decided to move back to Denmark she chose not to. There were more issues but she felt she had to stay with her family. When we asked if there were any problems for her kids being mixed she confessed. I'm not a clean Eskimo, my Great Grandfather was Dutch. ( In the early 1700s the Dutch were just one of the Europeans here hunting whales for the oil. They stuck around for more than 100 years until the Danes staked a claim and made Greenland a Colony. In fact, Sara said it is the last remaining Colony in the World, today.)

At dinner we met a neighbor of Paul and Monika's from Narsaq. Preben Larsen, a builder, is being transferred to Nuuk. It's a good career advancement but he will miss his home in the south. He is from Denmark but has lived there for 22 years. He owns 15 rental units here in Nuuk. They are building a new house but it won't be completed until next year. In the mean time he commutes.

Our server, Soren Thomson listened as we told Preven of our Odyssey then asked questions. I gave him our card and in return he gave Cat a Polar Bear Claw. It is huge and shows the size and potential power of the animal. His wife is chef, they have been here from Denmark for 3 years. He say's they have Island Fever. They are going back to Denmark next year. He likes their life style, they have a nice place, a boat and snow mobile but they are home sick. They've saved 350,000 Kroner during their three years. It will be enough to build the house they dream of when they return.
September 16, 2002
Ice, blood and Cat goes splat

No breakfast. Thought we would eat at the airport. The cab Esther ordered was right on time but smaller than we had expected. Somehow the driver got all the bags and both bikes in. We only saw Sara for a moment, she popped out of her shower wrapped in a towel and said goodbye. We thought we might see her again because she was taking her mother to the Airport at 9:30 about the time we would lift off.

At the airport I asked and, yes, they would allow us to turn the handlebars and tape them rather than box or bag them. I just got the bike taped and the bags closed up and sent down the luggage conveyor when a guy came out and said, "Patterson?" I nodded yes then he said, "Airport Security, come with me." I asked if someone would tell my wife but he just pushed through the door and gestured for me to follow. We went back to where the baggage is put through a conveyor belt and X-Rayed. He said they had found some suspect items in my bags and he asked me to open two of them. It turned out that he had caught the liquid in our fuel tanks for the little cooking stoves. The propane was confiscated, the liquid was poured out and the container cleaned then given back to us.
He was very kind to have had the tank flushed. It would have cost $30 or more, if we could even find one like it. Also his Father lived in South Africa for years and still goes there to hunt every year. He said that it is still a good place, everywhere except in the big cities. The worst of course is Johannesburg followed closely by Cape Town. His advice was to always ask the Porter at Hotels where the safe places were.
Cat was worried. She had been left in the dark. When she asked they would just point and tell her to wait. She feared that I was in a back toilet or room of some kind because I had gotten sick. The nice guy took me out the back door and onto the tarmac. The woman who checked our bags in was there and she escorted me to the doorway of the gate we were leaving from. Cat was just inside the door and she looked relieved to see me. We were the last ones on the plane. They had saved two seats for us. We were on our way.
The flight was smooth, I like their Dash-7 planes. It was on time, too. We had packed so that we could retrieve a few of our bags, ride to Hostel Tuttu, off load the computers and head for the ice. We were a spectacle once again. We got the tape off and loaded the bags in the middle of the floor while they walked around and stared. Cat put the computers and our carry on front panniers inside the glass doors of the SAS office. When we went in to get them we studied a map on the wall. It was from a perspective with Greenland as the center of the earth. Confusing but it really showed the size of this chunk of ice and stone. As we looked and talked, a woman seated nearby asked about our trip. She was an artist, there to replenish works of hers that had sold. And, she was another example of European hospitality. Bente Elisabeth Endresen, gave us her card and invited us to stop and stay at her large home. She and her husband love to travel and to talk with others about travel and adventures. We won't be near the town where they live but we will put her on our e-mail list and try to maintain contact.
With no breakfast I was getting shaky. We decided to take the computers to the Hostel then come back and buy food at the market. Everything was pretty much the same except we were greeted by a young girl. She was enthralled with our journey and asked if she could link their website to ours. I was worried about going off without letting someone know. When I told her she took me to a bulletin board. I signed us out at 11:00 and said that we would be back in by 6:00 PM and noted that we were going out to the Ice Cap.
Just as we were leaving she told me the bad news. To get up on top of the ice was a 37 ½ Kilometer ride. The last 10 Km were tough as it was up, steep and the road was rough. When I asked how far out the pavement extended she smiled and said, "What pavement?" Now I wondered how we would ever make it out and back by 6:00 PM. Then, in the back of my mind the thought lingered whether anyone would actually notice if we didn't get back in by 6:00? (For our US friends still having difficulty converting Km to miles that is going to be about a 45 mile round trip.)
Lunch would be at the Airport Café. It was a quick one then we hit the store and got some bread and cheese for a snack. It was high noon when we finally rode out onto the dirt and rock road. We were on our way to the ice! We were above the Arctic Circle, on a desolate dirt road and I was extremely happy. This was the first time we had ever tried to ride for any length of time off pavement. Cat was having a tough time. She feared the rocks but I kept telling her to watch for loose sand.


We both needed food. We decided on a quick trip to the grocery store for snack food to carry along then a quick lunch at the Airport Café. We were finally on the road by Noon. It is about 40 Km to the Ice Cap. We were surprised that it was all dirt and rocks. WE had a hard time riding. Cat was particularly cautious. She feared falling when she would hit rocks. This was the first time we had tried to ride on dirt for any distance. I tried to help her learn that it is the loose sand that can most easily bring you down. She still picked her way through the rocks making it a slow process. The area is very remote. The road, besides being rough is all ups and downs. It parallels the river bed but has to cling fairly high on the hillside to avoid flood season. It was a struggle.

Prudence prevailed, we took our time. We didn't want a fall to leave one of us hurt while the other would have to ride back leaving one of us on the hard, cold ground. The crumpled remains of an airplane that had crashed here brought home the true impact of our fear of injury in this completely isolated spot. A Kangerlussauq Tourism SUV passed us then disappeared in a cloud of dust. We never saw them again..

(Movie: GreenlandRiders2 0:18)

(Movie: Goin' Polar 0:26)

We had been told about a road block but the gate was wide open so we just kept dodging rocks and riding toward ICE. A second pipe gate was imposing and less friendly. Ignoring the warning, we pushed around the edge through loose dirt and rocks.
Ice was in the air. You could smell it and feel it. We climbed a winding track then crested and hit a wall of wind. It howled around us spreading its chill throughout the barren landscape. As we started down the other side the sun slid behind a thick layer of dark clouds and it felt like twilight at 3:00 PM. We had lost track of time. It was hard to believe that we had already spent 3 hours struggling along the dirt tract. As we dropped down toward the glacial lake below us the wind shrieked its Arctic warning.
Then the only other form of human existence we would see today came into view. There were two SUV's at the shore of the lake about a hundred yards from the road. I walked over and tried to talk with them. They were Reindeer Hunters, two Greenlandics and a Danish guy. Their clothing was bloody, there were Reindeer feet on the ground and skinned carcasses inside the vehicles. I felt uneasy. I felt somehow like we were in a Movie. The heavily armed Deer Hunters were looking at me suspiciously and I felt nervous. Were they poachers? Was what they were doing illegal? Would they worry that we would turn them in? How far would they go to protect their enterprise?
The Danish guy tried to field my questions, "How far is it to the top of the ice?" They all looked at each other and spoke among themselves. Funny how the mind plays tricks at times like that. I wondered if they were talking about the eventual problems they would face if we told of seeing their carnage. Finally he said, "They think 10 miles to top of ice."
Back on the road, I couched their remarks by saying 10 Km. Cat was obviously nervous. I had just seen and smelled death and wanted to make sure that we got back to civilization in one piece. She wanted to turn back right then and there. I wanted very badly to reach the ICE. We made a compromise as the wind increased its shrill warning. We would ride to the top of the next little hill and get pictures then turn back.


Getting up there wasn't that easy. The wind in our face and the dirt road fought against us. I was determined and Cat wanted to have a worthwhile memory of the moment and our effort. Finally, we were at the crest and I took us down about a hundred yards. We used a rock and the tri-pod to get a few pictures. It was still darkened and the wind was like that from the door of a large freezer as it screamed down off of the ICE. With less than a mile between us and the face of the ice, we turned tail and headed back through the dirt and rocks. I was disappointed that we hadn't made it onto the ICE but I also remembered my promise to Cat that we wouldn't go anywhere that was truly dangerous or hazardous to our health. Thoughts of Ruud and Sonja's struggle with Mother Nature and the look in the 550 year old eyes of those women in the Museum haunted me. Yes, it was the right decision

As if to drive the point home, we were on a little down hill and hit some soft sand. Cat screamed out and by the time I looked back she was on the ground. Nervous at first, she felt her leg, it was sore. She had hit her knee as fell. Once we felt sure that she was okay she laughed, we got her bike back up she climbed back on and we continued, cautiously picking our way through rocks, and sand.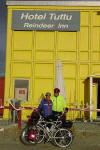 Even with the assist from the wind it was 6:30 before we got back to Camp Tuttu. A young boy on a bike stopped and watched us unload. I asked him to take our picture. He did a great job so I took a picture of him and a friend. I felt good striking our name off of the list of adventurers. We were the last in. I wondered if they actually would have sent out a search party. And, if they did, how much would they charge once we were rescued?

(Movie: Link Cycles Greenland 0:38)


We took pictures of a beautiful sunset then caught a ride to the Airport Restaurant. Our pal Gustav was on duty and loved to have us back. To salute our victory over the elements we had a nice bottle of wine. As he pulled the cork I admired his opener. He said you like it, here you can have it. He was celebrating, too. He had just been accepted at a Waiters School in Copenhagen.
September 17, 2002
Off the ICE and On To the Continent
It was a beautiful, cool, sunny morning. We were prepaid at Tuttu so we just cycled away without fanfare or even a goodbye from Soren or the girl. In fact the place seemed deserted. The now familiar loop around the end of the runway and we were in the Terminal by 8:30. We didn't want to take any chances on missing breakfast again today so we went right to the Café and ate. Cat tried to modify the menu. They offer a buffet for 6 Kroner. She only wanted to have coffee, juice and bread. It caused a stir then a girl came from the back and told us it would be better for us to just buy 2 buffet breakfasts. We didn't know if she meant the cost of her limited breakfast would be as much as the buffet or that they couldn't figure a way to charge for the smaller amount of food?
We had left the bikes against the wall in the main terminal. I dissecting them under the watchful eye of most of those who passed by. Once again, we were a spectacle. Again, they allowed us to just turn the handlebars down but they wanted the pedals removed, too. I tried but they were really set. Finally I just taped wrapped them in tape. They gave us 4 big strong bags that they use for wheel chairs and baby seats. We filled two of them with our bags then doubled them up for strength. We had to drag them to the check in counter. It was tough lifting them and the belt seemed to groan as they moved them along. Of course we had to go through the pain of paying for our overweight baggage. Somehow, now, it seemed worth the extra?
Finished by 10:00 we just waited our turn then boarded. Somehow, we were booked on Greenland Air for the return to Copenhagen. SAS owns 49 percent of Greenland Air. They say that you can trade tickets between the two. If that were the case we could have stayed an extra day and taken the ride back to the ice. Our tickets are clearly stamped, no changes, non refundable. Actually we were having Island fever like that described by Soren, the waiter who gave Cat the Polar Bear claw.
We were seated at the bulkhead between coach and Nanoq Class. Plenty of leg room but crowded 3 across. The guy next to me was reading a Danish news paper. He kept watching the seats that were still vacant across the aisle. He was also friendly with the crew. I figured he was a regular business flyer with them. When the crew gave him the signal he turned to me and in very British English said, "I'll move to the other aisle seat, better for both of us, eh?"
As he shifted across he pulled out a Herald Tribune. I couldn't stand it, I had to ask where he was from. Then I had to ask how a Brit ends up in Greenland. Simple, he took a job with Greenland Air after he finished his tour with the Royal British Navy as a Pilot. He and his family lived in Greenland until the kids got into the upper grades of school. Then they bought a home in England and he began commuting. He works 3 weeks then takes 3 weeks off.

Ivan T. J. Hart is a Captain and flies the Dash-7 and Helicopters. He just gave up the title, Chief Pilot of Helicopters and settled for less pressure and the time to do more flying in the Helicopters which is his first love. They have 5 kids. The eldest son has completed College and just took a job as a Tourist Guide in, yes, you guest it, Kangerlussuaq. He is also house sitting and caring for a team of sled dogs while the owner is vacationing, all winter.
I used the window in Nanoq Class to get a few parting shots of the ice. It is incredible. The vastness of it leaves you feeling small. The strength of it leaves you feeling powerless and the beauty of it leaves you in awe of Mother Nature.

(Movie: Ice From Above 0:12)
Ivan and I had a great conversation, I had several glasses of wine and he downed his share of drinks. Rank had its privileges and that was good for us, too, this time. We talked most of the way to Copenhagen. Poor Cat was left to snooze and watch clouds pass by the window.

What an Experience! Well, what do you think? We feel it was worth the ride, was it worth the read? Although we only rode about 60 Km we lived a completely different adventure. Lessons in life that we'll never forget. The monetary cost was huge. It gave us a glimpse of what it will take, financially, to ride Antarctica.


Greenland, definitely the
Coolest Place on Earth!
Now we need your help. Who do you know that might profit from a Partnership with us? Below is a list of possible Corporate Partners.
American Express
AOL, Time Warner
Sony Corp.
Pearl Izumi Clothing
Patagonia
Santini Clothing
Nalini Clothing
Ortlieb Panniers
Nexium (Pat)
Lipator (Cat)
Metapropol (Cat)
Isosorbide (Cat)
Windows
Gatorade
Can you help us meet someone at one of these companies of any other firms that you think might be interested? The possibilities are endless.
Thanks to for visiting our web-site. It continues to grow. We're headed for Norway, Sweden, Finland and Russia. We will stop when the snow flies and we'll resume as soon as the thaw begins. We plan to hang around southern Spain or Portugal. If you're in any of those areas send us an e-mail, we'd love to get together.
Pat & Cat