Posted on 1/15/03

October 20, 2002
CYCLING IN A CAR?

A new found old friend and former neighbor in Boron, CA, Don Kunz, saw us on the LandRider Infomercial. When he heard that we had a car he sent an e-mail and asked, "Why do you have a car? I thought you were on a bicycle trip around the world!" Yes, we are on a bicycle trip. In fact we feel like fish out of water or broken winged birds. We hope the following chapter explains how tough it is to travel on trains and buses with the bikes and what led to our decision to buy Lil' Scotty. Forgive the delay in this next chapter but as you know we lost our computers but we'll fill you in on the details of that in the next segment, so, STAY TUNED.

South to the SUN and Portugal

So, why Portugal?
Cat and her friend Anne traveled around Europe after graduating from college. That was back in 1975. Anne's brother, Steve is an author and guide with Rick Steve Tours. She suggested that we ask him about a place with winter sun. Steve told us about Salema, Portugal, an almost unknown tiny fishing village in The Algarve, on the south coast of Portugal. Imagine, a serene out of the way, warm place. WHY NOT?

October 20, 2003
Up, up and away!

It was minus 7 degrees as we made our way to the Helsinki Terminal. We caught a glimpse of our party friends, Wayne and Carla as we boarded. They were seated ahead of us and were busy opening a small "Hair of the Dog" bottle of vodka.

We sat on the runway for a half hour while the ground crew de-iced the plane. As we rumbled down the runway the liquid made a silver trail that drifted off toward the white ground. Looking down, as Helsinki shrunk away, the cars, streets and roofs were white with the thick coating of frost. There in lies a very good reason to head south.

We were on a one-stop hop to Lisbon. Cat's seatmate in the 3 across was a guy who had made his living in Karate. He was an aging black belt who used to teach but now runs a magazine and accessories catalog for the sport. Across the aisle from me was a girl, Kasey, in her mid 20s. She had just finished her 2 year tour with the Peace Corp in South Africa and was headed home via an around the world ticket. What an adventurer! Her stories buoyed our confidence, if she could hitch hike alone through much of east Africa surely we can cycle there, too.

Frankfort was just an hour on the ground. It was gray and cool but not freezing cold. We spent a few minutes with Wayne and Carla then goodbye hugs and we were off to Lisbon. A couple seated near us in the snack bar turned out to be fellow Californians. Their home is in Fallbrook, a small town near San Diego and they say it is our home, too, when we pass by them in 2004.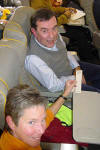 Cat's seatmate to her left was Pedro, a life long Lisbonite. He gave us a lot of tips on what to see, even suggested a hotel, the Amazonian. Pedro sells books. Not in a store but via auction. He only holds two or three sales a year and, based on his lifestyle, he does pretty well at it. The books are all consigned and prices generally range from $30 to $10,000. He suggested that we get together and sample Port wine, a favorite of the Portuguese. (We did call him and get details on laundry and directions but were never able to connect for the Port.)
Getting from the airport to the Amazonian was eventually accomplished by roaming the airport and asking at each Tourist Info Center. Finally a gal finally called a guy she knew named Antonio. We loaded our greasy bikes onto his rear seats then did his usual guided tour of Lisbon as he drove to the hotel. Nice guy, full of facts. He told us that the area we were staying in is called Rato, which means rat, we could only imagine why?
The room rate was higher than Pedro had thought and the only one available wouldn't be available until late. They offered an upgrade for a few more dollars and we bought. The two-room suite was pretty basic but the view was wonderful.
October 21-26 2003
Living it up in Lisbon
Our first day on the ground was spent looking for a room that better fit our budget. We looked at everything and tried to concentrate on an apartment with kitchen. We found two, one was too expensive and the other too dingy. Casa de S. Mamede felt good from the moment we stepped through the door. There was a Canadian couple and a family from Australia at the desk asking questions in their brands of English. Both had Frommers Guide to Portugal and that was where they had found Mamede. They were booked but would have a room tomorrow so we took the deal.
During the next 5 days, except for the plastic sheet on the bed that we finally convinced them we didn't need, we fell in love with the place. We fell right in to the game the other guests were playing, musical rooms. Every time someone checked out the others would move to a better room. We only made one move from twin beds to a double.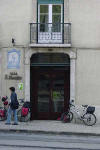 The charm of Casa de S. Mamede extends beyond the 17th century architecture and the period furnishings. We fell in love with Conception and Lafamilie who run the front desk during the day and Fatima who served breakfast every day. (Breakfast was the only slight disappointment, puffy bread, jam and coffee. We were used to a full buffet in Scandinavia and at the Amazonian.) The real gem in the staff was Jose the night desk guy. (By the way, they pronounce it Joe Say here in Portugal.) He is a character and his Aussie brand of English is pretty easy to understand. He spent 20 years working in Australia and his ex-wife and 3 of his 5 kids still live there.

(Movie: Mamede View (0:30)
| | |
| --- | --- |
| | |
Lisbon is a great deal like San Francisco. There are 7 hills, the streets are steep and narrow and they have a bridge across the Tejo River that looks a lot like the Golden Gate Bridge. Though the weather wasn't tropical we did get around and visit most of the important monuments and buildings. They have a transportation pass that we found to be a great value. It was good on buses, the Metro, trolleys, even the cable cars they call elevators and the elevator in the tower that they think of as the Eiffel Tower of Lisbon.
St. Georges Castelo looks down on Lisbon from the hilltop. It would have been just another castle except for Joao. He was in the courtyard playing classical guitar. The sound wafted up over the ramparts and drew us to him. A couple from South Africa rushed up and bought his CD as we approached. They had heard him and went back down the hill then decided that they had to have his music to take back home. Of course we bought one, too. He played a little classic Fado, the folk music of Portugal then suggested a restaurant and small place to go after dinner to hear good Fado.
There was a old woman, probably about my age, sitting with her hand out begging at the gate as we exited St. George. I found her intriguing in that she looked well fed and clothed. I told Cat that she had a pretty good job, just take out her teeth and hold out her hand. I did give her an € but only because she allowed the picture. We have made it a practice not to give money to beggars. Most of the books and Tourist Offices ask that you not.
The big shopping center, Amoreiras, became our regular daily stop for inexpensive Internet and selection of wine. On our first trip I asked the guy in the wine section about an inexpensive French wine. He said, "It's okay but isn't that sort of a slap in the face of Portugal to come here and then drink French wine?" Of course he was right so then and there began our search for the best Portuguese wine. It was a brisk walk on dry days and a brief bus ride on the others.
There are several places near S. Mamede that we liked. Comida de Urso and Jose Leal serves typical Portuguese cuisine in an untypical way and Comida De Santo where Antonio and Flor serve terrific Brazilian favorites. Also there was a small boutique wine store just around the corner. We found it and the guy, George, another Portuguese who had worked in Australia, was great. I sneezed and he said he had the right medicine for a cold. We started calling him Doctor George.
One day we took the trolley to Belam, a nearby suburb, and strolled the streets there. I got the bikes out and used gasoline to try to clean the chain and gears. They are completely gummed up with the cold weather lube spray we were using.
Jose told us of a Food and Wine Festival in Santarem, a city north of Lisbon. It sounded like fun so we began to explore ways to get there. The train would get us there but the only return available was at 10:00 PM, past our bedtime. Jose told us we would find him easily, he would be the guy with a woman on each arm, one to drink with and one who would drive. As much as we wanted to meet him there we finally gave up, left a note for him and headed south looking for the best weather possible.
October 26-November 2, 2002
Sun and Salema
Lisbon is not known as a bicycle friendly city. In fact we found it pretty unfriendly when we rode to the ferry. The narrow cobble stoned streets and drivers anxious to save a few seconds are a real hazard. The ferry across Rio Tejo to Barreiro was a rust bucket. The trip to the south would be another lesson in the difficulties of travel with bicycles.
The train station is adjacent to the ferry landing. We rode there only to find that bikes aren't allowed on the trains. After pushing the clerk and finally getting a gal who could speak pretty good English we were told that we could take the late train, 12:30 AM, if we packed the bikes as small as possible and put them in boxes. They had no idea where we would get boxes? The girl suggested that we take a local train that does allow bikes to the bus station, 30 Km away.

When the train pulled in the Conductor signaled for us to follow. As he was helping us lift the bikes up a blind couple who were working the passengers for donations passed by. As they did the man swinging his cane caught my leg and whapped me three times trying to figure out what it was. The train made lots of stops but we were finally in the bus station at 2:30 PM only to face another crisis. The ticket sellers refused to take the bikes on the buses. We argued, even stretched the story we were told by the train people but to no avail. Finally the clerk, who was tired of us holding up the line of ticket buyers, told us to talk with the lady at the info counter. She reconfirmed his denial but weakened as we continued to ask. Finally she said, "If the driver will take them then it is okay."
There was a bus sitting, idling, in the first space. Cat noticed that it said Lagos Express on the sign and it was scheduled to depart in 5 minutes. I rushed to the driver, he didn't understand so we pushed the bikes up to the baggage door of the bus. At first he shook his head negatively then he looked at the bikes and bags, surveyed the available space and said, "Si." We lifted, pushed and pulled and rushed to our seats just as he revved the engine and started pulling away. Another lesson of the difficulties incurred when trying to travel with the bikes.
It was a six-hour ride. About an hour out we both needed a toilet. The driver laughed when I asked if there was one on board. A young guy seated in front of us turned and told us that he would stop in another hour. We were really needing the stop when he wheeled into a roadside café. They even had some tasty pastry that would be our lunch. It was after dark when we finally rolled into Lagos. We had decided that we would take the first Hotel we came across and go for food ASAP. The Albergaria Marina Hotel was adjacent to the bus station. Worries that it would be over budget and noisy were soon behind us. The cocky clerk told us that there was good food just a block away. He was right, the food was cheap and tasty. The place was like a dining hall. The tourist menu was 7.50€ and it included a liter of red wine.
The other bonus was that we sat flanked by two couples that were fun to talk with. The girl to our right was from South Africa. She, like Kasey, urged us to be careful but thought we would have a great ride in Africa. The other was from England and became very interested in our Odyssey. Keith and Pauline even told us they would come to Salema and look us up in a day or two.
Lagos was a tourist destination but it had retained the flavor of old Portugal. We explored a little and had lunch. The waitress was one of those characters that make small issues sound big to the joy of most of the customers. A portly German guy ordered mussels. When she delivered them he complained in German and she responded in a loud harangue, and in like language. We couldn't tell exactly what was being said but it was obvious that she was giving him a reading lesson of the menu. Funny but people must love to be harassed because she had a full sidewalk and the place next door was virtually empty.

We watched the awards being handed out for a relay marathon race that was just completed then pushed up the hill and away toward Salema. It's a rolling 20 Km ride through beautiful countryside. It was easy to find Pension Mare and John climbed over a pipe rail fence in his Speedo swimsuit when we rang. He interrupted his pool cleaning session, jumped into cloths then led us to the cottage we had arranged to rent. We had bags on and it was a big hill to pull. The place was cute and a bargain at 45€ per day. It was up and it was away from the beach Salema but it looked like a good place to rest and prepare for spring.
The nearby EcoMarche grocery store was limited but had everything we needed. We cooked in and were hermits the first couple of days. Walking down on our third day we lunched at the beachfront café. As we ate Cat said the place was too Americanized. I laughed and bet her that there wasn't an American within 50 Km of the place. I didn't even get all of the words out when the couple next to us asked for their check, in English. I thought England, Cat asked and we met Dan and Betsy from Seattle. They are a young couple that have sold their house and gone traveling. In fact when they finish traveling they will be relocating to Florida.
As we wandered around the small village after lunch another guy walked up and said, "I recognize your brand of English, what part of the States are you from?" Sam is a drifter and surprisingly, another American. He too has sold his house but kept the boat and left it behind in Florida then went traveling. He told us that he and a friend had taken a room with kitchen here for only 15€ per day. They did have to pay two months in advance but what a bargain. They are both musicians. No paying Gigs here but they do sit in or just take their instruments into a bar and play for drinks.
Lots of fellow tourists use the road our cottage is on for a walking/jogging path. Even a few cyclists pull the tough hills and pass above our windows. We met a gal, Anne, as she walked by. She was writing down the telephone number on the rental sign on the cottage. What a nice person. Her Father lives nearby, he retired here but is having health problems. Her French accent was unmistakable. She listened to our story then invited us to stay with her when we cycle into Paris.
Keith and Pauline the couple we met on our first night in Lagos did visit with us at the cottage. They are a fun couple and we enjoyed a couple of glasses of wine then dinner at the Beach Font Café in the village. They spent their honeymoon and then some in Africa. He graduated with a teaching degree and took a position there for a year. They loved the place and the people but hadn't had any contact since back in the 70s. She urged us to be careful and he told stories of how the students loved to learn.
The coast is rugged, we did cycle out to Cabo da Sao Vicente, the southwestern most point in Europe, about 40 miles round trip. It was a beautiful day and great ride. Saint Vicente was named for the Preacher whose body either washed up or was brought to the beach here after he was killed by the Romans in 304 AD. (Guess the Romans religion didn't have that rule about "Thou Shalt Not Kill"?) We stopped in Sagres for lunch. It turned out to be a typical tourist town with mostly Brits and Germans on the street. In Vila do Bispo we discovered free Internet access at the community building. We cycled there almost daily after that great find.
The little cottage was good therapy. We took walks and bike rides but we were soon bored and needed a change. One day we cycled into Lagos and decided that we should make a change, we needed more action. I wanted to take a look at an Art Exhibit at the old building they call the Slave Market. (Our book says that the Portuguese were the first to enter the slave trading market and this was the spot.)
The Artist, Aidan Bremner is a real character and his work is interesting. We hit it off instantly. He's Scottish and his wife Anne Gret, who came in while we were there, is German. As I admired his work Cat asked her if she knew of any weekly rentals. She handed Cat a key and said take a look, it is available for 2 weeks. It's a little studio in the Historical area. We were astounded by the price, 25€ per day. We were moving to town. When we returned to the exhibition and told them we were doubly astounded, Anne Gret said, "Just keep the keys." No deposit, no application, not even a little rent in advance, just a look of trust and faith in her fellow man.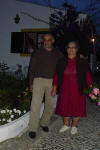 Although we didn't ever deal directly with the owners of the cottage in Salema and we were limited by language when he came to check on his garden and honey bees, we did develop a close feeling with Joaquim and his wife Isabel. (Portuguese folks often have lots of names and they were no exception. He is Joaquim Gonzalves Bernardo and she is Isabel da Marcel Bernardo.) Communicating by sign language for the most part we did see him every day and she came to pick flowers several times. We were relieved to know that John had told them that we were leaving. Initially we talked about being in one place for a month or two. What folly for a couple of gypsies!
November 3-14, 2003
Lazy days in Lagos
Moving day, we loaded our worldlies on the bikes and rolled into Lagos. Things we like here are the large Super Market, InterMarche. The locals call it the French Market, maybe owned by a French company? They have a huge selection of good things. We love the produce section and the young guy, Jefferson from Brazil, who weighs and prices the produce. He wants to learn English and just beams when he sees us coming in.
The best of Lagos would turn out to be A, A & M. Yes, Aidan, Anne Gret and their daughter Marianna. They were involved in a lot of our life and decisions. We loved to visit Aidan at his exhibition. He works in sculpture and paints with oil and acrylic. The paintings are colorful and range from surrealistic to caricatures. He is also a percussionist and plays the Scottish drum. In fact he has appeared as a one-man band.
Anne Gret stays busy as an author of travel books and articles and a guide to German tourists. Marianna is a student of art under her Fathers tutelage and of language simply because of the situation she was born unto. We have heard her carrying on conversation with us and Aidan in English then seen her switch to German with her uncle. Also, when locals talk with her she converses in Portuguese. Amazing for a 4 year old.
The little flat is tight for two. The living/dining room is tiny and has the only window in the place. The bedroom is buried behind the kitchen and bath. Hot water is a clever "on demand" system. Both it and the range oven are powered by bottled gas. That worried me, the thought of being trapped in the bedroom in the event of fire, so I turned the gas off every night when we went to bed. The little washing machine was a great thing to have. The dryer was a cloths line out on the front of the house. It worked but we had to shake the dust off the dry things when we brought them in. Cars and trucks that looked too big to get by seemed to race up the hill and raise the dust.
Oh yes, there was no TV and the bed was so short that my feet hung over the end. In fact the bedroom was so small that Cat could turn the bathroom light on with her toes while lying in bed. All this aside, we loved the place. We felt like locals!
These photos are a collage of life and interesting lifestyle around Lagos. The Parade of Horsemen and the Schooner were in town to celebrate 100 years of the Lagos Community Government. The town is definitely a Tourist Attraction and it is easy to see why. The beaches and harbor are pristine. The weather is the best in Europe, year round. At the same time, Lagos is a true Portuguese Village. It has the cobblestone streets, the squares with statues, the Churches and the small shops and restaurants. It is easy to Love Lagos!
One day we took the bus to nearby Portimao, just to explore. It is larger and more heavily developed than Lagos. We walked a long way looking for a lock for the bikes. There were neighborhoods where the homes were shacks and the residents kept horses and donkeys right in the middle of town. As we got off the bus in Lagos, on the way back, we were surprised when a voice from behind us said, "Hey, y'all look like Americans." It was Sam. He was catching a bus back to Salema. In keeping with his globetrotting attitude he had been walking on the promenade and seen a large sail boat pull in. He went aboard and after talking a short while they invited him to take a three-day cruise with them. He liked it and they liked him so much that they asked him to join them on a 30-day cruise to Morocco. He was just going back to the room he and his friend had rented to get some cloths and then get back on board. Sounds pretty loose but Sam is a musician and that says a little something about his life and lifestyle.
My favorite painting in Aidan's exhibit is one of a couple of guys playing music on a harmonica. Aidan had a story about them, they were born into royalty but when Portugal divested itself of Colonies in 1975 and pulled out of Angola after a long and bitter battle with opposition forces the twin's family was cast from power and position. Somehow it almost seems unfair at times that some people have the good fortune to just be born into wealth and power. Socialist thoughts aside, it must be more unfair to have been there and lost it.
We met the brothers one day on the sidewalk and I got pictures of them. They told us, in sign language, that they would play music the next day if it was sunny and not too windy. (Most of our communication was through Aidan as they only spoke Portuguese.) I gave them 5€ after the picture taking because Aidan had told me that they live in a government sponsored home for poor Senior Citizens. They held up fingers to tell me that they are 68 years old.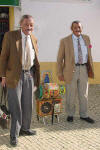 We found them on the Promenade the next day and took pictures. When they saw the little movie that you can view here, they wanted it. They wanted it so badly they offered money. They couldn't get the point that it cost too much and would only have value if they had a computer to play it on. They are wonderful to listen to and look at. They both color their hair and comb it forward into a point on their foreheads. I picture them helping each other dress, put on their ties and then comb the widow's peak for each other as they prepare to perform for pennies. Of course we gave them more Euros and shook their hands vigorously as we departed. How we wished we could help them take their wonderful story and music somewhere where they could make enough money to enjoy their remaining golden years.

(Movie: The Music of Princes (0:51)

No matter what the problem Aidan always seemed to have a good answer. We were thinking of buying a car because of the cost and problems of moving around by bus and train. I have always lusted for a Citroen 2CV Club. Some call it the DUCK or the ugly duckling. Aidan discouraged it because the car has been out of production for some time. Parts and people who work on them are not readily available. Despite his feelings I talked with Andrew, a guy we had seen on the street driving one. I told him of my love for the car and asked if he or anyone he knew would sell one.

Two days later he called and suggested that he would consider selling for 2,600€. That was less than the lowest price we had seen but he readily admitted that the car needed work. When we met and drove the car he suggested that we might be better off with a Renault that Aidan had seen and told us about. He pretty much talked us out of buying as he talked himself out of selling. (Oh yes, the telephone call reminds us that Aidan decided that we needed a cell phone so he just loaned us one of his. It would become invaluable later as the story of "Pat and the Truck" unfolded.)

The car that Aidan had seen was the Renault 4GTL, another interesting French car with an old style look that belies its age. Our appointment to see and drive it had to be at 8:00 PM when Sonia got off work. Aidan came running up, as we were looking it over. He had brought a magnet and checked the body for places where body putty might cover previous damages. He also pulled on the wheels, crawled and checked for rust under it and listened intently as the little engine idled. After a lot of soul searching we decided to make the girl who was showing it an offer. She claimed it was her boy friends car but somehow Aidan found that it actually belonged to someone else and the boyfriend was either selling it for him or had bought it and was rolling it over for a profit?
Nervous, we decided that we needed advice on transfer of title and insurance before we completed the purchase. During that time they accepted another offer. At that point we made a decision to pack the bags and ride bikes eastward up the coast of Spain and think about whether we really needed a car or not.

The bags that we mailed from Helsinki finally arrived. John called from Pension Mare to let us know. We cycled out to Vil do Bispo to pick them up. On the way back in we stopped and were picnicking at the gate of a pottery store that was closed when a cycle tourist rode by. Another American, Brandon is an exchange student from Virginia studying here at the University in Seville. They are on four-day holiday and he decided to challenge himself by taking a train to Lisbon then riding down to Sagres and back across to Seville. A huge ride and he was on schedule to complete it. He told us that a many of his classmates thought he was crazy to use his precious holiday time on such a foolish thing. We told him we could relate to that. What a fine young guy! The others will have long forgotten their parties and television when he still tells the story of his adventure years from now.
Strong and young, Brandon soon pulled away as we rode back toward Lagos. We were making pretty good time when I met the blind truck driver at an intersection. Funny but when I read the story about the crash I see that unlike most of our journal it is written in third person. As though I didn't want to be involved personally in the feeling of hitting the ground again.
November 14, 2002
PAT'S BEEN HIT BY A TRUCK!
It was a beautiful sunny Portuguese afternoon. Pat & Cat were returning from Vila do Bispo where they had retrieved the bike bags they had mailed from Finland. As they sailed down Highway EN125 they were, as they always are, conscious of traffic. They practice being defensive at all times, calculating what the car coming up from behind or turning in front of them is going to do.
The cross roads here have little turnout lanes. As they approached Pat saw a black Volkswagen slowing from behind. They were almost in the turn out lane when the guy made a quick turn in front of them. Pat remembers thinking, "Geez, you're in such a hurry that you cut us off, you must be on the way to a really important appointment?"
The little black car was around the corner when Pat caught sight of the big flat bead truck bearing down on them. He was close to the edge of the road but Pat & Cat were on a diagonally marked area at the turn out. With out warning, with out a blinker going like the Volkswagen had, the truck veered right and hit him. The side board of the flat bed smacked him on the shoulder and he yelled out but it was too late. He tried to swerve away but the force of the crash sent him wobbling and in an instant he was on the ground.
The impact was absorbed by his left elbow and knee. His head hit on the ground and he saw stars. He thanked his lucky stars that he always wears his helmet. He regained composure and sat up. The truck pulled to a stop at the intersection. Cat asked him if he was okay. He felt okay but was in a little shock. She pulled ahead and began to yell at the truck driver. He, of course, didn't know what she was saying.
The light turned green and he began to drive forward. Cat was almost hanging on the door handle. Pat yelled for her to get a paper and take his license number. As soon as he saw her writing it down he pulled through the intersection and over to the side of the road.
A guy in an SUV pulled up, took a look at Pat and said, "We'd better get you to a Hospital."
"I think I'm okay," Pat responded.
"No, man, take a look at your arm."

Both Pat & Cat stood and stared in disbelief. Pat's left elbow was blown up like a balloon. That worried them. His first thought was that he was bleeding badly under the skin. The skin was by now looking like it was stretched over a tennis ball.
Roman Stern was the Good Samaritan. He insisted that Pat sit in his car. Cat didn't want to leave the bikes. At first she said, "Get him to a Doctor, I'll stay here with the bikes." Pat hated that idea. The truck driver had been yelling and complaining. Roman said he was denying that he hit Pat but rather that Pat pulled right in front of him.
When Cat said that wasn't true Roman told her he had seen the whole thing happen. He thought the truck driver was blind in one eye. He had thick glasses and it was obvious he had a hearing problem, too. Pat suggested that they ask the guy to take the bikes into town on his truck. He objected and the one word that Pat & Cat could understand was Policia. They thought he wanted them call and wait for the Police.
Roman said the guy was just positioning, preparing his story for the Police. He asked if we wanted to call them and suggested it wouldn't do much good. The guy obviously didn't have anything so there wouldn't be much good in suing him. Pat shook his head and told Roman to let the guy know that we wouldn't call the Police. Tell him we want to get to the Hospital but we need him to take the bikes for us.
Hearing "no police" calmed him and he agreed. Roman took Cat's bike and literally threw it like a power lifter, up onto the truck. He grabbed Pat's but it had the heavy bags on it and he staggered under the weight. Cat ran to help. Even the truck driver lent a hand.
As Roman jumped into the drivers seat Cat remembered that her wallet was in the handle bar bag. She feared that the driver would lose us and she would have to get new documents and credit cards. Roman jumped out and ran to the back of the truck. He was pounding on it, yelling and trying to get the bag off but the driver was oblivious and began pulling away. Roman grabbed the bag from the handlebars, off the tail gate as he ran along behind the truck.
Back in the SUV, he said, "That guy can't see or hear!"
It was like Mr. Toad's wild ride, to the Medical Center. Roman was behind the truck and began to honk and waive as the driver passed the turn off. On the horns of dilemma he made a quick decision to chase the truck and get him to turn back. When he got behind it he flashed his lights and honked. The driver didn't respond at all. In a huge display of power and speed, Roman burst passed him and we waved our arms out the windows as he continued to flash and honk. The truck driver was completely oblivious at first then got the message and pulled over in a dirt lot. Roman jumped out and talked with him. The driver still seemed to be protesting his innocence. When Roman got back in, Cat asked and he told us that the guy was now beginning to question whether he might have made a mistake when he hit Pat.
Once in front of the Medical Center, Pat left the logistics of the bikes and bags to Cat and hustled inside. Roman had suggested that he just say that he fell in order to avoid having them call the police which would trigger an offensive by insurance companies if we needed help paying for the treatment.
Pat walked right up to the desk and said, "I fell down."

The clerk hustled him into an exam room and they had him lie on a gurney. The Doctor's first question was "What language do you speak?" When he said English she asked, "So you are English?" "No." "Then what language do you speak?" she asked again with a hint of irritation in her voice. "I'm from the US." Pat responded.
Once they got the language thing out of the way, Dr. Anke Wiltinger told Pat she was from Germany as she began to feel his hand and arm. She had him wiggle his fingers and make a fist. Between them they decided that there weren't any broken bones. At the same time she had the nurse, Jose Nascimento start trying to drain some of the blood that had accumulated in the bulge, at the elbow. A quick incision and some probing only brought out a small amount of the crimson fluid.
The real fear Dr. Wiltinger had was of infection. She cautioned Pat to keep a close eye on the elbow during the next 24 hours. If there was any sign of redness or heat she wanted him back in the Medical Center immediately so they could begin a course of antibiotics.
Believe it or not, they rode the bikes back to the little flat they have rented. In fact they were near the Grocery Market so they picked up things for dinner then rode the cobblestones. The leg was stiff, the arm sore but the spirits were high. They rejoiced in the fact that it wasn't any worse. They shuttered at the thoughts of what might have been. But, they are great believers in fate, luck, karma and coincidence. Coincidence is when two unexpected events occur simultaneously. The driver hadn't expected to hit anybody and they hadn't expected to be hit. Several things led them to that moment. They had tried to buy a little car but the deal fell through. They had to get to Vila do Bispo to get their packages so they decided to ride the 21 Km on the bikes. Another car for sale led them off the beaten path and up a dirt road for an hour. They turned back because it was getting late and they weren't sure they were on the right road.
Had they canned the idea of the dirt road or gone on seeking the car, they would not have met the blind driver. Had they been able to get the little car they would have driven. You see, each time you choose a direction it is chance and coincidence that leads to the next interesting story on the paths that we call life.

On Monday they checked back in to the Medical Center. The nurse on duty, Ana Cristina looked over the wounds and pronounced them "on the heal" without any signs of infection. Another moment of joy. Then she said, "YOU'RE RIDING YOUR BICYCLES AROUND THE WORLD? YOU MUST BE CRAZY!"

(Movie: You Must Be Crazy 0:13)
---
We'll have more in our story about Roman, his wife, son Alex and the Real Estate projects they are involved in. Stay tuned, we will do the Portuguese Chapter in a week or two and introduce you to Scotty.
It's great to be alive and well!!!
Pat & Cat
We rode the bikes back to our little abode from the Medical Center after the crash. In fact we rode to the InterMarche first to get badly needed groceries. It was dusk and pretty scary for both of us. Painful, but we had to get back home. Maybe it was the best thing to do, get right back on and go for it. Both the arm and knee were still in shock and the pain medication helped as we limped back in.


The next morning we called Aidan to tell him of the crash and that we would stay on for another week while I healed. As fate would have it Sonia had called and told him the buyer backed out and the car was for sale again. We had researched the papers and talked with the Motor Vehicle Transfer people and were convinced that we could take title. Knowing that I would be healing in Lagos for at least another 2 weeks if we were going to cycle, we decided to buy.

(Movie: A Ride in Lil' Scotty (0:32)
Sonia met us at Aidan's Exhibition that evening. He looked the paper work over and gave it his blessing. We were the proud owners of a 1986 Renault 4GTL. The Portuguese call it the little tissue box because it looks square and fragile. It took a few days to work our way through the bureaucratic red tape, take title and get insurance.
During those days we got an e-mail from our friends, Franklin and Aura Zawacki. You remember, the Swedish/Polish Pancakes in San Francisco? They were coming to meet us but would only have a week and would arrive in Lisbon. We decided to can our plans on heading east and go back to Lisbon to hang out with them.
The car has a hitch and is wired for lights but not licensed to pull a trailer. Aidan had suggested that we could get a bike rack for the back and put lights on it for safety. In fact he had a bike rack and sold it to us for a very reasonable price. What would we have done without he and Anne Gret there helping us? We told Aidan that because of all his help we had decided to name the car, "Lil' Scotty."

As though to prove out my theory that some good comes from all things, we talked with Roman, our angel, to let him know that I was okay. He invited us to come for lunch at their home. His wife, Chitra was a perfect hostess and Mother at the same time. Their son, Alex is just 4 months old. He was a perfect gentleman, never cried just played and cooed. Both Roman and Chitra have degrees in Business and met while working in London. They are Developers and have a project on the ground in nearby Sagres. It looks like a wonderful piece of property, surrounded by National Park land. Roman say's that it is the only developable property on the coast. There are still a few hoops to jump through in dealing with local government but they seem to know what their doing. They run a low overhead shop from their home. And, another "small world" event occurred when Roman told us that they also have a project in a small town that we had probably never heard of in Ireland. Well, wouldn't you know, it was Skibberean, a place where I had visited and spent two weeks visiting ex-in-laws, David and Shannon Silvernale back in 1988. It is a beautiful village and though the project is on back burner due to the economy, the property is on a lake shore and looks picture perfect. You can see it for yourself at www.LissArdResort.com.
November 14-18, 2002
Lagos to Lisbon
Since the Zawackis wouldn't be there until the 20th we chose to take a leisurely drive through the mountains and up the coast to Lisbon. We started by going back to Portimao to look for the trailer light that Aidan had suggested. The shop was closed. We waited along with several other customers. Finally we all drifted away in different directions. Ours was toward Silves, a small town at the edge of the mountains. The locals call it Sivesh. They seem to pronounce all things that end in S with the SH sound.
The road was a little up but followed the Rio Arade. It is only 15 Km northeast of Portimao but the time of our departure got us there in the late afternoon. The weather turned from partly sunny to dark and cloudy then we got our first taste of driving Lil' Scotty in rain. Not just rain but a deluge! She held up well as we rolled into Silves at almost dusk. We took the main street until it became one way. It carried us up to the Castle, which was built originally when the town was the Moorish Capital of the Algarve back around 1200 AD. We didn't get out of Lil' Scotty and really couldn't see much because the rain was thick as pea soup.
Back down on the streets of Silves we could see a Hotel across the river but it looked too expensive for our budget. We stopped and used the toilet in a Café then asked for a hotel. The guy who looked like the owner and the girl who looked like she just started working there stared back at us the she said, "Cross Ponte."
"Across the bridge?" we asked.
"Si, Roman Ponte," she responded.

We pulled up in front and the name of the Hotel, Colina dos Mouros, was almost dwarfed by the stars on the marquee. Sure that we couldn't afford it Cat went in while I kept the motor running. She was gone quite a while. When she returned she was smiling and I said, "Are we camping here tonight?" When she said yes I asked, "How much?" "Guess," she said with a smile. Well after the games ended we carried our own bags up to our 3 star room that cost 35€. What a good deal.


The room was more than adequate so we decided to try the restaurant, too, rather than driving or walking in the rain. Dinner was just okay, the wine was only slightly better. We were in our adequate twin beds by 10:30.
The next morning we went down for the included breakfast. Yes, at 35€ they even included breakfast, a typical buffet. We were seated near a couple who were looking at maps for hiking and complaining about the weather. They sounded British but one can never be too sure so I asked, "What weather pattern did you escape from to get to this one?" (By the way, the € is valued at equal to our US $ yet the Brits still cling to their £ and it trades at 1£ to $1.67)
The laugh was the beginning of a good conversation with Juliet and John from Newcastle, England. They are hikers and thus the concern for weather. She even ran to their room and brought back hiking maps so we could see the great places that can be reached on foot from here. They were the highpoint of our stay in Silves.
We walked across the ancient Ponte Romano in a thick drizzle. We were seeking the Post Office for a computer connection and the Tourist office for info. After a quick check of our e-mail messages we found the T.O. and got a map. One of the attractions of note here is the Cork Museum. We rarely visit Museums but cork plays such an important role in our lives that we felt compelled. We walked the route described by the nice lady only to find that the place was closed for lunch. Well, we joined them and had a very nice Portuguese lunch. We accepted the plates that some locals send back and they were great. The rich prescuitto ham and a small Bacalhau, the salted cod almost filled us up. The other dishes were good, too.
The Cork Museum was really a display of the machines that have cut and made corks over the centuries. Pretty interesting but like most Museums it had a hard time holding our interest. We were back out in the rain and off to Monchique by 2:00PM.
The route was definitely up and rural. For some reason I thought that we would always be in semi-populated areas? Maybe because there have been people roaming around and building castles for so many years. The hills were covered in pines and what looked like eucalyptus trees. The road was up and down, mostly up and pretty rough in a few places.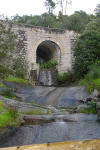 Caldas de Monchique is a tiny town that clings to the mountainside and has for centuries. The Romans loved the place and loved to bath in the 32 C waters of the hot springs. (That's only about 90 F.) We were so surprised by the small size that we drove up a sidewalk to a waterfall. We were trapped and some German tourists laughed with us as I struggled to turn Lil' Scotty around while Cat got a picture.
Monchique is only 24 Km north of Portimao but it seems light years, especially in Lil' Scotty. It lies almost 3,000 feet above sea level. The roads are winding and steep at times. The town is another hillside clinger. We cruised the main a couple of times then decided to try to find Residential Miradoura that we found in the guide book. It was getting dark and raining steadily. When we pulled up Juliet and John came out the door. WE knew we had found our spot.
It was cold and the room was like a meat locker. We tried to get the heat to work. Cat even knocked on John and Juliet's door, seeking help. Our group of four finally figured it out and decided to have dinner together. They had already chosen a place and we just nodded agreement. After they went back to their room I spent an hour chasing and killing flies, the place was full of big black flies. I suspected that they only come alive at this time of year when the heat comes on and guests start to shower. The water was hot but the toilet was so small that your head was in the shower when you were seated on the throne.
Dinner was wonderful and their company superb. They are another later in life couple. John is semi retired. He has been a youth counselor for years. The kind of career that can make you seek early retirement. Trying to keep bad kids from doing bad things and coming back to live in the system.
Juliet claims that she just fell into a career she loves, stage scenery design. She seems to do quite well at it but John points out that she puts in a lot of hours. She agrees then blames the tradesmen who are to build her design. She feels that she has to stay right on top of them or they will change things and dilute the spirit of her original ideas.

We walked in the crisp, now dry, night mountain air, up a narrow sidewalk and stairs for almost half a mile to the place. The food was local faire and we loved it. We tried several different dishes and shared the tastes. When we were finished the owner brought two decanters to the table. It was Medronho or, the Monchique Moonshine that we had read about. A home brewed brandy of sorts that they call firewater. The girls passed on it but John took a shot of the one saturated in peach juice and I tried the straight stuff. It tasted a lot like Mar, the scrapings from the bottom of the barrel that they distill in France. In fact, both John and I went back for a couple more shots.
We laughed and joked and enjoyed the walk back down the stairs to the Hotel.
The next morning John and I both had slight headaches from the "Shine" but we still felt it a worthwhile part of the evening. We sat together at the included breakfast that turned out to be just coffee and a piece of bread. The unfriendly lady didn't even offer jelly or jam with it? We had fun reminiscing about the evening and comparing notes of travel and warmer times.
By 10:00 AM they were on their way to a hiking trail and we headed up a steep narrow road toward the ruin of the 1632 monastery, Nossa Senhora do Desterro. It is dominant sitting high above town. We drove Lil' Scotty as far as we dared then walked to the top. There was a man and two boys standing on a landing in front of the monastery with a radio playing inside the doorway. It was surrealistic, the music echoing about with the fog and clouds swirling and trying to keep the sun away from the mountain.

The man, Antonio asked if we would like to see the place. Cat was concerned but I felt secure because he had his two sons, Joao and Andrew with him. He motioned for us to follow him passed the, "Keep Out, Private Home" sign and into the musty interior that reeked of history. It was eerie, especially when he introduced us to his wife and Mother or Mother in law. She slurred something in English and we weren't sure but they didn't seem too happy to see us. They were doing laundry and working in the garden. I thought that Antonio would ask for money and Cat was sure that was his motive. When we emerged back out into sun he shook our hands and wished us a good visit in his limited English. We thanked him in our limited Portuguese. Was he sorry that we didn't offer any money? We don't know. Were we surprised that he didn't ask for money, yes. Maybe just mistaken thoughts on our part but what a wonderful moment for us.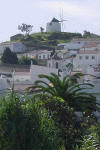 It is due west to the coast and we drove a straight line. The town of Algezur isn't on the coast and we wanted to see the Atlantic again. Vale da Talha is a beach town and the coast reminded us of Northern California. After a drive onto the cliffs we backtracked and had lunch. The place was a family operation. The Dad was cooking and serving. Grandma was cooking and cleaning. The baby boy was in a high chair near us playing with his toys. The game became throw one on the floor and watch Cat retrieve it. The scenario reminded me of days long ago when I operated a grocery store in Boron, California a little desert town. My kids had to be playing in the store when weather was bad. We were a family in a family business just like these people.
Our food was great, especially the Alentejo Soup.

The rest of the afternoon was in and out of rain as we putt, putted up the coast to Sines. (Seen-esh) There was nothing in the book about the town but it hovered above a beautiful beach and marina. After driving around and around we finally found a non-descript hotel that turned out to be an Apartment Hotel. We thought 50€ was high until we found that the room was actually two rooms with a small compact kitchen. A real bargain. We liked it so much we settled in for two days. Oh, by the way, breakfast was included and it was a pretty nice buffet. Cat returned to her old ways of filching bread, ham and cheese for lunch. With these bonuses the place was a bargain.

(Movie: Beach and Port of Sines (0:29)
Some of Sines is industrial, that's probably why they have an apartment hotel here. The castle/fortress hangs menacingly above the beach and marina. It was probably a formidable sight 500 years ago and remains so today. A giant statue of Vasco de Gama also keeps a vigil on the harbor.
The following three pictures are merely to show that there is a small undercurrent of dislike toward Americans. They also show that the Communist Party is alive and growing among young people. In Lisbon there is a large building that is wrapped in a huge banner advertising the Socialist Party. I know there is a difference but, isn't it slight? Maybe someone out there reading this can explain the difference. Communal I I suppose is one.
With off and on again weather we also spent time catching up on our journals. When we did finally check out the weather remained constant. From hard rain to drizzle to an occasional burst of sun. Sure that we had taken the train to Setubal we wound through the streets looking for the depot. For no particular reason other than trying to figure out where exactly the track had ended and the bus trip began. The place was a lot bigger than we thought it would be. We not only failed to find anything even vaguely familiar but we spent most of the time just trying to figure out where we were. The street to the beach suddenly rose upward and we had to follow. Weather had us picnicking in Lil' Scotty on a cliff overlooking a spectacular coastline. Fog, swirling clouds and drizzle added to the drama.
Onward ever onward, we stopped in the beach town of Costa de Caparica. We had a vision that it would be like Ventura and we would find a cute little cottage to rent for a day or two. That was definitely not to be. The place, at least the part we saw, was all mid-rise apartments and condos clustered on a cluttered strip of sand. Maria at the Tourist Info Center was a real bright spot in an otherwise dull place. She confirmed that we would only find a condo or apartment for rent and rents weren't cheap. We decided to roll on into Lisbon.

We caught a picture of the giant statue of Christ with his arms out stretched as Lisbon came into sight. Cat was at the wheel when we crossed the River Tejo on the "looks like" Golden Gate Bridge. We sang Tony Bennett's, "We left our hearts in SF," as she drove. It felt good coming back into familiar territory until we reached the end of the bridge and found ourselves thrust back onto it and headed south. Yes, we had to pay the toll twice but we got to sing the song twice, too.

(Movie: San Fran or Lisbon? (1:15)
Aura had mentioned that they were on a close budget and so were we so we turned up-coast toward Belem. We had seen a place that looked interesting and wanted to check it out. It was big and cold and noisy. We turned around and headed back to our home, Casa de S. Mamede. The crew was as happy to see us, as we were to be there.
We knew exactly which room we wanted and we reserved the other great on for the Zawackis. Those two days were spent finishing the photos and journal entries for Portugal. Due to our lack of expertise we have always mailed the photos on a CD to Wally our Webmaster back in Colorado. That would be a real material saving, as fate will have it. The journal was complete but we hadn't finished placing the photos. We went right back to Net Cabo and our inexpensive Internet connection, too.
Broken Winged Doves in Lil' Scotty
Our goal is to be back on the road again by March 1, 2003, subject to weather. Rather than hole up somewhere for all that time we have chosen to use it to see and share as much of Europe as possible. Lil' Scotty is old and Fragile so we will take it a little at a time. We hope you will continue to ride along with us and Lil' Scotty. Our next Chapter, STOP THIEVES, STOP, should be out in a couple of weeks so, STAY TUNED!