Posted on 3/31/03

This is the last installment of Pat, Cat & Lil' Scotty. We will cruise together all the way to Stockholm, Sweden. What will become of Lil' Scotty? Will she be sold to a stranger, will she go to the scrap yard? You've gotta read the last of the chapter to learn the surprise. We'll move back to cold places and warm friends. What a tour of Europe. WAR will be on every ones minds. Many of you will ask how we are treated. That one is saved for the end of the chapter, too. SO, Good readin'.

Barcelona and Beyond
January 15 to February 24, 2003

Our day on the bicycles was a beauty. We rode on a bike path through the city to Port Vell, the small craft marina and Port Olympia, the waterfront area created during the Olympics of 1992. After coffee and a croissant in a sidewalk café we cycled through the beautiful Parque de Cascada with its huge fountain waterfall. The park is full of wonderful buildings and though the plants are sleeping in their winter mode they portrayed a sort of stark beauty. At Mercado Santa Caterina Cat bought bread, cheese and meat. We sat in the sun, made sandwiches and talked with a young couple, as best we could, who were also riding bikes.

During our bike ride we saw the tower of the Transbordador Aeri, the Tram that hangs above the harbor and dangles it's way up to Mountjuic (Jewish Mountain) named thus because there was once a Jewish settlement there. Above the gardens and almost over the hill lies the Temple del Sagrat Cor, Church of the Sacred Heart and is Barcelona's version of The Sacre Cour in Paris, France. I really wanted to ride the wire. On our last day in town we made our way to the middle of the harbor and walked up the stairs of the imposing middle tower. It was after 4 PM and the last car would leave the top at 5:00. We went for it. Cat was a little queasy but the view held our attention. We tried to rush to the Sagrat Cor but had to turn back to make the last car into to town. Still a very worthwhile effort and some good pictures.

As we walked the tiny cobble stone streets I again began looking for peoples faces. One, a guy seated in front of a church who had a great look, agreed then looked up and to his left as I shot. When I walked over to show him the picture he pointed to some pockmarks in the wall and said, "We owe those to Mr. Mussolini," in broken English. Somehow he got the point across that the Italians had fought Spain in 1939. I though he might have been here at that time but when we traded birth dates it turned out that we were the same age. We had both just been born when the pilot strafed the wall of his church. What a nice guy.


One of our days was spent walking and visiting museums. Not the usual buildings filled with relics of the past but specific places like the home of Pablo Ruiz Picasso. Yes, his house is a monument to his growth to the leading edge of art. It is located on one of the streets dating back to the 12th century. They have works of his from early things he did as a student to his most famous. It is interesting to walk through the hallways and see the progression from room to room. We accidentally stumbled across a gallery nearby where they had a large selection of the work of Salvador Dali. During the terrible real estate market of the 1980s I took several signed Dali prints in lieu of cash as commission. That was the beginning of an admiration of the man and his strange, interesting work. The display was surprising in that, unlike that of Picasso, there were no guards. In fact there was no security and no one other than us in the rooms. We really made a close inspection of the pieces.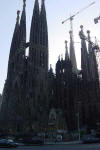 On Friday, the 17th we tried one last time to find an adapter for the camera mini CDs so we could load the pictures into the computer. Another wild goose chase. We spent a couple of hours enjoying the last of our really cheap Internet connection. It was after noon and I wanted pictures of a couple of places before we would leave town. We were both getting hungry but couldn't find food to go. I double-parked across from the strange La Sagrada Familia Temple. Cat was beginning to get the shakes, that low sugar thing, we think. I rushed up and down the sidewalk and rounded up some bread, meat, cheese and soft drinks. The Temple is so huge that it isn't a very good subject for photos.
Leaving Barcelona had a couple of hitches involved. The first was our attempt at getting Lil' Scotty up the steep ramp of the garage. There was a Mercedes van parked at the bottom of the ramp in a space with a huge sign on the wall forbidding parking there. It made the turn very tight, and I hit the curbing. Foot to the floor, I was stuck so we backed down. The clutch was hot, actually smoking. I backed down, almost into the Mercedes, waited for Scotty to cool, and then gunned her again. She made it about half way and died. I feared that we would burn the clutch out. It took three more tries to finally crest the sidewalk then we had to jump up on the curb, again. The smell of burning clutch was heavy in the alley and inside Scotty. We parked and let her cool then set out on our last cruise through Barcelona.
Our last quest was to drive back up to the Sagrat Cor. Winding our way around the city streets we missed the turn and found ourselves on the freeway and headed in the wrong direction. Not wanting to give up easily I pulled off into a strange place. They call it the Cemetiri del Sud-Quest, a huge cemetery. The tombs cascades down a hillside, almost a cliff in a bizarre scattered looking disarray. We had decided that we would skip the Church and get back on the freeway toward France. As we turned in a cul de sac we witnessed a young guy sitting on the curb injecting a needle into his forearm. There was a girl nearby, reading a book and rocking back and forth like a lost soul. Another leather and spikes kind of guy came walking from under the bridge we were entering to get back on the road. He was coming out of a cardboard jungle, a collection of garbage, old worn out furniture and tiny lean-to shacks in the shelter of the overpass. We were shocked, Cat was almost ill as she hadn't quite recovered from her hunger spell. We turned north and escaped that grizzly moment and rolled back into our gypsy lifestyle.
Finally, we were off to Figueres. It was late by the time we pulled in and too cold to explore on foot. We caved in and had dinner in the Hotel Restaurant. It would be a wonderful meal and the whole thing including a bottle of wine was only 25€.
Today, our final day in Spain would be a Salvador Dali day. He was born here and always remained entrenched here though he lived in Paris, New York and lots of other exotic places in the world but always returned to Figueres. In fact he would buy a place, an old theatre here and make it his gallery and his home. He would live out his final years and in fact, die here. We thoroughly enjoyed the entire experience, from the work of other artists that Dali admired to some of his most bizarre and interesting things. It was tough to drive away but France beckoned.



Saturday January 18, we stopped on the edge of the very busy roadway to take a picture of the EU sign, proof positive that we were out of Spain and into Francais. We had been playing tag with an SUV that had bikes on the back. It passed us then they must have made a stop because it passed us again. We were drawn in to a roadside rest out of necessity and there they were. Mom and Daughter were from Holland. The Daughter's boy friend was Brazilian, living in Holland. They were headed home from a month long journey that included cycling and skiing. He had been in a motorcycle crash and almost lost his leg. No skiing for him but he was able to ride the bicycle. We had a fun time talking, promised to stay in touch via e-mail then they drove out of our lives. The vow of communication must have been forgotten, too bad.
Time flew yet distance dragged slowly behind us. We fell short of our goal to reach Arles and pulled up at Montpellier. Cat was driving and entered a traffic circle going the wrong direction, luckily no head on traffic. We saved that thrill for later. As we circled in the streets looking for lodging she turned into the oncoming path of a Metro Train. It wasn't her fault, the street pattern is weird, and I would have turned there, too. It did cause a pretty good stir of excitement and heart rates. Finally ensconced we, being the creatures of habit that we are, had pizza for dinner. Well we did have French wine!
We chose the old roads and beautiful countryside for our drive into Arles. It was just noon and drizzling rain when we pulled in. Though the girl tried hard there were no short-term apartment rentals. We discovered that though they are plentiful in summer most are rented to students during the winter months. The hotel she suggested was wonderful, a family operation that included a couple, their daughter and his Mother. Hotel de la Muette, the mute woman, is in an old stone building. The arch now filled in out front, was constructed more than eight hundred years ago. The spiral stairway is also stacked stone and our room held the feeling of antiquity midst modern fixtures. We loved the place and the family who work hard to maintain it and serve their guests.
Three Days in the Heart of Arles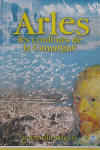 More than picturesque, there is a feeling of history and art that seeps from the stones in this city on the Rhone. The streets wind through the old buildings in a confusing pattern. In the heart of Arles, all roads lead to the ancient Roman Coliseum. We broke out the bikes and cycled or walked every tiny street and alleyway on both sides of the river.
Our first evening in Arles was a treat. As we dined a flamboyant looking Frenchman swept through the door and greeted the chef and waitress with a flurry of French. He boisterously took a table next to us and began to chide the waitress. Long hair accented by his unique clothing and jewelry. I couldn't not watch him. Cat nervously said, "You're going to talk to him, aren't you?"
When I turned to him and said hello he responded, "Bonjour". In very slow English I asked if he was from here in Arles. He chuckled then really surprised us, "No, I'm from Burbank, California," he said with the same gusto and delight he had expressed in French when he first entered the restaurant. We all enjoyed a great laugh and evening together. Michael McCormick is a classical guitarist. He has been living and playing here in France, off and on, for the past four years. We shared wine and stories until late in the evening.

The next day was a workday or at least a work morning. Laundry is the necessary evil of travel. It wasn't easy finding the Laundromat then we had to wait our turn and finally run up and down the street looking for change. While in the process we ran into Michael again. He has a place on the third floor just across from the Laundromat. We walked together to Café au Nuit, made famous through the eyes of Vincent Van Gough. (Café at Night) Michael, described Arles as a place making a living today off of a guy that they treated so poorly. He said that they all thought he was crazy and treated him thus, as was the custom in those days. Well, if you think about it, here's a disheveled guy, sitting on the street corner making scribble marks with thick oil. It was contrary to all other artists of the time, yet he called it art. You and I might have treated him like a homeless person if we came across him today. For us he was as interesting as Picasso and Dali. He died sad and poor yet one of his paintings, Sunflowers, has sold for over $30,000,000. Oh Vincent, how they underestimated you!

Michael led us on a small town tour as we walked to his favorite restaurant to make reservations for tonight. Darn, it was closed on Mondays so we decided to make our dinner plans for Tuesday. He left us and we started to buy the pass to the ruins and museums but they too were closed on Mondays. Seems that most restaurants are closed on Mondays here as they were in Spain. Only the most industrious are open and they always seem to be Asian. We had very good Vietnamese food with out conversation. The chef/waiter only spoke French and Vietnamese. We talked as we dined about the history of Vietnam, how the French had fought the northerners for 20 years or more before bowing out and allowing the US to give of their money and young for another 15 or so? Well the memory is tainted but the food was not.
Two Sunny Days of Cycling

There is a place, the Parc Naturel Regional de Camarque, just south of Arles. It is the delta of the mighty Rhone River. There you find streams, swamps, flamingo, wild horses and great roads to cycle. Although we missed the flock of pink flamingos we did see the black bulls used for bull fighting and a herd of the wild horses. It was a perfect day on the bikes but we got just a little lost on the way back in. For a moment we thought we had a flamingo in our sites but it turned out to be quite white. A Swan, we decided then it took to wing and passed overhead. Its long neck was extended 2 ˝ feet ahead of its body and it let out a whoop every time it made a flap of its wings.



Time got away from us and hunger set in. Finally we stopped a lady in a car and she explained. Fortunately Cat's French lessons are coming back to her so she got the message, we turned the corner and were back on the streets of Arles in no time. We picnicked on the bank of the Rhone then set out for another landmark made famous by Vincent, Pont de Langlois, The bridge at Langlois just 3 Km south of Arles. He painted the scene in 1888. Sure it has been rebuilt since Vincent swirled his bold brush across the canvas but it feels like history. It even looks like history. Maybe it's the copy of Vincent's painting there that sets the mood.


It was 5:30 by the time we got back to La Muette. We had to hustle, Michael was coming by to meet us for dinner. His friend, Angele would join us there. Another fun evening with him. They have been friends for several years but for us it was a little difficult. Angele is from Spain, along the southern edge of the Pyrenees. She has lived in France for 20 years. Our problem, she only speaks French and Spanish. Even with our high school backgrounds we struggled. Cat did best, she is starting to recall how to construct sentences. Michael told of how he struggled when he began trying to converse in French. At first you learn words that get you by then you want to make conversation so you must learn grammar and the nuances of the language.

The McCormick Come Back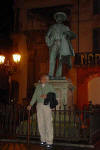 When we talked about how the French don't seem to look at you as you pass by or smile or say hello. Michael told us that when he learned Conversation he was still in his California mode so he would smile and say hello to people passing by. Then he laughed and told us that the French have a little saying that translates, "Do I know you?" That's how they respond to a smile and greeting. Then as they walk on they say something like, "I don't know you!" This really isn't a reflection of disdain, just a cultural thing. Our friends in Denmark say that most Danes think Americans spend a lot of time saying trivial things like, "How are you," when they don't actually care how you are. They're right of course but then, that's our culture. From that moment on we made it a point to smile and say hello just to watch the look in those French eyes as they pass by. We had another great evening then Michael slipped over and bought dinner. That wasn't on the agenda and he refused to let us pay our share. We vowed to repay the debt, here or in California.
Another bicycle day that started out sunny but slowly clouded and cooled. Our route was up and over Les Baux, a mountain with famous Chateau Les Baux atop, another spot immortalized by Vincent, then down into St. Remy. This was the first real climb we have made since Marbella up to Mondo. The scenery is worth the effort but the best of it would lie in a small restaurant in St. Remy. The up had left us hungry and the screaming down had chilled. Chez Momo is a real peoples place. We saw it as we came into town but circled before making it our choice. The Chef works in front of a window open to the street. A chalkboard sign advised us that the special was Pot au Feu, pot roast with potatoes and vegetables. There are only 5 tables in the place and a stand up bar that was crowded with locals. We had to stand outside, waiting for a table but slowly worked our way in as others left. This would be our "best yet" French experience. The wife of Chef and mother of the maker of crepe seated us. There were two dogs in attendance, very French. Several of the guys at the bar tried to help us. One fellow boasted that he was Vincent Van Gough's great, great grandson. Who are we to disagree? He did have the look. The Mom is Momo and she runs the place. When we took a family photo she had Dad and Son hold her up, she is short and wanted to look taller in the pic. What wonderful people, what a wonderful memory.

On the way back up the hill we stopped off at the Le Cloitre St-Paul de Mausole where Vincent voluntarily checked himself in. Here he painted the Iris, Night Stars and of course La Chambre de Vincent, what I call "Chair in Room", the place where he cut his ear? They charge a fairly hefty sum to enter, the areas where Van Gough lived and painted more than 200 canvases are off limits and they wouldn't allow bikes. We decided not to risk leaving them outside so took a photo and rolled up, up, up. Lost again, we finally wound our way back into Arles in a bone chilling wind. We missed Michael but had a pretty nice meal at "Café au Nuit" and raised our glasses to Vincent.

Avignon, Aix en Provence, Vaison la Romain, Carpentras, Nyon & Montelimar
We chose to just wander the small roads. The ice up north isn't giving way to spring so why not? Small beautiful villages, castles, vineyards and countryside. Avignon is a walled city. The mote had been filled in so the walls just jut up out of parking lots and behind buildings. We had read about the place and wanted to stay and see the sights. It was now cold, windy and very cold. The tourist office provided a list and map. We were on our own in the hunt for hotel. The first three on the list were terrible, cheap but terrible. Back to the TO, they sent us to a place outside of town. It was fully booked but the girl there called trying to help us. No rooms there either then somehow the girl found a room for us but we could only spend one night. We took it, bought groceries and ate in. It was just too cold and the wind had played havoc with my sinuses.
Two Days in Aix en Provence
Our visit to Avignon was a Lil' Scotty driving tour. We passed by the sights said to be important then set out on the country roads, again. Cat wanted to see Aix en Provence so off we went. We were in the city by noon but spent the next three hours shopping for a room. It was getting colder as sunset neared. We finally gave in and took a place on the outskirts. The bikes were stored in a meeting room, we thought we would take a ride the next day. Public transportation, the bus, was our ride into Aix. We zipped up and explored a little. Found an Internet Café and cleaned up our e-mails then bought bananas and other essentials and bussed back home. The restaurant at the hotel was more than adequate and reasonable for their buffet.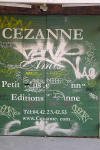 Between the cold wind and the lack of bicycle paths we shelved the idea of a ride and chose the bus in and a walk around town. The Cézanne trail has bronze markers at every place where artist, Paul Cézanne, lived, ate, drank, talked and painted. It becomes fairly boring in a short time. The most vigorous part of the tour and the most interesting was up the hill to the house he lived and worked in for many years. No, you won't see any pictures here because they don't allow photography. The studio is sitting in the same state that it was left in when Monsieur Cézanne died, almost 100 years ago. The woman there, like the tour, was almost too detailed in the info she offered. We were intrigued by the fact that he painted the nearby mountain 48 times. He is known and his work now loved but he was quite normal when compared to Van Gough, Picasso or Dali. We did drive out that way when we left and I got several good shots of Cézanne's mountain.
Cat loved the crowded Saturday Market selling food, flowers, antiques, even clothing. We ate a bowl of hot soup and watched the pandemonium through a window. The restaurant was typical French with elbow-to-elbow seating. The soup helped cut the cold. Though it was clear and sunny the cold chilled us both.

For the sake of convenience we decided to have dinner at the Hotel Restaurant again. When we returned we found hat it was closed for the evening. We drove to a nearby shopping center and had terrible Pasta. They had very little wine but allowed us to get a bottle from the adjacent Super Market. We found an English language newspaper that took the rest of the evening or should I say we made it last the rest of the evening.
The Small Story of The Small Town of Carpentras
After a slow start we just crawled through the countryside and enjoyed the sights. Small villages, Castles and vineyards. Gordes is a spectacular sight, clinging to the hillside above farms and vineyards that reach out toward the horizon. It was a steep climb just for a picture but Scotty was up to it and the picture is wonderful.

Another strange place, the walled Village des Boires, a village built entirely of stacked stone. The village isn't named Boires, the houses are. Boires are constructed of limestone without mortar. Kind of beehive shaped there is even a two-story model. First built here in the Bronze Age, they were used continuously until the 18th century. There are 20 that were rebuilt over 150 years ago. It's a pretty good walk to the village and it is maintained like a museum so you pay for a ticket but it is definitely worth the effort.


We decided to stop for the day at Fontaine de Vaucluse, an anomaly where water just comes pouring out of the mountainside in a large river. It was cold and windy but we walked the 2 Km to see the phenomenon. Just as we reached the roaring gusher we ran out of disk space, we would have no pictures. I thought of running back to Scotty but dark was closing in and cold preceded it. We had left Scotty in a parking lot. The attendant agreed to keep an eye on her and the bikes but warned us that he would leave at 5:00 PM. So, no photos of this strange natural event in a place where men have lived for centuries. The Romans defeated the Celts here and took over in the 2nd century, BC and there are abundant ruins scattered about. Fontaine de Vaucluse is a big tourist stop and this wintry day was no exception. Hundreds of bundled up folks walking up stream and all over the streets of town. Plenty of shops with the usual tourist stuff. We tried to find a Hotel and were surprised to find it fully booked on a cold windy Sunday.

Fountaine de Vaucluse
Onward, we pulled into the village of Carpentras at dusk and found a nice hotel owned by a young couple, Frederick and Christine. Again, it being Sunday, there was only one restaurant open and it was Vietnamese, of course. We walked down the narrow streets in the gusty cold and found good food and a portable heater that they pulled over to our table.
Vaison-la-Romain
Rather than take the offered breakfast we had our bananas and orange then walked to a local Coffee place. It was more than cool. Well the gals who work there made us feel at home, we joked about our French and their English. The food and café au lait were great but what was really cool was the breeze through the open entry. Brrrrr. Forget the cold, we walked the tiny streets and alleys exploring, getting lost and found again.

We caught a picture with Frederick and Christine then he hurried off to a Doctors appointment and we wandered off toward the north. Vaison-la-Romaine straddles the Ouveze River, a creek now but one that swells and floods, often. It's another one of those Romans ran off the Celts stories. There are a lot of ruins including a bridge still in use. Somewhere around 6th century AD the people moved up on the hillside then 600 years later a castle was built on the hilltop. It is really picturesque but the hotel room was lacking. We took a couple of pictures from the window, walked around until we started to shiver then found a nice restaurant. Although they served only red meat we ate and ate.
In the morning we took a brisk walk up to the ruins of the Castle. It was a treat to walk the paths and stairs of the medieval city where others have trod for more than 1,000 years. We did make the Castle but it was shuttered and barred. The tour was just around three walls, the other was on the top of a sheer cliff. Cat loved the Tuesday Market that was going on in the square adjacent to the hotel. There was even a good Internet Café. We loved Vaison-la-Romaine and decided to find a better room and stay another night. The tourist office was closed and we couldn't find anything so we decided to gypsy on up the road.

Nyon, Olive Oil and Rene
Lil' Scotty loves these kind of days. We have just been slowly meandering around the French countryside. Each of the past few days has only covered 50 Km or so. Nyon had the same feeling of charm as Vaison without the medieval and Roman. We found a decent room then went looking for an Olive Press. The one we found was busy bottling but the press ended last week. The people were friendly and told us about an Olive Oil Museum. We found it then in walked the man who works there, Rene. He is 81 years young and loves telling the story of Olive Oil. Of course he only spoke French so he worked with Cat and got his points across. He did have a piece written in English that helped. We had never even thought about how they press the oil out of olives. We just dip our bread in it and pour it on salad. Pretty interesting.

Rene's Olive Museum

As we were leaving Rene came out and picked a yellow flower like branch off a tree and gave it to Cat. He called it Mimosa or something close to that. Then he invited us to follow him next door. There he took us through the gift shop and into the modern Olive Oil processing plant and gave us a personal tour. He loved talking with the guys who worked there as we walked. And, he did a great job of explaining the modern process. Then he led us back into the gift shop and insisted that we have a glass of wine with him. He also made us taste the olive oil and told Cat that you should take a glass of it every day before any other food, it's great for digestation. Rene was the frosting on the wonderful Olive Oil story he had created for us! Cat felt that he was a lot like her Father. She thought he would do things quite the same way Rene had. What a joy!

Huile D'Olive Moderne'
All that olive oil made us hungry, for Pizza. Okay, we're always hungry for Pizza but there was no Pizza place in Nyon. We ended up at dinner in the hotel dining room. Not Pizza and not too good.

Montelimar, La Voulte sur Rhone, Elana and Politics
Apre coffee and Internet we moved onward, ever northward. We were easily in Montelimar by early afternoon, had lunch and looked for a room, no luck. I remembered the place because it was here that I met Bill and Barbara, you know the bi-coastal couple from Seattle and Chicago. I had memories of a wine-buying contest with Bill but who knows where that place was or if it still exists? We found only sad looking hotels and industrial buildings, onward, ever onward.
It is well known that the Rhone is home to the world's largest cluster of Nuclear Generating Plants. They produce a huge amount of the electricity for much of France. Here we are in the world's best wine region and it's a Nuke region, too.

We passed through La Voultre sur Rhone and went seeking a B&B. It was in a simple residential neighborhood and it was closed. By now it was raining so we backtracked and met Elana. She was gracious in a forward sort of way. There is a restaurant in the hotel and she seems proud of it. She told us that she had owned a restaurant in South Africa for 15 years before coming back home to France. Because of her experience there she spoke very good English. The room was COLD. We turned up the little electric heater and showered but the chill remained. We complained and Elana came to the room then offered extra blankets. It was obvious that the heat was not going to get the job done.

Dinner was simple, one choice on a fixed menu. Curried chicken on rice and it was just okay. When we entered we were the only patrons but the crowd swelled to about a dozen. We were seated in the corner window, the glass was cold but the heater beneath the table cast a warm glow onto tour feet. As the crowd thinned Elana took a seat at our table and asked about our trip then filled us in on details of French lifestyle, religion and politics from her perspective. Religion was easy, she feels that the French have given up on it. She says they go to church for Christenings, Weddings, Funerals, Christmas and Easter. Her ideas about French lifestyle we jaded by her time spent in Africa. Too liberal socially, especially when mixing colors, races and cultures. The most heated part of the conversation was politics, she like most French have a definite almost defiant objection to what they call Mr. George Bush's war. It is a fact that the vast majority of French oppose war in Iraq. As we watch the events of the day unfold we see more and more the affect of leadership and how so many fall in line. It is obvious that the drums of war are reaching our fellow citizens in the USA. We see people on CNN and BBC from the states that have a strong opinion that war is the thing to do. Just as many French and German feel exactly the opposite. Even e-mails we get have messages of dislike, almost hate for Iraq, in a joking way. Now they are also poking fun at France, how they never won a war in modern times without the USA, etc.

Bridges over the River Rhone
There is no wining or losing this type of argument and we refuse to be involved. I personally hope that the situation will work it's self out without guns and bombs. Peace is something that we all say we want, whether French or American. Funny, most French seem to be lining up against President Bush, not the people of the USA and vice-versa. Back in our cold, cold room we huddled down under the additional layer of covers and got a pretty good nights sleep.
Happy Birthday, Lori Lee
Today is January 28 and both daughters are in Las Vegas. This is a big day for Lori Lee, the anniversary of 40 years of life. Every Father who is fortunate enough to live as long as I should have the good fortune to have a wonderful 40 year old daughter, as I now do. It made me inventory my own life in a strange way. I began to think of all the things I have done and seen since turning 40, myself. I had not skied, flown in a passenger jet or traveled anywhere that couldn't be driven to before I turned 40. Lori, as always, has a very positive attitude and is a bundle of self-confidence. Unlike most of us she sees age not as a detriment but more of the great learning experience of life. Though she has been in sales for 20 years, she had just begun a career in Real Estate. That adds another layer of joy and admiration to this already proud Papa. She and husband Dave are consummate Yuppies, they work for the toys and joys of life! We sent her Happy Birthday e-mails and spent several days trying to have a Jeroboam (huge bottle) of wine shipped to her. It didn't work, not because the French didn't want to. California has rules about importing and wine is one of them.
Four days in Lyon
January 30-February 2, 2003
Elana had offered us the use of her computer to check e-mail but it wouldn't open America on Line? We were hoping that this wasn't due to the rift between our governments. (This is just another WAR joke.) We loaded Lil' Scotty and continued our quest toward the cold.
Our route was along the Rhone but somehow we took a wrong turn and circled several areas before stopping to use the Pissoir at MacDonald's. In our first in some time weakness we decided to get food at the drive thru. We ordered in the usual fashion then when we got to the window the girl couldn't fit the bag of food through Lil' Scotty's window. What a laugh, all the other kids had to come, look and laugh with us. Once the sandwiches were in our car we decided that it would be too messy to eat and drive. Parked in the lot, as we ate a truck driver pulled up, got out and looked the car over. He came to the driver's door and said something in French. It was positive because he gave us thumbs up. When he saw the plates he asked if we were from Portugal. We told him we're Americans and only speak English, he then, in English, said, "I know you no Portuguese, they don't drive Renault 4 into France." We couldn't figure that one out and as Cat scurried to find words in the dictionary he turned and walked away.
Into and back out of Lyon, we were trapped on the freeway and had to drive through a very long and sort of dark tunnel. It took us away from town. It took a turn around and replay of the dark drive to get us into the streets of downtown Lyon. For some reason trucks look even bigger and more menacing in the dim light. The two-tunnel trip sort of reminded us of the 3-bridge crossing it took to get us into Lisbon, Portugal.
Lyon is a BIG city. We circled and studied the map then looked for a parking space. Finally I pulled down into a Service Station that is under the main square. Cat walked to the Tourist Office while I topped off the gas. The attendant told me that I couldn't park in the pump lanes or adjacent to them. I saw a vacuum cleaner so fooled with it and vacuumed Scotty and stalled until Cat returned.
She found what would turn out to be a great place for us. It's a furnished studio apartment and the rate is very good for a big city. The more days you stay, the less it is per day. They don't have maid service, they only replace the cover on the douvets weekly and towels cost extra if you want a daily change. We felt right at home, that's our schedule there. Oh, and the place has a garage, one of those with an elevator that takes the car down then you pull up on a ramp and it drops down so that another can park above. Lil' Scotty looked pretty tight in the vault, we couldn't see how one much bigger would fit. The bikes were right against the wall and we thought we were going to break her antennae on the ceiling. Very tight! Another wonderful feature was a washer and dryer, included in the rent.

Scotty's Bedroom
We cooked in all three nights. Dinner in, Cat Cookin' and room to lounge. Even Scotty got a few days off in the deal.
Our other needs were easy, too. The Internet place was just 3 blocks away. One of the guys there was interested when we showed him our web site. Alain always talked with us and helped us when we came in. He even put our pictures of Spain on CDs so we would finish them and send them off to Wally the Web Master.

It was cold every day we were in Lyon. It snowed pretty hard a couple of times. The snow stuck for most of the time we were there. In fact when we awoke on Saturday Feb. 1, the ground and all the cars were covered with white. Our original plan was to take the Funicular up to see The Lyon Baccillica and Roman Theater but the operators were on a one-day strike. We did marketing then back to our little home. Cat went to have her hair cut and I worked on the journal as BBC droned along in the background. I took a break just as they cut to Cape Canaveral to cover the return of Space Shuttle Columbia. When the time for expected landing passed there was an announcement from NASA that they had lost contact with Columbia but that sometimes happens during re-entry. Just as Cat came back in they began to report that Columbia was missing and started speculating on what had happened. In the next hour NASA announced that Columbia had disintegrated on reentry. WOW, it seemed unreal. Cat is always a lot more emotional than I but we both felt a kinship to those who travel around the world whether in space or on an orbital pattern like ours. What a tragedy but then we who press to the edge know that it can end in tragedy. We doubted that any of them would trade their experience for security. We can relate to that, not that our Odyssey compares to the risk of space travel but we do face dangers, weigh them against the possibilities then, move onward. (If you doubt the wonders of space travel go to our "Languages of the World" page and see the WORLD at night from the International Space Station!)
The sun came out, we walked and explored, even took the Funicular up and wondered at the architecture of the Basilica. The Roman Teatro is as Roman Teatros should be except for the view of Lyon. We thought of playing our Cajun Music there with the crowd above and the City behind the Band.

We slept late every day and wallowed in the luxury of our Studio. We walked every little cobble stone street and saw the Traboules, the little passageways connecting what were silk shops in the old city. We stopped there for a photo of a sign, Casse Croute, that reminded us of our friends, Michel and Lucie in Quebec. We met them at a Casse Croute and they taught us what it meant, a snack shop. Nearby was a restaurant with a guy standing in the cold making Crepes. We watched, took pictures then sought warmth and found real French Onion Soup and a nice guy, Christophe, waiting for his girl friend to meet him. They are going skiing, he is pleased with the snow that has fallen off and on for the past three days. Sort of like that old lesson about, "Rain on the Parade, bad day. Rain on the Crops, halleluiah! Same day same rain." For our part we feel that Spring has been given a back burner and it will delay our start in Finland.

The Rhone and Soane Rivers meet here in Lyon. One day we set out to exercise and walk to the confluence and back. It was further than it looked on the map but we wouldn't be foiled. Walking and walking we finally found it and found it to be pretty un-photogenic. One thing we did see was a lot of little campers parked in the industrial area. They all had a candle, burning incense and women in the cab. We started to get the picture when a truck pulled up and the guy got out and talked with one of the Ladies. These Ladies of the Night were Ladies looking for Truck Drivers.
On the way back we passed through The Gare de Lyon, the train station. That was the only memory I had of this place that I visited on a Bicycle Tour in 1987. Bicycle France was our guide. Richard and Kristen Taylor came along and I met Bill and Barbara our bi-coastal friends there. In fact we set out from Montelimar after arriving here and rode south to Arles. Those were the days when I started to know that I would have to go around the World on a bicycle, someday.
Cat was a little nervous when she saw the French National Police guarding the station with machine guns in hand and standing at the ready. I thought ahead to Africa, I remember young nervous guys with guns in Egypt, Pakistan, China and Russia. My most fervent memory of young men and guns was in Romania. They looked like they were just looking for a reason to draw and shoot! Funny, how the guns always look older than the guys holding them.

Political Protest

Snow/Lyon/Rhone

High Noon, Lyon
We were pleasantly surprised with Lyon. It has plenty of things to see and do as tourists. It is interesting and picturesque. However, it was cold most of the time and snowed on our heads as we walked. Spring seems a long way from Lyon!

Lyon to Macon Villages, Beaune and Puligny Montrachet
As we were leaving Lyon we stopped at the office of Gites de France. These are homes that rent rooms to travelers. They seemed like a good option for a few days stay in Beaune. However, like all good things there were restrictions. None of them were located in Beaune. This is a beautiful City that I remember from 1988. There the kids, Lori and Stephanie met me and we cycled together on a tour, Chalet Cycle Tours. Of course my memories were in the fall of the year but I did have a cold most of the time and the weather was pretty chilly, too.
Gites of France seems like a good deal for families but they wanted a membership fee and 4 or 5€ for each directory. Without joining the Gite thing we set off up river and out into the vineyards. Well we did have to brave the dark tunnel again but like most things in life, it seemed a lot less ominous, now that we knew the way.


The mere sound of, "Beaujolais Wine Route" drew us to turn left, off the beaten path. It was a fantastic drive through countryside on small winding roads. We left the level roads that flank the Rhone and began pushing Lil' Scotty over undulating hills. The snow in the rows of vines accented the beauty. Of course we were soon lost. Time was waning so we took the first sign pointing back toward the National Route. We were in Macon, in an okay room and eating Pizza in no time.
The sun shone brightly as we set out for Beaune that next morning. Shortly the skies grayed then we found ourselves in an honest to goodness snowstorm. The huge flakes were so thick that Scotty's wiper could barely keep them from piling up on the windshield. The snow was covering the highway when Cat cried out, "We had better turn back!"
I slowed Scotty to a crawl and felt the road, the snow was pretty wet but slick. We pulled up at a Service Station for gas and guidance. The guys there could only speak French and Cat was in the car. As I tried to converse the sun broke through the clouds and seemed to point the way to Beaune. We pulled into town at Noon.

Chains Required?
In the heart of beautiful Beaune, on the square, is the tourist office. The village felt familiar in a stark sort of way. It was autumn the last time I was here. The trees were loaded with leaves turning red and gold. Today the trees were stark but that is another form of beauty, don't you think?
The girls at TO weren't very helpful or was it that our expectations were too high? They did provide a booklet full of Gites and B&B places but most were closed for the season and they had no list nor would they call to see it the places were open. We began to drive and search. Out of town, on a hillside, we found a fantastic house. The owner was there and would rent us a room. We would have had the house to ourselves except it was completely rented for a party today. That meant we would have to find a place then move. Also, as fantastic as the place was, it was beyond our budget.
We circled, looked at small, junky hotels and knocked on doors of Gites. Finally we gave in to the cold and approaching dusk and took a motel room. The Kyriad is like an upscale Motel 6 with a fairly nice restaurant. As we pulled into the parking lot it began to snow so hard we hated to get out of Lil' Scotty. I backed her into the bushes and covered the bikes with the plastic mattress cover that Alain in Arles had donated.


By the time we were inside there was an inch of snow piled up on the parking lot. We stayed in, and watched the snow and Scotty from our room. Winter had reared its beautiful head, again.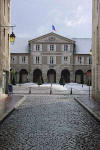 Determined, we set out the next morn on a quest. We had decided that we would hold up here for several days in the hope that the weather pattern would change. Tourist was again, not too helpful. We tried a Real Estate Office to no avail then another and found help. The Broker, reminded us of a French speaking Joanie Young. She got on the phone then indicated that we should follow the young guy, he would show us a place just outside town. It was 25 Km to the place he was showing us. We felt badly that he had to go so far out of his way, on his lunch hour. Slowly we began to put pieces together and when we arrived he confirmed our suspicions. It was his Mothers place, he was going home for lunch. The place, a full apartment on the rear of the house, was very nice. We stood in the place, felt at home but hated the fact that we were so far from Beaune and the wonderful wine region. We went to lunch and thought it over. As nice as it was and as well priced, it was just too far off the beaten path for us.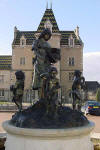 Our next step was to drive back through Beaune and south. We found a nice place, a little above budget, in Pommard just 4 Km from town. Same problem as the big house, booked for tonight, available tomorrow. Onward, we found the Tourist Info in Meursault and the girl was really good. She called around but was finding the same problems, either they were booked or closed for the season. Then she found a place in the tiny village of Puligny Montrachet. If you know white

wines, well wines of any color, these two places are the pinnacle of small villages and the heart of the Bourgogne (Burgundy) region. I once met a Frenchman cutting roots on his vines. I asked him about irrigation and fertilization because California vineyards seem to do both. He laughed then in his wonderful accent he said, "You may fertilize and irrigate but ONLY GOD CAN MAKE PULIGNY MONTRACHET!"
The Gite is a house, almost a chateau, that was once a large farm. It is divided into two now and Maria and Antonio own the largest portion. We took a bedroom and they arranged use of the kitchen. When we say arranged, they have been working to build a stovetop but it is a ways away. What they arranged was a camp stove with butane gas sitting on a cardboard box. It worked, it left a strong smell of gas in the room but we were able to cook dinner every night. On our first night Maria offered a bottle of their own wine, from the grapes behind the house. It was so nice that we bought a bottle every night.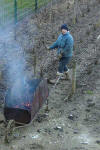 One treat was watching a woman work the vines behind the house. She was trimming and burning the branches. Her wheel barrel is a 50-gallon drum with holes cut in the bottom. As she burns and moves down the rows the ashes drop out and regenerate the soil. Very French, very vineyard.

Trim and Burn
Although the weather remains unsettled we rode the bikes into Beaune. We checked e-mail but the weather in the shop was as cold as the outdoors. We were bundled up and decided that this was Finland practice. On the way back we looped out and up to several smaller villages and through vineyards with barrels smoking. As we came back around we found a Renault Dealership and booked a tune up for Scotty.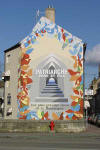 Our second ride was similar, cold but scenic. We did stop and have a bowl of real French Onion Soup in Beaune. As we sipped we watched a guy and gal sort of climbing all over each. We thought they could be on a lunch hour rendezvous or just starting a relationship. After she left he, Max turned to us and opened a conversation. He is an engineer currently working on the Nuke Generators we saw along the Rhone on the way in.
For a third day of riding Maria suggested Bouilland. It was on the far side of Beaune, about a 60 Km round trip. This would be the longest ride we have taken since Marbella. The skies were clear and the sun shone but it was cold. We were ready for the cold but the ride was a bit more challenging on the way out than we thought it would be. Once through Beaune we looped out through Savigny-les- Beaune. It lies in a small river valley with rolling hills covered with vineyards. From there the road rises slowly through wooded hillsides along a crystal clear creek. In Bouilland we found a boulangerie and bought the ladies last loaf of bread. We had forgotten that it was Sunday and most places are closed. A nice woman saw us stopped and offered help. She pointed out a place that she said was sort of a restaurant. It turned out to be a bar, they did allow us to eat our bread while we thawed out and sipped soft drinks.

We backtracked and found a place called The New Rock Café. It was very California in look and the food, although good was the strangest hamburgers we had ever seen. It was billed as a double and it did have two small patties but they were on a huge bun that was sort of like thick pita bread. Of course we were starving so it tasted great. The décor was so interesting that the pictures and little movie here are needed to get the point across. It is a bar with lots of California, Americana memorabilia on the walls.

Californians in France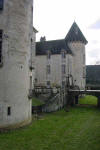 As we cycled through Meursault on the way back we stopped at the winery where Antonio works, tasted a glass, bought a bottle and tried to buy a Jeroboam, the giant bottle of Merseault to mail to daughter Lori for her birthday. They only bottle reds in the large bottles there. It was a serious day of cycling and the hot shower after, really felt great. We're not roadworthy but today did help to boost our confidence.

For Scotty's day in the garage I got up early and took her in then cycled back. Brrrrr, it was really cold. When we picked her up we were shocked. The bill came to 336€! Well, I did have them change all fluids and flush the radiator and make sure that it would handle the cold we were headed toward. Also, I had them change the points and spark plugs. The labor charge here in France is more than twice that of the place in Marbella and Lagos. Also, the French have a huge tax thing, 20 percent of the bill, which came to over 60€. On the upside, Scotty really ran great, she had been dieing at stop signs and idling roughly. She was road ready for the final push.
Oh, we did take time out to tour Patriarche, the Caveau with more than 4,000,000 bottles of wine stored in the old sewer system, the catacombs, under the streets of Beaune. Patriarche has been in Beaune since 1780. The labyrinth of cellars dates from the 13th and 14th centuries. The oldest bottles on the wall have been there since 1905.They only keep wine on the shelf if they have more than 12 bottles. They taste one bottle each year to make certain it is still holding well. I tried again to buy and ship a huge bottle of wine to Lori but they would only ship a case of 6 and that was way out of our budget. The tour costs 9€ so you must hurry to make sure you get your Euros worth. Today they were only tasting 13 so it wasn't much of a challenge. When I visited here in 1988 they had 28 bottles open. As for the wines, they're not really that great but the place is so unique that you must try it when you visit Beaune. King Louis IV said it and it is engraved in stone, "The wine of Burgundy is the wine of Kings!"
Also, while in town we almost bought the ticket to tour Hotel-Dieu. It is a charity hospital that was founded in 1443. Since it is an architectural wonder, we wondered around the outside and enjoyed the gardens.
Another fun event was the Marche, like a farmers market, in the main square of Beaune. It had snowed the day before and people were slipping and sliding but they had cleared it and set up the all the booths full of colorful fruits, vegetables and flowers.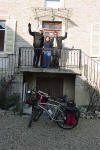 Our five days in Puligny Montrachet had flown by. Although Maria and Antonio had left us to ourselves we felt a strange closeness to them. We didn't get to meet their boys, they were in school, at a Soccer game or away for the weekend. Their wine, that we really loved, even the thrown together kitchen that we made such good use of. Our parting was like our stay, quiet and only attended by Maria. Her sister was there and she took our picture together on the porch of their great, old house. We were on the road, again.
One Night in Luxembourg
We just drove, first to Nancy in the far north of France then on the next day to the tiny Country of Luxembourg. It was cold outside but toasty in the breeze from Lil' Scotty's heater. Frost covered the ground and the trees and it stayed there, all day.
Cat went to seek a place to stay while I stayed with Scotty, parked at a yellow curb. As I stood next to her a short, stocky guy with an important looking leather valise come to me and said something I couldn't understand. It was obvious that he was the Parking Police. When I answered him in English that I was just waiting for Cat he said, "Yellow zone, you move!" When I persisted that I was just waiting a few minutes he took out his ticket book and pen then looked me in the eye and repeated, "Yellow zone, you move!" As the pen moved toward the paper, I moved.
Despite the cold we walked a lot of the City they call Luxembourg-Ville. It sits on both cliffs of the ravine created by the tiny river, Petrusse. It seems to be a blend of the cultures, languages and customs of the larger countries, Germany, France and Belgium that surround it. We were surprised when we drove into town, several other drivers honked at us. At a stoplight a couple of young guys rolled down their window and spoke to us. When we said we only spoke English one asked, "Are you Portuguese?" I said, "No, are you?" They vigorously nodded affirmatively then honked and drove away. We were wondering how a couple of Portuguese guys got to Luxembourg but the question was answered when we visited the shopping center across from our hotel. It was like a breath of Portuguese air. There is a large Portuguese population here. We weren't ready to head back to Portugal and we were also happy to find a bottle of French wine midst the Portuguese but we were inspired to call our pal, Jose in Lisbon. He was such fun to talk with, almost like family. Although we didn't have a lot to say it was just great to hear his voice. He scolded us for not having called sooner, like our adopted Jewish Mother, Celeste often does.

Ten Months on the Road, Ten Days in Germany!
Yes, today, February 12th is our ten-month anniversary on the road. Sometimes it seems like just yesterday that we pedaled north out of Oxnard then in the nest moment it seems like eons ago. We really have covered a lot of ground. Although uncomfortably cold much of the time, this segment of the Odyssey in Lil' Scotty has added a dimension that we are glad to have experienced.
Luxembourg, the country is only about 50 Km long, north the south and 40 Km east to west at its widest point. We though we would drive due north on what is billed as the Castle Route. A very nice guy, Erwin from Chile, told us that we must visit Trier, a very beautiful city on the Moselle River.
In just 20 Km we found ourselves in Trier and out of Luxembourg. That was a quick trip? We thought that we would be on the border as we drove the Moselle north. Another lesson in geography, the Moselle immediately wanders off to the east and into the heart of Germany. Like France, all foliage is lacking leaves here and shares that stark beauty of winter. The hills roll upward away from the river and are covered with vines. Sometimes cliffs jut almost straight up and they too usually have vines clinging to their rocky surfaces. These are Europe's steepest vineyards and most of the production is from the Riesling grape.


It was the Romans, those far a field Romans, who introduced wine to this area more than 2000 years ago. We would see some of the ruins of their early production amidst that of the later castles and fortresses. This route, along the river, is also one of the most popular for cycling, too. We could see that if one starts upstream it is virtually flat or slightly downhill for the length of the valley, some 240 Km.


We pulled up in a village called Bernkastel-Kues only to find that it is actually two villages, Bernkastel on the east bank and Kues to the west. It is picturesque to the point that Cat called it "cutesy". More so Bernkastel than Kues. The tourist office was able to suggest a hotel with a room for Scotty. We walked through the quaint streets and deep freeze to dinner at Kartoffelhaus, the Potato House. The waitress was less than friendly and shook her head negatively when Cat asked if she spoke English. Two guys and a gal seated nearby heard and tried to help. They didn't have too much English either but were fun to try and talk with. The waitress listened to them giving advice in English and just nodded in a negative way. When we placed our order she again shook her head and went to the kitchen. Soon a guy, Wolfgang, her husband, came to the table and asked if we knew what we had ordered. Then he made some suggestions that turned out to be terrific. I had a pork leg in the Bavarian style and Cat a ham and potato omelet. Wolfgang and his wife have owned the place for 11 years. What a treat the meal was and it's value was only enhanced by the bill, only 30€ including a bottle of wine and a tip, WOW.

As though not to be discouraged by the change of our order, the three table neighbors, Erich, Kuut and Wolfroud began telling us the most important things that we must see while here in the area. Unfortunately we would learn later that they were all on the Rhine, upstream from where we were headed. Sorry guys, maybe next time.
We did break down and buy a map of Germany and an English/German dictionary. The Tourist Info Office has Internet access so we spent an hour checking messages and chatting with the gals there and a guy from Senegal who is here working and studying agriculture. The girls said his job is to flirt with them which made him cover his face then laugh with all of us. Though he promised to send us an e-mail, we're still waiting. He must be too busy flirting?

The day was just one of sightseeing the valley and villages. The huge, long narrow cargo boats that ply the waters of the Moselle held our interest. They have to move up and down stream through a series of locks. At one point we stopped and took pictures of swans and doves on the river. The swans are those long necked, graceful both when swimming and flying, birds. The doves were human beings, Germans who share the Kein Krieg (No War) attitude of the majority of people here. The former, the swans, swam elegantly up and down in front of us. The later stood above the water and hung large signs urging human dignity over war. We picnicked in the car for lunch, took lots of pictures and slowly putted into Koblenz.

Lost, as usual when we get into larger cities, we found ourselves at The German Corner, the confluence of the Moselle and Rhine rivers. Our quest for a Tourist Office went unanswered, we gave up and took a room at the Ibis Hotel. We know that Ibis is clean and they had secured parking. Well it was outside with a gate and cameras and we were tired of driving in circles. I covered the bikes with the Alain mattress cover and we were home for the night. It was cold, in fact the frost was thick as snow on Scotty that next morning.
Wanting a picture of The German Corner from the Fortress on the hillside we wound our way up the hill to the gate. Cat waited with Scotty and the bikes because there was no parking inside. I did a fast walk through and got some very good pictures of the scene. It was a perfect day for photos, sunny and bright. The drive down the Rhine was a lot less picturesque than we had grown used to on the Moselle. Most of the scenery was industrial.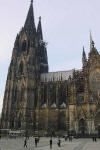 Bonn and Koln were just very wide spots in the road to Dusseldorf. We did spend time and effort searching for the tall Cathedral spires in Koln. Earl, Cat's Father spent time in the Army during WWII and his memory of this place was of lying in a Fox Hole just outside of town. He could see the church spires and he remembered being cold and afraid. We wanted the picture because we were so glad that he survived the war and became the Patriarch of the Welch Clan.

Earl's Foxhole View
Dusseldorf was another big spot in the road. We saw the Ibis Hotel sign and bought in. Then we decided to walk in the freezing night air in search of bananas. We passed a Sushi Restaurant and couldn't resist. The waiter, who spoke some English, was on work experience here from Japan. He was really excited about our trip so much so that he vowed to get in touch via e-mail. (See his wonderful message on the e-mails from friends back on the Home Page.) We had boiling hot Udon Noodle Soup and Sushi. What a treat on a cold wintry night. They had no wine so I walked back down the street to a shop we had passed and got a bottle of French. All in all a wonderful evening then came the check and a second surprise, they wouldn't accept credit cards. We scraped together barely enough Euros to pay with just a tiny tip. Whew!
The Ibis was so warm and spacious that we took a day off for housekeeping. You know, laundry, e-mail and catching up on the Journal.
Juergen Ohrt and I have both worked Real Estate for many years in Ventura County. We were both volunteers with The Ventura County Coastal Association of Realtors. In fact he is still a member of the embattled MLS Committee. He has been in touch with us for some time via e-mail. He and his wife Helga have a home in Germany and have invited us to stay with them. We thought that was a great idea and accepted. In order to let them know our progress we called and confirmed that we would arrive in three days subject to Lil' Scotty's continued good health.
The drive to Hanover was on an AutoStrada and boring. We were trapped in traffic for 45 minutes at one point due to an accident. Lunch was a high point at Burger King. We went directly to the Ibis again using the map in their book. The room was as expected but dinner was pretty bad. Well they don't advertise to be a gourmet restaurant, in fact they are almost fast food. All plates are pre prepared and the staff just pops them in a microwave. We sat and waited to order until Cat was tired of waiting. Finally she walked over to the waiter, who was reading a newspaper, and place our order then waited while he turned it in. He was irritated but not nearly as much as she.
It was a 20 minute wait then when he delivered Cat found that her meat was not only too rare, it was cold in the middle. I took it to him, he looked then took it back into the kitchen without a word. We thought he would put it back in the micro and zap it. I ate while Cat watched. Finally I walked back to the counter and asked, "Two minutes", he responded. It was another 10 minutes before he delivered and it was another complete meal. Though they had started over the meat was still pretty rare. By this time Cat was so hungry she was ready to eat anything. She worked her way around the really rare and I again complained as we exited. Our unfriendly waiter took her meal off the ticket and tossed it on the counter. Needless to say he didn't get a tip. We never blamed him, someone up the Hotel food chain needed to rework the microwave time for the meal. We did blame him for a terrible attitude.
As we were leaving we ordered one glass of wine to take to the room. When he came back out he had opened a bottle that he earlier told us they didn't have. We told him we only wanted one glass and he growled, "This isn't my day." He was right but he didn't know why, Attitude is Everything!
Rather than attempt the café downstairs again I made an oranges and bananas run to the local Super Market. Though just down the street it was tough finding the parking. Once inside it was a monster, the groceries were in the basement. Once I had them and was through the checkout I tried to get coffee at the bakery. The line was long and I couldn't figure out how I would carry it so --- we had our coffee at Burger King, 4 cups to go. Then we sat in the car until most of it was consumed, too hot to drive and drink. It somehow seemed appropriate, Burger King on the day we are going to Hamburg.
There is a small city called Celle that Juergen told us we must see. We found it and then circled but couldn't find parking and frankly, didn't want to get out in the cold wind. We did get a pretty good feeling for Celle. There is a walking street that we could just view from the car but it was vacant of other pedestrians, smart on their part and ours.
After a stop for lunch at a nice little country café we stuck to small roads and found ourselves enveloped in Hamburg traffic by 1:00. Round and round stopping, checking. Finally giving up on the idea of that perfect little hotel again we followed the Ibis map to one with parking. Well, the parking turned out to be a public lot next door. When we asked about the other Ibis in Hamburg they informed us that it had been closed? Back to square one.
Finally we bowed to high cost and went for what they said was the only Hotel in the city center with parking. As we pulled in a surely attendant came to the car window and spewed something at us that we couldn't understand. A woman, leaving work from the Hotel intervened and told us that the car with the bikes on it wouldn't fit into their garage. I thought that was ridiculous, I asked if they park full sized Mercedes. The lady asked the guy and he got pretty tough sounding, telling us that we would have to go to public parking. I asked him to try it but he refused. It was tight, I watched as he took a car out. They come through a narrow tunnel on a moving platform then onto a turntable to get around the corner and out. I was sure that Scotty and bikes would make it but the attendant had the authority and the stronger voice. We pulled out and headed north.

Now we were in one of those positions where we showed them but we were also facing a cold night in Scotty. The airport is north of Hamburg. We were sure that we would find something there. We were wrong. As the outside air-cooled and the thin gray sun began to set we set off into unknown territory. Then, as often has happened to us, a nice looking Hotel just appeared seemingly in the middle of nowhere. Not only that but it was inside budget and had a garage where Lil' Scotty would rest, too. The only Hotel in town recommended the only restaurant in town. They were both GREAT.

It was a short scoot for Scotty to Kiel. The road was clear but the skies were gray and there was thick ice on the fields. We found the tourist office only to learn that there are no Hotels in town with parking. The pointed us toward the Library, next door for Internet access and a Pension a ways out of town for lodging. It was a great find. The room was like a mini suite. We lounged, watched TV in German and journalized. Even a good restaurant close by for dinner. Two days, two good deals.
Juergen and Helga Ohrt
After a quick trip back into Kiel for another visit to the free Internet connection and a look at a natural ice skating rink in the shopping area we were off to Kappeln.

No Refrigeration?
Juergen Ohrt is a Realtor, and friend from back home. We started getting e-mails from Ventura asking where we were going, what our route was. Then he told us that he and his wife Helga have a place in Northern Germany and will be there during February. They invited us to stop and visit them if we got close to their area. Since we have slowed progress due to the weather it is not that far off our path to Denmark. In fact, Kappeln, their town, is just slightly east of our pathway. When he suggested that we stay for a couple of days we were excited. Just to be around someone we know, someone from back home, someone who understands California English was going to be a treat.
There are moments when you first move into someone else's domain that you wonder whether you've made the right decision. We really didn't know Juergen and Helga. Oh I had worked with Juergen but didn't really know him on a personal level. Their place is a cute 2 bedroom with an extra loft off the master bedroom. There is a half bath down and full bath upstairs. When you share those rooms you get to know each other fairly quickly. We sort of tip toed the first few hours then suddenly, we felt like family. In fact, they treated us like family.

Helga's Doctor was there when we arrived. Not on a house call, she just stopped by for coffee and cake. A very nice lady who was kind enough to include us in the conversation. Later, they took us into Kappeln to show off their village. They were proud and it showed. We walked in freezing temperatures warmed by Ventura conversations. We took them to dinner at a wonderful Fish place that is famous here because it is the set for a TV show. The food was good, the conversation great.
Back at the house, we were treated to a wonderful slide presentation of photos from their recent trip to China. Their daughter had set up the presentation. It was really professionally done. Helga is a travel agent. I suggested that she should use it to promote business. I have been to China and it held my attention. Between the pictures and conversation we were up way past our bedtime. As we prepared to go up to bed Cat said, " I hope Pat's snoring doesn't keep you awake." She said it in jest but maybe to soften the tension, too. Juergen told us how they had treated his snoring and sinus problems. A German Doctor told them to use surgical tape over their mouths when they went to bed. After they convinced us that it wasn't a joke we took two pieces of tape and went up. As we slid under the douvets we applied the tape then guffawed through our noses at how funny we looked. The strangest thing though, it worked!
I slept well with the tape, Cat awoke and felt constrained so removed hers. After breakfast together Juergen took us on a tour of the area, the area and to the farm where he was born. His family still owns the place. His nephew and family are still operating a dairy farm there. When Cat asked what the place was worth Juergen's reply was so different from California thinking that it took a few minutes to sink in. "We would never think of selling the family farm," he said. "It has been ours for over 300 years. One member of the family or another always chooses to take over the farming." Imagine that, land with no value because they would never consider selling.

Juergen's Tours was a great insight into life for a boy brought up on a farm during WWII in Germany. As he told the story and showed us places we could feel that he was reliving moments of days gone by. He spoke of how his mother had loved the woods around the farm and would walk from one side to the other. We could sense an almost longing for those times and feelings gone for so long. He spent time with small details of places in the fields and long the canal where he roamed as a boy. When we asked how the war affected him he said it was pretty much contained to the south. When he told us of a night that British planes flew over and bombed 6 farms in the area he seemed to tense up. "Why would they bomb farms", I asked? He thought they were just getting rid of left over bombs and decided to practice on the farms. Then he said, "For years after I would get a feeling of tension, fear, when I heard an the sound of a plane flying overhead."

Jurgen's Tours

Changing Pilots


The visit to Juergen's boyhood farm was a study in old and new. The barns and house have been added to or changed over the centuries but the big change is in the way they operate. When he was a boy they had their family of five boys and hired help to get the work done. Today his nephew and wife run the whole thing. They have the usual milking machines but their automated feeding system was totally new, to us. Each cow has tags on its ears that are read by a computer when they step up to the feeder. The tag tells the auto-feeder, which cow it, is, how much milk it is producing and it measures the amount of feed it will receive. It definitely keeps the bully cows from taking all of the feed. They can only get food once then the feeder won't drop more until the next feeding time.

Feeding Time
The weather is microclimates in the area. When we left Kappeln this morning we were in enshrouded in gray and the trees and grass had a thick cover of frost. As we drove toward the farm the sun came shining through and warmed the air. The frost completely disappeared. As we drove back that afternoon the gray closed back in and the frost on Kappeln trees and grass never got off the ground.

Between our interest and Juergen's enthusiasm the tour lasted almost 5 hours. His uncle and cousin were there, waiting for us. They had been waiting for some time. In the process we missed lunch. Helga set out a nice dessert spread and of course we made the best of it.
Hans-Juergen, the uncle, will be 81 years old in two days. He doesn't hear too well but is energetic and happy. He told of the time when he was just a kid, in the German Army. They were surrounded and surrendered to the Russians. He and some others made for the sea and caught a German ship that got them back to their homes. He told of some of the stories they heard about the terrible treatment prisoners received from the Russians. No wonder he was happy.
Juergen's cousin, Ursala and her 5-year-old daughter, Inza were there and we all just sat and chatted the afternoon away. Almost like having family in Germany.

Kein Krieg, NO WAR!
This is a good time to answer the enquiries of many friends from back home and around the world, about the possible impending WAR in IRAQ. Most of the bad feelings and press from back home seems to be leveled against the French. Several of our friends forward anti-French e-mails and we have heard all of the stories of changing names like French Fries to Freedom Fries, etc. Germany remains strongly opposed to war but seems less disliked, perhaps because they don't have VETO POWER in the UN Security Council.
We saw and reported earlier, the banners and posters of " Kien Kreig". This is a good time to talk about why we think that attitude prevails here in Germany. It was Helga's story of her childhood that brought home the point. Her family, like Juergen's, was farmers and had owned the home place for more than 400 years. It was home to her, her Grandparents, her mother and her brother. (Her Father lost his life early in the war.) Their Family Farm was in eastern Germany an area lost to the Russians then handed to the Polish. He memories are of Big Russian soldiers who took over the place and relegated her family to two rooms. She recalls her mother having to run to the fields to escape Drunken Soldiers, looking for a woman. She remembers her mother dressing and looking much older than her age to fend off the VICTORS.
Finally, she told us of the daring escape they made. In cattle cars packed full of people, treated like animals and in areas where the authorities tried to separate the kids from the mother. As if that wasn't terror enough for a child they had to walk in an area where the road was littered with relics of war machinery and the bodies of dead animals and humans. She almost added the last, the memory of dead bodies as an after thought and under her breath as she told us the story. Then she said, "It left me with a great fear of death for many years."

How can we, anyone in the US, ever relate to that kind of horrible memory? Oh, we've seen movies and we all witnessed the demise of the twin towers from safe and sanitary places, in front of our TV screens. She was only a little girl. She had seen these things and heard the horror of death and remembered them vividly, even now. Fear of death is something that we all carry to some degree or another. We believe that Helga still has a huge monster just out of sight, lurking and ready at a moment's notice, to resurface. The thought of war would surely trigger those fears! How many Germans, French and others have lived it, felt it and fear it so?
In fairness, we did talk about how the situation got so out of control in Germany. Helga told of how the economy was so terrible, how moral was so low after WWI and how Hitler gained power by giving things like jobs and vacations to the workers. She was young but has heard the stories. Most Germans have feeling of deep regret and remorse that it all was ever allowed to happen. Even disbelief, like ours, about how it could have.
Denmark with Mors and Inger
Mors and Inger Nielsen are friends we met when we were in Scandinavia a couple of years ago. Well, Inger is Helge and Uffe Kristensen's sister. Helge told us that we had to come to the south and visit them. We were uncertain about the second hand invitation and ended up at a nearby motel. Once we talked and they gave us their tour of the area we loved them and we felt that the feeling was mutual. This time we wouldn't make the same mistake. When we talked with them they suggested that we should come on the weekend because, though they are both retired, they are also both still teaching.
As we were having breakfast with Juergen and Helga she mentioned a "Tree Burning" custom that would take place this weekend along the coast. That would become our quest, to see the big burn. Helga thought that they were celebrating the end of the holiday season by burning their Christmas Trees. Later we heard two other stories, 1) An attempt to burn winter away and get into spring. 2) In honor of sailors lost to the sea in this area. We were hoping it was definitely to push the cold aside in favor of Spring. Thus we were hoping to see a giant fire.
A relationship that started out as handshakes ended with hugs as we prepared to leave Kappeln. When we were warming up Lil' Scotty we gave Juergen and Helga a little demonstration of what Juergen called the remote controlled gear shifting mechanism. It was fun and funny. Hugs and we were off up the road and they would begin the clean up of their little second home and pack up to get back to warm weather and Ventura, California.

Lil' Scotty Demo
The coastal town of Dagbull pulled us off the road. We found a decent little place with a nice restaurant. The area is a jumping off place for ferries to the nearby islands. The burning tree thing extends to the islands and draws big crowds. When we pulled into town the street was full of people pulling their suitcases toward the dock. Once the boat pulled out we were pretty much the only ones at the Hotel. We had dinner and met some nice people their but it turns out that they were taking a later boat. One couple, Bettina and Christian, began trying to help us order then asked why we were there. They invited us to come out to the Island tomorrow. They also helped us find where the big fire of Dagebull would be burning.
We drove out in the direction of the school but couldn't find it. Back into the village we asked a Taxi Driver. She looked at us like she knew what we said then got out of her car and walked across the parking lot. We sat and wondered? She talked to a couple of ladies in another then came back and said, "Follow them, they are going to the fire." Then she got into her car and drove away. We shouted our thanks toward her and followed.

We had been close to the school but somehow missed it before. Now, with the flames that licked high into the cold night air, it couldn't be missed. Fearing that we would miss out, we ran down the dark pathway and out behind the school. The crowd was as close as the flames and Fire Department would allow. Not a huge crowd but probably most of the young and young parents from Dagebull and beyond. We watched the flames leap out toward the dark and hoped that they were doing their job.

The Big Burn
The rest of the crowd was moving toward the gym with food under their arms, we were headed to bed.
With plenty of time, we stopped at the Liquor Store on the German side of the border. They say that wine is cheaper here? We stocked up and rolled toward Nolde Museum. It had been recommended because it the private collection of a local artist. It wasn't easy to find, further out in the country than we thought. It was a house, a farm house with an adjacent gallery. The only thing they forgot to tell us is that it is closed from mid December until March.
Inger and Mors live in the house where they raised their six kids. Well, for eight years they lived in Greenland, in fact three of the kids were born there. The house here is a special place. It was built in the early 1800s, a place where the poorest of the poor could live while they and their families got back on their feet. In this climate, it was essential to have a haven. It was seemed fitting that two school teachers would chose it for their family home.


We arrived at 2:30, shook hands, talked then settled in to what they call the small room, upstairs then they whisked us away to a school music recital. Inger's part time teaching position is to help young adult students learn Danish. She only has three students and Charlie is one of them. He is from the Philippines, his Mother and Father divorced and she moved here with her new husband several years ago. His three sisters came with her but he had to stay there with his Father. Inger feels sorry for him, having to go from a family of five when he was 8 years old to just he and his Father. He was allowed to re-join his Mother and sisters just last year. He is a shy teenager and the language problem has to add to that. She seems very proud of him. She waved and he was really happy to see her at the concert. They played a mix of tunes based upon a Grimm's Fairy Tale, they called the woman in the mud puddle. It is the story of a fisherman who caught a magic fish and was granted wishes. He was happy with his life but his wife wanted more and more and more. Ultimately, after she made him go back and catch the fish 3 times the fish tired of the game and sent her back to where they originally started. The age old Moral is obvious but all too often forgotten.

School Big Band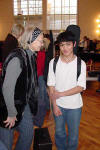 After the concert we met Charlie and his Mother. As she and Inger stood side by side it was hard to tell who was glowing with the most pride, Inger, we thought.
That evening we sat and talked and watched Mors' cat, Commander Crazy, cavort. They set up their screen and we saw a little of their home movies. Taken in Greenland, we loved watching Inger doing exercises some 28 years ago. Unfortunately the projector broke. We did love the slides of Nuuk and the surrounding area taken back then. Though it is still a small place it is huge compared to when they lived and worked there. In fact they lived in the Bloks, near where we stayed with Sarah. The buildings were new then but they described the same difficult transition for the people being relocated from the villages into a tenement lifestyle.
The more we are around Inger and Mors the more we like them. They live such simple lives yet they're very complex people. Mors is teaching Physics, part time, to High School students. He is probably pretty strict with the students. When we asked about putting up with teenagers he said that a few, especially one girl tried to give him a hard time when he took the position. He had replaced a teacher who was ill and had to retire. The school district really needed him and I think he, in a way, needed to get back in front of students. His technique reminded us of a much more reserved Franklin. He confronted the girl in front of the others and told her, "I'm an old man, I don't need the money or the job. I'm here to teach, if you don't want to learn you should get up and leave, right now!" Of course none of them left and we bet that he keeps their respect and attention.

Inger packed a picnic basket and we were off on a "Mors and Inger's Tour". They wanted us to see Romo, an Island north of their place. The name Romo is spelled with those special Os with two dots over them that we don't have in our alphabet. It is pronounced like a long U, Ruumuu. As we drove they took turns telling stories in those voices and accents that we love to hear. In the summer, they assured us we would be in a line of cars because it is so popular. Today, under gray skies and in mild wind, we had the place to ourselves. We wound through the little villages of summer homes, most of which were in

hibernation. Mors drove the car out onto a huge, sandy beach. There were a dozen or so other cars out near the shoreline. Mors said something about how the tide comes in very fast and sometimes catches cars, mostly Germans, in the water. He, in his Danish wisdom, chose to park away from the water, just in case. We walked in the cold wind for a pretty good distance. Fortunately they knew their companions were Ignorant Americans and made us bring some of their extra coats. Even double bundled, we got cold, turned our backs to the wind and let it blow us back to the car.

We had our picnic in isolation at a spot that we would probably have had to wait or fight for in warmer times. It was enjoyable but I even tried coffee, which I rarely drink after breakfast, just to stay warm. They of course, flaunted their Viking blood and ignored the cold.
Back on the mainland, the tour continued through villages and across farmlands. Trojborg is now a Castle in ruin. The crumbling remains remain secure inside two frozen moats. They say that the family who owned the Castle found it too expensive to maintain and offered it the Government. Thinking that they would force the family to continue, they turned it down. The family then offered the large stones to anyone who wanted to come haul them away. It worked, at least down to the foundation and one remaining wall. I have been playfully pointing toward every little sign of change as a sign that winter is finally over. As we were leaving Inger called my attention to some tiny flowers pushing their way through the nearly frozen soil. YES, a sure sign that Spring had sprung.


In the grounds surrounding a church that was first constructed in 737 AD we saw the graves of WWII Airmen and Sailors from England and the US whose bodies were found in nearby waters. "Unidentified and now in the hands of their maker," that was Mors interpretation. We also saw old graves of ancestors dating back to before the turn of the first millennium.

Graves of Swan Sailors
Back at their cozy home, Mors stoked up the fire and took a nap. Cat and I worked on the computer while Inger sat in her chair, read and did crossword puzzles.

Cookin' With Mors
Back out into the cold, we went on a tour of their place and the neighborhood. They have a wonderful woodcarving done by a young man from Uganda. He was in the annual woodcarving contest last year and they bought his entry. The contest is in its tenth year and they have always sponsored a contestant. The carvers come from all over the world. Inger and Mors have had the Ugandans in their home for eight of those years. They're very proud of the contest and their participation. We visited the wood that has already been chosen for this years contest.
We also ran into their neighbor, Eric, who owns a nearby dairy. He had given us a tour of the farm last time we were here. I love the story, his Grandfather left here, traveled to America and worked on a dairy farm near San Francisco. In fact he told Eric often of surviving the great earthquake of 1906. Well, like so many American success stories, his Grandfather saved his money then returned and bought the Dairy that Eric has just turned over to his Son.

Eric the Dairyman
As the sun set over the North Sea, we ventured onto the nearby beach. It was a beautiful sight and a wonderful way to end our stay here with these exceptional friends.

Eight Days With Our Danish Family
Monday morning, February 24 was a business day for the Nielsen family. Inger was off to school, so early that we missed her. By the time we had coffee and breakfast Mors was ready to leave for errands. We were sad, leaving but happy because we would see them again in just a few days at Inger, Helge and Uffe's mother, Elsa Marie's 90th birthday. We were off for Give and our Danish Family.
It was back in 1989 that I first met Helge, Anne Grethe, Toke, Roar and Hjalte. We sort of had a United Nations meeting there. I was cycling down the Korakorum Highway out of China with a couple from Japan. Several young students from France came toward us, climbing toward the Chinese Border. They pulled up then a guy from Switzerland joined us. As we began to communicate a Mitsubishi Van covered with sponsor signs pulled up. The most prominent was the big word, "Danmark". They are the Familie Paa Farten, the family that travels.
In December of 1993 they re-appeared in our lives. They were on the way around the world in their Van. After having crossed the entire of Europe and Asia, much of the time on the Siberian Railroad track then a short trip to Japan they came to California.
They spent three weeks with us during the holidays then drove away to the south. After a visit as far south as you can go in the Americas they returned, a year later and spent another three weeks before driving north into snow and ice then across the US and finally back to Denmark. Then 2 ˝ years ago we came to them in Denmark. They loaned us their car and we explored Denmark, Norway and Sweden. Then last year we were able to reciprocate when Toke, the eldest son, and his girl friend Rikke stayed with us and used our car to tour California.
We really do feel like part of their Familie Paa Farten, especially now!
Our journey north started with very detailed directions from Mors. He had maps and written instructions on how to find Mando Island and the Familie's place near Give. He is so like a schoolteacher! We did get to give him a hug just before we went our separate ways.
The locals call it Mano, according to Mors. It is unique because you can only drive out at low tide. We tried to get out there in The Familie's car first time here but chickened out as the tide seemed to be moving in. This time we were determined. On this day there would be more ice than water on the edge of the road. (Mors had assured us that the tide would not come back until late afternoon and told us of the places we should visit.)
The drive is strange, just knowing that the rocky road will soon be under water and the island sealed off to boat traffic only, again, at least for the rest of the day. We drove the bumps and pushed Lil' Scotty through puddles and over the rough then up and over the protective earth fill dike that protects the Mando from super high tides. We were on paved surface from there to the heart of the village. The only things stirring were cattle. We didn't see any other humans. A quick drive by was all that we afforded the spots that Mors told us we must visit. Not that we were worried about the tide but we did feel comfort set in as we bumped back up the beach onto the mainland. Oh, we did get a good picture of the windmill.

Using Mors' exacting directions we only got lost once, our fault not his. We were in front of Edelweiss, the Familie's home by 3:00 and found nobody at home. Our first stop had to be the pig farm around the corner. When we were here before Cat fell in love with the pigs. They are in a rural farm setting and each animal has it's own little house. When we rounded the corner we saw why, each house now had a Mom and a litter of little piglets. Cat was really taken by the family thing. Okay, I agree, they are about as cute as a pig can be.


We went into Give only to realize we had already been there but just drove through. We found a terrific little bakery, got bread and a big tart for dessert. The new wing of the house, a rebuild of what we had seen last time here, was locked. (Fire had demolished most of the old place and they have rebuilt a beautiful home where their old comfort once stood.) We found our room, middle son Roar's room, and hauled our bags in. We set up the computer and fiddled around then decided to go back to town and get Pizza. As we left the room Helge and Anne Grethe pulled up in the drive. They were in the big 4 wheeler, the one they drove to Mongolia. They had just come from one of their slide shows. We danced around and hugged like little kids. The evening was food and wine and talk. Hjalte the youngest of the three sons came in from School. Well, he is going to school and practicing with a band and taking driving lessons, required before he can get his license.
Extremely fortunate, that's the only way to describe what we were to experience in the next few days. Else Marie will be 90 years young on Thursday. Else Marie is the Matriarch of this Danish Family, the Mother of Helge, Inger, Uffe and Tujlia. That meant no rest for the WorldRiders. We unpacked some of our bags then Anne Greta put Cat to work in the kitchen and I drove to the Caterers. Several trips and we even borrowed a trailer. The toughest of the load was 46 chairs. I loaded and then off loaded most of them, myself. Helge and Anne Greta were doing another Slide Show that first evening and wouldn't be back until after midnight.
Hjalte, came in and immediately made fantastic, wood fired Pizza in their Fireplace oven. Needless to say, we love Pizza and this was heaven. We had a great time with Hjalte, talking about the first time I met him, which he was too young to really remember. We went off to bed and he to homework at 1030 PM.
The next day was a total Party Work Day. Anne Greta had to work but she left detailed instructions for Hjalte and us. We moved tables, chairs, dishes and furniture. Number 2 son, Roar, came in from University in the early evening and immediately set about whipping up a great batch of Pasta for the bunch of us. Anne Greta and Uffe came in from their jobs at 9:00 PM. We all sat, drank wine and talked.
Are You Ready to Party ?
There was an early frenzy with the table settings, seating arrangements and flowers. Not that many of us are allowed to live 90 years and the Family is making this a very special day for Else Marie. We hade planned to try to visit The Family at Christmas. When I asked which is most special they all agreed that Else Marie's 90th was definitely the one. Else Marie chose the menu and guest list. (We were forced on her but she seemed happy to have us there. We had met her and spent an afternoon at her home last time we were in Denmark.)
As the details came together Cat and I had to go visit the local Doctor. The Danes, everyone that we talked with, were astounded to hear that we would go to see a Doctor when we weren't sick? We wanted a check-up. We thought it important to have a blood test, have my PSA level and Prostate checked. Cat wanted a Female checkup, too. Even the Doctor, like the others, wondered why we would go through such things when we were feeling okay. Oh, my elbow, the one I landed on when the truck got me in Portugal, got bumped or irritated moving chairs and furniture. It was swollen like a golf ball but I forgot to have her check it. We ended the consultation by making another appointment where she would have the prices for all the tests. We would make our decision when we saw that list.
We made a quick stop at the Apoteka. They put together some nice face and body creams, things that Anne Greta had recommended. Across the street, in the kitchenwares store we found a basket to package the things in. Interesting, most guests bring just a card or small gift. The gift that Else Marie would enjoy most was just being surrounded by such a large and caring group.
A Danish Family Celebrates Mom's 90th Year!
The guests were already streaming in when we got back to Edelweiss. Cars lined the long driveway, Helge had asked all young people like me, to park out there and leave the prime spots for the elders. (Kind of great to know I was one of the young ones.) They had told us that the typical Danish Birthday Party starts with drinks at 1:00 and then Dinner at 2:00, soup at 5:00 then drinks on into the wee hours of the morning. Of course the age group of those close to the Birthday Girl made the Family feel that most of the guests would leave around 7:00 PM.
The fireplace was roaring. The house was buzzing. The drinks were flowing. We were in the middle of a real Danish Party. Cat and I did our best to get around and meet everyone. They are all so polite, they all want to stop, introduce themselves and shake hands. Having Mors and Inger there was great. We got to meet all of their children and Grandchildren except their youngest. She is working at her chosen profession, sailing. Her work experience takes her on a huge freighter from Japan with cars to Chile the to Ecuador where they load bananas and steam north to, of all places, Port Hueneme. Yes, she makes that triangle monthly. The final leg is a ship full of Ventura County Citrus that goes to Japan. She did call during the gala and talk with Else Marie and the rest of her family.

Of course the Happy Hour lasted a little longer than an hour as they waited for the late arrivals. Then came the 6-course meal. The caterer had some fantastic servers, Toke, Roar and Hjalte. (Yes, Toke arrived with his cousins from Copenhagen just in time to start serving.) The Familie's home seemed perfectly designed for entertaining a big group like this.


Else Marie remained the center of attention as family and friends toasted and roasted her between courses. One of the great characters was Else Marie's brother. At 81 he had a lot of energy, he was the life of the party. Cat and his daughter, Meta Marie, really hit it off.

A Family that Sings Together
Some of the elders were real drinkers and unfortunately, smokers. Helge made a request that all smoking be contained to the party room, no smoking in the main house. They didn't seem to mind and most observed the plea.
Once we were all stuffed with the meal and oversized pieces of cheesecake, most went to the main house for coffee, cognac and cookies. Just when we thought it was all over there was a call to re-adjourn in the big room for soup. The curry soup is traditionally called the "Goodbye Supper". It was expanded by music. Two of the cousins sang, a cousin-in-law played guitar and Hjalte sat in on trumpet. What a tribute to Else Marie and the entire family. The house was still full of song and guests at 9:00 PM.
No, that wasn't the end of festivities. Most of the young began to head for home, bed and work the next morning. The hard core would be the elders. Else Marie finally drug her brother out to a taxicab at 11:30. (No one should have driven at that point.) We left Helge, Uffe and the three boys still sippin' and talkin' at 12:30. If the duration has anything to do with the success of a party, this had been a doozey!
Boy Do Those Danes Party!

More parties? Yes, the next night just a few of the family gathered again for Pizza cooked by the three boys. It was another great time for them and us. Cat and Meta Marie became "Pizza Pals". Uffe and the boys seemed to really be getting to know each other, as adults. It was another evening of adoration for Else Marie and her family.
March 1, 2003, Hjalte's 18th Birthday. That morning, as custom has it, the whole family got up early and rushed into Hjalte's bedroom. They sang, danced around and each of us had to jump on him and give him a big hug. Sort of a right of passage.



That evening Anna Grethe's family, her Mother, Brother and his wife and Sister, Husband and two kids. Another party, another reason, another house full of nice people. This was to be a day for Anna Greta, too, since her birthday is next Sunday. Her brother urged us into Aquavit and beer. Well, Cat took a taste but I had to go for the gusto. By the way, never hold Dill Aquavit in your mouth, shoot it down. I tried to sip and it burned the inside of my mouth. The brother and family had to leave after the traditional Danish lunch. Their son is on a Gymnastic team, and they had a tournament to attend. The Mom, Sis and Bro-in-Law stayed. The kids and Hjalte played with Legos, those little plastic things some Danish guy invented and took to the world.


Just as an aside, all three of the boys have done their summers, working at the nearby Legoland. The Family stayed on into the evening then as they departed Helge and the boys broke out the cards. Hjalte had asked that they play a card game that they always played while traveling. Another family tradition, Wisk I think they call it. We watched for a time then hit the sack. They played and argued and laughed until 2:30 AM. Another good family tradition.

The next day started off real slow. We were the only ones stirring for most of the morning. Roar got a pan of muffins going, Anna Greta drifted out then lay down on the couch. Her head had just touched the pillow when friends drove up to bring Hjalte a birthday gift and the wine began to flow again. What nice folks. The Father is an Air Traffic Controller, Mom teaches. Cat and I thought at first that they just had a daughter and she brought her boy friend along.

They sat and held hands most of the time. As the conversation progressed we learned that they were brother and sister. She was clingy because she has recently beaten the odds. She was going to University in Copenhagen when she became ill. A friend found her and called the parents and Ambulance. She had meningitis, the deadly form. She was in a coma and suffered severe brain damage. They thought she would die. She still has some slight paralysis but is making great progress. She talked about losing her self-confidence. What a good time to have a loving brother and family.
What About The Bike Racks?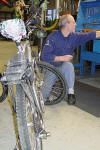 The front bag racks on both of our bikes have begun to break. You may remember the guys at the Conference Center in Lake Forest, Illinois, fixing mine with a hose clamp. It was still holding but scraping the fork and the other side was now cracked. Cats were starting to go ,too. Helge has friends who do metal work in a shop nearby. I got up early and followed him on his way to work. He introduced me to Niels and I left the bikes with him. Helge was right, the guys at the shop were artists. They cut, fitted, and then painted the new pieces. We couldn't even see them but the parts looked new. I think they'll be stronger than the originals, he used strap steel.
What Shall Become of Lil' Scotty?
We spent a lot of time talking about the fate of Lil' Scotty. We had originally thought we would sell her, get some of our money back. Also, we considered leaving her with the Family if she didn't sell. Danish tax law made it virtually impossible to sell. They have a 180% tax on the purchase of a car. It makes sense if you believe that public transportation should be the way to get around. Most of the money is used for buses, trains and road repair. However, that means that if we got 1000€ for her the buyer would have to pay almost 2000€ taxes. The thought of just leaving her didn't work either. Helge said, "If leaving it worked, everyone here would have a friend from somewhere else leaving them a car." On top of all that, the cost of gasoline here is, like all of Europe, is more than 900 Swedish Kroner, 1.20 € per liter. That is more than $4.00 per gallon. Even if we could give the car to them the taxes, insurance and fuel would make it prohibitive.
I had begun searching the web for a way to ship her home. Cat didn't like the idea but we did agree that it made sense to drive her to Sweden. She might sell there as the tax structure is better. Also, if we did ship her it would be from Sweden. So, in the final throws of confusion we decided to drive.
What About Our Health?
The Doctor called and told Helge that she thought we should go to the clinic in a larger city. The tests we wanted would cost more than she thought. She cancelled our appointment. We stopped back by her office to pay for the visit and asked to see her, again. She was gracious, ushered us into her office passed several sick looking patients and explained her decision to refer us to a larger facility. We told her that we were taking her advice as well as that of our friends and would forgo the testing. When we asked her to write prescriptions for my Nexium and some of Cat's heart pills she went right to work and printed them out. She also took a look at my swollen elbow, diagnosed chronic edema and suggested wrapping it to contain the fluid. I later made contact with our friend, Doctor Banman, back home. He suggested R I C E, Rest, Ice, Compress and Elevate. Just for the record, it is getting better.
What About Our Teeth?

Helge had made an appointment with a Dentist for us. It would be the Hygienist who would look us over and clean us up. Ulla Edwards is married to a Brit. Maybe it was her language skills that brought her to us? She was thorough, cleaned and checked, probed and scraped then told us that our teeth and gums were brilliant.
We made two long trips but both had a pay off of sorts. Helge has been concerned that we don't know how to use our water filtration pump. I worry that it may be contaminated since it had been used and some water had been in it when we bought it from our neighbor, Mike. We tried to take it apart but couldn't so Helge insisted that we talk with a friend who put their system together for them. We spent all afternoon finding the place and we were only lost twice. It was a long drive. Klaus did know his stuff, unfortunately his stuff didn't include our pump. He looked it up on the Internet and we did get it apart. He concluded that it was okay and should work but we would need to replace the filter if we got into heavy use. He knew a lot about East Africa and shared stories. We found some great little LED lights to replace the standard ones we have that weren't much good.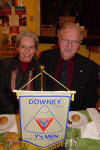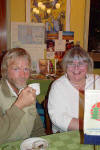 The other was a 2-˝ hour drive out to see one of The Familie Paa Farten's slide presentation. We got there just in time to have a bite of dinner, the typical club meeting dinner then we watched and wondered at their pictures, slides and the dual lens presentation. They even mix sound from the road and their voices in for great effect. The group was called Y's Men. I figured out that they were and extension of the YMCA. Interesting, the President seated us across from he and his wife. The banner of a club that had visited stationed in front of us was from Downey, California, strange coincidence.
The best of it was the way Helge and Anne Greta banter back and forth during the show. The audience loved it. The worst was the time involved. We left them to pack up their equipment and pointed Lil' Scotty toward Edelweiss. The car was not meant to be driven after dark. As if to toughen the adversity it began to snow. Wet and slushy at first it soon began to pile up. We took a short cut through the woods, the snow was really beautiful, slippery but beautiful. We must have lost a lot of time because they were already at the house when we pulled in. Long night and Helge wasn't feeling good.

Chains on Bikes?

Wild Horses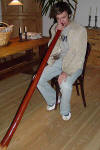 Helge remained in bed the next two days. We stayed a day longer than we had planned. Tired from the drive, we slept in then reworked bags and waited for the mail. We were hoping that a kickstand sent from IbikeGuy in Wyoming and some pills from daughter Stephanie would arrive. No such luck.

Play U Digeree Doo
The next morning, Thursday March 6, I got up early and saw Hjalte off to school and Anne Greta to her work. That would be our goodbye. Helge was sleeping so we just loaded up and tiptoed away toward. Sweden.

Goodbye Give
Lil' Scotty to Stockholm and a Case of the Flu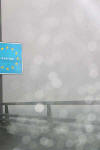 It's hard to tell whether we're getting better at finding the right route or it was just a simple drive. We had stopped one last time at the bakery in Give for our favorite bread. We picked up meat and cheese from the Grocery Store. Would this be our last Lil' Scotty picnic? We ate as we rolled past Copenhagen. The road beyond enters a tunnel before you see the sea. As we emerged we were buffeted by a 40-50 Km per hour wind coming from the right side. It was particularly wild when we would pass by one of the huge standards of the A Span Bridge. Cat was driving and she was nervous, it was a real white knuckler. Exiting the bridge we paid the toll. The total toll would be about the same as the Ferry Fare.

Light at The End

The Longest Bridge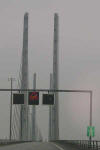 Entering Malmo, Sweden was a jungle of Industrial buildings to begin with. We decided that we just needed shelter so, found the book for our friend, The Ibis Hotel. They did have one here and it did have a spot for Scotty, too. I was beginning to feel achy all over and think that Helge had slipped me a goodbye gift. We had dinner at the bar. The waitress was really nice. She explained that someone had screwed up on ordering and she had fewer than ˝ if the items shown on her menu. What a nice gal, she was born in South Africa but moved here to be with her Aunt when she was just 2 years old. Besides a nice talk we got a little more in-site into life in Johannesburg. She returns every two years and loves it but can make a much better living here. In fact she could and said that she should get Swedish Citizenship. I needed the bed, early.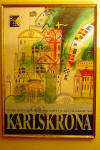 The next two days were just dead head driving. The south and east coast of Sweden is pretty undeveloped. The highway was a good one. It cut a swath through wooded areas and farmland. We stayed at a coastal city, Karlskrona, an old Navy Port. We walked a little but it was too cold to really enjoy the place. Dinner, MichaelAngelo, yep, Italian and it was great. Norrkoping, our next destination was a 340 Km drive. Although the map says that we're on the coast we rarely see it. Part of the drive to Narrkoping was through not only woods but mountains, too. Not mountains like Wyoming but a coastal range. The final leg, into Stockholm, was 168 Km. We had driven Lil' Scotty another 1000 Km since stealing away from Give 4 days earlier.


The flu consumed me, body and soul. I began to cough and wheeze and the aching drifted through every fiber of my muscle. That and the continuing cold dictated how little we would do while in Stockholm.

During my exploring on the Internet at Helge and Anne Grethe's I found Port Hueneme our hometown. Remembering that several European Car manufacturers deliver there I sent a message to the Port Harbor District. We know several of the Harbor Commissioners so I left messages asking for their help. Friend, Ray Fosse returned the e-mail and directed us toward Wallenius Lines. They are Swedish and deliver Volvo to Port Hueneme regularly. It was probably my male macho that made me so intent on sending our little friend home. Even Anne Grethe thought it was a good idea to have her there to use when we re-enter the world and do some sort of show for Clubs and Groups like they do.
I was able to call the local office of Wallenius but they had to refer me back to Goteborg since the ships leave from that Port. Darn, if I had only researched a little further I would have known that and we could have driven right to the dock. Now we found ourselves 700-800 Km away from it. The guys at Wallenius recommended a guy named Bengt Bengtsson, a broker, who could help us. In fact, he worked and got a price that made sense. The disappointment of having driven beyond Goteborg dissipated. We were where we needed to be. If we had taken the Ferry to Goteborg we would have had to take a train or bus to Stockholm. Bengt and his Company, CargoNet cut a deal with MotorTransport to get Scotty to the boat on time. The cost?? It was about the same as we had paid for Scotty originally.
Cat was still not on board with the idea. We made a deal and drove Scotty to Sodertalje, an Industrial Area 30 Km east of Stockholm. It was surprisingly simple, once we got inside the fenced area and found the office. As we drove up a guy walked out and said, "We've been expecting you." He had a piece of paper with Lil' Scotty's vital statistics on it for us to tape to the windshield. Beyond that, he said, "Just leave the keys in her, we'll take care of the rest."


It was then that Cat got sentimental. She got the lump in her throat and her eyes welled up. We had spent more time inside Scotty than on the bikes. She had faithfully carried us more than 10,000 kilometers. She was family. The people at MotorTransport called a cab. It took a couple of tries but we finally ran through the cold wind and away from Lil' Scotty. Neither of us looked back. That phase of our Odyssey was finished and she was headed home. The cab dropped us at the Train Station and in an hour we were back in the heart of Stockholm.
We pushed off into a clod and windy morning, headed for the ferry and Helsinki, Finland. The future holds a promise of more cold, Russia and Friends. We're on the way.

How appropriate, today is March 12, 2003. It was 11 months ago today that we pedaled out of Oxnard and into this Odyssey.
Okay, you got it, Lil' Scotty is headed home to Sunny Southern California. We're headed back to Finland, bike seats and COLD WEATHER. It has been a terrific time, exploring Europe, meeting new friends and seeing sights that we have only read about. Thanks for sticking with us during our bike trip in a car. Stick around, we've got a long ride ahead of us. Next chapter, Finland and Russia. It's should be a good one!!!
Pat & Cat