Message from Pat and Cat on 10/20/2013 3:39:08 PM
2013...Pat & Cat are still cycling more locally in Ventura than around the world right now. We did a drive/bike trip last July up to Oregon which was beautiful. We hope to have more adventures in the future, just none planned at this point. Hope this finds all of you well!
Pat & Cat Patterson
What are Pat & Cat up to Now?
---
Book
Pat and Cat's book, The African Dream (Bicycling Beyond Boundaries Book 1), captures their journey in both Morocco and Africa. The book is available in both paperback and kindle format from Amazon. The book covers the 265 days and almost 5,000 miles they covered in Africa.
---
Blog
Pat and Cat are blogging now, with their own blog at www.bicyclingbeyondboundaries.com Click the link and check it out when you have a minute.
---
Documentary
We've put together this little video highlighting our journeys around the world by bicycle. We are seeking a Documentary Producer or Investors interested in the more than 100 hours of video and thousands of photos taken during the past 20 years while traveling on our bikes.
Watch our video
In 2010, Pat and Cat were Bicycling the Heartland!
www.BicyclingTheHeartland.com
---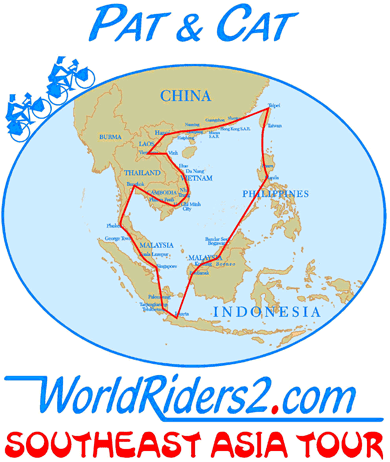 Follow Pat & Cat's Southeast Asia Tour!
Click here

As you can see on our map, we will take a circular route through more than 10 countries.
We estimate 4,000 miles and will take our time, hoping to finish in 6 months.
We will reorganize our website so that you may follow along and stay in contact. Fewer words, more photos, videos and interaction, too.
SO, welcome aboard The Southeast Asian SLOW BUT SURE TOUR!

Yep, we're off to see the world, again. Well at least a small part of it.
Originally scheduled to depart on November 1, 2001 we have been delayed.
Cat's mom had surgery and while recovering she contracted pneumonia. At age 87 it's not easy but she is making progress. So we're in a holding pattern,
working to get her back to good health and to help find them a new lifestyle.
Our current lift-off plans have been rescheduled to December 1, 2008.

An Around The World Bicycle Odyssey

Pat and Cat and CNN!


Pat and Cat are on CNN.com, with a wonderful article, interactive map, and photo slide show of their journey.
They'd like to share this with you ... as their story is really about YOU!

Read about it here:
CNN.com

Pat & Cat are making plans and they hope that they include YOU. Just click here to join their LIST OF FRIENDS OF THE WORLD.

So many things have transpired in these past 2 years. Yes, Pat & Cat completed their epic "Around the World Journey" two years ago on March 11th. They continue to work diligently, writing the stories of the road and experimenting with their pictures.

They plan to have a book in print, soon! Also, they're preparing for an Exclusive Exhibition of WorldRiders2 Photography in April.

There's even talk of an appearance on a popular TV Show.

AND, of course they are completing plans for their next Adventure, Cycling Southeast Asia. So, if you're not on their LIST of FRIENDS, get on board, now.

Our thanks to Dany, the young Spaniard we met in Cuba. He made us promise to make the last chapter of our Journal the story of returning to normal life. An even bigger thanks to Sheila, a gal we met in Monterey, California in 2002, during the first month of our Odyssey. Her recent e-mail reminded us of the promise. She said, "I've read every entry of your trip. You promised us a final installment on returning home, where is it? As of now, the journal feels like a book that's had the last chapter ripped from it"!

1430 Days Around the World on Bicycles
Pat and Cat welcome your email messages


Want to find out more? Yes, send me updates!.
What have you been saying to us?
Links to other sites